This article has links to products and services we love, which we may make commission from.
"Today's rain is tomorrow's whisky." Yes, us Scots, do hold one of the world titles for our alcohol consumption. We know how to have a good time during all seasons. When it rains, it pours so there is only one thing for it, a trip to the pub. Of course, when the sun does make an appearance, you will find us Scots 'taps aff' at one of the city's bars with a garden area. Let's raise a glass to the best pubs in Edinburgh guide, divided up by area, recommended by me (Gemma) and fans who love Edinburgh. Have I missed out your favourite Edinburgh bar? Tell me in the comments below. The order probably doesn't make much sense, just look at it with your beer goggles on!
---
» Also useful: 70+ things to do, see, eat in Edinburgh
---
Edinburgh Pubs
Edinburgh's Old Town/Grassmarket
The Last Drop, Grassmarket
Every night of the week, Edinburgh's Grassmarket is buzzing and one of my favourite Edinburgh pubs can be found here.
The Last Drop has a nice mix of tourists and locals, possibly because the music over the stereo is always banging but not too loud. Particularly great for dates, this is where Craig and I found ourselves on our first date back 2012!
The Last Drop also serves typical Edinburgh pub grub.
Address: 74-78 Grassmarket, Edinburgh EH1 2JR
The Three Sisters
If the rugby is on you can expect The Three Sisters to be rammed full of punters watching the game on the big screen TV. If you are looking for Scots in kilts, here is where you will find them during rugby games. Find out more in my guide.
During the Edinburgh Fringe, this extensive bar(s) become a venue.
This is where we dined and did karaoke for my 90s themed hen/bachelorette party. Great staff, can handle large crowds and that is saying something in Scotland.
139 Cowgate, Edinburgh EH1 1JS
Secret Arcade
I don't like gin, whisky or (craft) beer… which pretty much makes me a useless drink tasting guest in Scotland since those three are all the rage.
It's OK though because Edinburgh has the Secret Arcade which is a cool Polish vodka bar the is pretty unpretentious.
Don't drink the hard stuff? Check out the Secret Arcade's extensive tea menu.
48 Cockburn St, Edinburgh EH1 1PB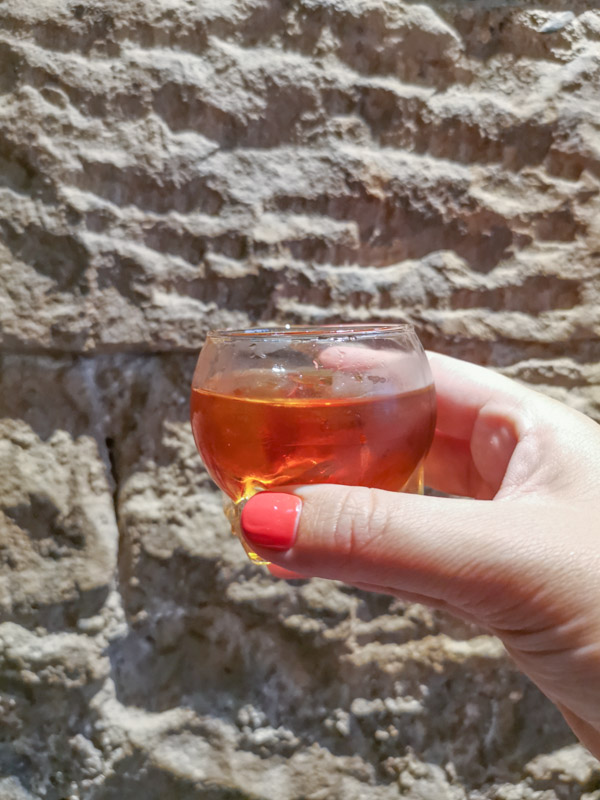 Whistle Binkies
'Never had a bad night out at Whistle Binkies' says my pal The Doc. If you require of prescription of live music in a dark cave with a sweaty crowd of all ages then this is your haunt.
4-6 South Bridge, Edinburgh EH1 1LL
The Globe
Looking to meet an international backpacker? Head to The Globe. Guaranteed sports games, quizzes and cheap city booze.
Niddry St, Edinburgh EH1 1LG
Salt Horse
Unassuming craft beer pub with commended veg food options. Dog-friendly.
57-61, Blackfriars St, Edinburgh EH1 1NB
Cold Town House
Epic views of the Castle? Check. Brewed beer and cocktail menu. Check. Cable Car seats. Apparently! I need to check this Edinburgh rooftop terrace out. Thanks to my pal, Claire the Foodie Quine for the rec.
→ Tip: it gets busy on the terrace. Visit in the morning to enjoy the views.
4 Grassmarket, Edinburgh EH1 2JU
Monteiths
Head down the fairy light tunnel to the ultra-cool Monteiths.
Pinterest-worthy decor, cute coat hangers under the bar and great selection of unusual cocktails.
Outside seats with heaters because it is Scotland!
---
City Centre/George/Rose Street
I have to admit that the George Street bars are not normally my cup of tea so I've roped in my family and friends who love to dress up and dine/drink at the finer establishments in Edinburgh. Not your scene either? There are plenty of other relaxed/hip options in the heart of the city so you can put your stilettoes away.
Twenty Princess Street
City and Edinburgh Castle views with the nice cocktail list. You've probably seen their smoking cocktail on social media?
20 Princes St, Edinburgh EH2 2AN (Hotel Indigo)
The Newsroom
Relaxed, modern bar close to Waverley Station making it a great stop for the last drink before the last drink at the 'Spoons in the station. Food is pretty decent here too.
5-11 Leith St, Edinburgh EH1 3AT
Brewhemia Edinburgh
Super Instagrammable front entrance with its flower arch, Brewhemia feels like a stylish beer hall.
My friend Amanda is a freelancer (and blogger at Expat Writer Amanda Walkins) and loves the venue as a workspace.
Another 'last orders' stop as it is just across from the back entrance of Waverley.
1A Market St, Edinburgh EH1 1DE
---
» Read next: Where to stay in Edinburgh, the best areas defined
---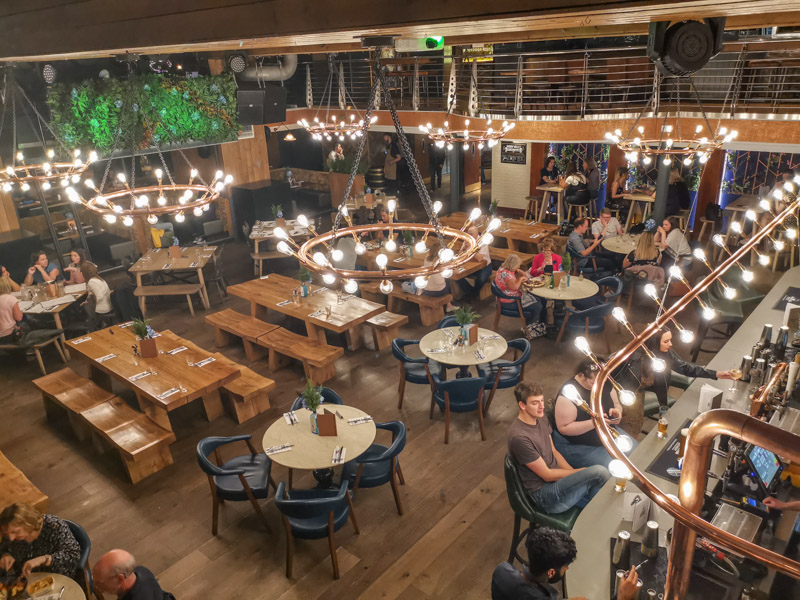 Planet Bar
Friendly gay bar in Edinburgh with live music and drag queens.
6 Baxter's Pl, Edinburgh EH1 3AF
The Dome
The Dome is the most popular Edinburgh bar at Christmas time.
At the weekend, you can expect long lines hoping to get a sniff of that special Dome festive scent. Beats the smell of bleach found at most of the other pubs in the city.
The main attraction at The Dome come December is the massive Christmas tree erected behind the bar. Grab a cocktail and enjoy the colours change.
Rose Street Gardens
Modern outside gardens area behind The Dome. Comfy setup, group seating areas and outdoor heaters for the 364 days of winter in Scotland.
→ Note: both quite pricey but lush.
Address: 14 George St, New Town, Edinburgh. For The Gardens, enter via Rose Street
---
» Visiting Edinburgh during winter? Here's the ultimate guide of things to do at Christmas
---

The Black Rose Tavern
Always rammed on a Saturday night. An eclectic mix of punters at this alternative music pub.
49 Rose St, Edinburgh EH2 2NH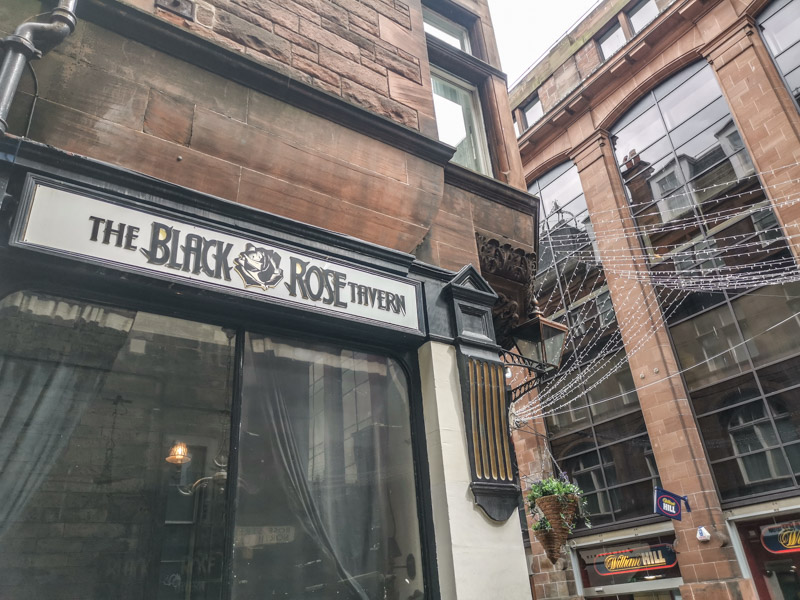 The Black Cat
Cosy pub with an extensive range of whisky. A fave of my friend Yvette, the Wayfaring Kiwi.
168 Rose St, Edinburgh EH2 4BA
Auld Hundred
Cosy city centre pub with recommended Sunday roast. Thanks to Daniela, Grumpy Camel (blog) for sharing her fave.
100 Rose St, Edinburgh EH2 2NN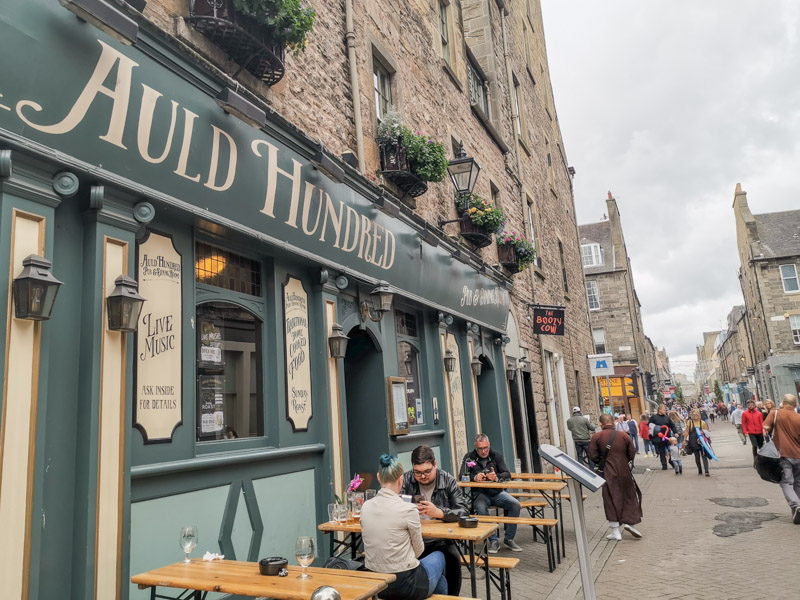 Milnes Bar
Cheap and cheerful bar which is part of the Edinburgh Heritage Pub Trail.
21-25 Rose St, Edinburgh EH2 2PR
Hoot the Redeemer
Hoot the Redeemer deserves a shoutout if you can find it!
One of Edinburgh's speakeasy bars. Flashing lights in glasses, seats from the cinema and a fortune-telling machine. Sister pub is Panda and Sons, the speakeasy barbershop on Queen Street. I've not managed to get it yet, too busy the two times I've tried. Always luckier at HTR.
7 Hanover St, Edinburgh EH2 1DJ – OK you can find it with this address
Ghillie Dhu
Moving away from Edinburgh bars on George Street, Ghillie Dhu on Rutland Street (near Princes Street Gardens) sets up a fun night for those searching for more traditional Scottish vibes.
Every Friday night is ceilidh night! A must for tourists and locals alike.
Get your dancing shoes on and be prepared to twirl (and kick and clap!) Ceilidh dancing in Edinburgh, Scotland's capital – you just can't get more Scottish than that.
Address:

2 Rutland St, Edinburgh
---
Pleasance
Pleasance is a residential area with lots of student activity but there is one reason you must visit and that's to try the nachos at Auld Hoose.
I challenge you to eat them all! Team up with a hike up Arthur's Seat to work off the calories.
23-25 St. Leonard's St, Edinburgh EH8 9QN
---
Leith Pubs
I love Leith. It's like a village in the city where all the cool kids live. I used to live on Maritime Lane which has one of my favourite pubs on its doorstep.
Port o' Leith
Historically, the Port 'o Leith is where the sailors used to meet some short-term loving.
When I lived in Leith, the exterior was painted red, apart from that one time it was changed to green which outraged locals (football). Back in the day, the last song was a Proclaimer's tune and we frequently danced on the bar. The clientele was a mash-up of Human Traffic, Coronation Street and the few timid students who had come to investigate this infamous scene for their dissertations.
Today it has been gentrified, stripped of its red skin and given a far more attractive shop front. Pop in and try a Ting and Tequila cocktail! Bring ID, I was rejected the night before our wedding party at Leith Theatre, sob.
→ It's great to see the bars along Constitution Street pulling off the European vibes with outdoor seating. Get there at opening time to nab a table.
58 Constitution St, Edinburgh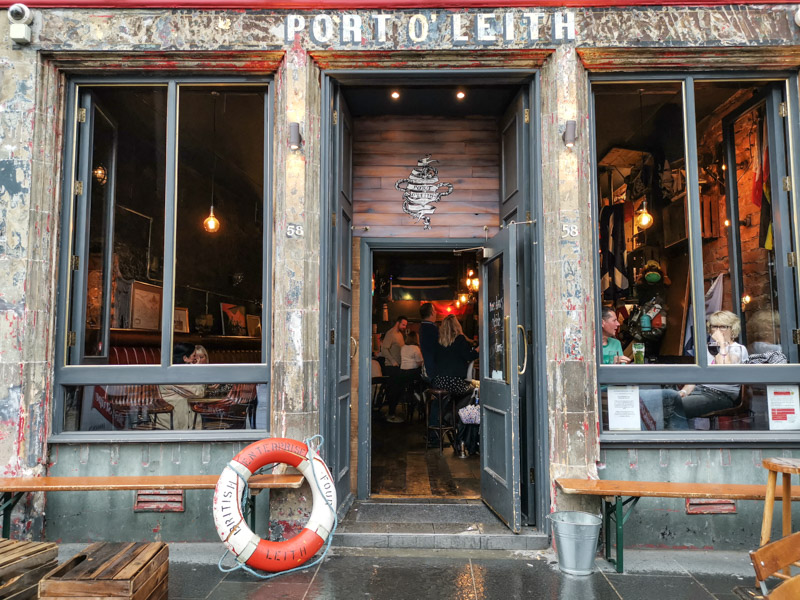 Carrier's Quarters, Leith

Carrier's Quarters was one of my top five until recently. Once you get over the crabbit woman behind the bar, enjoy the live music by the fire on a Sunday afternoon.
There's always a dog in the 'pokey wee' (small) back room too.
Nobles
Lovely stain glass windows and the 'best full Scottish breakfast in the city' according to Kay The Chaotic Scot.
44A Constitution St, Edinburgh EH6 6RS
The Pitt Streetfood Yard
Learning from our North American friends, Edinburgh now has a weekend outside/inside food trucks area with a drinks licence. Hurrah!
Dog and kid-friendly.
125 Pitt St, Edinburgh EH6 4DE
Lothian Road
The Hanging Bat
One of the two best beer bars in town according to my cousin who works in the trade. Salt Horse is the other. Great music, selection of draft and friendly staff.
133 Lothian Rd, Edinburgh EH3 9AB
---
What is your favourite bar in Edinburgh? Tell us below.