This article has links to products and services we love, which we may make commission from.
It's big, it's hot and it has roads for miles. The Lone Star State is a perfect destination for those looking to get away from the crowds, eat quality BBQ, enjoy nature and discover some pretty unique towns.
This Texas road trip itinerary focuses on 11 stops from Austin to Big Bend and back to Austin again. You don't have to start in Austin, like us, this route can kick off from Dallas, San Antonio or any of the West Texas towns you stamp down on first. Get ready to visit some really cool (/weird) places, plenty of art and a bit of Europe…
Jam-Packed Texas Road Trip Ideas Route Planner
1. Austin, Texas
Austin is our city. It's where we started our 1.5 year sabbatical to travel the Americas and Europe, it's where we eloped by Lady Bird Lake and it's the city we've visited many times to attend the South By Southwest Festival. With every visit we discover something new and meet cool people.

Here's the best things to do in Austin, stop one on this Texas road trip.
Get Your Bearings
There are four main areas of interest for any first time visitor to Austin.
South Congress (So Co) for brunch, independent shops and street art.
Lady Bird Lake for lazy walks, boat rides and water sports.
Barton Springs for swimming pools and urban hikes.
Dirty 6th and East 6th for bar hopping and live music.
So now you've got your bearings, here's your Austin bucket list.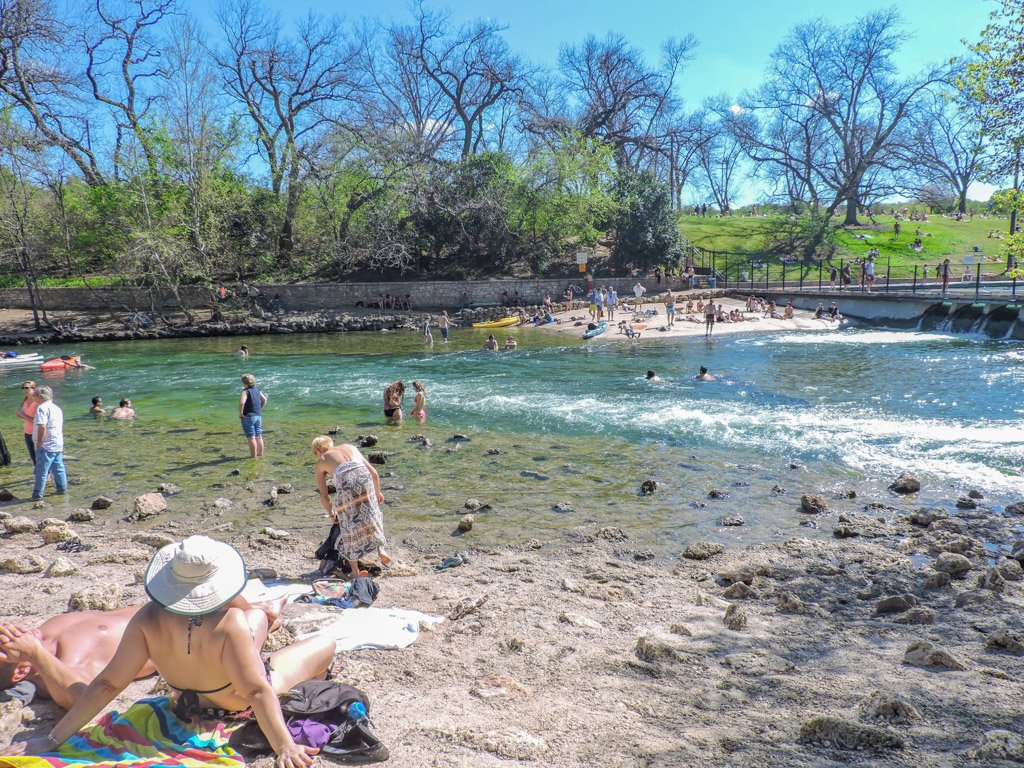 Things to do in Austin
Start the day with Tex Mex breakfast at Cisco's or Juan in a Million.
Alternatively, if you want BBQ, skip breakfast and fill up at Terry Black's BBQ (touristy) or Green Mesquite (local).
For more of food, check out our post dedicated to our favorite restaurants in Austin.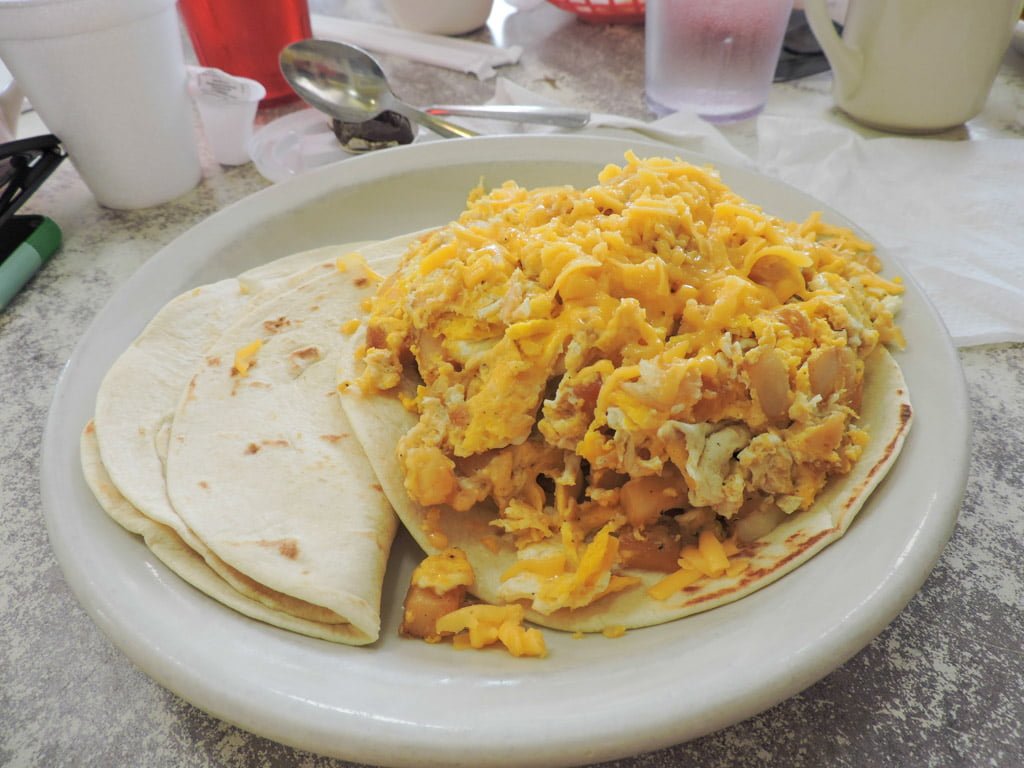 Walk it off at Barton Springs, along the river or as you shop along SoCo.
Snap the I Love You So Much sign.
Hop aboard a boat tour along Lady Bird Lake or hire a paddle board and get in the river.
Grab something quick for lunch from a food truck.
Hit the craft beer trail along East 6th street and catch a band at Lazarus Brewing Co.
If visiting in season (end of March) see the bats at Congress Avenue Bridge.
End the night dining on Rainey Street if you have room!
Our Austin Guides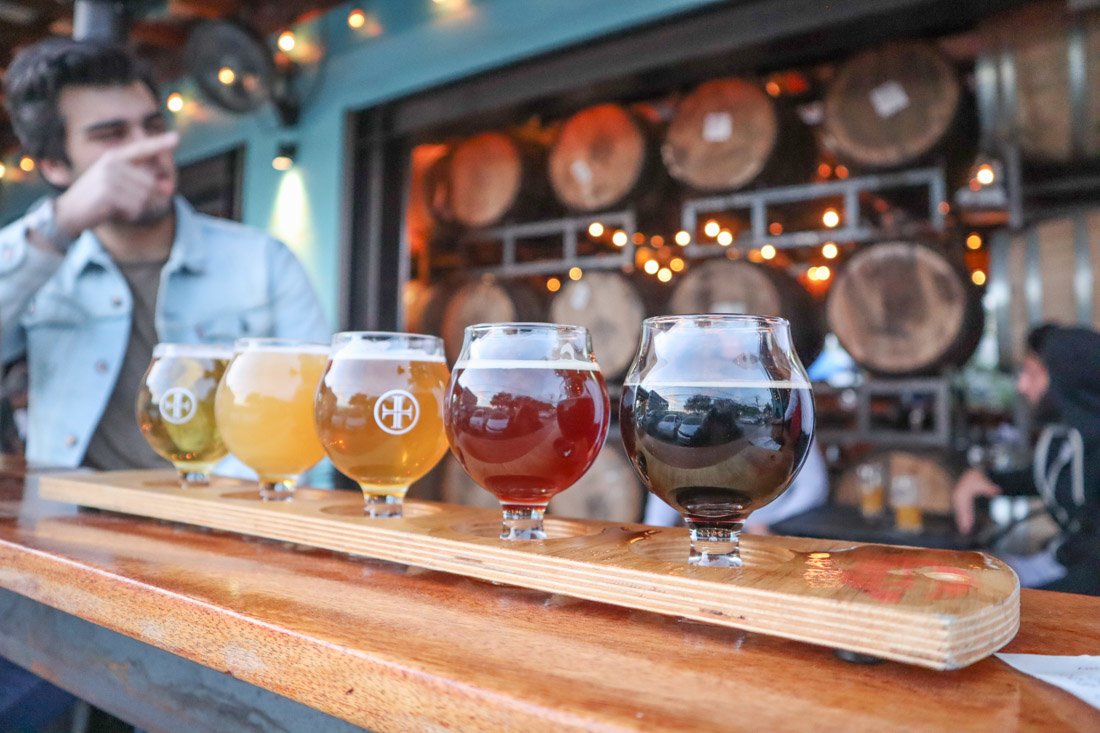 Getting to Austin
Austin–Bergstrom International Airport (AUS) is around 12 miles from 6th Street in the city.

Taxis, Uber and Lyft operate from the airport and there is a public bus option too.

Road trippers can pick up cars from car rental companies at the airport.
Getting Around Austin
Uber and Lyft are the most popular taxi ride sharing apps in Austin.
E-bikes and scooters are a quick way to get around and are used by locals and visitors.
Walking is easy around and between the above mentioned areas but it involves a lot of steps!
Parking in Austin
There is free parking at the BBQ joints mentioned above and at Barton Springs.
City parking is chargeable during the day.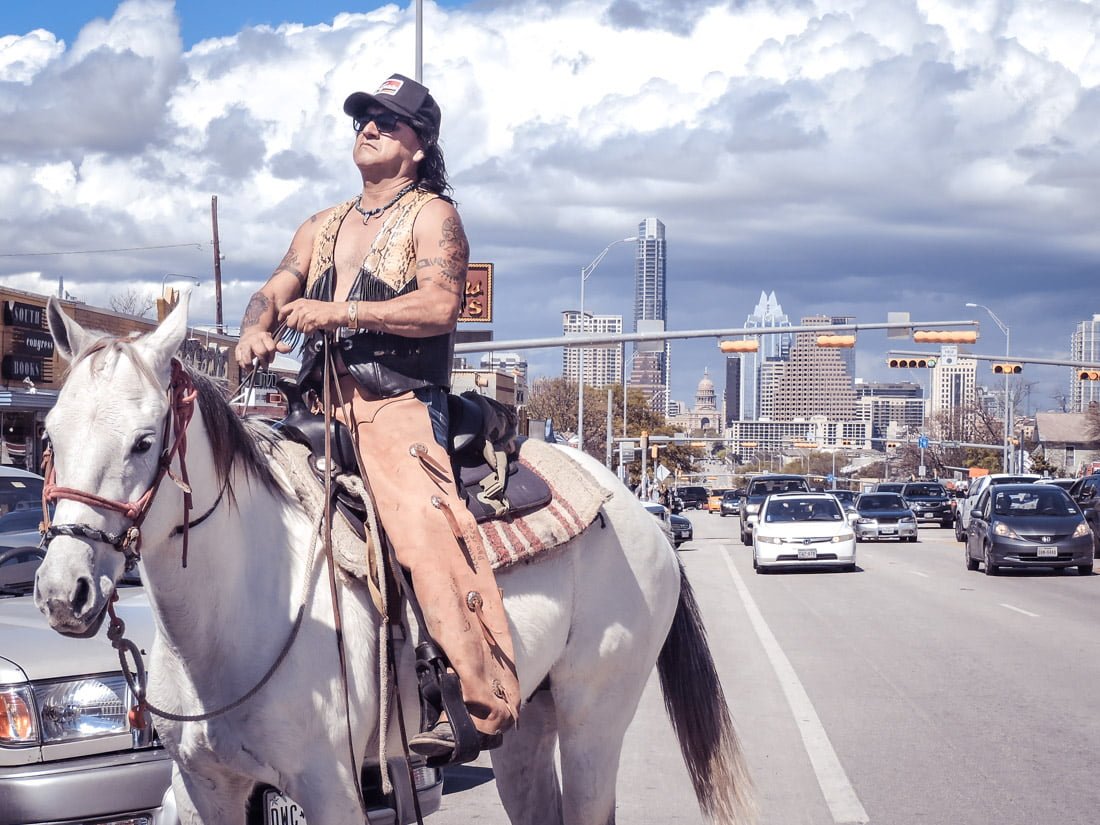 Hotels in Austin with Parking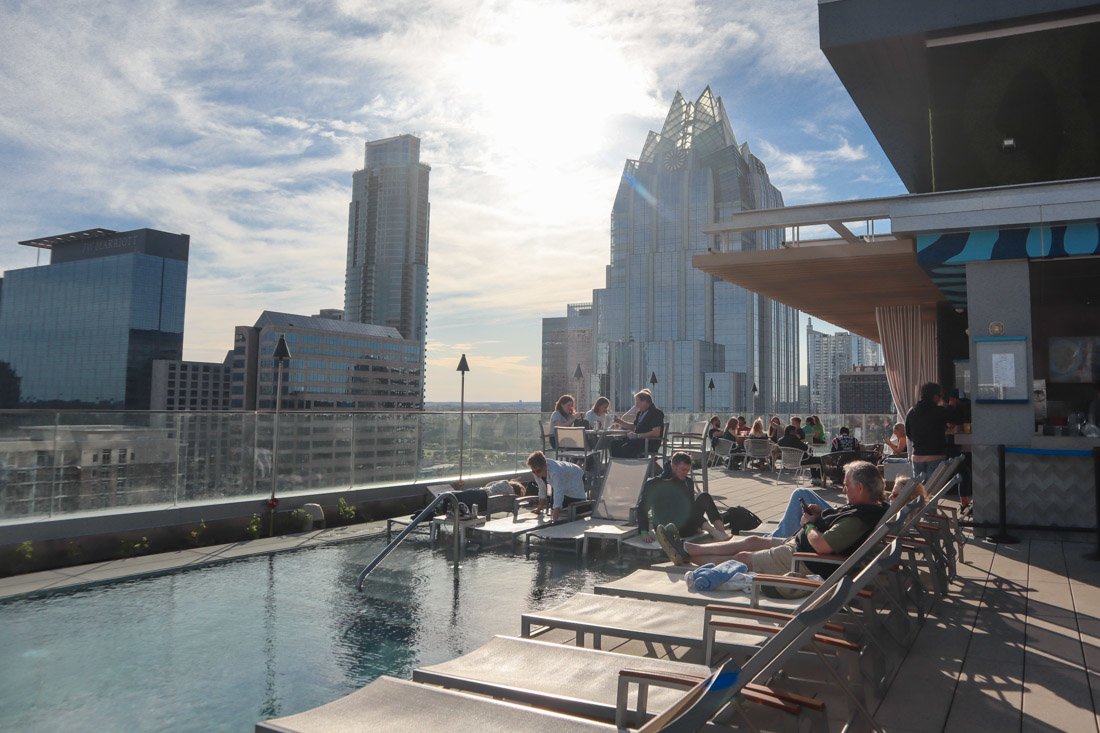 2. Lockhart (35 miles / 35 mins)
Lockhart is the BBQ capital of Texas so you know there's one thing you need to do, enter with an empty belly!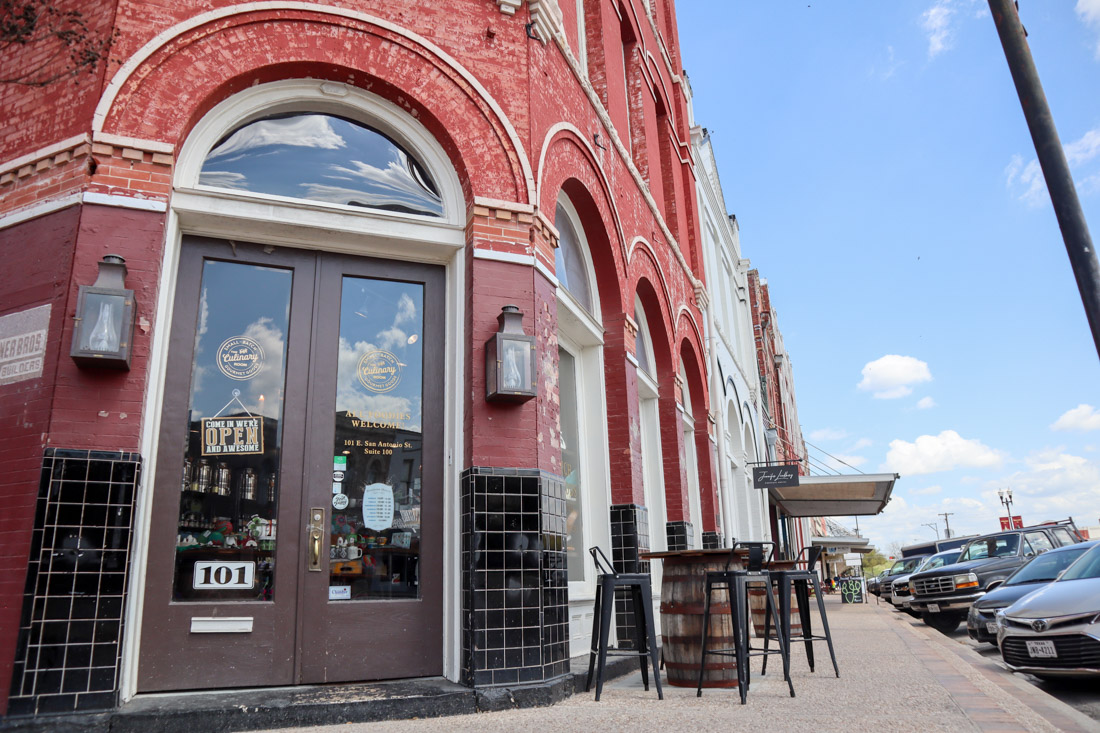 BBQ menus tend to include brisket, ham, prime rib, pork rib, pork chop, smoked turkey, sausages and sides such as mac 'n' cheese, beans, potato salad and crackers. Salivating? Me too.
There are three Lockhart BBQ joints that thousands flock to each year, Black's, Kreuz, and Smitty's Markets.
Black's BBQ is the oldest in Texas and has been owned by the same family since 1932.

Their Lockhart pit was built in 1949 and holds 500 pounds at one time.
This is the original Black's so if you are a fan of the way they BBQ, definitely hit this joint up
While Blacks call themselves the oldest, Kreuz Market states they've been "smoking meat in Lockhart Texas since 1901".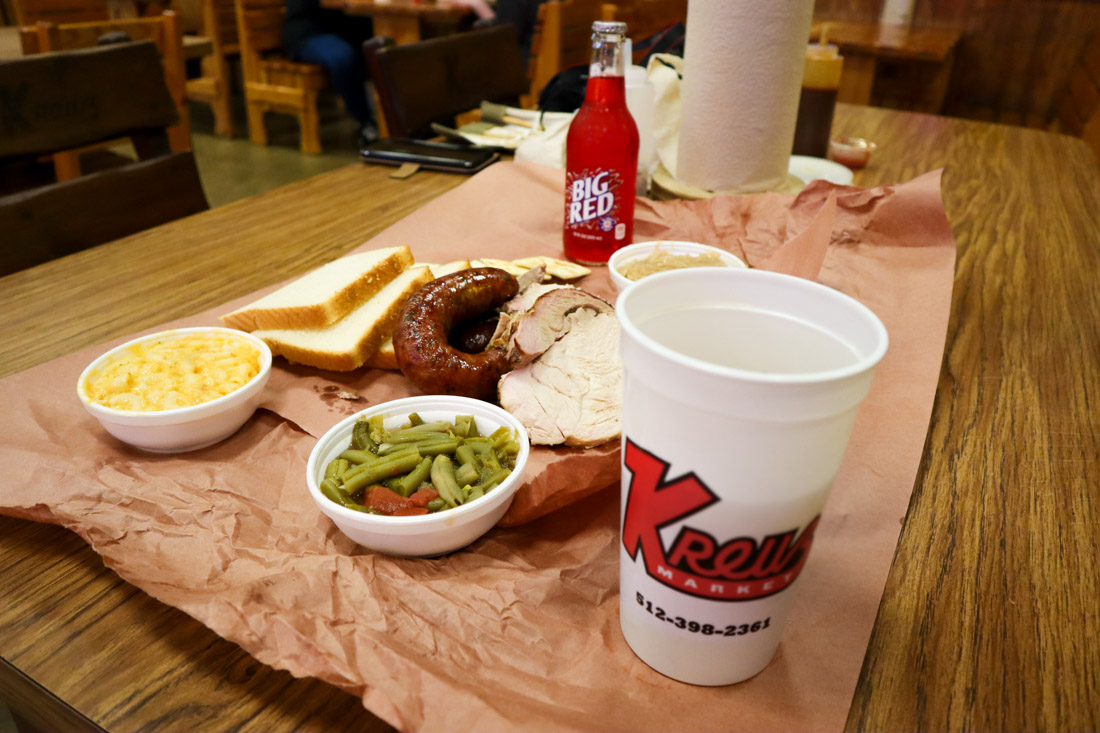 Charles Kreuz Sr. bought the original Lockhart grocery store with butchers off Jesse Swearingen in 1900.
Kreuz fused his German and Texas background to smoke meat over a post oak wood and give it that Kreuz taste until '48 when Edgar A Schmidt, a longtime Kreuz employee, bought the market from the Kreuz family and made it into a restaurant.
In '84, Schmidt's sons take over the business. A decade later, Edgar passes leaving the building in his daughter, Nina's name.
After a business and family feud, a new Kreuz Market is opened at Colorado Street and the old building becomes Smitty's.
How do I choose which BBQ to dine at? Honestly, locals have their own preference so you just have to go with your gut!
We opted for Kreuz Market and went for sausage, pulled pork, mac 'n' cheese, and green beans.

If you can only manage to visit one BBQ joint during your road trip in Texas, smoked meat is always a reason to return.
Don't expect a plate, Texas BBQ is all about the paper!
3. Fredericksburg (90 miles / 1 hour 45 mins)
First thoughts as you park up in Fredericksburg in Texas Hill Country is, have I driven to Germany in Europe?
German cuisine, German beer hall, and German flags, Fredericksburg wears its heritage proudly for visitors to see.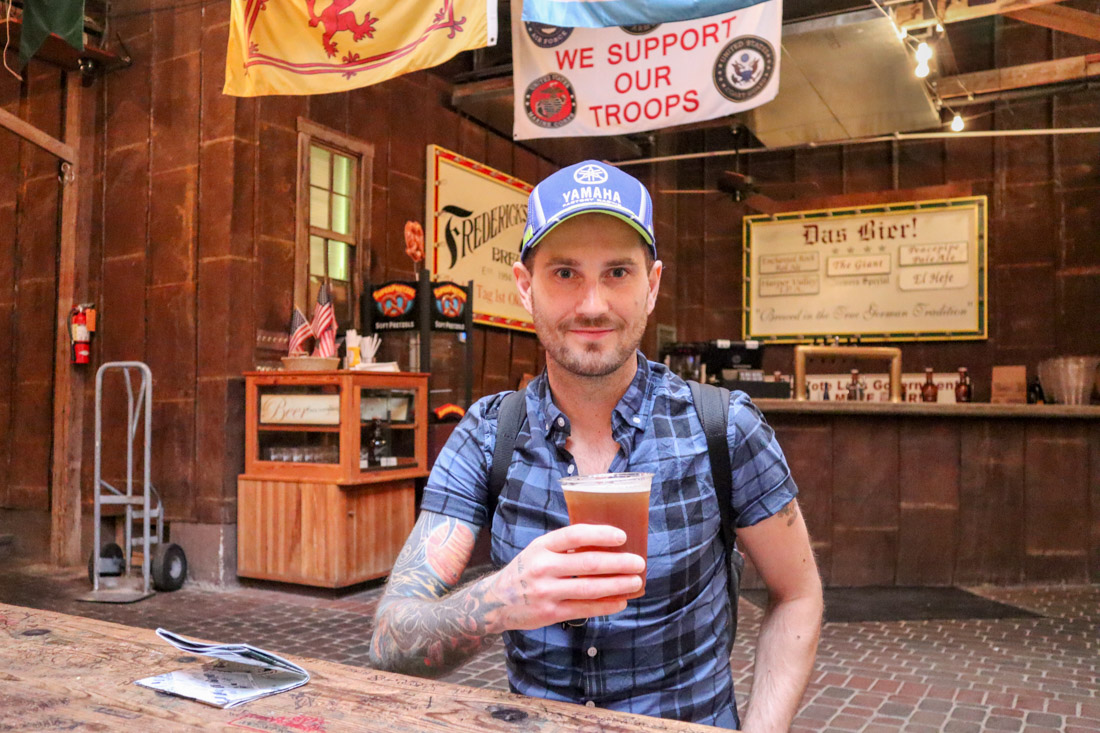 Since 1846, locals and visitors have been dining and shopping on Main Street but one of the most popular things to do in Fredericksburg is learn more about the local wine at one of the many vineyards.
If you are looking for more than German influenced food, there are plenty of dining options in Fredericksburg. We had Italian.
If you can't make it to a vineyard you can try a local Fredericksburg wine with dinner starting at $8 a glass.
Don't forget to say 'prost' before you drink.
Since it would be rude not to sample a glass or two, best consider one of the following hotels or lodgings with free parking.
Check out our guide to Oktoberfest in the US which features Fredericksburg too.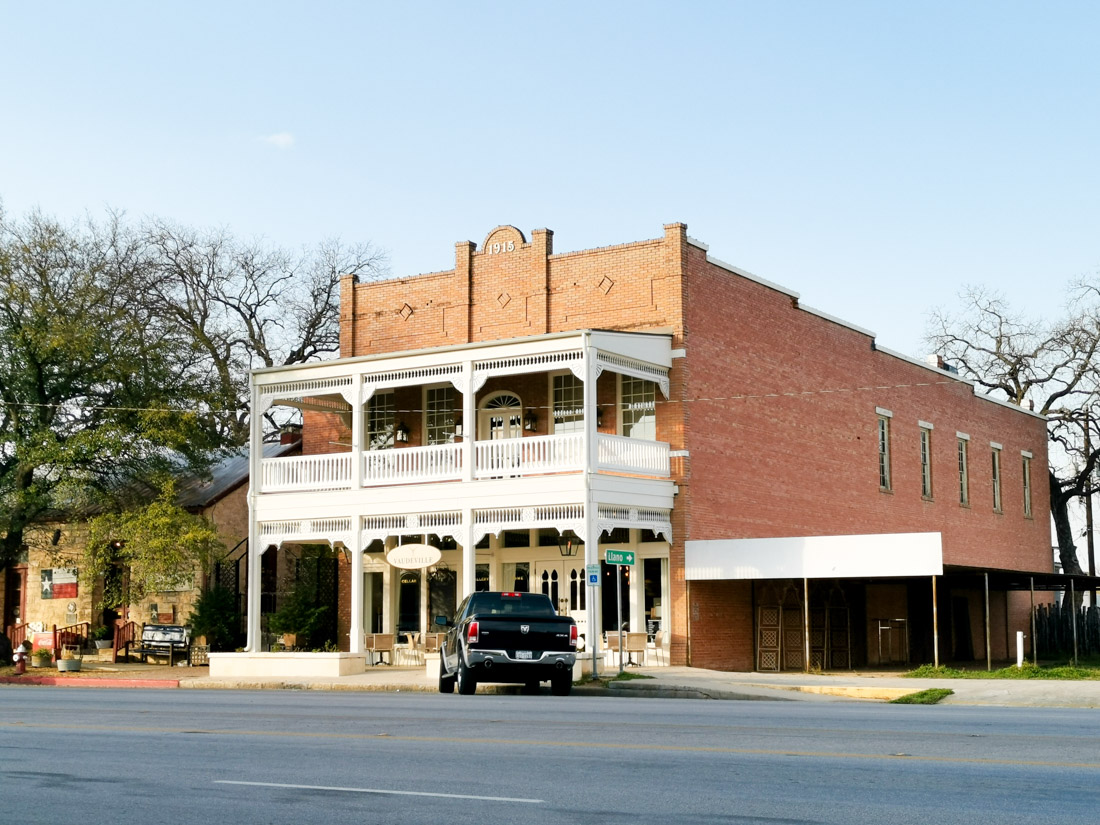 Hotels in Fredericksburg
Fredericksburg RV Park
We stayed at Fredericksburg RV Park, 305 E Highway Street. It took around 25 minutes to walk to Main Street from here.
4. Junction (1 hour / 62 miles)
Junction is a town with a proud community in Texas Hill Country.
Since the Llano River runs through Junction, many of the popular activities to do here are water based such as fishing, kayaking and birding.

We pulled up our camper and had breakfast by the water. Bliss.
5. Marfa (291 miles / 4 hours 5 mins)
Marfa is the West Texas town that locals get excited when they see it on your itinerary. A must-see on your Texas road trip, this is where art and other kinds of magic happens.
Marfa is tiny, with only 2000 citizens. There's one main stretch of main street and a couple of offshoots but this small town packs a lot in at the weekend.

I have to stress that the town is very quiet Monday-Thursday, so you might not 'get it' if you arrive then.
Make a reservation for food, we ended up with a Dairy Queen burger and fries because everywhere was packed out.
Things to do in Marfa
Ballroom Marfa is a small but important art space. Exhibitions are ever changing.

Entry is free but donations are appreciated.
Just outside of the main area at the Chihuahuan desert, Donald Judd's Chinati Foundation hosts a series of indoor and outdoor art installations.
The outside cement blocks '15 Untitled Works in Concrete' (1980–1984) garnered attention in 2017 when a Solange Knowles performance was built around them.

The 2.5 x 2.5 x 5 meters blocks span the length of a kilometre and make for an interesting walk, observing how the shadows change during your stroll.
Everyone in Texas knows about the Marfa Lights but many haven't actually seen them.

The unexplained nighttime phenomenon, located just off Route 67, is a hit or miss activity.

Often referred to as the 'ghost lights', when they do take over the sky, you will see pulsing balls of lights which sometimes dance together. UFOs or something more scientific? No one knows!
While you might not get lucky with a light show, you should see a sunset over the Chihuahuan desert.
There's no schedule so you just turn up, hope and wait. There are toilets on site if you need a refreshment stop.
Beyonce, The Simpson, Gossip Girl, Two Scots Abroad. Everybody who is anybody has visited Prada Marfa…

Just outside of Marfa, drive 26 miles along the U.S. Highway 90 (US 90) towards Valentine to see the site-specific functioning storefront by Elmgreen & Dragset.
Created in 2005, the boutique has had its fair share of issues with vandalism but the sculpture still stands strong for you to get a selfie with.

The storefront has signage, windows with covers and a display. It's really pretty cool.

Later in this West Texas road trip, you will see a copycat installation for another well known, less lux brand.
Marfa has made it to our list of most romantic destinations in US!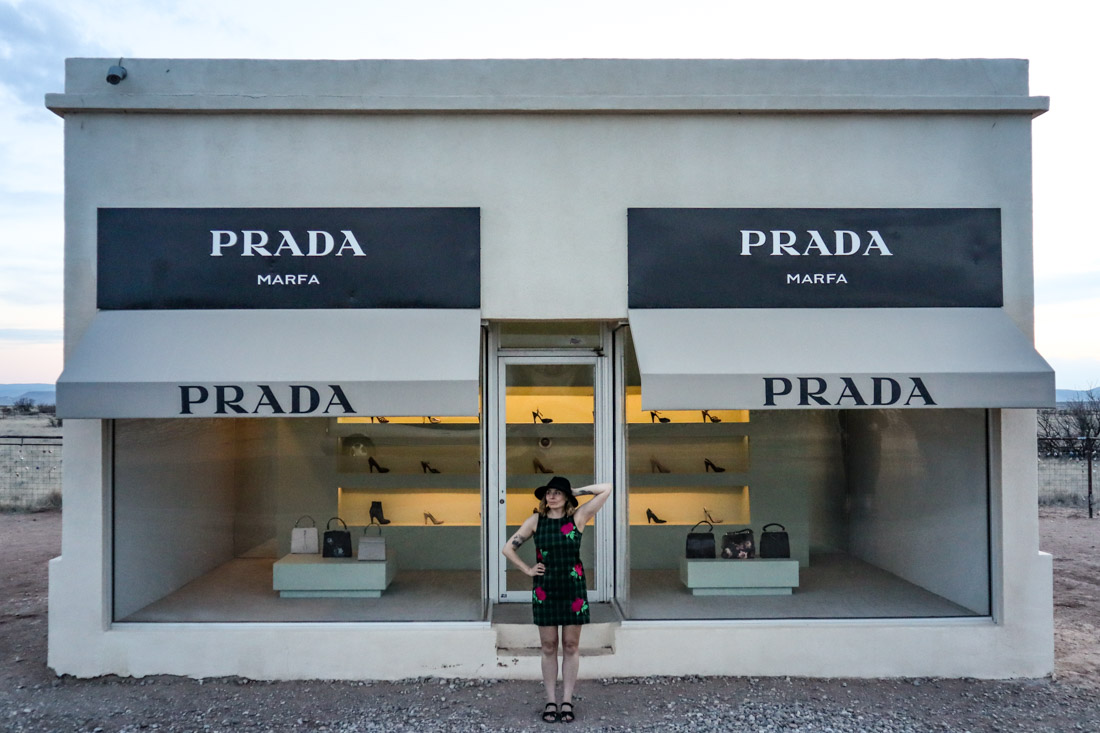 Marfa Hotels with Parking
Read our full guide to accommodation in Marfa here. The guide goest into detail about hotels, motels, adobe apartments, glamping and camping.
6. Terlingua (1 hour 46 minutes / 109 miles)
As you drive into Terlingua you will be welcomed by a skeleton on a motorbike and hot, dry heat.
Terlingua is often referred to as the Texas 'Ghost Town'.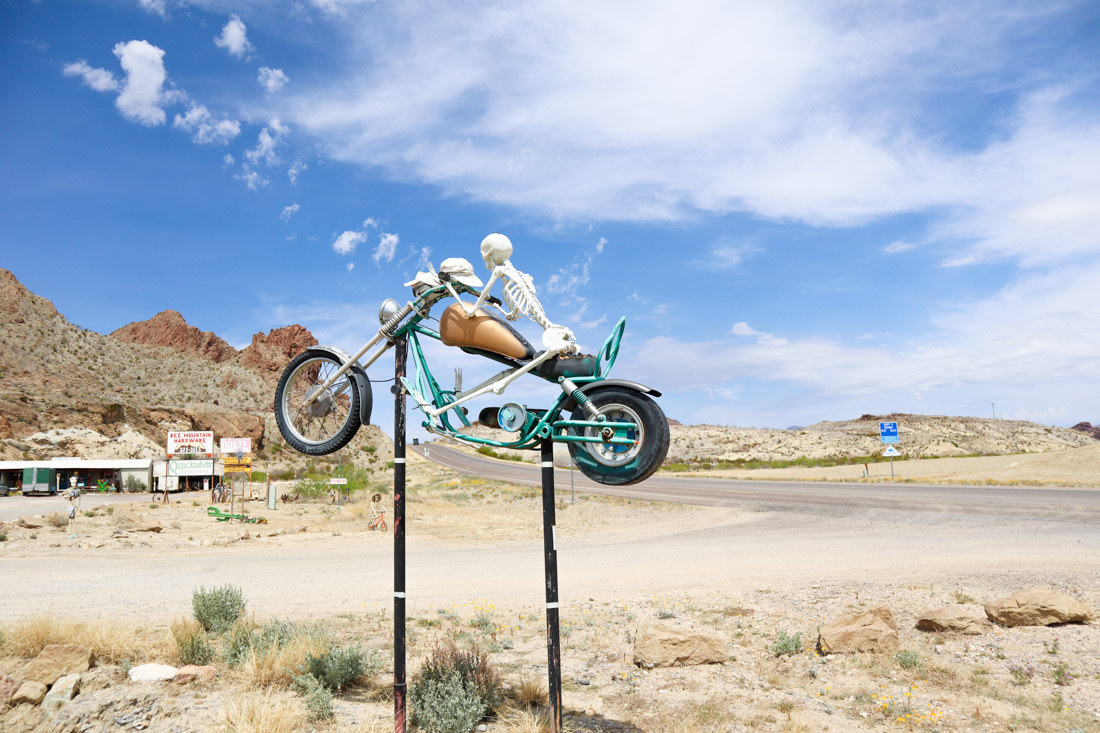 This old mining town has ruins from the 1800s documenting where miners searched for cinnabar (mercury).

Before WWII, thousands of people made up the Terlingua community. Today there are less than 100.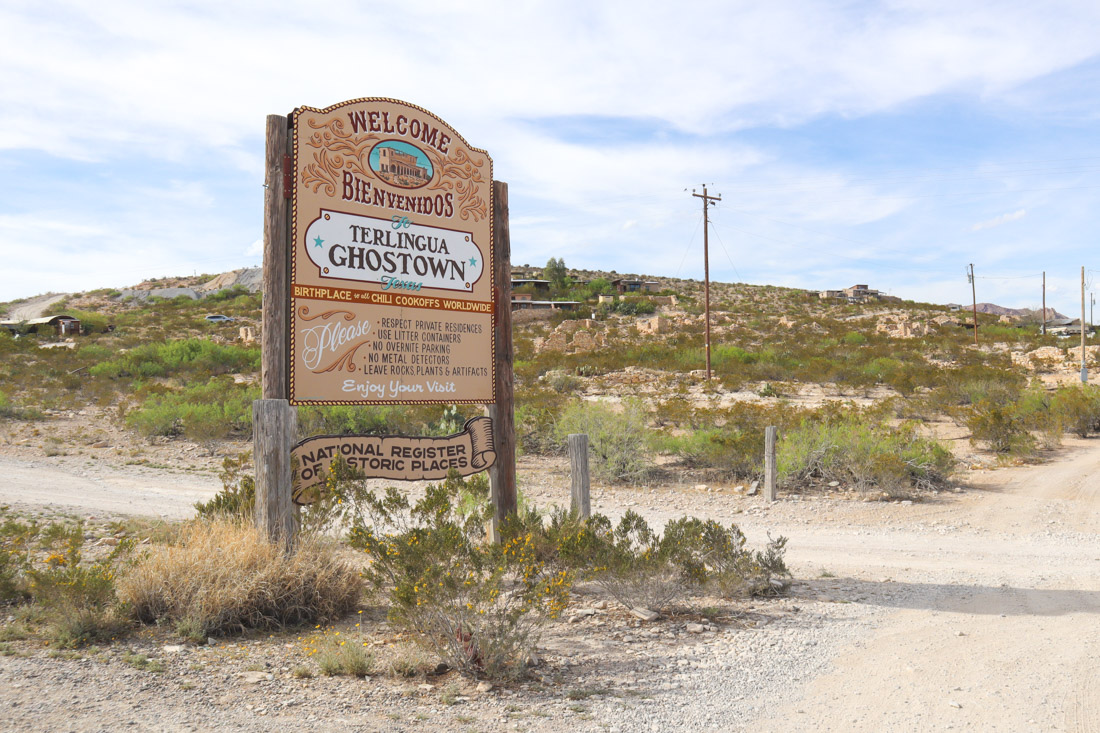 Visitors enjoy a small but popular built up area with a gift shop and restaurant called Starlight Theatre.

People sit on the porch, drink beer and attempt to hula hoop while waiting on their table reservation or just to watch the sun go down.
Every November there is a Chilli Cook Off Competition.
This cool town with a view of Chisos Mountains is often used as a base for those who can't get booked into Big Bend National Park.
There's a gas station in Terlingua. Fill up the tank before heading to Big Bend.
Terlingua Hotels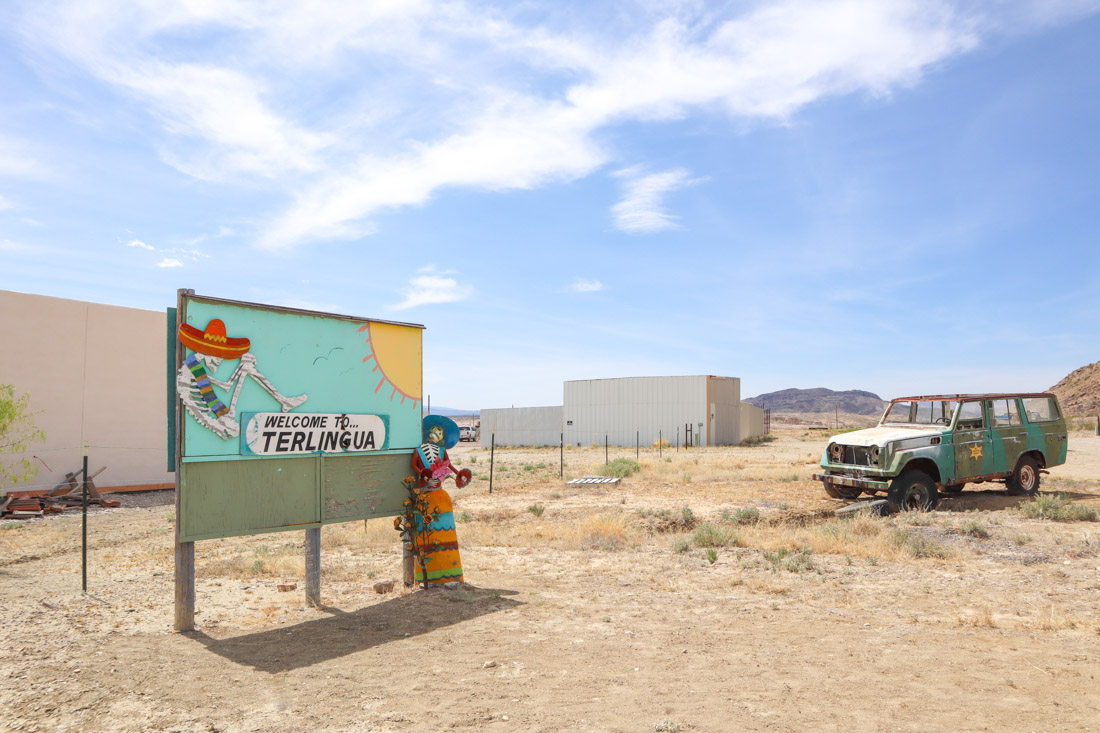 7. Big Bend (1 hour 15 mins / 42 miles)
I was really impressed with how well designed the Big Bend National Park experience is.

To enter the 15th largest national park in the US, you drive through a gate, pay at the entry fee station and receive a map.

We were asked if we had reserved a camper spot, which we hadn't. The guy advised us that there were no available reservations in the park but we could try an overspill campsite just outside of the official boundaries, which we did with no issues.
For your support and safety, there are five visitor centers in Big Bend: Panther Junction, Chisos Basin, Rio Grande Village, Persimmon Gap and Castolon.
Panther Junction has a gas station if you need to fill up. It is always recommended not to go under a quarter tank just to be safe!
There are three NPS-run campsites, Chisos Basin Campground (most popular), Rio Grande Village Campground and Cottonwood Campground.

There is also a concessions campsite at Rio Grande Village RV Park.
If you plan to camp in the park you must reserve a pitch online before arriving or you'll end up driving out of the park to camp then going back on yourself the next day.

If you do miss out on a reservation, we managed to get space at Stillwell Store RV Park, 20 minutes drive from the Persimmon Gap Visitors Center.
Big Bend National Park is… big. For example, it would take you over three hours to drive from Dog Canyon to Santa Elena Canyon.
If you only have one or two days, choose a corner and plan your activities around it.
Things to do in Big Bend National Park
Hike! There is over 201 miles of hiking trails. We did an easy hike at Dog Canyon where you can walk along the trail or through the canyon.
Here's our guide to backpacking national parks which includes tips on backcountry Big Bend.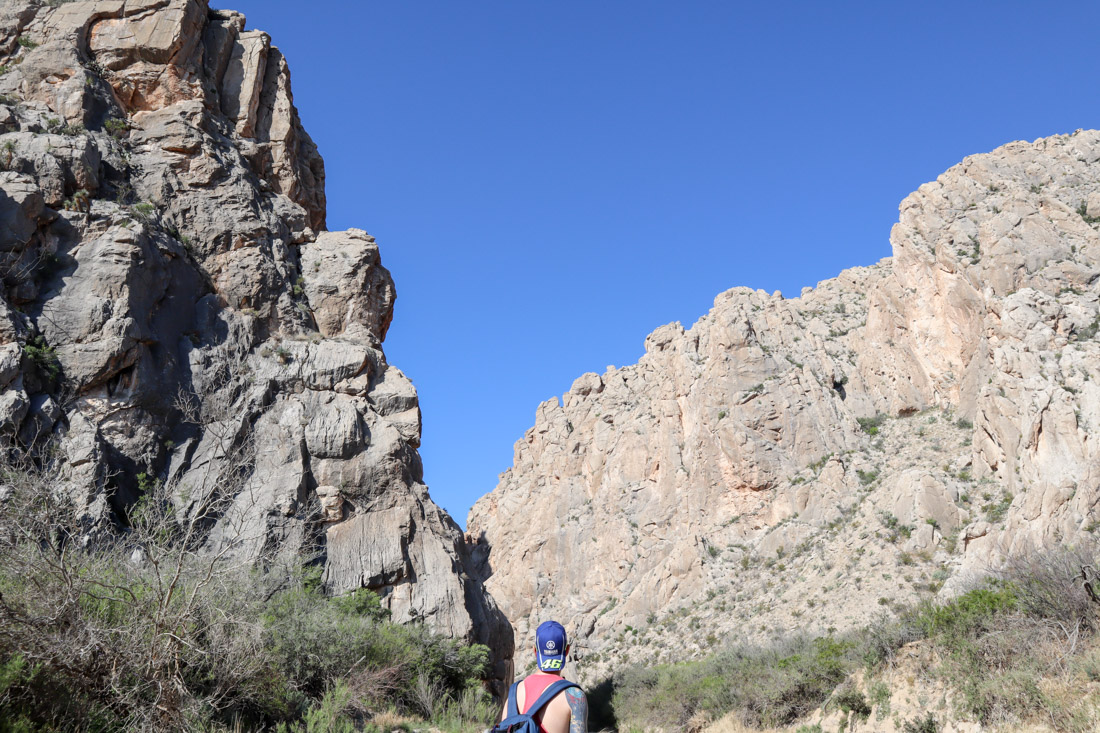 Walk along the .5 mile Hot Spring Trail to find Boquillas hot spring by the flowing River Grande.
It's super toasty! We let the River Grande take us downstream too. It was a tad sore on the bottom.
Get the boat to Boquillas in Mexico! Dine on Mexican food, drink a cold cerveza and hop back on the boat. Cash only.

You need your passport for the border crossing.
Canoe through Santa Elena Canyon.

Watch the sunset create shadows over the mountains and canyons. Be cautious of spiders and snakes as night falls!

Stargaze at the undisturbed black skies while you enjoy s'mores by the camp fire.
According to this source and the lovely reader who left me a comment, bluebonnet season starts around mid-March but it's hard to put a definite date on it.
Here's a map outlining all the attractions in Big Bend.
By the way, the Big Bend border town of Lajitas used to have a beer drinking goat as its mayor. True story.
8. Marathon (38 minutes / 42 miles, depending on exit)
Marathon is a small town in Brewster Country. We just stopped for a walk and a takeout coffee but now that I'm researching this small town there seems to be more than just a gateway town to Big Bend.
Things to do in Marathon
Enjoy food and a hot drink at the trendy V6 Coffee Bar. Sit indoors or outside to catch some sun.
Art hop between Klepper Gallery, Evans Gallery and Wes Spears' Sonworks Gallery
Look out for Maise Lee's hand carved wooden doors
Play a small round of golf at Gage Gardens and check out the well manicured gardens.

Enjoy craft beer and smoked meat at Brick Vault Brewery and BBQ.
A local told us that there was an art installation at the side of the round just like Prada Marfa but this standalone piece was targeted at affordable shopping.

We didn't plan to see Target but got lucky driving between Marathon and Alpine.

Unfortunately as of December 2020 Target at Marathon is now gone.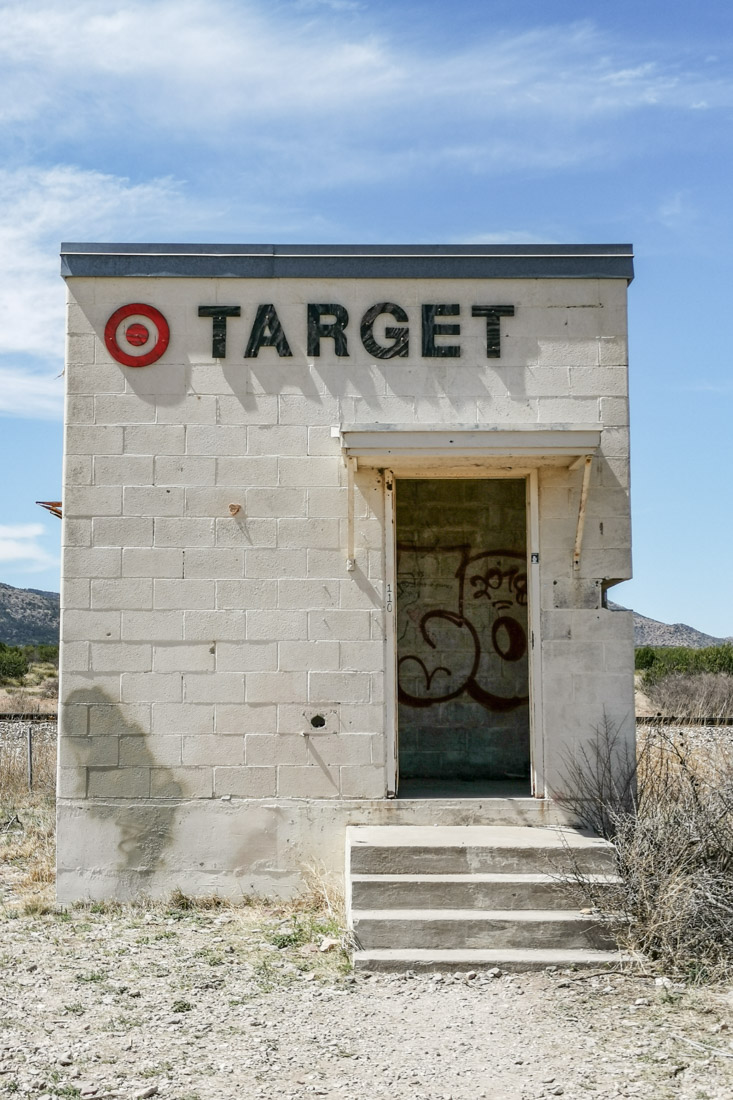 9. Alpine (30 minutes / 30 miles)
Alpine was a Texas road trips highlight for me. We drove through it on the way to Big Bend National Park and decided to return to spend a night.

The city of Alpine is slightly bigger than Marfa with a population of 5000 and is home to Sul Ross State University.
Things to do in Alpine
The Museum of Big Bend can be found at the campus of Sul Ross State University.

It documents geographical and historical records of this Texas National Park and its communities.
See the Alpine Cowboys play ball in spring and summer at Kokernot Field and Park.
Check out the art murals Downtown which was named a Cultural Art District in 2011.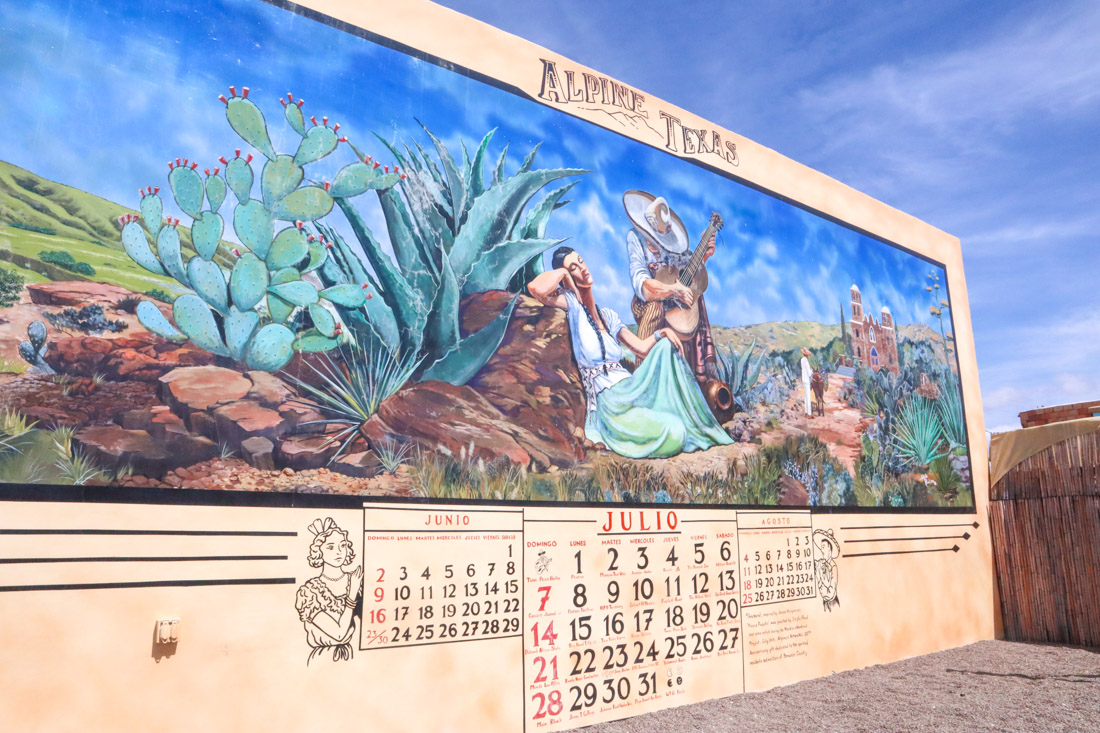 Grab a drink, enjoy food truck meals, dine out, hit up a thrift store or see a movie at the vintage Rangra Theater.
Wake up, fill up on diner breakfast at Penny's Diner and hit the road again.
Alpine Hotels
We stayed at Rolling G RV Park which had free laundry.
10. Ingram (4 hour 22 minutes / 308 miles)
Today is your longest leg taking you all the way to the small city of Ingram in Kerr County, Hill Country.
Your attraction of choice in Ingram is a 13-foot homage to Stonehenge in England.

Stonehenge II was built in 1989 by Doug Hill. Hill had been working with limestone slab and had extra left over so thought, hey, what does one do with this additional limestone?
For a joke, he offered it to his friend, Al Sheppard. Sheppard stood it upright in his pasture then created an arch.
The pair liked the look of it as it reminded them of the original astrological and religious site, Stonehenge.
Sheppard contracted Hill to extend their arch to form a circle creating Stonehenge II.
It took 9 months to complete and stands at 90% the width and 60% the height of the original.

The space also has a lookalike sculpture from Easter Island.

I told you this road trip would take you to cool places in Texas!
11. Kerrville (10 minutes / 6 miles)
Kerrville, an underrated Texas destination, is well worth a night on your road trip itinerary.

It is known as one of the best places to live in the state, surrounded by nature, rated schools and a population of young professionals, students and retirees.

There is a lovely walk down by the Guadalupe River and the Kerr Arts & Cultural Center showcases an array of work by locals and young people in the city.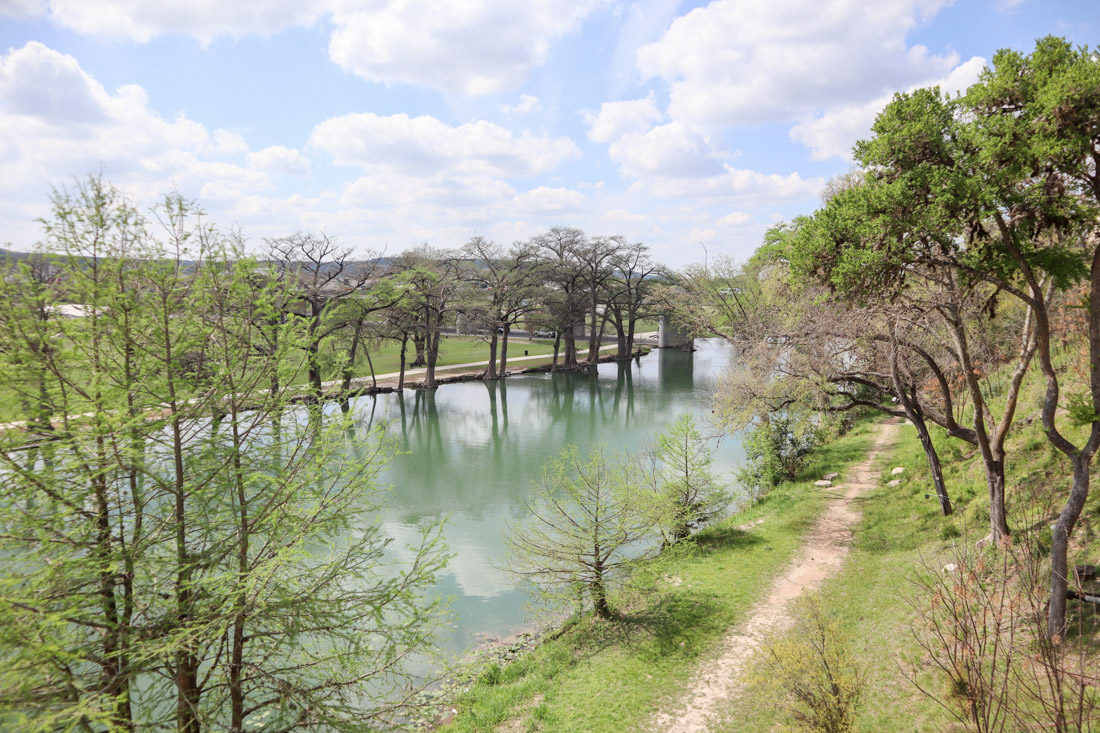 Take a tour of Schreiner Mansion, the first limestone building in Kerr County which has been placed on the National Register of Historic Places.
Take out tacos from Rita's Famous Tacos then chill out with a pint of craft or a coffee at Pint and Pose.
If you're into folk music you may want to consider the timing of your road trip to include the 18-day Kerrville Folk Festival in spring/summer.
Kerrville Hotels
Austin (1 hour 52 minutes / 101 miles)
Now your fun Texas road trip comes to an end.

If you have rented a car, camper or RV you might want to take advantage of having wheels in the city and swing by the You're My Butter Half mural which is difficult to get to by foot.
Since it's been a few days since BBQ, make your last meal one of the joints you've not tried yet and end the trip on a happy, full stomach, Texas style.
---
Texas Road Trip Information
When Is The Best Time To Travel?
Spring and fall are said to be the best times to travel to Big Bend.

The temperatures are mild which is ideal for hiking.
Mid-March and April is usually bluebonnet season. We managed to catch some when we visited in mid-March.

Watch the forecast for monsoon season, especially if you plan to camp. Consider alternative accommodation options if you are fair weather campers.
Plan for four seasons in one day. Pack lots of layers and waterproof gear.
Some RV campsites might close for winter. Check ahead.
Driving in West Texas
While the terrain around you is rugged, the roads are mostly smooth and stops are well signposted on this Texas road trip.
However, you do have to be cautious that you might die from boredom during some of the longer stretches.
Hit play on a pumping playlist, fire up the cool AC, play road trip games and get out of the vehicle frequently to stretch your legs and keep the brain alert.
You will be responsible for the death of a thousand flies as you drive this route so set your emotions aside as they splat against your windshield.
Gas is so cheap! We've never filled up anywhere as cheap as Texas. Gas stations have an excellent collection of snacks and coffee with syrups. You can pick up bags of ice for ice coolers at gas stations too.
You may also like our popular road trip packing list.
Buy a map. Cell phone signal is not reliable in the park.
It doesn't matter how huge your RV is, there will always be one bigger than yours on the road or parked up next to you in a RV camping ground!

We drove the smallest converted work van and were the talk of the park.
Austin to Big Bend Map
Follow this link for access to our Austin to Big Bend map. Please feel free to copy and tweak to suit your road trip needs.
---
Save for later! Pin to your Texas planning board
---
Final Words
From rugged mountains to melt in your mouth smoked BBQ, nighttime stargazing to surreal art, hopefully this guide has convinced you that the Austin to Big Bend and West Texas towns itinerary is one of the best road trips in Texas to take this year.