This article has links to products and services we love, which we may make commission from.
This guide to backpacking in national parks in the US shares the most popular options for first time visitors and experienced trekkers looking for their next challenge.
We've detailed general information about each national park, advice for planning your trip, tips for camping and the best trails for hiking in national parks.
The article also outlines important information about the best national parks to backpack such as when to hike and what to watch out for.
Which is your favorite national park for backpacking? Tell is in the comments.
Backpacking in Yellowstone National Park
Yellowstone National Park, which spans Idaho, Montana, and Wyoming, is one of the most popular national parks in the country.
Yellowstone was officially the first national park to be federally protected in 1872 which resulted in treaties identifying Native tribes as the rightful owners of the land being overturned.
It is said that 27 tribes, including the Tukudika, are associated with Yellowstone, with a history spanning at least 11,000 years.
Planning Your Travel
Yellowstone covers more than 3,500 square miles and there are five entrances for vehicles.
Besides traveling by car, you could also take a bus (via Highway 191) or fly in to one of the six airports near Yellowstone.
Make sure you check the status of your planned route leading to the park; many roads close in inclement weather and through the winter!
There is a one-time entrance fee for the park, but you just pay once when you enter and the fee is valid for seven days.
Camping in Yellowstone
The best time to visit the park is between May and September.
Permits are required at any time of year for camping in the backcountry.
Start here to secure your backcountry permit!
You can camp at one of the twelve campgrounds throughout the park, but make sure you make a reservation well in advance.
Spots fill up very quickly for campsites!
There are also ten visitor centers and eight developed areas with lodges, restaurants, and stores if you need to make any purchases before backpacking.
Yellowstone Backpacking Trips
This park has almost 1,000 miles of trails, so you're guaranteed to find a hike you'll truly love.
One of the best multi-day backpacking trips is the Lamar River Trail.
You'll see truly amazing views, bison, and maybe even a grizzly bear or two!
Check out this amazing tour of Gardiner in the Grand Canyon!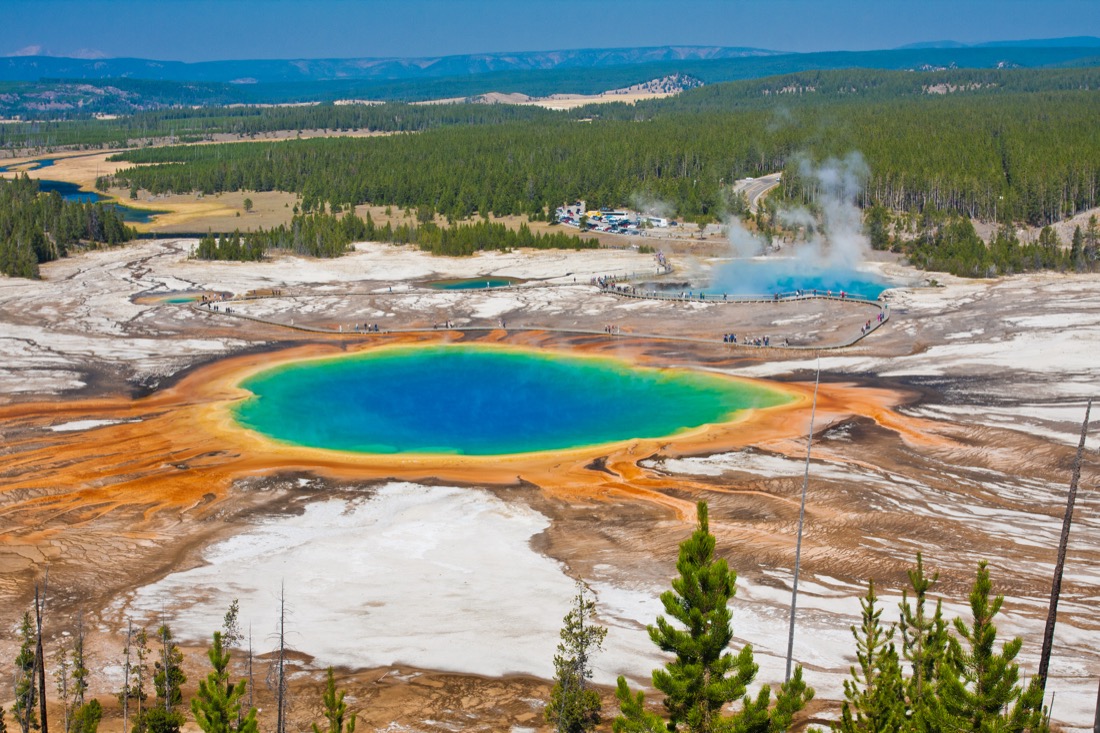 Important Information Before Backpacking Yellowstone
Between the months of March and July, you'll need to be careful of ticks and mosquitoes.
Long sleeves and pants, repellant, and frequent body checks will keep you safe from these pests.
Every square mile of Yellowstone is bear habitat, so do your research about bear safety before entering the parks.
Always carry a map and a compass and be sure you know how to use them!
Some of Yellowstone's trails are old and can be unclear, so prepare as much as you can in advance for the route you plan to take.
The weather in Yellowstone is known to change rapidly, so always bring rain gear, a change of clothes, and warm layers.
Swimming is NOT recommended at Yellowstone because the water temperature is often dangerously cold all year round.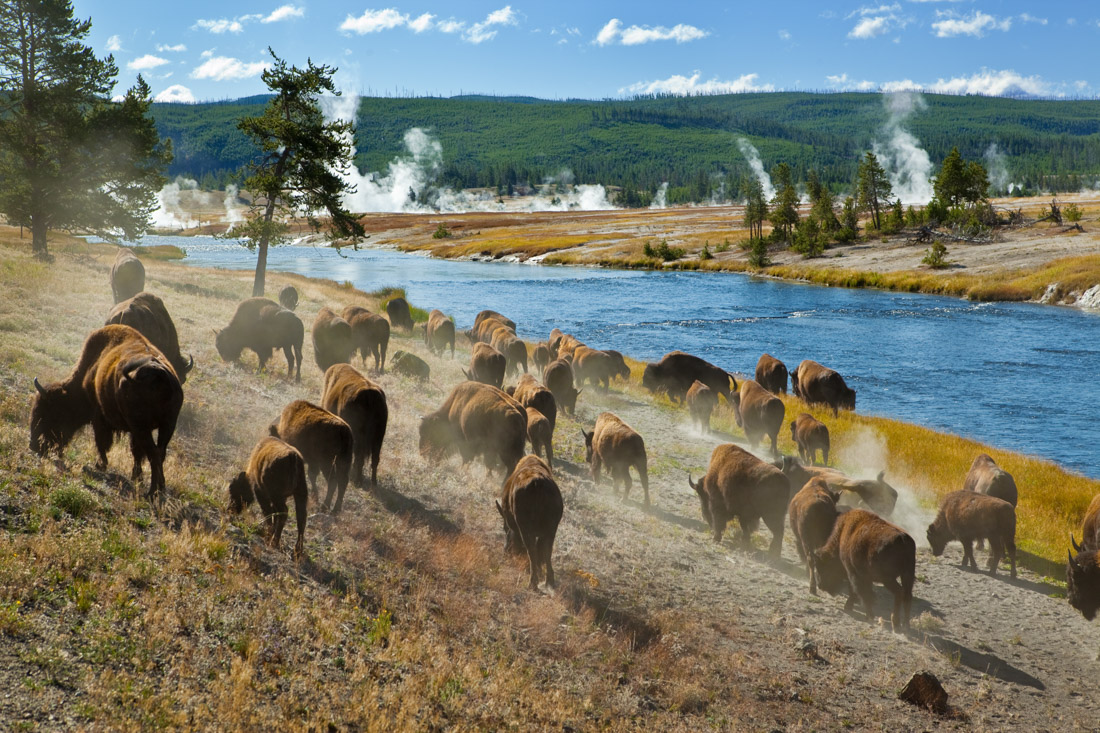 Olympic National Park Backpacking
Olympic National Park in Washington is known for its glaciers, temperate rain forests, old-growth forests, and dozens of miles of coastline trails.
Planning Your Travel
You'll need an entrance pass, whether you are entering with a private vehicle or just yourself (without a car).
Either way, the pass is valid for seven days, so you'll have more than enough time to do all the best backpacking in Olympic National Park!
Click here to find all the maps you need to travel to, from, and around the Olympic Peninsula.
Camping in Olympic National Park
Be sure to secure any permits you'll need if you plan on staying in the back country.
If you plan on camping at any sites in Olympic, you'll need to reserve your spot at Kalaloch, Mora, and the Hoh Rain Forest.
There are two private resort campgrounds you can make reservations for, as well.
All other campgrounds are first-come, first-served, so make sure you try to plan ahead so you won't get stuck without a campsite!
You won't want to miss the Heart O' The Hills Campground, surrounded by old growth forest!
Olympic Backpacking Trips
When you're planning to backpack Olympic National Park, be sure to check out these amazing trips!
Don't miss Olympic National Forest backpacking; the National Forest nearly surrounds the park and is the only temperate rainforest in the lower 48 states.
Review this list of trails that require a day pass before you go!
There is no better Olympic Peninsula backpacking trail than the west Olympic Discovery Trail.
Enjoy 41.6 miles of forest and ocean, finishing your backpacking trip at some of the best beaches in Washington.
You absolutely won't want to miss this amazing small group guided hike around Olympic National Park!
Important Information Before Backpacking Olympic
Weather is unpredictable in the national park, so be prepared for any weather event, and check trail conditions before you head out.
To make the most out of your time in Olympic, plan a hike around all four of the national park's unique ecosystems: subalpine, coast, temperate rain forest, and old-growth forests.
Maps will be essential to your trip, so make sure you're prepared with printed copies of all your maps!
Glacier National Park Backpacking
Glacier National Park in Montana is truly a wonderful place to experience the wilderness and incredible ecosystems.
With over 700 miles of hiking trails, with a little bit of research, you'll be able to find the best Glacier backpacking trip for you.
Camping in Glacier National Park
If you plan to stay in the backcountry, you must visit a ranger station, the Agpar Wilderness Permit Center, or the St. Mary Visitor Center to secure a permit.
The best time to visit is from May to October, as you'll face less dangerous weather in the off seasonqa
You'll find more details at Glacier's Wilderness Camping site.
Best Glacier National Park Backpacking Trip
The Highline Trail is a 15 mile trek that is perfect for a 2-day hike.
Park in the parking lot and spend a day hiking out to the phenomenal views at Granite Park Chalet.
Find a spot to camp near the chalet, and hike home on this lovely out-and-back backpacking adventure.
If you'd prefer a water-based trip, check out this whitewater rafting adventure!
Important Information Before Backpacking Glacier
There is no cell coverage outside of Apgar and St. Mary, so take every extra step to prepare with screenshots, physical copies of maps and directions, and a compass.
You'll need insect repellent and bear spray; make sure you know how to ward off bears in an emergency situation.
If you're visiting Glacier during peak season, you might be dealing with some serious crowds.
To avoid this, head out well before 10 AM or, if you're a bit more adventurous, start your hike in the afternoon so that you arrive at your backcountry camping spot just before dark.
Glacier National Park is also featured in our guide to fall in Montana.
Grand Canyon Backpacking
Grand Canyon National Park is located within Arizona and is one of the most beautiful sites in the United States.
The Canyon is one mile deep and runs 277 miles along the Colorado River, separating the park into the North and South Rims.
The Grand Canyon became federally protected in 1919.
However, artifacts from a variety of cultural groups including Paleo-Indian, Archaic, Basketmaker, Ancestral Puebloan (Kayenta and Virgin branches), Cohonina, Cerbat, Pai, Southern Paiute, Zuni, Hopi, Navajo, and Euro-American have been found here, dating back 12,000 years.
You can learn more about the eleven Native tribes that have connections with the Grand Canyon here.
The site includes text, audio and video.
Planning Your Travel
The park is accessible by four highways: the North Rim can be reached by Route 64, Route 180, and you can access the South Rim by way of Highway 67, and Highway 89A.
The South Rim is open all year round, but the North Rim, which is much more remote, closes for the winter.
You will have to plan carefully if you hope to visit both the North and South Rims, but most people thoroughly enjoy their trip if they stick to the South Rim.
You'll need to pay for an individual or personal vehicle permit at the National Park.
Camping in Grand Canyon National Park
If you plan to stay at a campground, you can make a reservation at any of the six campgrounds on the National Park.
Only four of the six campgrounds are open during the winter, so be sure to choose the right campground depending on which season you'll be there.
Permits are required for backcountry overnight camping, but you must submit a permit request several months in advance.
Refer to this informational guide for more information about how to request a backcountry permit.
Best Grand Canyon Backpacking Trips
The Horseshoe Mesa Circuit is a three-day, 12- to 16-mile hike that is a difficult but highly rewarding trip.
You'll enjoy wildlife sightings, reliable access to fresh water, and the quiet solitude of a trail less-traveled.
Make sure to print out your maps, take screenshots, and bring a compass with you on your trip!
The Rim to Rim hike is a 21 mile, 2 day hike that includes descending and hiking back up the 1 mile deep canyon.
Because this is a strenuous hike, do not attempt this in the high summer months where temperatures are frequently higher than 100 degrees Fahrenheit.
Less than 1% of all visitors get to experience the true magic under the rim of the Grand Canyon.
Definitely consider this amazing hike, though you'll have to work for those incredible views!
Check out this guided hike of Hermits Rest!
Important Information Before Backpacking Grand Canyon
If you do decide to hike around the South Rim and then travel by car to the North Rim, be aware that it will take at least 5 hours to get to the North Rim Village from the South Rim.
You might encounter elk on the trails or in town; do not approach them!
Elk have been known to charge at or kick visitors, so stay at least 100 feet away from the animal if you happen to see one.
Be cautious of lightning, as well.
Thunderstorms are frequent from July to September, so always check the weather forecasts before you visit and make sure you have an emergency plan in place in case you get stuck in a thunderstorm.
Sequoia National Park Backpacking
Ancient giant sequoia trees are enormous and are absolutely breathtaking.
Backpacking Sequoia National Park in California will be one of the most magical trips you can take on Earth, so make every effort to pack and prepare for this incredible national park.
With 800 miles of trails and over 800,000 acres of forest to explore, you are sure to enjoy this vast wilderness.
Note: Sequoia National Park became federally protected in 1890. It is the homelands of the Nyyhmy (Western Mono, Monache), Yokuts, Tübatulabal, Paiute, and Western Shoshone tribes.
Visit the Sierra Mono Museum in Northfork to learn more.
Planning Your Travel
You may reach the park through two major highways–Highway 180 and Highway 198.
The physical address of the national park is 47050 Generals Highway, Three Rivers, CA.
The roads throughout the park usually close during the winter season, so plan ahead if you're visiting during that time.
The park is open 24 hours a day, 365 days a year, so you have a lot of flexibility for timing your trip.
You will have to purchase either an individual pass (if you don't have a car) or a vehicle pass, which will be valid for 7 days.
Buy your pass ahead of time online to save time on entry!
Camping in Sequoia National Park
Sequoia backpacking is best when you can camp overnight, so luckily the park has 14 campgrounds.
There are only three campgrounds that are open in the winter off-season, so make sure you reserve your spot well in advance if you're traveling in the winter.
Most of these campgrounds require a reservation ahead of time, so check this website for available sites for your trip.
You can only make a reservation one month in advance and spots fill up quickly, so make sure you can set aside time to reserve a spot in time!
If you plan to venture into the backcountry, you'll need to request a permit.
Check out this helpful resource by the Sequoia Rangers that explains everything you'll need to get out into the wilderness!
Best Trips for Backpacking Sequoia National Forest
The Mount Langley Loop is a 23-mile trail around the 9th tallest peak in California.
This multi-day hike will be a great challenge and a perfect opportunity to scale one of the tallest mountains in the state.
Check out this Giant Sequoia snowshoe guided tour, as well!
If you are considering a snow hiking trip, you might like our guide to the best national parks in March.
Important Information Before Backpacking Sequoia National Park
Weather conditions vary wildly in this park, from the highest peaks to the lowest valleys.
You have to prepare for every weather condition, as you never know how quickly the weather can change in the park!
Cell service is very limited in the park, so make an emergency plan so that somebody back home knows exactly where you are and how to find you if something were to go wrong.
Black bear habitat is located throughout the park, so make sure your food is fully secured so that you are safe.
Grand Teton National Park Backing
Grand Teton National Park in Wyoming is a lush park with multiple biomes and alpine terrain.
With 200 miles of trails and over 300,000 acres within park boundaries, there is so much to explore at the Grand Tetons.
When planning a trip for backpacking in the Tetons, you'll need to plan carefully for the best time!
Planning Your Travel
The physical address of Grand Tetons National Park is 103 Headquarters Loop, Moose, WY.
The park is located in the northwestern corner of Wyoming, and it's the only national park with an airport within its boundaries (Jackson Hole Airport).
It is also about a nine hour drive from Denver, Colorado and a five hour drive from Salt Lake City, Utah.
The park is open 24 hours a day, 365 days a week, so you can plan a trip any time of the year.
Check for road closures or any warnings before you arrive.
You'll need to purchase an entrance pass for a private vehicle or for an individual, but it will be valid for seven days!
Camping in Grand Teton National Park
You must make reservations for each park in Grand Teton, and every campground except Jenny Lake has a 14-day limit.
All campgrounds close in the winter, so if you plan to visit during that season, you'll have to camp in the backcountry.
Check this guide for more rules and regulations regarding camping in the Tetons.
If you'll be backpacking the Grand Tetons, the rangers actually wrote a guide to help you plan for your trip!
You also have to acquire a permit no more than one day before your trip at either visitor center or ranger station.
Best Trips in Grand Teton National Park
The Alaska Basin Trail is 16-20 miles well-loved by locals for its sprawling wildflower fields, fresh streams, and incredible views.
You'll reach heights just over 9,500 feet and will experience the best alpine meadows the Grand Tetons could offer.
Important Information Before Backpacking Grand Teton National Park
You will be traversing through bear habitat, so make sure you are prepared to navigate the trails safely.
Afternoon thunderstorms are also common in the summer months, so you should have emergency plans in case you get stuck in a lightning storm.
Weather can change very quickly in the Grand Tetons, so you should be prepared in case of extreme sun exposure, wind, rain, and cold temperatures.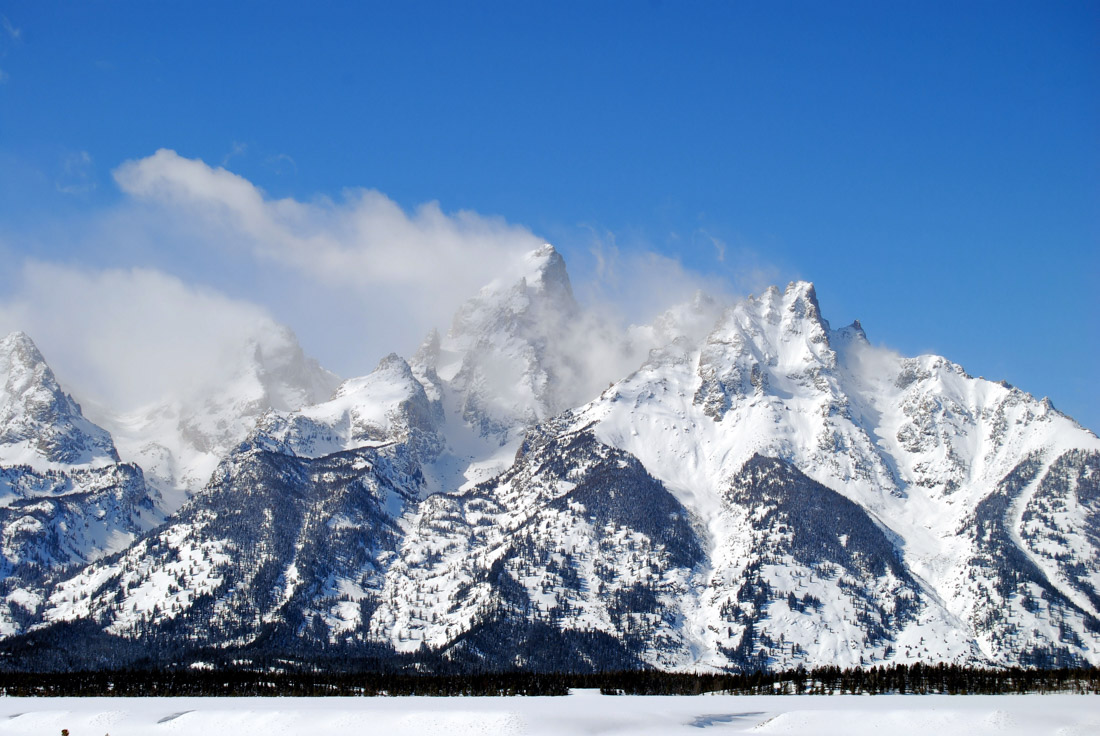 Yosemite Backpacking Trips
Yosemite National Park in California is 1,200 square miles of breathtaking views, beautiful glaciers and giant sequoias, and incredible swaths of wilderness.
Yosemite was one of the first national parks to be recognized, dating back to 1864.
Generations upon generations have enjoyed the beauty of Yosemite National Park, and you'll soon have all the information you need to prepare for the best backpacking trip in the park.
Note: Yosemite National Park was officially founded in 1890 but it has a long history before being Federally protected.
The area was called Ahwahnee, a name given by the native Ahwahneechee People, a mixed tribe including Miwuk and Mono Paiute, who were brutally evicted by the Mariposa Battalion.
You can learn more about Miwuk history at Yosemite Museum and Mariposa Museum and History Center (5119 Jessie St, Mariposa).
Planning Your Travel
Yosemite National Park is accessible by three highways: 41, 140, and 120.
Parts of Highway 120 are closed in the winter seasons, which is also true for many parts of the other highways that could temporarily close due to snowstorms.
Yosemite is open 24 hours a day, 365 days a year.
Some services and hours are affected by the winter season, but all amenities remain open through the spring, summer, and fall.
You must purchase an entrance pass or a vehicle entrance fee, but this one-time fee is valid for seven days.
Camping in Yosemite National Park
If you're looking for a Yosemite backpacker's campground, you've got 13 amazing campgrounds to choose from.
Only seven require a reservation, but it is strongly recommended you make a reservation if you can.
The six campgrounds that are first-come, first-served usually fill up before noon between April and September, so either make sure you can make a reservation or arrive to the campground in the morning.
When backpackers camp Yosemite, they actually love to stay in the backcountry; you should give it a try!
Permits are required for overnight backcountry camping by way of lottery 24 weeks in advance.
Best Yosemite Backpacking Trips
For the best experience, try this 3 day backpacking Yosemite trip!
This personal tour features a hike through a giant sequoia grove, views of the Half-Dome, El Capitan, and Yosemite Falls.
You'll also be able to tour old mining towns, traveling through the San Joaquin valley and through the Sierra Nevada mountains.
If you're looking for a perfect fall trip, try the Tuolumne Canyon Trail in September or October.
Trek 30 miles over four days and enjoy the scenic beauty of pristine lakes and incredible canyons.
With a total elevation gain of almost 6,000 feet, this is a more moderate-to-difficult trail, but if you take it slow and over four or five days, you'll do great!
Important Information Before Backpacking Yosemite National Park
Millions of people visit Yosemite every year, so make sure you're prepared to deal with crowds and can practice a bit of patience on the trails.
You'll also do well to visit the park before or after the main rush (between 9 am and 5 pm). Show up early in the morning to find a great parking spot and set out before the crowds pile up!
Cellular service is very limited in the parks, so make sure somebody back homes knows the exact details of your trip in case of any emergency.
Thunderstorms are common between June and September, but if you get caught in a lightning storm, there are a few things you can do for your safety.
You could seek lower elevations or shelter to get out of any possible lightning paths.
Prepare a couple of alternative trips in case of hazardous weather conditions; plan for extra days you might have to wait for storms to pass or explore lower elevations.
Big Bend Backpacking Trips
Big Bend National Park is situated in West Texas, 412.6 miles from San Antonio (6 hours) 436.7 miles from Austin (6 hours 30 minutes).
It is the 15th largest national park in the US and it has hundreds of trails and a hot springs!
The more remote trails should be left to more experienced hikers but there are shorter trails for others.
Planning Your Travel
Big Bend's its closest airports are Midland/Odessa (235 miles from park headquarters) and El Paso, Texas (330 miles from park headquarters).
Both airports have car hire options.
You must purchase an entrance pass or a vehicle entrance fee, and a Backcountry Permit is required for all overnight backpacking in Big Bend National Park.
Camping in Big Bend National Park
There are forty-two designated campsites in the Chisos Mountains and a backcountry permit is required to access them.
The permit designates you to a specific sites for stated nights.
There are also other permits for Maverick Road and the River Road and they are available in person only at Panther Junction and Chisos Basin Visitor Centers, 24 hours in advance of your first night's stay.
Use the camping water and food storage to keep bears, javelinas, skunks, rodents and other animals at bay!
Best Big Bend Backpacking Trips
Easier trails include Dog Canyon and Santa Elena Canyon Trail, these are aimed at day trippers.
Backpackers may want to consider Mule Ears/Smoky Creek Trail, Chimneys Trail, Marufo Vega Trail Complex, Blue Creek Trail, Juniper Canyon Trail, Dodson Trail, Elephant Tusk, and Mesa de Anguila area.
Extremely rugged trails include Marufo Vega Trail, Mesa de Anguila, Mariscal Rim Trail and the Outer Mountain Loop.
Important Information Before Backpacking Big Bend National Park
There are several convenience stores located in the following areas – Rio Grande Village, the Chisos Basin, and Castolon.
Cellular service is limited.
Big Bend gets hot. Expect highs of 95 F in June.
Do not attempt to hike in heat without the appropriate backpacking items.
Pack winter sleeping bags, January temperatures go as low as 37.5 F.
Desert backpackers will be asked to share their packing list with a ranger.
Avoid booking a backpacking trip during Spring Break as this is one of the busiest times for the park.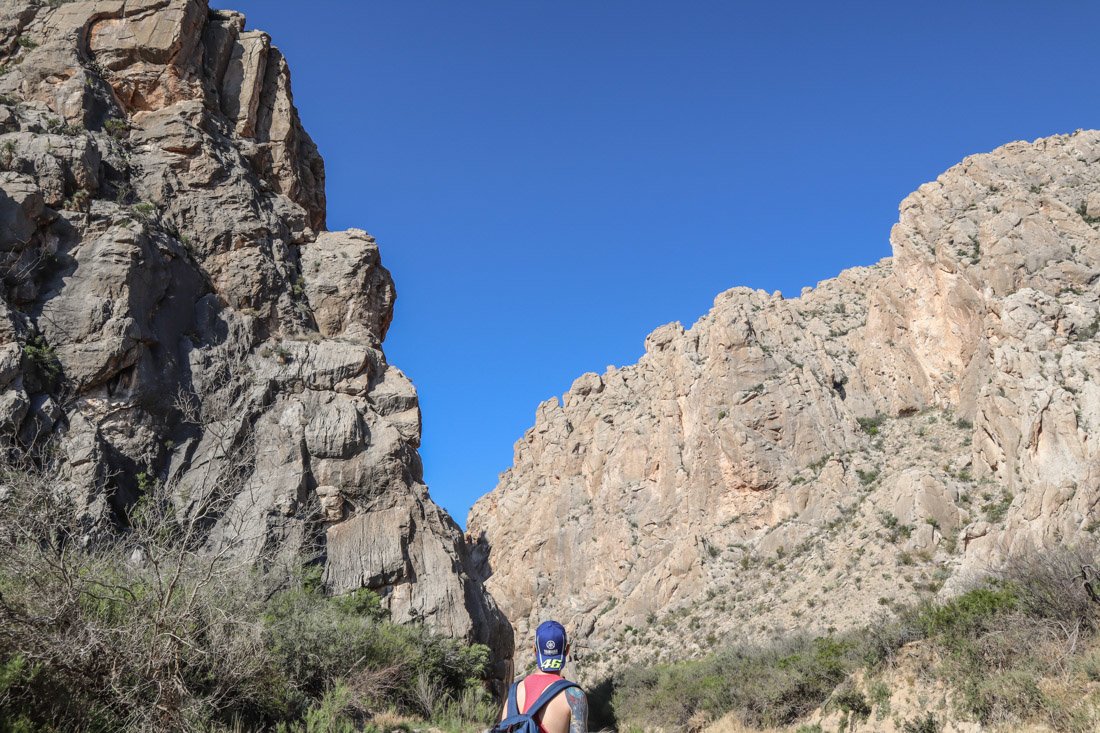 Final Words
Some of the best backpacking trips in US are based around the national parks because once you've secured your permit you can hike the land once owned by/taken from the Indigenous People and outdoor enthusiasts can appreciate this opportunity.