This article has links to products and services we love, which we may make commission from.
This guide details the best national parks to visit in October and includes cooler temperature options for hikes, Northern Lights sightings and which national parks have the best fall colors!
We explain why each park is ideal for October, looking at the temperatures and best things to do there.
Plus, all of the essential information you will need for an epic road trip, such as how to get there, where to stay, and what to be cautious of.
Some parks will be starting to wind down for winter; you may find that campsites and some routes are limited.
Download the NPS app and the Recreation.gov app to your phone, so you are always up-to-date with closures and changes.
Each park has individual pricing and passes requirements.
There are no national free entry days for the national parks in October; however, Indigenous Peoples' Day falls during this month, be mindful of the land you visit.
Days will be shorter in some parts of the country so consider this when planning driving routes.
Have you missed your favorite national park in the visit in October? Then, do tell us in the comments. We love to hear from you.
You may also enjoy our guide to the best places to visit in the US in October for autumn events and our guide fun things to do in October.
Best National Parks to Visit in October in the US
Here is a US map to help you with your bearings.
The guide is also split into regions.
Best East Coast National Parks
The end of September, October and into early November are very popular months to visit the East Coast of the USA.
Leaf peepers, photographers and families head east to immerse themselves in the autumnal seasonal change where lush green trees turn to reds, yellows and orange.
While the foliage is one of the main reasons to visit the national parks on the East Coast in October, it is not the only reason!
Acadia National Park in October (Maine, Northeast)
Acadia National Park on Mt Desert Island in northeastern Maine is lovely all year round but really hits its peak in fall
Join other New England road trippers as you ride through the 47,000-acres of the Crown Jewel of the North Atlantic Coast.
Originally named Sieur de Monts National Monument in 1916 then Lafayette National Park in 1919, in 1929 it was changed to Acadia National Park.
Some of the land was 'donated' by wealthy women such as Bar Harbor resident, Eliza Homans.
Naturally, the land where Acadia sits today was connected to people before these titles were given.
The Wabanaki People; Passamaquoddy, Penobscot, Maliseet and Micmac, called Mount Desert Island, Pemetic or 'the sloping land' and records show they've lived on the East Coast for 12,000 years!
The most convenient airport for international arrivals is Boston Logan International Airport (BOS) and for internal flights, aim to arrive at Bangor and Portland.
You can drive to Acadia from Boston (4.5 hours covering 275 miles) or elsewhere in New England.
Most visitors base themselves in the pretty Bar Harbor for restaurants and access to gas stations to fill up before setting off.
This is one of the top ten most visited parks in the US so get up early to escape the leaf peeping chasing crowds.
You have to purchase a pass to enter to the park which you can do online before you arrive or at the park.
If you plan to drive the three miles up Cadillac Mountain before October 22, you must organize a vehicle pass before you get to Acadia.
Hulls Cover Visitor Center is open until Oct 31, hours of operation 8:30-4:30 pm daily.
You may also like our guide, free things to do bar Harbor and Acadia National Park.
Acadia National Park Lodgings & Hotels
Blackwoods Campground is found on the popular east side of Mount Desert Island, about 5 miles (8 km) south of Bar Harbor on Route 3.
It is open until mid-October and requires reservation well in advance.
Schoodic Woods Campground is found 3 miles (5 km) southeast of Winter Harbor on the Schoodic Peninsula. It is the only campground on the mainland part of the park.
It is open through to Columbus Day which is around 10th October and requires reservation well in advance.
Seawall Campground is found on the west side of Mount Desert Island, about 4 miles (6 km) south of Southwest Harbor on Maine Route 102A.
It is open through to Columbus Day which is around 10th October and requires reservation well in advance.
Many visitors base themselves around Bar Harbor on the east, The Acadia Hotel – Downtown is very central.
If you'd prefer to visit Acadia with fewer crowds, consider low season instead.
It features in our guide to National Parks in March if you would like to read more about Acadia in early spring.
Acadia National Park October Temperatures and Bugs
Temperatures in Acadia National Park in October are variable 30-70 F and the first frost is often around mid-October.
The best time to see fall colors in Acadia is around the end of September into the first week of October but this can change so keep an eye on foliage reports.
Ticks have an all year round presence in Maine and are particularly quiet around September and October so be prepared if you are planning to hike.
Things to do at Acadia National Park
Enjoy the waves lapping at the Acadia Beaches such as

Seal Harbor Beach.
Road trip along the Park Loop Road including Ocean Drive and Jordan Pond Road.
Hike the Jordan Pond Path which is 3.2 miles.
Drive up Cadillac Mountain, highest point on the United States' East Coast for sunrise or sunset
Always check local conditions on the NPS website or from rangers at the Bar Harbor Chamber of Commerce
By Amanda, Hey! East Coast USA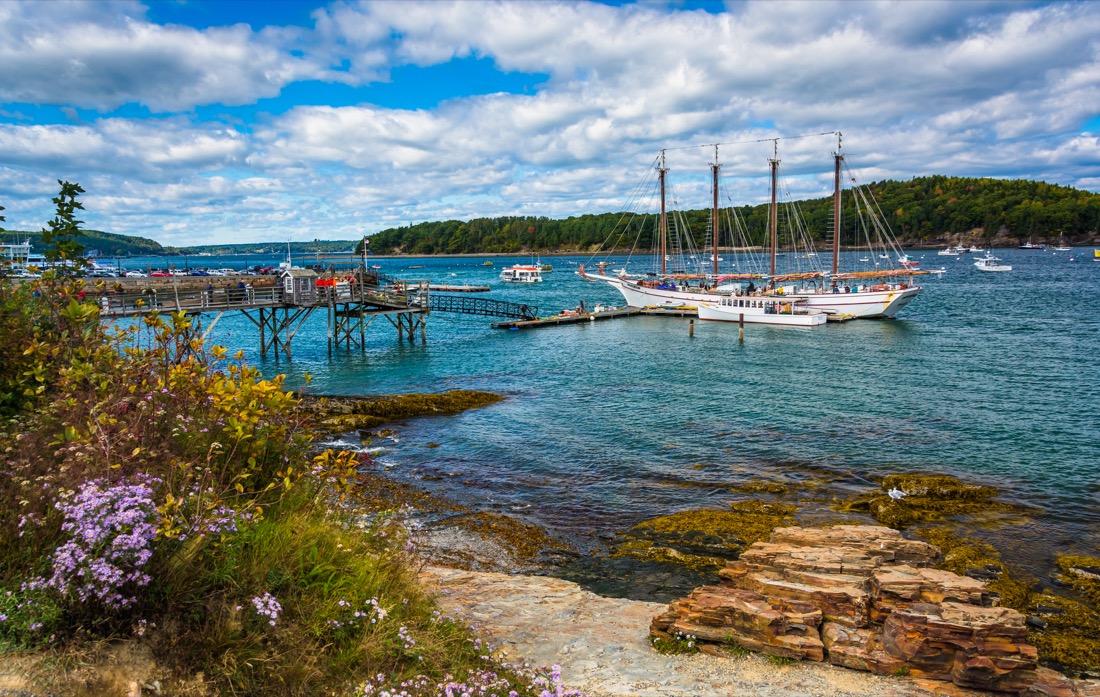 Shenandoah National Park in October (Virginia, Southeast)
Shenandoah National Park sees 25% of its annual visitors in October.
The national park is beautiful throughout the year, but in October, the entire park turns ablaze with fall color, especially in the middle two weeks.
Shenandoah is draped over the northern end of the Blue Ridge Mountains, in Virginia.
Several Native American tribes visited the mountains seasonally, including the Iroquois and Shawnee nations.
The national park was created in 1926 with the specific idea in mind of creating a scenic drive for Americans to enjoy.
The famous Skyline Drive, which runs along the top of the ridge and forms the central artery to the park, was built by members of the Civilian Conservation Corps (CCC), a government jobs program created during the Great Depression.
There are four entrances to the Skyline Drive.
The nearest major city to the northernmost Front Royal entrance is Washington DC, just 57 miles (one hour) away.
The closest town to the Rockfish Gap (South Entrance) is Charlottesville which is 30 miles (35 minutes) away.
Washington's Dulles Airport and Charlottesville-Albemarle Airport both have car rentals.
There is a convenience store and gas station inside the park at Big Meadows (mile 51).
Shenandoah Lodgings & Hotels
There are five campgrounds in Shenandoah, Mathews Arm, Big Meadows, Lewis Mountain, Loft Mountain, and Dundo Group Campground.
Lewis Mountain is first-come, first-served, while the other four require reservations.
Dundo Campground is for groups only.
All are open until the end of October.
There are two main lodges inside the national park, Big Meadows and Skyland.
Both have cabins, a restaurant and are surrounded by stunning fall color in October.
Shenandoah in October Temperatures and Bugs
Average high temperatures are 58°F and the average lows are 39°F in October.
Be sure to wear layers and pack warm clothing for those chilly nights and early mornings.
If you're camping, be sure to have a good three-season sleeping bag.
Check out our hiking gear packing list for more item ideas.
Shenandoah is old growth forest, which attracts mosquitoes and gnats, even in October.
The national park also has the largest concentration of black bears on the east coast, so keep your eyes peeled at dusk, and carry bear spray with you when hiking.
Things to at Shenandoah National Park
Drive the 105-mile scenic Skyline Drive and enjoy the views from the 75 scenic overlooks
Hike the main trails, including Dark Hollow Falls and Stony Man (both great for fall color)
Day trip to nearby Luray Caverns, the largest caverns in the eastern United States
By James Ian, Parks Collecting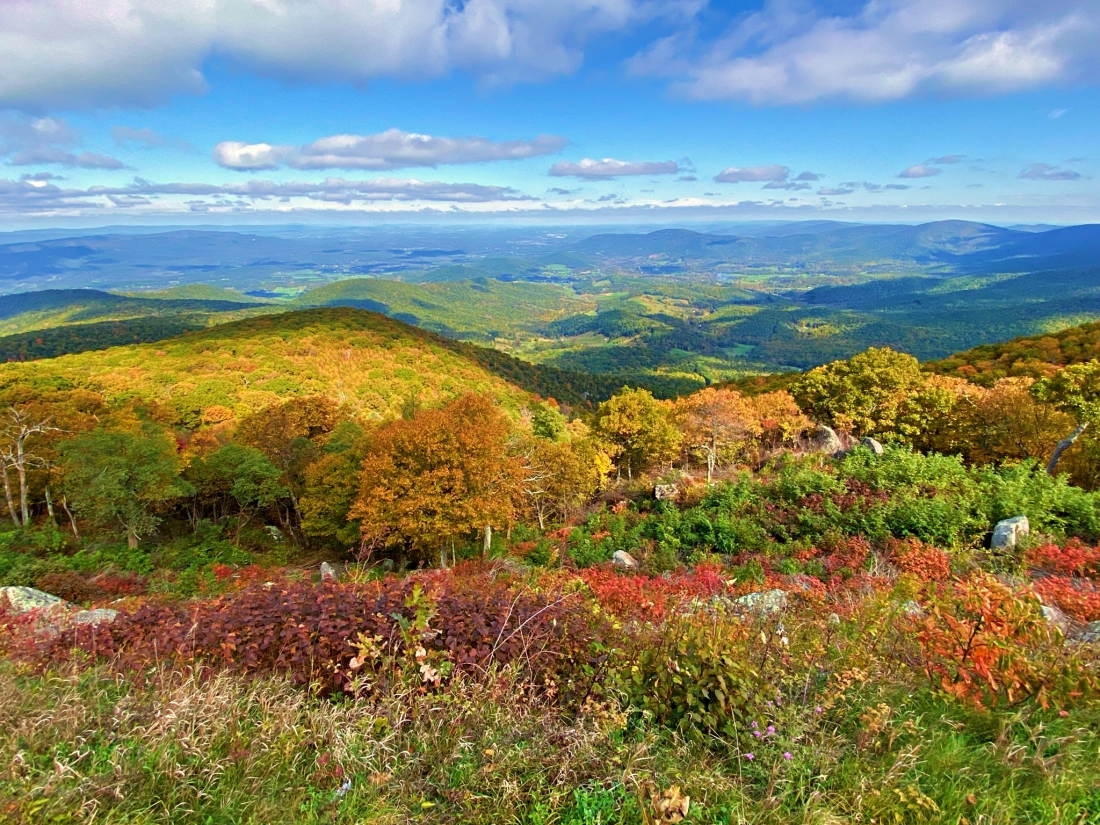 Great Smoky Mountains National Park in October (Tennessee and North Carolina, Southeast)
October is the best time to visit Smoky Mountains National Park when the fall foliage is at its peak.
Although the exact "peak" of fall foliage in the Smokies varies by year, October typically offers the best viewing opportunities, and by November the colors have lost much of their vibrance.
Prior to colonization, the area now known as the Smoky Mountains was inhabited by the Cherokee tribe.
In the 1830's, most of the Cherokee were forcibly relocated to Oklahoma as part of the infamous "Trail of Tears."
Spanning over half a million acres on the border of Tennessee and North Carolina, Great Smoky Mountains National Park is consistently the most visited national park in the United States!
The park is located 48 miles from Knoxville, TN (1 hour 15 minutes), 227 miles from Nashville, TN (4 hours) and 196 miles from Charlotte, NC (4 hours).
These three cities each have an airport that offers vehicle rentals.
There are no gas stations inside the park, so you will need to fill up in one of the small towns near the entrances: Cherokee, NC, Townsend, TN or Gatlinburg TN.
There are two camp stores located inside the park and convenience stores available in the nearby towns.
Smoky Mountains National Park Lodgings & Hotels
There are 10 campgrounds with tent and RV sites in Great Smoky Mountains National Park, most of which are open through the end of October, with the exception of Balsam Mountain Campground which closes October 12th.
Advanced reservations are recommended but not required.
Gatlinburg, Cherokee, and Townsend offer numerous lodging options close to the park.
There are plenty of cozy cabins tucked away in the woods, many offering mountain views, like this charming cabin located just 15 minutes from the park.
Smoky Mountains National Park in October Temperatures, Bugs and Animals
During October, temperatures in the Smoky Mountains are quite pleasant during the day, with average highs in the low 60's.
It gets chilly at night, with temperatures dropping into the 30's, so pack warm layers.
You can also expect cooler temperatures at higher elevations in the park.
Due to the cooler temperatures overnight, bugs are not a problem in October.
Great Smoky Mountains National Park is known for its abundant population of black bears, and they are typically still active in October.
Things to do at Great Smoky Mountains National Park
Hike to Alum Caves and Mount LeConte for sweeping views from the third highest peak in the park.
Drive the Cades Cove Scenic Loop.
Stroll through an old-growth forest to the park's tallest waterfall, Ramsey Cascades.
Visit the tallest point in the park, Clingman's Dome for 360-degree views.
Wind down with a glass of sweet wine from one of several wineries in Gatlinburg, such as Sugarland Cellars.
Check out three waterfalls along the Deep Creek Loop Trail.
Fall colors can be seen anywhere in the park. A few great viewpoints include: Cades Cove Loop, Clingman's Dome, Newfound Gap, and Luftee Overlook
By Sarah + Matt, Two Outliers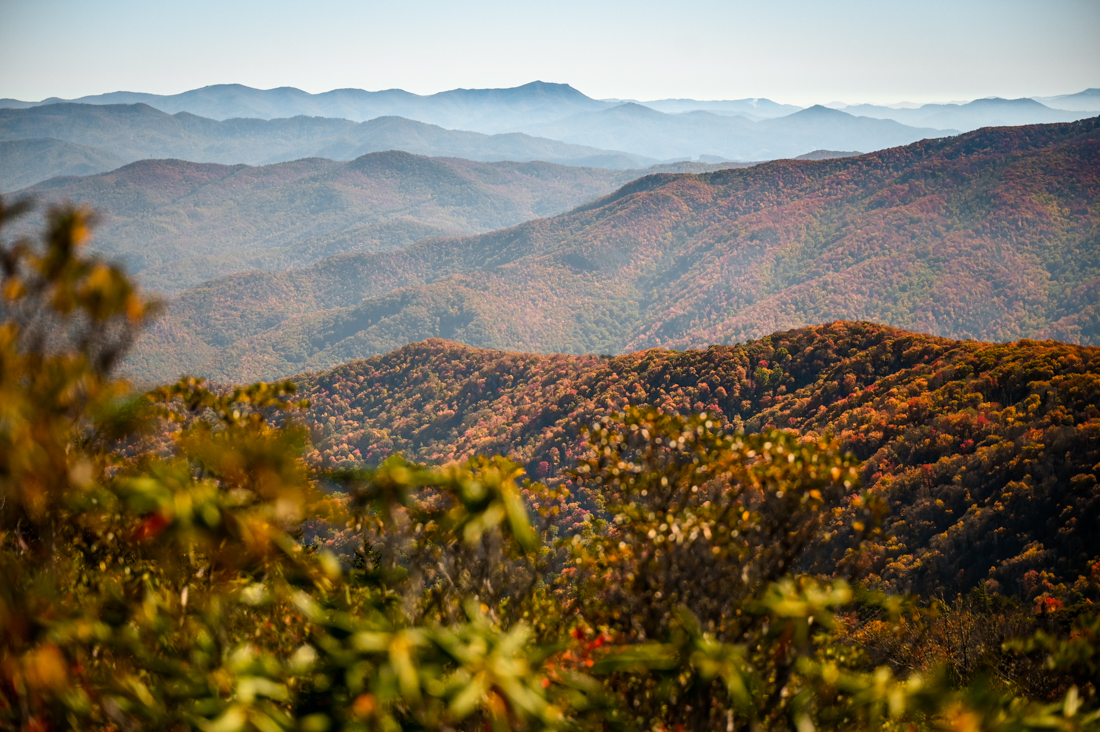 Cumberland Island National Seashore in October (Georgia, Southeast)
While not quite a national park, Cumberland Island National Seashore in Georgia is another recommended East Coast location, especially for photography fans.
October is an ideal month to visit Cumberland Island National Seashore since it's when the temperatures finally begin to cool down and the blazing heat and humidity of summer fade to distant memory.
Since the island is so far south and is primarily covered by maritime forest, you won't find much in the way of fall color during the month of October – just greenery and Spanish moss as far as the eye can see.
The national seashore is located on a barrier island along the stunningly beautiful Georgia Coast.
The only way to get to the island is by passenger ferry or private boat, and you'll need to make your reservation in advance with the National Park Service via the Cumberland Island Ferry website.
Make note that you can bring your own bicycle to use while exploring the island, but you'll need to reserve a spot in advance for it on the ferry.
The ferry departs out of Historic Downtown St. Marys, and guests can park at the visitor center located at 113 St. Marys St W, St. Marys, GA 31558.
Jacksonville, Florida is the closest major city, located 36.9 miles away — a 30 to 45-minute drive, depending on how heavy traffic is on I-95.
Jacksonville International Airport (JAX) is the closest airport, and Uber or Lyft are readily available to transport passengers.
There are gas stations along the route in Jacksonville and St. Marys.
Make sure you pack all the snacks, sunscreen, bug spray, and water you'll need, since there are no convenience stores on Cumberland Island!
The Timucua Tribe was indigenous to the island until Spanish settlers arrived in the mid-16th century and established a Catholic missionary.
The island was also home to wealthy industrialists and enslaved African Americans during the mid-1700s and early 1800s.
Cumberland Island Lodgings & Hotels
There are multiple campgrounds available on the island, but please note the sites often book months in advance.
Sea Camp is an ideal campsite for beginners and families, since the area contains camping necessities such as bear coolers for storing food and trash.
The hike-in sites on the island don't include electricity or running water, and there are no heated showers.
Make note that the Cumberland Island Wilderness Area is typically closed to all visitation — including camping — for one weekend during the month of October due to a managed hunt held by the Department of Natural Resources to help control hog and deer populations.
As an alternative to camping, the luxurious Greyfield Inn, built by the Carnegie family in the 1890s, offers stylish accommodations, cozy fireplaces, fresh cut flowers, and daily farm-to-table meals.
Cumberland Island in October Temperatures, Bugs and Animals
The average high during October is 79 degrees, while lows hover around 60 degrees.
October is the tail end of the Atlantic Hurricane Season, so always keep an eye on the weather forecast and pay close attention to alerts.
Seasonal dips in temperature combined with rare humidity during October can cause an eerily beautiful mist to settle in amongst the massive Southern live oaks dotting the island, creating an ethereal setting that's perfect for photography buffs.
One downside to October is that warmer days with no wind bring out the sand gnats or "no see-ums" (annoying little buggers that do their best to make visitors miserable).
The old-fashioned Avon brand "Skin So Soft" product helps to repel sand gnats, as do long sleeves and mesh coverings.
Other critters to be aware of as you're exploring the island include chiggers, wild hogs, snakes, and alligators.
Make note that raccoons and ants will get into any food you leave out while camping, so if your campsite doesn't provide bear coolers, you'll need to string your food and hang it from tree limbs.
Pay close attention to the instructions the ferry boat guides provide on the off chance that you run into a wild hog or encounter the untamed horses that roam the island!
Things to do at Cumberland Island National Seashore
The best way to explore 17-mile-long Cumberland Island is by bike.
Hiking is also fun for the adventurous (try the Terrapin Trail or the Rollercoaster Trail).
Photographers will love photographing the wild horses of Cumberland Island and exploring the Dungeness Ruins.
Visitors can take a tour of the Carnegie family's former winter residence, the Plum Orchard Mansion.
Anyone who signs up for the Lands & Legacies tour will be able to visit the small church where John F. Kennedy, Jr. and Carolyn Bessette were married.
By Erin Clarkson, Savannah First-Timer's Guide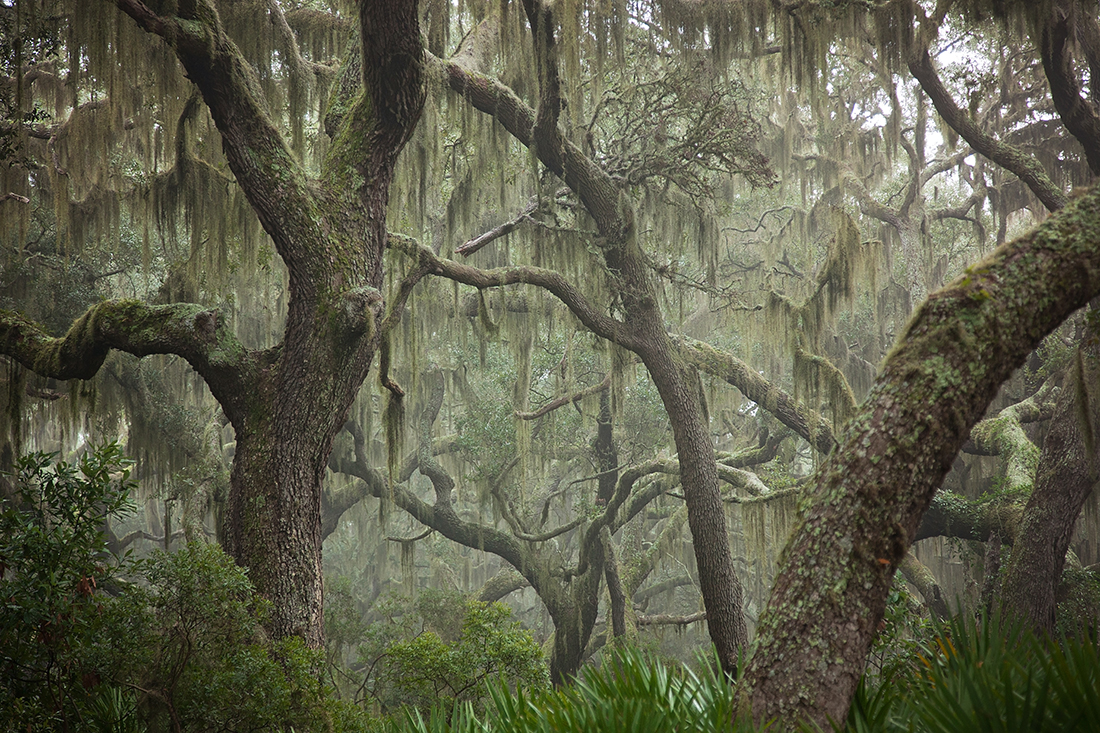 Everglades National Park in October (Florida, Southeast)
Visiting Everglades National Park in October is a great idea, as the summer rains have passed and the humid weather has turned toward fall.
The added rain however, means an abundance of wildlife to see.
While the Everglades are green year round, October is especially lush and vibrant from the summer rainy season, and blooming foliage and orchids are more readily seen.
The Florida Everglades occupy most of the entire southern Florida peninsula and Everglades National Park makes up the majority of this territory.
However, there are several preserves adjacent to the park which make the entire tip of south Florida feel like wilderness.
Located between Miami and Naples to the west, it will take you 45 minutes to 1 hour to get to the National Park from both Miami (65 miles) and Naples/Marco Island (25-40 miles).
You can drive to the Park's four Visitors Centers and explore much of the park from there.
The Gulf Coast Visitor Centeris closest to southwest Florida in Everglades City, while the Shark Valley, Ernest F. Coe, and Flamingo Visitor Centers are accessible from Miami.
Visitors can fly into Miami International Airport (37 miles) to access the Park via southeast Florida and Southwest Florida International Airport in Fort Myers (74 miles) for southwest Florida.
Don't forget to fill up on gas before you visit.
Gas stations and convenience stores are plentiful in Homestead, Miami, Flamingo, Marco Island, Everglades City, and Carneystown.
The Everglades are rich in native history which you can still experience today.
The Calusa people occupied the southwest region, while the Tequesta, Jega, and Ais tribes were located along the east coast of south Florida.
The region was called Pa-hay-Okee by indigenous peoples which translates into "grassy waters."
Everglades Lodgings & Hotels
Camping in the Everglades is a wild adventure.
There are two drive-in campgrounds accessible from the Homestead entrance of the park: Long Pine Key Campground and Flamingo Campground, although Lone Pine Key is only open from November to May.
Reservations are available for RV's and tents along with first come first serve campsites.
For something more unique, Flamingo campground also has several houseboats and eco-tents for rent.
You can also go glamping and rent a chickee cabin at Trail Lakes Campground in southwest Florida.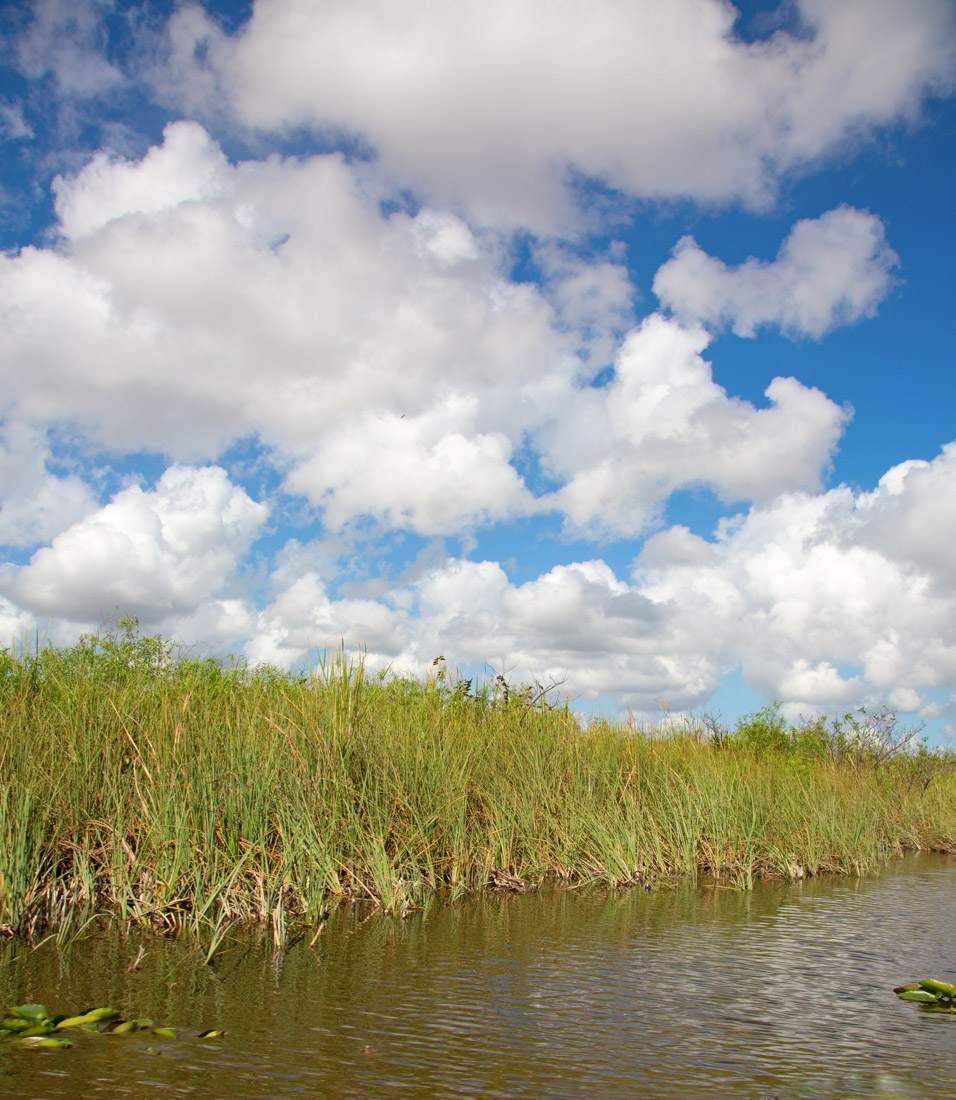 Everglades in October Temperatures, Bugs, and Animals
In October in the Florida Everglades, expect average temps between 70-85 degrees F (21-31 C).
Early October may see more humidity than later in the month, and this is still hurricane season, though most activity will have passed for the season.
Hiking will be wet and dry so be sure and pack for wet conditions (water hiking shoes and rain jackets) and lots of sun (SPF long sleeve shirts).
Silk camp sacks are perfect for sleeping in the balmy nights.
As for wildlife viewing, you'll see lots of water birds and alligators around though not typically in the campsites.
Bring plenty of insect repellent for the bugs at night and during the day.
You may also like our Florida bucket list.
Things to do in Everglades National Park
Take the 2-hour tram eco-tour in Shark Valley Visitors Center
Go bicycling along the Snake Bight Trail near Flamingo
Visit the Smallwood Store in Chokoloskee
Take a boat tour from the Flamingo or Gulf Coast Visitor Centers
Go kayaking through the mangroves with this tour
Go camping in elevated Chickee huts
Hunt for the elusive Ghost Orchid, in blooms for less than a day
By Lori, Naples Florida Travel Guide
Midwest National Parks
This section includes parks in Michigan and Ohio and one of the parks is the least visited but most returned to!
Isle Royale National Park in October (Michigan/Midwest)
Those willing to brave the rugged journey and chilly weather to visit Isle Royale in October are rewarded with spectacular landscapes of crimson and golden foliage.
Known as the "crown jewel" of the NPS, Isle Royale has the distinction of being both the least visited and also the most re-visited of all the national parks.
Prior to becoming a national park in 1940, it was a boomtown for logging and copper mining, as well as a popular hunting lodge destination for the French colonial elite.
Before the French arrived, the island was known by its native name Minong, which can be translated as "a good place to get copper", and evidence of indigenous copper mining dates back 4500 years.
The Isle Royale National Park is actually an archipelago of islands located off the northern coast of the Upper Peninsula of Michigan, with the park's northern boundary sharing the border with Canada.
Isle Royale is about 15 miles from the shores of both Ontario and Minnesota and 56 miles from Michigan's Keweenaw Peninsula.
The nearest major airports are Minneapolis-Saint Paul MSP (373mi), Duluth DLH (263), Green Bay GRB (257 mi), Marquette MQT (141 mi), and Houghton CMX (41 mi) – but the park itself can only be reached by seaplane or ferry from one of four gateway cities.
Ferries depart in Minnesota from Grand Portage or in Michigan from Houghton and Copper Harbor, and take about 6 hours depending on the weather.
Seaplanes depart from either Houghton, Michigan or Grand Marais, Minnesota and are much quicker but also much more expensive.
If you have your own boat to travel in, you can also dock yourself at Isle Royale on a first-come-first-serve basis.
There are two convenience stores located on the main island, Rock Harbor Store and Windigo Marina, both of which carry a standard selection of groceries and outdoors supplies.
The park closes for the season on the last day of October each year – so supplies may run low near the end of the month and you will want to be sure you are prepared with everything you may need.
Isle Royale Lodgings & Hotels
There are 36 campsites located throughout Isle Royale, most of which are very rugged with only a compost toilet and are accessible only by foot or watercraft.
The required overnight permits are free for groups of six or fewer, and are obtained upon arrival.
For groups of seven or more people, overnight permits are $25 and require advance reservations.
All campsites on Isle Royale are obtained on a first-come-first-serve basis and have no occupancy limits during the month of October.
Daisy Farm Campground is the most popular campsite, as it has flushing toilets and seasonal amphitheater facilities.
Rock Harbor Lodge is the only hotel open throughout Isle Royale, and reservations must be made by phone or email to ensure coordination with your transportation schedule.
Isle Royale October Temperature & Bugs
Expect the weather to be chilly at best in October – with highs averaging 51 degrees fahrenheit and average lows around 35.
Average rainfall is 11 days in October, so expect to have at least some wet weather and be sure to pack warm and waterproof layers.
The summers in Isle Royale can be quite buggy, but by late September almost all have died off for the season.
There aren't any venomous creatures or ticks throughout the entire national park – meaning that whatever you do encounter will not be any cause for alarm!
However, during autumn the male moose (known as bulls) are in rut and will be more agitated and potentially aggressive than usual, so be sure to give any that you do encounter extra space.
Things to do in Isle Royale
Enjoy a three hour cruise down the Portage Canal on the Ranger III
Catch a glimpse of the Northern Lights if you're lucky!
Hike the 165 miles of rugged trails throughout the island
Learn about Isle Royale's history through the Daisy Farm speaker series
Rent a kayak or canoe and explore the archipelago
Take a ranger guided tour to Passage Island Lighthouse, known by the locals as "Lookout Louise"
Try your hand at fishing at one of the inland waterways
Go scuba diving in one of the nine shipwrecks below Lake Superior
By Rose Campau
Cuyahoga Valley National Park (Ohio/Midwest)
Cuyahoga Valley National Park is an excellent place to visit during October because fall foliage colors typically peak around mid-October, making this month the best time to see them.
Much of the history of the park, also known as CVNP, is centered around the Ohio & Erie Canal, which connected Lake Erie to the Ohio River to facilitate trade and transportation.
Many indigenous tribes have passed through and called the Cuyahoga River Valley home.
The Cuyahoga River served as a line between indigenous land and European settlements in 1795.
Located in northeast Ohio, Cuyahoga sits 19.7 miles from Cleveland and the southern border of the park only is 7.9 miles from Akron.
The drive from Cleveland takes about 27 minutes, but driving from Akron can be as short as 14 minutes.
Both of these cities have airports with cars available, but Cleveland Hopkins International Airport is the larger of the two with more flight options.
Once in the park, you will need a car to get to and from most of the Cuyahoga spots you'll want to explore.
You'll need to fill up with gas prior to visiting the park because there aren't any gas stations within park borders.
You'll find a gas station and convenience store just outside the Brecksville Reservation area and another near the I-77 and I-80 interchange, both of which are on the west side of the park.
Head towards Macedonia to the northeast of Cuyahoga for more convenience store options.
Stop at the Trail Mix Peninsula store to find local snacks and other park merchandise.
Cuyahoga Lodging & Hotels
This national park is a little different than many others because there are no campsites within the park's borders.
This means no RV camping, and no frontcountry or backcountry tent camping, either.
The closest campground is the Silver Spring Campground, 20 minutes from the Boston Mill Visitor Center.
Silver Spring can accommodate both tents and RVs up to 35 feet in sites with 20 amp electric hookups.
There are two inns within the park borders that you can reserve for overnight stays.
The Inn at Brandywine Falls is located beside the largest waterfall in the park, and the Stanford House is tucked away close to the Towpath Trail between Boston Mills and Brandywine.
Cuyahoga Temperatures, Bugs, and Animals
October temperatures in Cuyahoga can be quite variable, so you'll need to pack and wear layers.
In the extremes, highs can reach the low 70s, but lows can dip below freezing at night.
Expect average temperatures to reach a high of around 60 during the day and a low of around 40 at night.
Due to cooler temperatures during the month of October, insects like mosquitos are not typically a concern.
You may see woodland animals during one of your hikes, like deer, squirrels, or chipmunks.
Seven species of bats also make their home in Cuyahoga.
Things to do at Cuyahoga Valley National Park in October
Take a fall foliage tour on the Cuyahoga Valley Scenic Railroad
Hike among the foliage and rock formations on the Ledges Trail
View Brandywine Falls
Take a bicycle ride on the Towpath Trail
Discover the hidden Blue Hen Falls
Hike around the historic Everett Covered Bridge
Learn the history at the Canal Exploration Center
By Samantha, PAonPause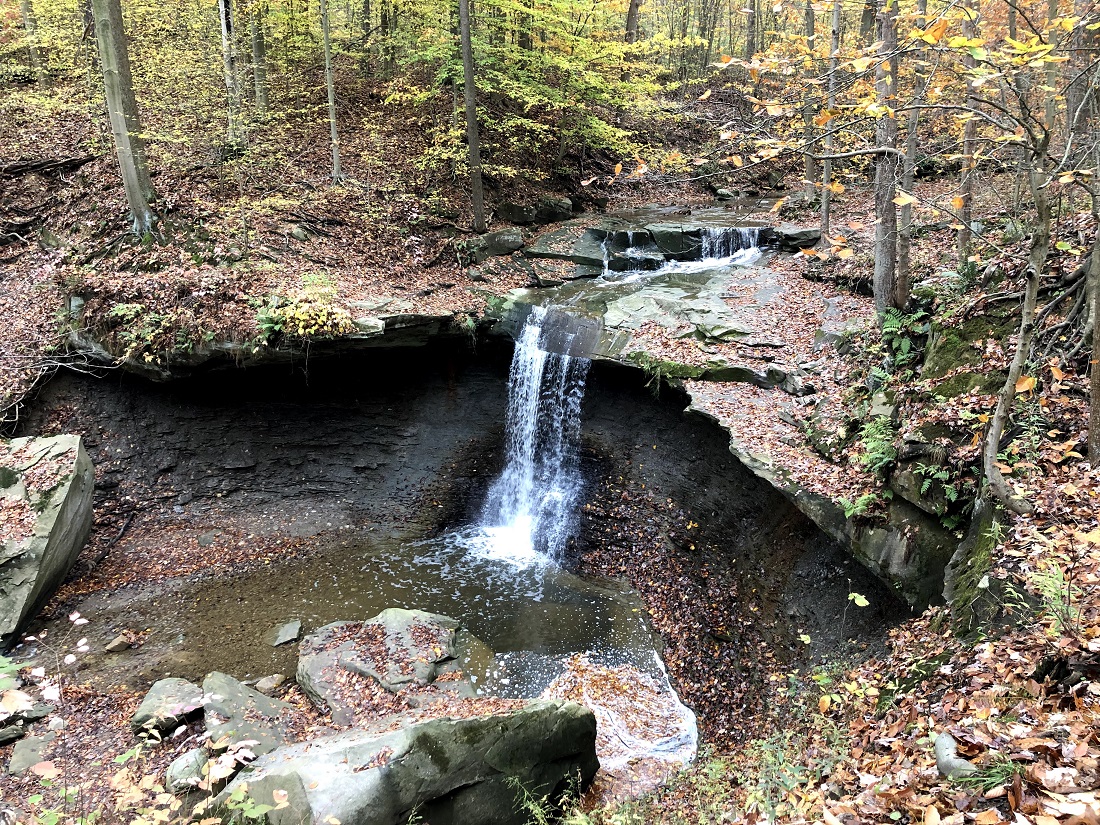 West Coast National Parks
Mountains, beaches and national parks close to cities – the following West Coast national parks come recommended in October too.
Does arid desert come to mind when you first thinks of parks in the west? Well, some also offer fall colors to beat their East Coast counterparts!
We've also included Arizona in this section.
Best National Parks in Washington
Olympic National Park in October (Washington, West/Pacific)
Olympic National Park is a great place to visit in October if you want to avoid crowds and get pretty mild weather.
This is a fantastic time to check out all the stunning beaches and rainforests before the moody, cold, wet winter sets in.
The park is located in Washington State on the Olympic Peninsula.
You have to rent a car and drive up to Port Angeles or take a ferry from Seattle.
The Ferry can save you time depending on where you are starting.
The closest airport is SeaTac, around 3 1/2 hours away from Port Angeles (170 miles).
Port Angeles is the main town most visitors stay at when visiting Olympic National Park because it has many restaurants, hotels, and bars.
It is also near the most popular destination in the park, Hurricane Ridge.
The other town you can stay in is Forks, and both towns have many gas stations and convenience stores.
Eight Olympic Peninsula tribes lived on the Olympic Peninsula: Lower Elwha Klallam, Jamestown S'Klallam, Port Gamble S'Klallam, Skokomish, Quinault Hoh, Quileute, and Makah.
They have since seceded but still live on the peninsula's shores, and you can visit their land, but you must purchase a permit to visit.
Olympic National Park Lodgings & Hotels
There are many options for camping at Olympic National Park as there are 15 campgrounds, but only three accept reservations (Kalaloch, Mora, and the Hoh Rain Forest).
Sol Duc Hot Springs Resort is a great place to stay because you can dip into the hot springs after a full day of hiking.
There is also Olympic Lodge which is comfortable and is located in Port Angeles.
Treehouse-Eagles Perch is also a cute, cozy treehouse with a lovely view of the Strait of Juan De Fuca and is only 20 minutes away from Port Angeles.
Olympic in October Temperatures and Animals
You have to watch out for bears in Olympic National Park throughout the year which is why you should always store your food in a food canister.
Washington has some of the worst mosquitos in the summer but luckily there are no mosquitos by the time October hits.
In October, the Olympic National Park's average low temperature is 41.2°F, and the high is 56.8°F.
The temperature is pretty mild but bring layers as it can still get pretty chilly. Especially if you visit Hurricane Ridge.
Also, the Hoh Rainforest is known to be rainy all year long (it is a rainforest, after all), so make sure to pack a good rain jacket and sweater.
Things To Do At Olympic National Park
Explore Ruby Beach
Take a dip at Sol Duc Hot Springs Resort ($15.00)
Hike to Sol Duc Falls
Check out Hurricane Ridge
Hike Marymere Falls and Mount Storm King
Drive around Crescent Lake
Hike around the Hoh Rainforest
Backpack to Rialto Beach Hole in the wall
By Michelle Stelly, The Wandering Queen
Mount Rainier National Park in October (Washington, West/Pacific)
Mount Rainier National Park is a great place to visit in October.
The summer crowds thin out, there are still sunny days with no snow, and you'll find stunning red, orange, and gold foliage.
The park is located in Washington state just 2.5 hours (107 miles) from Seattle and 3 hours (156 miles) from Portland, Oregon.
The closest airport is Sea-Tac International Airport just south of Seattle where you can rent a car.
There aren't any gas stations in the park, so make sure to fuel up before you arrive.
The closest gas stations and convenience stores are Elbe Mall and Chevron Packwood, both of which are about an hour away from the Henry M. Jackson Visitors Center in the park.
If you're curious about the park's history, Mt. Rainier was designated the 5th national park in the US in 1899.
It was inhabited by the Nisqually, Puyallup, Squaxin Island, Muckleshoot, Yakama, and Cowlitz tribes before colonization.
They call it "Takhoma" which translates to "she who gives us water" or "the mountain that was god".
This is fitting considering there is a 14,411-foot, snow-peaked volcano looming at the park's center.
You can see it in the distance hundreds of miles in all directions because it's the 5th tallest peak in the lower 48 states.
You may also like our guide to Seattle in fall.
Mt. Rainier Lodgings & Hotels
There are 5 sections of Mt. Rainier National Park: Longmire, Paradise, Ohanapecosh, Sunrise, and Carbon River/Mowich.
Sunrise and Longmire/Paradise are the most popular sections to visit, but there aren't any accomodations in Sunrise.
There are three hotels run by the park, but The National Park Inn in Longmire is your best bet for lodging because it's open year round.
You can also rent a lot of adorable cabins just outside the park.
Ashford and Packwood are the most popular towns to search for rentals, or you can choose to stay at a place like Stormking Cabins that offers a few more resort-like amenities.
If camping is more your scene, there are three campgrounds that offer 480 campsites.
While there are a few campsites at Cougar Rock and Ohanapecosh campgrounds that are first-come, first-serve, most campsites require reservations.
Note that many campsites close for the season by October 10th and none of them offer RV hookups or showers.
Mt. Rainier in October Temperatures, Bugs and Animals
Depending on which area you visit in Mt. Rainier National Park, expect October highs between 48-57°F and lows between 33-38°F.
In general, while it can still be sunny in fall, expect cool and rainy climate.
Pack layers, including a hooded rain coat, winter hat, and gloves.
You'll also want to make sure to wear waterproof hiking boots and bring an extra change of shoes for the ride home in case they get exceptionally muddy.
Don't forget to also pack for cooler weather if you're camping.
That means a warm sleeping bag, strong tent, and plastic bags or tarps for keeping your muddy shoes from messing up your sleeping quarters.
Because there's a 13,000-foot elevation change in the park, you may come across a ton of different animals.
In fact, there are 65 mammal, 14 amphibian, 5 reptile, 182 bird, and 14 native fish species that call Mt. Rainier National Park home.
Some of the most common you may see are marmots, foxes, deer, and a variety of birds.
There are also black bears in the park, so be cautious if you're camping and keep your food separate from your tent.
While the cooler weather in October means less insects, there are still mosquitoes in the park so pack bug spray.
Things to do in Mt. Rainier National Park
Explore the best hikes at Mount Rainier National Park for fall colors, such as Skyline Trail, Bench & Snow Lakes, and Naches Peak Loop.
Visit Mt. Fremont Lookout at sunrise or sunset for epic photos.
Stop at Reflection Lake on a clear day to see the mountain symmetrically reflected in the water.
Seek out breathtaking waterfalls, such as Narada Falls, Myrtle Falls, or Comet Falls.
Take a guided wildlife tour with Northwest Trek or horseback tour with EZ Times Horse Rides.
Hunt for mushrooms (permits required) or huckleberries.
Revel in even more fall festivities at a pumpkin patch and farm like Maris Farms or Sidhu Farms about two hours north of Mt. Rainier National Park.
Stop in Tacoma for dinner.
By Adria, The Emerald Palate
North Cascades National Park in October (Washington, West/Pacific)
North Cascades National Park, located in northern Washington state, has some of the United States' most stunning fall foliage, given the fact that not only does its deciduous trees turn brilliant autumnal colors, but also some of its evergreens (called larches) and the shrubs and wildflowers blanketing its valleys.
With the red leaves of deciduous trees, like maple and cedar; the golden needles of the larches; and the scarlet and burnt orange colors of its wildflowers and shrubs, hiking through the North Cascades in October feels like walking through some sort of autumnal Candyland.
Most travelers drive north from Seattle to get to the North Cascades; given the park's enormous footprint (over one thousand square miles!), it can take anywhere from about two and a half to five hours to drive to the national park (ranging from around 100 to 300 miles away).
Seattle offers two international airports – Seattle Tacoma International Airport and King County International Airport-Boeing Field- both of which offer car rental services (which you'll certainly need to get to and around North Cascades).
Given how expansive the park is, you'll almost certainly have to gas up along the way.
While the park is largely untouched wilderness, there's a handful of towns located along the North Cascades Highway that runs through the southern section of the park, which offers gas, including Marblemount and Winthrop.
Similarly, if you forgot anything you need for your trip or are just hankering for a snack, you can find convenience stores in the small towns dotting the North Cascades Highway, like the Skagit General Store in Newhalem or Pardner's Mini Market in Winthrop.
While the North Cascades are sparsely populated now, many Indigenous people lived on this beautiful land for thousands of years, including the Upper Skagit Indian Tribe, Sauk-Suiattle Indian Tribe, Swinomish Indian Tribal Community, Samish Indian Nation, Nooksack Tribe, Lummi Nation, Stó:lō Nation, Nlaka'pamux Nation, Colville Confederated Tribes, and the Syilx/Okanagan Nation.
North Cascades Lodgings & Hotels
North Cascades has three official campgrounds: Goodell Creek Campground,Gorge Lake Campground, and Colonial Creek Campground.
Each of these campgrounds are closed for reservations past September but are usually open the first few weeks of October on a first-come, first-serve basis.
While Colonial Creek Campground is for tent campers only, Goddell Creek and Gorge Lake have sites for smaller RVs.
If you're instead looking for a cozy hotel, the charming town of Winthrop, on the eastern side of the park, is an awesome homebase.
Winthrop, the perfect mix of rustic and kitschy, is a gold rush town from the 1800s that retains its original wooden boardwalks and Wild Western facades.
There's many homey hotels here with distinct Wild West vibes, like the Mount Gardner Inn.
North Cascades in October Temperature, Fall Colors & Wildfire Smoke
The North Cascades in October offers perfectly cool weather for hiking, with average highs around 52° F, but dropping to an average of 32° F at night.
Between the high elevation and the intensity of many of the hikes in the park, bringing layers is important- it's not unusual to need both shorts and a puffer jacket all in one day!
It's best to visit the park in the first half of October- not only will the park's fall colors be at their peak, but any later than that, you may be risking possible snowfall, especially on high elevation hikes.
There may be a few mosquitoes left in early October, but the North Cascades are thankfully pretty non-buggy in the fall.
One thing to look out for, though, is wildfire smoke.
Wildfire season in Washington spans from July through October – depending on whether there's any active fires and the direction of the wind, the park's impressive mountain ranges can be occluded in smoke.
You may also like our guide on backpacking in national parks.
Things to do in North Cascades
Hike the Heather Maple Loop Pass, the quintessential trail to see the North Cascades' most stunning fall colors
Drive along the scenic North Cascades Highway to see tiny charming towns and towering mountains
Visit the Diablo Lake Overlook to take in its beautiful turquoise waters
Take a ferry to the adorable town of Stehekin
Stargaze at night
By Jessica Schmit, Uprooted Traveler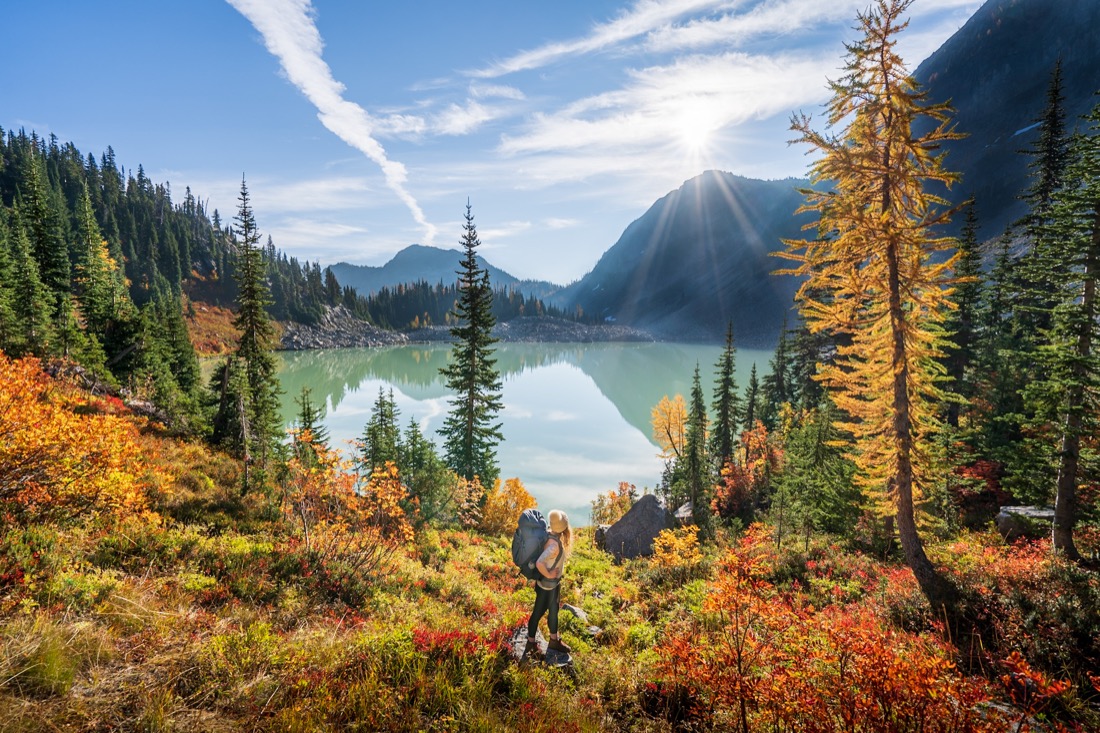 Best National Parks in California
Yosemite National Park in October (California/Pacific)
One of the best times to go to Yosemite National Park is in the month of October.
The busy summer season has started dying down but the weather is still warm enough to enjoy all of the hiking trails and scenic drives at the higher elevations.
Most of the hiking trails will still be open in October as well.
Yosemite is located in eastern central California.
Fresno is the closest major city to Yosemite.
It is about 60 miles from the park and it takes about 1 hour and 20 minutes to get there.
The drive is easy via CA-41N for the majority of the drive.
There are a few Chevon gas stations inside the park including one at Yosemite Village.
The fall colors will be in full display in the month of October.
The Bigleaf maples and California black oaks turn a bright yellow and bronze color.
There are some red and scarlet colors added by the Pacific dogwoods, poison oaks, and sugar maples.
You can see the beautiful yellow aspens along Tioga Road and Glacier Point Road.
The Yosemite Chapel area has beautiful red maples.
Indigenous people lived in Yosemite Valley for about 5,500 years, calling the park Awooni or Owwoni for (gaping) "large mouth."
This secluded land provided them with protection from the advancement of colonists for Spain, Mexico, and the United States.
This all came to an end with the start of the California Gold Rush.
Yosemite Lodging & Hotels
When looking for a place to stay in Yosemite it takes some preparation and flexibility.
There are no nearby towns to stay in which can make it challenging to find a place to stay.
It is important to book your lodging as early as you can.
When looking at places, you also need to consider how far away it is from the things you want to see in the park.
Some of the available options might be over an hour away from the park.
The Ahwahnee is the nicest place to stay in Yosemite but can cost upwards of $500 per night.
The Yosemite Valley Lodge is a great option in the park and costs about $200-$300 per night but it is very close to Yosemite Falls.
Curry Village offers heated and unheated canvas tents costing $100-$150 per night.
Yosemite does not have any first-come, first-served campgrounds open.
There are about 13 campgrounds inside Yosemite but you will need to make reservations very early to get a spot.
Yosemite in October Temperature and Bugs
The average high in October is 72 degrees Fahrenheit and the overnight low hovers around 41 degrees Fahrenheit.
There are usually about three days with rain throughout the month.
You will want to bring a light jacket for early morning hikes or evening activities after the sun has gone down.
Yosemite also features in our guide to National Parks in February which includes a Yosemite wedding!
Things to do at Yosemite National Park
Enjoy the fall foliage along Tioga Road and Glacier Point Road
Have a picnic at the Yosemite Creek Picnic Area for more fall foliage and photo opportunities
Enjoy the views from Glacier Point
Hike to Vernal Falls
Stroll through Cook's Meadow to enjoy beautiful views of Yosemite Falls and Half Dome
By Candice, CS Ginger
Pinnacles National Park in October (California/Pacific)
Full of amazing colors, Pinnacles National Park is a must-visit national park in October.
It's a great time to see fall foliage with fewer crowds.
Trees including the Fremont Cottonwood and the Western Sycamore turn green to yellow.
Plus one of the park's main attractions, Bear Gulch Cave is entirely open the last week of October.
The park is located in central California.
Even though Pinnacles National Park is a relatively small park, the park has two sections – the East side and the Westside – that don't connect each other.
The east side is located in Paicines and the west side is located in Soledad.
Indigenous people have lived around the park for over 10000 years.
The park has built relationships with the Chalon Indian Nation and the Amah Mutsun Tribal Band to foster eco-cultural projects.
To get to Pinnacles by car, you arrive at the east entrance via Hwy 101 North from King City and the west entrance via Hwy 101 North from Soledad.
It is located 76.3 miles away from San Jose (1 hour and 25 minutes) and 123 miles away from San Francisco (2 hours and 10 minutes).
The closest gas station can be found at Soledad, 12 miles away from the West entrance.
The closest airport is Monterey Regional Airport with 6 different car rental providers.
This airport is located 48.5 miles away (1 hour and 4 minutes).
While there are no grocery stores or restaurants inside the park, there is a food section in the Pinnacles Campground Store.
The park has a campground, Pinnacles Campground, that is open year-round and can be reserved at Recreation.gov.
Pinnacles Lodgings & Hotels
If you prefer to stay in a hotel, book your stay at the Inn at the Pinnacles. It's located less than 2 miles away from the Western entrance of the park.
Pinnacles Temperatures, Bugs, and Animals
Since it's located inland, Pinnacles National Park has a climate similar to the Mediterranean region – summers are dry and hot while winters are mild and wet.
October is the perfect time to visit since the weather is comfortable.
The average highs are in the 80s F and the average lows are in the 40s F.
Make sure you're wearing sunscreen and sun hats for when you're hiking under the scorching sun.
You'll also find a lot of different wildlife due to the diversity of habitats at Pinnacles.
The park is known to have around 16 species of bats and 400 species of bees – the highest per unit area on the planet.
Be aware of dangerous and endangered species including snakes and mountain lions.
Things to do at Pinnacles National Park
Hike the Moses Spring Trail to admire the fall colors
Picnic at the Bear Gulch Reservoir
Spot one of the 160+ species of birds
Stargaze the clean and clear sky
Rock climb along Machete Ridge
By Rasika, Bae Area and Beyond
Death Valley National Park in October (Eastern California/Pacific)
Located on the eastern side of the Panamint mountains in California and the western side of the Amargosa mountains in Nevada, Death Valley National Park is one of the best US National Parks to visit in October.
In October, the milder temperatures allow you to take full advantage of the best things to do in Death Valley and it's also warm enough for camping overnight.
The best way to get to Death Valley National Park is via car. You can access the park through the western entrance in California by taking highway 178 from Ridgecrest to Furnace Creek.
The eastern side of the park can be accessed via highway 95 out of Las Vegas.
Las Vegas is the most convenient airport with plenty of car hire options. Before the 2 hour drive (126 miles) it's good to stock up on water and supplies in Las Vegas or along the way in Pahrump.
There are also a few areas to get gas and food in the park at Stovepipe Wells and Furnace Creek, each with a small gas station and convenience store.
The Timbisha Shoshone Tribe would migrate to Death Valley in winter to escape the cold for hundreds of years before western expansion.
Death Valley Lodgings & Hotels
There are 9 campgrounds that are first come first served. Sunset and Stovepipe Wells are most likely to have a spot. Furnace Creek has sites and RV spots that can be reserved ahead.
Hotel accommodations include The Inn at Death Valley or the Panamint Springs Resort, which has cabin rentals and additional RV spots.
Death Valley in October Temperatures, Bugs and Animals
October temperatures hover around 85°F highs and around 60°F lows with no rain.
Wear long sleeve, lightweight, polyester or wool clothing to keep your body cool throughout the day and protect your skin from the sun. A light summer sleeping bag will keep you comfortable at night.
Death Valley is virtually bug free but spiders and rattlesnakes can be an issue.
Look first before you put your hands or feet inside of something.
Things to do in Death Valley
Climb the highest dune at Mesquite Flat Dunes to see great views.
View the incredible star filled sky at Furnace Creek Campground.
Walk out on the salt flat at Badwater Basin, at 282 feet below sea level, it's the lowest point in the USA.
Enjoy sunrise or sunset at Zabriskie Point and walk abound through the otherworldly landscape.
Drive up to the Artist's Palette to view some of the most spectacular colored rock formations in the world.
Hike up to the Natural Bridge for an easy 1 mile out and back hike in a shaded canyon.
By Jenifer, The Evolista
Joshua Tree National Park in October (California/Pacific)
Joshua Tree National Park is great all year, but October and fall is one of the best times to visit Joshua Tree thanks to the perfect fall weather.
Located in Southern California, Joshua Tree is easy to access from several California cities as well as Las Vegas and Phoenix.
You can easily take a day trip to Joshua Tree from Los Angeles (150 miles, 2 hours), San Diego (165 miles, 3 hours), Las Vegas (200 miles, 3 hours) or even Phoenix (225 miles, 3 hours).
Palm Springs is one of the closest cities, located just 40 miles away, which makes it a popular base to explore the area.
All four of the major cities have airports that are easily accessed from the rest of the country to start your trip or rent a car.
There are no gas stations in the park though, so plan ahead.
The closest gas stations are in Twentynine Palms, Indio, Yucca Valley, and Palm Springs.
There are also no stores within the park, but you can find convenience stores in all of the surrounding cities and towns.
In the past, the area was inhabited by the Serrano, Cahuilla, Chemehuevi and Mojave tribes who either used the area as a transitional area or lived here long term.
Joshua Tree National Park Lodgings & Hotels
There are 5 campgrounds in Joshua Tree that require reservations ahead of time and 3 first-come, first-serve campgrounds.
Keep in mind that the campgrounds that do not require reservations often fill up fast during weekends in October thanks to the beautiful weather.
The campsites requiring reservations are Blackrock, Cottonwood, Indian Cove, Jumbo Rocks, and Ryan.
The campsites not requiring reservations are White Tank, Belle and Hidden Valley.
Airbnbs and rentals are extremely popular in the area with tons of Instagrammable options including everything from glamping to cabins to luxurious homes.
There are also a number of hotels in the area with lots of options in Palm Springs and Yucca Valley.
The Best Western Joshua Tree Hotel & Suites located in Yucca Springs is one of the several options there that are just 20 minutes from the park entrance.
Joshua Tree in October Temperatures, Bugs and Animals
With temperatures cooler than the burning heat of summer but not so cold as the freezing mornings and evenings of winter, the weather in October is perfect.
Highs reach 81F and lows get into the 50s, so wear layers that are easy to shed and add back throughout the day.
There is plenty of wildlife in Joshua Tree, but you do not need to worry about bugs or dangerous animals as much as many other places.
You may want to take some bug spray but it is often not needed.
You are unlikely to come across dangerous animals throughout Joshua Tree, but you should be aware especially if hiking in low traffic areas.
Things to Do at Joshua Tree National Park
Hike to Arch Rock for an easy hike
Check out Skull Rock but you can see it from the road if you do not want to hike
Enjoy the Cholla Cactus Garden for a unique landscape
Stop to see the famous Joshua Trees the park is known for (best seen along Park Boulevard near the West Entrance)
Hike to Barker Dam which may be dry
Take advantage of the dark sky for some stargazing at night
By Christine Wheeler, Live Love Run Travel
Denali National Park in October (Alaska)
Visiting Denali National Park in October is a great time to experience the Alaska's park's beauty without the summer crowds, and especially for photographers to capture the fleeting but vibrant fall colors of the tundra.
It's also possible to spot the Northern Lights at this time of year.
A visit in October can also be rewarded, as the mountains are often snow-capped and dramatic, accentuating Denali's beautiful and stark wilderness
Most visitors add a Denali to their Alaska road trip itinerary, as it is easier to visit the park if you have your own car.
Denali is located about 6 hours from Anchorage by car and 8 hours by the Alaska Railroad. If you are visiting Denali from Fairbanks, it's just 3 hours by car and 4 hours by train.
The park was established as Mt. McKinley National Park on Feb. 26, 1917 and it is the homeland of five Northern Athabascan Indian groups; Dena'ina, Koyukon, Lower Tanana, Upper Kuskokwim, and Western Ahtna.
The original park was designated a wilderness area, the first national park created specifically to protect wildlife, and incorporated into Denali National Park and Preserve in 1980.
Today the park accommodates a wide variety of visitor use including wildlife viewing, mountaineering, cycling, and even dog sledding during wintertime.
There is a gas station located in Cantwell (30 miles south) and Healy (11 miles north) that are open all year round.
You can also find backpacking and camping stores outside of the park, or you may wish to stock up on food and water in Anchorage or Fairbanks.
Denali National Park Lodging & Hotels
Riley Creek Campground is located just inside the park entrance. It is the largest campground in Denali, with sites that can accommodate tents or RVs, up to 40′ in length.
This campground is open year-round, and nightly fees are not charged except in summer (so, it is free from mid-September—mid-May each year). This is the only campground open outside of the summer season.
Most hotels in the area close in mid-September. Some year-round accommodations remain open in Healy, a small town 11 miles north of the park entrance. A good option is the Aurora Denali Lodge with a great location close to the park.
Denali in October Temperatures and Bugs
Expect to see average high-temperature from a frosty 42.8°F (6°C) in October, to a subzero cold 24.8°F (-4°C).
Another great reason to visit Denali in October is that the mosquitoes are more prevalent during summertime.
Wildlife viewing in October is much less common than in summer months, though caribou, moose, bears, and wolves still roam the park, as well as smaller animals like foxes, coyotes, and resident birds.
It is recommended to hike in Denali with a bear spray, even during fall time.
Things to do at Denali National Park
Hiking: Many hiking trail options close to the entrance of the park such as the Savage River and the Horseshoe hiking
Sightsee: You can drive up to 30 miles into the park, to the Teklanika River and the views are stunning
Wildlife View: Bears, moose, caribou, foxes, and even the occasional wolf can be spotted from the park road, making the experience even more special.
By Paula, from Paula Pins the Planet
Haleakala National Park in October (Hawaii)
One of the best national parks in Hawaii to visit is Haleakala National Park located in Maui. October is a fantastic time to visit the park with pleasant weather and less crowds visiting at this time of the year.
Where to Stay Close to Haleakala National Park
If you want to stay in the area, go up country with smaller inns and apartment units available in the immediate areas outside of the park area.
Haleakala National Park in October Temperatures
The weather in fall is very comfortable in the mid 80s with night-time lows in the mid 70s and visiting the park is not as crowded compared to summer and winter time which are the peak seasons to visiting the island.
If you do plan on exploring some of the top peaks and trails around the park, weather is cooler and variable with winds and cooler temperatures where you should dress in layers for changing weather patterns.
Things to do at Haleakala National Park
There are so many outdoor and adventure experiences to do in the national park and these are the top things to do around the park grounds.
Visiting during sunrise or sunset above the clouds and seeing the spectacular colors and visual landscape is a highlight to visiting the park area.
Hiking down into Haleakala Crater is popular and doing the Halemau'u trail or Sliding Sands trail the most spectacular and scenic trails to do in the crater area
Go star gazing – with night time skies clear and dark, you'll be high up and feel like you can almost touch the stars with so many brilliant stars lighting up the night sky
Go to the highest point at Red Hill with spectacular views of the Northwest and the crater below
Hike the Pipiwai trail – the lush side of the national park has stunning waterfalls, an amazing bamboo grove and huge old banyan trees to explore. This part of the park called the Kipahulu district is reached from the east side entrance of the park.
Check out Noel's post on the top things to do in Maui now.

By Noel, This Hawaii Life
Grand Canyon West Rim in October (Arizona/Southwest)
Grand Canyon in October is a good option due to lesser heat, cool climate, and lesser crowds.
Grand Canyon is located in the northwest corner of Arizona, adjoining the borders of Utah and Nevada.
Therefore this national park can be accessed through Las Vegas, Nevada which is at 2 hr 10 min (125.5 m)
It is said Grand Canyon was inhabited by Eleven Native American tribes 13,00 years ago in 200 B.C approximately.
At present, you can also see their handicrafts and art exhibits and many craftspeople selling those kinds of articles.
The nearest major airport is McCarran International Airport in Las Vegas, Nevada. Las Vegas is 2½-hour away from the park by road.
You can reach this by Phoenix or Flagstaff which takes you to the south rim of the Grand Canyon.
Many travelers do Grand Canyon and Las Vegas trips with California road trip.
There is a Gas Station in Dolan Springs on Pearce Ferry Road and a Chevron Station on Pearce Ferry Road.
You can also purchase gas at Grand Canyon West if urgent. Better to fill your gas tank when you leave the airport or your hotel in Las Vegas.
There is only one restaurant in Grand Canyon West Rim access that serves you cold drinks, dry snacks, ice-creams, and souvenirs.
Better to pack your food and take lots of fluids as this area is brazen, dry, and a desert.
Grand Canyon Lodgings & Hotels
Grand Canyon West Rim is mostly done as a day trip from Las Vegas by tourists and therefore hotels and lodgings are very few here.
The only place to stay overnight in the park is Hualapai Ranch, run by the Hualapai, as well as Hualapai Lodge, which is located in Peach Springs, about 90 minutes from the West Rim.
Another option is Grand Canyon Western Ranch Resort.
You can park your minutes away from the world-famous Skywalk for $22 a night.
Grand Canyon in October Temperatures and Bugs
The highest daily average temperature is 58°F and the average low temperature is 28°F.
At night it becomes cooler, so carry warm jackets if you are camping.
Many times skies are cloudy but there is negligible rainfall. Days start to become shorter after 1st October onwards.
Coyotes, foxes, bats, and mountain lions are all dangerous animals that Grand Canyon tourists may encounter.
Rock Squirrel is the most dangerous creature found in Grand Canyon.
Things to do at Grand Canyon West Rim
Grand Canyon Skywalk – Extra entrance cost
Eagle Point.
Grand Canyon Jeep Tours.
Guano Point.
The Zip Line at Grand Canyon West. At present, it is closed due to repairing work.
Hualapai Village & Hualapai River Runners.
Helicopter and Aerial View Tours.
Trip to Hoover Dam
Admission Ticket to Grand Canyon West including access to the viewpoints of Eagle Point & Guano Point and transportation on our hop-on/hop-off shuttle service. With 26$ extra you can add SkyWalk tickets too.
Free parking is provided for your vehicle, and a hop-on, hop-off shuttle service will take you from point to point.
Grand Canyon West is an enterprise of the Hualapai Nation and is not affiliated with Grand Canyon National Park. Therefore National Park annual pass would not work here and you need to buy separate entrance tickets.
By Yukti, Travel With Me 24 x 7
Big Bend National Park in October (Texas/Southwest)
Big Bend National Park in October is a great option if you want to hike among greenery and butterflies, which you won't experience during dryer seasons.
The park is located in West Texas, 412.6 miles from San Antonio (6 hours) 436.7 miles from Austin (6 hours 30 minutes).
Known as Texas' gift to the nation, Big Bend was federally protected in 1944.
Obviously, the land was present before the deed was presented to the Federal Government, with the Chisos Mountains in the park thought to have been named for the Chizo Indians.
The closest airport to the 15th largest national park in the US is Midland/Odessa (235 miles from park headquarters) or El Paso, Texas (330 miles from park headquarters), and both airports have car hire options.
There are two gas stations in Big Bend, Panther Junction and Rio Grande Village.
There is another service station at Terlingua, the town most people visit before entering the Big Bend security gates.
If you forget to pack something or need to stock up on snacks, several convenience stores are located in the following areas: Rio Grande Village, Chisos Basin and Castolon.
Big Bend Lodgings & Hotels
There are three NPS campgrounds in Big Bend; Chisos Basin, Rio Grande and Cottonwood.
All three are open all year round and require reservations in advance.
RV spots are also available.
If you struggle to get into the official campsites, consider Stillwell Store RV Park, 20 minutes from the Persimmon Gap Visitors Center.
Chisos Mountain Lodge is the only hotel in the park, but most non-camping visitors drive out of the park at night and stay in Terlingua at accommodations such as Lajitas Golf Resort.
Terlingua is also home to cute tepees, which you can hire.
Big Bend in October Temperatures and Bugs
Expect highs of 81 F and lows of 57 F at Big Bend in October.
While you will just miss the rainy season (May – September), some areas of the park will have more water than the dryer seasons, which could impact hikes, so pack for some wading, mud, and a possible change of hiking plans!
Temperatures are cooler in the morning, so pack layers.
If you are camping, pack a good quality sleeping bag.
Since Big Bend is mostly arid, mosquitos are not an issue in October, but you need to be aware of snakes and spiders!
Bear and bear poop discovery is not unheard of in October.
Texas also features in our guide to National Parks in March for its bluebonnets.
Things to at Big Bend National Park
Here is a selection of activities which you can read in full in our Big Bend road trip itinerary.
Drive along the scenic Old Maverick Road
Take a dip at Boquillas Hot Spring (free)
Hop aboard the 2-minute boat ride over to Boquillas in Mexico for lunch; remember your passport, no joke!
Canoe through Santa Elena Canyon – if hiking, be prepared for mud!
Watch the sunset through the mountains
Stargaze at night, taking advantage of no light pollution
Day trip to Terlingua Ghost Town
By Gemma, Two Scots Abroad Travel Guides
National Parks in Western US
Fall activities, springs for swimming and rocky mountains, let's see what the Western State National Parks have on offer for outdoors fans this October.
The following parks are located in Montana Idaho, Wyoming, Colorado, Arizona and Utah in this section.
Rocky Mountain National Park in October (Colorado/Rocky Mountains)
October is one of the best months to visit Rocky Mountain National Park (aka RMNP) in Colorado because there are less crowds, you can see fall foliage, and the autumn temperatures are nice for hiking.
For fall colors, early October is best, and at this time you can normally expect to see stunning yellow Aspen trees on the scenic drives and hiking trails.
This area was inhabited by the Arapaho and Ute Native American tribes in the 1800s, as well as the Shoshoni and Comanche to a lesser extent.
RMNP is located by the town of Estes Park in northern Colorado, 70 miles from Denver International Airport (1 hour 30 minutes) or 110 miles from Laramie, Wyoming (2 hours 10 minutes).
Generally, Denver is the most popular starting point for visiting Estes Park and RMNP, since it's located relatively close and there are lots of flight options to Denver from other airports.
The town of Estes Park is small, but it has plenty of gas stations, restaurants, convenience stores and other places to resupply, and it's right outside of the Rocky Mountain National Park boundary.
The Rocky Mountain National Park is included in our list of free things to do in Denver.
Estes Park Lodgings & Hotels
There are a number of NPS campgrounds at Rocky Mountain National Park (Aspenglen, Glacier Basin, and Moraine Park), although only the Moraine Park campground is available in October, and even then it's only open through Oct 11th.
Aside from the Moraine Park campground, you can also check availability in the town of Estes Park, where there's a KOA Holiday and a bunch of other camping options in town.
Rocky Mountain NP doesn't have any lodging inside the park, but there are lots of hotel options in Estes Park, which sits right on the edge of the national park entrance.
Two cozy hotels to check out are Wildwood Inn and the Rams Horn Resort. Both of these recommendations are located near the town and the national park.
Rocky Mountain in October Temperatures and Animals
Rocky Mountain's average high temperature is 56 F and the average low is 33 F.
It can get pretty chilly overnight and in the morning, so you'll want to wear warm layers that you can shed later in the day when you're doing hikes and other activities in the park.
Campers will also want warm sleeping bags.
Bugs aren't an issue at RMNP during the month of October, but there are black bears and mountain lions in and around the park, so you'll want to practice safe food storage and don't keep any food in tents or open vehicles.
Also remember to stay a safe distance away while enjoying the elk and other wildlife!
Things to do at Rocky Mountain National Park
Drive the scenic Trail Ridge Road, the highest paved road in the United States
Experience the beautiful Sky Pond, the Gem Lake Colorado hike, and other trails in RMNP
See wildlife including elk, moose, bighorn sheep, and occasional black bears
Enjoy fall colors at Old Fall River Road, Trail Ridge Road, and on the hiking trails
By David, The World Travel Guy
Yellowstone National Park in October (Wyoming, Montana and Idaho/Rocky Mountains)
October is a great time to visit Yellowstone National Park if you want to experience the rut (mating season), fewer crowds, and fall colors.
The Yellowstone Rut is a unique experience that generally has many planning their Yellowstone itinerary.
Fall colors generally peak around the last week in September to the first week in October.
27 Native American Tribes have ties to Yellowstone including The Crow, Umatilla, Shoshone, Bannock, and Blackfeet.
Yellowstone became the USA's first federally protected National Park on March 1, 1872.
The park is located mainly in Wyoming with some of the park crossing into Montana and Idaho and is about 90 miles from Bozeman (1.5 – 2 hours depending on the entrance).
Because of how massive the park is, there are 5 entrances you can enter the park from.
The most popular airports to fly into include Bozeman, Montana (BZN), Cody, Wyoming (COD) 54.9 Miles (1 hour), and Jackson, Wyoming(JAC) 49 miles (1 hour).
There are 6 gas stations/service stations located at Canyon, Fishing Bridge, Grant Village, Lake Village, Mammoth Hot Springs, Old Faithful (Lower and Upper), and Tower.
You will also find general stores at each of the above stations.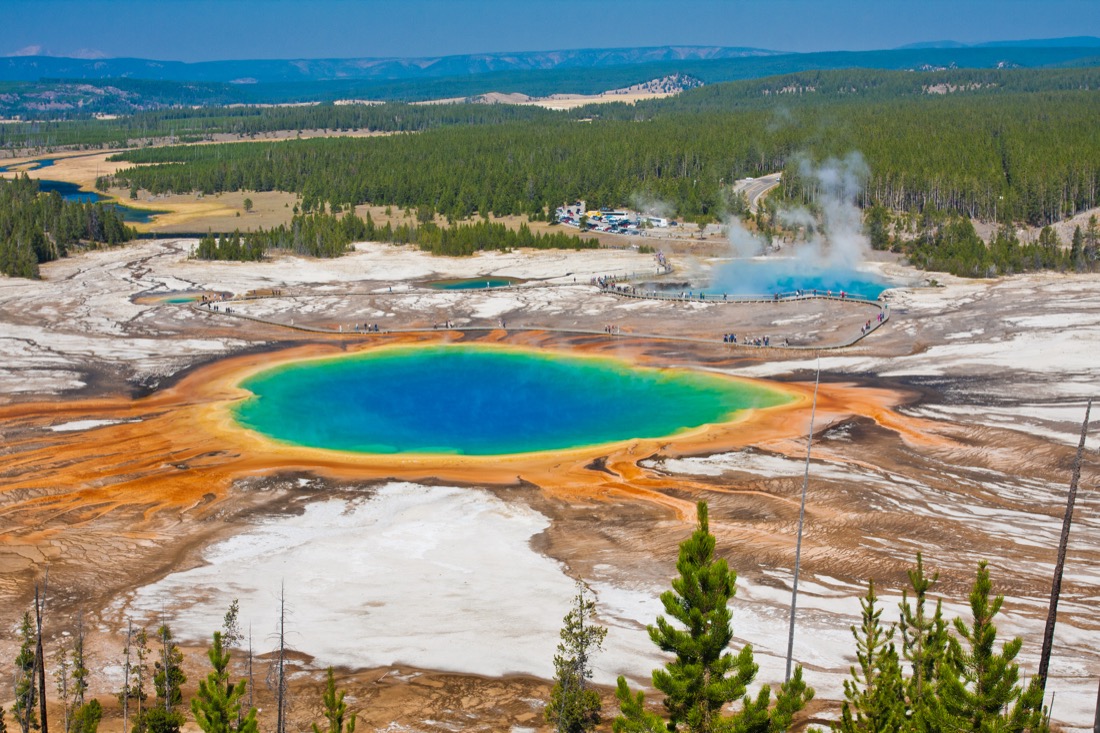 Yellowstone Lodgings & Hotels
Yellowstone offers 9 lodges and 12 campgrounds, however, many start to close in September and October. Lodging can be found here.
Old Faithful Snow Lodge closes October 30th and Mammoth Campground is open all year allowing RVs and trailers.
While lodging is more difficult inside the park, the Gardiner North Entrance is open all year round and offers lodging outside the park.
Yellowstone in October Temperatures and Bugs
Since Yellowstone is in higher elevation temperatures in October tend to be 47 degrees high and 19 degrees being a low, so you will definitely want to pack warm layers.
It is not unheard of for it to snow in Yellowstone during October.
By October mosquitoes are gone, but you should still check for ticks.
Additionally, Yellowstone is known for its wildlife so you will always want to keep a lookout for bears, bison, wolves, elk, and coyotes.
Things to do at Yellowstone National Park
Experience the Rut – free
Visit Mammoth Hot Springs and the Visitor Center – free
See the Famous Old Faithful Geyser – free
Explore Grand Prismatic Springs – free
Take a short hike
Drive through Lamar Valley to see fall colors
By Sam, Find Love & Travel
Grand Teton National Park in October (Wyoming/Rocky Mountains)
Grand Teton National Park is a beautiful place to visit in October for cooler temperatures and to watch the leaves turn from green to bright shades of yellow.
To experience the best fall foliage, plan your visit during the first two weeks of October.
After this, the colorful leaves begin to drop, but the park still has a lot to offer, besides the foliage.
The Tetons have been visited by humans for over 11,000 years, and among the first were the Nomadic Paleo-Indians.
It's one of the most popular parks in the United States for a reason: the pure beauty of it.
You'll find the park located in northern Wyoming, just about 5 miles north of the popular tourist town of Jackson, and just under 5 hours northeast of Salt Lake City, Utah.
If flying in, the Jackson Hole Airport is located right within the park. It's the only airport located within a national park in the country.
Or, Idaho Falls Regional Airport, is about 90 miles (2 hours) west of the park.
Both airports have options for rental cars.
Most people plan to fill up on gas in Jackson before entering the park, as there are multiple convenience stores within the town.
But if you need gas while in the park, there are stations at Jackson Lake Lodge, Signal Mountain Lodge, and Colter Bay Village.
Grand Teton Lodgings & Hotels
There are 7 campgrounds within Grand Teton National Park, all of which require reservations ahead of time and most close in early October.
Instead of camping, you may consider staying at The Lodge at Jackson Hole, for beautiful accommodations.
Grand Teton in October Temperatures and Bugs
In October, you can expect highs of 61 degrees F and lows of 40 degrees F.
The mornings and nights will be cooler, but the daytime temperatures are perfect for some awesome outdoor exploring.
You may begin to see some snow flying, especially later in the month, as well as rainfall a few days during October.
In the fall, you won't see many bugs at Grand Teton National Park, as the temperatures are getting cooler.
Fall time is when wildlife within the park begin to prepare for winter and some animals start to head south.
You may encounter wildlife such as bears, moose, and bison during your visit to Grand Teton National Park.
Things to Do at Grand Teton National Park
Drive the 42-mile scenic loop and view wildlife.
See the fall foliage at Oxbow Bend and Snake River Overlook.
Visit Mormon Row Historic District.
Drive to Jenny Lake and take in the views.
Hike on over 200 miles of trails.
Popular trails: Inspiration Point and Hidden Falls, Phelps Lake, Jenny Lake, Delta Lake.
Visit Jackson for shopping and dinner, just a few miles south of the park.
By Kassidy, Kassidy's Journey
Utah National Parks
Arches National Park in October (Utah/Rocky Mountains)
National Park in October is a great option if you want to hike in cooler temperatures with fewer crowds.
The park is located in southern Utah about 5 miles north of Moab.
Arches National Park is known for its arches with the most popular being Delicate Arch which can be seen on the license plates of Utah.
On the Delicate Arch hiking trail, you can find Ute Indian Petroglyphs.
The hike takes about 10 minutes and you can see the petroglyphs of a horse and rider and bighorn sheep which is typical of the artwork of the Ute tribe.
Arches National Park is the 44th largest national park in the US.
The closest airport to Arches is 9 miles away in Moab.
Salt Lake City is about 230 miles away.
There are several gas stations in Moab just 5 miles south of the park entrance.
There is also a Chevron just a mile north of the entrance on HWY 191.
Moab has everything you need for grocery stores, shops, restaurants and cafes so if you forget anything you can pick it up in Moab.
Arches Lodgings & Hotels
All of the best places to stay are in Moab.
You will find several resorts and hotels in Moab.
The Red Cliff Lodge is an award winning lodge along the Colorado River with beautiful views.T
here are also budget places to stay in Moab such as the Best Western.
Arches in October Temperatures
In October, a typical day in Arches National Park is high of 73.9°F (23.3°C) and a low of 42.1°F (5.6°C).
The weather in October is a lot more comfortable than in the summer which is great because there is not a lot of shade in Arches.
While you won't see any fall foliage at Arches, you can take the La Sal Mountain Loop Road from Moab to see the fall foliage.
This makes for the perfect weather for hiking.
Remember to bring a hat, sunglasses and plenty of water.It gets cool at night so remember to pack warm layers.
Things to at Arches National Park
Drive the Arches Scenic Drive
Hike to Delicate Arch at sunset – the most popular hike
Hike the 8 mile trek around Devil's Garden to see Landscape Arch and several other arches.
Visit Double Arch a short half mile hike
Visit the Windows Section and see the view
Hike to Sand Dune Arch for a bit of shade and beautiful views
View the Courthouse Towers rock and walk around it
By Nicole, American SW Obsessed
Bryce National Park in October (Utah/Rocky Mountains)
Bryce Canyon is one of the most spectacular national parks in Utah that sits somewhat off the beaten tourist track.
Although it lacks the fall foliage due to its location in the high desert, it offers fewer crowds on trails and more chilled atmosphere compared to some of the most popular national parks in Utah.
The first week in October is often the busiest in the month.
Located in south central Utah, Bryce Canyon is a popular stop for many travelers along with the neighboring Zion, which is just 2 hours away from Las Vegas by car.
If you are traveling to Bryce Canyon from Salt Lake City, you need to take Interstate-15 south toward Beaver and get off on Highway 20 and over to Panguitch.
If you are traveling to Bryce Canyon from Las Vegas, you need to take Interstate-15 north before taking exit toward Highway 89 that will pass through the town of Panguitch and then Utah State Highway 12 before you arrive to the entrance of the park.
Although Bryce Canyon can be visited on a day trip, you should spend more time at this national park if you want to do hiking and explore its spectacular scenery without being in a hurry.
Most people drive to Bryce Canyon either from Las Vegas which is 258 miles away or Salt Lake City, which is 267 miles away.
Nearby, Cedar City is a popular overnight stop as it's only 76 miles away from Bryce Canyon, and takes less than 1.5 hours.
The two major airports in the area are Las Vegas and Salt Lake City, however, there are also domestic flights from several cities to St. George Regional Airport which is about 2.5 hours away.
The closest gas station is Sinclair right outside the entrance to Bryce Canyon.
There's also a convenience store nearby so stock up.
Like many other areas of south central Utah, Bryce Canyon has a rich indigenous history.
There were three groups of natives in this area including the Anasazi and Fremont and the Paiute.
Bryce National Park Lodgings & Hotels
There are several campgrounds inside the park that can accommodate tents and RVs such as Sunset Campground, which closes October 31, and North Campground which is open all yea round.
They are available on first-come, first-serve basis.
There are also several hotels such as Bryce Canyon Resort and Bryce Up Top Lodge.
Bryce National Park in October Temperatures, Bugs & Animals
October brings mild weather to Bryce Canyon with plenty of sunshine and moderate temperatures ranging between 32 F at night and low 60's during the day.
If you plan on visiting Bryce during this time, make sure to bring plenty of layers.
Since Bryce Canyon is located in the high desert, it doesn't have my bugs or insects.
Things to do at Bryce National Park
Hike Queens Garden and Navajo Loop Trails to enjoying clear dark skies at night.
Take sunrise photos of thousands of hoodoos, spire-like formations inside the canyon light up in the warm colors.
Check out the Visitor Center exhibits on local geology, wildlife, star gazing, historic and prehistoric culture.
By Daria, Discovery Nut
Zion National Park in October (Utah/Rocky Mountains)
Visiting Zion National Park in October is a great time to see the park without the crowds.
Zion is located in southern Utah about an hour from St. George and just under three hours from Las Vegas.
Las Vegas is the best airport to fly into when visiting Zion as it is the cheapest for most people to fly into. Las Vegas is 170 miles away and Salt Lake City is 311 miles.
The park is located near Springdale, Utah and you can find everything you need here.
There are several gas stations in Springdale including a Chevron and a Shell Station.
You can also find great restaurants, bars and cafes in Springdale.
The area that Zion is located on today was home to the Souther Paiute.
They called it Mukuntuweap which means straight canyon.
It was initially named Mukuntuweap in 1872 when it become Mukuntuweap National Monument but changed to Zion when it was taken under federal protection in 1919.
Zion Lodgings & Hotels
There are several places to stay in Springdale near Zion.
There are numerous Springdale hotels and plenty of choices from luxury resorts to budget accommodation.
Cable Mountain Lodge is located among the red cliffs of Zion National Park while still being convenient for eating out, and access to Springdale shops.
You will find all of the hotel chains in Springdale but make sure you book early as Zion is very popular and rooms to get sold out.
If you are traveling onto other parks you might choose to stay in St George which is an hour away or Hurricane which is half an hour away.
Zion in October Temperatures
Zion in October has average temperatures of 52 during the day and a low of 29 degrees at night
There are several places to see the fall foliage in Zion in October.
You can take the shuttle along the Zion Canyon Scenic Drive to see the trees.
There are lots of great hikes for fall foliage too such as the Riverside Walk, Hidden Canyon, or Kolob Canyon.
Things to at Zion National Park
Hike Angels Landing which is one of the most beautiful day hikes in the world
Hike Observation Point which has beautiful views without the chains like Angels Landing
Hike to the Lower Emerald Pools and check out the waterfalls
Drive to the Kolob Canyon section of Zion and drive the scenic drive
Check out the Zion Human History Museum to see the history of Zion
Take the Zion Park Scenic Bypass to see the beautiful fall foliage
By Nicole, SW National Parks
Save this guide for later! Bookmark this pin.
You may also like our guide to the best of the US in November.