Looking for a jam-packed 4 days in New York itinerary with heaps of variations to suit every travel style? Look no further. Are you ready to join the ranks of those who fall in love with NYC just like Holly Golightly, Carrie Bradshaw, Godzilla and King Kong? Walk the streets of the Upper East Side like Blair and Serena, meet at the top of the Empire State Building like Tom and Meg (Sleepless in Seattle) and be prepared to have the song New York, New York in your head all day!
Let's take a look at the top New York attractions, offbeat suggestions and how to fill four days in the city that does not sleep. We'll focus on the best things to do in Manhattan, The Bronx and Brooklyn and detail everything you need to know before you go.
We have to apologize in advance, there is actually too much packed into this itinerary for four days but we wanted to cater for everyone's NY bucket lists!
As always with Two Scots Abroad itineraries, you will see 'alternative options' which you can pick and choose from.
Have any questions? Just leave us a comment below and we'll get back to you. We've outlined the best photo and Instagram spots in New York throughout and there's a map with everything we talk about pinned to it too.
Famous yellow cabs at Central Park
Four Days in New York Itinerary
One Day in NYC
Morning – Get Your Bearings + Times Square + Bryant Park
Your first day in New York will be the wildest because of all the adrenaline and excitement you will feel from the moment you land in John F. Kennedy (Queens) or Newark Airports (New Jersey).
Before we dive into the itinerary, we need to mention that there are five boroughs in New York titled The Bronx, Brooklyn, Manhattan, Queens, and Staten Island.
Although it is unlikely you will spend time in each one during your four days in New York, it is still worth getting to know where each is and what they offer to help with your itinerary planning.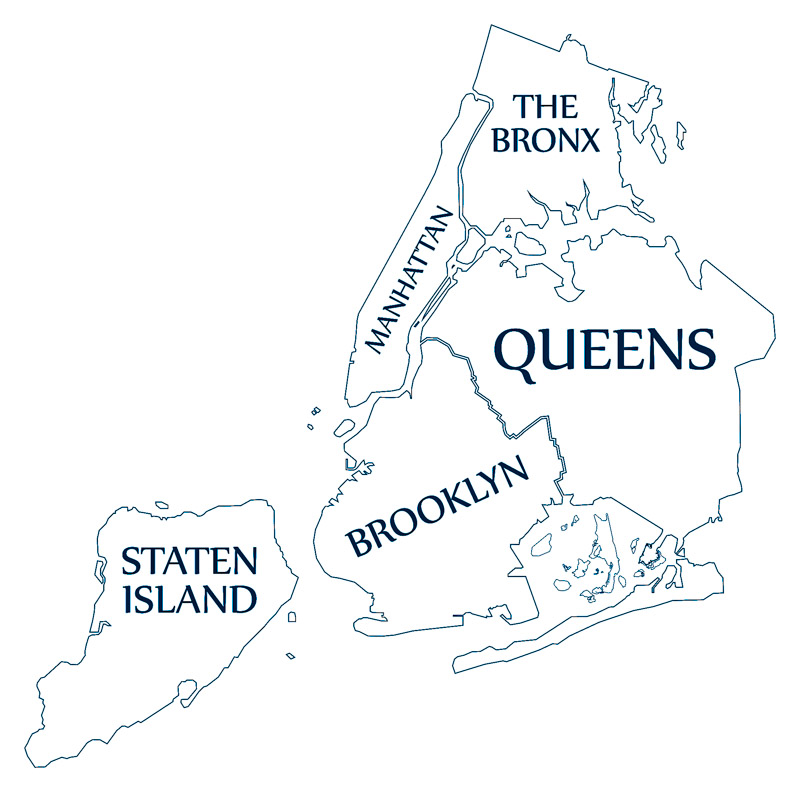 Manhattan is where most of the popular things to see in New York are such as Times Square, Central Park and the Empire State Building.
The Bronx is where you will go to see a Yankees game if you are a fan of baseball.
Brooklyn is where you will find the vintage theme park Coney Island and the hip Williamsburg. DUMBO appears in many Instagram feeds. Brooklyn and Manhattan are connected by the Brooklyn Bridge.
Staten Island has a free commuter ferry to Manhattan which offers (free) views of Ellis Island and the Statue of Liberty. Also home to a discount shopping outlet called Empire Outlet.
Queens is home to JFK Airport and the New York Mets baseball stadium.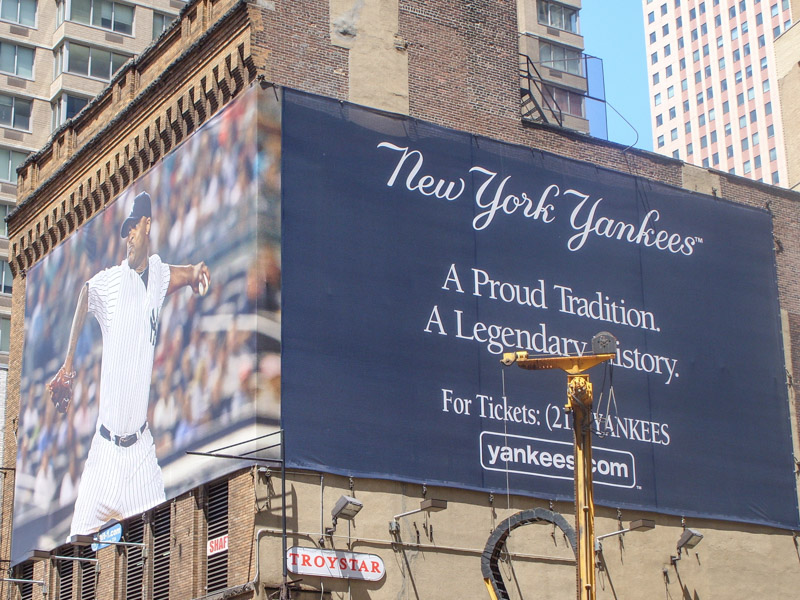 Yankees Baseball Team
The first stop on your New York itinerary is Times Square. With all the naked cowboys, raucous noise, and selfie-stick loving tourists, this is where you will finally realize that you are in the Big Apple, where over 50 million people visit every year.
If that does not impress you enough, for every dollar that tourists spend in New York, nearly 25 cents out of that is spent on Times Square alone.
Times Square is primarily for shopping (Swatch, M+Ms World, MAC), dining, (so grab breakfast or burgers, sushi, snacks at TSQMKT) and entertainment.
You will be surrounded by a lot of buildings showcasing neon signs, giant billboards and television screens full of corporate ads. If you have not started singing Alicia Keys' signature phrase "Concrete jungle where dreams are made of," now is the time.
The reason why this is one of the top New York tourist attractions is its accessibility and buzzing energy, no matter what time of day or night you visit.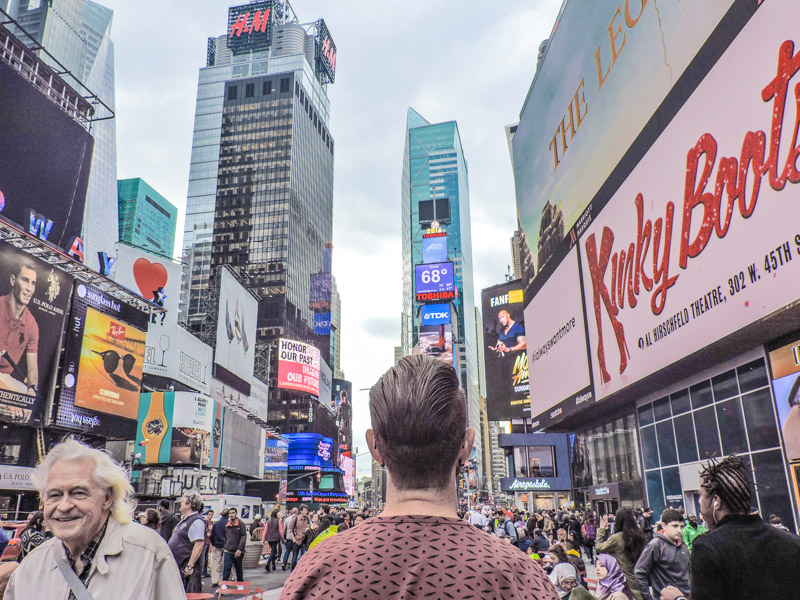 Some people love the bustle of Times Square, others hates it! Where do you sit? Tell us in the comments below.
The best time to visit Times Square is early morning if you want to try and beat the crowds.
However, everybody goes there, and you will have to walk among a sea of people because that is just how busy New York always is.
The city never sleeps, remember? There will be many people dressed in Disney or Marvel characters, but you should avoid taking photos with them unless you enjoy getting fleeced for cash.
At times it is fun to take a picture with Wonder Woman.
But just before the camera flash goes off, a bunch of her friends suddenly join at the last minute, and then the experience sourly turns into an unwanted group photo where every single person demands money.
Take a break by sitting on top of the famous giant red staircase in the middle and grab some hot dogs.
This is where you should bring out that selfie-stick and take a photo from on top of the stairs with the entire backdrop of Times Square right behind you.
New York is also a foodie heaven, and you will find many places to eat everywhere you look. Some restaurants have also turned into gift shops and museums, such as Bubba Gump Shrimp Seafood Restaurant, inspired by the movie "Forrest Gump" with Tom Hanks.
They even sell boxes of chocolates that say the famous line, "Life is like a box of chocolates, you never know what you're gonna get."
There are several souvenir shops on nearly every street you walk on. This is where you can buy the I Love NY t-shirts and wear them around Times Square.
However, if you can wait, we have budget-saving advice for souvenirs on day two.
Some of the iconic shops to visit in the area as Disney Store, Hershey's Chocolate World, M&M's World, Yankees Clubhouse Shop, MTV Store, and Grand Slam New York.
Try the free samples at Hershey's! Visiting during winter? This is where the ball drops every New Year's Eve. Read more about the best places to spend NYE here.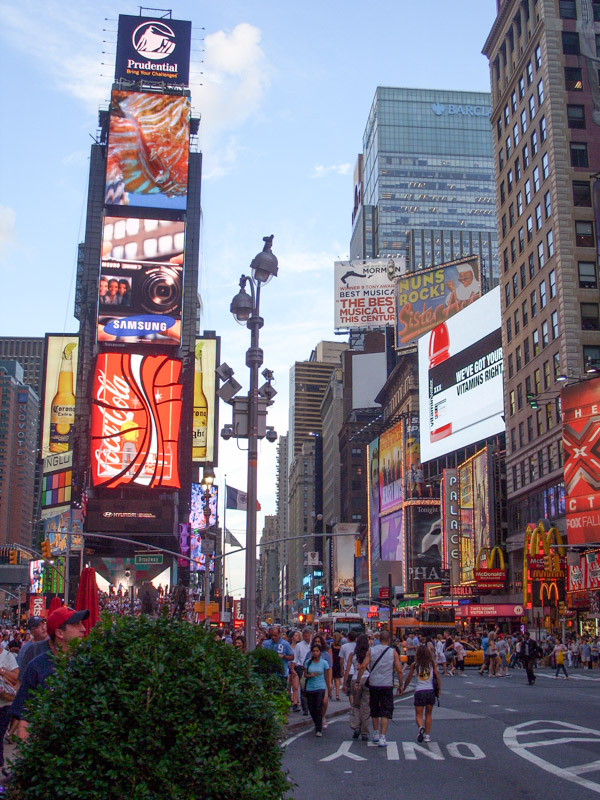 Hate crowds? Head to Hell's Kitchen for a sit-down meal.
On your way, you might see extremely long lines of people. This is because they are all trying to get tickets for The Late Show or The Daily Show.
You can try lining up to participate if you are a huge fan, but there is no point in spending several hours in a line when there is so much else to see Prefer a takeout meal?
Head to Bryant Park, which is a short walk from Times Square. Bryant Park is 9.6-acres of green space in the madness of Manhattan.
During the warmer months, locals and visitors catch rays among the blades of grass or sit on the metal seats to people watch.
Visiting NYC in fall? Head to Bryant Park to see the foliage.
It doesn't close when the snow hits either. Igloos and ice skating takes over.
The park also puts on a series of events throughout the year such as yoga classes, movie screenings and free concerts. Perfect if your New York vacation means relaxing with some American beers and burgers.
NYC is awesome for free gigs and concerts during the summer months.
Bryant Park has a hidden gem too, check out the toilets when nature calls to see more nature at the loos.
Head to Bryant Park, which is a short walk from Times Square.
Bryant Park is 9.6-acres of green space in the madness of Manhattan.
During the warmer months, locals and visitors catch rays among the blades of grass or sit on the metal seats to people watch.
It doesn't close when the snow hits either. Igloos and ice skating takes over.
The park also puts on a series of events throughout the year such as yoga classes, movie screenings and free concerts.
Perfect if your New York vacation means relaxing with some American beers and burgers. NYC is awesome for free gigs and concerts during the summer months.
→ Get your bearings: Central Park is only a ten-minute walk from here, and you can just walk down towards the west and suddenly be amid an entire stretch of restaurants in Hell's Kitchen where you will find every single cuisine.
You can also walk to the New York Public Library and Grand Central Station in just twenty minutes.
Don't miss our New York State bucket list challenge!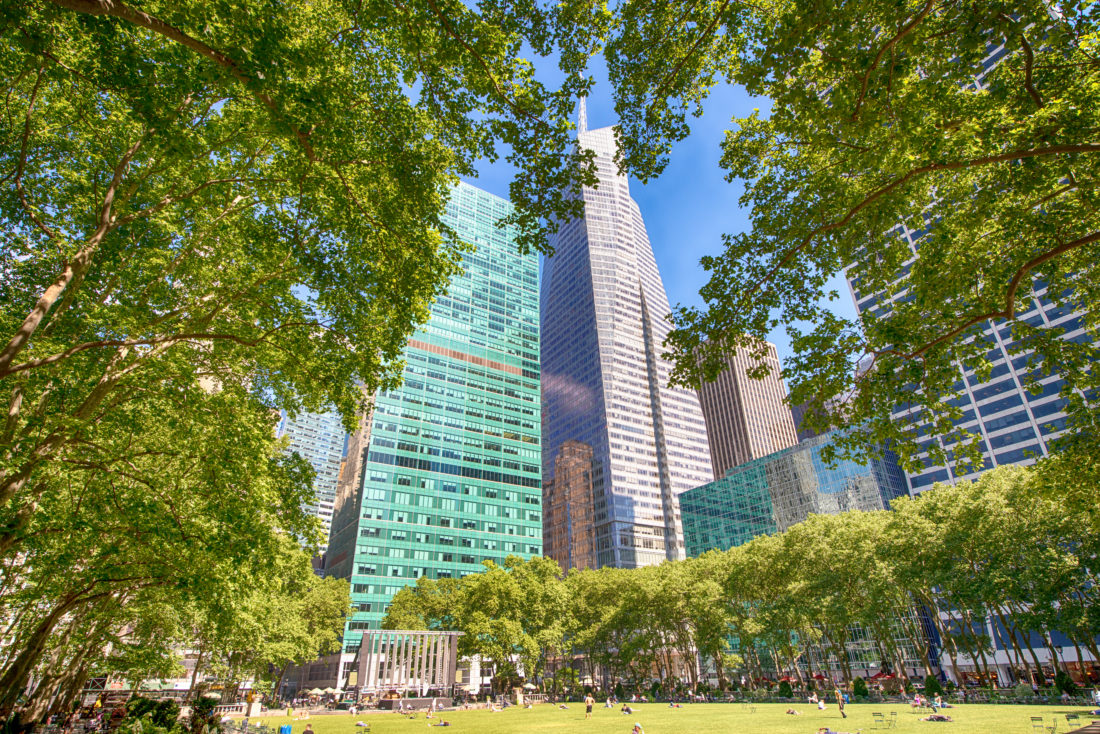 Alternative Lunch Option
Food halls should also be on your NYC itinerary because they are beneficial if you cannot decide what to eat and want to try a little bit of everything.
The Urbanspace Vanderbilt food hall (Vanderbilt Ave, New York) is a short stroll from Bryant Park and Grand Central Station.
There are over 21 vendors, and you can also try a typical New York pizza slice called "The Axl Rosenberg."
This is a delicious mouthful of mushrooms, garlic, jalapenos, and hot soppressata.
For some healthier pizzas and salads, you can eat at the Whole Foods food hall that also has a lot of delicious sushi, fish, and wine.
Evening – Top of the Rock + Hell's Kitchen Dining
Now that you have seen a couple of New York attractions on foot, it is time to see the concrete jungle from above during peak sunset hour so you can watch all the city lights come alive.
There are no shortage of observatories in the city but The Rockefeller Center has the best observation deck for night viewings called "Top of the Rock."
Unlike other observation decks in the city, this is an outdoor area where you can feel every bit of wind in your hair.
This is one of the best things to do in New York and gets crowded, which is why you should always book tickets in advance.
With the Top of the Rock Observation Deck Flexible Date Ticket, you can always pick the dates which suit your trip and can skip the hectic line.
Enjoy the pink sunset glow from the deck and take a million photos.
It is also one of the best views because you see the Empire State Building that should always be the center of attention in all your panoramic sunset or night pictures.
You can see the view from the observation in the image.
Set aside one hour for your visit or stay until night to get this shot.
Top of the Rock has wheelchair access and is collapsible stroller friendly.
Professional photography and tripods are not allowed.
Next, treat yourself to dinner at any of the ethnic restaurants in the once-gritty, Hell's Kitchen. This is where Marvel's Daredevil was brought up!
Still raring to go for a night full of sin?
Check out a comedy at Hell's Kitchen or a theater show on Broadway and have a nightcap at Hotel Ink 48's rooftop (653 11th Ave) for unobstructed views of the Manhattan skyline and the Hudson River.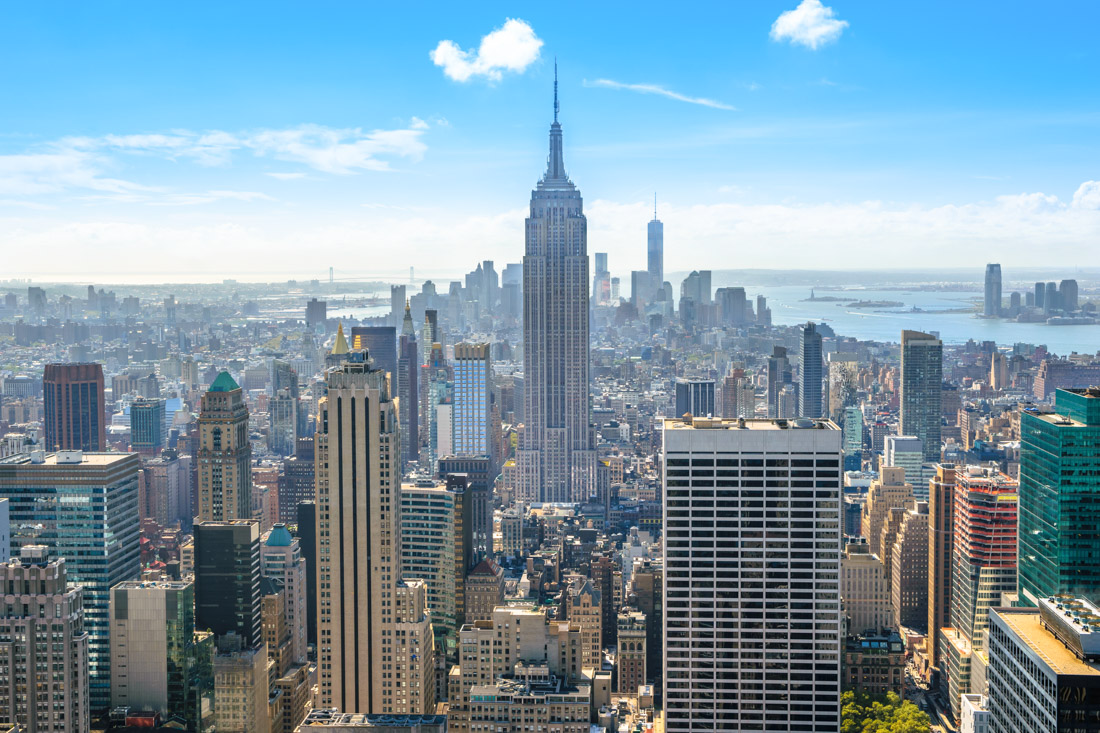 SUMMIT One Vanderbilt Experience
Probably the most popular thing to do for photography fans and young social media users is SUMMit One Vanderbilt but it is pricey so you are going to want to choose this over one of the other observation decks.
Located at One Vanderbilt, you can access the observatory line from inside Grand Central Station.
SUMMIT is 1401 feet high, 77 stories up and promises an immersive experience over a couple of floors.
The elevators flies up to the 91st floor to Transcendence I, in just 43 seconds.
The next room is Affinity, the one with the shiny balls you've seen on social media.
Views include Top of the Rock!
The next floor, 92nd, is Transcendence II which looks down on Transcendence I.
There is also a typical outside observation deck with views over to the Empire State Building.
For an additional fee, a glass elevator takes you to floor 93, Ascent.
If this sounds like the observatory for you, you can reserve a timed ticket here.
2 Days in New York
One of the best things about New York is that even if you do not have breakfast at the hotel, there are many carts on every street that serve hot bagels and pretzels.
Grab one of these to eat while walking to fuel up for day 2 in NYC.
Morning – Ellis Island + Statue of Liberty
Today we're going to venture out to Liberty Island to see the glorious Statue of Liberty.
Keep in mind that this is one of the most popular things to do in New York and the lines reflect it.
Gemma (Two Scots Abroad) walked down to The Battery (Park) without pre-booking a ticket and turned on her heels back to the city when she saw the lines.
You can choose your designated trip date, time (morning) and type of ticket (standard or priority pedestal access) at GetYourGuide.
The Statue of Liberty tour includes a ferry ride and access to both Liberty Island and Ellis Island.
It also includes a multilingual audio guide.
If you want to visit the stone pedestal where Lady Liberty proudly perches you need to purchase the priority pedestal access option.
Note: Backpacks and tripods are not allowed on the pedestal access but there are lockers onsite.
Avoid the scams, go with a trusted cruise tour. You don't have time to waste as it is a four-hour trip.
You might encounter some random ticket sellers who offer competitive prices that make pizza seem more expensive.
These tickets are usually not genuine, and you might never see the seller again right after paying.
Not bothered about seeing the exhibitions or visiting the pedestal?
Anyone with a ferry ticket can get access to the island and walk around, but you need a separate ticket to visit the Statue of Liberty.
The ferries run regularly on a continuous loop to the statue and back.
If you want to climb up to the crown, you will have to buy an additional pass several months in advance.
The crown tickets sell out super-fast.
Visiting the crown is not for the faint-hearted because you need to climb up to 340 steps, which is about 20 floors!
There are no elevators, so you must be in great shape.
It also gets sweltering and stuffy inside with temperatures 11 degrees higher than outside.
This, coupled with all the exercise during the intense stair climb, should inspire you to remove as many layers as legally possible.
The top of the crown is a minimal space with lots of little windows to see the view from.
If you look closely at the outside of Lady Liberty's crown, you can see the windows to picture yourself on the other side of them after climbing a ton of stairs.
Set aside 3-4 hours for this New York point of interest.
Be ready for ferry security screening.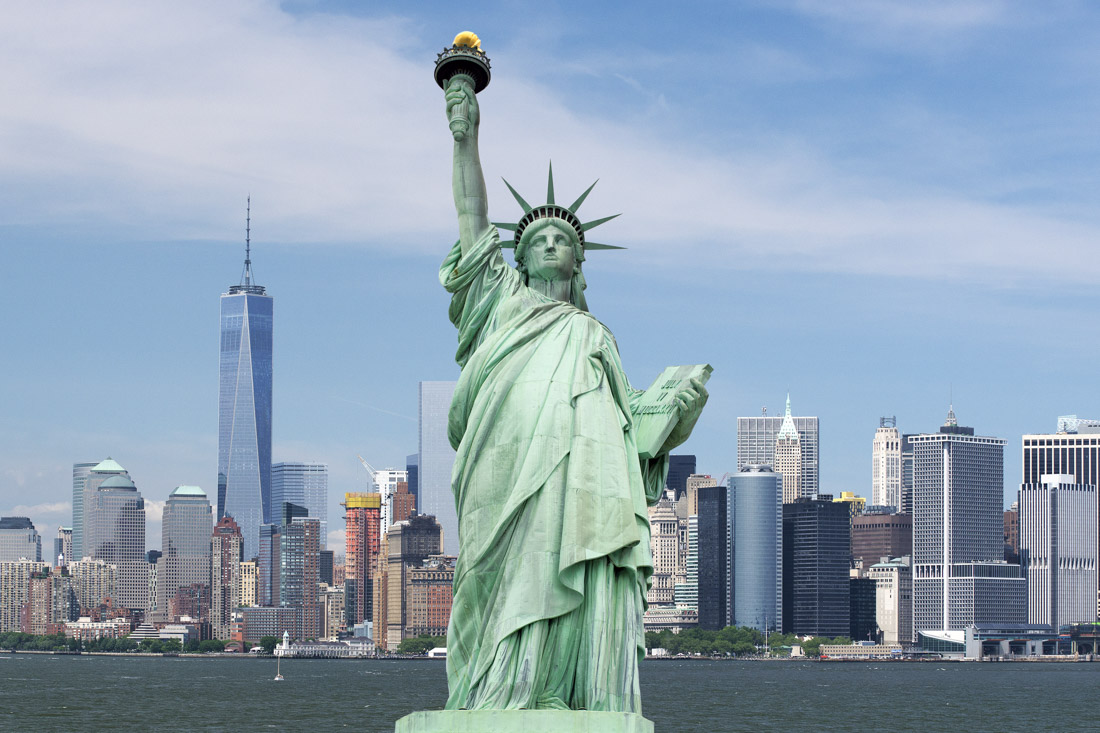 Alternative Option – United Nations
If this is your second time visiting New York, you don't want to wait in line for Ellis Island or you have a particular interest in international issues and politics you may want to visit the United Nations.
This complex is the official headquarters of the United Nations (46th St & 1st Ave).
It features a museum with guided tours and exhibitions such as aid packages and tents for international relief.
A really cool feature of the tour is that you get to stand in the very same room where Malala Yousafzai delivered her speech on Global Education and Greta Thunberg asked the world leaders 'how dare you'.
Yes, during the tour, providing it is available, you get access to the General Assembly Hall and Security Council Chamber.
Afternoon Option 1
Canal Street Shopping + Chinatown
For the best bargains and genuine fakes, you should go to Canal Street, where several vendors have inexpensive souvenirs along Chinatown, especially the I <3 NY tees.
Canal Street is cash-only and haggling is welcomed. Be cautious of where your purse is at all times.
If you want more than the stereotypical items to bring back home, you should visit the Artists & Fleas market for hand-printed shirts, punk jewelry, and other arts and crafts related souvenirs.
The market is usually open until 9pm, which should give you plenty of time to shop around and explore all the different vendors.
From Canal Street, you are only two minutes walk from Cortlandt Alley.
At first, Cortlandt Alley might just look like a dingy street with no redeeming qualities but never judge a book by its cover!
This street is famous. It has brought alive many pages of scripts from the likes of Gotham, Law and Order and the film, Annie.
Just picture a man in a trench coat and hat solving a crime or even better, you might just catch a movie being made!
One of the best things about NYC is food from all over the world.
Since you are in Chinatown it would be rude not to sample some dim sum.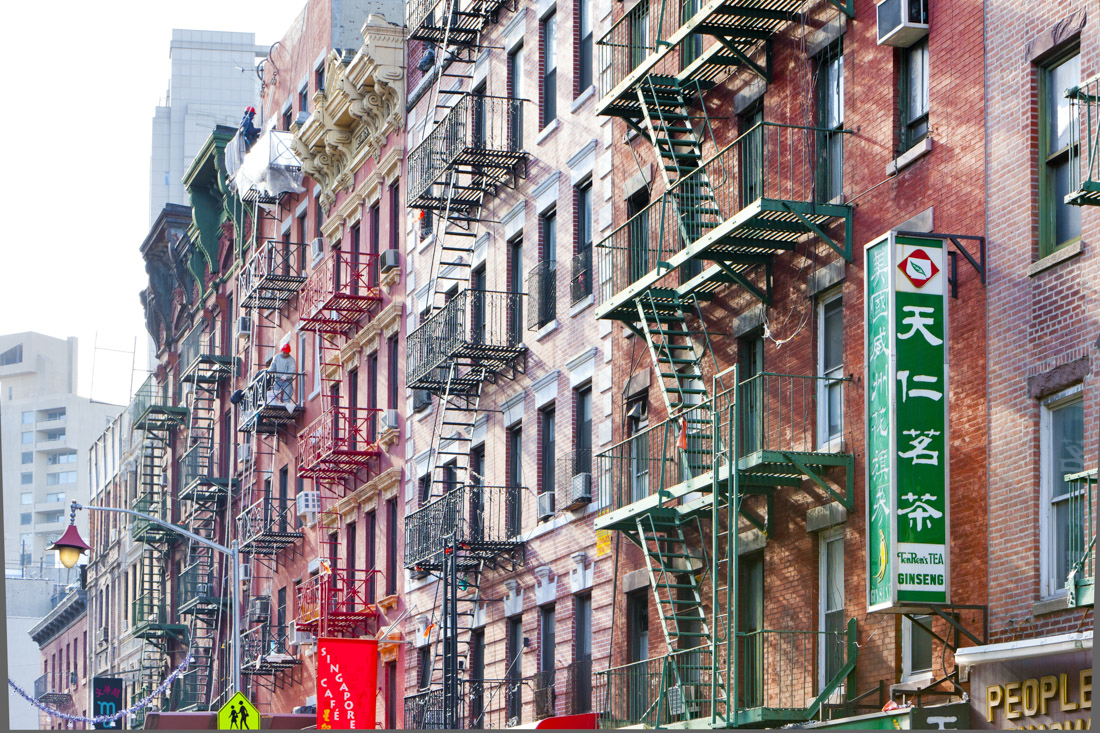 Afternoon Option 2
One World Trade Center + 9/11 Memorial and Museum
A visit to the One WTC (Freedom Tower) and the 9/11 Museum combines an observatory deck and memorial museum.
The One WTC elevator takes only 47 seconds to get you to the top of the observatory viewing deck.
With advance One World Observatory skip-the-line tickets, you can skip all the lines.
The lifts also have a dynamic display that shows you how New York City transformed through history to become the world's most loved concrete jungle.
There is also a thrilling Sky Portal with a glass floor that you can look down from! Hopefully, you are not afraid of heights or suffer from vertigo because this is the best part.
After the observatory, you can stop by at the cocktail bar for a gourmet experience while taking more shots of the iconic skyline.
If you visit One World Trade Center during Christmas, they set up a massive snow globe with incredible snowy displays.
The restaurant also serves Christmas themed food and drinks.
The 9/11 Memorial & Museum is open until 8pm daily, and it is located on the site of the original Twin Towers to pay homage to the nearly 3000 victims of the 2001 attacks.
The museum takes you through an in-depth experience with testimonies, artifacts, and stories from survivors of the attack.
The surrounding reflecting pools provide a tranquil backdrop to the memorial, and all the interactive exhibits take you on a historical journey of the tragic event.
There are over 10,000 artifacts and more than 2,000 interviews, photos, and interviews from survivors.
The most notable is the permanent collection where the items are donated by a survivor named John Stiastny.
The largest room in the museum is called Foundation Hall.
This is 15,000 square foot space with a 60-foot-tall ceiling that is made from some of the original wall that wasn't destroyed on 9/11.
This museum gets very crowded with tourists no matter what time you visit because this is an emotional experience for tons of people from around the world.
With the New York 9/11 Memorial & Museum Skip-The-Line tickets, you can bypass the queue to explore all the exhibits and interactive displays.
You can reserve your skip-the-line ticket here.
Photographers will want to swing by the World Trade Center Transportation Hub (Oculus) to see the vast white futuristic building. Pack your shades.
Afternoon Option 3
Brooklyn
Ride a city bike or walk over the Brooklyn Bridge from Manhattan to get to Brooklyn.
You can pick up a Citibike, rent it for an hour and drop it off at a different location.
While you might not want to pedal around the fierce traffic of Manhattan, Brooklyn brings a slower pace to city life.
Brooklyn Bridge is one of the most popular places to take photos in the city. Capture the tangled webs of the bridge structure during the golden hour for best light but expect crowds.
DUMBO
Dumb name, incredible spot.
Down Under The Manhattan Bridge Overpass (DUMBO) has started popping up in lots of Instagram feeds and too right, this cobbled corner of Brooklyn is cool without shouting about it.
Street art murals, vintage finds, photogenic coffees, DUMBO is a Millennial dream.
Not your style? Don't let that put you off the area, Brooklyn Park is one of the best spots to capture the Brooklyn and Manhattan Bridges as well as the Manhattan skyline, day and night.
The park takes in Pier 1 to Pier 6 and has a dedicated bikeway if you want to pedal between the piers.
Need a refresher? Time Out Market New York is located in DUMBO and offers 2-4-1 happy hour drinks with a skyline view.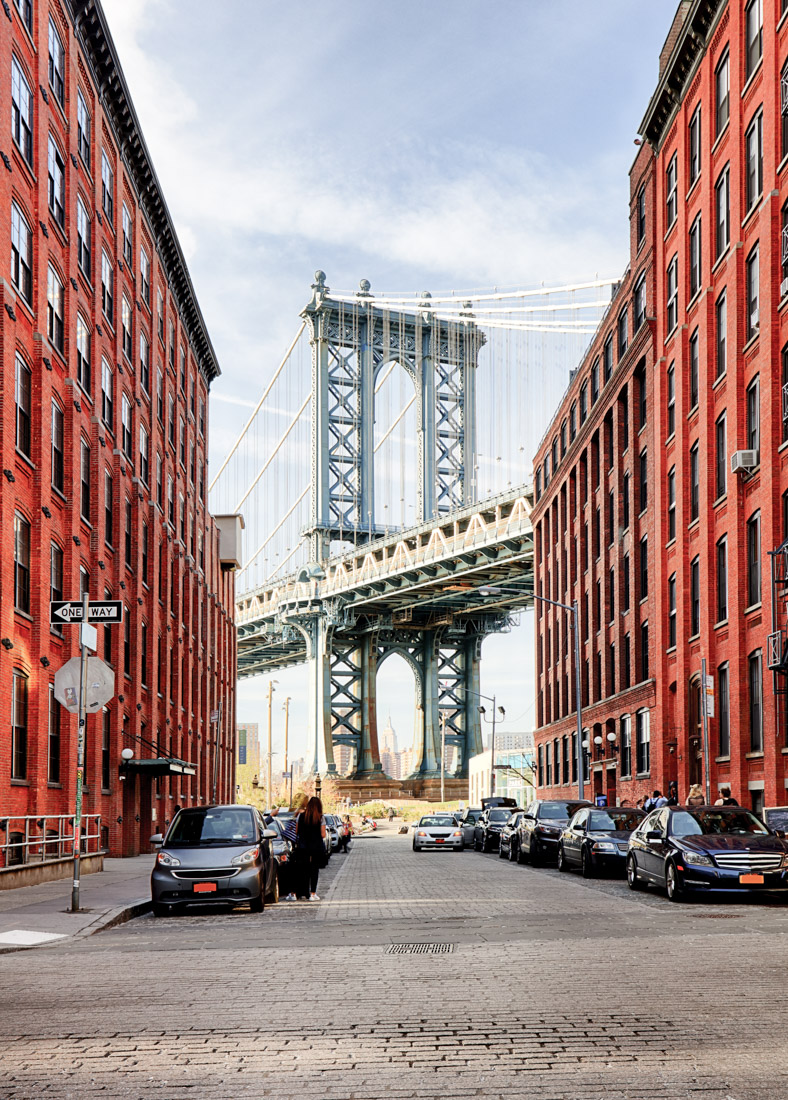 Williamsburg
Even back in 2011 when Gemma stayed in Williamsburg, bars were serving cocktails in jam jars. Welcome to Williamsburg!
Art galleries, craft beer breweries and sustainable clothes shopping on Bedford Avenue.
Around on a Saturday? Check out the Brooklyn Flea market.
Food! This gentrified pocket of Brooklyn has no end to its offerings from tacos to tempeh. It's not cheap though!
Sopranos fans should dine at Bamonte's (32 Withers St) which has been serving Italian food to the public, not just acting mafia gang members, since the 1900s.
Coney Island
Let's go back, way back into time and visit the vintage fairground.
Luna Park at Coney Island in Brooklyn is an old school theme park with rides such as the Cyclon Rollercoaster and cool photobooths which print off four frames, cue cute couple/pals pics like Gemma took.
Coney Island is also home to a beach and firework display every Friday during summer.
You've probably seen it before as it has been featured in many movies including the appropriately named, Brooklyn.
It takes around 45-60 minutes from Manhattan to get here using the D, Q, N or F train to Stillwell Avenue.
As you can see, you can easily spend a day in Brooklyn. It's a great borough for accommodation too, especially if you are a foodie and/or like bars. We've provided some ideas for accommodation below.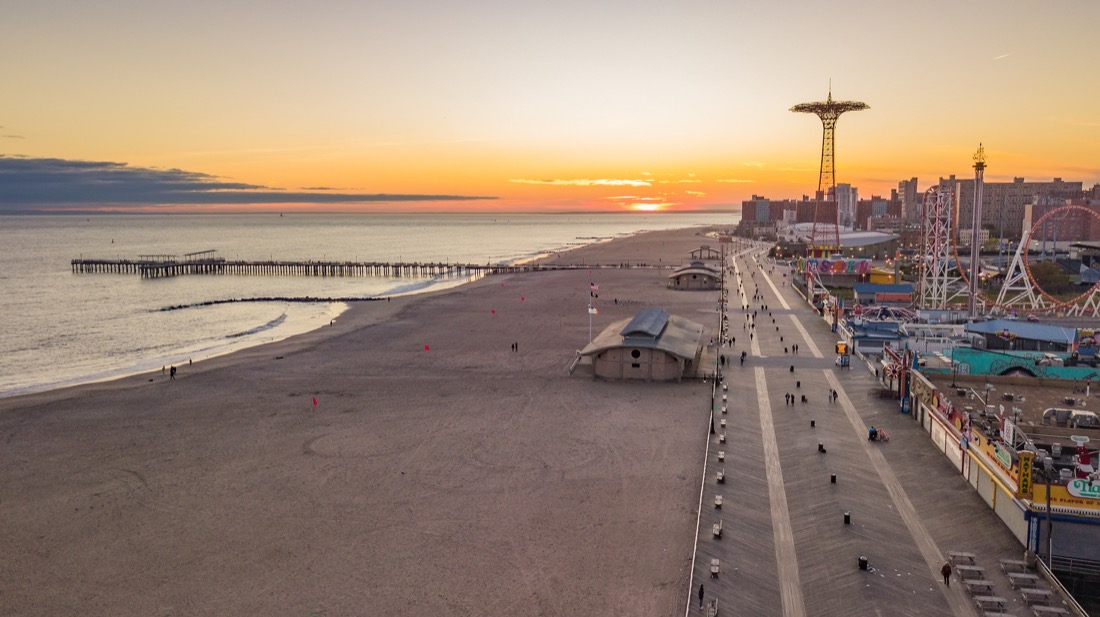 Evening – Broadway
If you have time, grab a disco (afternoon) nap at the hotel and get ready to head out to watch a play at one of the famous Broadway theaters as part of your NYC itinerary for 2 days in New York so far.
The most popular Broadway shows are Hamilton, Moulin Rouge, Beetlejuice, To Kill a Mockingbird, Aladdin, The Phantom of the Opera, and The Book of Mormon.
Since you only have 4 days in NYC, you should carefully choose one performance because there isn't enough time for more.
These performances get booked out several months (if not a year) in advance, especially if you want to see Hamilton.
You can either buy tickets online or try your luck by visiting the theatre box office.
If there are any last-minute seats available, the box office usually starts a standby list and offers them on the day of the performance.
This is a first-come-first-serve policy, so you might want to check for tickets first thing in the morning to add your name in the line before sightseeing.
Websites like Ticketmaster might have cheaper tickets that get sold out in a jiffy.
The box office ones are priced a bit higher because they know that your willingness to pay is higher since you are dying to see Hamilton (who wouldn't?!)
A lot of famous celebrities do Broadway shows in New York.
In 2019, Tom Hiddleston and Jake Gyllenhaal were fan favorites with massive lines of people waiting every night just to catch a glimpse of them.
If you do manage to catch a show, there are plenty of restaurants in the area where you can grab dinner before heading back to the hotel for a nightcap.
New York has the best pizzas in the world (after Italy, I suppose).
The slices are often bigger than a person's head, so you can always fill up on that if you do not want an entire meal at a restaurant.
In case you are hungry very late at night, there is an incredible retro-style diner called "City Diner" (2441 Broadway) that is open 24/7!
It is never too late or too early to enjoy a traditional fried chicken and waffle dish with a side of mac n cheese and unlimited coffee.
3 Days in New York
Morning – Empire State Building Deck
This is the best time to visit the Empire State Building because it will not be as crowded as later in the day.
The quietest hours are at 8am or 3pm.
Even if you wake up slightly later than 8am, you can buy tickets in advance that will help you speed past all the lines such as the NYC: Empire State Building General & Skip-The-Line Tickets.
This is an all-inclusive pass that guarantees fast entrance into the lifts and up to the observation deck.
The 86th-floor deck is also open-air just like Top of the Rock.
You will get to go up over a thousand feet to enjoy a complete 360-degree view of the whole city.
You can also head to the second floor and visit the multimedia exhibit to learn about the building's construction and all the movies and TV shows it has ever been featured in.
If that isn't enough, the recently restored lobby has incredible ceiling murals made from 24-carat gold leaves that form a gorgeous selfie background.
The observation deck will bring back all the memories of watching Kevin McAllister from Home Alone 2, or Chuck Bass holding a bouquet of flowers waiting to declare his love for Blair Waldorf.
This building is every bit as historical and romantic as you have ever imagined.
This is the best way to see every part of the city to marvel at how big it is.
The only downside is that when it gets crowded later in the day, you might have to be quick at finding a good spot or wait for others to finish taking photos.
That is why buying tickets in advance with a line-skipping option becomes a game-changer to enhance the experience.
A new observation deck on level 102 is also open to the public.
This will cost a little extra which you can upgrade to during your visit (availability permitting), but it is worth going for a visit when there are not that many people since it is a smaller deck.
If you do not want to spend the extra money, you will not miss out because both floors offer the same views of NYC.
The only difference is that the new one is slightly higher up with large floor-to-ceiling windows rather than an open space.
The Empire State has a variety of eateries if you skipped breakfast, need a pick me up or are ready for lunch.
Sucker for old romantic movies? You'll find the flagship Tiffany's closeby on Fifth Avenue. Remember your big shades and beehive, cue Moon River…
Shoppers, Macy's is less than a five-minute walk away from the Empire State Building.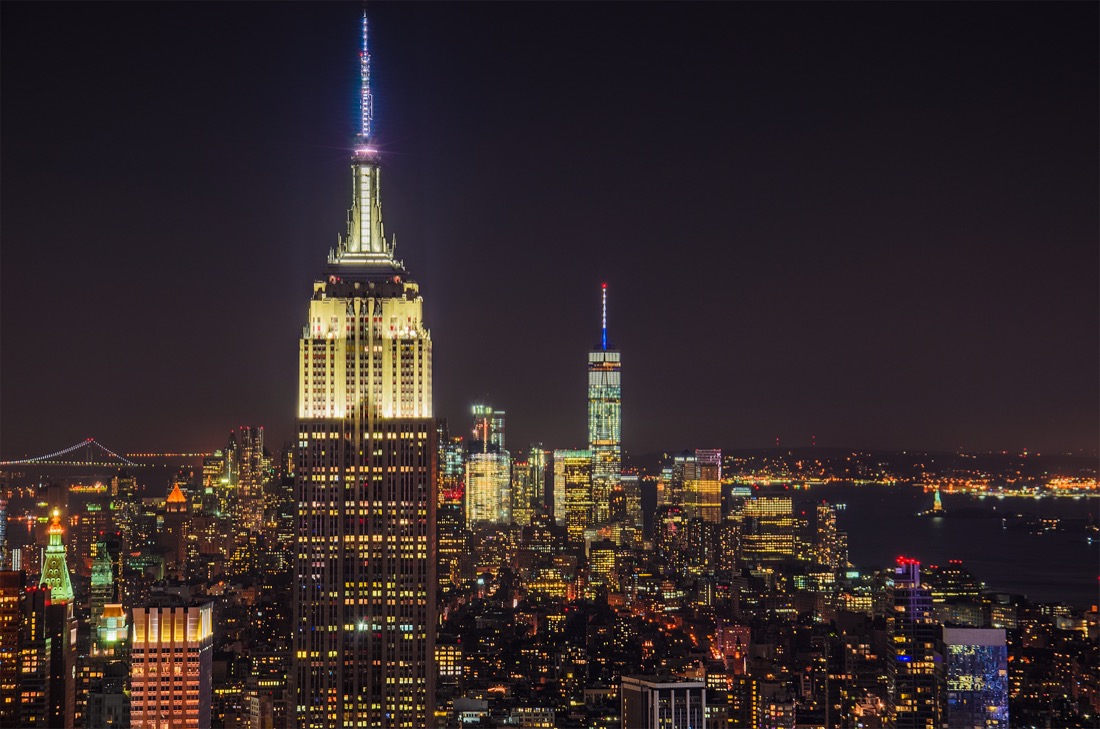 Afternoon – Central Park, Fifth Avenue + Museums
Before entering the park, take a quick sidestep to the corner of W 59th, where you can see The Plaza Hotel that was featured in Home Alone 2 and Gemma's favorite, The Sopranos.
Just ten minutes from the hotel is the famous shop, Bloomingdale's (1000 Third Avenue 59th Street and, Lexington Ave).
Not here to shop? Spending 3 days in NYC without a relaxing visit to the magnificent Central Park would be sacrilegious.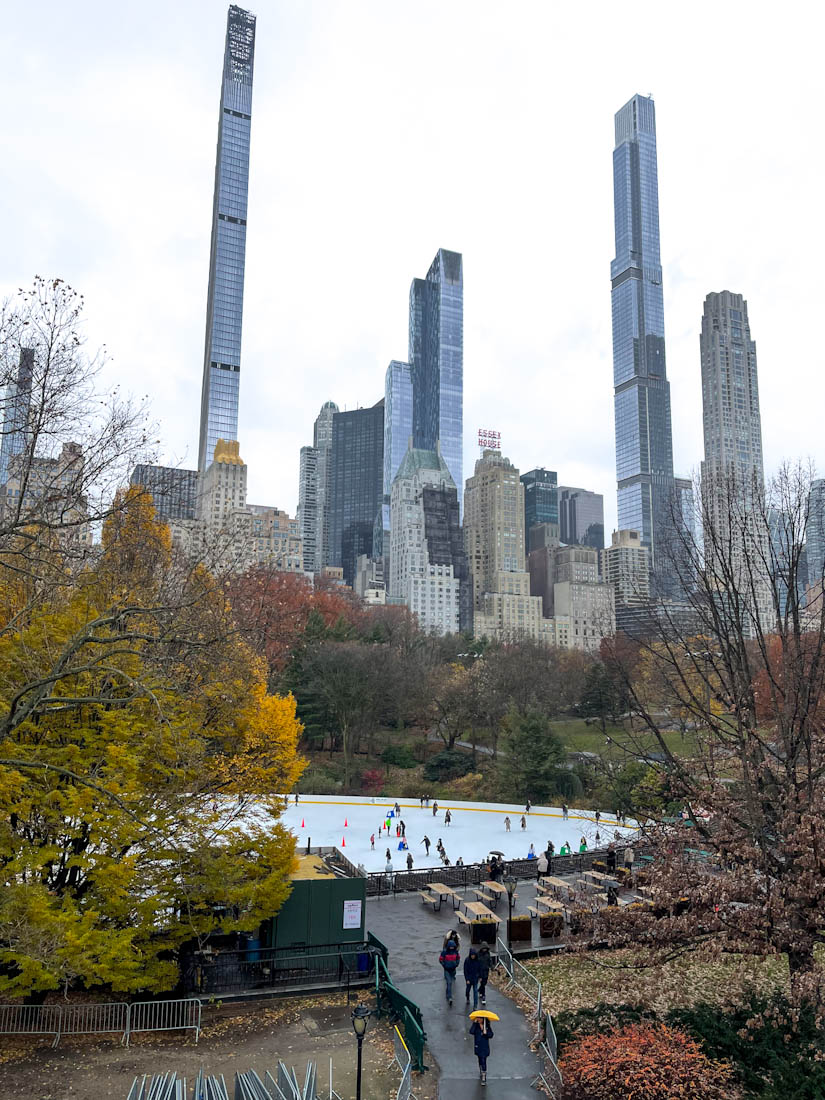 Do not underestimate how big Central Park is at 2.5 miles (4.0 km) in length and remember to throw in temperatures of 85°F/29 °C in July!
The park runs from the south at 59th Street to the north at 110th Street (and Harlem, tonight's focus).
It also takes in the west at Eighth Avenue and east at Fifth Avenue.
The great thing about its size is that you can step into nature at many points throughout Midtown and Upper Manhattan or exit to catch an attraction and we'll suggest the best ones below.
It is spectacular seeing the skyline behind all the fresh greenery and colorful flowers while relaxing in a quiet zone.
Some of the best activities in the park are Belvedere Castle, Strawberry Fields – a tribute to John Lennon from The Beatles, Alice in Wonderland statue and the famous Carousel.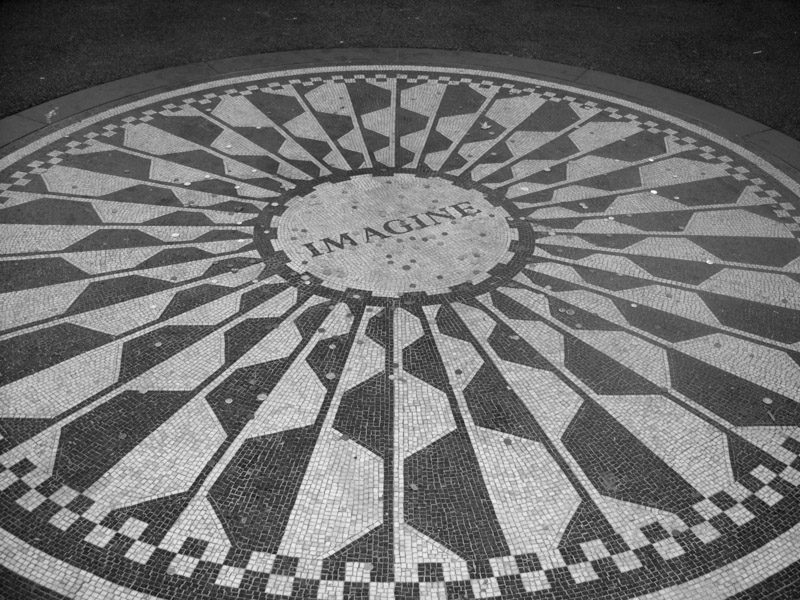 If you enjoy taking photos, you should go to the famous North Woods and catch the scenic waterfall.
During summer or spring, you can row a boat (from Loeb Boathouse ) to see the ducks and swans.
During winter there are two ice rinks in Central Park.
The park also hosts a lot of live music concerts and theater performances.
You might even stumble upon a great musician busking on the sidewalk or get interviewed by Humans of New York if you sit on one of the benches looking like you have a great story to tell.
There are over 25,000 trees to give you plenty of natural beauty in the heart of the city.
There are pedicabs for short trips, but you might need to practice some price haggling tricks before approaching the drivers.
Or you can rent a bike on the outskirts of the park and cycle around it as Gemma did during her first trip back in 2011.
Book fans will want to exit on Fifth Avenue to check out the selection of books at Albertine (972) and that glorious hand-painted ceiling.
Shoppers, sidestep to the glamorous Upper East Side and strut the streets like Blair Waldorf and Serena Van Der Woodsen.
Don't forget to rub it in everyone's faces when you sign off all your gorgeous Instagram photos with killer captions ending with the iconic "XOXO."
The Upper Eastside isn't just about shopping though, in or close to the park is The Metropolitan Museum of Art* (1000 5th Ave, nice rooftop) and the Guggenheim (1071 5th Ave) which looks like a collapsible cup on Fifth Ave.
*Realistically you could spend over a day in the Met so if this is a priority, plan for it.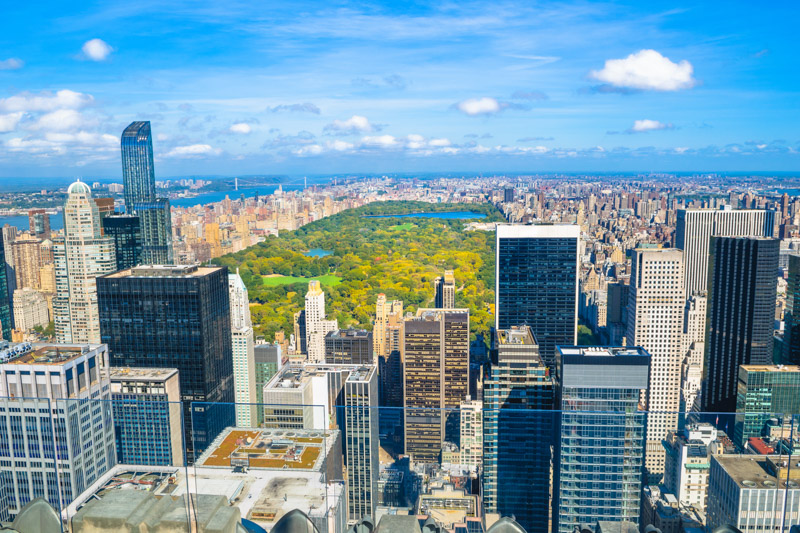 Alternative Afternoon – Catch a Yankees Game, The Bronx
Did you really go to New York if you didn't catch a ballgame?
Leaving Manhatten, take the train to the next borough, The Bronx, to see professional baseball in action at the Yankees Stadium.
You'll need some snacks to keep you going during the 3.5 hours game, pick up overpriced burgers and fries at the stadium.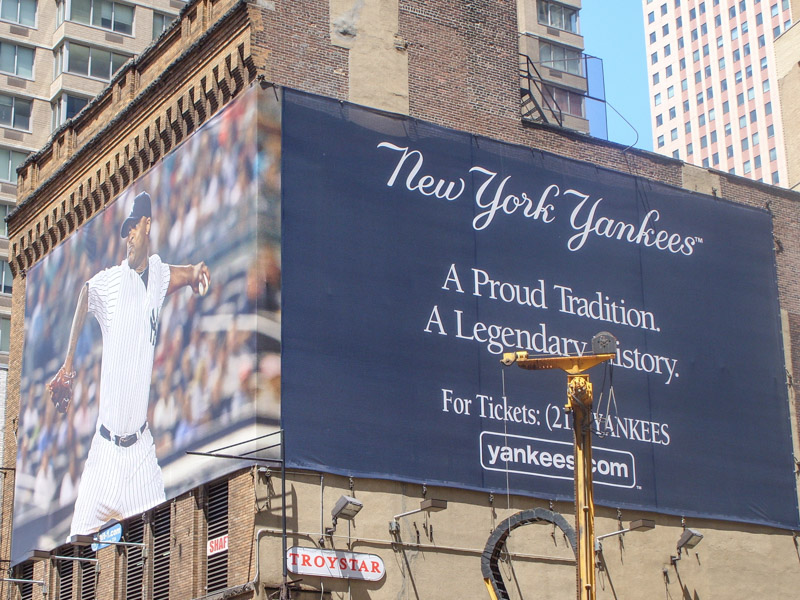 The game is broken up into innings and the best part is when the crowd sings "Take Me Out to the Ball Game".
It's really easy to get to the stadium, just hop on the number 4 train and watch for the 161st Street/Yankee Stadium subway station.
Less than ten minutes walk away you can dance down a set of famous steps… The Joker Stairs at 1165 Shakespeare Ave.
Note: some games are played in the afternoon, others are in the evening. Check out the schedule before you finalize your itinerary.
Evening – Dinner in Harlem
It's time for dinner, let's head to Harlem for the best soul food in the world.
Sylvia's restaurant on Malcolm X Boulevard is practically a Harlem landmark that has been serving the most delicious southern comfort food since 1962.
The restaurant has been operating by several generations of Sylvia's family.
They make the best collard greens, mac n cheese, black-eyed peas, fresh cornbread, fried chicken, candied yams, and so much more.
The restaurant was also featured on MasterChef. Enough said.
If you make it to Sylvia's before 5 pm, you can also take a quick stroll up the street for a couple of blocks to see the National Jazz Museum (58 W 129th St Ground Floor, 2203).
This is a tiny museum but has a lot of informative exhibits and recordings that bring the history of Jazz in New York to life.
After dinner, enjoy a show at one of Harlem's jazz joints such as Paris Blue (dive bar) or Showman's Jazz Club (bigger).
Still up at 23:30?
Go back to Times Square, to see the Midnight Moment, which is the world's longest and largest digital light show synchronized across all the electronic billboards.
The show starts every night between 23:57 and midnight, and it is a great way to end your perfect 3 days in New York.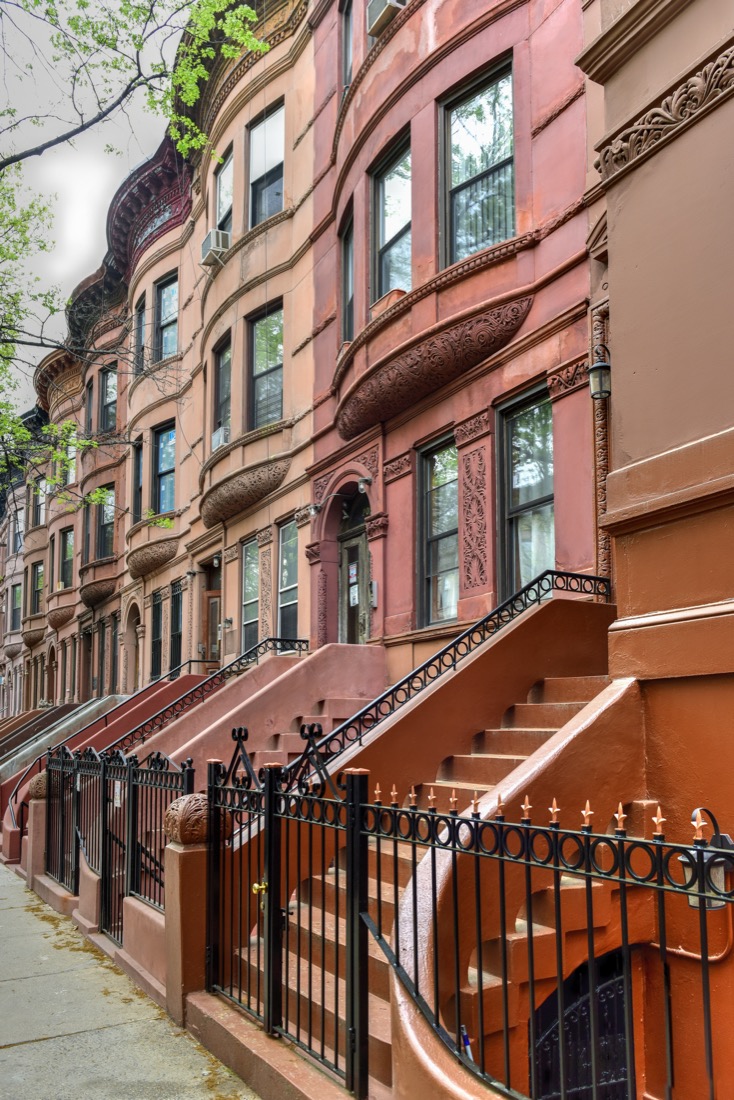 Four Days in New York
Morning – Greenwich Village
By day four the excitement of being in a new city has probably worn off, your feet will be feeling it and maybe, just maybe, you've got a tender head from the night before.
Today is for mooching about some of NYC's nicest neighborhoods. First up is Greenwich Village.
"The Village" bucket list items include wandering about the brownstone townhouses and leafy streets which you may recognize from the big or small screen!
Does 64 Perry Street, and 66, look familiar?
This is where Carrie Bradshaw from Sex and the City typed away on her laptop sharing her woes of relationships and shoe theft in this crazy city.
Guys, before you take your designer handbags and Manolo Blahniks for a photoshoot remember this is someone's property and they paid a whopping $9.85 million for it.
Not a fan of SATC? No stress.
Apparently all the cool kids lived in The Village in the 90s/early 2000s, go find the Friends apartment at 90 Bedford Street/corner of Grove Street.
Once the star stalking is over, it's time for people-watching and Washington Square Park is the ideal spot to do this.
This is the green space with the famous arch (below) and chess-playing locals.
Gemma witnessed a flashmob dance here, you just never know what is going to happen in NYC!
Music fans will want to hang out at Cafe Wha, like Bob Dylan and Jimi Hendrix did.
Moving away and up above the city, the High Line is New York's park in the sky.
Utilizing old railroads, the city developers created a pedestrian walkway surrounded by plants, art installations, seating areas and photo spots.
Since it is elevated, you can get between areas of the city without directly breathing in car fumes!
The High Line is well used so visitors will feel safe as you stroll from one neighborhood to another.
The urban park starts at Gansevoort Street (which has an elevator) in the Meatpacking District, taking you through Chelsea and ends 34th Street (ramp entrance).
There are exits throughout the route.
Afternoon – Chelsea + Hudson Yards
If you do not have enough time to visit Chelsea Market, then you should call up the airlines to extend your trip to 5 days in New York.
This market is a MUST SEE with all capital letters.
When Vanessa Williams writes about saving the best for last, she must have surely made a quick pitstop to Chelsea Market before penning those heartwarming lyrics.
Chelsea Market is the best urban food court with over 40 businesses and restaurants selling everything under the sun.
You can buy fresh homemade bread from Amy's Bread Bakery, try a juicy lobster roll from The Lobster Place, and the best gelato from L'Arte del Gelato.
If you love desserts, do not forget to hit Fat Witch Bakery for the best brownies and cupcakes in the city.
This is the largest food hall in NYC, and you can find every type of food here.
It is also open until late, so you can be as gluttonous as your heart desires, and no one would blame you.
Chelsea Market is in the Meatpacking District between 15th and 16th streets so you can walk off the High Line and into Chelsea.
The 'Whitney' Whitney Museum of American Art can also be found in this district. Book before arriving as tickets have timed slots and they sell out.
The Whitney has a terrace, access is included in the price.
Behind the market, you should visit the Hudson River Park and walkway to enjoy a beautiful skyline view across the river when all the lights in the city sparkle after sunset.
Instagram fans, the famous Flatiron Building, the skinny tall one, is a 20-minute walk away!
There's just too much to do in New York.
The Edge at Hudson Yards is another viewing platform which you literally can't miss at over 1000 feet in the city.
The Vessel at Hudson Yards is also a popular Instagram spot. Snap the outside and the inside inspired by Thomas Heatherwick and Heatherwick Studio.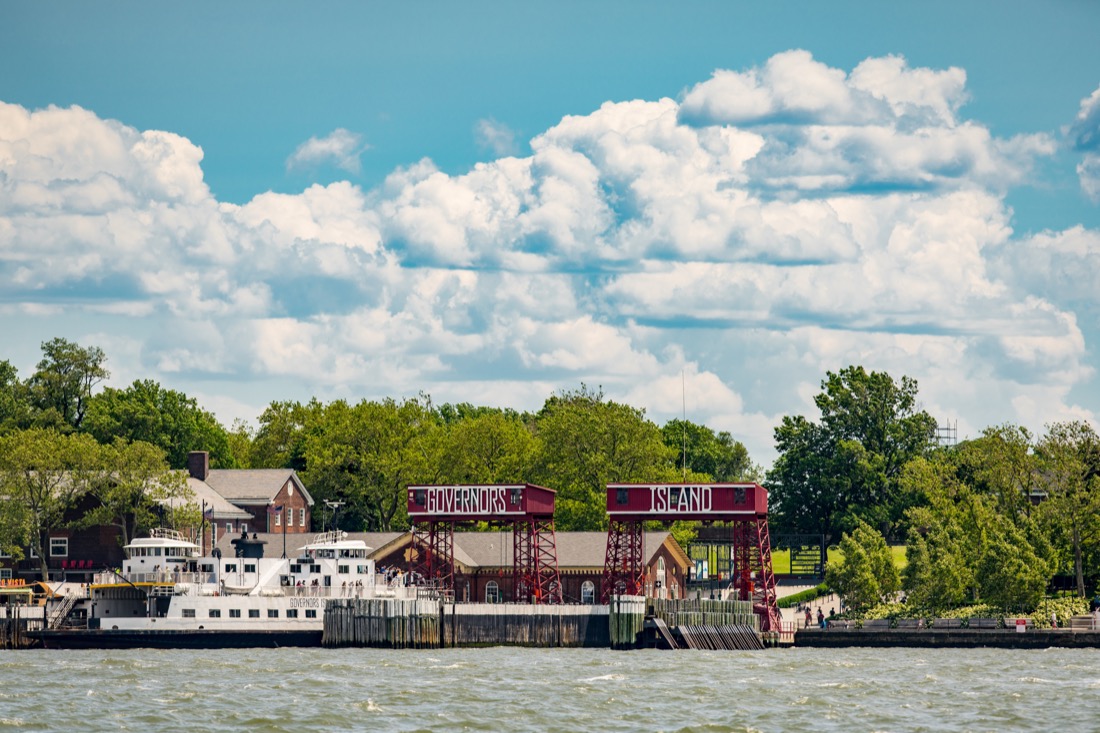 Plan Your Trip to New York
Getting to New York
The two airports used by most international and national flight paths are John F. Kennedy (Queens) or Newark Airport (New Jersey).
JFK to Manhattan can take anything between 45 – 120 mins by private transfer/taxi.
The subway takes around 65-75 mins using the A, E, J or Z lines depending on where in Manhattan your accommodation is.
Newark Airport AirTrain is the most efficient way to get between Newark and Manhattan with a stop at Penn Station and World Trade Center.
You can also take Greyhound buses for short trips to New York from other states, such as New Jersey, Pennsylvania, Massachusetts, etc.
The Greyhound buses might not be the most comfortable because of worn-out seats in older vehicles, but they drop you right in the middle of the city at the Port Authority Bus Terminal.
This bus terminal is literally in the heart of the city.
After you get off the bus, up the escalator and out on the street, the first thing you will see is the New York Times building.
Then on your right side, you will see the Empire State Building in the distance. Welcome to New York City! Make sure you have your camera ready.
From here you will find a long line of traditional New York yellow cabs parked outside, but if your hotel is close to Times Square, you can walk and do some casual sightseeing, while sweating with your luggage
If you are catching a train into New York, you will probably stop at Grand Central Station, which is one of the three transit hubs in Manhattan.
From here, you can catch the 42nd Street Shuttle or "S" train to Times Square.
Most Amtrak trains stop at Grand Central. The other drop off is Penn Station.
Getting Around New York
While most of your Manhattan adventure will be done on foot there will be times that you have to use the NYC public transport system to save time, distance and your poor feet!
The New York Subway may seem daunting at first but it is the quickest way to get around.
Also, be prepared for all walks of life using the subway.
Note: Not all of the trains run underground.
The subway runs 24 hours a day, 7 days a week, 365 days a year but not every line will run all day and night.
Use the official map, Google Maps (provides exits) and the official MTA app (no 4G required for map) for the best routes.
Focus on the numbers and letters not the colors for line navigation planning.
Look for Uptown (north) or Downtown (south) to ensure you are going in the right direction.
Express trains are great for speed but not if your stop isn't included!
There's no loop like many European subway/metros.
To pay for the subway you need a Metrocard which comes in pay per ride or 7 days unlimited for $33.
To work out if this is worth it for your four day trip to New York, 33/4= $8.25 then calculate $2.75 per ride x how many times you think you will use the subway.
The pre-paid card saves time as you don't have to waste in line for the machines.
Note: Not all machines take card so have cash on you if buying per ride or topping up.
New York's famous yellow cabs are all around the city and easy enough to hail by putting your hand out.
Gemma struggled to get a cab from Manhattan back to Brooklyn! Luckily her parents were in town so their hotel sorted one out for her.
New York Accommodation
New York Hotels
Pod Times Square: Affordable, cool, excellent location on West 42nd Street which is a 9-minute walk to Times Square.
Moxy Hotel: Modern yet budget-friendly Moxy chain often.
Pod Brooklyn: Want to be where the hip kids are? Pod is also based in Williamsburg.
New York Packing List
Camera and battery
Filter and purifying water bottle like Water To Go [quote TSA15 at checkout for 15% off]
If visiting in winter, pack layers, tights, waterproof outwear, hats, scarves and gloves. Don't underestimate how cruel NYC winters can be. Yes, thats Gemma in a Vancouver hat in NYC. Bold.
New York Instagram Spots
Times Square with flashing lights
Grand Central
Empire State Building
Top of the Rock for views of the Empire State Building
Flatiron Building with NY yellow cabs
Central Park boats, Belvedere Castle or The Lake
The Met Rooftop Bar
Guggenheim warped levels
Tiffany's on Fifth Avenue
World Trade Center Transportation Hub (Oculus) for white futuristic white space
The Vessel at Hudson Yards for brass robotic platforms
The Edge at Hudson Yards space-like viewing platform
DUMBO Brooklyn Park for bridge views, Washington Street for building framing
Brooklyn Bridge for 'on the bridge' shots
Domino Park views of bridges
Coney Island for throwback vibes
64-66 Perry Street is Carrie Bradshaw's apartment, be respectful of residents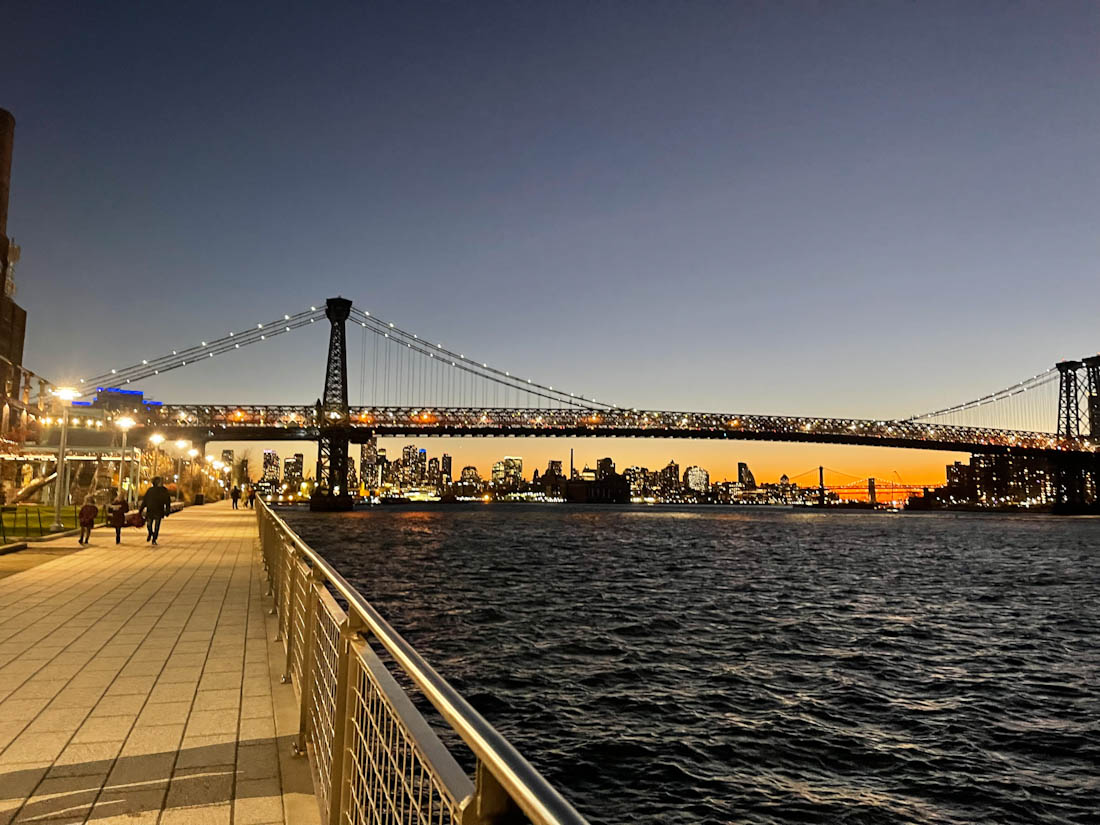 New York Map
Please find our New York attractions map here.
Final Words
A trip to New York is exhausting yet exhilarating. It's the city that gives you the chance to wear your I Heart NY tee like a tourist one day then blend in with a flat white like a local the next.
Its cultural fusion serves up the best food, its subway zips you quickly between neighborhoods and boroughs and its dramatically changing seasons gives you a reason to visit frequently.
---
This guide to New York written by Two Scots Abroad and their writer, Shipra. Shipra has fallen madly in love with NYC and cannot wait to go back again because 4 days in New York were not long enough. She is still trying to get tickets to see Hamilton and hopes for the best. See more guides by Shipra on Two Scots Abroad here: Chicago, Boson and Dubai.