This article has links to products and services we love, which we may make commission from.
Stunning sunset spots, cozy cabins, long hikes in the wilderness and relaxing spas – this guide details the most romantic national parks in the US. In case you are planning a Valentine's Day getaway we've also included national parks in February weather and temperatures so you can decide which one is right for your style of travel.
Planning a national park honeymoon? We've also recommended the most romantic things to do at each park as well as lodgings perfect for newly weds or couples in love.
While couple travel is the a focus for this post, you can still read through and use the information to work out which is the best national parks to visit in February with friends and family for you.
Romantic National Parks in February or Honeymoon Ideas
Here is a US map to help you with your bearings.
The guide is also split into regions.
Best West Coast National Parks
If you're looking for parks with wild extremes, you're looking at the right side of the country!
Waterfalls, desert, canyons and caves; the west has everything to make a getaway special for couples.
We've also included a wedding at a national park. Can you guess where?
This section covers parks located in California and Washington as well as Nevada and Arizona.
California National Parks
Yosemite National Park
There aren't many national parks more iconic than Yosemite and if you've ever been, you know this majestic national park lives up to all the hype.
For those going during winter, you will get to experience Yosemite in ways that few ever will.
What could be more romantic that being at a bucket list destination with no crowds, cozied up with your loved one, viewing a thin blanket of snow grace one of nature's masterpieces.
Yosemite National Park is located in Central California. It is 62 miles (1 hour 15 minutes) from Fresno, CA to the South Entrance and 170 miles (3 hours 25 minutes) from San Francisco to the North Entrance in Big Oak.
The closest airport is the Fresno Yosemite International Airport (62 miles from the South Entrance in Fish Camp) where you can easily rent a car or take a bus known as the YARTS from the airport to Yosemite.
If you do drive and there is a chance of snow in the forecast, you will want a AWD/4WD vehicle and tire chains can be required to enter the park.
Yosemite is very large national park, covering almost 760,000 acres of land.
The most popular part of the park is called Yosemite Valley (Ahwahnee), as it is home to more of the noteworthy attractions like Half Dome, El Capitan, Yosemite Falls and the Mist Trail.
This is even more so true during winter, because they plow the roads in the valley daily unlike the backcountry.
There is not many options to fill up on gas once inside the park.
Your best option is at Wawona Gas near the South entrance of the park (27 miles from Yosemite Valley).
There is also a small grocery store located next door.
The other gas station is located near the North Entrance at Crane Flat and is 16 miles from Yosemite Valley, but they don't have much of a grocery store.
Note: Yosemite National Park was officially founded in 1890 but it has a long history before being federally protected.
The area was called Ahwahnee, a name given by the native Ahwahneechee People, a mixed tribe including Miwuk and Mono Paiute, who were brutally evicted by the Mariposa Battalion.
You can learn more about Miwuk history at Yosemite Museum and Mariposa Museum and History Center (5119 Jessie St, Mariposa).
Yosemite Lodgings & Romantic Hotels
Reserving a campsite at any of Yosemite's 13 campgrounds is nearly impossible during summer (the reservable ones sell out in minutes) but during winter you have a much better chance of booking at Upper Pines Campground or getting a day of campsite at Camp 4.
If you are in an RV you can find a spot in Upper Pines for up to 35 feet, but there are no hookups.
For a romantic experience, I recommend booking at Yosemite's only luxury hotel – The Ahwahnee.
It is the only hotel located right in the middle of Yosemite Valley and offers fine dining, incredible architecture and breathtaking views right from your room.
Alternatively, check out the floor to ceiling windows on this lodge and kings size with patio at the Yosemite Valley Lodge.
Yosemite in February Temperatures and Animals
If you are visiting Yosemite during February for a romantic Valentine's getaway, plan to bring warm layers as highs average around 53°F and lows around 30°F.

It also very likely it will snow during this time so bring your snow jacket, pants, and shoes. If car camping, you will want a heavy duty sleeping bag rated down to 20°F just in case it also gets windy.

You aren't going to have a problem with bugs in winter, but you will (hopefully) get to experience black bears from a safe distance and in their natural habitat.
Check out our hiking packing list for more item ideas.
Romantic Things to do at Yosemite National Park
Catch the legendary Firefall at Horsetail Fall (only happens in February between Feb. 10-28th)
Cross-country ski to Glacier Point (only way here during winter)
View a romantic sunset at any of these epic Yosemite Sunset Spots
Walk amongst the "giants" in Mariposa Grove to see the massive Sequoia trees
Hike or snowshoe the Mist Trail to see Vernal and Nevada Falls
Downhill ski or snowboard at Badger Pass Ski Area
Get married or renew your vows during sunrise at Glacier Point
Getting Married at Yosemite – The Perfect Wedding
Few would ever imagine Yosemite as a destination wedding location, but it is one of the most breathtaking and serene places to vow your love.
After securing our permit from the NPS website, we planned our entire wedding ourselves for a 3 day adventure weekend in the park with 40 of our closest friends and family.
Everyone stayed at the Redwoods in Yosemite near the South entrance in Wawona.
We hired a charter bus to take us up to Glacier Point at 4am where we would exchange our vows to each other as the sun rose over Half Dome.

It was one of the most intense and magical moments of my life.
I love that we got to spend a long, intimate weekend with everyone instead of a few short hours and that we were able to offer everyone, including ourselves, a once in a lifetime experience.
by Taylor, Nomads in Nature
Pinnacles National Park
Pinnacles National Park is a small park south of San Jose, California and is perfect for an active and romantic weekend getaway.
The park features interesting geologic rocks – including many large monoliths – as well as caves.
Hiking is the most popular activity in the park and there are several hiking trails in Pinnacles National Park.
Driving south from San Jose on Highway 101, the park is less than two hours away.
There is an east and west entrance, which are not connected by road; the east entrance is accessed from Highway 25 while the west entrance is accessed from Highway 101.
The closest town to the east entrance is Hollister (35 min / 30 miles) and the closest town to the west entrance is King City (35 min / 25 miles).
There is nowhere to get gas within the park so it's best to fill up while driving through one of the towns.
Similarly, there are no food options in Pinnacles; groceries and alcohol can be picked up in either town before entering the park.
Pinnacles Lodgings and Romantic Hotels
Pinnacles has a single campground on the east side of the park and this is the best accommodation if you can get a reservation.
In addition, there are a few paid campgrounds outside the national park.
For something a little more romantic than a tent or camper, consider the Inn at the Pinnacles which features a large pool and cozy guest rooms – one room even has a jacuzzi.
The Inn has a large balcony for sipping morning coffee and a view of High Peaks.
Pinnacles Temperatures in February, Bugs and Animals
Pinnacles can get a little chilly in February, with temperatures typically between 32 and 62 F.
Thankfully, cooler temperatures make hiking in the afternoon much more pleasant and keep the bugs away.
There are a few animal specifics living in Pinnacles, mostly small mammals, birds and reptiles.
The most notable are the bats that hang in caves throughout the park and the condors which fly overhead at dawn and dusk.
Romantic Things to do at Pinnacles National Park
Watch the sunrise from Bear Gulf Reservoir
Hike through the Bear Gulf or Balconies caves by flashlight
Watch the sunset over High Peaks
Support each other while rock climbing
Roast marshmallows over a campfire at Pinnacles Campground
Stargaze from the trails or campground
By Mikaela of Voyageur Tripper
Channel Islands National Park
Channel Islands National Park provides a secluded island escape, allowing visitors to fully immerse themselves in greenery, wildlife, and the ocean breeze.
Located off the coast of Southern California, Channel Islands National Park is made up of 5 different islands: Santa Cruz, San Miguel, Santa Barbara, Santa Rosa, and Anacapa.
The islands can only be reached by boat from either Oxnard or Ventura, with the longest ride taking about 2 hours.
The major boating company used to get to the Channel Islands is called Island Packers.
Once on the islands, visitors get a true step into uninhabited nature, as there are no restaurants or convenience stores around.
Camping on the Channel Islands
To take day adventuring to the next level, overnight camping is available on all five islands.
It is recommended to book camping spots online in advance, as space is limited and can be highly sought after in the summer months.
Santa Cruz is the largest and most popular island, containing a campground called Scorpion Cove.
Anacapa Island, one of the more remote islands and perfect for wildlife viewing, has a small campground on its east islet.
Since there are no establishments on these islands, campers must bring their own equipment, keeping in mind that they must travel with it by boat and carry it themselves to and from the campsite.
Channel Islands in February: Temperatures and Bugs
When visiting in February, visitors can expect temperatures in the mid 50's and low 60's.
Winds can be strong and terrain can be uneven, so dressing in layers and bringing sturdy shoes is a necessity.
Visitors can expect to see sea lions, falcons, seagulls, and foxes, as well as dolphins and the occasional grey whale on the boat ride over.
Besides navigating the occasional gull nest or bird droppings, no wildlife issues, pests, or insects are reported from campers at the Channel Islands.
Romantic Things to do at Channel Islands National Park
Go for a swim or browse the tide pools at Smuggler's Cove
Dive or snorkel the kelp forests at Scorpion Beach
Kayak from Prisoner's Harbor for scenic views
Hike the island's many trails while spotting wildlife and wildflowers
Get a romantic view of the islands from East Anacapa's Inspiration Point
By Olivia, Girl With Blue Sails
Joshua Tree National Park
Joshua Tree offers a unique desert landscape with warm weather year round.
But what makes it an incredible romantic destination is the quirky Airbnbs and rental homes with hot tubs to soak in together, and the remote location means that stars are absolutely jaw dropping!
The sunshine makes it a great little getaway in February, and winter weather is more mild and perfect for couples who want to hike the trails, rock climb, or just explore the park.
Joshua Tree National Park is located in Southern California, 49.1 miles (1 hour) from Palm Springs and 146 miles (2 hours and 45 minutes) from Los Angeles.
The closest airport is the Palm Springs Airport (45 miles from the park entrance), but many people choose to fly into LAX (168 miles from the entrance) in Los Angeles – the airport is bigger, and usually has more options and lower fares.
Both airports have cars for hire.
To get to the south side of the park, you'll take Highway 10 from LA, through Palm Springs until you get to the entrance.
For the north side, you can take Highway 62 from Palm Springs to the entrance.
There are no gas stations in the national park, so fill up before you head in to explore!
On the north side of the park, there are gas stations in the towns of Joshua Tree and Twentynine Palms.
The south side of the park is more remote, so there's only one gas station in Chiriaco Summit, and more in the town of Indio, 25 miles from the entrance.
There are plenty of convenience stores in Joshua Tree, Twentynine Palms, and Indio in case you forget to pack something or need a snack!
Joshua Tree Lodgings & Romantic Hotels
There are 5 campsites in Joshua Tree National Park.
If the two of you like to camp, you can cozy up by the campfire and enjoy the magical night sky at a remote campsite.

Reservations are required at Black Rock, Cottonwood, Indian Cove, Jumbo Rocks, and Ryan Campgrounds.

Hidden Valley, White Tank, and Belle Campgrounds are first come first serve – they fill up very fast on holidays and weekends, so if you're planning a romantic camping trip, it's best to make a reservation.

The Indian Cove campground is the only one that can accommodate RVs and trailers.
Outside the park, you'll find lots of romantic hotels and places to stay.

The Sea Mountain Inn Nude Resort is a unique place to cozy up and strip down, and at Autocamp Joshua Tree you can have a unique glamping experience in a vintage trailer, with a hot tub under the stars!
Joshua Tree in February Temperatures, Bugs and Animals
If you visit Joshua Tree for Valentine's Day, you can expect sunny days with highs around 68 degrees, but night time gets a little chilly and lows are around 38.
The desert is cold once the sun goes down, so be sure to bring layers and a warm sleeping bag for camping.
There aren't really any bugs in Joshua Tree, so you don't need to worry about bites! If you explore in the backcountry, watch out for rattlesnakes.

They're typically dormant in the winter, so you don't have to stress too much – just stay on the trails and if you bring your dog, make sure they don't disturb any dense vegetation where rattlesnakes can potentially burrow.
Romantic Things to at Joshua Tree National Park
Hike the trails together
Stargaze and enjoy the remote location and incredible night sky!
Find a glamping site with a hot tub
Watch the stunning sunrise or sunset over the desert mountains
Explore the town of Joshua Tree for quirky shops and local restaurants
Visit one of the spas close to the park for a couple's massage
By Anna, Anna Tee Travel & Van Life
Death Valley National Park
Death Valley is in eastern California on the border of Nevada.
It is by name intriguing but is romantic because of everything it has to offer.
It is the hottest place on earth yet life survives there.
There's something romantic about the rich colors of the sunsets, the painted desert and the peaks and valleys of the sand dunes that you can find throughout the vast park.
To get there most people fly into Las Vegas and then it's about a 2-hour drive (130miles) to the park.
If you stay outside the park the closest town is Pahrump which is an hour from Las Vegas.
There are gas and convenience stores available in Furnace Creek and Stovepipe Wells inside the park, but you'll want to get it before entering the park as the cost is double what you'll find in Pahrump on your way to the park.
Note: Death Valley became federally protected in 1994, after years of national monument status (1933).
However, Timbisha Shoshone People lived in Death Valley long before it was declared a national monument, navigating the area during the hottest and driest seasons.
Death Valley Lodgings & Romantic Hotels
As for accommodations, if you can get a hotel or camping reservation within the park this is best to maximize time spent there.
There is camping within the park from Oct 15 to April 15 but outside of this time period the heat is too extreme and camping will be difficult to find.
Furnace Creek takes reservations for camping but all other sites in the park are first come first serve.
When considering hotels, The Inn at Death Valley is the most romantic and is part of the Oasis Resort, a privately-owned historic inn.
Death Valley in February Temperatures and Bugs
The weather in Death Valley is filled with extremes!
From May-September the average high reaches 100 degrees and the low 73 degrees.
From October-April temperatures vary and February is one the best times to visit Death Valley as the temperature is quite moderate with the highs averaging 73 and low 46 degrees.
Death Valley is one of the warmest national parks in winter so if you or your partner can't stand a chill, it might be the right choice for your trip.
However, night can be cooler so if you plan to camp, pack accordingly.
During your visit, you might see a desert tortoise, roadrunner, or jackrabbit but many are nocturnal, and living in the desert is no easy task so it's unlikely they will be concerned with humans.
Romantic Things to do at Death Valley
Catch the sunset at Zabriskie Point
Ride the mountain bike trails, rental options available at Furnace
Hike Sand Dunes and Visit a Desert Waterfall
Book at spa treatment at The Inn at Death Valley, making it one of the best national parks for honeymoons
Enjoy the dark skies for stargazing
By Shelly, Almost There Adventures
Olympic National Park in Washington
Doesn't the sound of rain on a cabin window just want to make you cozy up with your person?

Olympic National Park in February is the perfect place to escape for some privacy in nature and forest bathing among the old-growth fir and cedar trees.

Located in the very northwest corner of the contiguous United States, the Olympic National Park is 80 miles (2 hours) from Seattle, Washington, and 230 miles (4 hours) from Portland, Oregon.

The easiest (and only) way to reach the park is by car and driving all the way around the park mainly on Highway 101.

The closest airport to Olympic National Park is SeaTac Airport, and from here, you can rent a car and reach the southeast corner of the park (Lake Cushman and Staircase Area) in just a 1.5-hour drive.

Small coastal towns scatter the edges of the park, which is why you should fill up with gas in bigger towns like Port Angeles, Forks, Aberdeen, and Shelton.

If you forget anything, you can find most things you need at the Thriftway in Forks, or in the city of Port Angeles.
Olympic National Park Lodging and Romantic Hotels
There are three campgrounds in the park that accept advanced reservations: Kalaloch, Mora, and the Hoh Rainforest.

If you need to find a last-minute camping spot, check out Fairholme, Deer Park, Dosewallip, Graves Creek, Heart O' The Hills, and Queets for first-come-first-serve sites.

Want a little more luxury?
Olympic National Park has four lodges inside the park which are Lake Crescent Lodge, Lake Quinault Lodge, Sol Duc Lodge, and Kalaloch Lodge.
Olympic National Park in February Temperatures, Bugs, and Animals
In February, Olympic National Park has an average high of 34 degrees, an average low of 24, and an average of 14 rainy days.

Rain protection is essential here, so it's very important that you pack warm layers, a rain jacket, and rain boots during your visit.

Most animals and bugs are still hibernating in the winter months, so the most wildlife you will encounter is in the sea!
Keep your eyes peeled in tide pools for starfish, anemones, and whales along the horizon.
Romantic Things to do in Olympic National Park
Book a bluff cabin and fall asleep to the sound of waves at Kalaloch Lodge
Take a stroll through the Hall of Mosses
Book a whale watching tour in Port Angeles
Watch the sunset at Rialto Beach
Hike the thrilling Mount Storm King Trail
Find rare rocks at Ruby Beach, which also features in our guide to beaches to visit in December
By Emily Mandagie, TheMandagies.com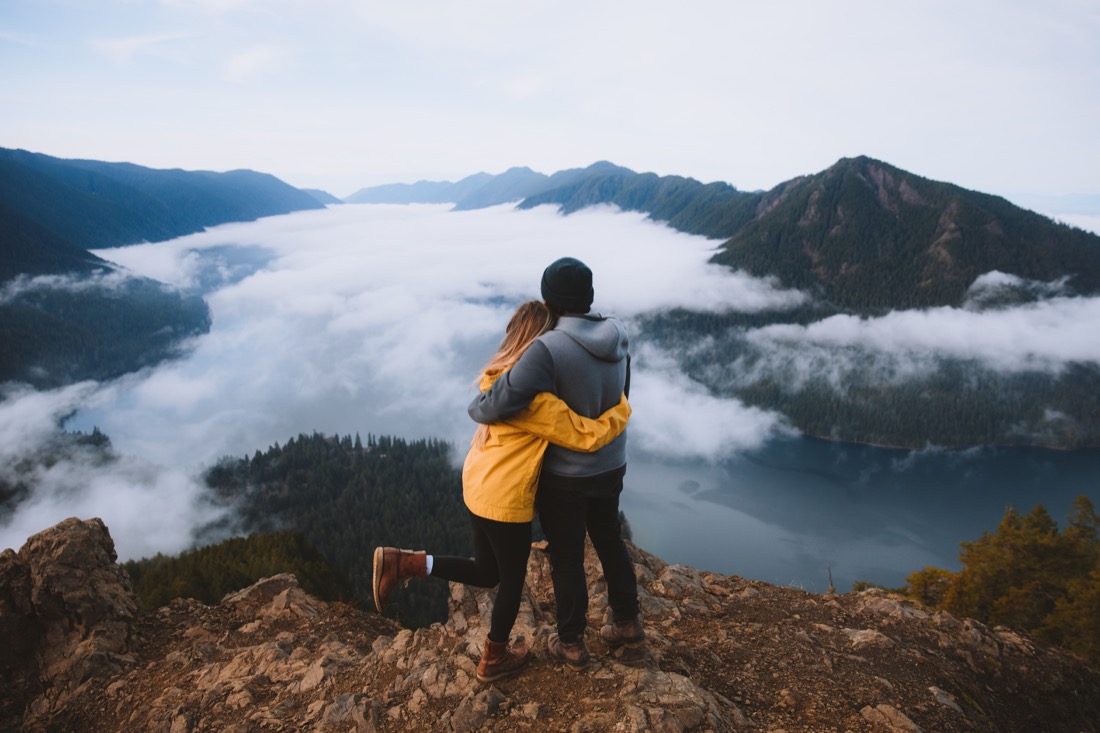 Grand Canyon National Park
he Grand Canyon National Park boasts expansive, unspoiled landscapes and ample opportunity to intake one of the seven wonders of the world alongside that special someone; be it at the water's edge of the Colorado River or under a vast network of stars.
Located in northwest Arizona (but bordering Nevada), the Grand Canyon National Park is nestled fairly evenly between the major cities of Phoenix (233.2mi/3 hours and 45 minutes away) and Las Vegas (253.5mi/4 hours and 15 minutes away).
Fly into either Phoenix's Sky Harbour International or the Harry Reid in Vegas, both of which are equipped with various car rental services such as Avis, Budget, Enterprise and many more.
The best route to take when en route to the Grand Canyon National Park – when traveling from Phoenix – would be the I-17 northbound. Alternatively, if driving in from Las Vegas, you'll want to follow I-40 eastbound.
There is ample opportunity to fill up on gas and/or resupply on snacks and beverages in the nearby cities such as Flagstaff or Meadview, AZ.
As for options within the park, there are only two service stations; one located along the South Rim and the other along the North Rim.
Note that the North Rim service station is seasonal, operating between the months of mid-May through mid-October.
Note: The Grand Canyon became federally protected in 1919.
However, artifacts from a variety of cultural groups including Paleo-Indian, Archaic, Basketmaker, Ancestral Puebloan (Kayenta and Virgin branches), Cohonina, Cerbat, Pai, Southern Paiute, Zuni, Hopi, Navajo, and Euro-American have been found here, dating back 12,000 years.
You can learn more about the eleven Native tribes that have connections with the Grand Canyon here.
The site includes text, audio and video.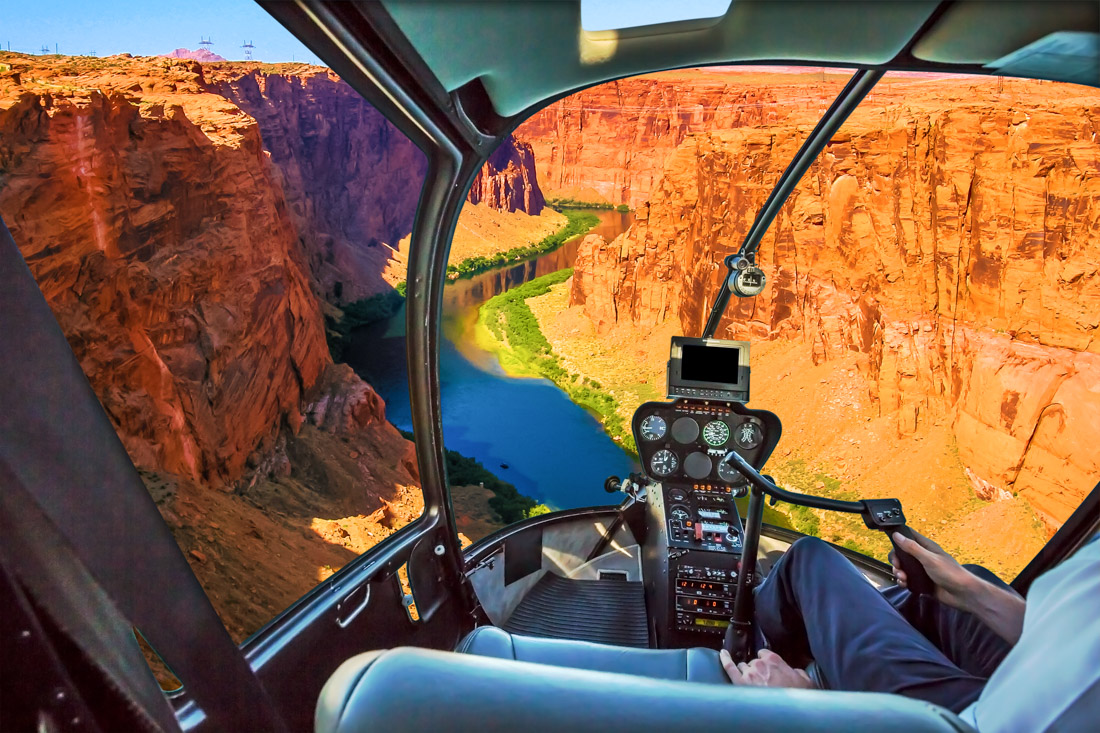 Grand Canyon Lodgings and Romantic Hotels
To add a rustic and adventurous spin to your couples getaway, consider staying in one of Grand Canyon National Park's campgrounds, including Mather's, Desert View or along the North Rim.
To backcountry camp, you'll need to secure a permit from the Park authority well in advance.
If it's pampering you're after, instead opt for the luxurious El Tovar hotel; commonly referred to as "the crown jewel" of historic National Park lodging.
Grand Canyon National Park Temperatures, Bugs and Animals
Given its desert climate, it's not uncommon in Grand Canyon National Park to experience extreme weather conditions.
During the month of February, expect the low to average about 42°F while the high often sits around a pleasant 62°F.
Ensure to mind the forecast in advance of your trip, and equip yourself with the appropriate gear if you and your partner intend on spending ample time outdoors.
Several hundred different species call Grand Canyon National Park home, and it's important to acknowledge their presence and keep a safe, respectful distance at all times. Most notoriously you'll find the venomous bark scorpion or tarantula, though both are unlikely to be seen in the cooler climates you're likely to encounter in February.
Amongst the Grand Canyon National Park's mammals, you might be fortunate enough to spot a javelina, big horned sheep or mountain lion; each of which play an important role in balancing the delicate ecosystem.
Other wildlife largely consists of birds, reptiles and amphibians.
Romantic Things to do in Grand Canyon National Park
Follow the world renowned Bright Angel Trail down into the depths of the canyon (just ensure you know how to pack for a day hike of this caliber, as it's no easy feat!)
Witness the Grand Canyon from the glass platform known as the Grand Canyon Skywalk
Make a dinner reservation at the esteemed El Tovar dining room
Take in a breathtaking sunrise or sunset with your loved one
Enjoy a wintery raft down the Colorado River – for those adventure seeking couples!
Stargaze late into the night
By Natasha Karcz of Planes, Trains and Karcz
Saguaro National Park in Arizona
Visit Saguaro National Park on Valentine's Day for stunning desert scenery and romantic stargazing with your sweetie.
The mild daytime temperatures are perfect for hiking together, too.
Saguaro National Park is divided into two sections that are located on either side of Tucson, Arizona. Both are located approximately 15 miles from downtown Tucson (30 minutes).
The closest airport is Tucson International Airport, which is located less than 25 miles (45 minutes) from the park's Eastern and Western Districts. Car rental options are available at the airport.
As there are no gas stations or convenience stores in the park, stock up on supplies and gas in Tucson before visiting.
Saguaro Lodgings & Romantic Hotels
No hotels or front-country campgrounds are available at Saguaro National Park.
Backcountry camping is allowed in the Rincon Mountain (Eastern) District, but these campgrounds must be reached on foot and require a permit (plus they may be covered in snow in February!).
Check out our guide to the best backpacking national parks.
Tucson is only minutes away from the park and has many romantic accommodations to choose from for couples.
Lodge on the Desert is a good option and features cozy in-room fireplaces along with hot tubs.
Saguaro in February Temperatures and Bugs
If you plan to visit Tucson for Valentine's Day, expect highs of 69 F and lows of 41 F.
The Sonoran Desert is chilly in the mornings, so bring plenty of layers along with sun protection for the daytime.
If you plan to stargaze at night, bring coats and warm blankets (along with some hot cocoa for a special treat!).
Cars are not allowed to drive in the park after sunset, but you can park outside and walk in.
Mosquitoes are not typically an issue at Saguaro National Park, but be on the lookout for snakes, gila monsters and javelinas (which look like small pigs).
Romantic Things to at Saguaro National Park
Some romantic activities to fill your Saguaro National Park itinerary include:
Hike the 165 miles of trails together
Hunt for petroglyphs at Signal Hill
Watch the sunset from Tanque Verde Ridge trail
Cuddle under the stars and enjoy skies with little to no light pollution
Drive the scenic Cactus Forest Drive (in Saguaro East) or Bajada Loop Drive (in Saguaro West)
Scramble on Javelina rocks
Learn about the world's largest cactus at the Arizona-Sonora Desert Museum
By Katy, A Rambling Unicorn
Haleakala National Park
Haleakala National Park is located on the beautiful Hawaiian island of Maui.
It's one of the most romantic national parks because it's famous for having one of the best sunrises in the world.
It's located in the middle of Maui and it's easily accessible from everywhere on the island.
The drive from Ka'anapali/Lahaina is about 44 miles and takes approximately 2.5 hours.
The drive from Wailea is 33 miles and takes approximately 1-1.5 hours.
For people not renting a car, the smartest idea is to book a Haleakala National Park tour.
Since the island is small, it's pretty easy to get to Haleakala National Park.
From Kahului, take HWY 36, then turn right onto HI-37, turn left onto HWY 377, and finally turn left onto HWY 378.
The town of Kula has the nearest gas station (a Texaco) and convenience stores to pick up snacks and drinks.
Haleakala Lodgings and Romantic Hotels
There are two wilderness campgrounds and three wilderness cabins located inside the park.
There's also drive up camping at Hosmer Grove campground.
All of these require advanced reservations.
If you're looking for a romantic Maui hotel near Haleakala National Park, Kula Lodge is the ultimate place to stay.
It's the only hotel located near the park and they offer an incredible dining experience that's super romantic.
Haleakala National Park in February Temperatures, Bugs and Animals
If you plan to visit Haleakala National Park for Valentine's Day, expect highs of 49F and lows of 31F.
This is much colder than the rest of Maui, so be sure to bring layers.
If you are arriving before sunrise, bring a warm coat, hat, and even a blanket.
While mosquitos aren't an issue, you will want to look out for spiders and yellowjackets.
Romantic Things to do at Haleakala National Park
See an epic sunrise that people equate to a "religious experience" (reservations required)
Pack a picnic dinner and watch the sunset (no reservations needed)
Hike more than 30 miles of trails in the park
Stargaze at night
By Marcie, Hawaii Travel with Kids
National Parks in Western US
Yellowstone National Park
Yellowstone unique hydrothermal and geologic features attracts crowds all year round.
Whether you are an adventurous couple, who wants to hike or be laid back and experience some active geyser and observe wildlife, Yellowstone is a romantic getaway national park.
The freezing temperatures appeal to couples who like snow activities and enjoy the cold weather.
Yellowstone National Park is spread over Montana, Wyoming, and Idaho.
Idaho, 109 miles from Idaho Falls (1 hr 50 mins), 79 miles from Bozeman, Montana, and 138 miles from Jackson Hole, Wyoming (2 hrs 50 mins).
The nearest airport is Bozeman Yellowstone International Airport, 89 miles from the park's west entrance, and Driggs-Reed Memorial Airport 95 miles.
Salt Lake City airport has more connectivity, but it's 324 miles to the west entrance.
Except for Mammoth spring and the north area, roads are closed to regular vehicles from early November to late April due to snow.
During winter, the park switches to over-snow travel vehicles (snowmobiles and snow coaches).
There are four gas stations in Yellowstone, Grand loop road, Fishing bridge row, old faithful road, and grant marina road.
There is another service station at West entrance, Montana, and South entrance Moran, Wyoming.
Gardiner will be the last town before you enter the park, so stock up with food or other supplies you need. Though mammoth spring has a gift shop, and dining with limited options.
Note: Yellowstone was officially the first national park to be federally protected in 1872 which resulted in treaties identifying Native tribes as the rightful owners of the land being overturned.
It is said that 27 tribes, including the Tukudika, are associated with Yellowstone, with a history spanning at least 11,000 years.
Yellowstone Lodgings and Romantic Hotels
Only Mammoth Hotsprings and the north area's facilities are open during winter.
There are Twelve NPS campgrounds in Yellowstone for couples who camp to get cozy, but only the Mammoth campground is open all year round.
Only north and northeast entrances are open during winter and accessible through the automobile.
For any help, you can contact Albright, Old faithful, or West Yellowstone visitor center.
Old Faithful Snow Lodge and Mammoth Hotel cabins are open during winter for lodging.
Due to limited lodging options, many tourists stay in Gardiner or Corwin Springs.
Yellowstone in February Temperatures and Bugs
If you plan to visit Yellowstone for Valentine's Day, expect Temperatures from zero to 20°F (-20°C to -5°C).
It is freezing in February, so pack layers and appropriate wet resistance outer layer.
Since Yellowstone is freezing now, don't worry about mosquitos, but you do need to watch out for Bison and other wildlife creatures!
Romantic Things to at Yellowstone National Park
Take a Snowmobile ride
Enjoy Cross country ski
Ride in one of the snow coaches
Enjoy steaming geysers under the stars
Capture wildlife
Spend the night at old faithful
Day trip to Grand Teton national park.
By Urvi, Urvi's Travel Journal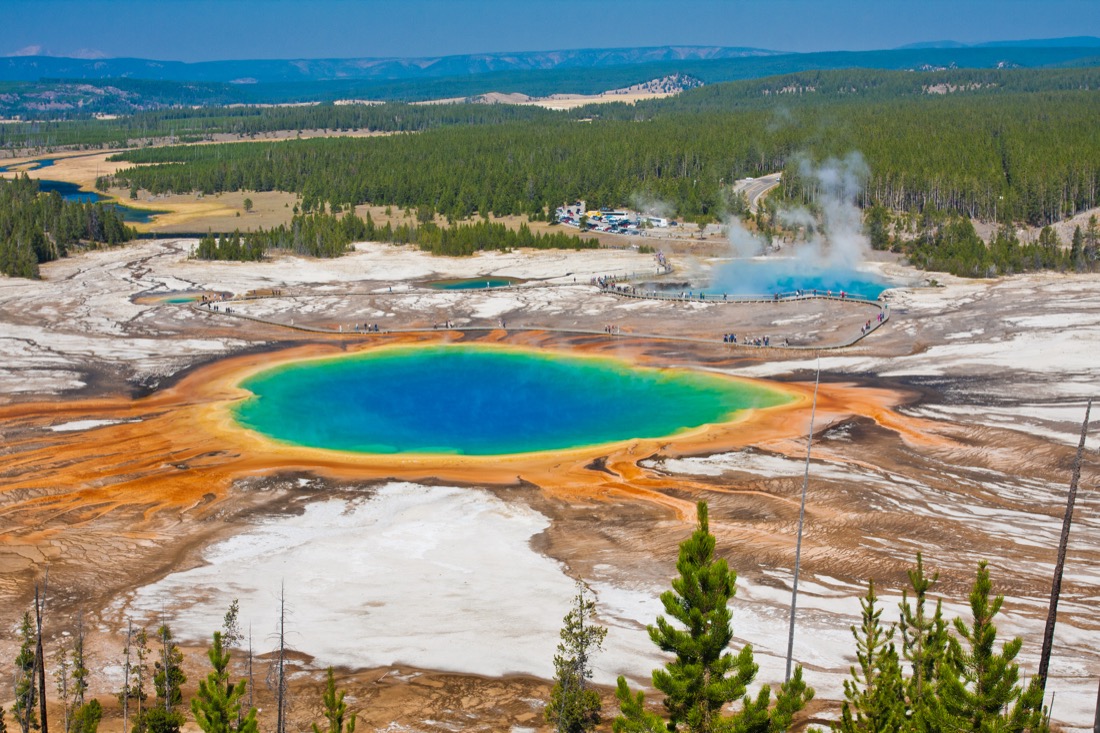 Great Sand Dunes National Park
The snow-covered peaks of the Sierra de Cristo mountains provide a magnificent contrast to the sprawling sand dunes beneath them.
Go for a romantic hike to the top of North America's tallest sand dunes, pump up the adrenaline by sandboarding down, or relax and enjoy the view from the base.
Great Sand Dunes National Park is located in south-central Colorado, 236 miles from Denver (3.5 hours driving) and 121 miles from Pueblo (2 hours).
The closest airports are San Luis Regional Airport in Alamosa (36 miles from the visitor center) and Colorado Springs Airport (168 miles from the visitor center).
Both airports have car rentals on-site.
The closest gas stations, snacks, and rental sandboards are located in Alamosa, a short drive south of the Great Sand Dunes National Park.
Great Sand Dunes Lodgings & Romantic Hotels
There are few camping areas in Great Sand Dunes that are open in February.
For an unforgettable night under the stars, backpack into the dunes and camp right on the sand. Backpacking campsites are open all year long, but permits are required.
Zapata Falls Campground is a primitive campground with pit toilets and fire rings just outside of the park (11 miles south) that's open year round.
The most romantic hotel near the national park is the Fairfield Inn & Suites by Marriott with an indoor pool, located in Alamosa.
Great Sand Dunes in February Temperatures, Bugs, and Animals
If you plan on visiting Great Sand Dunes on Valentine's Day, expect highs around 39° F and overnight lows averaging 14° F.
Snow is possible in February, but it's usually sunny and any snow melts off quickly.
Bring warm, layered clothing for the chilly mornings and evenings, and a sleeping bag rated for cold weather for camping.
There aren't many dangerous bugs or snakes at Great Sand Dunes. Large animals in the area include black bears, mountain lions, deer, and elk.
Romantic Things to Do at Great Sand Dunes
Hike North America's tallest sand dunes
Sandboard or sled down the dunes
Pack a picnic and enjoy lunch overlooking the dunes
Enjoy the star viewing at this International Dark Sky Park
Hike to see the frozen waterfall at Zapata Falls
By Kristina Ros, Off Path Travels
Best National Parks in Utah
Arches National Park
One of the best parks to visit for a romantic getaway is Arches National Park, with its beautiful namesake red sandstone arches that make for gorgeous backdrops for some cute couple pictures!

Plus, there's nothing more romantic than a hike that leads you to a gorgeous view of a natural rock arch and mountains framing the scenery in the background.

Arches National Park is located in Moab, Utah, which is in the southwestern part of the state.

If driving by car, it's best to come in from Utah State Route 128 which winds along the Colorado River.
It takes a little longer than some other routes, but it's worth it: it's one of the most gorgeous roads in Utah!

There is an airport about 21 miles away from Arches National Park — Canyonlands Field Airport — but flights there are typically quite pricy and car hire is limited.

Most people tend to fly into Salt Lake City Airport instead and use that as a jumping-off point for a larger Utah road trip.

Salt Lake City has ample car rental companies so you can get a good price on your rental.
SLC is located 229 miles away from Arches National Park, and it takes about 3.5-4 hours to drive the distance.

Downtown Moab is just a few miles from Arches National Park and there are plenty of places to get gas in Moab, or you can get it slightly cheaper off of I-70.

There are all the amenities you'd want in Moab including grocery stores, restaurants, convenience stores, etc.

There are two 7/11s on Moab's Main Street that will have pretty much anything you need to resupply on during your Moab itinerary!
Arches National Park Lodgings and Romantic Hotels
There is only one campground in Arches National Park: Devils Garden Campground.

In February, you don't need a reservation: it's first-come, first-serve, so arrive early if this is your plan.

For a romantic option, choose glamping at Under Canvas Moab — don't be worried about the low temperatures, because these glamping tents come equipped with a wood-heated stove!
Arches National Park in February Temperatures, Bugs, and Animals
The average high temperature in Arches National Park in February is 49° F and the average low is 25° F.
Snow is not necessarily common but it definitely is possible.

You should dress in breathable layers for hikes during the day but also have a super warm jacket for when night falls.

If you're camping, you should have a sleeping bag rated to 10° or 0° for your comfort.
Bugs are minimal in February but you should always be careful for dangerous animals such as rattlesnakes and scorpions which do live in the park.
Romantic Things to Do at Arches National Park
Take a sunrise hike to Delicate Arch
Go for a scenic hike along Devil's Garden Loop
Snap photos at Balancing Rock
Venture outside the park for a gorgeous sunset at Dead Horse Point State Park
By Allison, Eternal Arrival
Zion National Park
Zion National Park is a beautiful and romantic national park in Southern Utah.
Couples love the opportunities to discover nature together and relax in the beautiful spas and other activities in nearby Springdale.
The closest major city to Zion National Park is Las Vegas.
The 2.5-hour drive from Las Vegas to Zion National Park is about 160 miles.
Salt Lake City in northern Utah is a 4.5-hour drive.
You can also fly into the smaller St. George Regional Airport which is a short 45 minutes away from Zion National Park.
Car rentals are available at any of these airports.
The closest gas stations to Zion National Park are in the town of Springdale.
There is a Shell Station as well as a Chevron.
Sol Foods Supermarket and Happy Camper Market are the closest grocery stores, and they are in Springdale.
Zion also features in our guide to national parks in October as it has fall foliage!
Zion National Park Lodgings and Romantic Hotels
Zion National Park Lodgings and Romantic Hotels
The Pratt Place Inn and Barn is a beautiful and historic hotel in Springdale.
It has all of the modern amenities you are looking for and is surrounded by woods and landscaped gardens.
They also have two-bedroom cottages with kitchens.
Enjoy your morning coffee from the beautiful wraparound porch.
If you want to camp, there are three campgrounds in Zion National Park – Watchman, South Campground, and Lava Point Campground.
Lava Point Campground is about an hour away from the entrance of Zion Canyon.
From mid-March through late November, camping is very popular, so it is a good idea to make your reservations as early as possible.
Camping or staying in Springdale are the best places to stay to be close to all of the fun things to do in Zion National Park.
Zion National Park in February – Temperatures and Animals
In the month of February, the average high is 49 degrees Fahrenheit with the average low at around 25 degrees Fahrenheit.
If you are camping, it is important to bring a sleeping bag and gear that is rated for freezing temperatures.
As you are exploring in the morning and evening hours you will want to bring a light jacket.
Zion National Park is home to 68 different species of mammals.
You can expect to see lots of mule deer in the park and may spot a bighorn sheep if you are lucky.
Romantic Things to do in Zion National Park
Hike Angels Landing
Enjoy the Zion Narrows Riverside Walk and the Narrows Hike
Explore the Zion Canyon Scenic Drive
Tour the Zion Human History Museum
Enjoy a relaxing day at the Five Petals Spa at the Cliffrose
By Candice, CS Ginger
Bryce Canyon National Park
Bryce Canyon National Park in Utah is easily one of the most romantic National Parks in the United States.
It is famous for its amazing "hoodoo" rock formations that fill the natural canyon.
There are thousands of these orange spire-shaped formations that make the entire canyon look otherworldly.
What makes the park so romantic is that it is famous for its red and orange colors that come to life as the sunsets over the canyon. It is the perfect place to sit with a significant other and enjoy all that a perfect sunset has to offer.
Bryce Canyon is situated in southern Utah, only a few hours from Zion National Park.
You can fly into Moab (around 4 hours away) or Las Vegas (also around 4 hours away).
Bryce Canyon City is located basically in the middle of nowhere which makes it an amazing getaway or stop on a Utah National Parks Roadtrip.
Bryce Lodgings and Romantic Hotels
Right outside the national park is Bryce Canyon City which consists of basically one amazing cute western-themed hotel called "Ruby's Inn."
Ruby's Inn is actually not an inn at all, it is an all-encompassing resort that takes up the whole town.
It includes multiple restaurants, a gas station, a grocery store, a few different lodging options, and even a rodeo!
If you prefer to camp there are camping and even yurt options available through Ruby's Inn as well!
Bryce National Park in February Temperatures, Bugs and Animals
The temperatures in Bryce Canyon can drop pretty low.
The average high in February is 38 and the average low is 13.
The highest elevation point in the park is at 9100ft.
It is easy to think that because it is in the desert that it won't be hot, but Bryce Canyon's temperature can drop drastically.
Make sure to check the weather ahead of time and bring sunscreen!
Bugs aren't really an issue during the winter months because it is too cold for them.
However, you might get the chance to see animals in Bryce Canyon!
Be on the lookout for deer, rabbits, turkeys, and maybe even a mountain lion.
Romantic Things To Do At Bryce Canyon National Park
Watch the sunset over the amphitheater
Join a horseback riding tour into the canyon
Hike into the canyon and experience the hoodoos up close (also amazing photo opportunities)
Go to the highest point in the park and watch the sunrise
By Shannon, Adventuring With Shannon
Southern National Parks
Big Bend National Park in February
While the arid landscape of Big Bend National Park doesn't scream romance, the heat gives you plenty of reason to undress and wind down at a mild temperature natural hot spring together!
The cooler temperatures are appealing for couples who like to hike too.

Big Bend National Park is located in West Texas, 412.6 miles from San Antonio (6 hours) 436.7 miles from Austin (6 hours 30 minutes).
The closest airport to the 15th largest national park in the US is Midland/Odessa (235 miles from park headquarters) or El Paso, Texas (330 miles from park headquarters) and both airports have car hire options.
There are two gas stations in Big Bend, Panther Junction and Rio Grande Village.

There is another service station at Terlingua, the town most people visit before entering the Big Bend security gates.
If you forget to pack something or need to stock up on snacks, several convenience stores are located in the following areas – Rio Grande Village, the Chisos Basin, and Castolon.
Big Bend Lodgings & Romantic Hotels
Chisos Basin, Rio Grande and Cottonwood. are three NPS campgrounds in Big Bend for couples who camp.
All three require reservations in advance and RV spots are available.

If the official campsites are full, consider Stillwell Store RV Park, 20 minutes from the Persimmon Gap Visitors Center.

Chisos Mountain Lodge is the only hotel in the park, but most non-camping visitors drive out of the park at night and stay in Terlingua at accommodations such as Lajitas Golf Resort, which has spa!
Terlingua is also home to cute tepees which social media fans and photographers adore.
If you prefer a ranch, check out Terlingua Ranch Lodge.
Big Bend in February Temperatures and Bugs
If you plan to visit Big Bend for Valentine's Day, expect highs of 67.7 F and lows of 41.7.
It is fresh in the morning pack, so layers and if you are camping, pack a decent sleeping bag to take the chill off at night.
You don't have to worry about mosquitos in February, but snakes and spiders are common at Big Bend!
Romantic Things to at Big Bend National Park
Bathe at Boquillas Hot Spring (free)
Hike the 201 miles of trails together
Take the 2-minute boat ride over to Boquillas in Mexico for lunch; remember your passport!
Canoe through Santa Elena Canyon
Watch the sunset through the mountains
Stargaze at night, taking advantage of no light pollution
Day trip to Terlingua Ghost Town and/or stay in a tepee overnight
By Gemma, owner of Two Scots Abroad Travel Guides
Eastern State National Parks
Great Smoky National Park, Tennessee/North Carolina
With snowy sunrises and frozen waterfalls, Great Smoky Mountains National Park offers ample scenes to stage a romantic getaway.
The Smokies straddle the border between North Carolina and Tennessee, about halfway – 45 miles or 90 minutes – between Knoxville and Asheville.
Both cities have small airports where you can rent a car.
Most visitors arrive via Gatlinburg, Bryson City or Cherokee, which all have gas stations and shops.
Great Smoky Mountains Lodgings and Romantic Hotels
There are ten campgrounds in the Smokies, which you can reserve 6 months in advance.
For a more intimate experience of the Great Smoky Mountains, consider backcountry camping instead – noncompetitive permits are required.
The only lodge in the park is LeConte Lodge, which is in the backcountry (a 5-mile hike from the nearest road) and is only open mid-March to mid-November.
Outside the park, McKinley Edwards Inn in Bryson City is an ideal base, with four-poster beds and a cabin-in-the-woods vibe.
Great Smoky Mountains in February Temperature and Wildlife
The Smokies range from 876 feet to 6,600 feet, so temperatures vary based on elevation.
Winter highs are often in the 50's in the valleys, but lows drop to -20 degrees Fahrenheit at high elevations.
Layers, waterproofs and microspikes are essential for even the shortest hike, and campers need at least a 15 degree bag (0 degrees if camping above 3,000 feet).
The main animals you'll encounter are black bears, elk and wild boars, and if you're lucky, lungless salamanders.
Keep your distance from large mammals and store your food in your car or on a bear cable to safely enjoy animal encounters.
Romantic things to do at Great Smoky Mountains National Park
Spend a night at the summit of Mt. LeConte – either in the lodge or at the backcountry campsite.
Hike the 72 miles of Appalachian Trail that follows the ridge of the mountains.
Paddle the world-class whitewater – the Nantahala River is a classic Class III-IV. Permits are needed to 'yak inside the park.
Rent a boat and explore the deserted island beaches of Fontana Lake.
Go for a horseback ride on the trails around Big Creek.
Watch the sunrise atop Clingmans Dome, one of the highest mountains in the East.
By, Carrie, Trains Planes and Tuk Tuks