This article has links to products and services we love, which we may make commission from.
This guide details the best national parks to visit in November so if you are planning to take advantage of the free access on Veteran's Day or want to experience nature over Thanksgiving, you will know which park to pick!
We share why each park is perfect for November, looking at the temperatures and best things to do there.
The guide also includes all of the vital information you will need for your adventure such as how to get there, where to stay, and what to be cautious of.
Remember, days will be shorter in some parts of the country so consider this when planning driving routes.
Some parks will be starting to wind down for winter; you may find that campsites and some routes are limited.
Download the NPS app and the Recreation.gov app to your phone, so you are always up-to-date with closures and changes.
Each park has individual pricing and passes requirements.
You may also enjoy our guide to the best parks to visit in October for fall colors and our guide to places to visit in the US in November.
Best National Parks to Visit in November in the US
West Coast National Parks
The following section include parks in California, Arizona, Utah, Colorado, New Mexico and Hawaii.
Some of the parks might still be showing off their fall colors at the start of November too!
You may also like our California bucket list.
Best National Parks in California
Yosemite National Park in November (California/Pacific)
Yosemite National Park in November is a wonderful time of the year to witness the arrival of winter, foggy-sunny days with the start of snow, colorful fall views, celestial extravaganza, and peaceful surroundings.
Yosemite National Park can be reached by Highways 41, 140, and 120 (from the west) all year round with tire chain access in November.
The closest airport is the Fresno-Yosemite International Airport (FAT), about 65 miles south of the park (1½-hour drive). Other closer airports are San Francisco International Airport (SFO), Oakland International Airport (OAK), and San Jose International Airport (SJC) from where you need to drive to this park.
Yosemite National park is one of the most visited national parks in the USA and is famous for granite monoliths like Half Dome and Capitan.
It is also a UNESCO heritage site and the US's third national park which covers a huge area of 1200 square miles on beautiful Sierra Nevada Mountain ranges.
To cover Yosemite in one day is impossible but you can drive through and locate main spots by car and if you want to hike and trek, then you need to stay there.
There are two gas stations in Yosemite National Park, – Wawona and at Crane Flat.
There is another service station at Sierra village but as there is five entrance to Yosemite, so check the road closures on their official website too. Tioga Pass entrance closes after September till May-end.
Yosemite Curry Village at Yosemite central point is the spot where you can find many food options. They offer Vegetarian and vegan burgers, wraps too. Or else you can carry food from gas stations or your home.
Yosemite Park Lodgings and Hotels
The most popular lodgings and hotels at Yosemite National Park are The Ahwahnee, Yosemite Valley Lodge, Evergreen Lodge at Yosemite, and Yosemite View Lodge.
During winter, four campgrounds remain open in Yosemite: Upper Pines (Yosemite Valley), Camp 4 (Yosemite Valley), Hodgdon Meadow (45 minutes northwest of Yosemite Valley), and Wawona (45 minutes south of Yosemite Valley). For camping, you need to be prepared to camp in the snow also and so bring all essentials with you.
March 15 through November, you need a reservation for drive-in campgrounds in Yosemite Valley. The maximum stay you can camp in Yosemite is for 30 days.
RV spots are also available. You can park your RV's at Bridalveil Creek (RVs up to 35 feet & trailers up to 24 feet), White Wolf (RVs up to 27 feet & trailers up to 24 feet), and Tuolumne Meadows (RVs & trailers up to 35 feet. Half the campground is first-come, first-served.)
Yosemite in November Temperatures, Daylight, Bugs, and Animals
Be prepared for snowfall any time of the day with cooler evenings and so bring woolens and thermals with you.

You can expect average highs of 55 to 47 deg F during the day and average lows of 33 to 31 deg F at night. As there are many rivers, mountain tops, and elevations in the National Park, the temperature can vary on which place you are staying at.
The days are shorter in November, so plan your hikes and treks accordingly. Also, be prepared for snowfall too.
Check out our guide the best national parks for backpacking for more.
Sunrise starts around 7:30am and the evening starts a little early from about 5:50 PM onwards.
Yosemite region has around 300 to 500 bears.
If you encounter them, then park rangers suggest giving bears space as they are rarely confrontational.
But can be aggressive when they have little ones or guard their food.
Carry normal mosquito repellant for bugs if you are staying at night or hiking through bushes.
If bitten by a poisonous reptile then contact park rangers present there as they are always there to help you out.
Things to at Yosemite National Park
Lower Yosemite Falls Loop
Bridalveil Fall (Yosemite Valley)
El Capitan
Mirror Lake Loop (Yosemite Valley).
Tunnel View and Artist's Point
Tuolumne Grove of Giant Sequoias
Four Mile Trail up to Glacier point (But check for snowfall forecast)
Chilnualna Falls Trail (Wawona) – 9 Miles trail
Upper Yosemite Falls trail
If Glacier point is open(depends on snowfall) – then go for Taft Point and Sentinel Dome Loop
With all this be prepared for snowfall and rainfall anytime, so carry proper hiking gear.
There is a $35/car entrance fee upon arrival (credit card only) unless you have an annual or lifetime pass. In summer you need to pre-book your dates but from September onwards there is no prior reservation required. RV parking is charged extra.
By Yukti Agrawal, Travel with me 24 x 7
Death Valley National Park in November (Eastern California/Pacific)
Death Valley is one of the best national parks in California for a November trip thanks to mild temperatures that allow hiking and exploring the park's spectacular landscapes.
While summers are known to bring triple-digit temperatures to Death Valley, winter has a mild weather sunny weather with no snow, which makes it an easy place to visit, unlike some national parks that get covered by snow and require a 4X4 vehicle.
You can get to Death Valley National Park by car at any time of the year, and the park has the entrance in the east, in the west and in the south.
If you enter Death Valley from the western entrance in California, you can enter the park from the towns of Lone Pine or Shoshone.
If you drive from Las Vegas to Death Valley, you will pass either through Pahrump, Beatty or Amargosa Valley.
And, if you are driving from the south, you will enter Death Valley from Baker after exiting on Interstate – 5.
The closest airport to Death Valley is Las Vegas International Airport located about 117 miles or about 2 hours away.
Death Valley is one of the most popular places to visit near Las Vegas by car, and many travelers stop here for a day trip.
Another option is to fly into Los Angeles International Airport located 271 miles away or about 4 hours and 20 minutes away.
Death Valley has two gas stations: one near Death Valley Visitor Center and another one in Stovepipe Wells.
Since gas is very expensive in Death Valley, fill up your car in one of the towns outside the national park.
Both gas stations have convenience stores, but prices there are higher than in regular stores, so it's a good idea to bring your water and snacks.
Death Valley became federally protected in 1994, after years of national monument status (1933).
However, the Timbisha Shoshone People lived in Death Valley long before it was declared a national monument.
Death Valley Lodgings and Hotels
There are multiple campgrounds throughout Death Valley. While some of them are open only during certain times of the year, others are open year-round.
If you are visiting Death Valley in November, try Furnace Creek located near Death Valley Visitor Center ($22 fee); Mesquite Spring about 1 hour 15 minutes from Furnace Creek($14 fee); and Emigrant campground located about 40 minutes from Furnace Creek that doesn't require reservations and is free.
And, if you are looking for a hotel, you can stay either at The Inn at Death Valley, or The Ranch at Death Valley, located near Death Valley Visitor Center with stores and restaurants.
Death Valley in November Temperatures, Daylight, Bugs and Animals
November is a perfect month for visiting Death Valley, because unlike in summer when you can only stay outside for a few minutes, you can spend time outside and enjoy hiking and outdoor adventures.
The highest temperature in Death Valley during November is high 70s, and the lowest temperature dips into high 40s.
This is something to keep in mind, if you plan on camping, as the nights are significantly cooler.
Death Valley has a dry, sunny climate, but if you plan on hiking bring at least one long-sleeve shirt and a jacket.
Since the park is located in the desert, there are no bugs here.
Day time during November is from 7am. through about 6:30 pm., so plan all your activities accordingly.
Best things to do at Death Valley National Park
Enjoy the panoramic view of Zabriskie Point
Make your way to the Badwater Basin – the lowest point in North America
Go hiking in Golden Canyon
Drive up to the Dante's Point
Stop by the visitor center to take a photo with a huge thermometer
By The Discovery Nut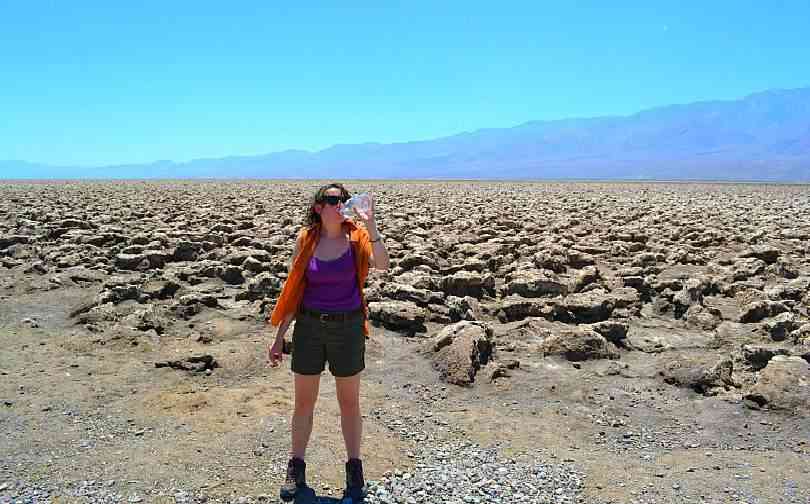 Joshua Tree National Park (California/Pacific)
Joshua Tree National Park in November is a popular time of year to visit as daytime temperatures drop and visitors can comfortably explore the unique desert ecosystems in this southern California park.
The area has been occupied for at least 5000 years, first by the Pinto culture, followed by American Indians.
It was declared a national monument in 1936 and elevated to National Park status in 1994.
Joshua Tree is a popular park to visit from October through May, with annual visitor numbers around 2.8 million.
The best way to explore the park is by car.
The closest major cities are Los Angeles (140 miles / 3 hours), San Diego (175 miles / 3 hours) and Las Vegas (215 miles / 3 hours 30 minutes).
The closest airport is Palm Springs, about 50 miles east of the park where car hire is available, with LA and Las Vegas alternative airport entry points.
There are no gas stations inside the park but there are plenty of options in Joshua Tree and Twentynine Palms in the north and Coachella in the south.
To top up food and snack supplies you will need to travel out of the park back to the towns of Joshua Tree or Twentynine Palms.
There are limited places to source water in the park, so be sure to bring plenty with you and check with the visitor centre on arrival for the latest updates on water availability at campgrounds in the park.
Joshua Tree Lodgings and Hotels
There are eight campgrounds in Joshua Tree and most are open year round.
All campgrounds can accommodate RVs, but RV owners should take note there are no RV hookups and limited generator hours.
Some sites require reservation in advance: Black Rock, Cottonwood, Indian Cove, Jumbo Rocks and Ryan.
Others operate on a first come first served basis: Hidden Valley, White Tank and Belle.
Reservations are strongly recommended, particularly in the busy season from November through May when sites book out well in advance.
For those who cannot secure a site, it is possible to camp for free on Bureau of Land Management (BLM) land outside of the park – both in the north and south.
There are no lodgings within the park, with most visitors choosing to stay at the nearby towns of Joshua Tree or Twentynine Palms.
Sacred Sands is the closest lodging to the Park's west entrance in Joshua Tree.
For something totally unique, the Kosmic Tortoise in Twentynine Palms is a tented camp with stunning night sky views.
Joshua Tree In November Temperatures, Bugs and Animals
November at Joshua Tree affords the best of both worlds – warm daytime temperatures and cooler nights.
Temperatures do vary a little depending on your location in the park so it is recommended to check the forecast prior to entry as there is no cellular access in the park.
On average in November you can expect daytime highs of around 85 F and lows of 50 F.
You have plenty of daylight to explore the park with sunrise around 6am and sunset from 5-6pm.
The dry environment means mosquitos are not usually an issue but there are spiny cacti and venomous animals in the park.
You may encounter spiders, rattlesnakes, bees and scorpions – so always check your shoes before putting them and watch where you put your feet when hiking.
Things to do at Joshua Tree National Park
Explore the Cholla Cactus Garden Loop
Discover the rock enclosed Hidden Valley
Watch the sunset at Keys View
Go boulder scrambling at Skull Rock
Stargaze in some of the darkest skies in California
Join one of the many guided ranger walks offered to learn more about the Park's plants and animals.
Hike the Barker Dam Trail
By Rachel, Adventure and Sunshine
Utah National Parks
Arches National Park in November (Utah/Rocky Mountains)
November is a great month to visit Arches National Park because there are a lot less crowds and the cooler temperatures are nice for hiking, in contrast with the usual intense summer heat.
This area used to be inhabited by many different Native American tribes over the years, including the Hopi tribe, Kaibab Band of Paiute Indians, Las Vegas Paiute, and the Navajo Nation.
Arches National Park is located by the town of Moab in southeast Utah, 110 miles from Grand Junction Colorado (1 hour 45 minutes) or 236 miles from Salt Lake City (4 hour drive).
For people flying, Salt Lake City is generally the most popular starting point for visiting Arches National Park, since there are a lot more flight options heading there from other airports.
The town of Moab is relatively small, but it has a wide selection of restaurants, gas stations, convenience stores and other places to resupply, and it's very close to the Arches National Park boundary.
Moab Lodgings and Hotels
There is one campground inside of Arches National Park (the Devils Garden campground), but it's only open between March 1 and October 31, so it's not available during the month of November.
However, you can also check camping availability in the town of Moab, which has a lot of campgrounds as well as paid shower facilities for people who may want to do dispersed camping in the wild.
Arches National Park doesn't have any lodging inside the park, but there are lots of hotel options in Moab, which is located very close to the park entrance (less than 5 miles).
Two nice comfy hotels to check out are Aarchway Inn and the Red Cliffs Lodge. Both of these recommendations are located in the town of Moab and near the national park.
Arches in November Temperatures, Daylight, Bugs and Animals
Moab's average high temperature is 55 F and the average low is 29 F, and these figures also apply to the national park.
It can get quite chilly overnight and in the morning, although the climate here is always sunny, so that helps it to feel quite a bit warmer during the day when you're doing activities.
Days are shorter than summer with sunrise around about 7am and sunset around 5pm.
Bugs aren't an issue since it's so dry here, and snakes are generally rare in any of the popular areas of the national park.
Things to do at Arches National Park
Enjoy the Arches Scenic Drive, with its 19 miles of desert panoramas
Experience the beautiful Devils Garden, the Tower Arch Moab trail, and other hikes in Arches National Park
Stroll the colossal rock formations at Park Avenue, or see them from the viewpoint without hiking
Witness the giant Balanced Rock near the main road
By David, The World Travel Guy
Zion National Park in November (Utah/Rocky Mountains)
November is the perfect time to visit Zion National Park in southern Utah.
In fact, it's a can't miss destination on any Mighty 5 road trip.
Nomadic tribes of native Americans passed through the deep canyons here as early as 6,000 BC.
And Zion has been home to the Virgin Anasazi, Parowan Fremont, and Numic tribes in all the years since.
In November, the summer crowds have thinned out but the weather is still fabulous.
Fall colors are still beautiful at lower elevations.
Zion National Park is located between Las Vegas, Nevada and Salt Lake City, Utah.
Vegas is the best airport to fly into if only seeing Zion.
Visitors who want to loop through the Mighty 5—Zion, Bryce, Arches, Canyonlands, and Capitol Reef National Parks—often start in Salt Lake City.
If driving from Las Vegas, plan on a 2.5 hour drive—159 miles—to cute little Springdale, located literally at the park's entrance.
With restaurants, bicycle rentals, vacation rentals, and gas stations, it makes a convenient base for those who prefer to save on the expense of staying inside the park.
Zion Lodgings and Hotels
The Zion Lodge (in the park) is a cozy way to enjoy early access to the park by skipping the line of cars at the entrance during opening hours.
Plus, the quality of food at the restaurant here is a cut above other Utah parks.
Campgrounds are open through late November—they include RV spots—and are gloriously uncrowded this time of year.
However, reserve ahead to ensure availability at prime spots.
Zion in November Temperatures, Daylight, Bugs and Animals
Expect mild days in the high 50s and low 60s (farenheit) and cool clear nights, with lows in the 30s so pack accordingly.

With the sun rising between 7:30 am and 8 am and setting between 6 and 6:30 pm, you'll enjoy nearly 11 hours of daylight to explore the park.
Just remember that pests in this region are sun lovers, too, so you'll still find the usual insects, spiders, and scorpions that make their home here active this time of year.
Things to do in Zion
Hike The Narrows, an epic day long hike down the middle of the Virgin River through a slot canyon. (You'll want to rent gear in Springdale to keep you warm.)
Hike Angel's Landing, an extreme 5.4 mile hike that ascends nearly 1,500 feet along steep switchacks and sheer cliffs. (Not for those who with fear of heights.)
Take in sunset at Canyon Overlook Trail.
Rent a bike and cycle the scenic, flat Pa'rus Trail through the center of the park, taking in the majesty of the steep sandstone cliffs.
There are dozens of lovely trails here for both novice and experienced hikers.
The vivid colors and dramatic geologic formations keep adventurers returning to Zion again and again. It's the perfect November destination.
By Chris, Explore Now or Never
Grand Canyon West Rim in November (Arizona/Southwest)
Grand Canyon National Park in November is arguably one of the best times of the year to visit.
The crowds have gone so visitors will feel they have the trails, scenic overlooks, visitor centers, shuttle buses, and parking lots all to themselves.
The Grand Canyon's weather in November comes with mostly sunny, cool days and bright, blue skies.
Even though there is a small risk of snow, gone is the summer heat and unrelenting sun that make hiking and walking in and around the Grand Canyon tiring.
The Grand Canyon is located in northern Arizona just 90 minutes from Flagstaff, 3 ½ hours from Phoenix, and 4 ½ hours from Las Vegas.
Although the town of Tusayan is just outside the park, services are limited.
The majority of the 6 million people who visit the Grand Canyon each year stay in Flagstaff for their Grand Canyon day trip.
The South Rim is the most popular side of the Grand Canyon to visit and park facilities remain open all year round on this side of the canyon.
In November, the West Rim viewing platform is open daily but with shorter hours.
The North Rim's park facilities are closed but the area is still accessible until November 30th unless a snowstorm ends the North Rim season early.
Well before European settlers spread westward, Native Americans lived and used the Grand Canyon area for shelter and the cultivation of resources to meet their basic needs.
There's evidence of the Ancient Puebloan people in the Grand Canyon 10,000 years ago, followed by the Anasazi, and eventually the Hualapai and Havasupai.
The Flagstaff Pulliam Airport is the closest airport (79 miles) to the Grand Canyon, but the small airport services only 2 airlines and flights can be expensive.
Most people fly into Phoenix Sky Harbor (225 miles) or Las Vegas McCarran (277 miles) for better prices and more flight options. All 3 airports have rental car options.
There is a gas station just before the Grand Canyon South Rim entrance on Route 64 in the town of Tusayan.
There's another gas station at the junction of Routes 64 and 180 in between Flagstaff and the South Rim entrance. There are more than 10 gas stations in Flagstaff.
In Tusayan, the town just outside the Grand Canyon South Rim entrance, you'll also find the Tusayan General Store where you can stock up on food and drinks before you head into the park.
Flagstaff is a full-service town with grocery stores, markets, and convenience stores.
Grand Canyon South Rim Lodgings and Hotels
There are 6 hotel lodges near the South Rim inside Grand Canyon National Park.
These properties book up well in advance, however, in November, there's a better chance you'll find a lodge with availability.
The Mather Campground is in the South Rim's Grand Canyon Village.
It's open year-round but be sure to make your reservation months in advance to ensure you can reserve a space.
Also in Grand Canyon Village, Trailer Village has full hook-ups for RVs. Reservations are required.
Just outside of the Grand Canyon South Rim, there are a few hotels in Tusayan, including a Holiday Inn Express & Suites and a Best Western Premier.
Keep in mind though, Tusayan may be just outside the Grand Canyon, but the location is remote with only a few services in the tiny town.
Flagstaff is 79 miles away with numerous hotels, both independently owned and those part of major hotel brands like Hilton, Marriott, and IHG.
Flagstaff is a full-service town and a destination unto itself, with a walkable downtown, history, shops, and a fantastic food scene with no shortage of restaurants.
Grand Canyon in November Temperatures, Daylight, Bugs, and Animals
Visiting the Grand Canyon in November comes with average daytime highs in the 50s F and lows overnight just below freezing (27-30 F).
If you're camping, you'll want a winter sleeping bag.
Check out our hiking gear packing list for more item ideas.
The Grand Canyon is at an elevation and if you're hiking, you'll be descending and ascending in the canyon and passing through the Grand Canyon's microclimates.
For example, down in the canyon temperatures can be into the 60s, nearly 10 degrees warmer than along the rim.
November days in the Grand Canyon are shorter, which means it's easier to see the sunset but also leaves less time for completing hikes..
In November, sunrise is typically around 7:20 a.m. while the sunset is around 5:20 p.m.
If you stay to see the sunset over the Grand Canyon, be mindful that the drive back to your lodging can be quite dark.
Mosquitos and other insects are not an issue in November at Grand Canyon National Park, but many of the park's 91 species of animals remain active and are terrific at hiding.
Even though it's likely you'll see nothing more than some mule deer or bighorn sheep, solo hikers should be aware of mountain lions.
Things to at Grand Canyon National Park
Get up early to see the sunrise over the Grand Canyon from Mather or Yaki Points
Drive along the scenic Desert View Drive, stopping to take photos and/or hike from the many scenic points
Plan a day hike into the Canyon using either the Bright Angel or Kaibab Trailheads
Walk along the Rim Trail (also known as the Trail of Time), particularly between Mather Point and Trailview Overlook
Watch the early sunset over Hopi, Yaki, or Lipan Point
Stargaze, take advantage of no light pollution
Check the Ranger Programs Calendar for any tours or activities that might interest you
Take a bicycle tour with Bright Angel Bikes
Go with a guide on a hiking tour
Join a South Rim Mule Trip into the canyon
Take a helicopter ride over the Grand Canyon
By Jackie, The Globetrotting Teacher
Rocky Mountain National Park in November (Colorado/Rocky Mountains)
November is a great time to visit Rocky Mountain National Park in Colorado.
Since the leaf peepers are gone, you can enjoy many of the park's most popular trails without the crowds.
However, due to snow on the ground, expect the famous Trail Ridge Road to be closed.
As a result, the east and west side of the park will be cut off from each other and you'll need to plan accordingly.
Also, even though this is low season, the Bear Lake Parking Lot will fill up fast with people wanting to enjoy the best things to do in Rocky Mountain Park in winter.
So, arrive before 10am if you want to park here since parking along the road is prohibited.
In terms of location, Rocky Mountain National Park is 66 miles away from Denver (or a 1.5 hour drive).
To get here from Denver, take US-36-W to Estes Park and then continue to RMNP.
Once here, fuel up at Shell, Loaf N Jug, or Conoco gas stations in town.
The Shell gas station also has a convenience store but you can pick up other supplies at Sinclair or Estes Mini Mart.
However, if you don't feel like driving, you can access the Estes Park Shuttle from Union Station (in Denver), Denver International Airport, and the Denver Greyhound Bus Station.
Tickets cost roughly $95 round-trip or $55 one-way to this historic park, which was first founded in 1915. 
It covers 415 square miles ((265,807 acres) and was originally occupied by the Ute and Arapaho, with the Cheyenne, and Comanche people traveling through the area.
Accordingly, this park sits in the mountainous regions of northern-central Colorado – near Estes Park and the Arapaho National Recreation Area.
The land around Rocky Mountain was inhabited by the Arapaho and Ute Native American tribes in the 1800s, as well as the Shoshoni and Comanche to a lesser extent.
Rocky Mountain also features in our guide to free things to Do in Denver.
Rocky Mountain National Park Hotels and Lodgings
Aspenglen Campground, Glacier Basin Campground, Moraine Park Campground, Timber Creek Campground, and Longs Peak Campground can all be found within RMNP.
All have RV spots except for Longs Peak Campground which is tent only.
All require permits and reservations well in advance and are open throughout the summer only.
The only exception is the Moraine Park Campground, which operates on a first-come first served basis in the winter.
However, you can always spend the night at the Stanley Hotel, which was made famous by the movie The Shining.
It's in nearby Estes Park since no hotels are found within the park. .
Rocky Mountain National Park Temperatures, Daylight, Bugs and Animals
In November, temperatures are cold since snow begins to fall in the region.
So, on the west side of RMNP near Grand Lake, expect highs of 41ºF, lows of 9ºF, and an average of 9.4 inches of snow.
Then, in Estes Park, expect highs of 44ºF, lows of 25ºF, and around 3.7 inches of snow.
Therefore, it's a bit too cold to camp outside unless you pack plenty of layers and warm gear.
Days are also short with only 10 hours of daylight since the sun usually rises around 7am and sets around 5pm.
Also watch out for black bears (active through early November) and mountain lions – the later of which can become very active in the winter.
Top Things to do at Rocky Mountain National Park
Cross country ski trail ridge road
Watch herds of elk at lower elevations
Enjoy Ptarmigans bathing in the snow in the early morning light
Hike the trails to Cascade Falls and Sky Pond
Hike to Lake Haiyaha and watch the sunrise with a warm cup of cocoa
Go sledding at an abandoned ski resort (known as Hidden Valley and closed in 1992)
By Meg of Fox in the Forest travel blog
Carlsbad Caverns National Park in November (New Mexico/Southwest)
In the south-east corner of New Mexico, Carlsbad Caverns National Park is made up of a vast network of over 100 cave chambers, connected by a maze of underground passageways and tunnels.
While this national park is open throughout the year, November is a great time to visit New Mexico in general as the temperature is pleasant and comfortable.
Carlsbad Caverns Big Room, the most famous cave chamber in the park, is also the largest (by volume) in North America – three quarters of a mile long, and over 250 feet high at its tallest point.
The total size, length and depth of the Carlsbad Caverns network is currently unknown, and explorers are still discovering new sections, some of which are more than 1,500 feet below the surface.
Paintings and symbols found near the entrance of the caverns suggest that Indigenous people knew about this incredible place 1,000 years ago.
It is believed that the Zuni Pueblo people called it "Bat Cave", and the Mescalero Apache called it "Home of the Bat".
The park entrance is 25 miles from Carlsbad, NM (30 minutes), 150 miles from El Paso, TX (2 hours 30 minutes), and 300 miles from Albuquerque, NM (5 hours).
El Paso International is the closest major airport to the national park, and has a range of car hire options.
There's a gas station and a convenience store at White's City, on US Highway 62, about 7 miles from the Carlsbad Caverns National Park visitor center.
Carlsbad Caverns Lodgings and Hotels
The closest accommodation to the caverns is White's City Cavern Inn – a decent budget motel.
A little further afield, the town of Carlsbad has a range of hotels catering to all budgets – La Quinta Inn & Suites is a good midrange option.
If you prefer to stay in a campsite (and don't mind being further from the caverns), there is an excellent Kampgrounds of America (KOA) site just off US 285, north of Carlsbad.
Carlsbad KOA has spots for RVs, tent pitches and log cabins to rent, plus an excellent set of facilities.
Bookings are usually recommended to secure a spot, especially over the Thanksgiving holiday.
Backcountry tent camping is permitted within certain sections of the Carlsbad Caverns National Park itself, although you will need to pick up a (free) permit from the visitor center.
Carlsbad Caverns November Temperatures, Daylight, Bugs and Animals
The temperature inside the caves stays at a constant 56ºF year-round.
On the surface, in November, daytime temperatures typically range from 65-75°F.
At night, the temperature can plummet to 35°F, and occasionally even below freezing – this is the desert!
If you plan on camping, pack some warm layers and a decent sleeping bag.
In mid-November, sunrise is around 6:25am and sunset around 5pm.
If camping, keep an eye out for scorpions, spiders and snakes, and be sure to pack enough water.
Things to do at Carlsbad Caverns National Park
Explore the Big Room, the largest cave chamber in North America by volume.
Hike from the surface down into the caverns via the steep Natural Entrance Trail.
(Alternatively, there is an elevator that runs from the surface to the Big Room.)
Take a ranger-guided adventure tour to explore sections of the caverns not usually open to the public (must be booked in advance).
Enjoy fantastic sunrises, sunsets, and stargazing in the desert.
Hike in the nearby Guadalupe Mountains (only a short drive from the Carlsbad Caverns).
By Alex, Just Go Exploring
Big Bend National Park in November (Texas/Southwest)
Big Bend National Park in November sees the start of the busier season (November to April) when couples, families and groups of friends arrive to take advantage of the many hikes around this West Texas natural space.
BIBE is 412.6 miles from San Antonio (6 hours) 436.7 miles from Austin (6 hours 30 minutes).
The 15th largest national park in the US was federally protected in 1944 and is known as Texas' gift to the nation.
Naturally, the land was here before a deed was presented to the Federal Government, with the Chisos Mountains in the park thought to have been named for the Chizo Indians.
The closest airport is at Midland/Odessa (235 miles from park headquarters) or El Paso, Texas (330 miles from park headquarters), and both airports have car hire options.
There are two gas stations in Big Bend, Panther Junction and Rio Grande Village.
There is another service station at Terlingua, the town most people spend a night before entering the Big Bend security gates.
If you forget to pack something or need to buy snacks, convenience stores are located at Rio Grande Village, Chisos Basin and Castolon.
Big Bend Lodgings and Hotels
There are three very popular NPS campgrounds in Big Bend; Chisos Basin, Rio Grande and Cottonwood.
All three are open all year round, require reservations in advance and see full capacity in November.
RV spots are also available.
If you struggle to get into the official campsites, consider Stillwell Store RV Park, 20 minutes from the Persimmon Gap Visitors Center.
Chisos Mountain Lodge is the only hotel in the park, some visitors leave the park at night and stay in Terlingua at accommodations such as Lajitas Golf Resort.
Terlingua is also home to cute tepees, which you can rent.
As with most national parks in the US, Thanksgiving is often a busy period so plan ahead and make reservations well in advance.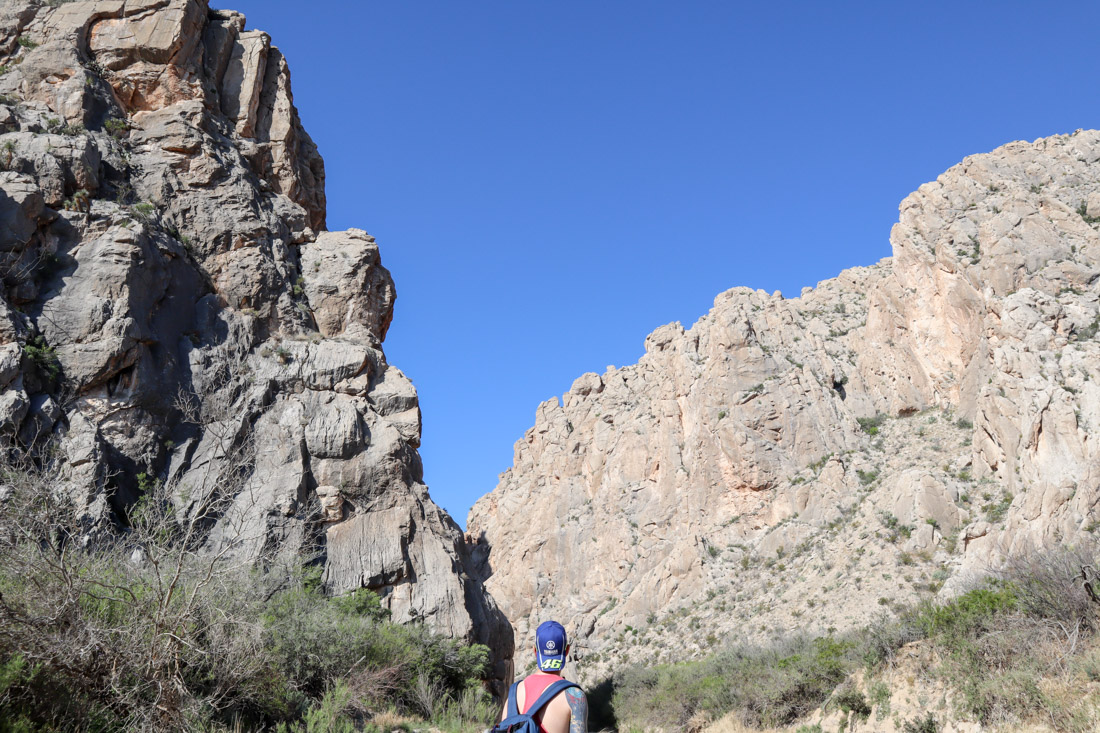 Big Bend in November Temperatures, Daylight, Bugs and Animals
Be prepared for wild swings in temperatures, waking up to frost on your tent in the Chisos mountains some nights!

Expect highs of 70s F during the day and lows of 30-50 F at night, depending on where you are in the park.
It's no surprise that the mountains are cooler than the desert.
If you are camping, pack a good quality winter sleeping bag.
The days are shorter in November so factor this into your driving routes and hiking plans.
Sunrise starts around 7-8am and darkness can be expected around 7-7:30pm.
Mosquitos are not an issue in November at BIBE, but you need to be aware of ants, snakes and spiders before setting up camp.
Things to at Big Bend National Park
Get up early to hike the Santa Elena Canyon – be prepared for wading!
Drive along the scenic Old Maverick Road
Relax in the (small) Boquillas Hot Spring (free)
Do the short boat ride over to Boquillas in Mexico for lunch; pack your passport!
Watch the early sunset, take a torch if hiking
Stargaze, take advantage of no light pollution
Day trip to Terlingua Ghost Town
Read more in our Austin to Big Bend road trip itinerary.
By Gemma, Two Scots Abroad Travel Guides
Hawaii National Parks
Haleakala National Park in November
Located on the tropical island of Maui, Haleakalā is incredible to visit year round.
November can be a lovely time to visit- there's a low chance of precipitation and pleasant daytime temperatures.
Plus, November is traditionally Hawaii's low season, so you may be able to snag deals on hotels and airfare before the busy winter holiday prices kick in.
If you're visiting the island, exploring Haleakalā is a must- and an important part of understanding Maui's Native culture.
In fact, Haleakalā, the world's largest dormant volcano, is a sacred place for Native Hawaiians.
The name means "House of Sun" in Hawaiian, after a legend that the trickster demigod, Maui, held the sun captive here to make daylight last longer on the island.
To get to Maui, you'll fly into the Kahului Airport on the northern side of the island, with plenty of rental car agencies to choose from.
The park is located on the fairly remote southeastern area of Maui- and given that the most popular attractions of the park are located over 10,000 feet above sea level at the summit, you should plan on it taking at least an hour (likely more) to get here from your accommodation.
In fact, you'll need to drive the famously windy Haleakalā Highway, with 32 switchbacks zig-zagging across the massive volcano over the course of 22 miles.
From the popular lodging choice of Lahaina on the west side of Maui, the 59-mile drive will take you an hour and 45 minutes, whereas if you're staying in the hippie surfer village of Paia on the north side, the 34-mile drive will take about an hour and 15 minutes.
While most visitors focus on the summit area, it's worth noting there's also the Kīpahulu Area, along the island's eastern coastline.
This area of the park is usually explored in tandem with Maui's famed Road to Hana, which snakes through some of the world's lushest jungles along some narrow and nail-biting curves.
From the start of the Road to Hana in Paia, it'll take two and a half hours (55 miles) to reach the Kīpahulu Area.
Regardless of which area of the park you go to, be sure to fuel up or grab any snacks or anything else you might need in one of the small towns on the way to the park, like in Makawao or Hana- there's no gas stations or convenience stores within the park's boundaries.
Haleakalā Lodging and Hotels
There are three historic wilderness cabins along the volcano's crater floor, which can only be reserved by snagging a competitive permit.
Alternatively, there's two wilderness campsites, Hōlua and Palikū, that can only be accessed by trail and must be reserved in advance as well.
If you're looking for something a bit more upscale than wilderness camping, you can find charming, family-run inns in the neighboring towns, like Banyan Tree Bed and Breakfast in Makawao.
Haleakalā Temperature, Daylight, Bugs, and Animals
Haleakalā has lovely weather in November, ranging from the low 70s to high 80s in the daytime, with little rain.
While the temperature still feels pleasant due to the humidity and wind at the summit, you should definitely pack light and airy clothes to hike in, especially given the extreme elevation of some of the trails.
It's also important to remember that the summit can get quite cold- occasionally freezing- when the sun has set, so if you're visiting for sunrise or sunset, it's worth throwing a puffer jacket and a cozy hat in your backpack!
If you do plan on visiting for sunrise, the first rays of the sun will touch the summit around 6:30 in the morning or if you decide to visit during sunset (which is quite underrated!), you can expect to stay in the park until about 5:50 pm.
There are no notable pesky bugs or animals in the park, but you should keep an eye out for nene, an endangered Hawaiian goose that has a proclivity to hang out around the park's busy roads.
Things to do in Haleakalā
Snag a coveted permit (for just $1) to see sunrise light up the incredible colors of the crater below.
Cruise on a bike down the Haleakalā Highway (especially after sunrise), zipping down the many switchbacks towards the island floor.
Hike into the crater along the challenging Sliding Sands Trail, which takes you past cinder cones, colorful sand dunes, and towering lava rock structures.
Explore the less popular Kīpahulu Area, like the incredible waterfalls along the Pools of 'Ohe'o Trail.
Stargaze- due to its high elevation and limited light pollution, the stars in Haleakalā are incredible!
By Jessica, Uprooted Traveler
Hawaii Volcanoes National Park in November
November is a great time to visit Hawaii Volcanoes National Park because there is less rainfall, fewer visitors, and less humidity.
There are no concerns about winter driving in this park in November because of the warm weather on the Big Island of Hawaii.
The closest major city and international airport is in Kona.
The park is about two hours which is about 91 miles from the Kona airport.
The Hilo airport is only 45 minutes away (30 miles), but it is a much smaller airport.
It is best to rent a car and drive yourself to Volcanoes National Park.
There are two gas stations within five miles of the park – Volcano Store and Kilauea General Store.
The park was first settled 1700 to 800 years ago by voyagers from the Marquesas Islands.
Kilauea, one of two active volcanoes in the park, was considered the home of the volcano goddess Pele.
Hawaiians would visit the park and the crater to offer gifts to the goddess.
The area became a popular tourist destination in the 1840s when hotels were built on the rim of the crater.
Hawaii Volcanoes National Park Lodgings and Hotels
There are two campgrounds in Hawaii Volcanoes National Park – Nāmakanipaio andKulanaokuaiki.
Both of these campgrounds are open in November.
The sites are first-come, first-served.
The Volcano Inn and Volcano Rainforest Retreat are both great lodging options near the park.
Hawaii Volcanoes National Park Temperatures, Bugs, and Animals
During the month of November, the average high is 70 degrees Fahrenheit.
The overnight low averages around 53 degrees Fahrenheit.
There are 17 days of rain on average in the month of November but the rain does not last long throughout the day.
There are no bug or animal concerns in Hawaii Volcanoes National Park.
Daylight hours in the month of November are from 6:25 am to 5:45 pm.
You will not need to bring any winter clothes to Hawaii Volcanoes National Park.
It is a good idea to bring a light jacket for the early morning and evening.
There is a decent amount of rainfall in Hawaii in November so you may want to bring a water-resistant jacket.
Things to do at Volcano National Park
Take in the views of the Kilauea Crater from the Kilauea Visitor Center
Hike through the Thurston lava tubes
Explore the Kilauea Iki Crater vi the Kilauea Iki and Crater Trails
Drive the scenic 19-mile Chain of Craters Road
See the Pu'u Loa Petroglyphs dating back hundreds of years
By Candice, CS Ginger

East Coast National Parks
Everglades National Park in November (Florida/Southeast)
Visiting Everglades National Park in November is ideal as the scorching temperatures of Florida summer months are over, and it's before the touristic season (December to April).

The name Everglades came from the early European explorers who saw endless ("forever") grassy lands ("glades" in old English), a similar recognition of the wetlands feature than the name Pa-hay-Okee ("grassy waters") given by the Native Americans who lived there.

Flying in is easy, with over a dozen airports within a 5-hour range, including major international airports such as Miami for the closest, Orlando, Miami, Tampa, and several other smaller airports.

The Everglades are located in South Florida, about 28 miles from Miami (40 minutes) and 257 miles from Orlando (4 hours) by car.

The park has three different entrances in three separate cities: the main park entrance being the Homestead Entrance and Ernest F. Coe Visitor Center, the Miami Entrance at the Shark Valley Visitor Center, and the Everglades City Entrance to the Gulf Coast Visitor Center in the north.

While there are plenty of gas stations between the park and the main cities around, there are none in the park itself, and the last gas stations before entering the Everglades are in Homestead south of Miami and Everglades City for the North entrance coming from Naples, FL.

Similarly, convenient stores are absent from within the park boundaries, but several options are available around Homestead, and Everglades City, where you can stock up on snacks and drinks.
Everglades Lodgings and Hotels
There are two main campsites inside the park, Flamingo Campground and Lone Pine Key Campground.
While the first is open all year round, the second opens from November to April.
Outside the park, Everglades City and Homestead offer different types of accommodations for all budgets, from simple motels to luxury hotels, rustic cabins to spa resorts, and even historical lodging like the Rod and Gun Club Cabins; where US presidents and personalities such as Ernest Hemingway stayed!

Make sure to reserve your spot early during the dry winter season, especially around Thanksgiving.

Everglades in November Temperatures, Daylight, Bugs, and Animals

November falls in the dry season when temperatures are lower than in the hot summer months.

Expect highs in upper 70°F and lows at 50°F, making for primarily pleasant subtropical weather.

Sunrise starts around 6:30 am – 7 am, and the sun sets around 4:30 pm – 5 pm, providing roughly 10 hours of daylight, getting shorter as you get into the month.

While there are fewer mosquitoes in the Everglades during the dry months, the wetlands are still prime mosquitoes territory, so come prepared to protect yourself against them.

As you explore the Everglades, wildlife sightings are plentiful, but watch for the Florida alligators, as some of the 200,000 that supposedly live within the park can be seen from the roads and trails.
Things to at the Everglades National Park
Board an airboat tour to explore the swamps and grasslands
Kayak Hell's Bay
Join a ranger-led canoe tour
Go birdwatching along the popular Anhinga trail
Drive the road to Flamingo
Hike one of the numerous trails like the Gumbo Limbo Trail
Bike along Shark Valley Slough
By Patricia, Ze Wandering Frogs
U.S Map
Here is a US map to help you with your bearings.
The guide is also split into regions.
Bookmark for later!
You may also like our guide to the best of the US in December.