This article has links to products and services we love, which we may make commission from.
Marfa is a darling desert city located in West Texas and it is very much on all of the cool kids' radar for its art installations and photography spots.
From Prada Marfa to the ghost lights phenomenon, a lot is going on in this dusty town. However, Marfa is for weekend visits! If you arrive Monday to Thursday, you will wonder what all the hype is about.
Our guide details the best things to do in Marfa from Friday to Sunday and how to make the best out of your weekend Texas getaway.
Oh, by the way, you will see a cowboy and a man bun during your visit. The Western/hipster mix is what makes Marfa so majestic. Get your cameras ready!
Things to do in Marfa, Texas
1. Pop to Prada Marfa
Jumping in with the star attraction on many West Texas itineraries, Prada Marfa is a unique art installation found stranded by the side of the road in the Chihuahua desert, 35 minutes drive from the center of the city.
The Marfa Prada store is not a mirage! Since 2005, thousands of visitors have taken photos of this 'pop architectural land art project' by Elmgreen and Dragset.
It has a storefront with two Prada signs and two windows.
On top of the windows is a canopy with the Prada logo. You can look through the shop windows to see Prada items, and later in the evening, functioning lights brighten up the shop.
All of those on the side of Highway 90!
But where have I seen this before?
Since its inauguration in 2005, Prada Marfa has been mentioned in The Simpsons, Beyonce has been snapped at the site, and an advertisement poster was displayed at the entry of the Van der Woodsen's penthouse in Gossip Girl.
While the aim was to let the store fall into disrepair, it has been repaired twice.
Once on its opening night after thieves vandalized the store and stole goods, and again in 2014 when another artist defaced it with "Toms Shoes" logos.
The artist was arrested and agreed to pay Ballroom Marfa a fine.
Crowds are inevitable since Marfa is a weekend town. We managed to get a clear shot of the building at sunrise on the Thursday when we arrived.
On the way, you need to keep your eye peeled for something pretty cool. Keeping reading to find out more.
There used to be a Target art installation in Marathon but it has been removed.
You can read about it in our West Texas road trip guide.
2. Spend Time at the Donald Judd Chinati Foundation
Many of Marfa's attractions are built around art, and a listicle of things to do can't go ahead with a notable mention of Donald Judd's land art.
We had no expectations arriving at Judd's site-specific gallery and were impressed by the minimalist 15 hollow concrete blocks which form a line in the Chinati desert.
We walked alongside the blocks and observed how the shadows changed between them.
Judd moved to Marfa in the 70s and wanted to create a space for permanent exhibitions, including his own 15 Untitled Works in Concrete.
The Foundation was set up as a reaction to the "harsh and glib environment of the art world" where exhibitions were always changing and artists were missing from the process of installation.
The architecture and the 340 acres of land were both considered during the installations.
A visit is not only a visit to see art installations; it is also a history lesson.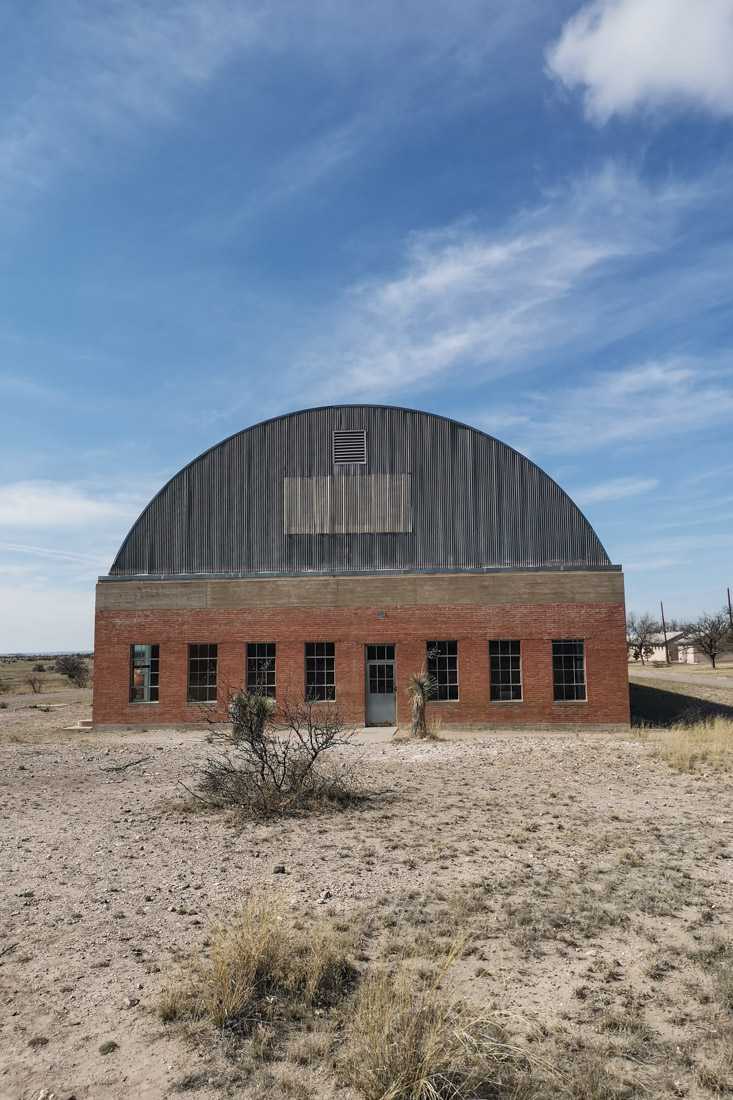 The museum is built in the former Fort D.A. Russell, which experienced both WWI and II.
German Prisoners of War were housed in these buildings, and you can still see evidence of this on the walls.
Another Knowles sibling, Solange, brought attention to Marfa when they filmed a performance of Scales at this site.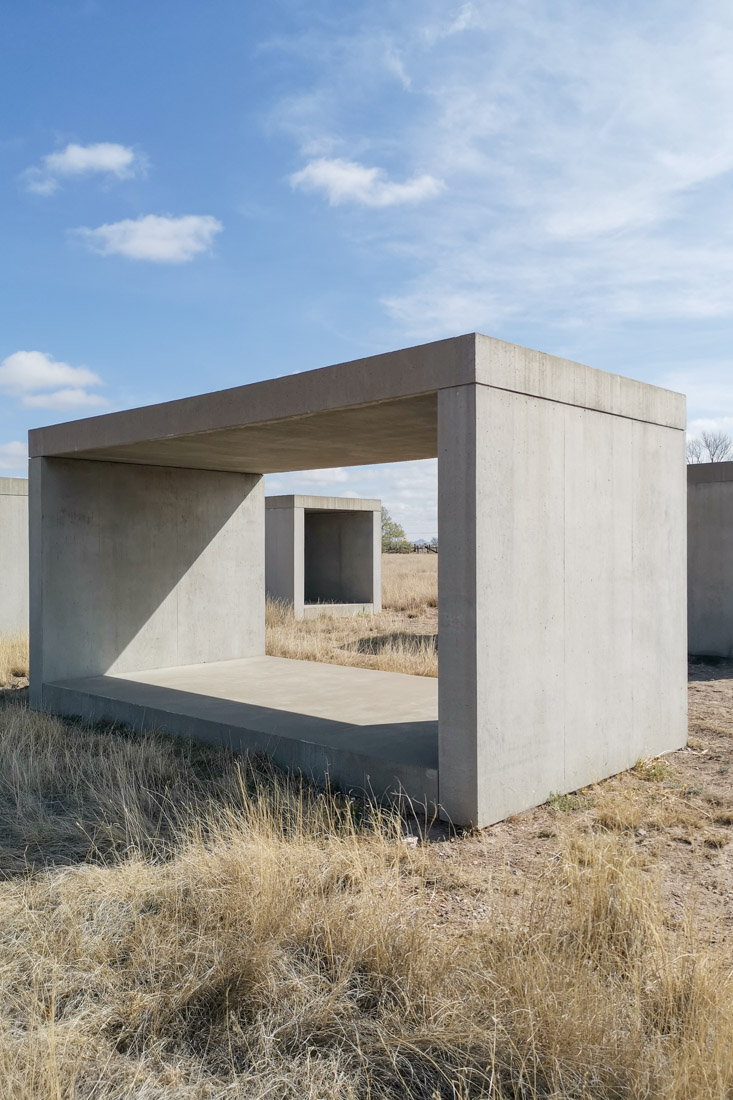 3. Experience Exhibitions at Ballroom Marfa
Ballroom Marfa (108 E San Antonio St) is a small but impactful gallery with changing exhibitions.
It has been located in Marfa since 2003 when one of the owners, Fairfax Dorn, decided to split her time between NYC and Marfa to launch this dynamic creative and entertainment space.
Exhibitions come in a variety of forms including paintings, installations, movies, and poetry.
The gallery walls are white to avoid interference with the art.
There is also an open exhibition space outside in the back area of the gallery.
The creative program changes often, so there is always a reason to return.
4. Other Marfa Galleries
Small, big, led by tours, by appointment only, there is no shortage of gallery spaces in Marfa. Here's a selection.
Ayn Foundation: Large-scale projects by major international artists since '93
2D: Rotating exhibits of work by ten artists from across the US who focus on reductive and minimal drawing and sculpture
Galleri Urbane: Emerging and mid-career contemporary artists since 2000
Wondering what to do in Marfa that doesn't involve art? Keep reading.
Non-Art Related Marfa Activities
Moving away from art, let's take a look at some of the things to do in Marfa that don't involve installations.
5. Head To Marfa Lights Viewing Area At Night
Aliens, technology, or nature? No one quite knows what makes the desert sky flash circular lights, also known as the Marfa Ghost Lights.
Visitors park up at the viewing area (US-90, TX 79843), just under 10 miles east of town, in a bid to catch the phenomena.
The best time to see the Marfa Mystery Lights dancing about the sky is after sunset.
This are is also a cracking spot to watch the sunset on the desert so arrive early.
Not everyone will see the lights; we never caught them. Did you? Tell us in the comments.
Note: There are public washrooms in the viewing area.
6. Presidio County Courthouse
Marfa Courthouse is a lovely soft peach/pink shade that pops out behind the green trees that line it.
The architecture appears regal with its cupola, which the State of Justice stands on.
Visitors can head to the top to see views of the city as well as the courthouse interior.
Several Marfa buildings have been added to the National Register of Historic Places, including Presidio County Courthouse.
7. The Blackwell School
The Blackwell School is the only registered segregated Hispanic school in Texas.
The school was built in 1909, however, the education of Hispanics in Marfa stretches back to the 1880s.
The Blackwell School museum aims to remind the city of this significant part of West Texan history.
It was never state law to separate Hispanics from Anglo children in education. Texas created its own laws of segregation regardless of Marfa having a predominantly Hispanic community.
Blackwell closed in 1965, and now visitors can spend time in the building and learn more about its contribution to US history through stories and artifacts.
Address: Waco and Abbott Street (Saturdays only)
8. Palace Theater
Love, love, love the art deco Palace Theater in Marfa with its green and yellow tiles.
It is located downtown, close to the courthouse. You can't miss it.
After years of opening its doors to opera and movie fans, it closed in 1970,
The Holywood production team for the movie Giant, which we'll talk about later, used the theater to view what they had filmed in Marfa while on location.
9. Marfa Public Library
Marfa Public Library has the statement on the side of its building – "exists through the generous contributions and work of the entire community".
Inside there are various book collections for locals and free WiFi.
The current building was donated in 1973, and organizations such as Friends of the Marfa Library help support it today.
10. Marfa Central Fire Station
Even the fire station is a work of art here.
The facade is painted baby pink and can be found at 110 E Lincoln St.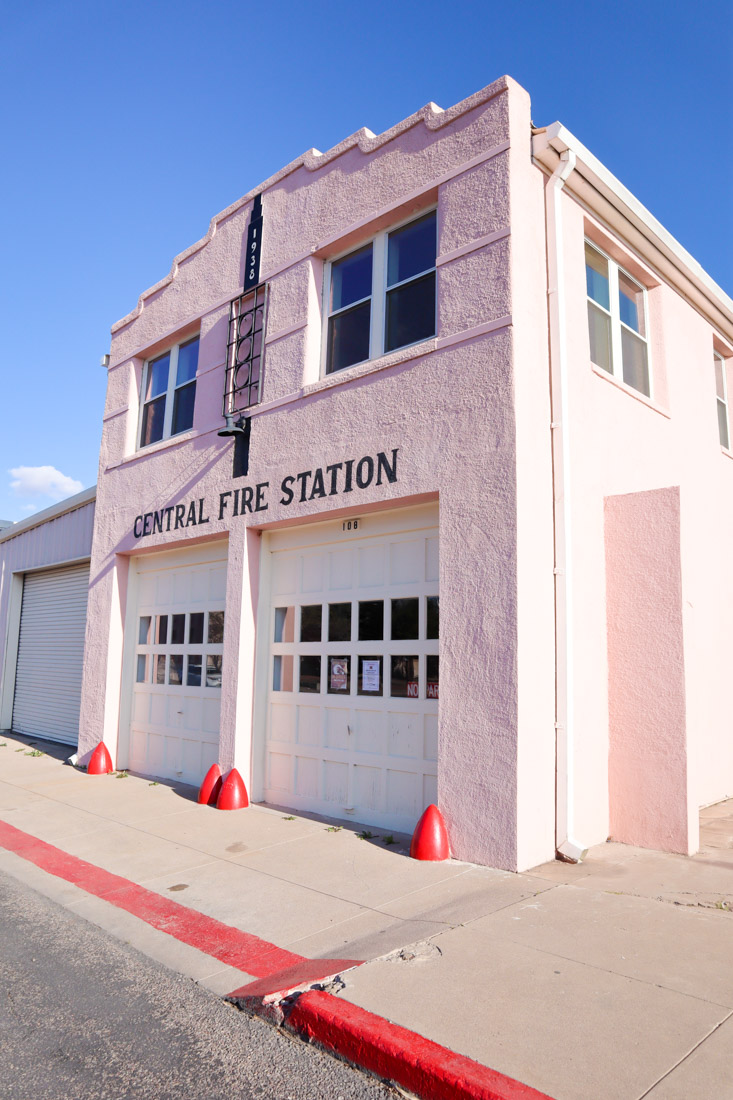 11. Hotel Paisano
Hotel Paisano is a Marfa landmark with a restaurant called Jett's Grill.
While it has a beautifully decorated lobby and an outside courtyard with a flowing water feature, it is mostly known for being the headquarters to the 1955 Hollywood movie, Giant.
Walls are covered in film set photography, and there's a museum dedicated to the movie, which you can read more about below.
12. Learn About the Movie, Giant, in Marfa
The movie Giant was based on the novel by Edna Ferber.
The George Stevens picture was nominated for 10 Academy Awards, so you could say Marfa being chosen as the filming location was a giant deal.
Prejudice against Hispanic Americans was one of the main movie themes, making Marfa the perfect choice as a filming location since it is close to the border of Mexico. Its demographic was also a draw for Stevens and the team.
Giant starred many Hollywood greats including Elizabeth Taylor, Dennis Hopper, and would be James Dean's last movie.
It also featured Rock Hudson, the first actor to openly discuss AIDS diagnosis in the 80s.
Based on three generations of cattle ranch dynasty, the set was located on Marfa's Ryan Ranch.
13. Elizabeth Taylor and James Dean "Giant Marfa" Murals
On the way out to Prada Marfa on route 90, you will be surprised to see huge plywood cutouts of Taylor and Dean.
There are six murals, including the two stars, the Reata Mansion which was a facade constructed for the movie, and a yellow convertible.
The murals are accompanied by sound and the artist responsible for the 2018 project is John Cerney.
Oops! I'm talking about art again. You just can't get away from it in Marfa hence why so many people fall for this West Texan city, and some end up moving there.
14. No Country For Old Men
The Coen Brothers Western crime thriller, No Country For Old Men, also filmed a scene in Marfa.
15. Shopping in Marfa
Marfa's shops are like walking into a home goals Instagram hashtag.
The layout, the light, the products, and the shop owners' stories are all worth spending some time shopping.
16. Sleep in a Yurt, Teepee, or Trailer!
Marfa's accommodation providers really take their surroundings seriously and respect the building they have created businesses in.
At El Cosmico, you can sleep in a safari tent or an airstream, a photography dream for the IG visitors.
The Lincoln used to be the Presidio County Courthouse in the 1890s.
Hotel Saint George is a trendy boutique hotel with beautifully sourced spa-like bath products.
17. Chill By The Pool
When the West Texas heat is on, you will want to have the opportunity to make a splash.
Both Hotel Saint George and The Riata Inn have outdoor seasonal swimming pools for guests to use.
Find out more about all the accommodation Marfa in our guide.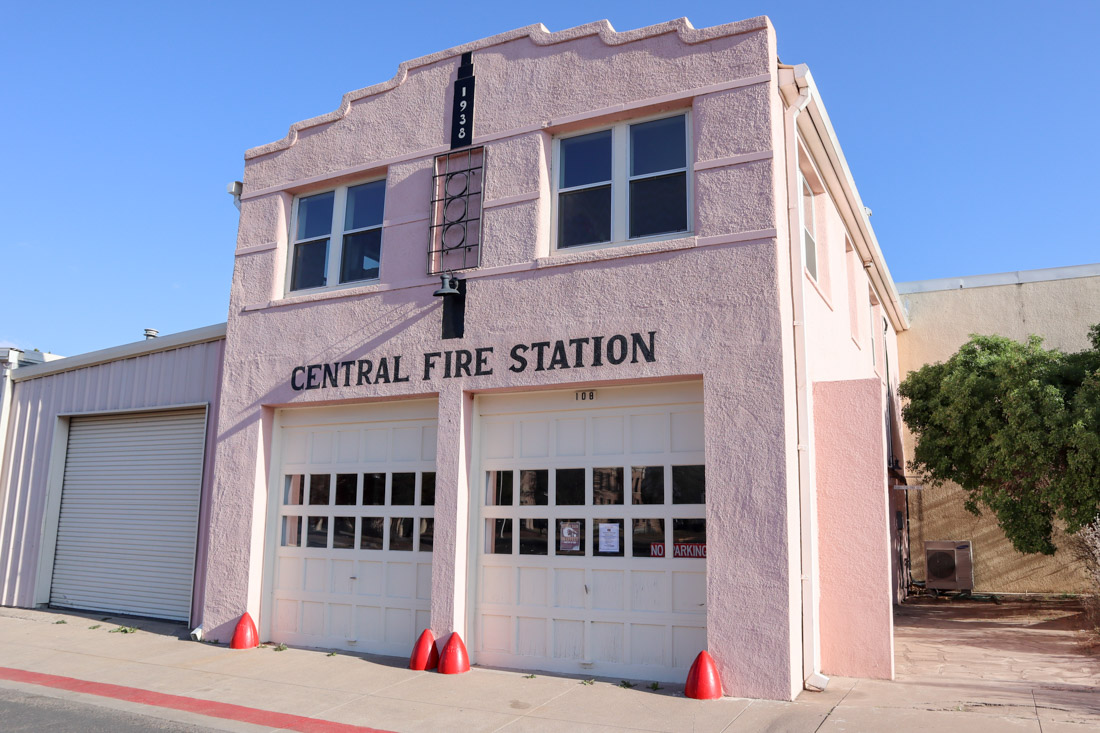 Marfa Day Trips Or Onward Road Trip Locations
If you are spending extended time in West Texas or are looking for things to do during the week close to Marfa, here are the best towns and parks to consider.
18. Davis Mountains State Park
Davis Mountains State Park is a rugged space for hiking, biking, and nature just outside of Fort Davis.
A popular day hike is the Indian Lodge Trail.
Martha to Davis Mountain State Park takes around 30 minutes by car, and you can stay at the park.
There are park campsites (book ahead) or you can stay at the 39-room motel, Indian Lodge.
19. McDonald Observatory at Fort Davis
Take a self-guided or guide-led tour of Mount Locke and Mount. Fowlkes during the day or experience stargazing at the inky West Texas sky with a scheduled evening event.
As you can imagine, the Star Party, with telescopes, tours are the most popular!
You can't miss the McDonald Observatory dome as you drive up to the Visitor's Center.
Specialists also research astronomical activity at the Observatory, a fascinating day trip from Marfa for those who love space.
20. Balmorhea State Park
If you don't have a pool at your hotel and need some downtime, head to the spring-fed watering hole at Balmorhea State Park.
The pool is up to 25 feet deep and stretches 1.3 acres. The water sits at around 72 to 76 degrees all year round and is fed from San Solomon Springs.
These historic springs were previously known as Mescalero Springs, as this is where the Mescalero Apache watered their horses.
Marfa to Balmorhea State Park is around a one hour drive.
21. Take A Day Trip To Alpine
The college town of Alpine is a slightly bigger city than Marfa with 5000 residents.
It is home to Sul Ross State University, where you can visit The Museum of Big Bend to learn more about the area's geography and history.
If you are into ball games, check out the Alpine Cowboys at Kokernot Field and Park.
Other entertainment includes food truck food, vintage shopping, photographing the murals, and watching a movie at the vintage Ranga Theater.
We adored Alpine.
22. Sprint To Marathon
Brewster Country's Marathon is a small town often used as a base by those who don't want to stay in Big Bend National Park.
A handful of trendy dining opportunities include coffee at V6 and smoked meat at Brick Vault Brewery and BBQ.
Marathon also has a selection of galleries.
23. See The Ghost Town of Terlingua
If you'd heard of West Texas, you've probably read about its ghost town.
Terlingua is a historic mining town with ruins dating back to the 1800s. When work was good, the population swelled to thousands.
Today, less than 100 live here.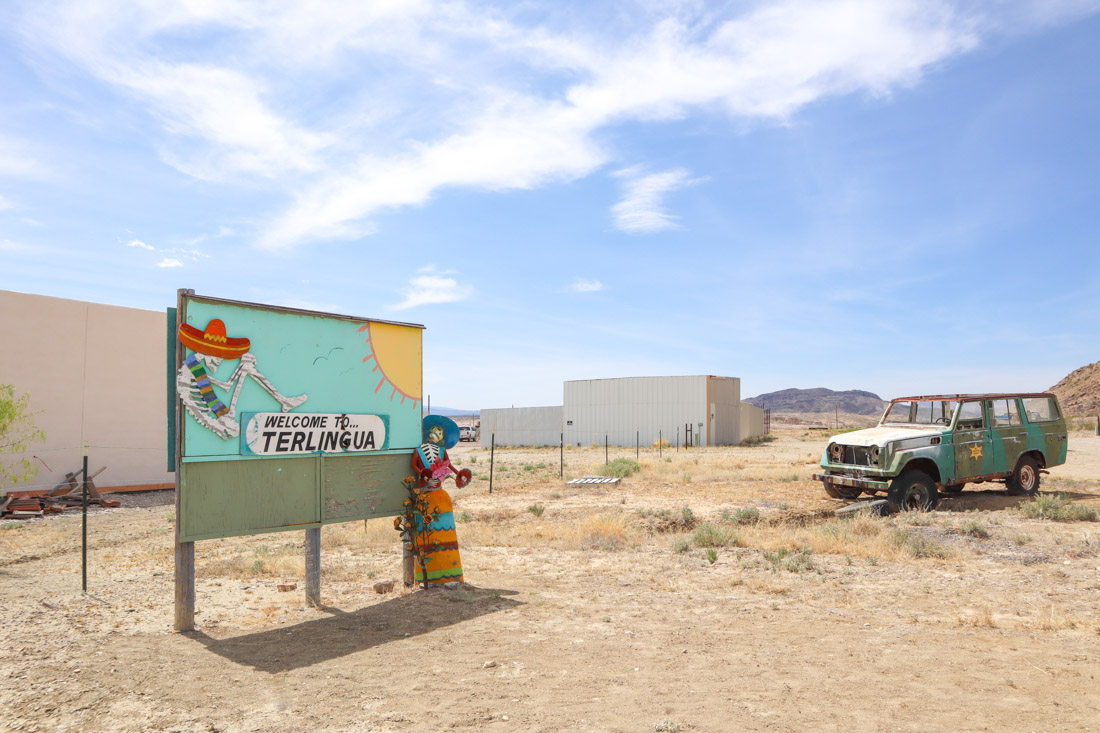 However, they are rarely alone with the number of visitors that spend the night before heading into Big Bend.
The most popular place to eat and drink is the Starlight Theater, so book ahead.
Marfa to Terlingua takes just under two hours.
24. Big Bend National Park
Canyons, hot springs and bluebonnets in spring are just a few reasons thousands of road trippers park up at Big Bend.
If you only have one day, carefully plan your trip as the national park is pretty big distance-wise, and when night falls, it's just you, the stars and the creatures!
For a short hike, check out Dog Canyon (4 miles) or Hot Springs (.5 miles with a hot spring at the end).
For a more extensive trek, Marufo Vega (12 miles).
A really unique thing to do is take a two minutes boat ride to Boquillas in Mexico! Pack your passport, we're not joking; you do go through passport control.
You can camp in Big Bend but you must book ahead. The sites include Chisos Basin Campground sites (most popular), Rio Grande Village Campground, and Cottonwood Campground.
If you miss out on a booking, consider staying in one of the above-named towns or an overspill campsite like Stillwell Store RV Park.
Don't rely on phone service and head to the visitor centers if you require any help.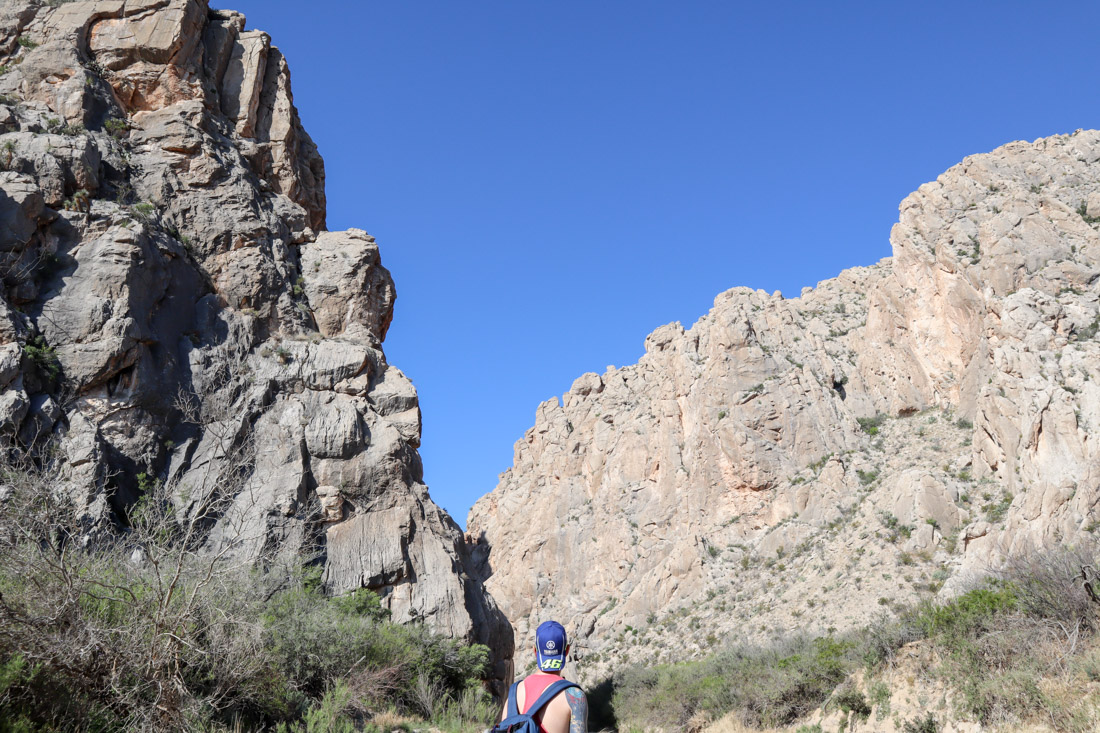 25. Chinati Hot Springs (Ruidosa Hot Springs)
The Marfa Hot Springs is actually a good 1.5-hour drive from the City of Marfa.
Adventurous drivers in 4×4 can take on the rocky terrain, which takes around 2-3 hours.
Use of the mineral hot springs, which used to be owned by sculpture Donald Judd, requires an overnight reservation.
You can book air-conditioned cabins which come with a shared kitchen. Pack all the groceries you need as there is nothing else around!
This a dark skies area, so remember to bring torches.
Don't rely on cell phone service, and make sure you fill up your tank before driving.
26. Dine at Restaurants in Marfa
If visiting at the weekend, you will be served with quite a lot of choice, but it is advised to reserve a table or end up at Dairy Queen, like us.
Breakfast in Marfa
Aster: Cafe and bakery with patio at 215 Highland St
Buns n Roses: Breakfast and bakery in a Quonset hut at 1613 W San Antonio St
The Water Stop: Brunch, lunch, and dinner at 1300 W San Antonio St
Lunch Stops
Food Shark: Popular Sat/Sun Mediterranean lunch food truck at 909 W San Antonio St
Marfa Burrito: Breakfast and lunch burrito spot at 515 S Highland Ave
Dinner
Al Campo: South Am inspired food, wine garden at 200 S Russell St
Cochineal: Family-run casual fine dining at 107 W San Antonio St
Convenience West: BBQ at 411 W San Antonio St
StellinaMart: Daily menu, no reservations at 103 Highland St
Bar George: Small plates at the Saint George Hotel 105 S Highland Ave
Jett's Grill: American restaurant at Hotel Paisano 207 Highland St
Lost Horse: A saloon dive bar, live music, and food menu at 306 E San Antonio St
Para Llevar: Pizza joint with outdoor seating at 113 S Dean St
Pizza Foundation: Highly rated pizzas at 305 S Spring St
Coffee in Marfa
The Sentinel: Coffeehouse, cafe, and newspapers at 209 W El Paso St
Big Bend Coffee Roasters: Independent roasters located at 510 W San Antonio St
Frama – Coffee inside a laundromat at 120 N Austin St
Grocery Stores in Marfa
The Get Go: 208 S Dean St, Marfa
Porter's: 717 W San Antonio St, Marfa
Dollar General: 501 E San Antonio St
Marfa Travel Information
Where is Marfa, you ask?
Marfa is a small city in West Texas with a population of just over 2000.
It is located at the junction of US Highway 90 and 67. There are several entry points.
The closest airport to Marfa is El Paso. Be cautious that the time zone changes from Mountain Time Zone to Central Standard Time.
The drive from El Paso to Marfa takes three hours.
The closest train station is in Alpine.
From Marfa, you can drive to Big Bend in 1.5 hours, so both locations feature on many Texas road trip itineraries.
Marfa to Austin is tough at 430 miles which takes just under 7 hours without stops, and some of the roads are never-ending.
A Little More About Marfa's Vibe
Historically, Marfa was a water freight stop along the railroad line; today, it is an open-air gentrified art gallery in the desert.
Marfa is located in the high plains desert, at an altitude of 4800 ft, so factor this when you are packing!
It gets cold at night and early in the morning.
At the start of the pandemic, Marfa had zero cases, so residents decided to jump on lockdown to protect their community.
The local government took that power away from local businesses and stated that Marfa was open for tourism. Many shops and businesses did not open.
Marfa also features in our guide to best places to visit in the US in May as it hosts CineMarfa movie festival.
Marfa, Texas Map
I've put together a free map of all the attractions, day trips, and restaurants so you can best plan your trip.
Save for Later! Pin to your Texas board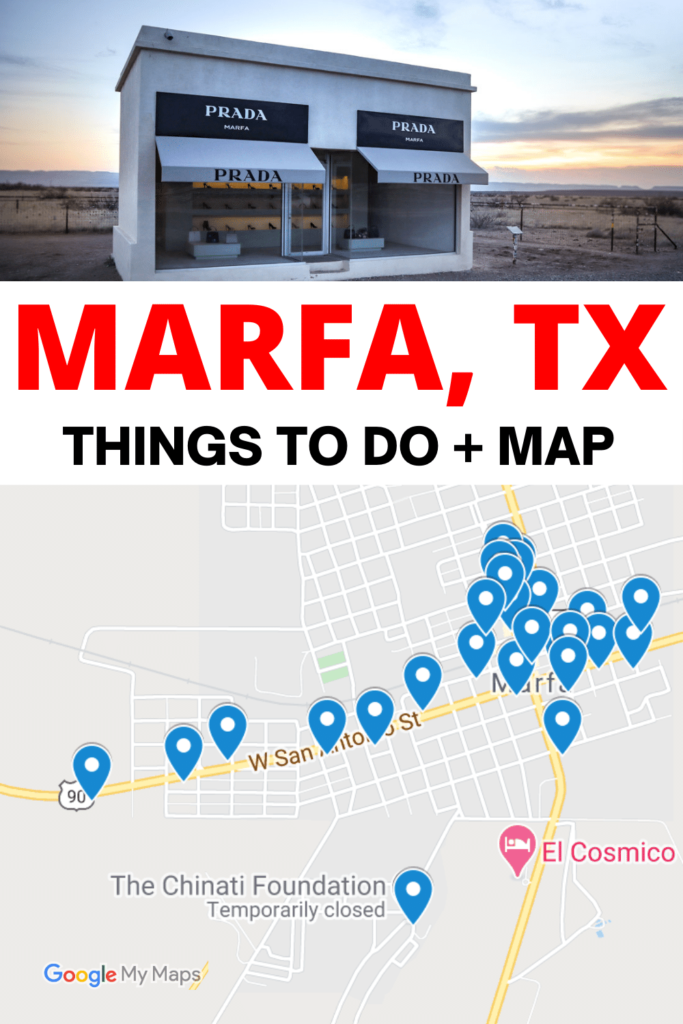 Any questions or comments?
Please leave below and we will get back to you
Final Words
You'll adore Marfa. It's one of those places you visit once and it imprints on you for life. It's quirky, businesses run on their own time, and the landscape is out of this world, and that's not just the Marfa Lights we're talking about.