This article has links to products and services we love, which we may make commission from.
Food trucks, BBQ, hip coffee houses and craft breweries! There is no shortage of desirable restaurants in Austin.
This guide details the best eateries for all budgets and lists options by type and location so you don't have to get hangry wondering where to eat in Austin.
We've also thrown in some of the most Instagrammable places for photography food fans.
You may also like our guide, free things to do in Austin.
Where to Eat Downtown Austin
While there are plenty of places to eat in Downtown Austin, sometimes we let the beer talk and forget about our stomachs. Then hanger kicks in, and if you are anything like us, start to argue.

Learn from our mistake and arm yourself with the following list of restaurants, food trucks and takeout options.
Downtown Restaurants
1. G'Raj Mahal
G'Raj Mahal is a trendy brick-and-mortar restaurant serving Indian food on one of my favorite party streets in Austin, Rainey Street.
It is a family-owned Austin restaurant and the chef, Sidney Roberts, has over 20 years of experience in the trade.
Seating is available indoors and outside underneath a tent.
Food portions are spot on. You're not left feeling that horrible post-curry bloated way yet it is still good value for money. Apologies for the quality of the image below, I was a tad tipsy!
The G'Raj Mahal team has also opened a sister company, Mumtaz Market on South 1st and Mary (La Reyna building). Parking available.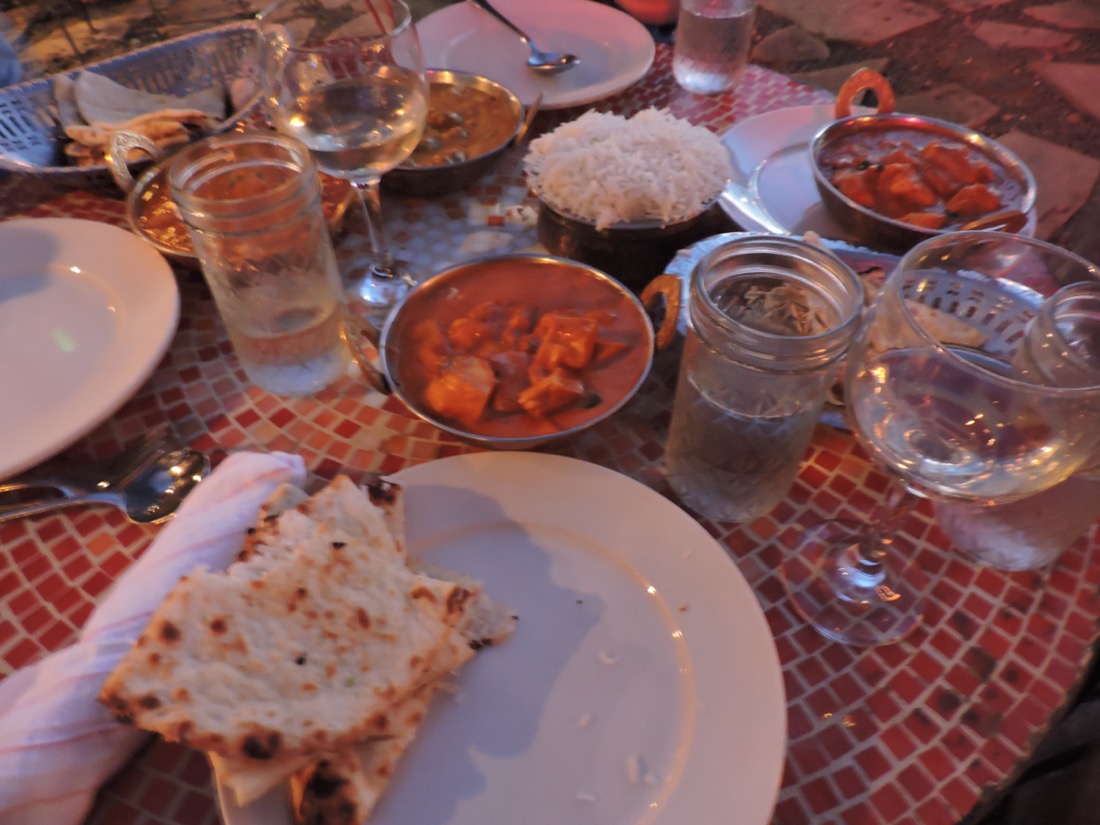 2. Banger's Sausage House & Beer Garden
German-style bar with craft beer, benches and bangers, naturally.
The food menu includes pickles, German potato salad, pretzels, currywurst and different flavored sausages.
79, 81 & 81½ Rainey St.
3. Stella San Jac
Plush restaurant, photogenic plates and banging cocktails, Stella San Jac (310 E 5th St) is a great option for a special occasion.
We dined here with our friend and wedding officiant, Sarah, and her partner, Chris.
This was my first time trying biscuits. Holy moly!
4. Mai Thai
Friendly Thai restaurant close to the conference center.
Menu includes Craig's favorite, Pad Kra Prao, and mine, Massaman Curry.
We had lunch at Mai Thai (207 San Jacinto Blvd). I love Thai, highly recommend it.
5. Roppolo's Pizza
Roppolo's sells huge, juicy pizza slices from a window on 6th Street.
Perfect for soaking up the drink without having to commit to a sit-down meal.
6. Cooper's Old Time Pitt
A visit to Cooper's Old Time Pitt (217 Congress Av) is a noisy yet tasty experience.
Traditionally, customers claim a table, order a drink then hit the line to choose their meats.
This family owned business serves BBQ in a huge rustic space. There's an outside courtyard too.
The bar in the center of the restaurant is quite difficult to get served at, be prepared to yell!
East Side and East 6th Street Restaurants
7. Cisco's Restaurant Bakery & Bar
Cool tiled walls, retro jukebox, friendly staff, mimosas and Tex Mex breakfast tacos, Cisco's (1511 E 6th St) is an Austin breakfast institution and Instagram dream.
Founded in 1950 by one of the current owner's grandfathers, Rudy "Cisco" Cisneros, this diner was part of the East 6th landscape long before what it is known for today.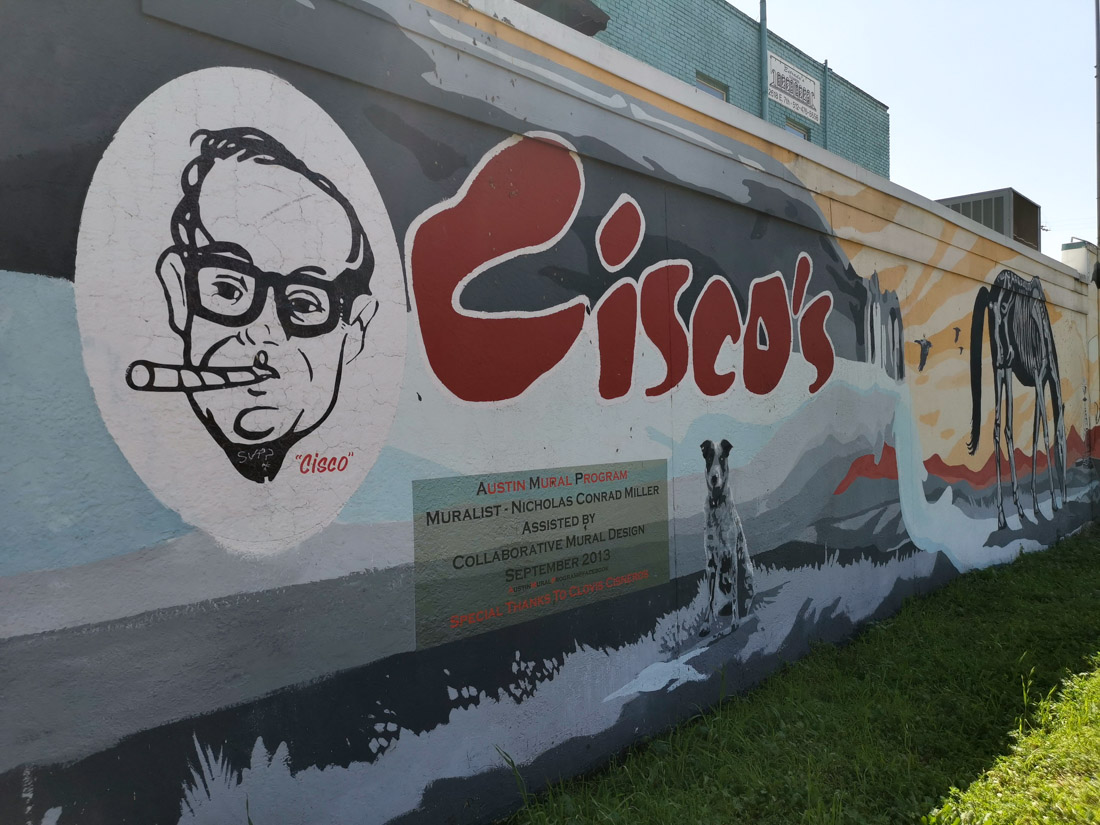 We dined on Tex-Mex breakfast of soft tortilla with eggs. Other diners recommend the biscuits and migas.
For me, one of the highlights related to dining in Austin is the service.
Huge jugs of water and a tray of chips planted on your table as you sit down.
Don't expect this in Europe! You will get it at Cisco's.
We think Cisco's is one of the best breakfast places in Austin. Do you agree? Tell us in the comments.
I'm also going add Granny's Tacos (1401 E 7th St) to the list. We've not tried them but people love them.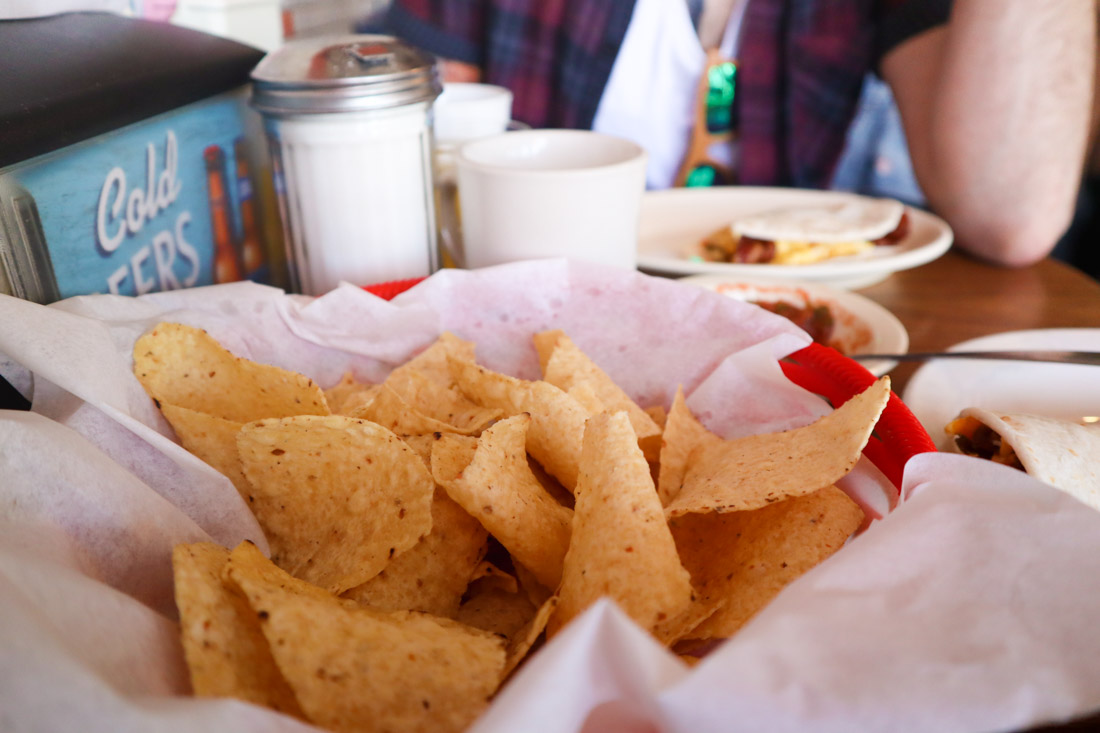 Food Trucks near/on E 6th
There are a number of food trucks worth stopping at in and around E 6th including Boteco (Brazilian) and Poke Me Long Time (Hawaiian poke bowls).
The E 6th food truck area picture below has hammocks making it a fun place to eat in Austin with friends or solo.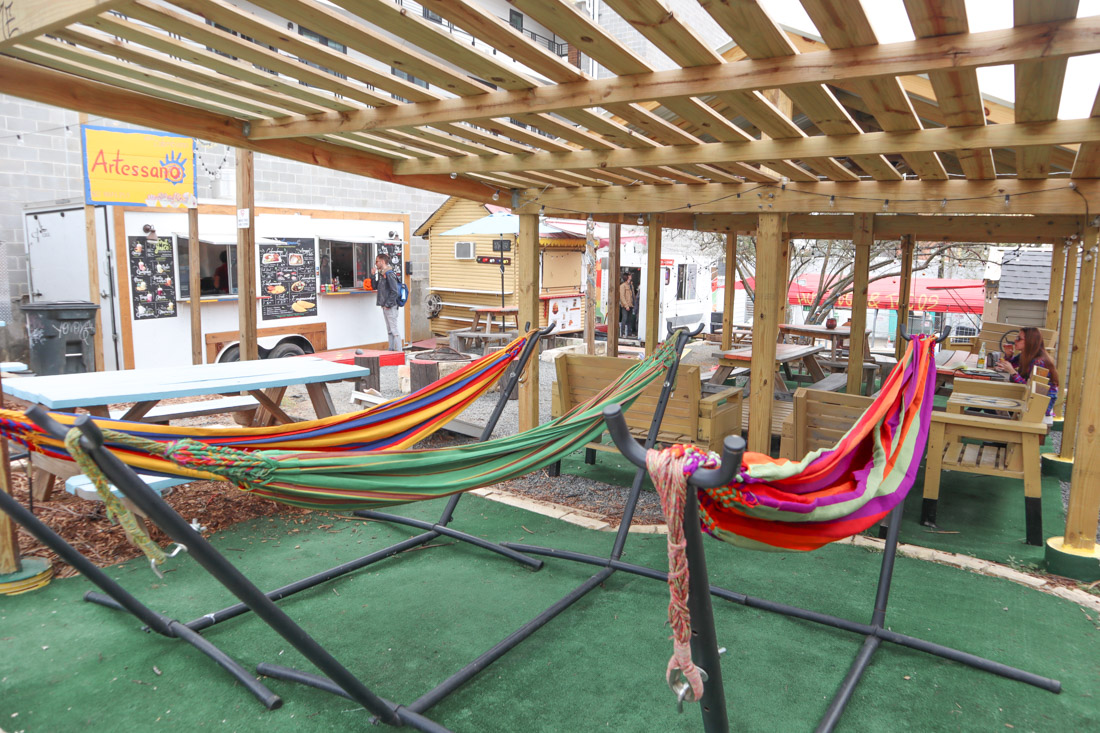 8. Hi Hat Public House
We soothed our hungover souls with soup from Hi Hat Public House (2121 E 6th St).
Nice breezy beer deck and indoor seating options.
Other liquid on offer includes craft beers and half price bottles of wine on a Wednesday.
9. Via 313
Via 313 is super celebrated Detroit-style pizza joint located at a number of locations around Austin.
Pizzas are dense, cheesy and, mostly, come as a rectangle, not like your standard slice in Austin!
Dough is prepared daily and local produce is sourced for these "Austin genuine Detroit Style Pizzas".
Like many eateries in Austin, Via 313 started in a food truck and has now expanded to two restaurants.
The business was created by two brothers from Detroit who love pizza.
The Via 313 restaurant on East 6th (1802 E 6th St) has a relaxed indoor sitting area with a bar as well as a patio.
There are Via 313 trailers at West 6th and on Rainey.
10. Juan in a Million
Juan in a Million (2300 E Cesar Chavez St) is probably one of Austin's most famous restaurnts or diners.
TV crews from all over have been drawn to this Mexican breakfast restaurant for years, attracted by the Don Juan Taco Challenge and warm handshake at the door.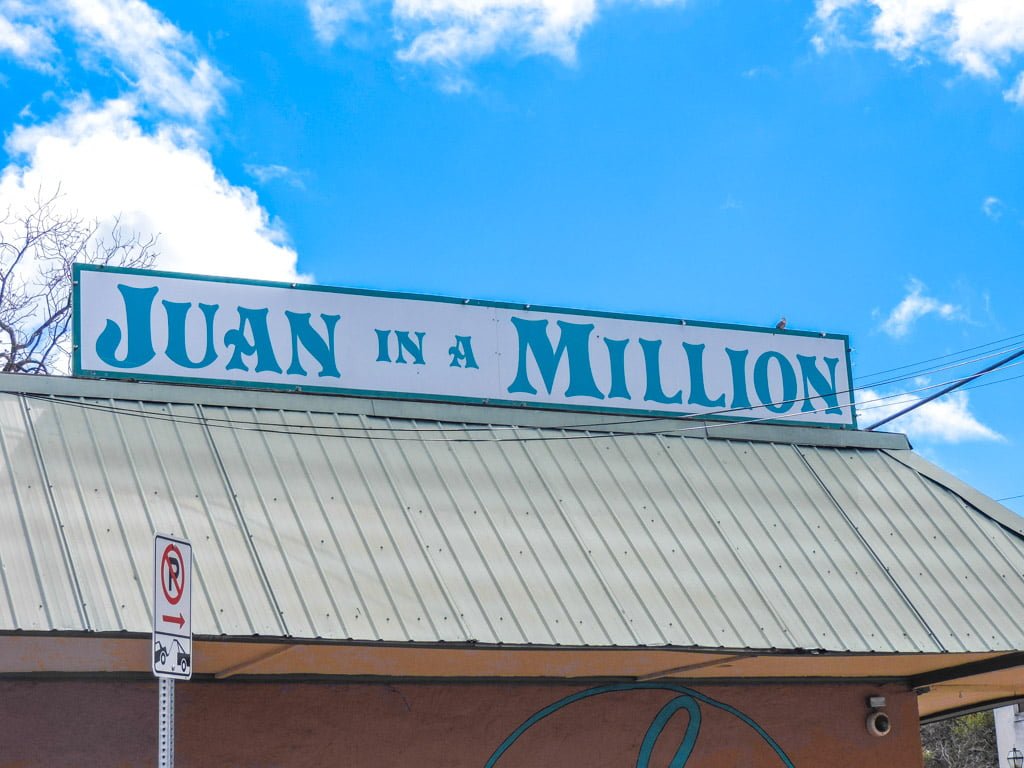 The line to get in is often as big as the portions so have patience or consider a backup plan.
Juan and Myrna Meza have been feeding Austin breakfast tacos, migas and menudo since 1980.
Juan in a Million also features in our unique things to do in Austin guide.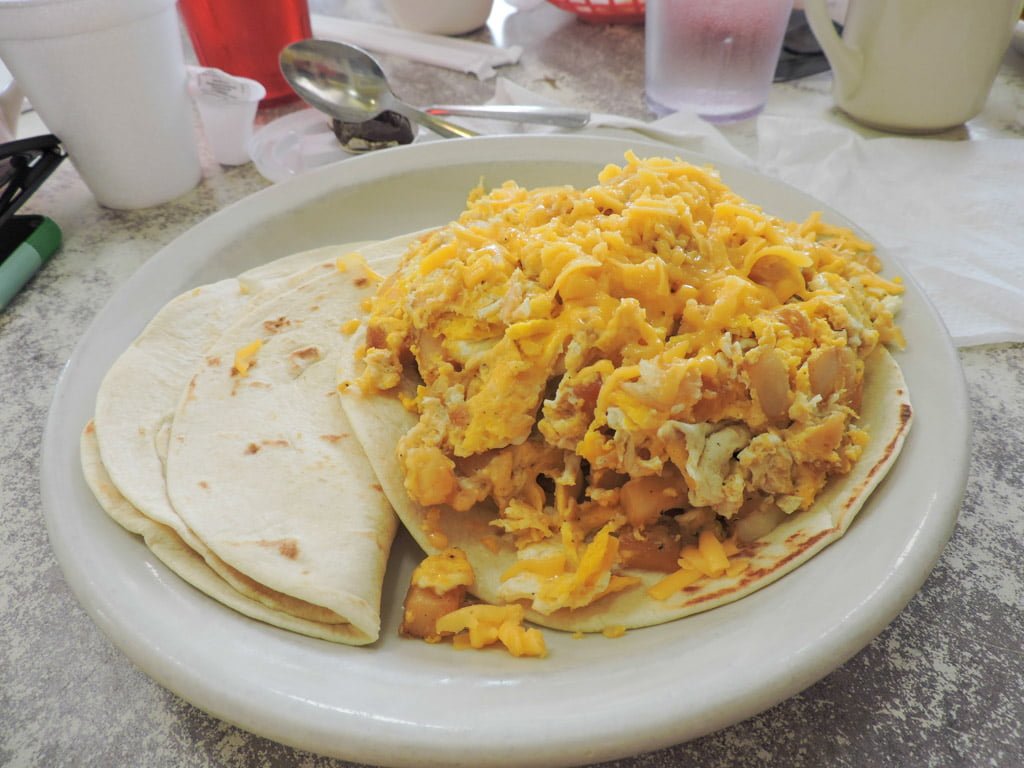 11. Nasha
I'm not even sure how we stumbled upon Nasha on East 7th (1614 E 7th St) but we fell for it so hard, we went back twice in 10 days.
A vibrant indoor restaurant with outdoor seating, Nasha serves traditional curries and an Austin/Indian fusion.
For those on a budget, check out the happy hour deals.
Highly recommend the tikka masala with paneer.
South Congress Restaurants
12. South Congress Cafe
Super popular brunch spot known for its Bloody Mary cocktails.
We opted for mimosas and biscuits instead!
Located at 1600 S Congress Ave, South Congress Cafe has retained the aesthetics of the 1940s drug store it resides in.
There is a sunny patio out back too.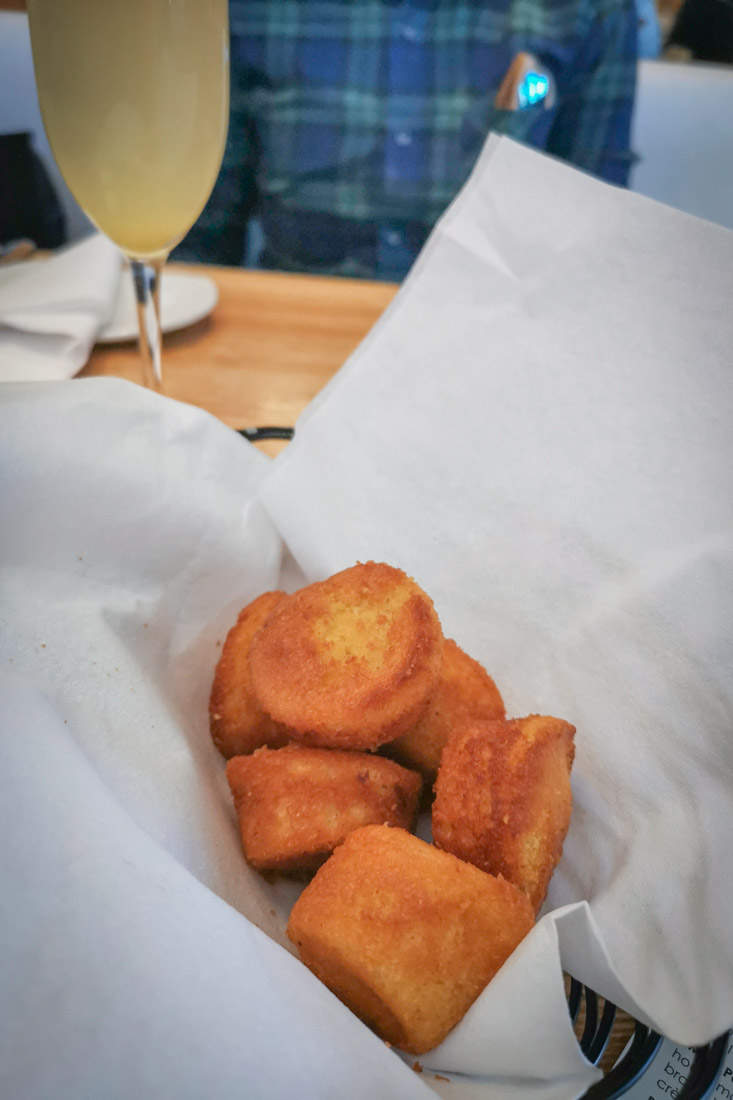 You'll find the famous Torchy's Tacos on South Congress Avenue as well.
We tried their tacos at another location and weren't that blown away by them.
13. Taste of Ethiopia II
Taste of Ethiopia II (3801 S Congress Ave #107) was our first experience eating Ethiopian food.
The server kindly taught us how to eat with our hands!
Taste of Ethiopia is owned by Woinee Mariam and her husband, Solomon Hailu.
14. El Borrego de Oro
Old school catina selling breakfast lunch and dinner in a relaxed setting.
We enjoyed a quick taco breakfast before walking down into SoCo.
3900 S Congress Ave.
15. Elizabeth Street Cafe
Located at 1501 S 1st Street, Elizabeth Street Cafe is a beautifully decorated restaurant that serves Vietnamese food.
I went for soupy Pho noodles and Craig had the Banh Mi.
Barton Springs/Zilker Park
16. Chuy's
Loud and fun, Chuy's has been serving Tex Mex since 1982.
There are six Chuy's locations around the city. We drunkenly dined on burritos at 1728 Barton Springs Rd.
I love this area. Check out our things to do in Austin guide to find out more about what Barton Springs has to offer.
17. The Green Mesquite
While Terry Black's Barbecue and Cooper's Old Time Pit ask diners to choose and collect their BBQ food, The Green Mesquite (1400 Barton Springs Rd) takes your order and serves it to your table.
Craig prefers this method of BBQ dining as he hates eating cold food.
I don't mind either way.
Definitely try the mac 'n' cheese side dish at Green Mesquite.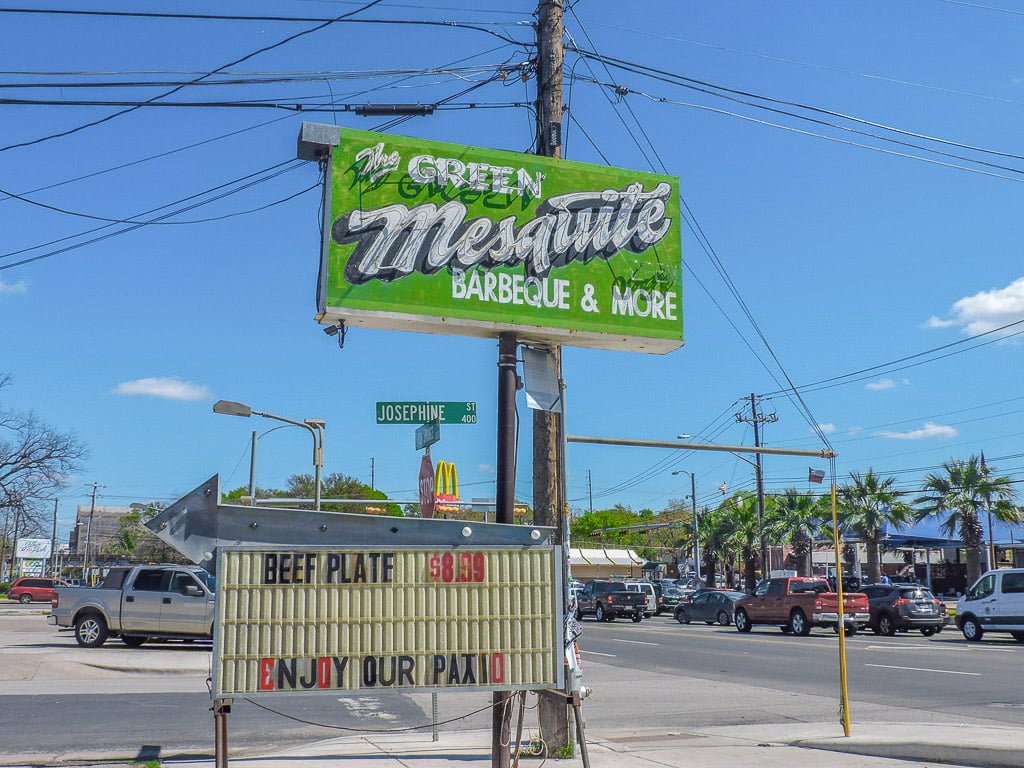 18. Terry Black's BBQ
Terry Black's BBQ (1003 Barton Springs Rd) is always busy with hungry customer.
Traditionally customers line up and choose their meats and take their trays to a table inside or outside on the patio.
Everyone has their preferred best BBQ joint in Austin.
I personally, preferred the meat at Cooper but the environment was a bit hectic if that's not your thing.
I really enjoyed the experience at Green Mesquite and if you really love BBQ you should head out to Lockhart. Find out more in our road trip guide.
North Austin Restaurants
19. Snooze AM
Snooze AM (3800 N Lamar Blvd Suite 120) is another awesome brunch spot in Austin. I love the 70s vibe decor.
Fun, sustainably sourced and ridiculously photogenic, there's something for everyone in the brunch party on the Snooze AM menu.
I went for the oats topped with fruit. Delicious.
There are three Snooze Am locations – North Lamar, South Lamar and East 5th.
Other Neighborhoods
20. Cenote at Windsor Park
Cenote (6214 Cameron Rd) is a cool space in a quiet residential area.
The bar/cafe/restaurant and coffeehouse has cool artwork on the walls, super friendly staff, variety of drinks, coffee and a nice breakfast selection.
It is also used as an entertainment space.
We dined here twice, for dinner and brunch.
Cenote takes pride in using local veggies from many Texas farms, pasture raised eggs from Vital Farms, and bacon from Flying Pig Provisions.
Coffee is served on rotation so you'll need to keep going back!
Owners, Cody Symington and Mary Jenkins, opened the original Cenote at East Cesar Chavez because they wanted to serve the community great coffee and food.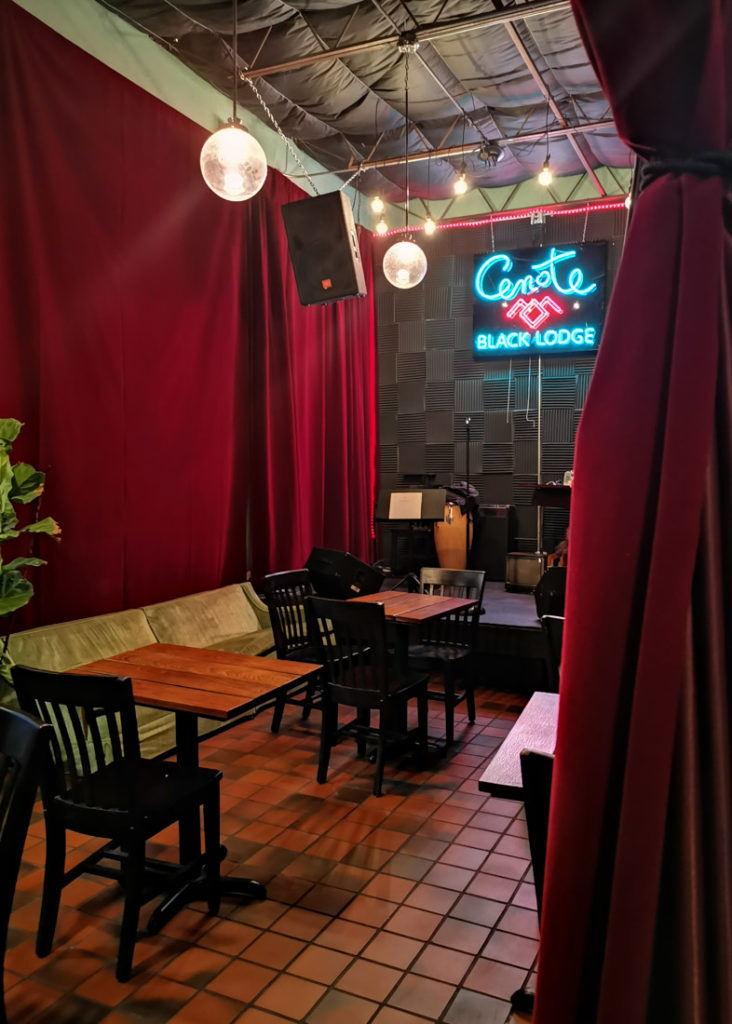 21. Little Deli Pizzeria
Build your own pizza at Little Deli and Pizzeria (1804 Briarcliff Blvd.)
Chirpy staff, soups, salads, subs and tasty pizza slices.
Yes, I put pineapple on my pizza.
22. Hanks Coffee
Light and airy coffeehouse attached to Hank's Restaurant (5811 Berkman Dr).
Simple selection of good coffee.
Very pretty restaurant next door with floor to ceiling windows, neutral decor and big plants.
Final Words
As you can see, you can eat any kind of cuisine in a casual setting or for an outstanding sit-down experience.
To help navigate all of the best places to eat in Austin, we've created this map which is layered by type of restaurant or cafe.
Save for later! Pin to your Austin board
What makes it to your best restaurants in Austin bucket list?