This article has links to products and services we love, which we may make commission from.
Researching romantic getaways in the United States for Valentine's Day, a special anniversary or just because you love your other half? This guide details dreamy small town trips, beach vacations and sexy city destinations. It also includes tour and accommodation suggestions so you can plan your trip, book a base and get excited! Let's take a look at the best vacation spots for couples in the US.
You may also like our guide best places to visit in the US in February and the best US bachelorette party destinations!
Romantic Getaways in the US
Cutest Towns in the US
We're going to kick off our guide to getaways with small towns that pack in a lot of pretty!
1. Marfa (West Texas)
If art deco and art installations are your kinda couple thing, Marfa, the art town of West Texas, is the right destination for you.
Beyonce's been, Solange sang there, Natalie Portman popped by, Naomi Campbell called in.
So what's the deal with dusty old Marfa?

Population of less than 2000, Marfa hibernates Monday to Thursday but at the weekends, road trippers fill the streets, limited restaurants, and ample art spaces.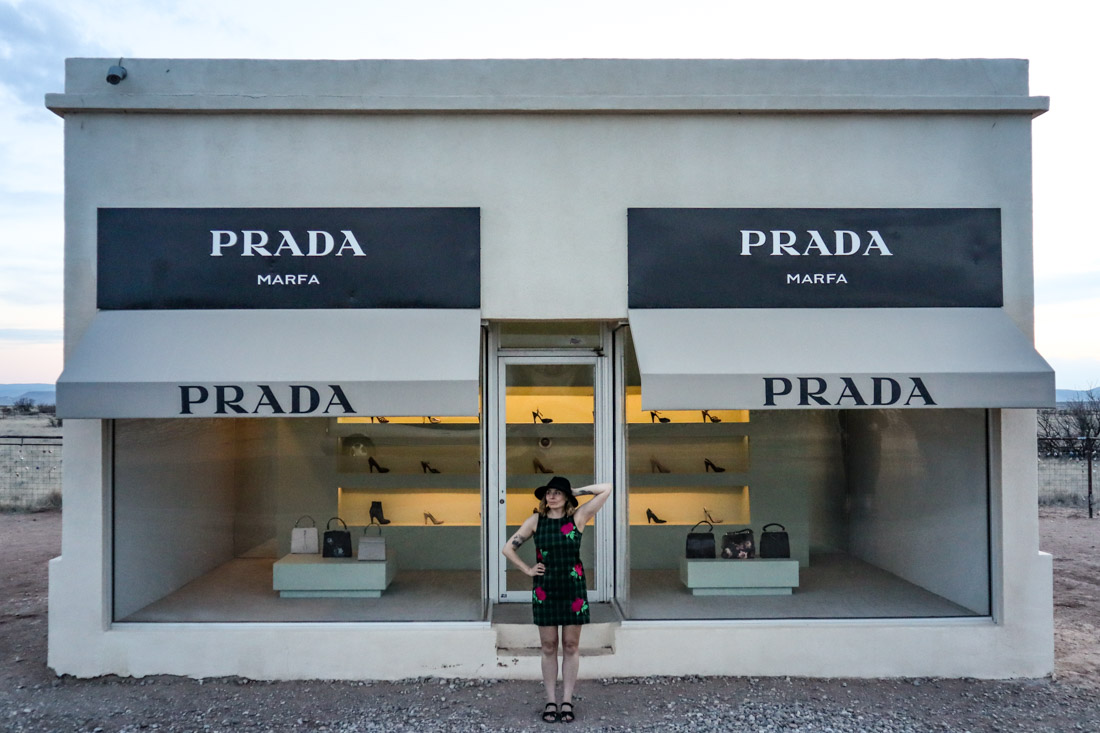 Romantic Things to do in Marfa
Self-guided photo tour of the striking architecture and color pops
Experience the art exhibitions at Marfa Ballroom
Drive out to Prada Marfa, the faux lux store in the desert (US 90)
Watch the shade change around Donald Judd's '15 Untitled Works in Concrete' at his Chinati Foundation in the Chihuahuan desert
Check out the nightly light phenomena, Marfa's ghost lights
Stay in a yurt! Here's our accommodation guide
Read a detailed guide, plus free map, here.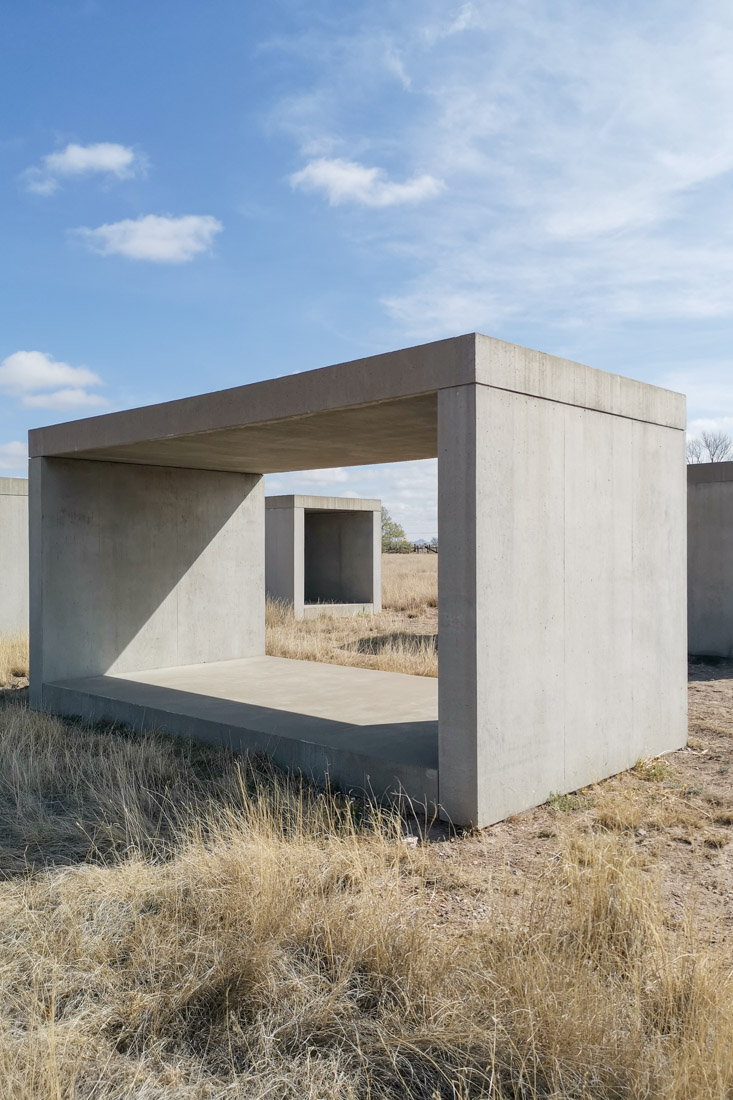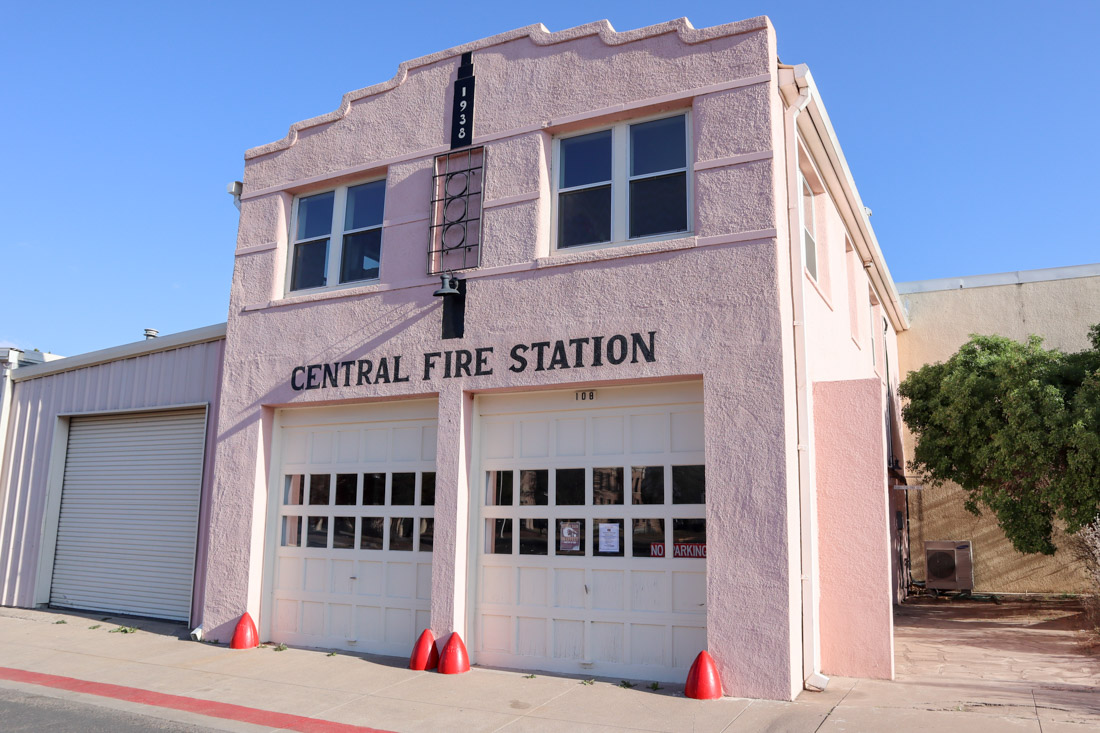 Marfa Hotels
You May Also Like
2. Montpelier (Vermont)
The first of New England's locations to make it on our couples trip bucket list, idyllic Montpelier is the smallest state capital city in the US.
Due to its size, it might be worth considering Montpelier as part of a New England road trip instead of a standalone visit.
With its wide sidewalks, manicured gardens and stark white historic buildings contrasting against the orange foliage in fall, Montpelier's recongizable skyline is used often to market Vermont and wider New England.
The Winooski River runs close to downtown.
Romantic Things to do in Montpelier
Take a romantic wander through Downtown, reading the historic plaques
Shop for chocolate at the award-winning Rabble-Rouser, a name shouted at Suffragettes!
For food, check out The Mad Taco, Sarducci's or Three Penny Taproom
Visit the Vermont History Museum to learn more about Native Americans who lived here and conflict in Vermont
Watch a movie at Capitol Showplace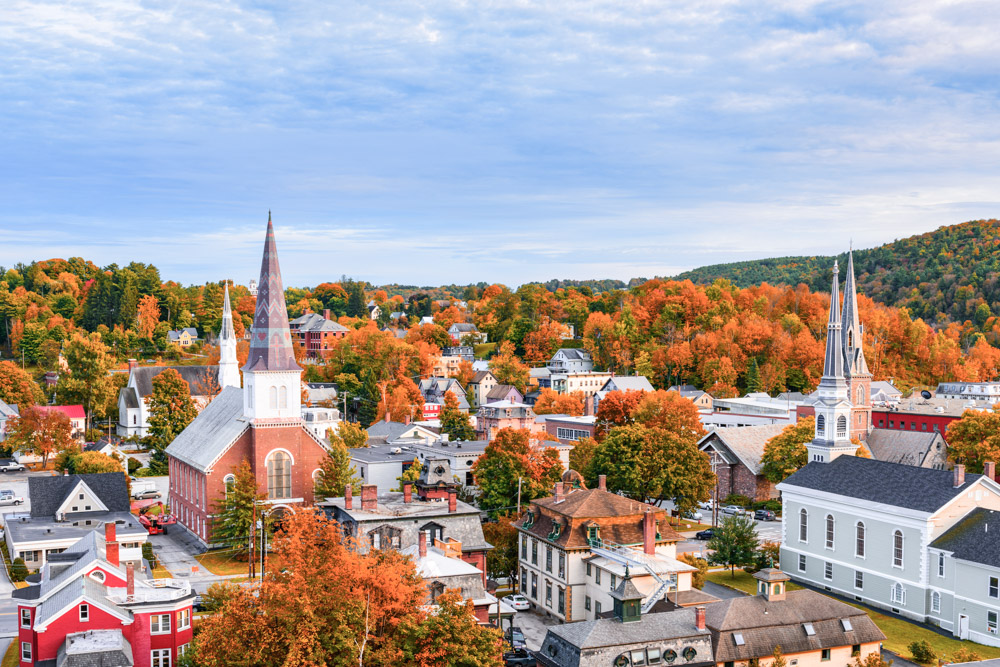 3. Mystic and Noank (Connecticut)
You get two pretty towns for the price of one in Connecticut.
Mystic is obviously know pizza, being the focus for 1980s movie, Mystic Pizza.
The movie was actually filmed in one of the next door town, Stonington.
This seaport town with vast maritime history gets very busy in summer so its teamed up with its cute neighbor, Noank.
Noank is a tiny fishing town in New England, five minutes drive from the popular Mystic.
Impressive houses, white picket fences, leafy roads leading down to huge body of water dominated by boats bobbing about, Noank reminds me of the Sunshine Coast in British Columbia, Canada or a less compact Ullapool in Scotland.
This is a quiet destination so not the right choice for party couples. If you are just looking to chill, eat fresh seafood and spend time together, Noank might be for you.
If beaches are you thing, you'll love our guide to small beach towns on the east coast.
Romantic Things to do in Noank and Mystic
Grab breakfast at Carsons Store diner which dates back to 1907 (Noank)
Dine on lobster at Abbott's Lobster In the Rough or Fords (Noank)
Eat pizza at Mystic Pizza, of course!
Gorge of cakes at Sift (Mystic)
Plaque watch as you wander around the historic houses in both towns
Sunbathe at Rocky Neck State Park
If you like thrills, drive to Lake Compounce Amusement Park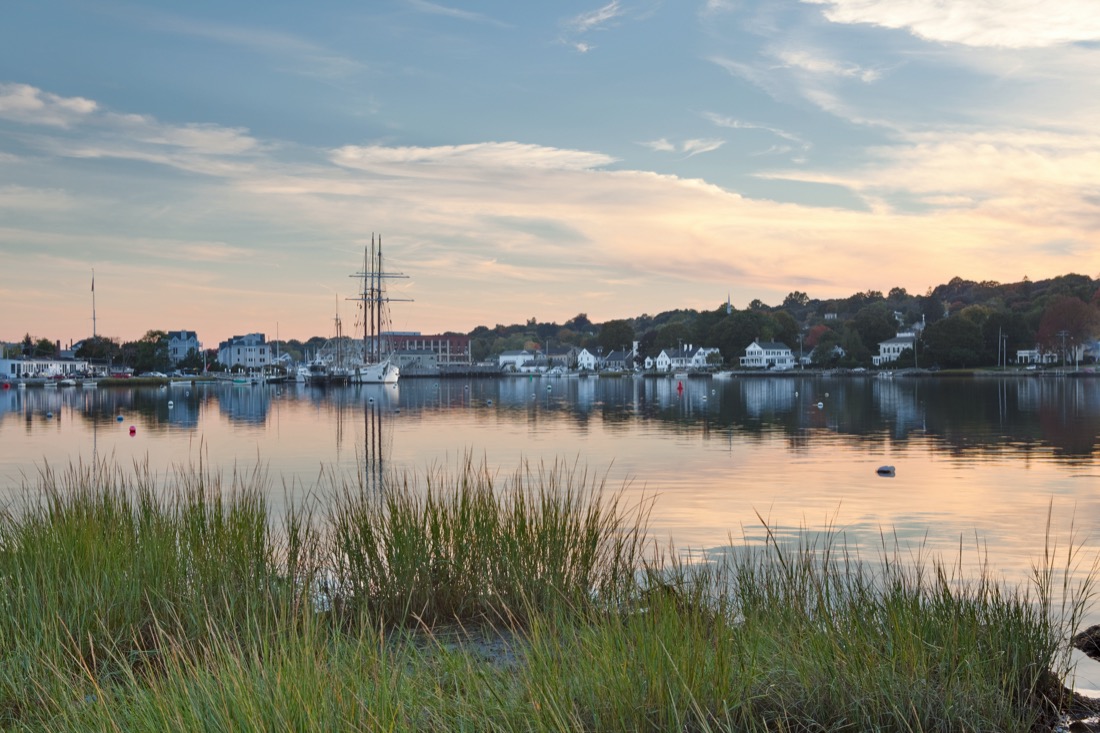 4. Ouray (Colorado)
Outdoor adventure couple fans don't need to research any further than this scenic town in Colorado.
The Switzerland of the States, Ouray (yoo-rei), is located in a valley surrounded by the San Juan Mountains.
If you have time for a road trip, consider the San Juan Skyway (loop) which covers the towns of Durango, Mancos, Dolores, Stoner, Rico, Telluride, Ridgway, Ouray, and Silverton.
Romantic Things to do in Ouray
Hike Box Canyon Park (easy)
Check out the Cascade Falls, how close can you get?
Bathe in the Ouray Hot Springs surrounded by snow-capped mountains
See the turquoise waters of the Blue Lake Trails (moderate)
Ride along the Million Dollar Highway
Visiting in winter? Ouray has ice climbing experiences
Try the local beer from family-owned, Ouray Brewery
You may also like our road trip packing list for this trip.
Romantic Cities in the USA
If you prefer a bit more action, check out the following lively US cities for couples.
5. Albuquerque (New Mexico)
The passion of flamenco, hot air balloons, vineyards and beercation awards, Albuquerque is an obvious choice for couples who like a bit of balance during their romantic getaways.
The most popular time to visit Albuquerque is during the Hot Air Balloon Festival but you can get sky high in a number of ways throughout the year.
On a budget? Albuquerque appears on our cheapest places to visit in the US guide too.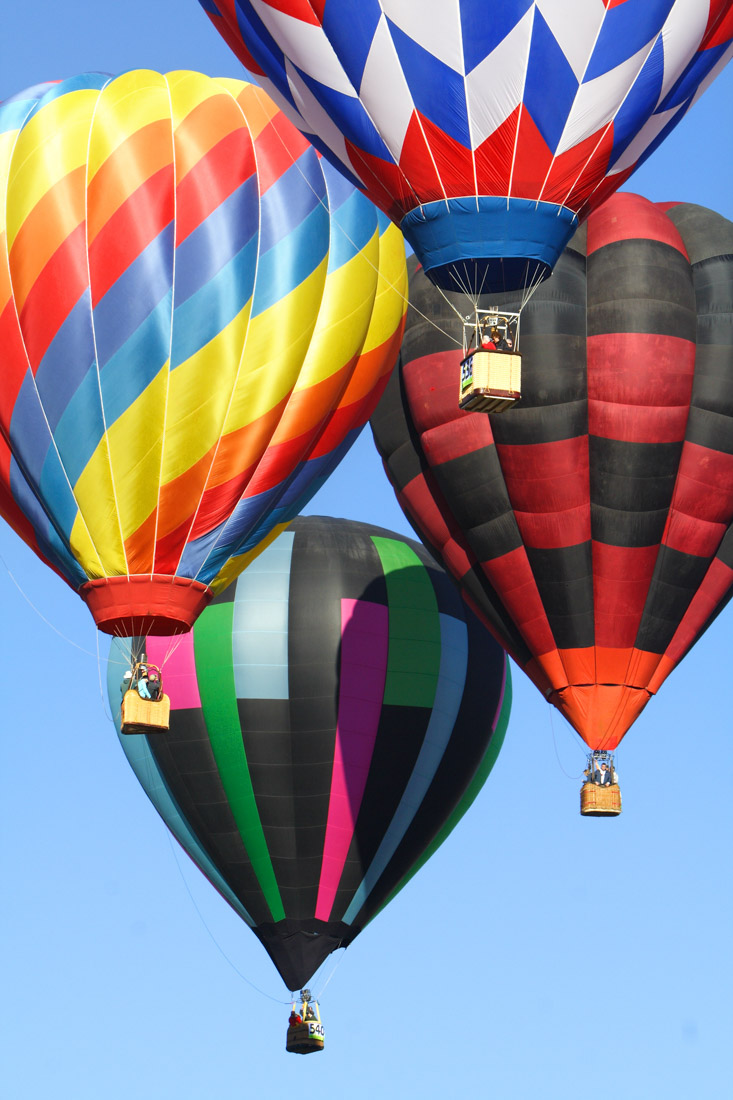 Romantic Things to do In Albuquerque
Enjoy a couples hot air balloon ride together
Taste authentic food at Church Street Cafe
Shop at Patio Market (local makers)
Learn more at the Indian Pueblo Cultural Center
Wine tasting along Albuquerque's North Valley
Craft beer hop at the Brewery District (between Edith and I-25)
Ride the aerial car to Sandia Peak for sunset pics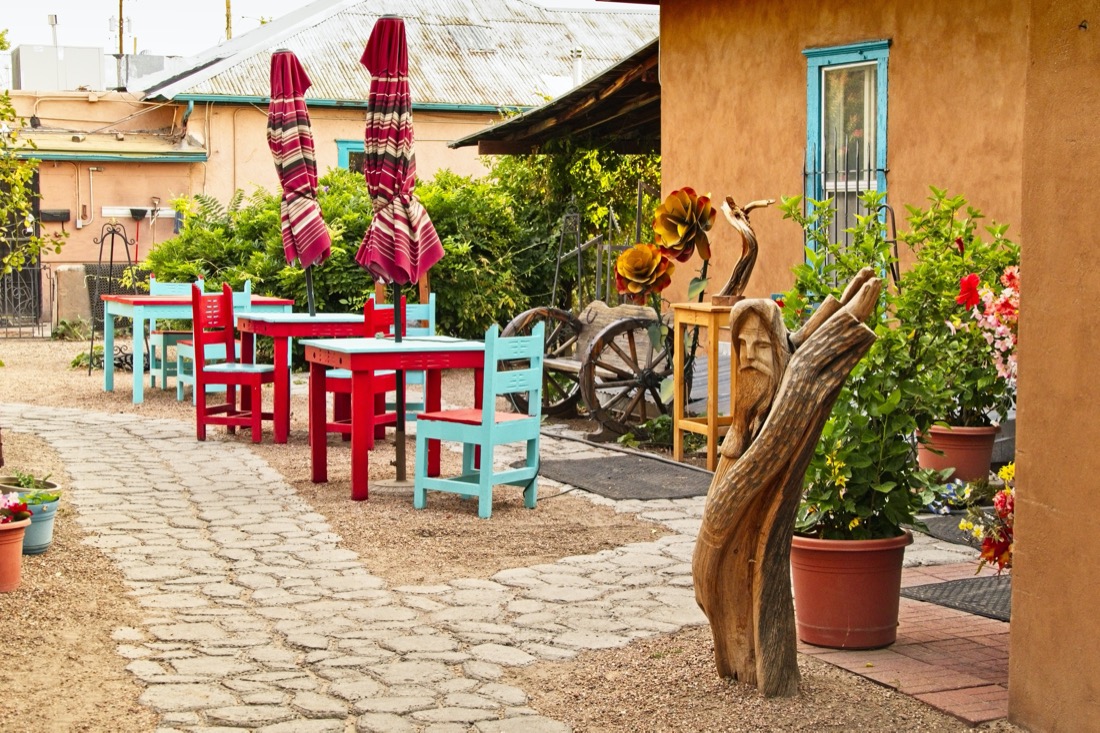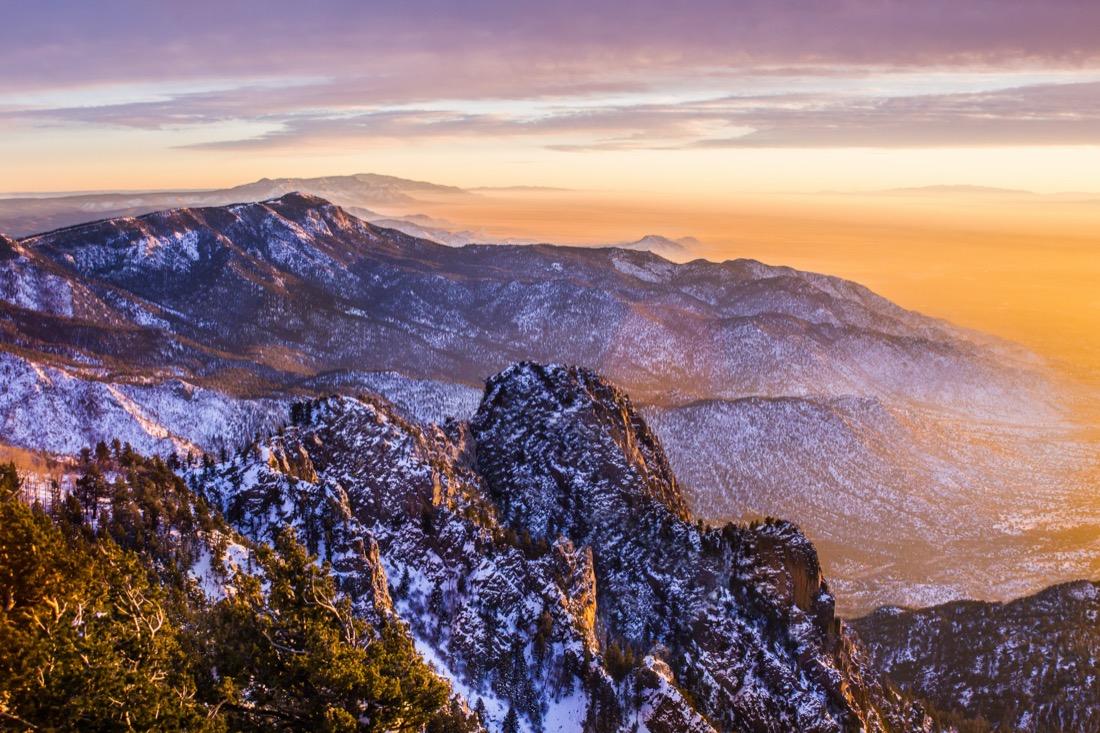 6. Asheville (North Carolina)
Outdoor and craft beer fans should consider the lesser-known romantic getaway in Asheville, NC.
Asheville is a perfect combination city for those who enjoy walking hand in hand through downtown but also the thrill of the outdoors.
If you do not feel like walking, there are alternatives! One of the most scenic drives in the US is on Asheville's doorstep, the Blue Ridge Parkway.

This is a popular drive in fall for the autumnal tones.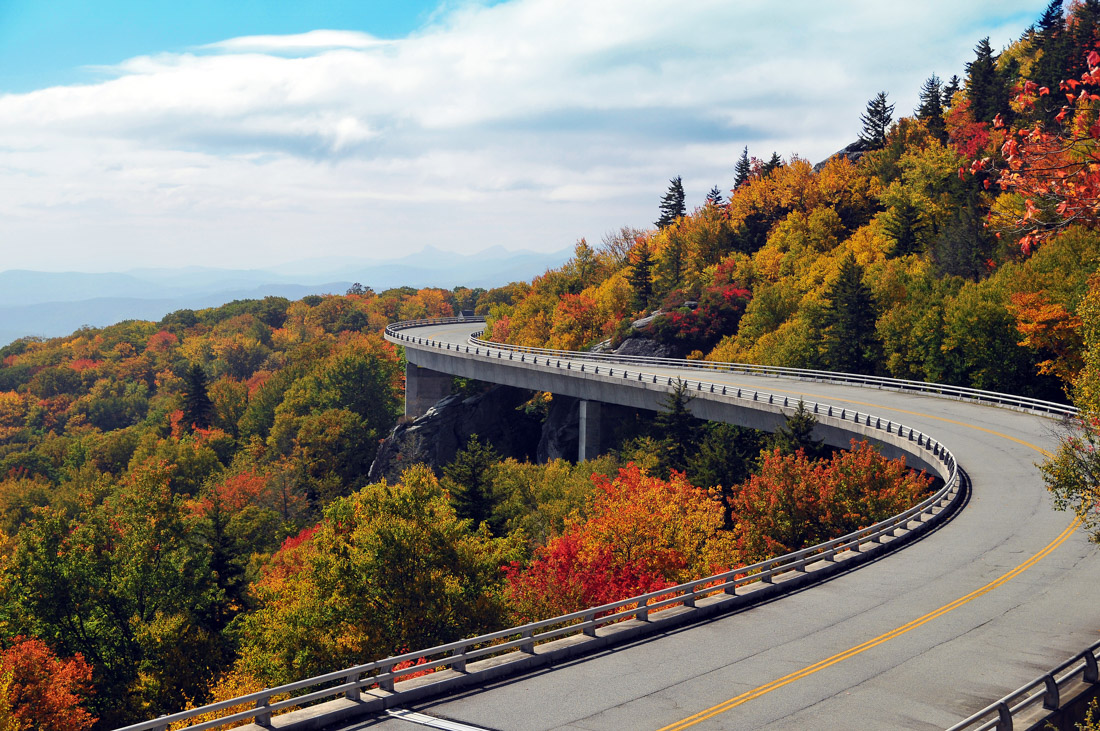 Romantic Things to do in Asheville
Discover the street art around Asheville
Dig into the craft beer scene, 30+ breweries to try!
Do a wine tour at Biltmore Estate, more below
Lunch at the River Arts District
Paddleboard down the French Broad River
Dine at the sunset terrace of Omni Grove Park Inn
Drive along and hike the Blue Ridge Parkway
Take a ride on the Pisgah National Forest Sliding Rock (image below)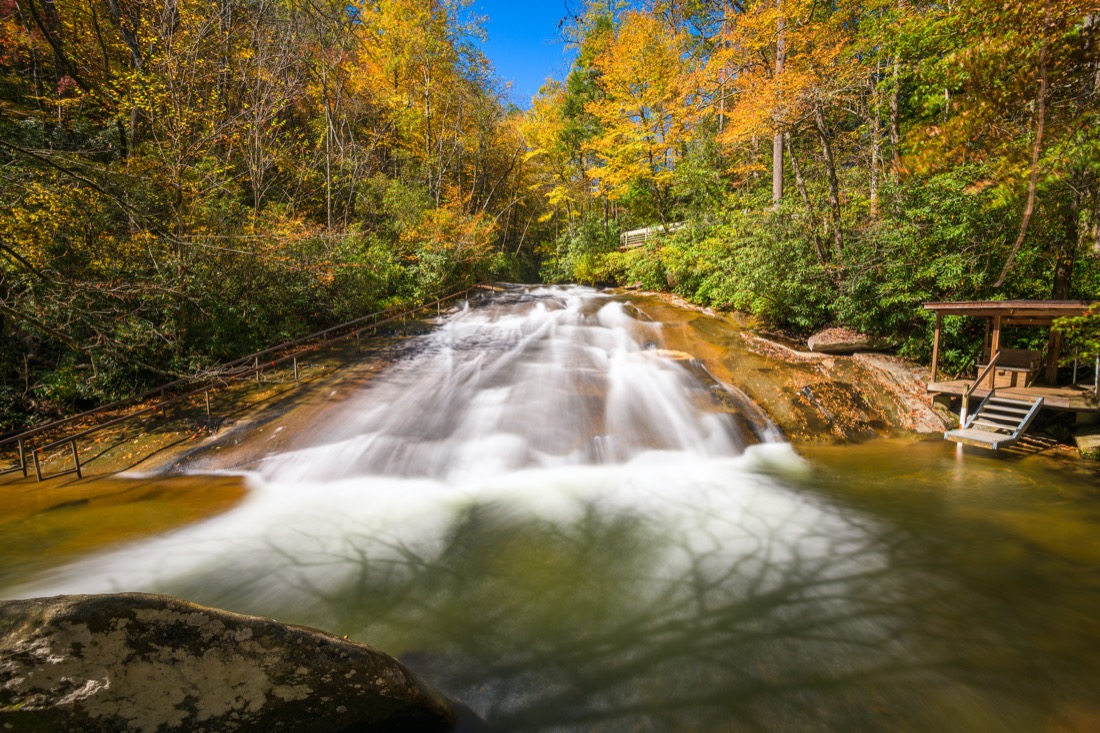 7. The Biltmore Estate (North Carolina)
The dreamy Biltmore Estate nestled in the Blue Ridge Mountains deserves its own feature in the romantic getaways in the US guide.

Why? Well, it looks like it has jumped straight out of pages of a European fairy tale book.
"America's Largest Home", Biltmore, was built for George Washington Vanderbilt II between 1889 and 1895.
The Châteauesque-style mansion, which was once home to Vanderbilt, his wife Edith and their family, is a popular day out or overnight stay for couples.
The 250 room house has 178,926 square feet (16,622.8 m2) of floor space and 135,280 square feet of living area.
A day pass gives you access to the mansion where you will see 16th century tapestries, a huge library containing 10,000 volumes and the Vanderbilt Banquet Hall with a 70-foot ceiling.
How many fireplaces did you find? There are 65 in total.
Things to do at Biltmore Estate
Explore the 8000-acre estate with your significant other
60 minute guided tour including the estate roof top
Taste test their multi-award-winning wines
See what's blooming in the Conservatory
Escape to the Walled Garden
Do a self-guided bike tour
Dine at Antler Hill Village
Biltmore Estate Accommodation
This private mountain adventure is well worth considering for a romantic weekend in North Carolina.
Check out the video of the estate below.
A trip to Biltmore Estate could make a perfect Mother's Day trip too so it features in our guide the best places to visit in the US in May.
8. Atlanta (Georgia)
Couple's hike, spa treatments, sunset spots and shows, Atlanta has no shortage of romantic hotspots in the city.
There's a reason so many Hollywood movies use this city as a filming location. Hunger Games, What to Expect When You're Expecting, Flight and Captain America to name a few.
Atlanta also features in our best cities to visit in December guide.
Romantic Things to do in Atlanta
Pick up grocers at Piedmont Park Farmers' Market then cook up a storm
Learn about the Civil Rights Movement together at the National Center for Civil and Human Rights
Stroll through the 22-acre public park, Centennial Olympic Park
Eat lunch at 70-year-old Mary Mac's Tea Room
Unwind at JeJu Sauna, Korean health spa
Watch the sunset from a rooftop bar like The Sun Dial
Dine at Canoe, the farm to table restaurant by the Chattahoochee River
Watch award-winning ensembles of violin concertos at Atlanta Symphony Orchestra
Boat, fish or kayak together at Lake Lanier
On a budget? Relax at Lake Lanier with views of the Blue Ridge Mountains to watch the sunset over a bottle of wine, romantic getaways in Atlanta GA, are worth every cent.
Atlanta also features in our best destinations for January guide.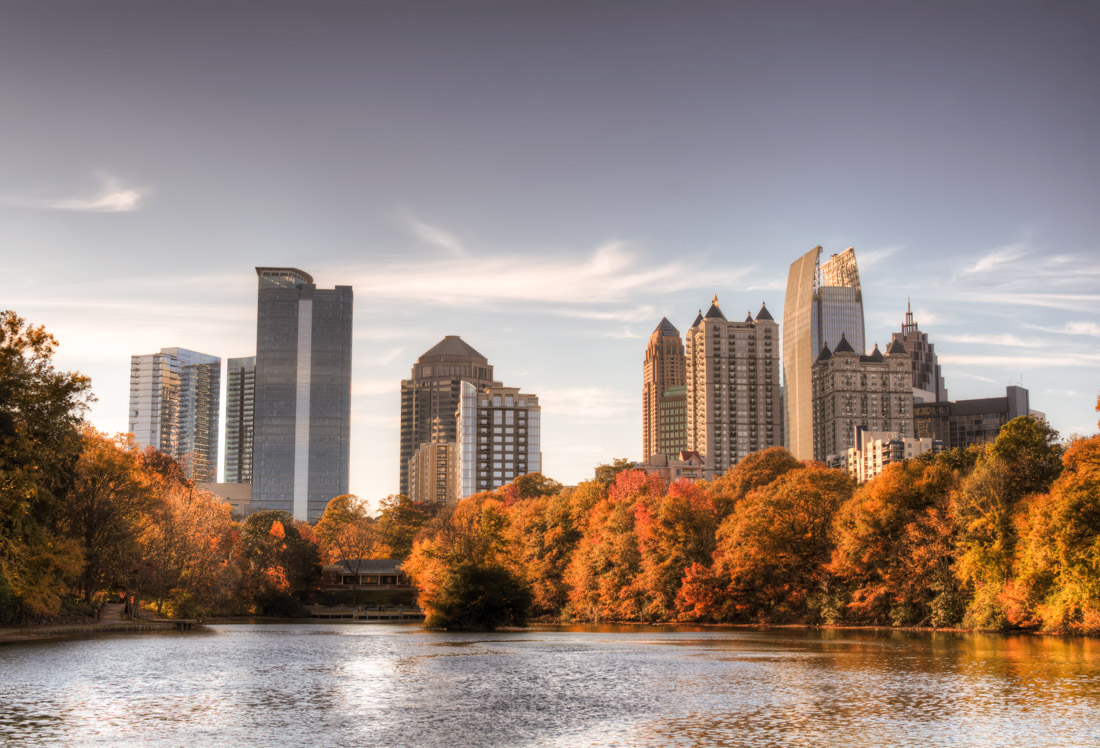 9. Austin (Texas)
Austin in Texas, is a brilliant city of couples who love music.
There is always live music happening around the city and a number of festivals such as ACL and South By Southwest throughout the year.
We love Austin so much we eloped there in 2016.
Romantic Things to do in Austin
Tex Mex breakfast at Ciscos
Brunch on South Congress (So Co)
Walk along Lady Bird Lake
Get in the water on a boat tour or kayak
Sunbathe or swim at Barton Springs
Watch live music on East 6th
Bar hop the craft beer pubs
Grab food truck food
Snap a pic at the I Love You So Much wall at South Congress
And the You're My Butter Half mural
Gorge on BBQ
See the bats fly from Congress Avenue Bridget at sunset from end of March
Stay in a hip airstream
You May Also Like
Our US Guides Featuring Austin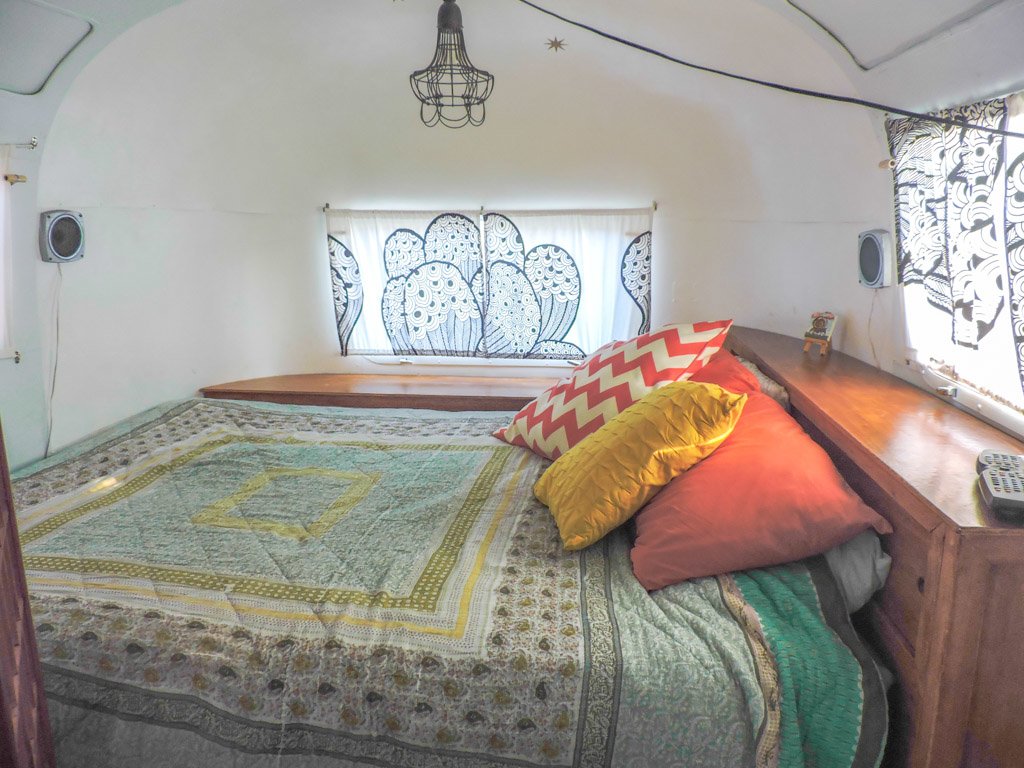 10. Boston (Massachusetts)
Boston is the best city of couples who love food, history and sports.
Red Sox (Baseball), Bruins (Hockey), Revolution (Soccer), Patriots (Football), or Celtics (Basketball), there's always a game to watch live or in a sports bar.
Romantic Things to do in Boston
Try all the food at Faneuil Hall
Walk it off at Boston Common
Enjoy afternoon tea at Mandarin Oriental
Savor a sunset from Bunker Hill Monument
Have drinks and see a sports game in person or at a bar
Splurge on the Boston Harbor Champagne Sunset Sail tour
You May Also Like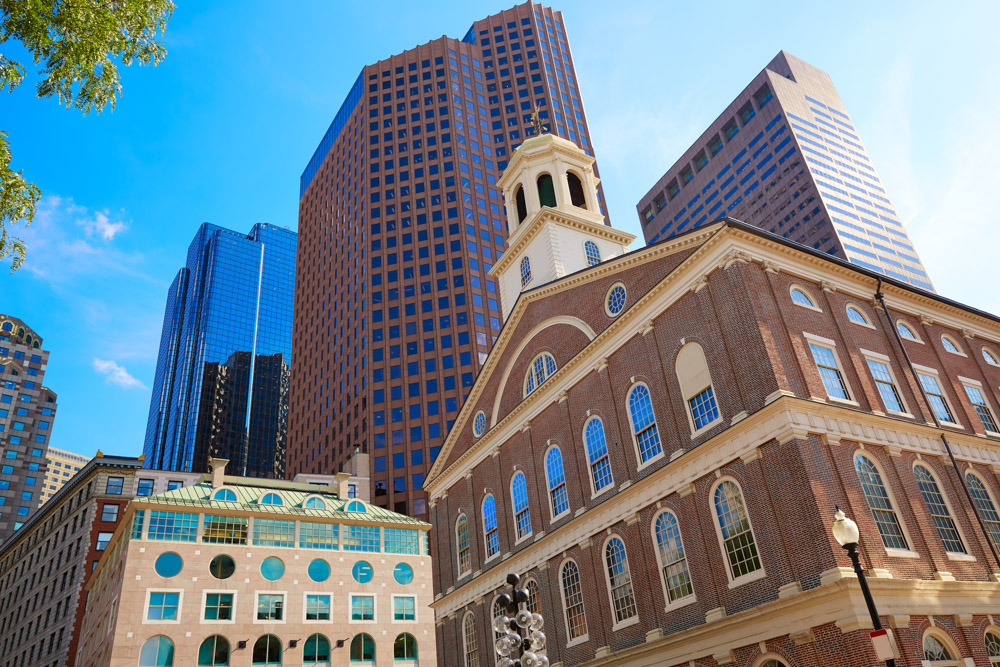 11. Chicago (Illinois)
Broadway, the bean and boat tours, Chicago is a cool city for couples who enjoy sightseeing and sunbathing in summer.
There is a reason why Chicago was featured in one of the most romantic movies, "The Vow," starring Channing Tatum and Rachel McAdams.
Catch a kiss under the Cloud Gate like the main characters did.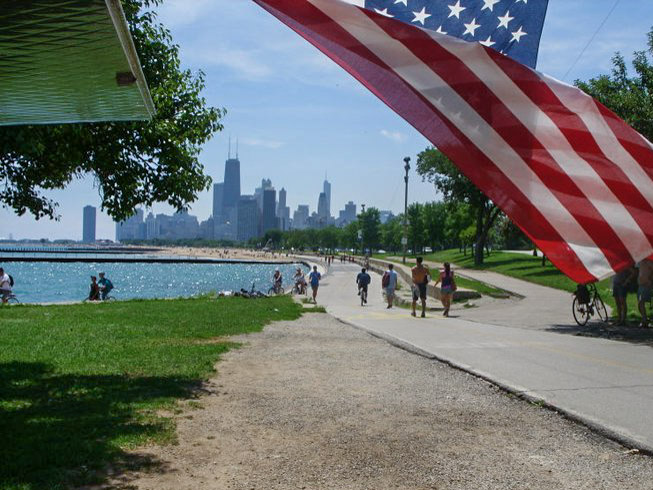 Romantic Things to do in Chicago
Get a bird's eye view from 360 Chicago or the Skydeck
Check out the Art Institute of Chicago
Gorge on deep pan Chicago pizza
Foodies check out the Chicago food and history tour
Do a boat tour to learn more about the architecture
Sunbathe at the manmade lakeside beach
See the Bean (Cloud Gate at Millennium Park)
Watch the sunset at Adler Planetarium Skyline Walk
See a show at The Chicago Theatre (Balaban) or Katz Chicago Theatre
Hang out at the hip Wicker Park neighborhood
Did you know the river is dyed green for St Paddy's Day in Chicago? Check out our guide on the best places to visit in March for more.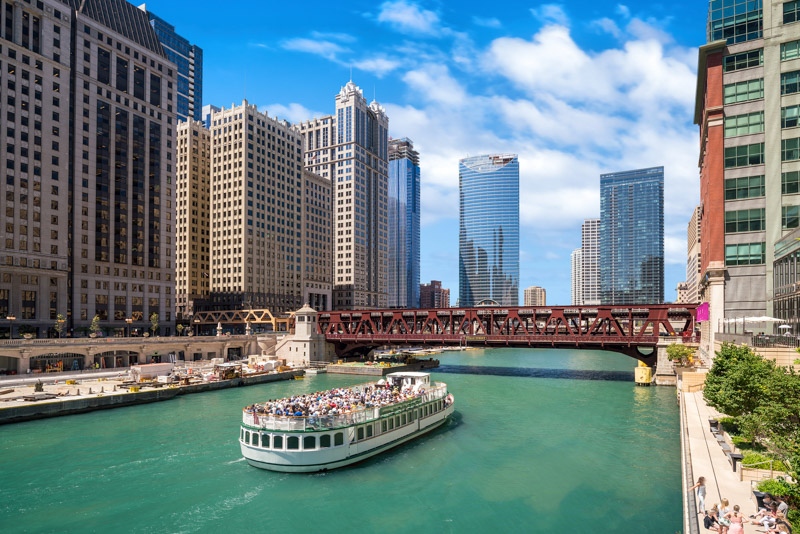 You May Also Like
Here are are few more guides to help plan your romantic getaways in Chicago: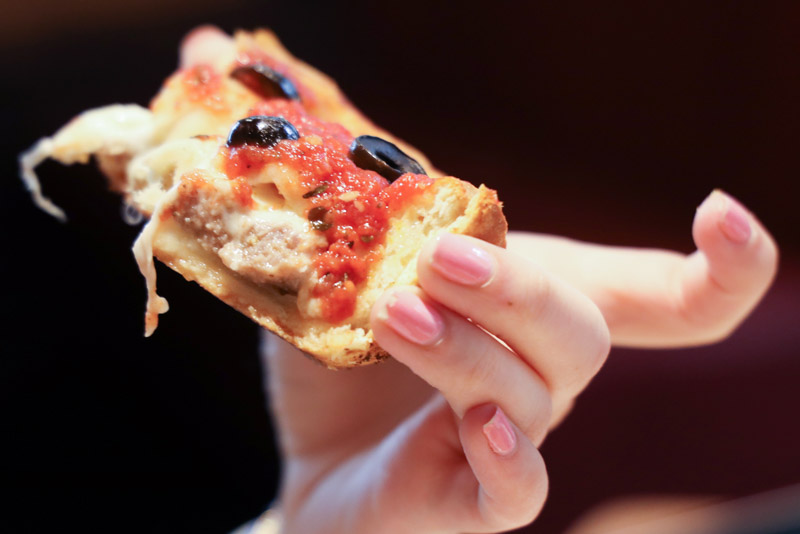 12. Huntsville (Alabama)
Space fans and foodies should think about The Rocket City, Huntsville, AL for their next vacation.
While it's not the most romantic places in the US when talking about conventional romance, it is definitely an underrated destination unconventional couples should consider.
Home to NASA space camp, couples a little of this world can train to be an astronaut like Two Scots Abroad did!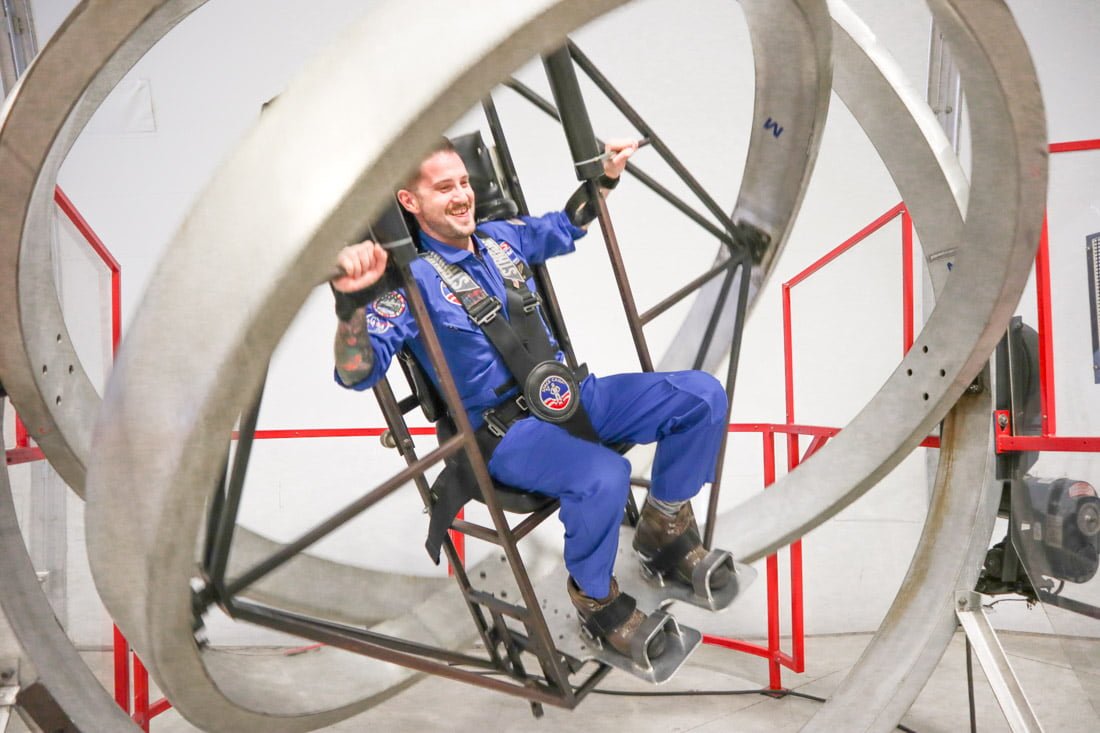 Romantic Things to do in Huntsville, AL
Check out Clinton Row Color Walk street art murals
Lunch on meat and 2 at G's Country Kitchen
Take a stroll through Huntsville Botanical Gardens
Play old school games and have a drink at Pints and Pixels
Browse art and vintage shops at Lowe Mill Arts and Entertainment
Eat pizza, drink craft beer and throw an axe at Campus 805
Or all aboard Blue Bayou restaurant on a train with changing menu
You May Also Like
13. Las Vegas (Nevada)
Is Sin City on your couples bucket list?
You don't have to leave the states to experience some of Europe's most romantic attractions when you have a weekend in Las Vegas.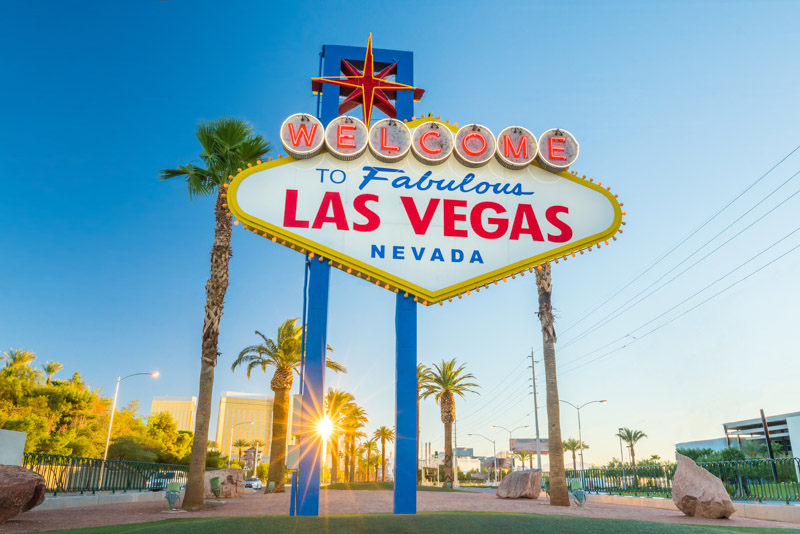 Romantic Things to do in Vegas
For a different kind of 'what happens in Vegas stays in Vegas', check out our best bachelorette destinations guide.
You May Also Like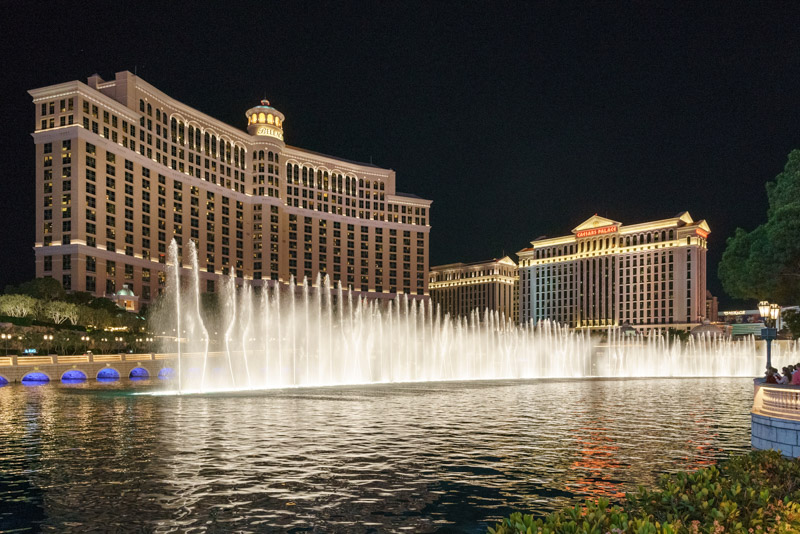 14. New Orleans (Louisiana)
Oh my, New Orleans is the perfect destination for couples who like to party.
Hurricanes and hand grenades, New Orleans cocktails are as lethal as they sound.
The main drag for mayhem is Bourbon Street, where partygoers spill out from bars night and day.
Personally, I think New Orleans is a better party destination than Vegas… What do you think? Tell me in the comments below.
I've partied in NOLA when I was single and with Craig. Had an absolute ball both times.
Romantic Things to do in New Orleans
Listen to jazz on Frenchmen Street
Browse the houses in the Garden District
Eat Po' Boys, Muffuletta and beignets (Cafe Du Monde)
Hop aboard the Steamboat Natchez for live music on the lower Mississippi River
Check out the Creole flavors in food for dinner
Stay in a shotgun colorful wooden home
You May Also Like
15. Santa Fe (New Mexico)
Pretty-looking churches, interesting adobe buildings, art installations, indie cinemas, there's a lot going on in Santa Fe, New Mexico's capital city.
Santa Fe is ideal for the culture couple who likes art, photography, movies and good food.
There's also lots of opportunity to find out more about Santa Fe's history at its museums.
Romantic Things to do in Santa Fe
Grab popcorn from a vendor and people watch at Santa Fe Plaza
Snack on Frito pie (chilli, cheese, and corn chips)
Learn about the city's history at New Mexico History Museum
Check out the artisan farmers' market at Farmers' Market Pavilion
Gallery hop along Canyon Road
Be amazed at Meow Wolf's immersive art installations
Watch the sunset from the Cross of the Martyrs
Catch a movie at community movie house, Violet Crown
Or George R. R. Martin's Jean Cocteau Cinema for indie movies and Game of Thrones themed drinks
Dine on New Mexican food among the plants at La Plazuela
Or with cocktails at Coyote Cafe's rooftop
Romantic Beaches in the USA
16. Carmel-by-the-Sea, California
For the best romantic getaways in California, plan a weekend at Carmel-by-the-Sea.
"Carmel" is a seaside city in the Monterey Peninsula, popular with couples who need fresh sea air and a coastal escape.
If you are a fan of the TV show Big Little Lies, you will recognise the the bridge in the image below from the intro scene.
Big hotel chains are not allowed on Carmel Beach so this is the perfect excuse to book an adorable cozy apartment.
Did you know Clint Eastwood was one of the mayors of Carmel? He won the election twice!
Like the idea of spending time by the beach?
Here is our beach packing list with free checklist so you won't forget a thing!
Romantic Things to do in Carmel-by-the-Sea
Wake up with a walk along Carmel Beach
Hit the boutique shops and galleries on Ocean Ave
Spot the fairy tale cottages made by novice architect Hugh Comstock
Loosen up at the wine tasting rooms
Like Italian? Dine at Il Fornaio Carmel for patio dining
Drive over the 'Big Little Lies' Bixby Creek Bridge (Big Sur) playing Michael Kiwanuka
See The Lone Cypress tree at Pebble Beach (image below)
Pfeiffer Beach south of Carmel-by-the-Sea features is our best US beaches guide so may be worth adding to your romantic itinerary.
17. Cannon Beach (Oregon)
Cannon Beach is popular with day-trippers who want to see the famous Haystack Rock.
However, this guide to the most romantic places in the US suggests staying for longer than just a day so you can check out some of the other beaches and parks in the area.

Perfect for the couple who appreciates scenery and the outdoors, it is Oregon after all!
Romantic Things to do in at Cannon Beach
Grab takeout coffee at the beach
Learn more about the area at Cannon Beach History Center
Eat fish and chips by the beach for dinner
Head to Hug Point for another sandy beach cove hangout
Ecola State Park 2-4 mile trails and coastline views
Enjoy the sunset at Cannon Beach
If visiting in summer, check out the lavender farm estates
Cannon Beach also features in our guide to beach towns in Oregon and best beaches to visit in December, for a fresh, festive beach trip!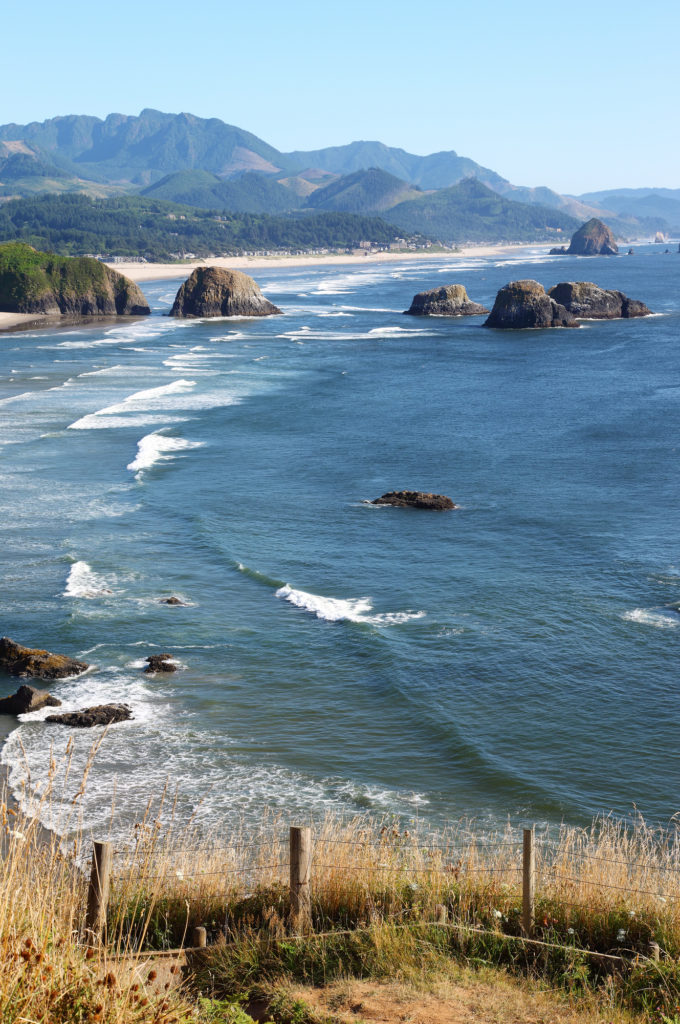 18. Key West, Florida
If you want a Valentine's vacation at one of the popular warm places to visit in February in USA, you cannot miss the diving capital Key Largo or the party-heavy Key West.
At Key West, you can go to state and national parks or enjoy diving, cycling, kayaking, boat tours, sailing, and so much more.
Romantic Things to do at Key West
If you love seafood, Key West Lobsterfest takes place in August! Plan to come back later for another romantic getaway in the US.
Key West is one of the most popular romantic beach getaways in Florida if you love being outdoors.
You May Also Like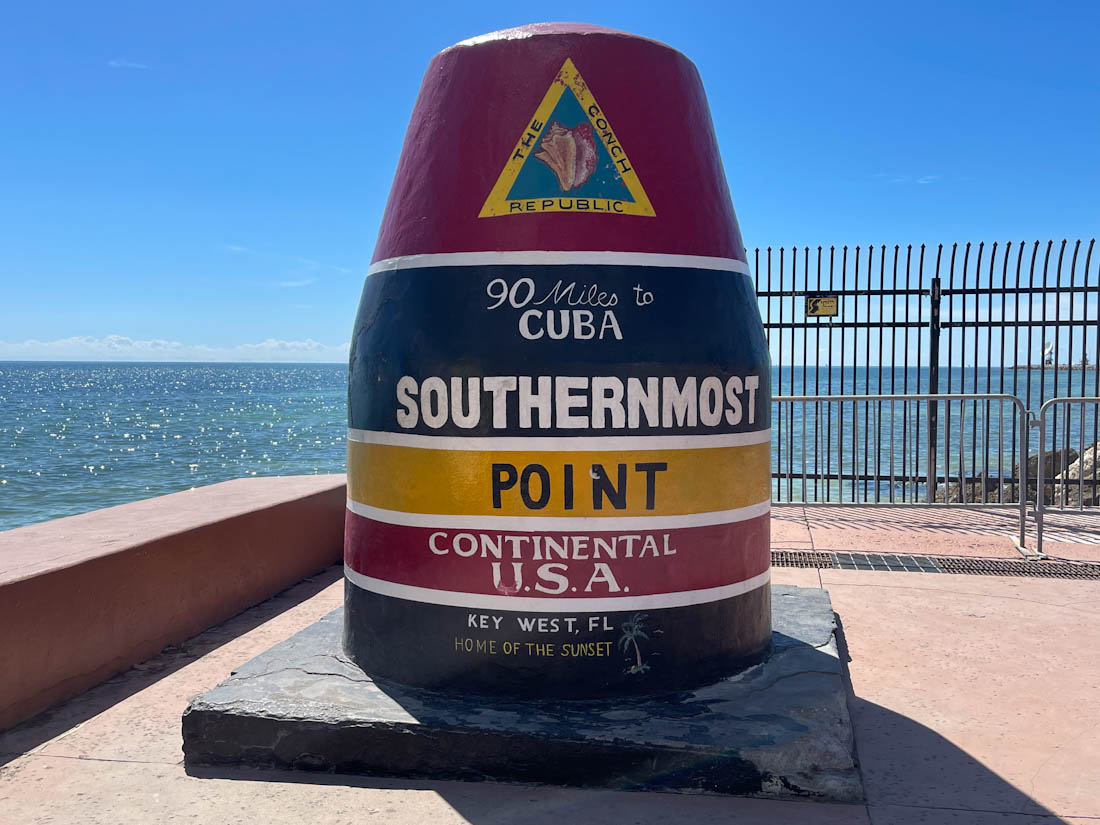 Dreamy National Parks
Finally, let's hit the road and take a look at what national parks can offer couples. Think long winding roads, hot springs and unique accommodation.
19. Hot Springs (Arkansas)
Arkansas is a great base for those who need chill time together.
This state is famous for the National Historic Landmark, Bathhouse Row which is a series of eight bathhouses and gardens at Hot Springs National Park in the city, Hot Springs.

You know with a name like that the focus is going to be relax, unwind and find time for each other.
Hot Springs is the smallest of the US National Parks at 5,550 acres.
However, it still pulls in crowds of couples looking for a special trip together because it has 47 natural hot springs located on Hot Springs Mountain.

These hot springs are loved by visitors because they don't have that pongy smell that other outdoor springs let off.
Some of the bathhouses were built directly over these natural mineral water springs located along Hot Springs Creek and previous customers include sports stars, Hollywood celebs, and famous gangsters.
Hot Springs is also known for its architecture. Many of the bathhouses are influenced by Spanish and Italian designs. The oldest is Hale Bathhouse which was built in 1893.
The city of Hot Springs is also nice to visit during the fall in Arkansas.
Romantic Things to do in Hot Springs, AR
Book into a bathhouse such as Buckstaff or Lamar
Enjoy a massage or other beauty treatment
Check out the museum at The Fordyce Bathhouse
Read about Hot Springs and Al Capone's relationship at the Gangster Museum of America
Do the free Bathhouse Row walking tour to learn about the history
Hike the 26 miles of trails for forest scenery
Learn about the Natives who named the park 'The Valley of Vapours'
You don't have to book into a bathhouse at Hot Springs. There are number of apartments near the park if you prefer to have your own space and kitchen facilities.
"The Great American Spa" is one of the best romantic getaways in Arkansas for its healing properties, the champagne of nature and history.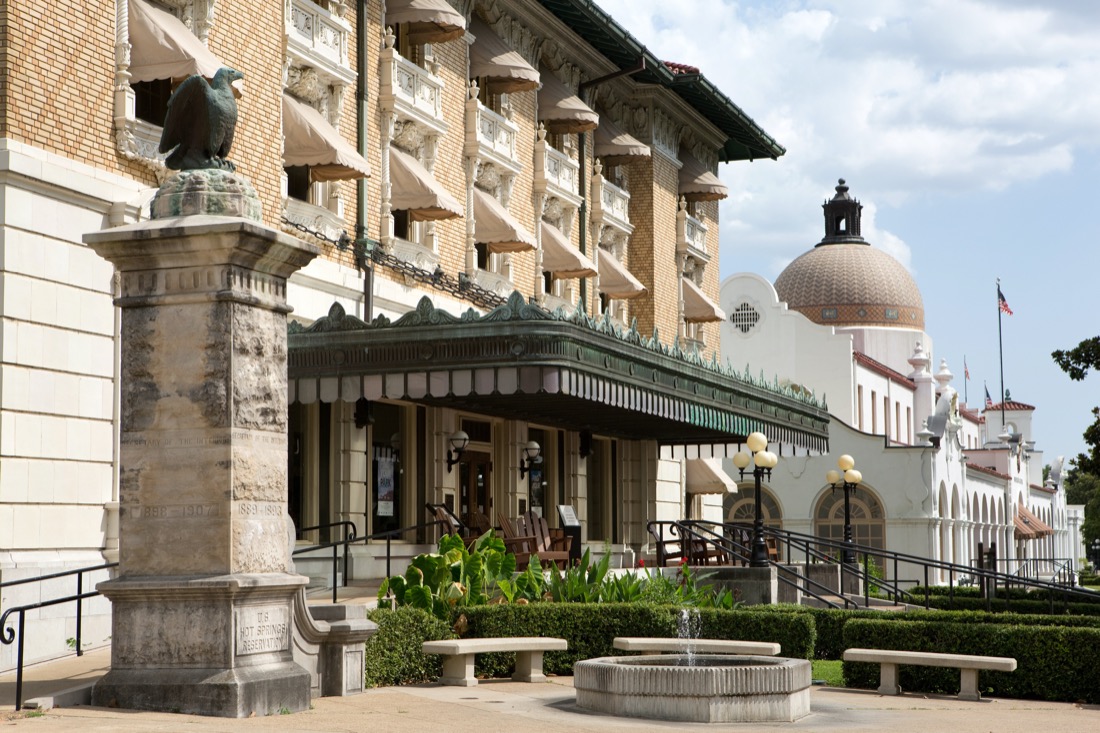 20. Grand Canyon (Arizona)
Early hikes with sunrise, restaurants with views for sunsets and star gazing at night. Who can ever say no to the home of the Grand Canyon?
Arizona has the most stunning natural beauty. Surrounded by red mountain peaks, desert landscapes, and vast canyons, you have lots of choice of how to get around them via hiking, biking, boating and from the sky.
Deemed "profitless" by Colorado River explorer and botanist, Joseph Christmas Ives, the Grand Canyon was protected as a forest reserve in 1893.
This saw a boom in elite folks visiting it, putting the Grand Canyon on the US tourism map.
In 1908, it became a national monument and in 1919, the US's 17th national park.
The Grand Canyon is now landmark and one of the main reasons international visitors choose the west coast of the USA as a destination.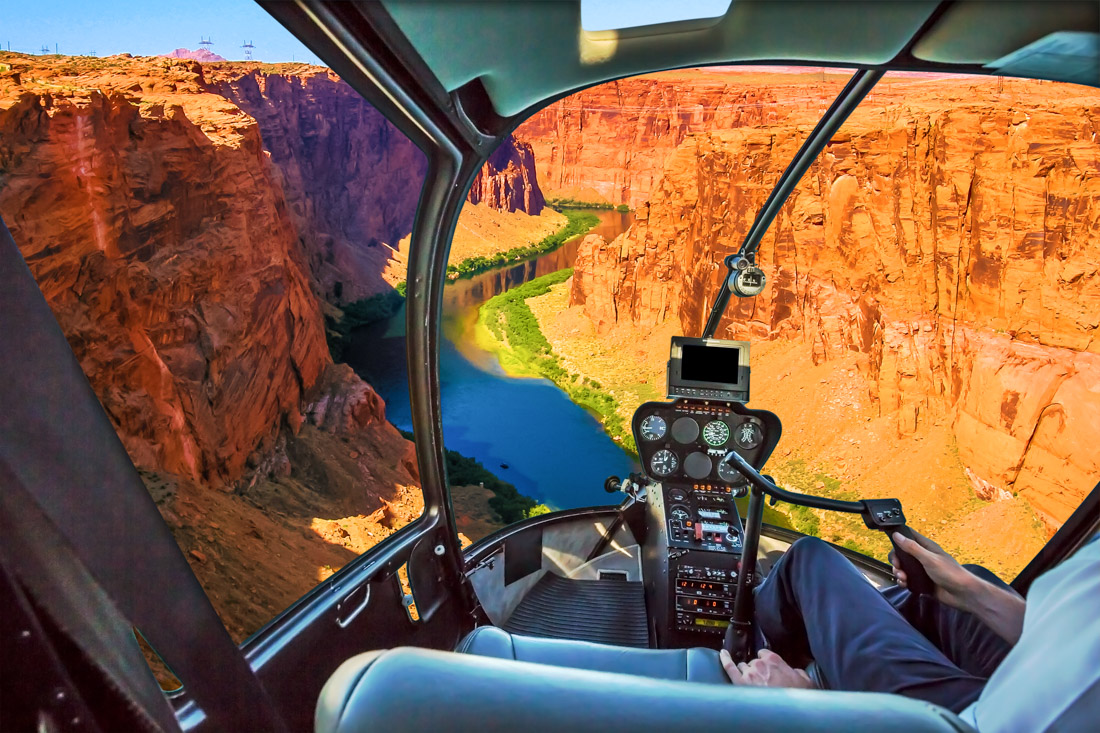 Romantic Things to do at the Grand Canyon
Ride in on the historic railway at Grand Canyon Village
Reserve your spot on the 2-hour South Rim jeep tour
Check out one of the few female architects of her time, Mary Colter's buildings such as The Lookout at South Rim
Learn about the 11 Native American tribes that remain
Enjoy panoramic views of the Canyon on a 45-min helicopter ride
Get wet on a rafting tour on the Colorado River
Experience the sacred Rainbow Bridge arch
Stargaze from Moran Point and Lipan Point
Grand Canyon obviously features in our most romantic national parks guide.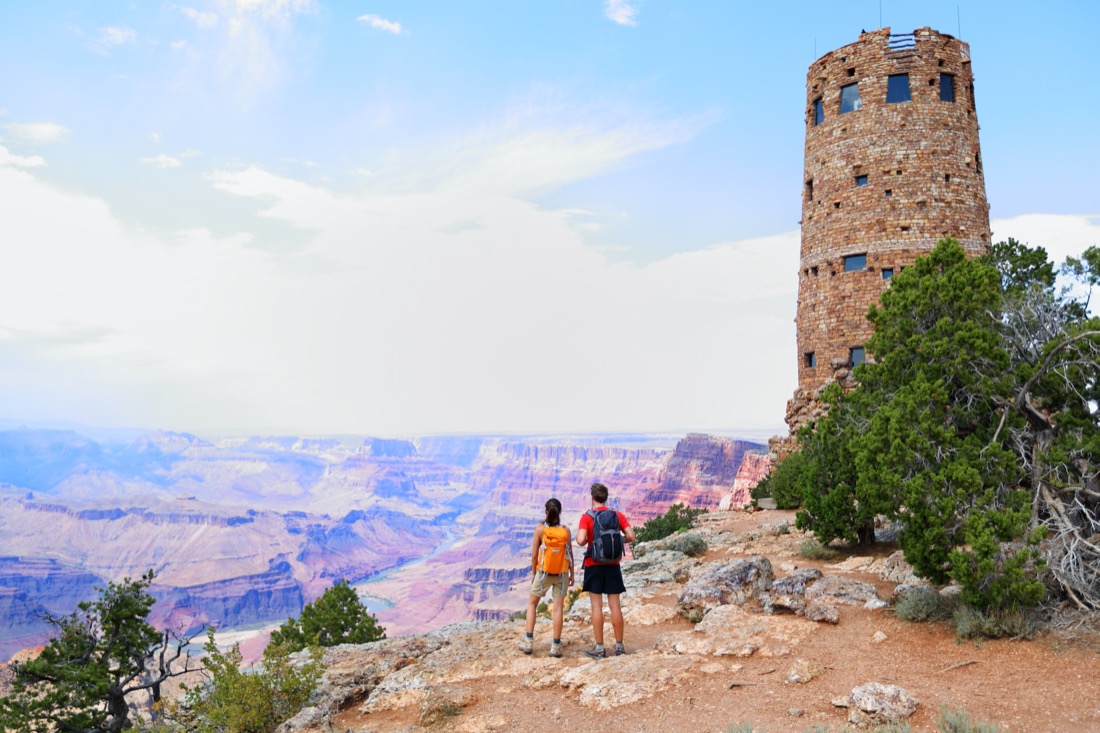 21. Big Bend National Park
The 15th largest national park, Big Bend, is a great option for couples who like relatively easy hikes, hot springs, cool yurt-style accommodation and stargazing.
Located in West Texas, there are a number of stops close to Big Bend that are worth factoring into your itinerary.
Terlingua, the ghost town, is home to historic ruins from mining companies and photogenic yurt accommodation.
Marfa is a cool art town with art deco buildings and art installations.

Read our Texas road trip guide for more details.
Romantic Things to do Big Bend National Park
Hike the 201 miles of trails
Enjoy a dip at Boquillas Hot Spring
Do the 2-minute boat ride to Mexico for lunch
Canoe through Santa Elena Canyon
Watch the sunset
Stargaze at night
Big Bend Accommodation
There are four campsite in the park and you must book online before you arrive.
If you miss a booking, there is an overspill campsite Stillwell Store RV Park, 20 minutes drive from the Persimmon Gap Visitors Center.
It is really common for visitors to stay in Terlingua and travel into the park.
Terlingua Hotels
---
Save for later! Pin to your USA planning board
---
Final Words
Evidently there are plenty of romantic getaways in the United States to suit any and every couple. Whether you like partying or paddling, hiking or hot springs or mix of them all, there's the perfection destination for you and your loved one this Valentine's Day and all year round.