This article has links to products and services we love, which we may make commission from.
There is no denying it, New Orleans, Louisiana, is wild! From the French Quarter to Bourbon Street, the Garden District and Marigny, each area have something unusual to offer.
So whether you are a first-time visitor or a repeat offender, let's take a look at the unique things to do in New Orleans.
Unusual Things to do in New Orleans
Get Your Bearings
The five main areas you are most likely to spend time in during your trip to New Orleans (pronounced New Or-Leens/Or-Lins) are the Central Business District, the famous French Quarter, Marigny (Frenchmen Street), the gritty but pretty, Bywater, and upmarket Garden District.
While some of these New Orleans activities are not unique in NOLA they are definitely unique to New Orleans.
Where else in the world can you eat Po'boys and drink hand grenades on the street while a jazz player strikes up out of nowhere?
We've split this guide into two sections, unique things to do in New Orleans and unique to New Orleans things to do, so if this is your first time visiting, you won't miss out on all the things that make NOLA special.

Unique Activities in New Orleans
1. Stay in a Shotgun
Shotgun! Double shotgun!
Marigny is a New Orleans neighborhood lined with colorful wooden houses and front porches just crying out for a rocking chair.
The area is popular with visitors staying overnight in a unique shotgun house.
The name shotgun is said to come from the house's layout, where a bullet shot from the front door would pass through the house without hitting anything and exit through the back door.
Since some areas of Marigny are a bit sketchy; listen to the advice from your host on what routes to walk.
We stuck to Royal Street, as advised, with no issues.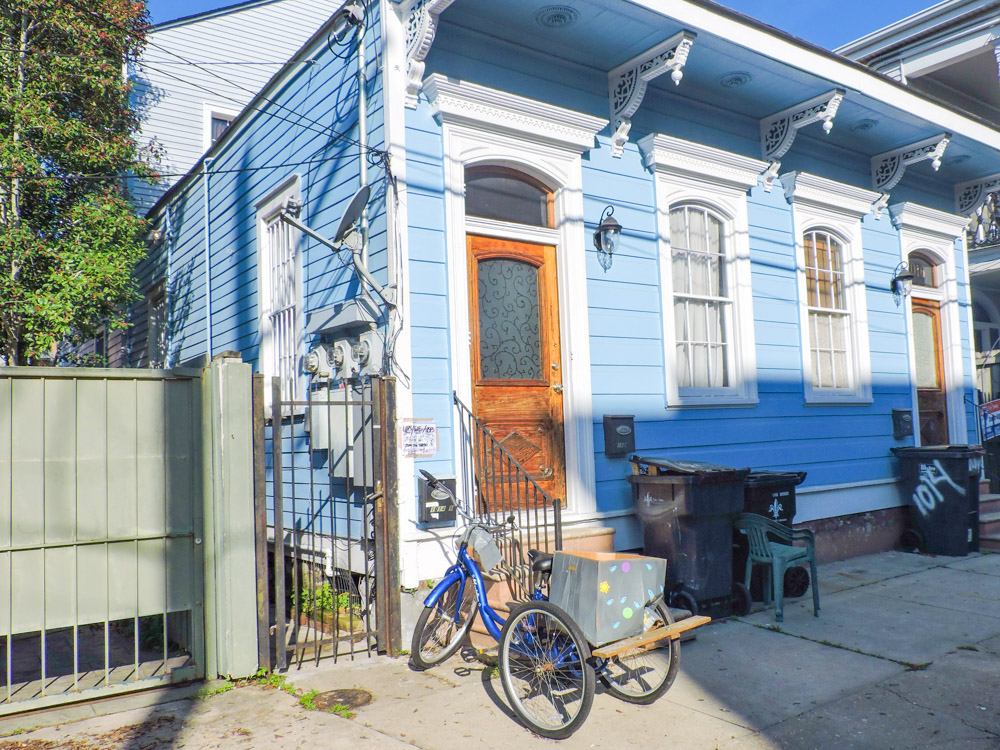 2. Street Car to Garden District
Take the painfully slow St Charles New Orleans streetcar to the upmarket Garden District and explore the gloriously big historic houses with their patios and balconies.
The Garden District is home to impressive mansions which are decked in Hallowe'en decorations in October!
If visiting for the spooky season, head to St. Charles Avenue and The Skeleton House (6000 St Charles Ave) for impressive decor.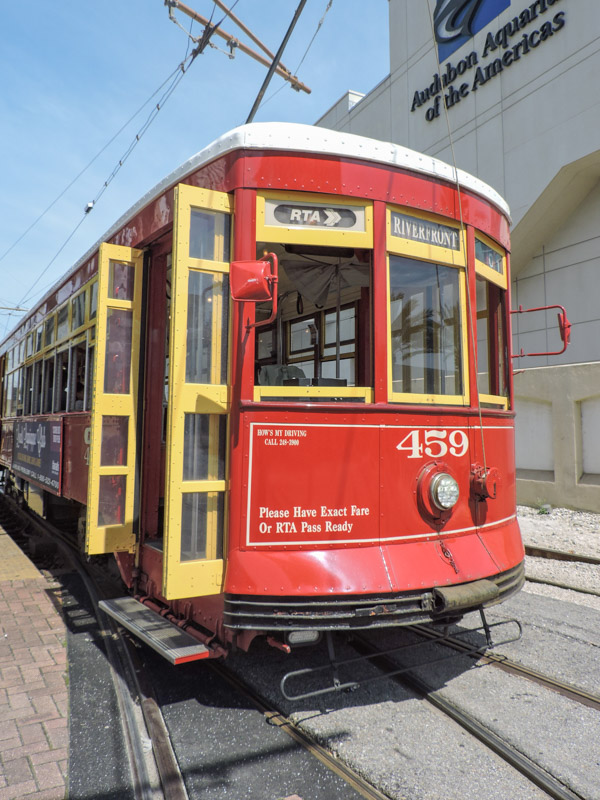 3. Lafayette Cemetery No. 1
Pay your respects to the deceased buried in large tombs and standalone mausoleum buildings dating back to 1833 at Lafayette Cemetery (1427 Washington Ave).
4. Magazine Street
Following the shape of the Mississippi River, the six miles of Magazine Street starts in the French Quarter and serves up a variety of locally-owned shops, bars and restaurants.
5. Day Jazz Cruise on the Steamboat Natchez
While jazz or steamboat rides are pretty typical things to be celebrated in New Orleans, a fusion of the two is quite unusual.
All aboard the Steamboat Natchez for a throwback adventure over the lower Mississippi River.
Learn about the history of the waters and listen to a jazz session during this two-hour tour.
Creole lunch is an additional option.
What about visiting New Orleans in March for Mardi Gras?
You can read our tips on the best places to travel to in the US in February and March when the festivities occur.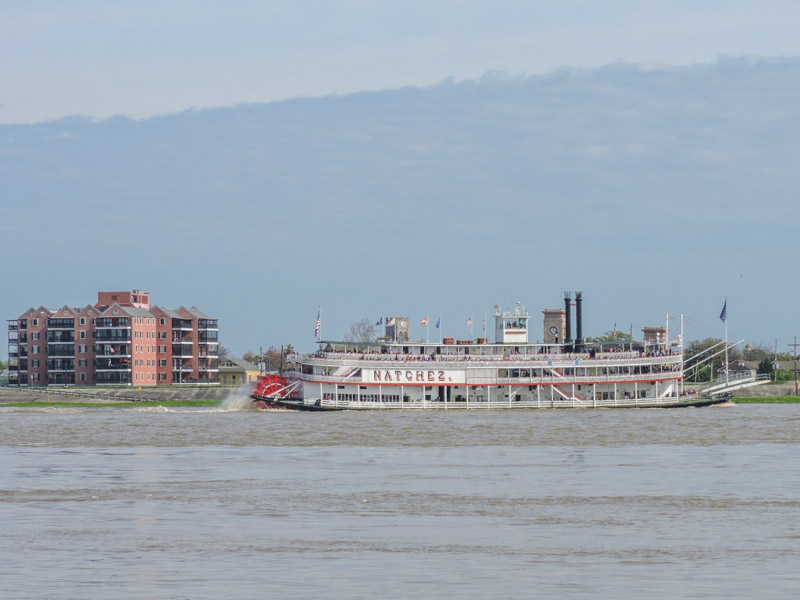 6. Who Dat Coffee Cafe
Great coffee, Bloody Marys and Mimosas.
The food ain't too shabby either.
'Who Dat' (2401 Burgundy St) is a typical New Orleans Saints football team meaning who's that?
7. Snack on Snowballs
Cool down with shaved ice covered in sweet flavors like pink lemonade.
Make it 'stuffed' by adding soft-serve ice cream to your order.
8. Snap Street Art
While the majority of original Banksy murals in New Orleans are gone, you can see his Rain Girl/Umbrella Girl under plexiglass at the corner of Kerlerec Street And N Rampart Street.
It's reported that Banksy has done around 11-17 pieces in New Orleans, but for some reason, they've been painted over or trashed.
Luckily, there are great finds still to be discovered around Bywater, Marigny, and St. Roch, including Live A Great Story, which we also saw in Austin, Texas.
9. Tiled Neighbourhoods
Look down and document the areas of the city by capturing the names embedded in pretty tiles on the ground.
10. Dine at Dat Dogs
From hot dog stands to multiple restaurants in New Orleans, Dat Dogs (601 Frenchmen St) has come far since its opening in 2011.
Warm rolls filled with meat 'dogs' of your choice and then toppings are served in plastic diner baskets with award-winning fries as a side.
Vegan options are available too. We dined at Dat Dogs balcony with the welcomed sun on our faces.

Things to You Can Only do in New Orleans
11. Bob Your Head at Bamboulas
There are several notable jazz joints on Frenchmen Street, so you can't really take a wrong turn.
We enjoyed live music in the afternoon at Bamboulas (516 Frenchmen St), where a six-piece band belted out tunes.
12. Eat Po'Boys
Put some south in your mouth! A po'boy is a traditional sandwich native to Lousiana created to feed the streetcar strikers in 1929, the 'poor boys'.
The bread is usually a French baguette-like roll. Fillings include meat, fried seafood, crawfish, etc.
You can pick up po'boys at lots of eateries in New Orleans at any time of the day.
They are great for soaking up the alcohol later in the evening.
Warning, they are a two-hand job.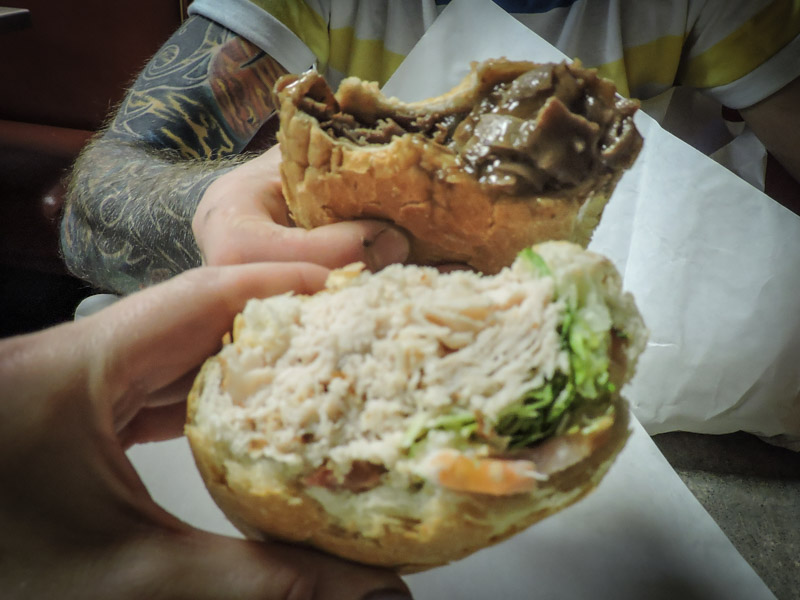 13. Johnny's Po-Boys
Family-run Johnny's Bo-Boys (511 St Louis St) is now in its third generation of family members serving the NOLA sandwich.
Voted the best po'boys in the city, this cafe is compact and full of chit-chat.
The red and white checkered table mats continue the vintage diner feel, especially for outsiders like us anyway.
14. Munch Muffuletta at Central Grocery Deli
Johnny's Po-Boys also serves Muffuletta, but the famous spot to try the Italian stuffed sandwich is at Central Grocery Deli (923 Decatur St).
The Muffuletta was invited here, and they proudly call themselves the Muffuletta Head Quarters.
Sicilian bread, introduced by the Italian immigrants in the city, is sliced open, and olive salad, soppressata salami, mortadella sausage, capicola pork and provolone cheese are added.
It's cut into quarters because the circular roll is the size of a human head.
15. Devour Cafe Du Monde
All hail the Cafe Du Monde beignet (800 Decatur St)!
Are the lines long?
Yes!
Is it worth waiting for?
Absolutely. Since 1862, Cafe Du Monde has been serving bags of sweet clouds of happiness dusted with fine powdery sugar.
Hands down! They are one of the best treats in the world.
See what I did there?
Cafe Du Monde is open 24 hours, so you can avoid the lines by buying later in the evening.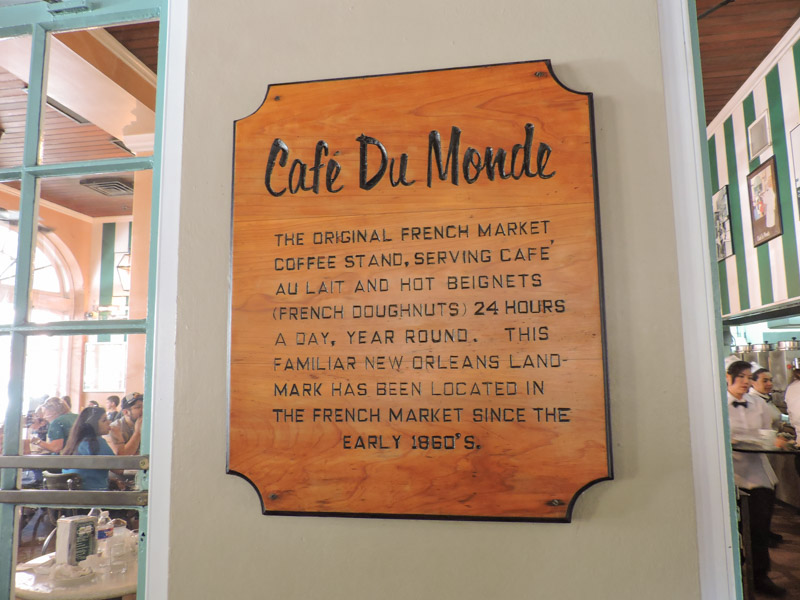 16. Eat Seafood
Seafood plays a massive part in the New Orleans culinary scene utilized in different ways by the mix of cultures (Cajun, Creole, French, Italian, Croatian, to name a few) embedded into the city fabric.
Stuffed into Po'Boys, stewed as part of gumbo or simmered in Jambalaya, there is no shortage of menu options. Foodies: check out this guide to cheap eats in New Orleans.
17. Drink Hand Grenades
Don't even ask what is in them!
Hand Grenades are lethal melon-tasting potions served in carnival-style cups.
You can purchase your weapon at Tropical Isle on Bourbon Street.
Drink in or take out; the decision is yours.
If you really like it, you can take a sachet of the wicked potion home as a souvenir too.
18. Lafitte Blacksmith Shop Bar
Welcome to the oldest bar in the United States, apparently.
You'll know you are at Lafitte's by the crowds of punters drinking outside the premises.
Named after the French pirate, Jean Lafitte, the bar is pretty dark and mostly lit by candlelight, so you can enjoy the hideout vibes.
Try the purple daiquiri Voodoos.
19. Have a Hurricane
You can get the curved-glass Hurricane cocktail in many of the New Orleans establishments but for the original, head to Pat O'Briens.
Although we normally avoid Irish bars abroad, we do recommend hanging out at Pat O'Brien's courtyard with a Hurricane.
There's a novelty flaming fountain that makes for great Boomerang videos.
We love the slogan, having fun since 1933.
20. Party on Bourbon Street
This place is carnage, bead necklaces everywhere, drunk couples fighting, people spilling out of bars, graffitied signs, groups singing, music blaring – it's like Spain's Benidorm in one street.
But fun!
There's more on Bourbon Street in this New Orleans in this 48-hour guide.
21. Flash For Beads
Jokes, you don't have to show your bra for beads.
There are Mardi Gras beads everywhere.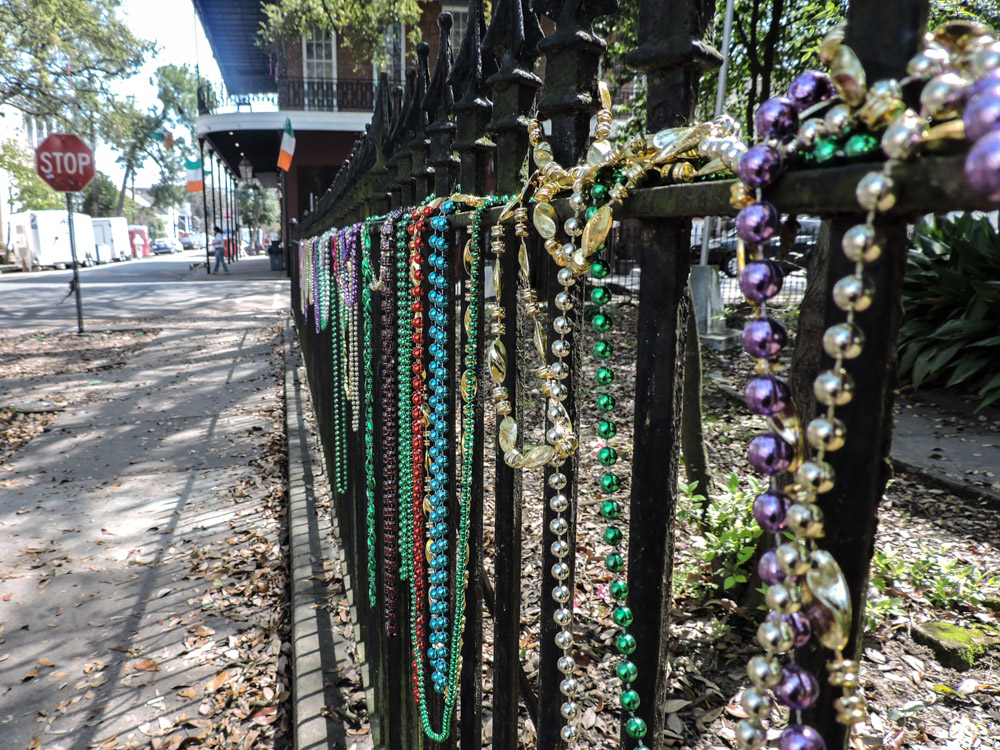 22. The Revolving Carousel Bar
Join the masses and enjoy a drink at Hotel Monteleone Revolving Carousel Bar (214 Royal St).
It does actually move and looks like it should be at the fair. Arrive early to get a seat.
Many also visit Hotel Monteleone for some excitingly haunted experiences during their trip to New Orleans in fall.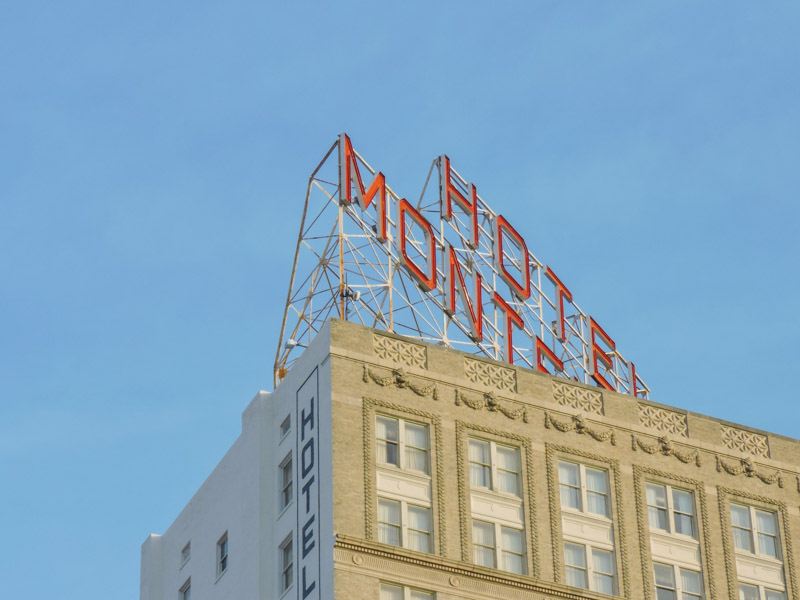 23. St. Louis Cathedral
The Saint Louis Cathedral (517 Gravier Street) was founded in 1720, making it the oldest Cathedral in North America.
It is a Gothic Revival style building and is a still active Roman Catholic Cathedral.
The cathedral is listed on the National Register of Historic Places.
Take a tour to see the gorgeous interior.
Practical Information
Getting to New Orleans
The best way to get from Louis Armstrong Airport to downtown is by taxi or Uber, which costs around $40.
The airport shuttle bus is cheaper but makes more stops.
Therefore, the journey is longer.
Getting Around New Orleans
Cabs and Uber are affordable in New Orleans.
Regional Transit Authority and Jefferson Transit are responsible for buses and streetcars in the city. You can download the RTA for real-time routes and services.
New Orleans is one of the more affordable and popular cities to visit in the US. Here's our guide to cheaper US destinations.
Accommodation
New Orleans Hotels
New Orleans is an expensive city for accommodation. Hitting around the $300 per night mark for affordable options. Notable hotels include:
New Orleans Hostels
Hostels are a cheaper option.
New Orleans is said to be a lot of fun at Christmas. Here's our guide to winter sun locations in the USA.
---

Final Words
There's not quite anywhere like New Orleans. Everything about this city is special.
The sounds, friendliness, the characters, the native cocktails list as long as Magazine Street, the mash-up of cultures and that impact on food.
I hope you've picked up new ideas for your New Orleans itinerary. Tell me what unique attractions or events I've missed out in the comments below.