This article has links to products and services we love, which we may make commission from.
Fresh ocean breeze, outdoor adventures and lighthouses! This guide shares the best coastal towns in Oregon. Whether you are traveling as a couple, family or with friends this guide will provide some inspiration for you next getaway.
We've included cities on the Oregon coast for getaways with good food, history and cultural attractions and small towns for a more remote and rural experience.
You may also like our guide to dreamy coastal towns in Washington.
Northern Cities on the Oregon Coast
Step Back in American History in Astoria
Astoria, the oldest city in Oregon and the first American settlement west of the Rockies, is perfect for the coastal explorer.
With Victorian-style architecture and tons of museums, forts, rivers, and forests, you'll never run out of cool spots to find.
If you're more of a history buff, you have to check out the Lewis and Clark National and State Historical Parks.
Explore the preserved sites along the Colombia River and the replica Fort Clatsop, where the two explorers began their settlement.
This is the best place to go on the Oregon Coast for historians.
Catch the famous sea lions, eat pizza and drink coffee at Astoria's largest and oldest waterfront building, Pier 39.
Make sure you check out Buoy Bay Beer Company (No. 1 8th St) on your adventures in Astoria!
The taproom is filled with local beers made with the best ingredients, brewed by locals with a deep connection to the city.
Go Surfing on Perfect Waves in Seaside
You'll love Seaside, the sunniest coastal town in Oregon.
Whether you prefer hanging out at Seaside Beach or strolling along the Seaside Promenade, this town is the best for outdoor excitement.
This town has been an iconic vacation destination since the mid-1800s, so you can trust the centuries of fellow travelers who have returned to this spot year after year.
Seaside Beach has incredible surfing conditions with the best waves and fresh waters.
After a sun-soaked day at the beach, make sure you head over to the historic fairground and check out the arcade, rides, and food stands!
The 'Prom' is a mile and a half long and hugs the scenic coast of the Pacific Ocean.
It's 15 feet wide and perfect for a family adventure or for a runner or biker.
Enjoy seafood at Dooger's Seafood & Grill or burgers at Ruby's Roadside Grill.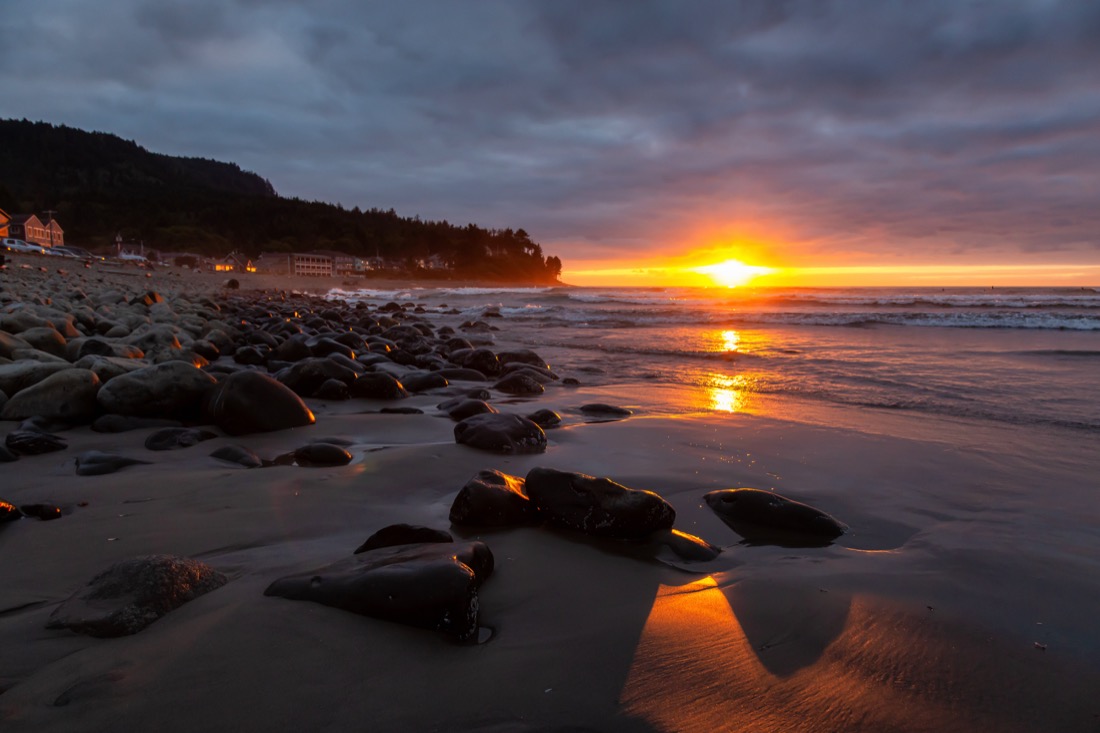 Cannon Beach for an Award-Winning Beach Vacation
Cannon Beach also features in our romantic getaways guide and was named one of world's 100 most beautiful places by National Geographic!
This seaside city is popular with day-trippers looking to get a picture of the famous Haystack Rock, gray whales (spring and winter) and tufted puffins (April through early July).
There are plenty of easy hiking opportunities at Ecola State Park with its 2-4 mile trails.
Watch live glassblowing, watch a show at the 1920s Coaster Theatre Playhouse or browse the galleries.
End the day with fish and chips by the beach or oceanfront dining at one of Cannon Beach's smokehouses, breweries or restaurants.
Visit Manzanita for Photography
The tiny town of Manzanita is the best place to visit on the Oregon Coast to escape the tourists.
The main attraction of the city is its 7-mile-long beach, helping Manzanita to be one of the most photographed areas in Oregon.
Play in the soft sand and turquoise waves of Manzanita Beach, or explore the bays to spot schools of salmon, sturgeon and trout.
Whenever you're ready for a sweet treat after your day at the beach, stop at Schweitert's Cones & Candy (387 Laneda Ln).
Step back in time and try old fashioned soda, a giant scoop of ice cream, or a rich cup of coffee.
Go Hiking on Dunes in Pacific City
If you're looking for another small town in Oregon perfect to escape the tourist crowd, Pacific City is the perfect spot.
With just about 1,000 year-round residents, you won't find another hidden gem quite like this place.
Because of its small size and calm beaches, Pacific City is one of the best beach towns in Oregon for families.
Pacific City Beach is located off McPhillips Dr and is just south of the Cape Kiwanda State Natural Area.
Oregon is known for its capes, and Kiwanda is the smallest of the three major capes.
There are incredible conditions for surfing at the beaches in Pacific City, but you can spend the day at the beach exploring tidepools, boating, and hiking up to the top of Cape Kiwanda for an amazing view of Haystack Rock.
Don't forget to check out Haystack Rock Coffee and Kiwanda Surf Co., a sunny and open café with local coffee from KLLR Coffee and locally baked goods from Buttercream Bakery.
Best Spots on the Oregon Coast – Central
Soak up the Sun on Lincoln City's Seven Mile Beach
Featuring over 7 miles of beaches and coastlines, Lincoln City is a place families come back to year after year, making it one of the best coastal cities in Oregon to live.
To get to the North Beach most easily, head to Roads End State Park or D River Wayside; both of which have tons of parking, restrooms, and ramp access.
There are 7 additional access points on NW 5th, 15th, 21st, 26th, 35th, 40th, and 50th streets, but each has very limited parking.
To get to South Beach, the best access point is SW 51st St. There is tons of parking, restrooms, a covered pavilion, and beach wheelchairs available at Looking Glass Inn.
Play in the Ocean Spray in Depoe Bay
Depoe Bay is home to the smallest navigable harbor, which is hardly 6 acres in size, and has been featured in several films and TV shows.
This little town is perfect for the ocean lover.
It features a massive seawall that runs the entire length of the downtown area, which means the sprawling Pacific Ocean is mere steps away.
Depoe Bay is the best places on the Oregon Coast to be in the middle of a storm.
Because of the unique geographical design of the town, during big storms, the ocean actually spouts up in a huge spray of water above Main Street–a truly spectacular sight.
Celebrate this unique ocean phenomenon at The Horn Pub House and Brewery (110 SE Highway 101), a local coastal icon, for fresh seafood, craft beer, and handmade pizzas.
Hike Through Rainforests in Yachats
A top award-winning town in America, Yachats and its attraction is one of the most essential things to see on the Oregon Coast.
You'll never have to choose between hiking through lush temperate rainforests or enjoying the sand and surf of an iconic beach town; the two biomes are side-by-side in Yachats.
One of the best parts about Yachats is that there are so many free opportunities to get outside from coast to forest.
With three free oceanside state parks, a marine preserve and protected areas, and tons of accessible trails, Yachats is an affordable coastal town in Oregon for outdoor-lovers.
Escape the Crowds in Florence
Florence is the coastal town in Oregon locals love.
Its main attractions are its massive sand dunes, miles-long beaches, and amazing shops and restaurants.
Locals love whale watching and exploring old sea lion caves, or going on dune buggy tours and checking out the historic lighthouses.
One of the best places to visit is Historic Old Town Florence.
You'll love the antique shops, quaint boutiques, and the amazing farmer's market in the spring and summer.
For a delicious, romantic meal in Historic Old Town, make sure you stop by The Waterfront Depot (1252 Bay St).
The restaurant prides itself on its elevated coastal cuisine, so order up a serving of Lemon Pepper Prawns with a fresh glass of wine and step back in time during your stay in Old Town.
Best Places on the Oregon Coast – South
Coos Bay
For a bigger city experience, stay in Coos Bay, the biggest town on the Oregon Coast.
With a population of almost 17,000 residents, Coos Bay is a hub for culture and entertainment on the south coast region.
Though it is a larger city than most, it still boasts the patient, relaxed atmosphere of the rest of the state.
Explore the beautiful rainforests, fish in the clear rivers, and climb the breathtaking dunes in Coos Bay.
Make sure you stop in the historic Coach House Restaurant and Lounge for local oysters and the freshest seafood around.
The Couch House has been around in one form or another since the early 50s, and it still stands today as an iconic gathering spot for locals and travelers alike.
Visit the Historic Lighthouse in Bandon
The city of Bandon is a nature lover's dream.
With year-round moderate temperatures and outdoor opportunities for everyone, your whole group will find something amazing to do.
If you're planning a fun beach day, make sure you make the short trip to Bullards Beach State Park (56487 Bullards Beach Rd).
After a mile-long walk or bike to the beach, you can explore the historic Coquille River Lighthouse at the end of the beach access road.
Enjoy quiet trails well-protected by beautiful shore pines, or walk the nearly 5 miles of beaches extending beyond the lighthouse.
Start Your Coast-to-Coast Trip at Port Orford
There is no better place to begin or end your coast-to-coast road trip than with Port Orford.
It is the most westerly point of the continental U.S., which means you'll be perfectly set to travel the entire width of the country.
Even though the town features a bustling fishing port and incredible art, you won't find many crowds.
A small yet thriving community, Port Orford is one of the best Oregon coast towns for families.
Check out the Cape Blanco Lighthouse, bike the Wild Rivers Coast Scenic Bikeway, or just lounge on the beach.
You won't want to miss the amazing memories waiting to be made in Port Orford.
Newport for a Lighthouse and State Park
The coastal city of Newport offers oceanfront dining at Georgie's Beachside Grill and Oregon's tallest lighthouse!
While most of the impressive lighthouses in the US are on the east coast, Newport has its own 1871 Yaquina Bay Lighthouse in the Yaquina Bay State Park.
This is the only historic wooden Oregon lighthouse still standing and it is the tallest in the state.
For stunning viewpoints of this region head to Yaquina Bay Bridge observation areas.
Visit Gold Beach, the Best Seaside Town in Oregon
You read the caption right: Gold Beach is the best seaside town in Oregon.
There are so many experiences to be had in Gold Beach, you're going to find yourself wishing you could stay longer.
Whether you'd like to hike in untouched old growth forest or play on quiet, secluded beaches, participate in wild water sports, or just explore the downtown area, Gold Beach is truly the perfect vacation getaway.
You have to try Barnacle Bistro (29805 Ellensburg Ave) when you stay in Gold Beach.
Hyper-local and community-oriented, the Bistro features fresh and creative dishes daily, like Coconut Lime Mussels or Garlic White Wine Steamer Clams.
Gold Beach is a must-stay coastal town in Oregon.
Save for later!