This article has links to products and services we love, which we may make commission from.
Want to train like an astronaut? It was my (Craig) dream too and that dream came true at NASA Space Camp, Alabama! Space camp Huntsville is not just for lucky Scots like me, you too can zip up a spacesuit, walk on the moon and control the Orion Spacecraft. Space school is open to astronaut wannabes of all ages and nationalities (including my wife, Gemma, the other Scot). Forget surfing in Hawaii or hiking in Peru, space camp is the most 'out there' adventure activity on this planet! Here's our guide to seven things to expect from space camp in the USA.
---
» I may have proposed to Gemma at MacMillan Space Centre in Vancouver! Find out here
---
Where is NASA Space Camp, Huntsville?
To train like an astronaut you have to get yourself to the U.S Space and Rocket Center in Huntsville, Alabama. Huntsville aka Rocket City is a small city with a stellar history.
In the 1950s the original mastermind of rocket science, Wernher Von Braun, and his team of fellow genius engineers were relocated to Huntsville from the barren desert of New Mexico. Most of the team were German as during the 1940s Nazi engineers were at the forefront of rocket science.
After the war, the U.S was happy to welcome the Germans in, to keep them out of Russian hands. Apparently, the green hills of Huntsville reminded Braun's team of home.
The close proximity to Marshall Army Base and the Tennessee River were probably favourable reasons for the base in Huntsville being rebranded as NASA Marshall. It was here that the dream of space exploration was realised.
Actual rocket ships were engineered here! Locals of a certain age still tell tales of Saturn 5 engine test blowing out city windows while registering 3.1 on Richter scale!
Huntsville, Rocket City Today
This rich rocket history continues to this day with NASA Marshall Flight Center's ongoing project, the Space Launch System, and the privately-owned United Launch Alliance (ULA) creating rockets such as the Vulcan, Atlas V and the Delta IV.
But Alabama…
Forget your preconceptions about Alabama when it comes to Huntsville.
Thanks to an influx of young engineers and workers flocking to Huntsville to pick up the baton for our future astronauts, Huntsville is a very cool and hipster place!
The town has responded very positively to the new breed of expats.
We were blown away by the number of craft breweries, niche restaurants and cool coffee shops. There is even a converted high school called Campus 805 where you can drink beer, eat pizza and go axe throwing. They've kept the lockers for suckers like us.
---
» You may also like: the best restaurants in Huntsville
---
---
Astronaut Training: 7 Things to Expect
1. You're Own Space Camp Flight Suit
First up, no astronaut training experience would be complete without a NASA space camp flight suit to treasure forever!
Feel like Bruce Willis heading out to save the world in Armageddon while zipping yourself into a blue flight suit covered in NASA logos and a personalised name tag!
After being suited up, the instructors will give a detailed briefing on what it's like to train as an astronaut.
2. Vomit Comet
Sorry earthlings! Before you can graduate to the next level of astronaut training you have to test your spew stamina. Sit down, get strapped in and prepare to be spun around and flipped upside down. Just like Ryan Gosling in First Man, minus the vom hopefully.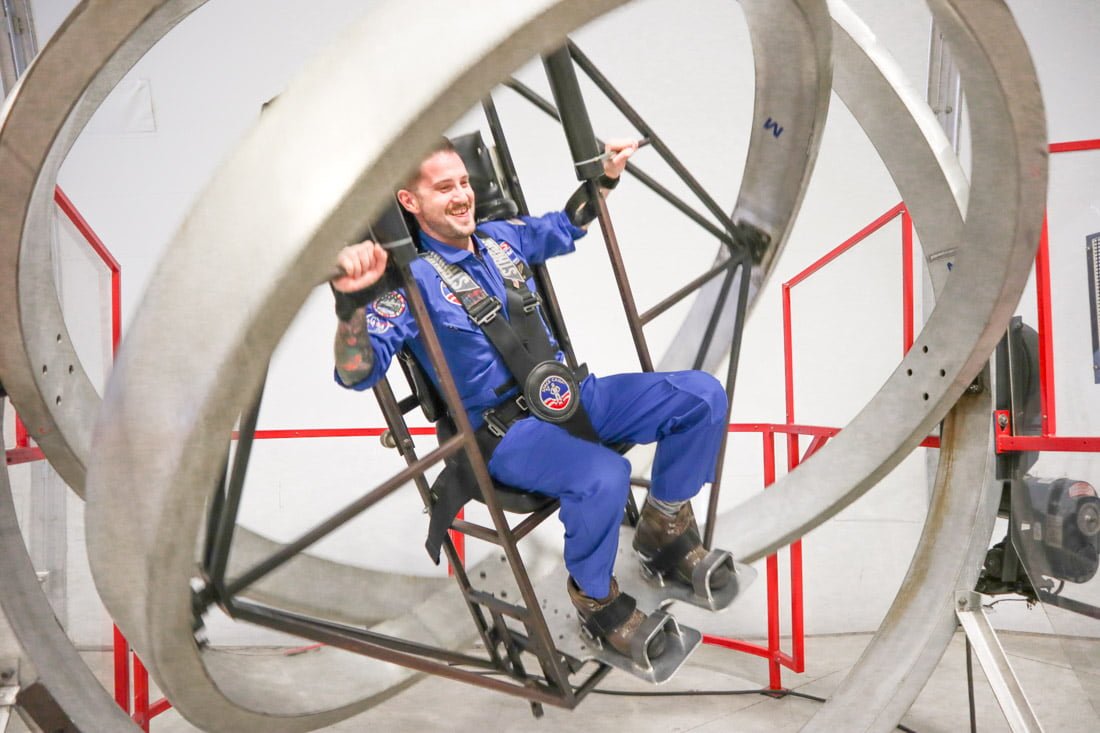 3. Walking on the Moon
Get belted in and take one small step for mankind! After being hooked into a harness and winched up on a spring-loaded tether you can experience the feeling of walking at 0.6 of Earth's gravity!
Beware, as you are constantly bouncing off the surface even with the slightest movement, walking in this strange and alien way can take some getting used to. Once mastered, there's time for your very own space race against a partner (Astronaut Gemma won).
4. Control the Orion Spacecraft
Houston… we have a problem.
There's a life-size working mockup of an Orion spacecraft at space camp. Here you communicate with mission control for instructions while you attempt to land the Orion safely. No astronaut flies solo, you will have the support of your team.
It's tougher than it looks, there's a ridiculous amount of buttons to contend with as well as realistic sound effects. No pressure!
5. Space Station Simulator
It's a Hollywood-created illusion that astronauts spend their days bouncing about other planets. Many of the waking hours in space are spent carrying out experiments which cover everything from growing food to examining the effects of radiation on the human body.
If you carry out your experiments correctly, your results will look like a potion the top-secret ingredient for Scotland's national drink, Irn Bru!
6. Extravehicular Activity
Sounds like extra-curricular but Extravehicular Activity (EVA) actually means leaving the safety of the spacecraft to spacewalk.
Cool, eh? What about the dangers associated with hurtling around in a vacuum at 17500 mph?! You need a coat of armour for that.
During this space camp dream activity, astronauts remove their blue suit, and with the support from the Space Camp team, swap it for a spacesuit, helmet and gloves!
Next, a hoist will lift you 20 ft in the air. Suspended outside the International Space Station (ISS) your challenge is to fix essential life support maintenance on the spacecraft.
Even with thin gloves on, the tools and hose clips are difficult to master. Teamwork is essential to avoid drifting off into the abyss like George Clooney in Gravity.
7. The Simulators
Discover what it's like to be shot towards the moon!
Hop on the Moon Shot accelerator to experience being launched at 4Gs! Reach 140 in 2.5 seconds followed but 2-3 seconds of weightlessness on the way down.
Go for an intergalactic ride, head to the Hypership, a multi-sensor motion simulator that'll take you on an interstellar mission to a black hole!
Experience dizzying centrifugal forces of up to three times earth's normal gravity as you fight against the G-force simulator!
Even non-astronauts can enjoy these rides at the US Space and Rocket Center in Huntsville.
---
Watch our NASA space camp experience here
U.S Space and Rocket Center in Huntsville
Learning to become an astronaut isn't the only thing you can do at the US Space and Rocket Center.
There are an array of temporary exhibits as well as the permanent, incredible Saturn V museum which contains an actual Saturn V rocket. Don't be fooled by the 363 ft replica in the grounds!
The Saturn V keeps good company, museum-goers can request a tour with (mostly retired) NASA employees turned NASA Emeritus who now share their stories of what it was like to experience NASA history like the Space Race.
We had the privilege of meeting Kenny Mitchell, one of my new heroes. Mitchell has had a colourful past working on the space race with Wernher Von Braun and at in the US embassy in Russia during the Cold War!
Food at U.S Rocket and Space Center
At the Mars Grill, there's no dehydrated space food in sight. The Astro-chefs cook up an interstellar array of foods!
You'll find all of your typical kid-friendly American foods including burgers, hot dogs and nuggets as well as an extensive salad bar, pho noodle bowls, chilli, specials and range of soft drinks served in a large space camp cup which you can keep. There is even some rocket fuel (wine).
---
» Read next: I had lunch with an astronaut in Florida!
---
NASA Bus Tour
Your space exploration doesn't have to stop at the Rocket Center. Hop aboard the Marshall Space Flight Center Bus for a tour of the Marshall facilities including stops at the Historic Test Stands and the Propulsion Research and Development Laboratory.
Duration: 2 – 2 ½ hours.
Cost: $20 per person.
Note: Sells out so book fast.
Frequently Asked Questions
Who can attend space camp?

Space camp is open to astronaut wannabes of all ages.

There are family days, group events and team school programmes.

Note – each programme differs. It is not guaranteed that everyone will experience the activities that we enjoyed.
How much does space camp cost?

Prices start from $945 depending on the type of space camp booking.

However, you don't have to go to space camp to see space-related fun. The U.S Space & Rocket Center is open to everyone. Here you can browse the museums and exhibitions, enjoy the rides and listen to talks. Admission starts at $17 for children and $25 for adults.
---
Final Words
If you spend your time wishing Elon Musk, Richard Branson and Jeff Bezos would work a bit faster to make space tourism affordable for the non-millionaires, training to be an astronaut at Space Camp, Huntsville really is the next best thing! Many of today's astronauts started at space camp in Huntsville, so what are you waiting for? It's time to reach for the stars.
We would like to thank Visit Huntsville for hosting us on the press trip out of this world. Opinions are ours, as always.
---
Bucket list?
Pin it to your Pinterest board for later
Any questions?
Just ask below.
---
» Read next: how we saved £20K to travel
---