This article has links to products and services we love, which we may make commission from.
Boston, Massachusetts is one of the most historic cities in the United States. It is a popular student-town because it is filled with world-class educational institutions, like Harvard University, MIT, Boston University, Tufts University, and many more. But you do not have to be a student to visit Boston. There is still a lot to do, even if you only have one day in Boston.
Attractions, tours, food and where to stay – this guide details how to get the best out our your 24 hour Boston itinerary so you can pick the activities that suit your travel style and save time without impacting on a fun experience.
You may also like: The top things to do in New England
Things to do in 1 Day in Boston Summary
What makes Boston so unique is how friendly and quirky the people are. You can always find something exciting to do even if you are traveling alone.
In the morning you could be visiting the Museum of Fine Arts.
Then at nighttime, you might be wearing a graduation gown singing karaoke with drunk locals in a pub while drinking Samuel Adams.
Sam Adams is the flagship beer that is famous in Boston.
It is named after one of the founding fathers of the United States.
Some describe him as a brewer, and others called him a maltster.
For your one day in Boston, here is everything you need to do, see, and eat!
Morning – Faneuil Hall
If you have just arrived from overseas at Boston Logan Airport, the free bus into the city will only take thirty minutes.
Boston is very easy to get around, and its small size will ensure that you do not spend too much time on transport. Most hotels in Boston don't let tourists check-in until after 3-4pm.
This could be an inconvenience if you arrive very early in the morning and have a lot of luggage so pre-arrange leaving your cases with the hotel so you can make of the most of your day as there are too many Boston highlights to miss.
First up, a Boston breakfast or lunch and the perfect place for it is Faneuil Hall Marketplace (Faneuil Hall, South Market, North Market, and Quincy Market) at 4 S Market Street which was built in 1743 by architects John Smibert and Charles Bulfinch.
Historically, this is where the first town hall meeting in the USA took place and where the Patriots met the night of the American Revolution.
It is also part of the popular Freedom Trail.
Now,Faneuil Hall Marketplace, including Quincey Market has over 70 venders including a ton of local and international cuisines.
This is where visitors can dine on the best lobster rolls, lobster bisque and chowder bread bowls, seven days a week.
The moment you walk inside the hall, you will be amazed by all the bustle and excitement because it gets really crowded.
All the incredible scents of different foods will hit you immediately.
You can also grab some pizzas, Chinese food, Indian food, Italian gelato, and more.
When you are full, walk around the other markets next to the building because you will find some great souvenirs and clothes.
If you are a fan of the TV show "Cheers," you can visit the original bar where the show was filmed.
It is right beside Faneuil Hall with direct entry without going outside in the cold.
Sit at the same bar (84 Beacon Street) that Kelsey Grammar and Kirstie Alley did and sing out loud, "Where everybody knows your name," while taking a selfie.
Walk off the beer buzz to Acorn Street at Beacon Hill for one of the prettiest streets in Boston.
This is also where to the 60-90 minute self-guided Black Heritage Trail of Boston takes place.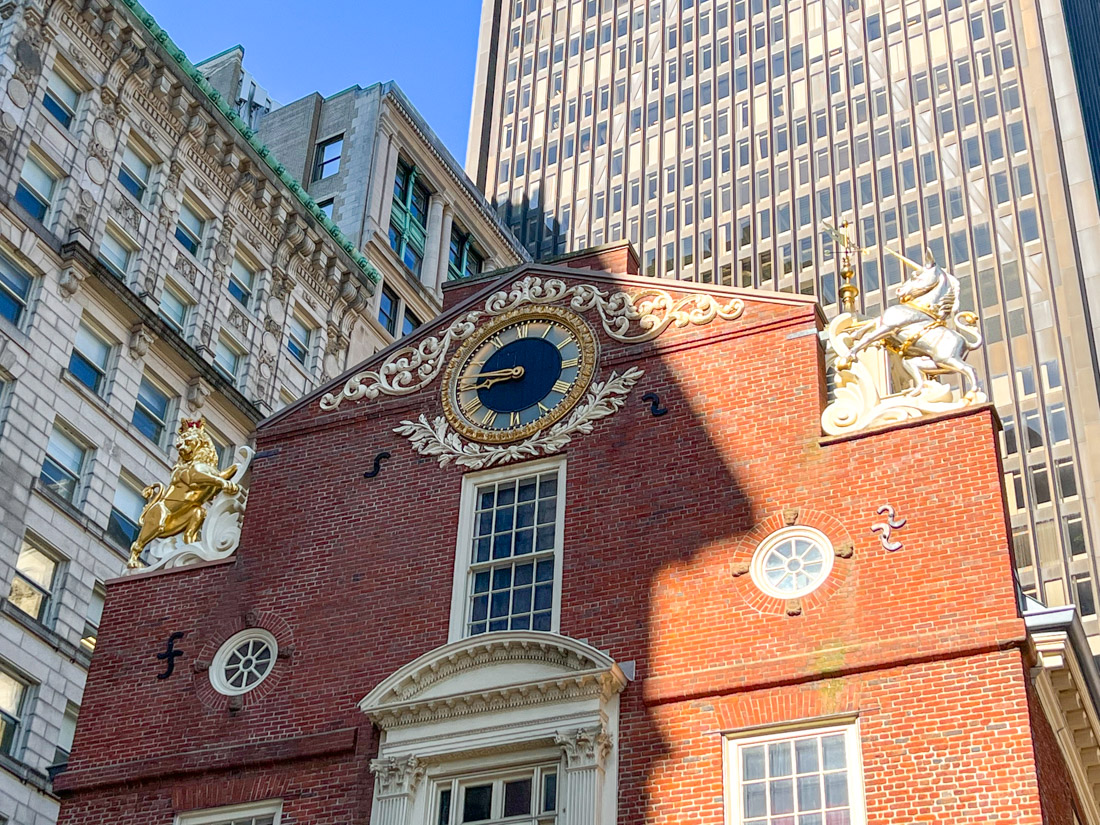 Late Morning – Freedom Trail Tour
The best way to burn off all those calories while learning about the history of Boston is by going on the Freedom Trail.
This walking tour starts in downtown Boston and takes you through all the historic streets and by 16 sites.
On this tour, you will see Benjamin Franklin's grave at the Granary Burying Ground, the Town Hall, Boston Common, and many others in the central area.
An amiable guide will tell you all about Boston and the historic Tea Party Revolution.
After the walking tour, you should visit Boston Public Gardens and see the beautiful flowers and the George Washington statue.
You can also sit on the bench that Mark Wahlberg sat on with a teddy bear while filming the movie Ted and take photos on the bridge overlooking the lake where the ducks swim about.
One of the best Boston sightseeing tours is the famous Duck Tour.
The buses all look like ducks, hence the name.
Eventually, all the buses take you for a ride on the water as well, so you can get the complete duck experience.
Afternoon – Harvard
This time of day is perfect for visiting Harvard University, which sits across the Charles River, as you will avoid the rush hour traffic if arriving by taxi.
You can take the T-trains from many downtown stops that go to Cambridge.
Or you can also take an Uber or Lyft if you want to relax in a car instead of walking up and down steps to change trains.
On the train, the ride to Harvard from downtown can be around thirty minutes, but an Uber will get you there in under twenty.
To save money, you can catch Lyft Line or Uber Pool because they are much cheaper ridesharing options.
A trip to Harvard using Lyft Line can cost $7-$8 with just a $2 dollar increase for an extra person from your group.
Set the drop location to Harvard Square.
This will take you right to the center where all the shops are.
Here, you will see an open space with chairs where people play chess, and street musicians perform.
Right next to this space, there is a Starbucks, and across the street, you will find the Harvard Coop.
This is the official Harvard bookshop and merchandise store, and it looks like a grand library on the inside with a winding staircase.
There are two Coop buildings.
The one you walk into directly from the main street is the bookshop.
You can explore different titles on each floor with small study spaces to sit and read in a quieter environment.
On the third floor, there is a public washroom to freshen up and a café where you can grab a bite to eat.
They make a great latte if you are a coffee addict like most students at Harvard.
When you go back downstairs and towards the back of this building, you will find an exit door.
This will lead you to a back alley where the second coop is located.
This building is specifically for souvenirs and Harvard merchandise.
If you want to buy a t-shirt, keychain, shot glasses, or hoodies with the Harvard logo, this is the best place to shop.
You might find other street vendors who also sell merchandise, but the Coop sells official Harvard products, and the store is run by actual students.
The souvenirs are more expensive than getting them from third-party sellers, but your money will directly support the university, and their products are of better quality.
A hoodie from the Coop will not get a gaping hole after three washes.
When you go back out on the street to Harvard Square station, there is an information booth.
This is the meeting point of official student-led walking tours.
These tours are the best way to learn about Harvard's history and some quirky stories.
Before you arrive you can book your ticket for the 70-minute Harvard Tour.
At the booth, you will meet an eccentric guide who is the leader of this tour.
They will be wearing a t-shirt saying "Hahvahd" because it is a way to mock the Boston accent and the local pronunciation of Harvard.
The guide will start by telling you a little about how Harvard started while you walk towards Harvard Yard.
This is a massive green field between buildings where students relax on the grass and study.
In Harvard Yard, you can take a photo with a statue of John Harvard, the founder of this school.
The statue is black, but you will notice that his shoes are golden.
Everybody touches his shoe while taking a photo for good luck because that's what a lot of students did right before exams.
Your guide will tell you that John Harvard's statue is also called "The Statue of 3 Lies."
If you have seen the movie "The Social Network," you will already know these lies, but not many tourists do.
Hint: The statue is not John Harvard, and the school was NOT founded in 1638, despite what is said on the statue.
To find out the third lie, you will have to take the tour because we won't spoil it for you.
You will also visit classroom buildings, and your guide will mention some fascinating stories about some students.
Once, a student was frustrated because she had a Philosophy final exam paper due, and all her friends were partying. She felt lonely staying on campus when everybody else was having fun.
Instead of a comprehensive essay, she wrote, "Life isn't fair," and submitted it.
Luckily, her professor felt that those words were philosophical enough and gave her an A for the paper.
This happened a very long time ago.
Modern professors would never be that generous, especially since everyone in the Harvard community knows that story.
Past the yard, your guide will take you to a grand building called Widener Library, which is the most famous library at Harvard.
You can sit on the steps outside and listen to stories about the significance of this library and why it is more esteemed than others.
The library is named after Henry Widener, who died on board the Titanic in 1912. He was a Harvard alumnus and an avid reader with a large collection of books.
Upon his death, his mother donated their family's wealth and all his books to his alma mater.
Unfortunately, you will not be allowed to go inside the building because it's only for students and their guests.
A student with a Harvard ID card can take a maximum of 2-3 guests inside and show them around.
If you befriend one of them, this is a must-visit because you will see a Titanic-related museum on the top floor.
In the glass cases, you can read the first newspaper in the world that announced the sinking of the Titanic!
After the tour, you can take the exit walkway behind the Widener library and cross the street to eat the best ice cream from JP Licks.
Or you can walk back to Harvard Square station and take a left past CVS and Winthrop Square until you find Pinocchio's Pizza.
Pinocchio's is the best pizza in the Harvard area. You should try their famous Sicilian square slices with many kinds of toppings.
This small restaurant was frequented by Mark Zuckerberg when he was a student on campus. On the wall, you can see photos of Mark posing with the owner of Pinocchio's.
Late Afternoon – Harbor
After checking into your hotel and freshening up, the next stop on your Boston itinerary should be a walk along the Boston Harbor.
This is the best way to catch the most beautiful sunset if you do not want to go to The Observatory and buy tickets or get stuck in a line.
It can get chilly, so bring a sweater or hoodie with you.
If you need some food, check out the $1 oyster deal on week days at State Street Provisions! If you like seafood this could just be one of one of the best things to do in Boston.
Evening – Park and Beer
If you want to take some fun and colorful photos, visit The Lawn on D. This is a grassy outdoor park with live music that you can enjoy for free.
They have giant circular glowing swing sets that you should play on and take plenty of pictures, especially when it is getting dark.
You cannot spend one day in Boston without at least trying a few local beers.
There are plenty of pubs and bars in the downtown area, and all of them will have a Sam Adams for you to try. If you like a sweeter beer, ask the bartender for Jack's Abby.
It has a lighter color than regular beers, but it packs a strong punch.
If you like beer, definitely put Portland on your bucket list. Find out why here.
Late Evening – Haunted Tour + Dinner
One of the best tours in Boston is the graveyard tour.
This is a late evening walking tour where you can find out why Boston Common and many other spots around downtown Boston are haunted.
Depending on how many beers you have had at The Kinsale, you might see some spirits yourself.
The tour ends in Boston Public Gardens, and you can walk across the street to Chinatown for dinner.
Or just pop into any of the bars on the way for more American cuisine favorites like Lobster rolls, pizzas, fried chicken and waffles.
If you want to experience sitting in a diner, visit South Street Diner (178 Kneeland Street).
This is open twenty-four hours a day, and you can indulge in the yummiest pancakes with scrambled eggs, bacon, toasts, bottomless coffees, and so much more.
Like most cities, Boston has a number of rooftop bars including Lookout at The Envoy Hotel where you can sip cocktails in summer and book igloos in winter!
There is still so much left to do and see, which is why you should try and extend your trip and spend two days in Boston.
2 Days in Boston
Although you might have seen a lot of Boston already, there are many more beautiful spots in Massachusetts, and you can use the second day to visit Salem.
From the Boston Harbor and One Long Wharf, you can catch the ferry to Salem easily.
Tickets are available at any of the booths there, and the ride is slightly over an hour.
This is the best way to feel the wind in your hair on the water while heading to the most historically fascinating place in Massachusetts.
You might have heard about the Salem Witch Trials and the dark history of this place. This is what makes it such a powerful tourist attraction.
Salem is a quaint town with a lot of buzz and colorful energy. You will find many boutique shops that sell souvenirs, clothes, and a lot of magic-related items.
For a little more adventure, there is a famous psychic who does very detailed readings if you are interested to know your future.
She also does couples readings so you can go with a partner and experience meeting a licensed psychic together.
At the end of the session, she will bless you with some herbs and gift you a beautifully scented candle.
In the main square, you can get cheap tickets to visit the Witch Museum.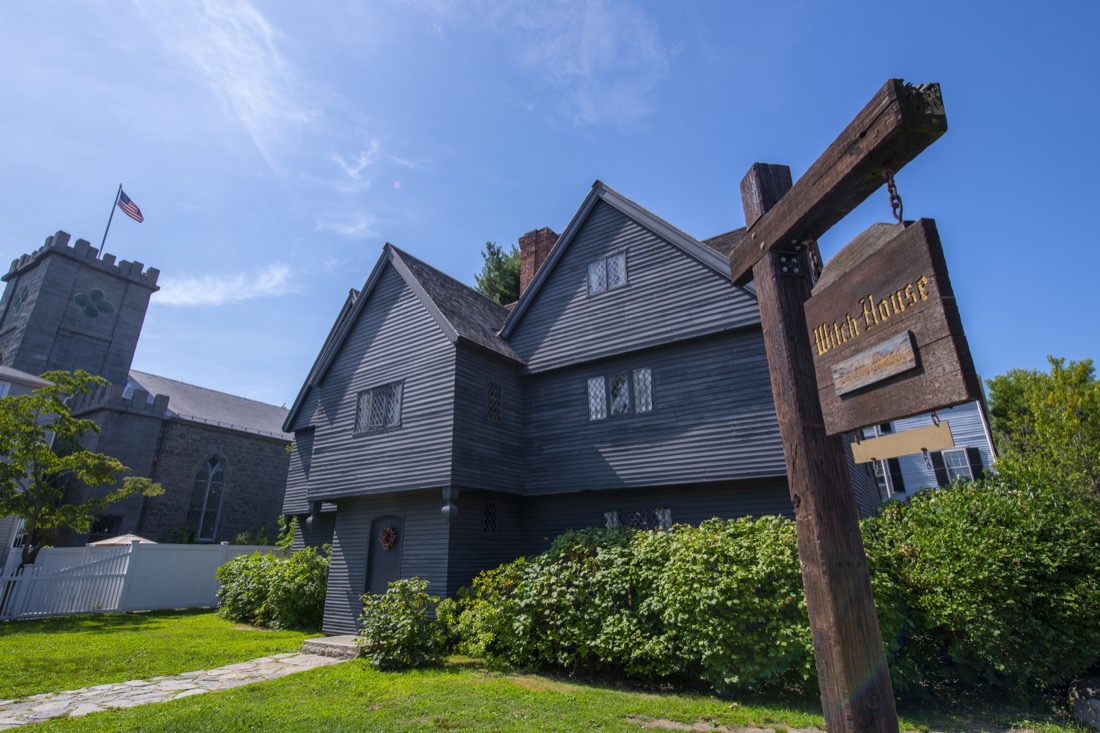 This museum isn't very big, but they do an excellent show with different display settings to tell the story of Salem and its tragedy.
When it gets dark, the small town comes alive with several walking haunted tours. After all, people go to Salem because they want to see and learn about ghosts.
The walking tour in Salem is a lot of fun because the guide takes you to all the spooky cemeteries at night. You can also meet new people and make fun of who is getting scared the most.
Some of the hotels in Salem are haunted!
Alternatively, if you want to stay in Boston rather than going to Salem on a ferry, you can visit the Museum of Fine Arts.
This museum is massive, with different sections from every part of the world. You can easily spend half a day here just browsing through all the artifacts until your feet get sore and you cannot walk anymore.
---
Boston Travel Information
Where to Stay in Boston?
Downtown is the best place to stay in Boston.
You will find many hotels here, and all the walking tours and duck tours start from downtown.
From this area, it is a very short walk to Quincy Market, Boston Common, One Long Wharf, and many other places.
You can save a lot of money by saying downtown hotels or Airbnbs because you will not have to rely on transport a lot.
It only takes a few minutes to get an Uber or taxis as they are always passing by downtown. There is always a T stop after every few blocks. You can even walk to South Station to catch the Amtrak train or Greyhound Buses.
What is the Best Time to Visit Boston?
If you want to avoid the freezing cold in Boston, the best time to visit is during summer.
This is also the busy tourist season, so there is a lot to do and things are open utill late.
You can comfortably walk outside all day in light clothing to do all the tours.
Hotels might be more expensive during this time, but if your hotel is downtown, you can save money by walking everywhere.
What is the Best Thing to Eat in Boston?
A lot of food in Boston is inspired by the British hence the region"New England."
Locals love their seafood.
However, instead of the usual fish and chips, you can try fresh lobsters, crabs, scallops, lobster bisques, clam chowders, etc.
You will always find a good pizza as well and for a lot of variety, visit Faneuil Hall and try a little of everything.
Boston Packing List
Even during summer, it can get a little chilly at night, especially if you are doing any of the water tours. Here are the essentials you should always bring with you:
Passport and ID
Trainers and comfortable walking shoes
Layers
An umbrella or waterproof coat
Sunscreen
A winter coat and snow efficient boots (expect snow in winter)
A sense of adventure
Planning a trip to Boston? Pin to your board for later.
Final Words
Boston is not very big, and you can see everything comfortably during a one-day trip.
The people are very friendly and social.
We've traveled solo in Boston and never felt lonely.
It's very easy to sit anywhere and find people to chat with.
It is also easy to get around Boston just by catching the T or taking an Uber, Lyft, taxis, etc. Uber and Lyft are very cheap in Boston if you carpool with others.
There are many young students in Boston because of all the schools, but there is always something to do for every age-group.
If you want a more peaceful and relaxing environment than New York City, then Boston will hit the right spot.
About the Author
Shipra is a frequent writer for Two Scots Abroad. She is a Dubaian who graduated from Harvard University majoring in Marketing Management. You can read more of her guides starting here.