It's a big country, I know. I recently read an article and it described why the author loved the UK, it riled me up a bit (mainly because the article read 'why she loved London', not the UK, standard) so I mean no offence to Americans with the following. But, here is why, I love (the one month I spent in) United States of America.
I spent one month in the USA in 2011 (three weeks camping as part of a group with Intrepid, organised through STA Travel then one week hostel hopping as a solo female traveller, Craig wasn't on the scene at this point) and it was the most consistently positive i'd felt in a long time. Some may say it was because I was on holiday for one month with minimal rain (Scottish summers can suck) which is a fair comment.
Team America – Where dem girls at?
It's an unusual love as I am morally against many things some Americans support – the death penalty, anti-abortion laws, extremist religious views and of course guns.
Point taken NOLA
Us Scots just don't get the gun thing. Yes, Glasgow was the murder capital of Europe but I was never once put in the position of being threatened with a knife (thankfully) when I lived there. I did get my ass felt up from a lad trying steal a tenner from my back pocket (win-win?!) but that was the extent of my experience with crime (bar a house break in but that was my stupid flat mate's fault).
American Friendliness
Americans (that I met) were so friendly. Friends who have not had the pleasure say that it must be annoying, I didn't think it was. In San Francisco, a suspicious looking man who wore a leather jacket (it was warm) was leaning against a lamppost, he saw us with our maps out and asked if we needed help. We reluctantly asked for walking directions to the pier for Alcatraz. He replied, there's a lovely route taking you through Chinatown and the Italian Quarter – slap on the wrist for Sarah and I, judging girls.
Views of San Fran from Alcatraz
I hired a bike in San Fran and pedalled about the streets, I swear people were smiling at me – this would never happen to cyclists in Scotland! I never carried my backpack myself downstairs/upstairs on the underground (NYC included, male naturally and also Boston, female this time, just wanting the chat). After arriving in Chicago after a long bumpy delayed landing, I met my new friend, Cory. He had just finished work at the airport and helped me out with the trains. We instantly hit it off; he loved random Scottish bands like Orange Juice and suggested I tried out the Wicker Park area for indie bars, such a cool spot that I would never have found without his advice. We are still pals now.
Wicker Park – Thanks Cory!
American Culture
I am aware that we are sheltered on what life is really like in a melting pot but I enjoyed learning about other people's travels to the USA. Again in San Fran, a waiter asked where we were from (I think it's my accent) and chatted away. He was a trained architect from the Philippines but made more money waiting on tourists like me. There is hate too though. In a Brooklyn, NYC bar, a guy referred to a punter I was chatting to as a 'monkey', I was taken aback and moved away from the situation. Not cool.
Booze in a brown paper bag
American Food
I ate Thai take away four nights in a row in different states. The Dream! Healthy take away – here in Scotland every Chinese meal has this gunky brown gravy through it. I love that there are crackers with every type of flavouring possible. I still fantasise about the beer cocktail, burger and sweet potato fries from Strip Burger in Las Vegas. And s'mores over the campfire were comforting. Now it's no secret, I did not love Vegas. I expected it sparkle and for me, it was just a bit sad. We were patronised at a rooftop bar, don't (can't, actually got the money stuck in the machine) gamble, and don't shop on holiday usually. However, I do wish we had the chance to hit the highs of the Stratosphere ride, I freaking love thrills, and I still dream of that burger.
Fries before guys
American Landscape
As the tour started in the West Coast (San Fran), worked its way south and concluded in the East (NYC) I experienced lots of landscapes. We hiked in Yosemite, California. I'm definitely keen on exploring more of CA, check out this guide to unmissable California. Maybe when we move to Canada on a permanent basis!
I saw a double rainbow!
We sunbathed on snow on the hills in California (this was the first sighting of snow, ever, for the Australian on the tour).
I was suffocated in the heat at Death Valley (there's a hotel there! Whaaaaat?)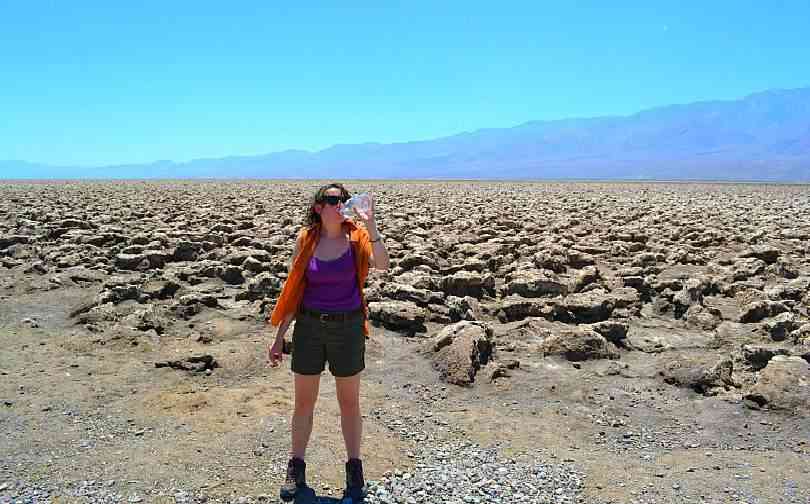 It was too hot to eat our picnic
We saw the sun set over the Grand Canyon. Check out more stunning pictures of Arizona's Grand Canyon National Park.
And the sun rise at Monument Valley, Utah, after sleeping under the stars (literally). This is still one of the moments in life I talk about nearly a decade later. The landscape is literally out of this world and space films have been filmed here as well as westerns which is no surprise. Utah actually has 13 parks including Zion National Park, so you could spend your full holiday in that one state travelling around and soaking up the indoors.
I ate ice cream by the 'lake' (according to the Aussie boys) in Chicago with skyscrapers lining the city behind me.
City with a beach – perfect
I don't think too poorly of Americans when people bring up the statistic that only '10%' of Americans own a passport (it's actually 35%), each state is like a different country and there are many Europeans who have only seen Europe. Although I meet many Americans who would love to come to Scotland to meet their uncle's gran's cousin who is Scottish…
Into trips? Why not check out this Pacific Coast Highway Road Trip?
Do you love the U.S too?