This article has links to products and services we love, which we may make commission from.
Dubai is an enigma to those who have not experienced the ultramodern wonder before! However, there is advice that travelers should be aware of while planning their trip to Dubai as well as a few myths that should be addressed. This guide to Dubai travel tips will fully prepare you for the best time in the United Arab Emirates (UAE) City of Gold, whether you are here on a stopover or visiting for an extended vacation.
Travel Tips for Dubai
1. Getting to Dubai
The majority of visitors enter Dubai via Dubai International Airport which is in the Deira district and is the closest airport to the city.
From here you can take the metro into the center, the Burj Khalifa stop is around a 30-minute journey.
If you must, you can use the taxi, Uber or Careem service in Dubai but be aware that it is not advised to take a taxi during rush hour. A taxi off-peak from Dubai International Airport to Atlantis the Palm will cost approximately $30 USD.
A lesser-known way to get to Dubai is to arrive in Abu Dhabi and take a bus. If you find affordable flights to Abu Dhabi International Airport, this is an option.
If fact, Dubai's second airport, Al Maktoum International, is actually closer to Abu Dhabi than the city center of Dubai.
2. Getting Around Dubai
Dubai is a small city. It is easy to get around because there are taxis, public buses, and the Dubai metro.
Dubai Metro
The Dubai Metro only runs until 10pm or midnight on weekends. It doesn't cover the whole of Dubai, with most stops being located on Sheikh Zayed Road, Deira, and Karama.
The Metro stops at the malls and the stations are linked to the malls, so you don't have to walk outside in the heat.
You can buy tickets for the Metro at the stations or get the NOL card which is similar to a top-up Oyster Card in London.
There are two kinds of NOL cards, silver, and gold.
The silver card allows you in the regular metro sections whereas the gold card allows you in 'Gold Class' which is less crowded.
Otherwise, simply ask the cashier at the stations for a single or return ticket in either regular or gold class sections. They will issue you one on the spot, and these are priced according to which zone you want to travel.
Here is a link to the Dubai Metro map explaining each zone.
The Metro also has a separate section for women. Women can go in any section, but men cannot enter the ladies' area, or they will get fined.
Always keep your ticket close because the road transport authority officers do travel on the Metro to scan everybody's tickets. If you have lost the ticket, they might fine you unless they feel sympathetic.
All Metro station announcements are made in both Arabic and English.
The Metro becomes extremely busy during rush hour, and many people forget proper etiquette. Please avoid rushing in as soon as the doors open and allow people to exit the train first.
If successfully push past the crowd to hop inside, please do not stand close to the door. Walk further inside to make room for more people to enter.
The gold class section has a large window where you can take photos of the famous Dubai Sheikh Zayed Road skyline.
Dubai Metro is completely airconditioned because you cannot crack open a window.
Some stations also have Wi-Fi if you need to Google a location etc. Instead of "Mind the Gap," they say, "Stand Clear."
Dubai Buses
Buses are extremely slow because they stop very frequently, but they cover more extensive areas of Dubai. The bus stops are all air-conditioned enclosures with seats inside so you can cool off while waiting for a ride.
These rooms also have small screens to let you know the bus timings.
However, never rely on the timings of the buses because they often end up stuck in traffic.
You can also book the Dubai hop on/off bus to see lots of the Dubai attractions without sweating too much! Here's our guide on which Dubai passes are worth it, including the bus passes.
Taxes, Uber and Careem
Taxis are incredibly cheap in Dubai compared to other tourist destinations. You can either use a standard yellow government Dubai Taxi or use ride-sharing apps such as Uber or Careem.
Both these apps are top-rated, and you can quickly get a discount code for your first ride.

Navigation
Giving directions in Dubai can be a nightmare. There are no unique postcodes to identify places like the United Kingdom.
Most taxi and delivery drivers know all the famous landmarks and hotels.
If they do not know a location, you might have to guide them by telling them where to turn and which roads to take.
This is very challenging for tourists who are traveling to Dubai for the first time. That is why it's better to use Uber or Careem. That way, you can use the hotel Wi-Fi to enter your destination on the map.
Traffic in Dubai can be very hectic and almost standstill for hours if you are on Sheikh Zayed Road or going from Dubai to Sharjah.
There are many memes online about people ageing behind the wheel while waiting for a signal to turn green.
Usually, it's very jam-packed in the mornings and late evenings when it's peak time. However, a lot of road accidents happen due to cars speeding, and you can easily get stuck in traffic at any time.
Always plan to leave as early as possible, especially if you are going to the airport or the Dubai Opera. They always frown the most at latecomers.
---
3. Dubai Districts
Just like New York has neighboorhoods and Edinburgh has areas, Dubai has districts and each district is unique!
Zabeel (aka Downtown) is known for the main attractions
Jebel Ali District is where you will find Dubai Marina
Jumeirah District is the place for beach lovers who want to mix with locals
Deira District is Old Dubai and is affordable
Bur Dubai is also known as Al Karma, a hip district
Before booking your accommodation, read our guides on where to stay and the best Airbnbs.
Most Visited Places in Dubai
Dubai's top attractions are:
The Burj Khalifa – 125th viewing platform, reserve your tickets as it is busy
Dubai Mall – it's not just about shopping!
Dubai Fountain – light and water show
Jumeira – marina with plush boats
Dubai Marina – food, relaxing walks, views
Deira Souk – Old Dubai
Karama Meena Bazaar – haggle
The Dubai Frame – the biggest picture frame on the planet!
Dubai Desert – click to read how to choose the best Dubai tours, including safari

---
4. Dubai Shopping
Peru has trekking, Dubai has shopping! There are dozens of malls across the city with popular big brand stores.
If you are shopping in Dubai, prepare to get exhausted because the malls are massive requiring a lot of walking.
But don't worry because Dubai Mall now has sleeping pods (!) for you to have a quick nap in between purchases.
The longer you stay in the mall, the better it is for corporations, so they want you feeling refreshed without going home.
The prices for items in malls are slightly higher than in other countries. If you buy a dress from Zara, it will be cheaper to get it in England than in Dubai.
This is due to import fees and costs big brands such as Zara add to the price tag.
Dubai shopping also means a lot of sales. If you come during summer, the Dubai Summer Surprises sale is the best.
Most products get marked down by fifty percent. This is also the right time to buy winter clothes to take back home.
You might also see a store called Pierre Cardin, offering ninety percent discounts. They have been doing this every single day since the dawn of time. It is a marketing gimmick, and all the locals make fun of it.
---
5. Food
Not eating shawarma in Dubai is the most severe crime. That is almost the same as a tourist, never touching fish and chips whenever they visit England.
Shawarmas are beef or chicken sandwiches wrapped in Arabic bread with hummus, garlic tahini sauce, pickles, French fries, and some lettuce and tomato.
If you do not eat meat, you can opt for a falafel wrap instead. Dubai has some of the best falafels, and you will fall in love with every bite. Don't forget to ask for a Karak or Zafrani tea to have with the sandwich.
Affordable meals can be bought in Dubai Marina.
Ramadan in Dubai
Ramadan is the holy month of fasting, and you are not allowed to eat or drink in public during the day.
This rule applies to all Muslims and Non-Muslims. However, many restaurants are open as usual, and food courts have covered areas for people to eat if they are not fasting.
If you are caught eating out in the open before sundown during this month, you will incur a small fine or a warning not to do it again.
That is why the best time to visit Dubai is from December to March. The weather is perfect during these months, and there are plenty of fun outdoor activities, especially desert safari adventures.
Ramadan is usually in the summer months, especially June or July. This is when the weather is hottest, and tourists should always stay inside to prevent getting a heat stroke or sunburn.
---
» Read next | Dubai in December – what not to miss
---
Brunches
Almost every hotel restaurant hosts Friday brunch. This is because alcohol is costly in Dubai, but during brunch, you can buy a heavily discounted all-you-can-drink package with a full buffet meal.
Brunches alone are one of the best reasons why you should visit Dubai. Imagine sitting in a luxury hotel like Atlantis and indulging in free-flowing alcoholic drinks with a lavish spread of international cuisine and a giant chocolate fondue fountain in the center for the kids.
Friday brunch can also get messy because of how much everybody drinks. Try your hardest not to get too drunk and don't cause a scene. If you do let go and have a lot of fun, just make sure to get in a taxi and go home right after instead of being drunk on the streets.
---
Is Dubai Expensive?
Some parts of Dubai are more expensive than others.
If you go to Downtown Dubai where the tallest building in the world Burj Khalifa is, you can expect to pay more because that area is packed full of tourists.
Other expensive areas in Dubai are Jumeirah, and Dubai Marina.
These are places that tourists visit the most, and the locals call it the "Shiny part of Dubai."
Rent is much higher in this area, so businesses have to charge more to keep their doors open.
---
» You may also like: Where to stay in Dubai without breaking the bank
---
A souvenir in Dubai Mall can cost three times more than one purchased from Karama or Deira. Souvenir shops in the expensive areas have price tags so you must pay what it says.
Whereas in other places such as Deira Souk, you can haggle with sellers and successfully reduce the price.
You might also want to try appearing less touristy because the moment sellers in Deira realize you're from abroad, they often add an extra zero at the end of a price tag.
If you have a friend who speaks Arabic or Hindi, that will automatically warrant a generous discount.
6. Dubai Currency + Exchange
The local Dubai currency is called "Dirham" or AED.
One dollar equivalent will buy you a one-hour parking ticket in Downtown, or a delicious shawarma sandwich in the cheaper parts of Dubai.
While planning a trip to Dubai, make sure to budget according to the activities you want to do and the areas you want to visit.
If you do not have cash, most places accept credit, debit, and travel cards. There are no language barriers when it comes to the words "Visa" and "Mastercard."
Except for desert safaris, unless they are paid in advance, your driver will ask for cash, and there are no ATMs in the desert.
You can spend the first few days in the Downtown area splurging. Then save all your souvenir shopping for the end and buy them from Deira or Karama souks.
The best currency to take to Dubai is the Dirham.
Otherwise, you can easily exchange British and Scottish Pounds, or American, Australian, and Canadian Dollars. There are many currency exchanges at the airport and all the malls.
You can also find them in every residential neighborhood.
UAE Exchange is the most popular one you will see everywhere. When you go to exchange your money, ask the teller to give you their "Best Rate."

Tipping in Dubai
Unlike the United States, tipping is not required in Dubai, but it is always appreciated.
A lot of the servers, waitstaff, and taxi drivers are from low-income countries, and their salaries are meagre.
When you give them a tip, it shows that you were pleased with their service and puts a big smile on their face. These workers also return most of their income to support families in their home country, and your tip could be precious even if it is a small amount.
If you are tipping in Dubai, there isn't a set percentage that you should give. It can be any amount as low as five percent of the bill.
Most people usually leave anywhere from ten to twenty percent.
Make sure to tip in cash because all the card payments go straight to the business and there is no guarantee whether the owner passes the tips onto the workers or not.
Just be smooth like James Bond and slip a crisp note in the bill folder. You will really brighten that person's day and motivate them to continue delivering an excellent service.
7. Dubai Laws for Tourists
Dubai laws for tourists and residents are relaxed compared to Sharjah or Abu Dhabi. But there are still many things to be mindful of to avoid getting into trouble.
Alcohol in Dubai
Alcohol is available in clubs, restaurants, and hotels. Drinks are costly here, and a pint of beer can cost nine pounds depending on where you go. They also have a lot of ladies' nights, where women get free entry and drinks.
There is a loose requirement to have an alcohol license that permits you to drink. It allows you to buy alcohol from shops such as MMI, as regular supermarkets won't have any in stock. But you do not need one to drink in bars.
It used to be difficult for tourists to get an alcohol license because you had to show proof of residency and get a supporting letter from your employer or landlord. Now they have recently introduced an exclusive permit for tourists as well.
The alcohol license for tourists is straightforward to apply for, but if you do not get one, you can still drink. All licensed venues in Dubai are privately owned and allow drinking without licenses.
You can simply walk into any bar and buy anything you want.
Whether you have a license or not, you cannot be drunk outside. When you leave the doors of a club, you are already in breach of this law because you have alcohol in your system.
The local authorities turn a blind eye because they expect you to go straight home after a night out. You can have all the fun you want in a club but as soon as you leave, make sure to hop into a taxi directly.
Since most clubs are in hotels, you will find a line of taxis waiting outside the lobby. This makes it easy to get into one. Do not hang around the hotel while drunk for long because if any altercation happens, you will be charged for having alcohol in your system.
Technically on paper, there is a six-month jail sentence and a fine of 5000 Dirhams, which they rarely enforce unless you are involved in a difficult situation.
Most likely, they will give you a warning and insist that you go home immediately.
If you are too drunk and do not have anyone to help you, the hotel staff or police might take you to a hospital or the station overnight. That is why it's best not to get blackout drunk.
Drugs
Drugs are strictly illegal in Dubai.
Never consume or carry any because you can get sentenced to at a minimum of four years in jail followed by deportation. The local authorities are very unforgiving when it comes to drugs and have a zero-tolerance policy.
Even having drugs in your system that are considered illegal here, such as marijuana, can land you in jail. It does not matter if you had smoked or eaten an edible in another country.
If you do have some traces in your system, never draw any attention towards yourself or tell anyone because people might report you.
If you are traveling from another country such as Amsterdam, avoid coming directly to Dubai and wait a few days until your system is clean.
This is a very urgent warning because a lot of places have legalized it, but Dubai's laws are very strict regarding this. It's not worth taking the risk at all. They have locked up people in jail for drug possession, and your holiday can suddenly turn into a nightmare if you are not careful.
Keep all your CBD vapes, edibles, and all paraphernalia back in your home country and do not have any trace of it in your suitcase or body when you arrive in Dubai.
---
8. Is Dubai Safe?
TimeOut Magazine ranked Dubai as the 6th safest city in the world. This ranking is based on feedback from both tourists and residents in Dubai.
The United Arab Emirates has annual themes to promote safety, and 2019 is the Year of Tolerance. This makes Dubai one of the most welcoming cities.
Is Dubai Safe for Women?
Dubai is exceptionally safe for women. It is one of the few cities in the world where a woman can walk by herself in a dark alley in the middle of the night and still be safe.
Laws in Dubai are stringent, and people are very fearful of going to jail or getting deported. They wouldn't dare touch a woman without her consent even if she is walking alone in the dark at two in the morning.
Like any other city, it is always advisable not to speak or accept rides from strangers. This applies to both men and women. Most of Dubai's streets are well-lit, and you can find taxis quickly.
People are very helpful and will go out of their way to give you directions if you are lost.
As a woman, you can flaunt the most expensive handbag in the middle of the night, and no one will risk their lives to steal it.
Women wouldn't get catcalled on the streets, but a lot of men might stare. Even if you are wearing appropriate clothing, they still do it. This only happens in the more conservative areas of Dubai.
There is no crime against staring, but it does feel uncomfortable. It's always best to ignore it because these kinds of men will never talk to or harm a woman. All they do is stare from a distance.
Taxi drivers can be chatty and overly friendly at times, but it's usually harmless. If you are alone in a taxi, always sit in the backseat and never the front.
This is just for your own protection. Even though they will not harm or touch anyone without consent, it's still wise to be cautious, especially if you are traveling to Dubai alone.
If you are drunk and need to get home, ask a friend to help rather than attempting to go in a taxi by yourself. This is just a precaution, but most of the time, nothing will happen.
I had passed out in a taxi once, and the driver used my phone to call my sister and ask for directions. They do get annoyed by drunk people but always try and stay professional.
Do not accidentally try to pay them the fare in a different currency like a friend of mine did. Taxis only accept Dirhams in cash. If you do not have any cash, ask the taxi driver to stop by an ATM.

9. What to Wear
Even though Dubai has very relaxed laws when it comes to clothing, it is always good to dress appropriately in public.
When you are choosing an outfit to wear, ask yourself if it is decent enough for children to see you in.
This is because Dubai is a very family-friendly city, and the clothing rules exist to make families feel comfortable. It has very little to do with Sha'aria law.
In clubs or private beaches, you can wear the shortest dresses or bikinis. But in malls and tourist attractions where families visit, you should dress comfortably without revealing too much cleavage and shoulders.
---
» Read our extensive guide on what to wear in Dubai for women and men
---

Weddings and Honeymooning in Dubai
If you use Instagram, you will have noticed that Dubai is one of the most popular honeymoon destinations. All hotels have weddings and honeymoon packages, and they love putting together swans made from towels or hearts with rose petals on the beds.
Depending on when you are planning to get married, you should book a package at your favorite hotel in advance.
A lot of tourists visit Dubai specifically to host their weddings because the hotels are picturesque with luxury ballrooms, and the staff members are very talented when it comes to planning an event.
A Dubai Honeymoon is very romantic. You can organize a private dinner in the middle of the desert or treat yourself to the most luxurious holiday with spa sessions.
→ Dubai loves to host and entertain married couples, but make sure you do not engage in any public displays of affection.
Always keep it for the hotel room and never outside.
If you want the ideal moonlight kiss, a lot of hotels have spacious balconies with outdoor seating. Order some room service champagne and keep it all behind closed doors.
In the touristy parts of Dubai such as Downtown, Dubai Marina, and Jumeirah, it is safe to hold hands. You can share a kiss in clubs because they are private property, but it's still better to keep all kinds of PDA indoors as much as possible.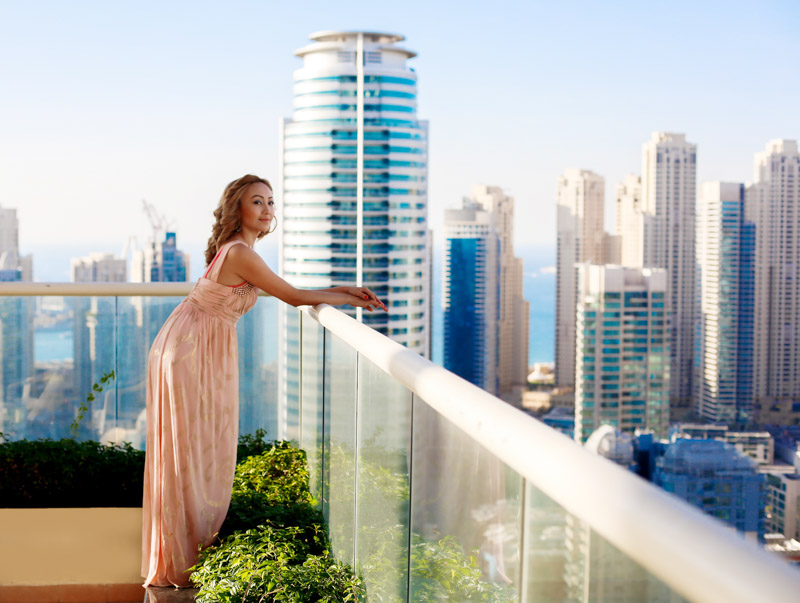 10. Staying in Hotels
Hotels are private businesses. Despite the laws against unmarried couples staying in a room together, many turn a blind eye if you don't cause any problems.
Upon arrival, they will take photocopies of your passports while checking you in. Then you are free to stay in the same room with your partner if you keep to yourself and don't draw unwanted attention.
Most people (except hotel staff) will not even know that you are a couple. They will often assume you are just two friends unless you start kissing in front of them.
There was an unfortunate case last year where a British man and his girlfriend were arrested together while staying in a hotel. Police swooped in on them because the hotel alerted them, saying that a couple checked in using a fake credit card.
Using a fake credit card is a serious crime. The police arrested the girlfriend as well.
Rumors were saying that she was arrested for sharing a hotel room with her boyfriend, but that wasn't the case. She was taken because the police thought she was an accomplice to credit card fraud.
When the British man admitted that he committed the crime on his own, his girlfriend was released. The local authorities and the hotel staff were more concerned about the fake credit rather than the couple being unmarried.
Hotels will never call the police if you are just staying with a boyfriend or girlfriend if you do not commit a crime such as using a fake card to book a room. Keep to yourself and don't do anything to draw negative attention. Check out our tips on the best districts to stay.
Additional Laws
Touching People
Be mindful of walking in crowded spaces because some people can take offense if you touch them.
A Scottish tourist was arrested in Dubai for accidentally touching another man on the hip. This was a very unfortunate case because it genuinely did seem like an accident as he was in a crowded club trying to move through a sea of people.
The other man took offense and called the authorities. Homosexuality is illegal in Dubai, and the Scottish man got accused of sexual assault, which is a severe crime.
Even though he claimed it was an accident, the authorities could not believe him because he was under the influence of alcohol.
If he had not been drinking, it could have been a different situation entirely.
When police take statements from both parties, they tend to give more respect to a person who was sober the whole time.
Some people do not drink alcohol, but they still visit a club for dinner or consume non-alcoholic cocktails.
When the police came, they had to choose between believing a sober or a drunk person. This made things difficult for the Scottish man because there was evidence of him drinking, and he admitted it himself.
Luckily, the case was finally dropped, and the Scottish man was free to go home. To avoid that from happening you should be mindful of who you touch, even in crowded places.
While walking through clubs or tight spaces, keep your hands to yourself and simply ask people to move aside or say, "Excuse me." Then there is no risk of touching anybody.
At the same time, this case shocked residents as well because a little accidental touching does not offend everybody. Most people let it slide since they understand these things happen. However, the Scottish tourist was unlucky to have met someone who did take offense.
Even if others might laugh it off, it's better to be safe than sorry. Excuse yourself and be careful about who you touch, especially if you are drunk.
Having alcohol will not do any favors to prove your innocence because alcohol does affect judgment, and it's difficult for the police to believe an intoxicated person.
Taking Photos of Others
It's normal for tourists to take photos while visiting Dubai. You should still be careful not to take any pictures of people you don't know. Unless they are celebrities.
In Dubai, people can take offense to being photographed, and it's always better to ask their permission first.
If you are in a touristy area and taking pictures of the Burj Khalifa or other attractions that is perfectly fine, provided you do not specifically focus the camera on somebody you don't know.
Never take photos of women in abayas (black Emirati dress) without their permission, or of any government buildings.
A British woman was arrested because her boyfriend and his friends took mocking selfies with a man who was asleep on the couch, in a hotel lobby.
Everybody immediately fled Dubai except her because she was a resident. The man pressed charges against her for being involved.
During the commotion, she had picked up his glasses and put them aside. This prompted the man to also accuse her of theft.
Some media reports said she put those glasses in a bin.
Always make sure you have a person's consent before photographing them. And do not put someone's belongings in a bin without informing them.
Swearing
Swearing and cursing are illegal in Dubai, especially if you do it online. Many people still joke with friends, but if somebody gets offended, they can get you arrested.
Avoid sending someone the middle finger emoji on your smartphone.
Dubai has stringent cybercrime laws, so be careful about the messages you send to others and do not use any "Insulting words" or "Inappropriate emojis."
Bonus Dubai Tips
Celebrities
Celebrities love coming to Dubai. Many of them even live here, such as Lindsay Lohan. There are always many concerts and events where stars come and perform. Alicia Keys has probably been here a hundred times.
To appeal to tourists from the United Kingdom, venues in Dubai recently started inviting old-school bands such as Westlife, S Club 7, and Boyzone. If you want to say Nothing At All with Ronan Keating, make sure to fly Emirates and get here ASAP.
Supercars
Dubai is full of luxury cars. You will immediately see them all over the city, and they are hard to miss.
If you specifically want to see the police supercars, they are in the Downtown area. Usually, a few of them would be parked outside Dubai Mall near the fountain.
The police with the supercars are very friendly. They let tourists take photos of their Mustangs, Lamborghinis, Ferraris, etc. Just smile and ask them if you can take a quick snap of their ride.
If you have bottomless pockets, you can also rent a supercar yourself. There are plenty of rent-a-car businesses offering luxury vehicles.
Make sure to drive them safely and do not speed the way a British tourist did in 2018. He racked up fines of nearly 40,000 pounds by racing in a rented Lamborghini.
Pin to your Dubai Tourist information board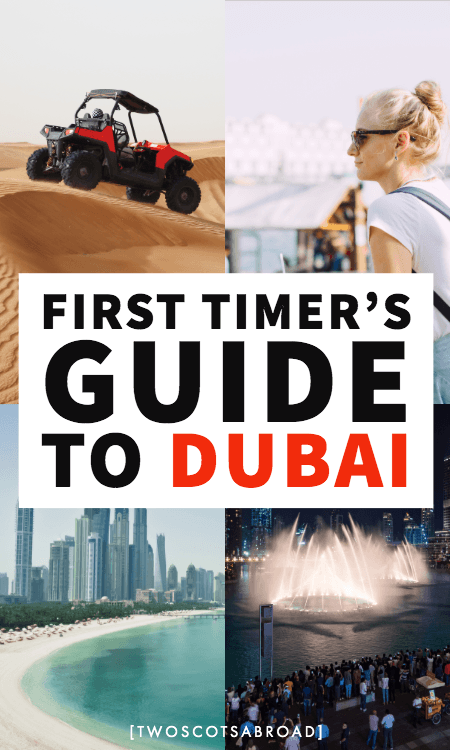 Final Words
It is very safe to travel to Dubai compared to any other city in the world. The laws are very strict here, which is what makes people feel safe.
You can leave the front door of your house unlocked or leave car keys in the ignition, and no one will steal anything.
There have been many cases of people losing their wallets and getting them back with the cash still inside.
Some laws might be more extreme than others. Staying close to trustworthy friends and not getting too drunk is always a good idea, no matter where you go.
These are some of the most important Dubai tips for tourists. Following these rules will keep you safe. Then you can enjoy your holiday and fly back home with plenty of fun stories to share.
Our Dubai Travel Guides
Author: Shipra was born and brought up in Dubai. She has lived in the city for most of her life and has always felt safe to walk alone with earphones no matter how late at night. She loves meeting tourists and will always greet you with a big smile.