This article has links to products and services we love, which we may make commission from.
The city of Chicago is known to flex its majesty during the Christmas season. Chicago comes alive with anticipation as temperatures drop, and it is truly a magical place to spend Christmas with loved ones, new travel friends or even alone.
From popular Christmas activities to lesser-known winter events, here's your guide to things to do in Chicago at Christmas for all ages and budgets.
While Christmas activities might look a little different this year, there are still many options for Christmas cheer.
You may also like our guides to 3-day Chicago itinerary, free things to do in Chicago, and unique activities.
---
Christmas Things to do in Chicago
1. Christkindlmarket Christmas Market
For a European Christmas experience that can be found in Chicago, check out the Christkindlmarket Christmas Market at Daley Plaza in the Loop and Wrigleyville at Gallagher Way.
Pick up the perfect Christmas gift from November at the shopping experience inspired by the 16th century Christkindlesmarkt in Nuremberg, Germany.
Christkindlmarket Chicago is an authentic partnership between the city and Nuremberg, Germany and has been running since 1996.
In the past, vendors such as Käthe Wohlfahrt Christmas Store have traveled from Germany to participate in the Christmas holiday market!
Enjoy filling European food like currywurst, raclette, and strudel, perfect for winter.
It continues to be one of the most popular things to do in Chicago at Christmas.
Chrishtkindlmarket also features in our guide to Illinois in winter.
2. The Nutcracker at Lyric Opera of Chicago
Lose a couple of hours to a majestic rendition of The Nutcracker presented by the Joffrey Ballet.
The Art Deco-style Lyric Opera House (20 N Upper Wacker Dr) hosts the annual winter show featuring story, dancing, and live orchestra.
3. The Bean Selfie
One of the most recognizable symbols in Chicago is that big silver bean at Millennium Park.
Just because the ground is dusted/covered in the white stuff, it does not stop winter lovers from taking a reflection shot with the number one attraction in the city!
Officially called Cloud Gate, this stainless steel figure is the work of Indian-born British artist Sir Anish Kapoor and is made up of 169 polished plates; that's a lot of cleaning!
If you are doing it for the 'Gram, you might want to get a picture of Lake Michigan completely frozen up with the Chicago skyline standing behind.
Check out our free things to do in Chicago guide for more.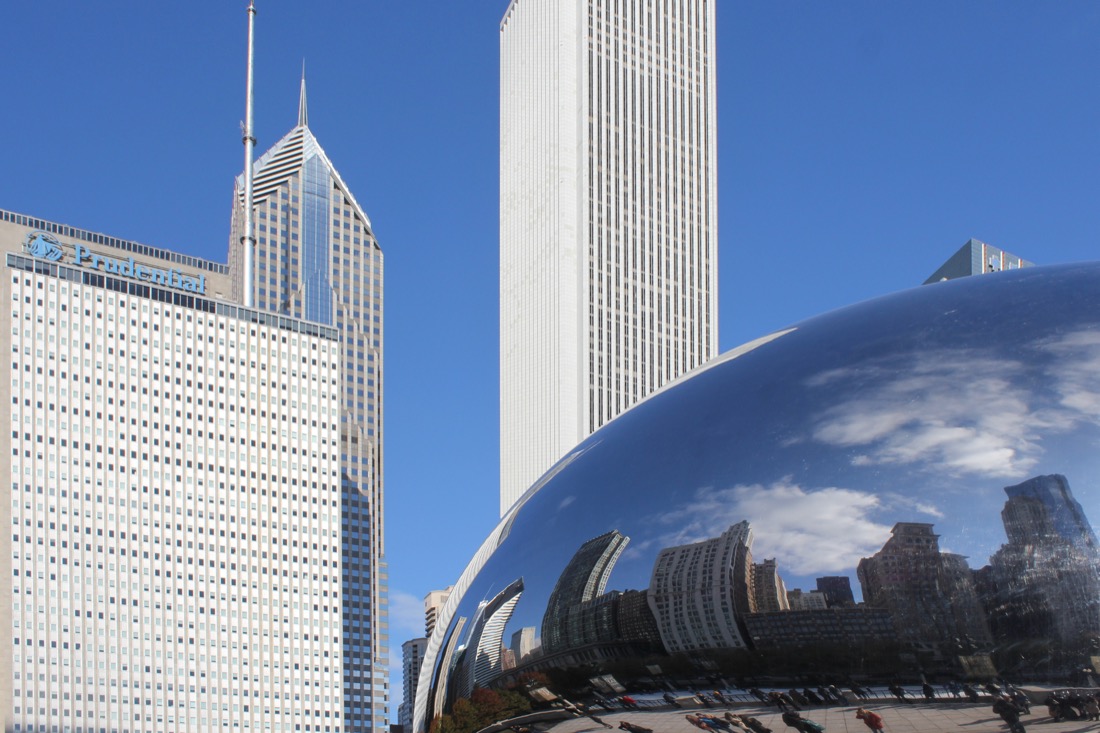 4. Ice Skating In Chicago at Millennium Park
Just because it is winter, it does not mean that you cannot enjoy outdoor activities this Christmas. Chicago has a number of one-of-a-kind ice skating rinks all over the city.
There are both indoor and outdoor rinks that thousands of people visit during Christmas.
One of the most visited rinks in Chicago is the Mccormick Tribune Ice Skating Rink at Millennium Park. It is open from November to March every year.
Look out for the 2-4-1 offers, which let you skate both Millennium and Maggie Daley Park.
If you are new in town, you can hire ice-skating gear. One of the family-friendly things to do in Chicago in winter.
5. Ice Skating Ribbon
Another Chicago ice-skating opportunity is at the Ice Skating Ribbon located at Maggie Daley Park Ice Skating Ribbon.
This outdoor skating rink opens in winter and it differs to other rinks as it snakes around the park, like a ribbon!
6. Sledding In Chicago
Sledding is a great way to bond with family and friends during cold winter days.
Every Christmas holiday, sledging enthusiasts head to Cricket Hill at Montrose Harbor, Palmisano Park in Bridgeport, the Dan Ryan Woods and Soldier Field.
These hills offer the perfect sledding places and they are safe for kids too. For people looking to sled away from the city, they can head out to the suburbs where places like James Park (Evanston's "Mount Trashmore") and Polar Peak at Frozemont (Rosemount MB Financial Park, 20 mins from Chicago Downtown) reign supreme.
7. Wrigley Building Christmas Tree
Stunning tree at Wrigley Plaza (400-410 Michigan Avenue), which pops against the glazed terra-cotta on Magnificent Mile.
The Wrigley is one of the many festive trees around the city but the most iconic.
8. IO Godfrey Igloos
Climb inside the heated igloos of the Godfrey Hotel's rooftop winter scene!
These dreamy see-through igloos keep you warm while you drink and enjoy the views.
Back by popular demand, these rooftop igloos seat six people; one bottle per group must be purchased.
Bookings live from the end of October, a deposit is taken to secure it.
You may also like our guide to hidden gems in Chicago.
9. Curling By The Lake
Harry Caray's Tavern (9700 E Grand Ave) at Navy Pier is where you'll find a fun game of curling.
Curling By The Lake consists of a patio curling rink made of Polyglide synthetic ice, Curling Cocktails, and a cozy Warming Hut with electric a fireplace and blankets!
10. Winter Wonderland at Gallagher Way
Head to the Wrigleyville neighborhood for ice skating, ice bumper cars, and private chalets for rent.
There's also a host of Christmas food from around the world like perogies, and crepes.
11. Frosty's A Christmas Bar
Head to 809 W Evergreen (Goose Island) for Frosty's pop-up Christmas bar which has heaps of Instagrammable props like swings, giant soldiers and candy canes.
Get ready to party at Frosty's! Check out the official website for this winter updates.
12. Have Glogg At Simon's Tavern
Looking for the perfect night spot to spend quality time with friends?
The Andersonville neighborhood dive bar, Simon's Tavern (5210 N Clark St), was recently voted as the most loved bar in all of Chicago.
The place has been open since 1934 and is perfect for people looking to enjoy a night out during the Christmas period.
You can cozy up with friends, knock back the tavern's famous spiced wine and feed the jukebox all night long.
During the holidays, a special neon sign is put up on the front window proclaiming, "It's glogg time!"
If you are looking to drink by an open fire, head to Broken Shaker or Drumbar for an outside fire with a classy twist.
13. Polar Express Pulls Into Chicago
Hop aboard the CTA's holiday train, which is decked out in over 60,000 lights, tinsel and a visit from Santa!
Check out the official CTA website for this winter updates.
14. Christmas Shopping in Chicago
Looking for a special gift for a loved one? How about you head to one of the many holiday markets in Chicago.
As you browse the markets, you will experience the wintertime magic while having a blast shopping for the perfect gifts for everyone on your list.
The seasonal market circuit offers a variety of merchandise, from Chicago-themed gifts to sugary confections to vintage clothing.
You are free to enjoy a boozy beverage as you shop. Christkindlmarket at Daley Plaza in downtown Chicago is where you will find the European inspired Christmas market stalls and lights to boot.
If, like me, you prefer vintage shopping, head to the Lower West Side for Knee Deep Vintage, Richard's Fabulous Finds at Wicker Park (I love this area) and Encore Resale Clothing at Hyde Park.
15. Visit Chicago's Toy Stores
Chicago has several toy stores.
During the Christmas season, the shops are open until late hours to accommodate the number of last-minute shoppers.
The toys available at these stores aren't just for kids.
You will find all sorts of toys, including rare collectables.
One of the places to visit in Chicago during winter is Macy's (the old Marshall Fields) to see the 45-foot tree in the Walnut Room.

16. Check Out The Latest Christmas Movies
Every year, there are Christmas-themed movies that get released in cinemas.
Chicago is home to one of the best cinemas equipped with the latest technology to provide a thrilling experience to movie buffs. There are several movies released each year with different ratings.
Instead of staying home and enjoying the same Christmas films you have watched over and over, why not head to one of the cinemas in Chicago and catch the latest Christmas movies. Bring along the whole family to make the experience memorable.
Alternatively, what about Christmas date night? AMC Dine-in Theatres Block 37 lets you eat a freshly prepared meal, have a drink in hand and watch a movie!
Logan Theatre (2646 N Milwaukee Avenue) is an old-school cinema with crushed velvet seats and cheap show tickets. You can expect new movies, throwbacks and late-night movies.
17. Christmas Shows in Chicago
Do you enjoy watching live plays?
Every year, local theaters in Chicago present both old favourites and new plays on stage.
Venues also host festive orchestras and ballet shows.
Check out the historic CIBC Theatre, the James M. Nederlander Theatre, and the Cadillac Palace Theatre for more.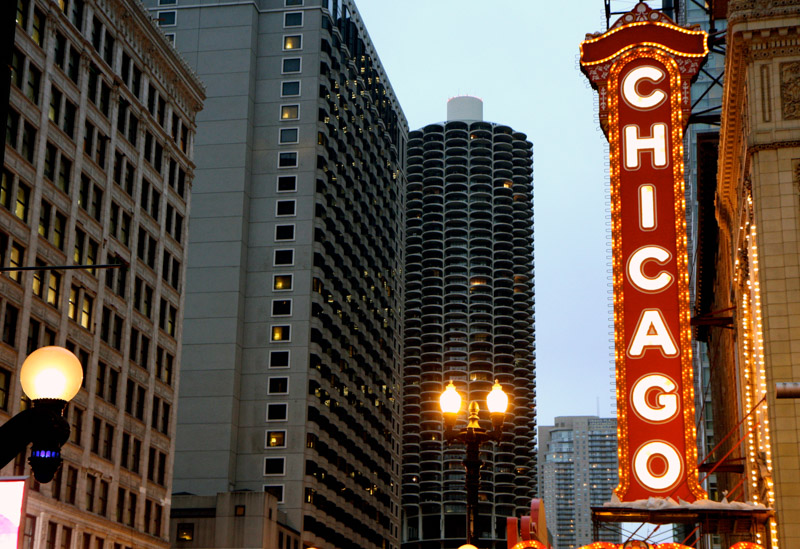 18. Adler Planetarium
Not specifically a Christmas activity but a unique point of interest in Chicago for those who like all things space-related – Alder Planetarium (1300 S Lake Shore Drive).
Many of the shows start at midnight for obvious reasons.
You can expect educational shows, hands-on activities and expert exhibitions. In 2020, you can watch a show online.
Check out our guide to unique things to do in Chicago for more alternative ideas.

19. Book a Snug and Eat Fondue Until You Puke
OK, don't puke, but you can reserve a cozy nook at Geja's Cafe, where the menu calls for fondue and fine wine.
For over 50 years, Geja's Cafe (340 W Armitage Avenue) has been encouraging visitors to play with their food over an open fire.
This award-winning restaurant has won the title of one of the most romantic places to dine in the US by USA Today!
20. Gorge on Monster Hot Chocolates
Did you even go on a winter city break if you didn't get a pic of you and your bestie cheersing an overflowing hot chocolate packed with giant marshmallows?
Indulge your sweet tooth while warming up with killer hot chocolates at Bombobar (832 W Randolph Street) or XO Marshmallow (6977 N Sheridan Road).
Christmas Festivals
21. Christmas Tree Lighting Ceremony
You will not have properly experienced Christmas in Chicago unless you do the things listed in this post, especially the Christmas Tree Lighting Ceremony.
Every year, the city of Chicago erects an official 50-foot+ Christmas tree in the majestic Millennium Park.
It won't just be the tree that is glowing as Christmas-lovers capture the event on their phones.
There might just be another bright surprise for you too.
22. Morton Arboretum Illumination
Morton Arboretum Illumination, 30 minutes outside of Chicago, is day trip worth taking for the Illumination: Tree Lights.
The two-mile-long driving event along Arboretum's 1,700 acres has more than lit up 10,000 trees!
Open from Thanksgiving through to New Year's Day. A great family-friendly driving experience. https://www.youtube.com/watch?v=TAKAJBenuEE
23. Christmas Around the World at Museum of Science & Industry
It is the tradition that the Museum of Science & Industry plays host to the Christmas Around the World and Holidays of Light event each year from the second week in November until January.
Expect a floor-to-dome-sized Christmas tree surrounding bother small (but in no means small) trees decorated by volunteers.
Each tree represents the different ways that Christmas is celebrated around the world, hence the title. Museum of Science & Industry can be found at 5700 S Lake Shore Drive.
You can also learn how to say Merry Christmas in lots of languages!
24. Chicago Christmas Lights Festival
Chicago's Magnificent Mile (Mag's Mile) is home to many hotels, shops and restaurants, but for one night in November, the street comes to life with music, light and a few Disney characters thrown in to kick-start the festive feels.
25. Lightscape at the Chicago Botanic Garden
Walk by and through the huge light installations at Chicago Botanic Garden's Lightscape (1000 Lake Cook Rd).
This family-friendly Christmas event marries nature with music, light, fire, and color.
26. Santa Hustle Chicago
Whack on the red suit, beard, hat and sneakers – it's time to compete for the gold medal during the Santa Hustle!
Volunteers pass out goodies and keep spirits high as you run through The Windy City.
The course includes at 5K route and a kids dash for families. Cookies included!
Other Winter Festivals in Chicago
27. Día de Muertos
Honor and celebrate those who have lost their lives during the annual Day of the Dead exhibition at the National Museum of Mexican Art.
The exhibit features art, photography, and traditionally decorated altars.
28. Kwanzaa at DuSable Black History Museum
Learn more about the annual holiday, Kwanzaa, celebrated in African-American culture at the DuSable Black History Museum.
Events include education and performances.
29. NYE Fireworks at Navy Pier
Ring in the new year for free at Navy Pier with a family-friendly festival.
The event will feature a countdown to midnight then a huge firework display.
There are also a number of premium NYE events throughout the city, including a party at Navy Pier where you can see the fireworks as part of the ticket.
30. Lunar New Year Parade
Celebrations in Chicago stretch into January with the Lunar New Year Parade.
The colorful parade includes a traditional dragon, dancing teams, floats, and marching bands.
---
Getting Around Chicago
It's really easy to navigate downtown Chicago; like Glasgow in Scotland, it uses a grid system.
Downtown is divided by Madison Street (North and South), and State Street splits up East and West.
There is an extensive transport system for those who prefer not to walk and/or want to squeeze more in.
The Chicago Transit Authority (CTA) runs the train and bus system in the city.
You can pay with cash for single trips or invest in a reloadable Ventra Transit Card or Unlimited Ride Pass for multi-use savings. The 'L' train covers 144 rail stations, and two of the links operate 24 hours a day.
The Blue Line links the airport (O'Hare) to downtown, and the Red Link hooks up the North and the South. Some of the buses also run 24 hours a day.
You need the exact change for buses. You can plan your journey using the Chicago route planner.
Weather in Chicago
You can expect temperatures of around 21°F (-6.1°C) to 35°F (1.7°C).
Prepare for ice and snow from December. Wrap up, wear layers and invest in a good quality waterproof coat.
If this doesn't sound like temperatures you can handle, consider fall in Chicago instead.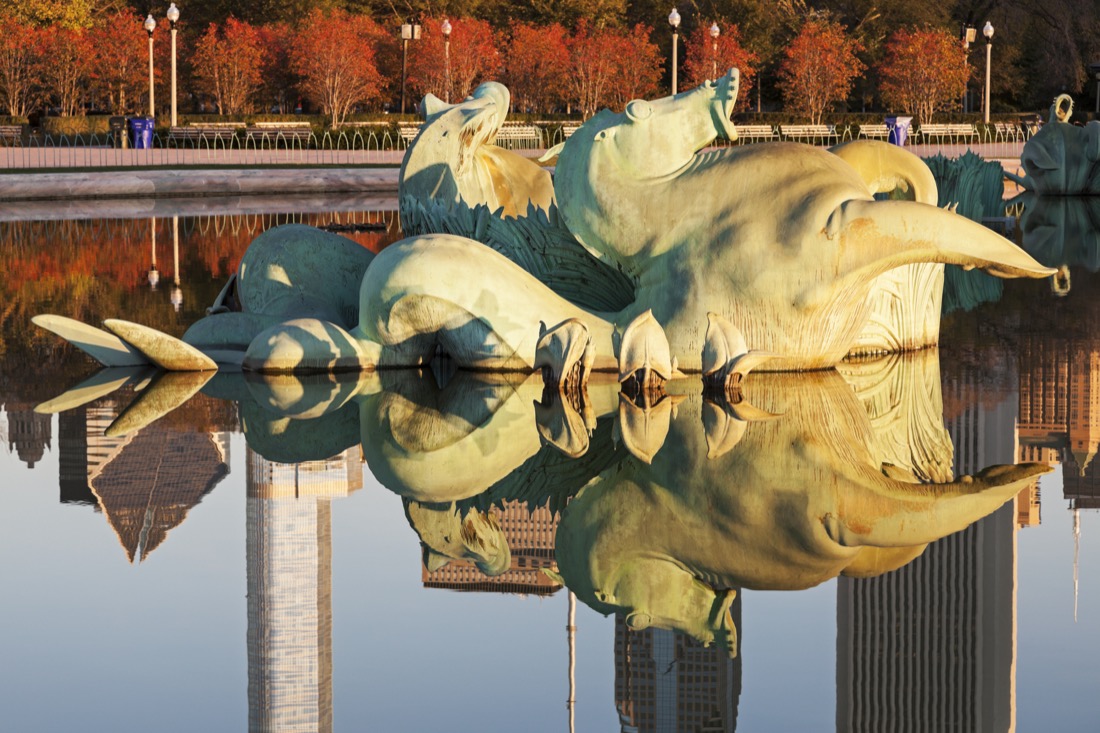 What to Wear in Chicago in Winter
Layers, keep warm outdoors but get ready to remove items when indoors
Thermals if you plan to be out for a long time
Padded outerwear
Wool outerwear is warm but not great when it gets wet
Hat, gloves, scarf to keep cozy
Extra socks, consider pantyhose under your pants
Comfortable waterproof or snow boots, especially if you plan to walk a lot
Sunshades for winter glare
Tote bags for shopping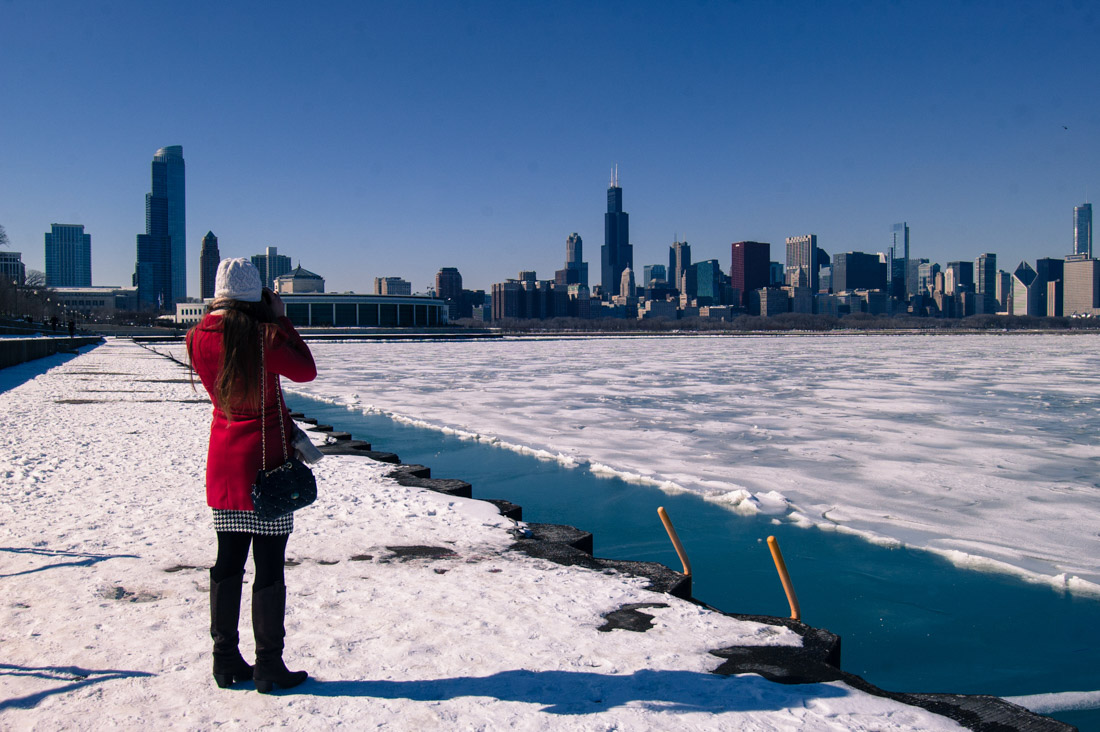 Final Words
If you are new to the city, visiting Chicago in December is an exciting time full of festivals and markets. If you are a local, I hope you've discovered something new to try out this winter. Please do tell us your favourite Christmas activities in Chicago below!
---