This article has links to products and services we love, which we may make commission from.
Planning the perfect getaway to one of the cute small beach towns on the East Coast? Whether you want to get away with your partner, your family, or just a group of friends, we've curated this beach guide explaining everything you need to know before you go so you can jump straight to enjoying the small-town peace and quiet, sun and sand, and a break away from it all.
Our guide details a summary of these stunning shorelines, suggestions of what to do there and of course, what to eat! Have we missed your favorite? Let us know in the comments below.
If you prefer lakes, we also have a guide to the East Coast's best lakes for easy trips and beach packing list with free checklist.
Best Small Beach Towns on the East Coast
1. Ogunquit Beach, Maine
Ogunquit means "beautiful place by the sea" in the Abenaki Native American language, and it is a spot-on description; it is one of the best vacation spots on the East Coast.
This cute East Coast town is brimming with character with a thriving downtown area filled with boutiques, art galleries, gift shops, candy stores, and restaurants.
Ogunquit Beach is frequently cited s a top beach destination on the East Coast with its three-and-a-half-mile-long white sandy beach and generally calm waters, it is a true gem of Maine.
If you're looking for one of the best family beach vacations on the East Coast, Ogunquit fits the bill; beachgoers spend their time flying kites, renting kayaks, building sandcastles, or hunting for seashells.
Ogunquit Beach is often referred to as Footbridge Beach.
Parking is free for the first 30 minutes, but after that can get pretty pricey at $15.00- $25.00 a day.
You may also like our New England road trip guide.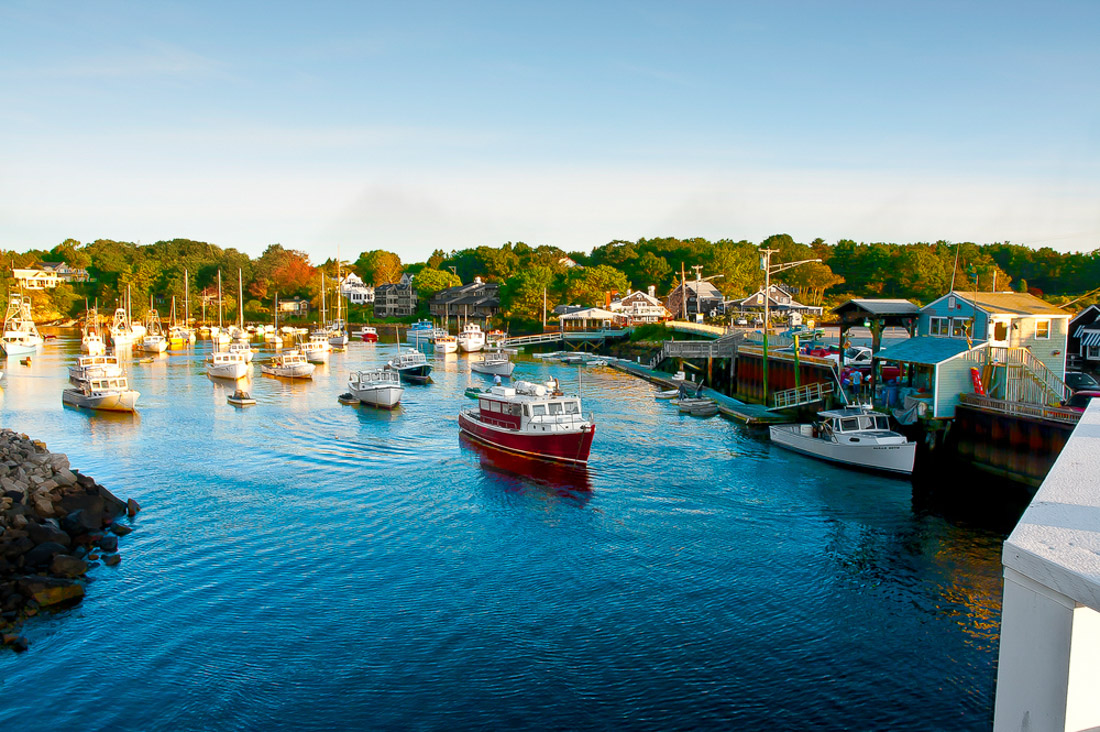 Things to do at Ogunquit Beach, Maine
Visit Perkins Cove, an old fishing village that encapsulates that quaint East Coast beach town.
Watch a top-tier theatre production at the Ogunquit Playhouse, often with Broadway actors in the cast.
Go dancing or enjoy some live music or comedy shows at the local bars.
Take a trolley ride all around the beach to take in all the sights.
Stroll down the picturesque Marginal Way and enjoy the coastal views.
Spend an afternoon in the Ogunquit Museum of Modern Art.
Check out the Ogunquit Memorial Library.
Go antiquing at the Blacksmith Mall Antiques and Uniques and Antiques.
Enjoy a blast from the past at the old 1920's silent film theatre, Leavitt Theatre, where you can watch classic, art, and first-run films.
What to Eat
Lobster roll – a trip to Maine isn't complete without at least one. You'll be able to find them everywhere-from roadside stands and restaurants.
Blueberries-Maine's State berry is the blueberry, and they are America's largest producer; you'll find blueberry pie and blueberry pancakes on most diner menus.
Whoopie Pie – Maine's official state treat! Traditionally made with chocolate cake and vanilla frosting, you'll find endless flavor combinations.
Ogunquit Beach Hotels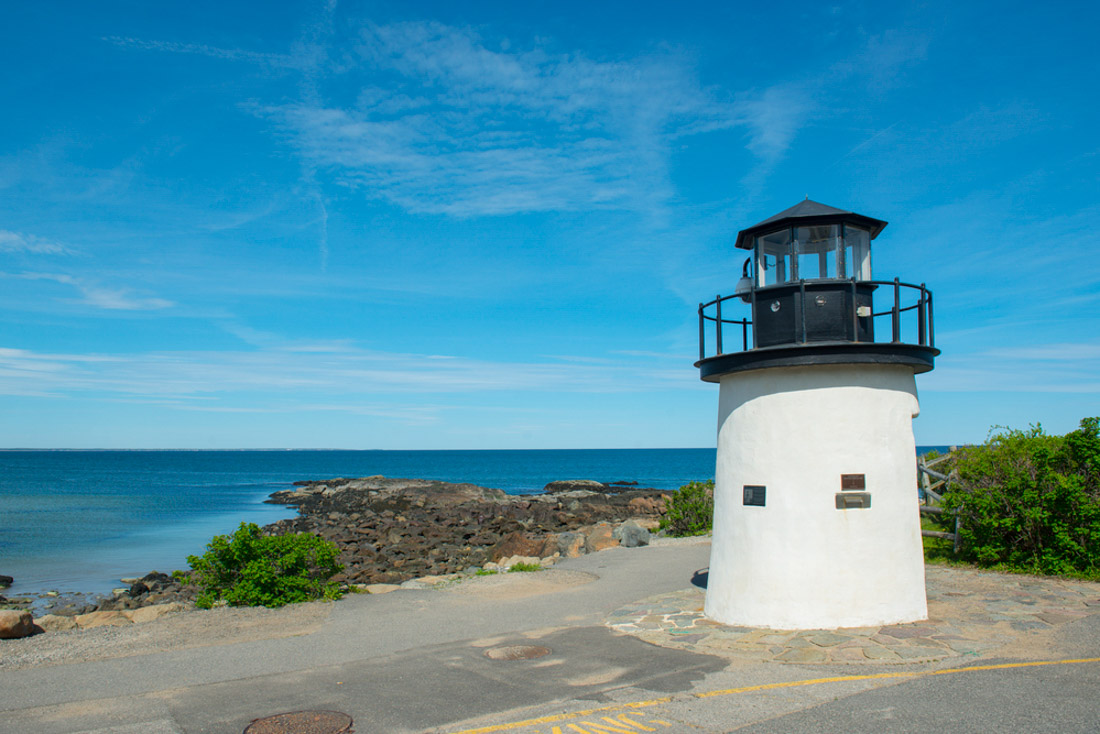 2. Rockport, Massachusetts
Rockport is just 40 miles north of Boston making it an easy day trip or coastal vacation spot.
One of the coolest things about Rockport is the variety of beaches.
Although increasingly controversial, scuba divers head to Back Beach for its quarter mile sandy shore with water at either side of the rocky areas.
Divers enter the water from all points along the beach to discover what's below the ocean.
Be respectful of those who live in the area by using public restrooms to undress and consider voice levels at certain times of the day.
Front Beach is next to Back Beach and is enjoyed by swimmers during high tide.
Long Beach has views of the Twin Lights on Thatcher Island and has accommodation options as it is surrounded by a variety of New England Inns and B&B style lodgings.
Things to do in Rockport, Mass
Stroll along the charming downtown or shop at the eclectic Bearskin Neck.
Bring your sketch book and draw the iconic Motif No. 1 on Bradley Wharf.
Explore the Straitsmouth Island Lighthouse and Thacher Island's Twin Lighthouses.
Hike the The Atlantic Path trail for scenic views.
Rockport, MA Hotels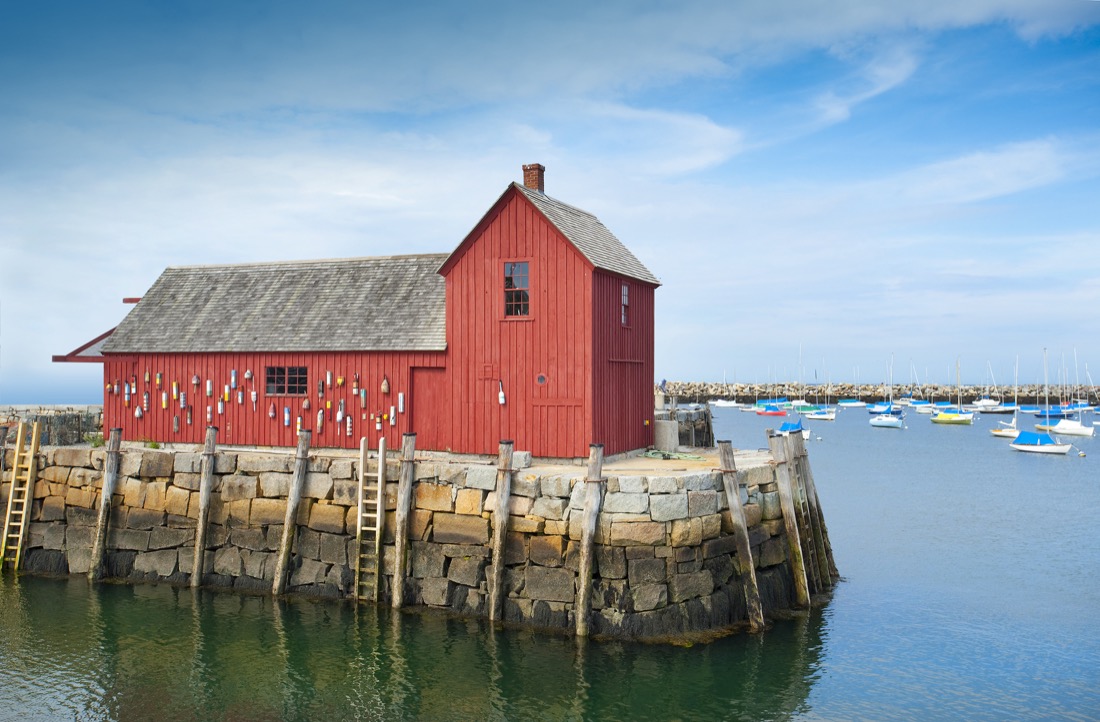 3. Wellfleet, Massachusetts
A small town on the well-known East coast beach, Cape Cod's, Wellfleet is everything you'd hope a New England beach town would be.
This charming town is filled to the brim with beaches; the most popular by far is Marconi Beach where all you need is a towel and umbrella and a sunny day.
If you want to head a little off the beaten path, Mayo Beach, White Crest Beach and Duck Harbor Beach are great choices.
You'll need a parking sticker to park at the beaches, you can get one for $65, $100, and $165 for three days, one week, and two weeks respectively.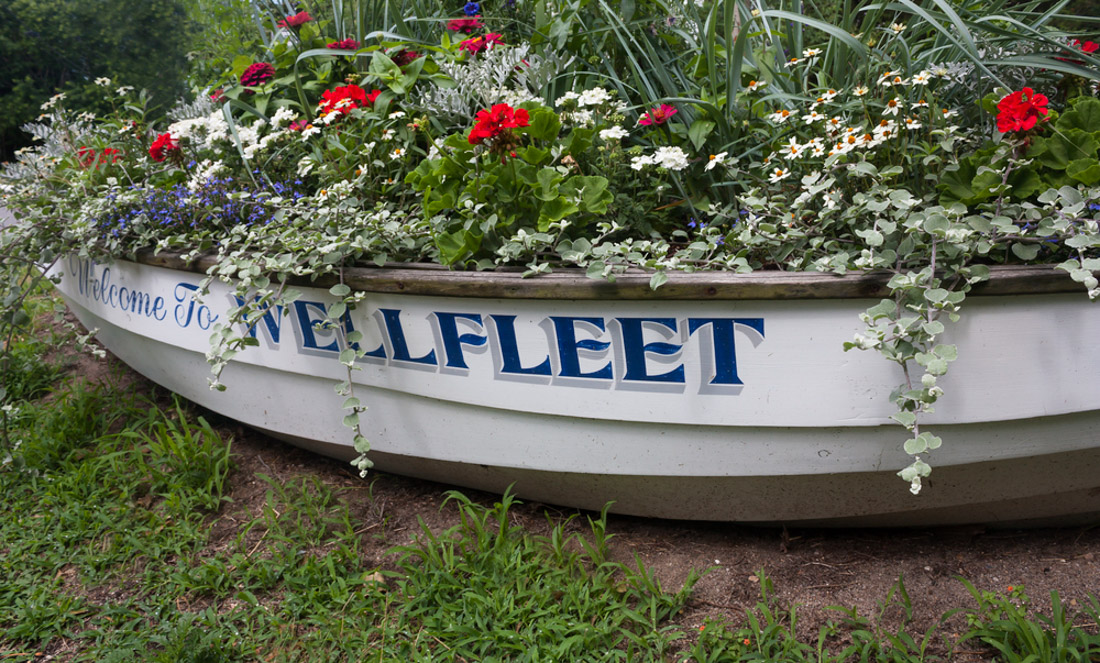 Things to do at Wellfleet, Massachusettes
Go for a walk and take in nature at the Wellfleet Bay Wildlife Sanctuary for $5 per person, see how many animals you can spot in the marshes and woodlands.
Take a tour of the Marconi Wireless Station, where the first wireless telegraph transmission was made. There's a great lookout point where you can even maybe see some seals.
Visit the White Cedar Swamp for a gentle hike where you will be immersed in foliage and nature.
Brush up on your art history at one of the local art galleries in town.
Grab a unique find at the Wellfleet flea market.
Catch a show at one of the local theatres in town.
Check out this audio tour of Cape Cod.
There's no denying the the Cape is expensive so you might be interested in our guide to the free things to do in Cape Cod.
What to Eat
Boston Cream Pie- Two layers of cake with a thick layer of custard in the middle and finished with a thick chocolate glaze.
Clam Chowder- a thick soup made with seafood, potatoes, and cream. Though it's now known worldwide, you'll have to try the original.
Baked Beans- Stewed with brown sugar or molasses for sweetness and served with pork throughout.
Wellfleet Hotels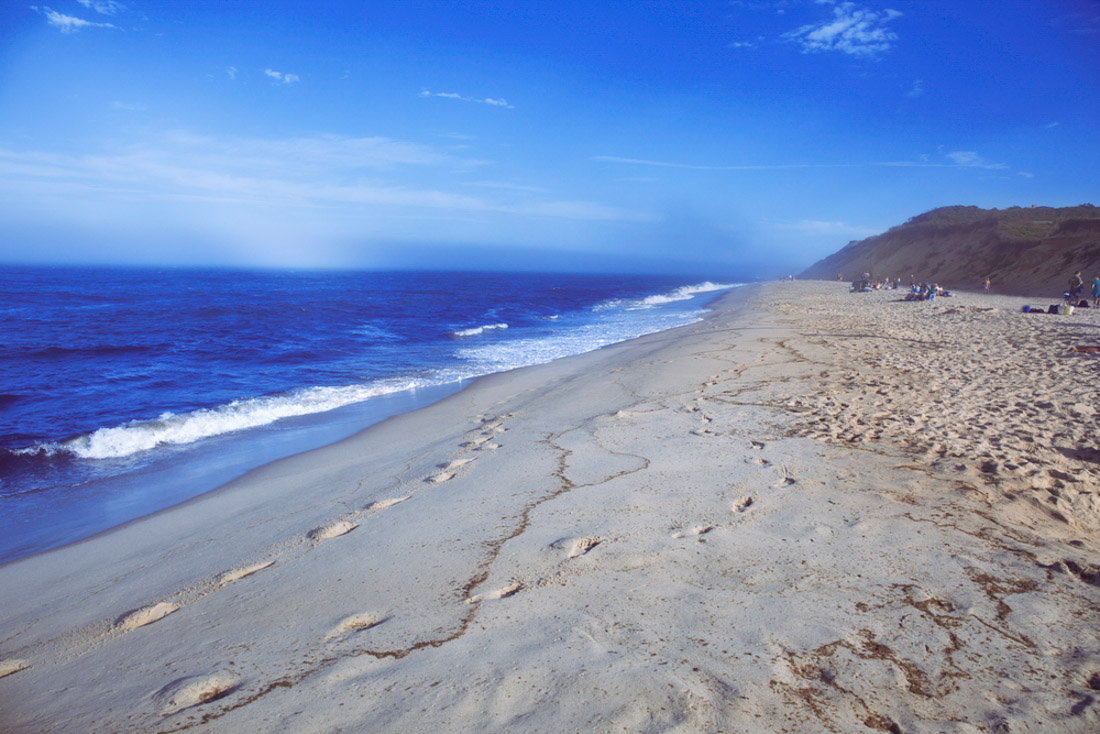 4. Jamestown, Rhode Island
America's smallest state, Rhode Island has just over 1 million residents – the whole state feels like an East Coast small town.
Jamestown is a wealthy town known for its preserved architecture from the 18th century, located on Conanicut Island, the second largest island in the larger and more well-known Narragansett Bay.
Mackerel Cove Beach, East Ferry Beach, and Old Salt Work Beach are underrated beaches that are popular for swimming because of their shallow waters and are local favorites.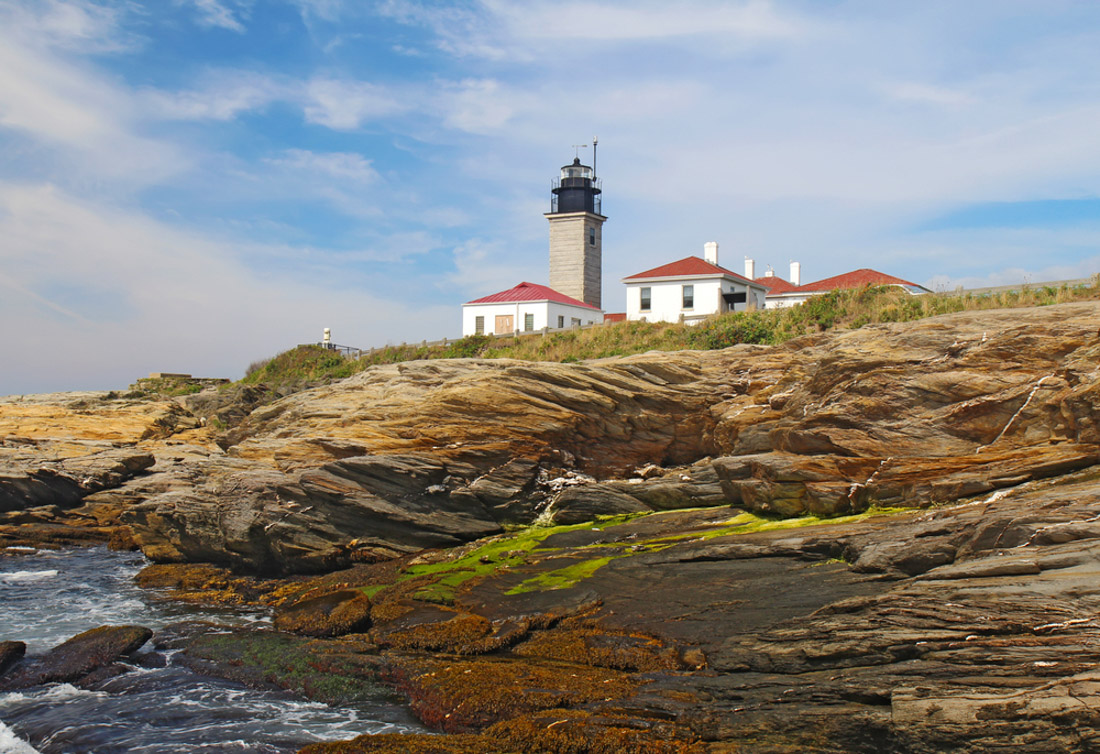 Things to do at Jamestown, Rhode Island
Get the best views and a little history at the Beavertail Lighthouse and Park, the third lighthouse in America and the first in Rhode Island.
Take a guided tour of the Jamestown Fire Memorial Museum; as a bonus, it is very kid-friendly.
Check out the Jamestown Historical Society Museum in the summertime, the tiny museum will tell you everything you'd need to know about this old East Coast town.
Take a peek at the picturesque Conanicut Island Lighthouse situated at the top of the town. The now-defunct lighthouse is a residential home and was seen in Wes Anderson's Moonrise Kingdom.
Venture out to the gorgeous Fort Wetherill State Park, which was also seen in Moonrise Kingdom.
Stroll through the downtown and get a feel of the local flavor while you check out the shops and restaurants.
Visit the Historic New England Watson Farm, an over 200-year-old 265-acre working family farm in Jamestown that is open to the public where visitors can observe seasonal farm activities and participate in farming workshops.
What to Eat
Clam cakes- made up of fried dough with small pieces of clams inside, served in bite-sized portions.
Doughboys- Almost like a doughnut, the dough is deep-fried and dusted with powdered sugar, and served hot.
Coffee Cabinets- A coffee beverage made of coffee ice cream, coffee syrup, and milk.
Jamestown Hotels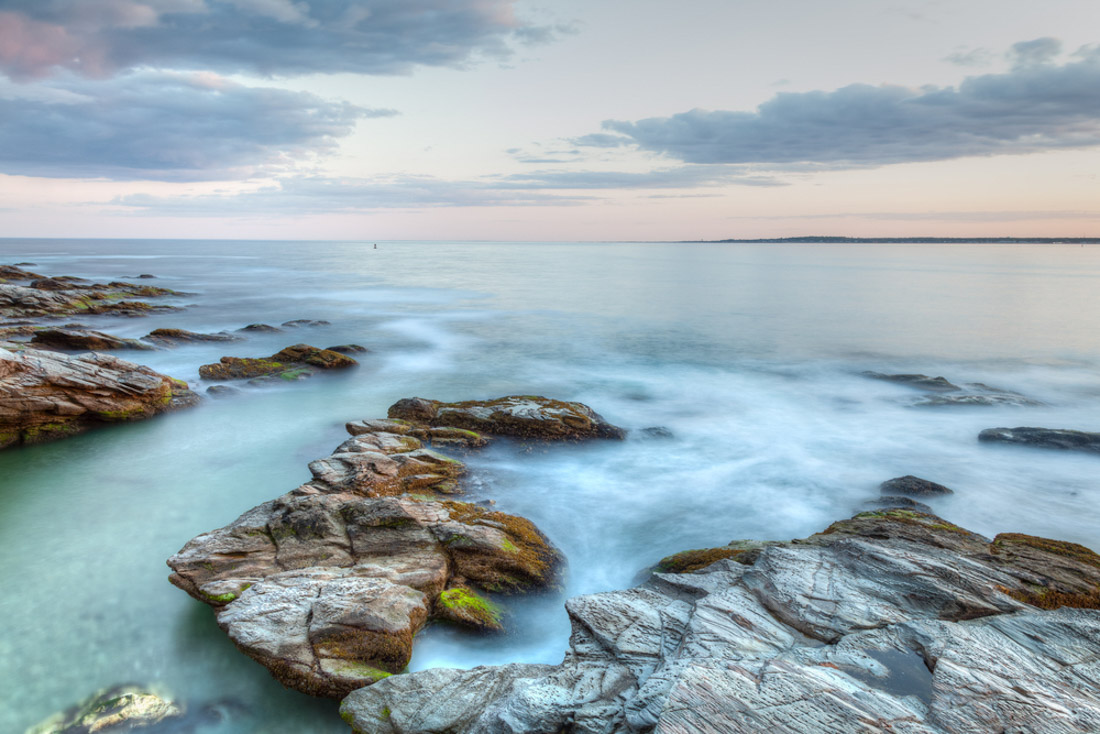 5. Madison, Connecticut
Madison, Connecticut has 4 beaches over its 2 miles of sandy beach where you can camp, walk the trails, fishing, boat, fish, hike, bike, picnic, and more; East Wharf Beach, West Wharf Beach, Hammonasset Beach State Park, Surf Club
Parking pass fees are $25 Monday – Thursday and $40 Friday, Saturday, Sunday, and holidays.

Surf Club is by far the most popular option with 45 acres of land filled with an open picnic area with tables and grills, playground areas, bocce, basketball, and sand volleyball courts, and boating options.
East and West Wharf Beach are both smaller and have less facilities, which mean that they'll be quieter options.
Hammonasset Beach State Park falls in between the two, it has two miles of beautiful beach, a boardwalk to stroll on, and multiple trails to walk or jog through.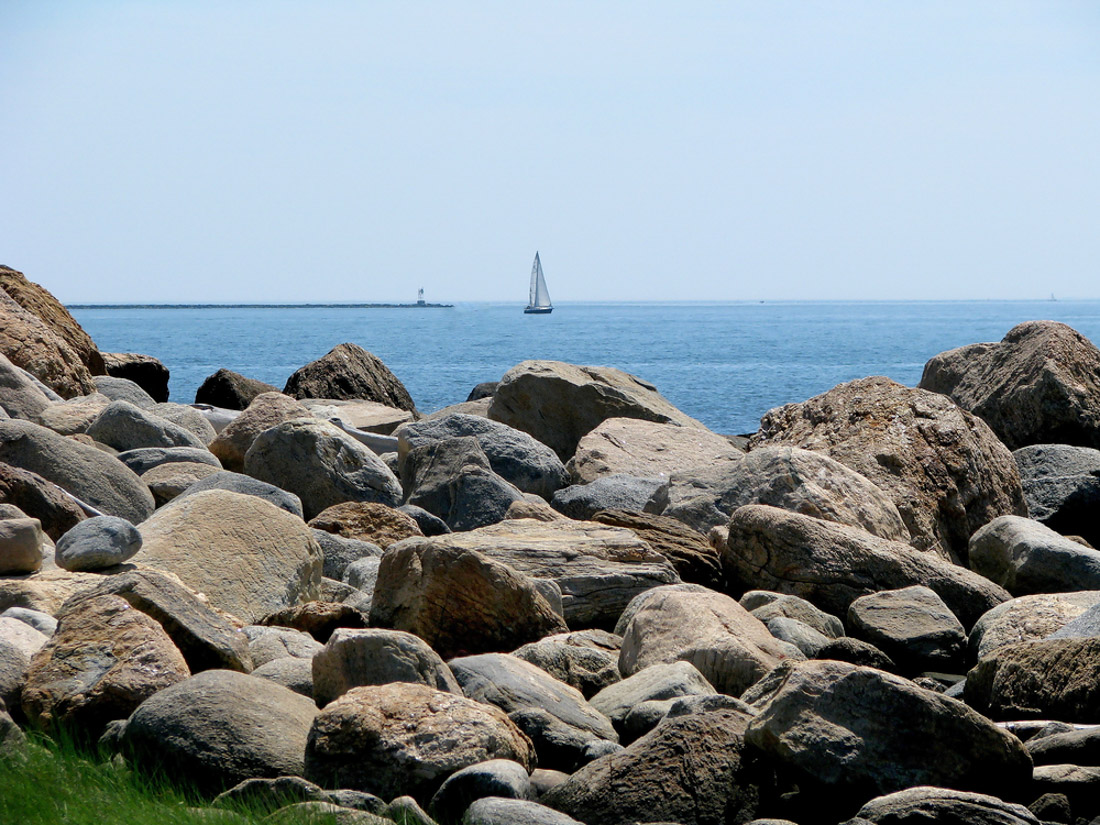 Things to do at Madison, Connecticut
Browse the wildly popular bookstore, RJ JuliaBooksellers.
Catch a film at the Madison Art Cinema.
Tour the Sculpture Mile at Madison.
Go downtown and get immersed in local life by checking out the local shops and eateries.
Take a little road trip (under one hour away) to Mystic, Hartford, New Haven, and other popular Connecticut locations.
Bring the whole family to the Meigs Point Nature Center where everyone can learn more about the wildlife native to the area.
What to Eat
Apizza- Newhaven-style pizza characterized by its thin-crust, coal-fired Neapolitan style.
Square Donuts- Exactly what they sound like, you'll find them most often at mom and pop shops.
Apple Cider- Tangy and sweet, served hot or cold this beverage is locally made from the family-owned orchards across the state.
Madison Hotels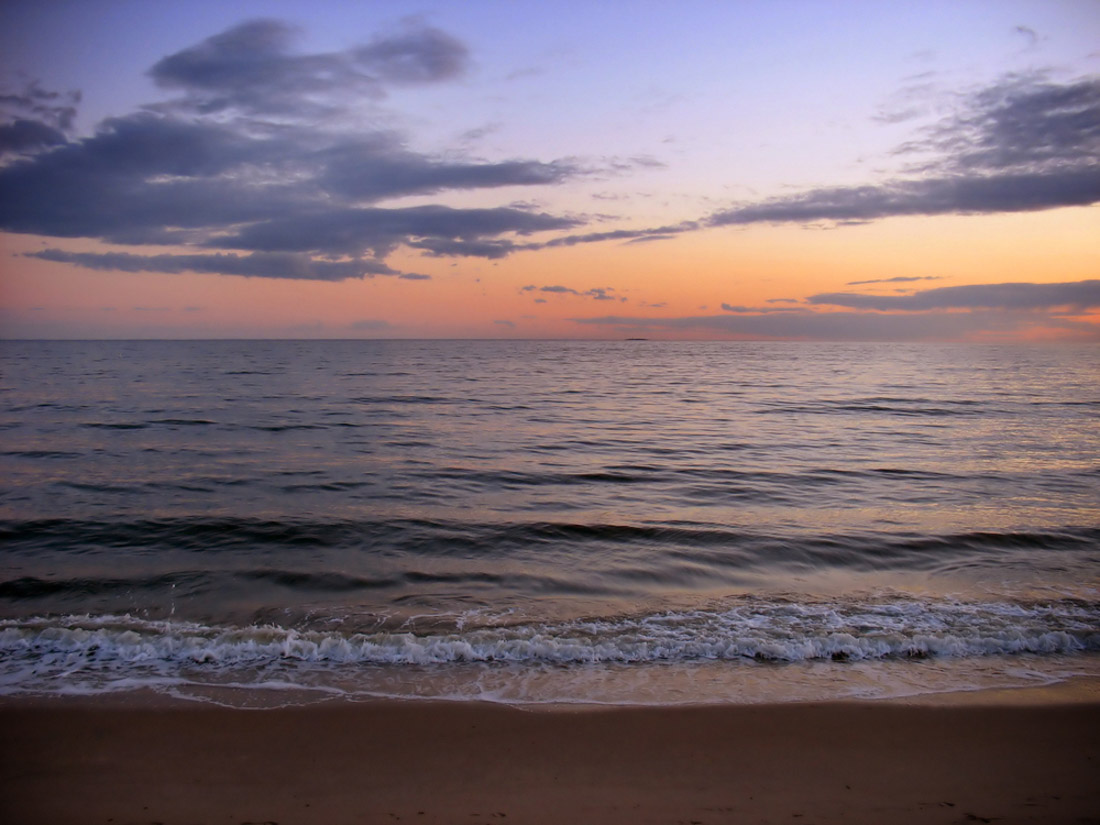 6. Cape May, New Jersey
Cape May is the kind of town that comes to mind when someone thinks about a beach getaway on the East Coast.
It is one of the East Coast's most historic beach towns and has been hosting vacationers for nearly 300 years and its history is on every street.
The town ims filled with Victorian homes, many of which have been turned into museums, B&Bs, and shops in our to preserve the history of the town.
If you're visiting on a particularly crowded day and want to escape the crowds, you can always head north to the quieter Poverty Beach; way from bars and shops you'll find a little piece of serenity.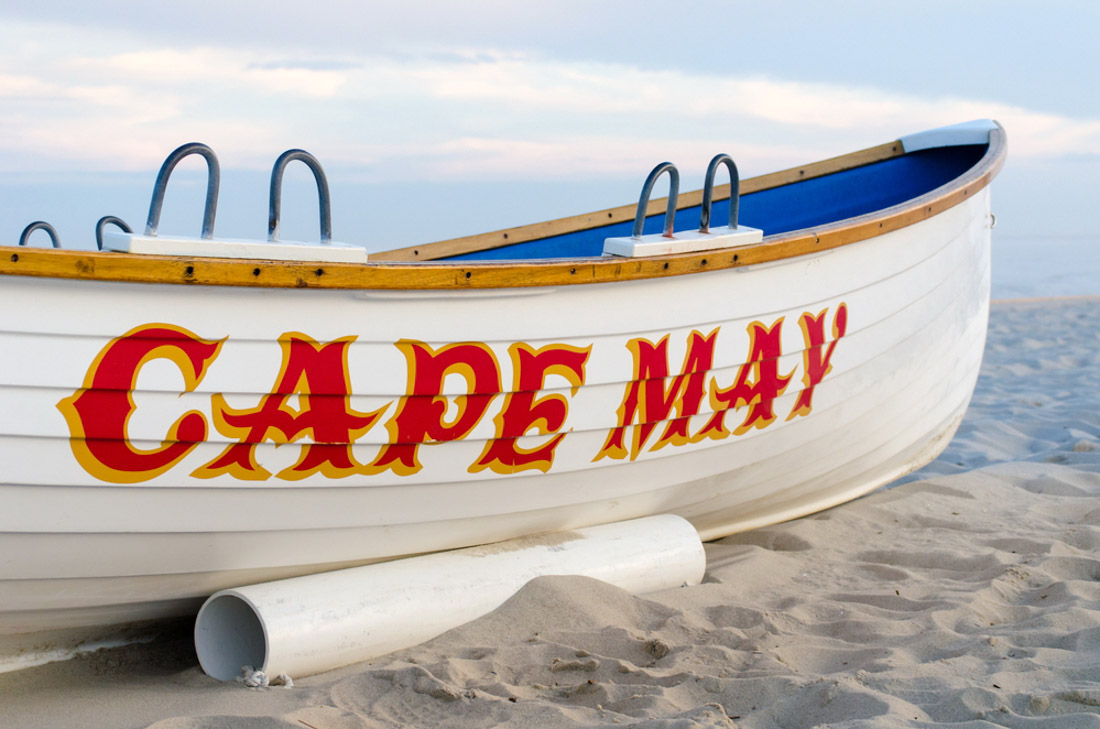 Things to do at Cape May, New Jersey
Go to the beach!
Walk the promenade to take in the sights and check out the shops.
Take a dolphin sightseeing cruise.
Visit the Cape May Lighthouse.
Do the self-guided African American Heritage Walking Tour created by the Center for Community Arts.
Go shopping in quirky and unique boutiques in the Washington Street Mall.
Get a tipple at one of the local wineries.
Step back in time at the Historic Cold Spring Village.
Look for wildlife at the South Cape May Meadows.
Catch a performance at the Cape May Stage Professional Equity Theater.
What to Eat
Hoagies- these sandwiches are filled to the brim with meats, cheeses, and toppings and you can get them all over the state.
Tomatoes- Jersey tomatoes are famous for being so fresh and tender, so much so that they're the state vegetable.
Sweet White Corn- Whether you buy it from a roadside stand or a supermarket, you have to sink your teeth into some raw sweet white corn, a true summer staple.
Cape May Hotels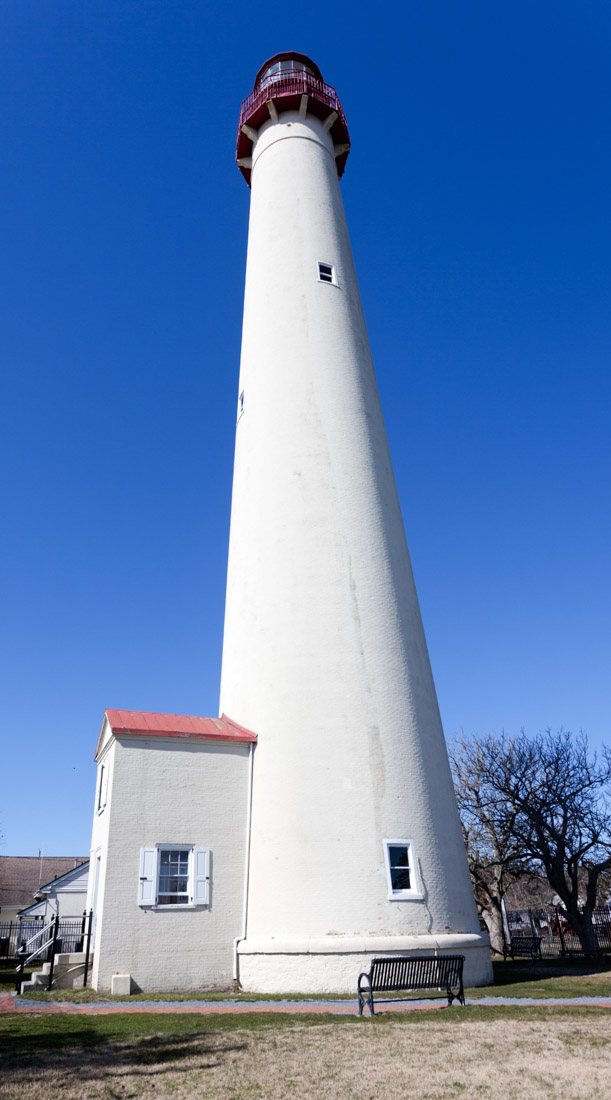 7. Lewes Beach, Delaware
Despite Delaware being the second smallest state in America, its 18 miles of beaches are known as some of the best.
If you're looking for a small beach town on the East Coast, don't overlook Lewes Beach in Delaware.
Known as "The First Town in The First State," this East Coast seaside town is the perfect mix of historic charm and gorgeous beach that is beloved by its residents and tourists alike.
Not as crowded or popular as neighboring Rehoboth Beach and Dewey Beach, Lewes Beach is a great atmosphere for families and anyone who wants a calm and charming escape. The beach itself is located in an inlet, meaning the waters are calm and serene, for many, this makes it the best beach on the East Coast.
The tiny town is all accessible by foot; an easy stroll will bring you to the picturesque historic district, boutiques, restaurants, cafes, bars, museums, and more.
Parking is free in the off-season very affordable during the summer season.
What else could you want out a seaside town on the East Coast?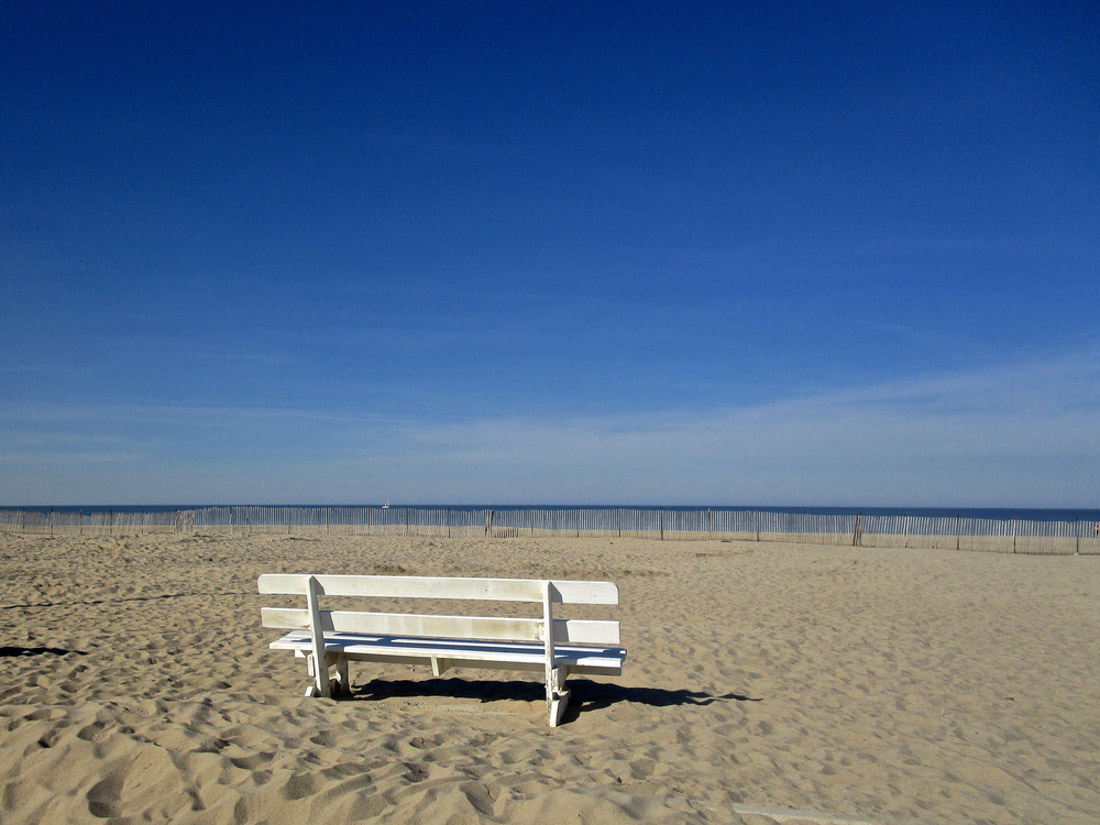 Things to do at Lewes Beach, Delaware
Spend the day shopping at the nearby designer Tanger Outlets, don't forget that Delaware is a tax-free state.
Take the Cape May- Lewes Ferry across the Delaware Bay, where you'll see historic lighthouses and harbors and maybe even dolphins.
History buffs will love visiting the free Zwaanendael Museum to learn about the town's Dutch roots.
Explore the nightlife in neighboring Dewey Beach at the Rusty Rudder, Bottle & Cork, or one of the other fun and lively bars.
Stroll down the close-by iconic Rehoboth Beach Boardwalk and enjoy the beach views and the quirky shops and eateries.
If you love all things nautical, you have to tour the Lightship Overfalls.
What to Eat
A Bobbie-Delaware's most iconic sandwich from Capriotti's.
Blue crabs- caught fresh in the Delaware Bay (sprinkled with Old Bay seasoning).
Saltwater taffy- a classic Delaware beach staple.
Lewes Accommodation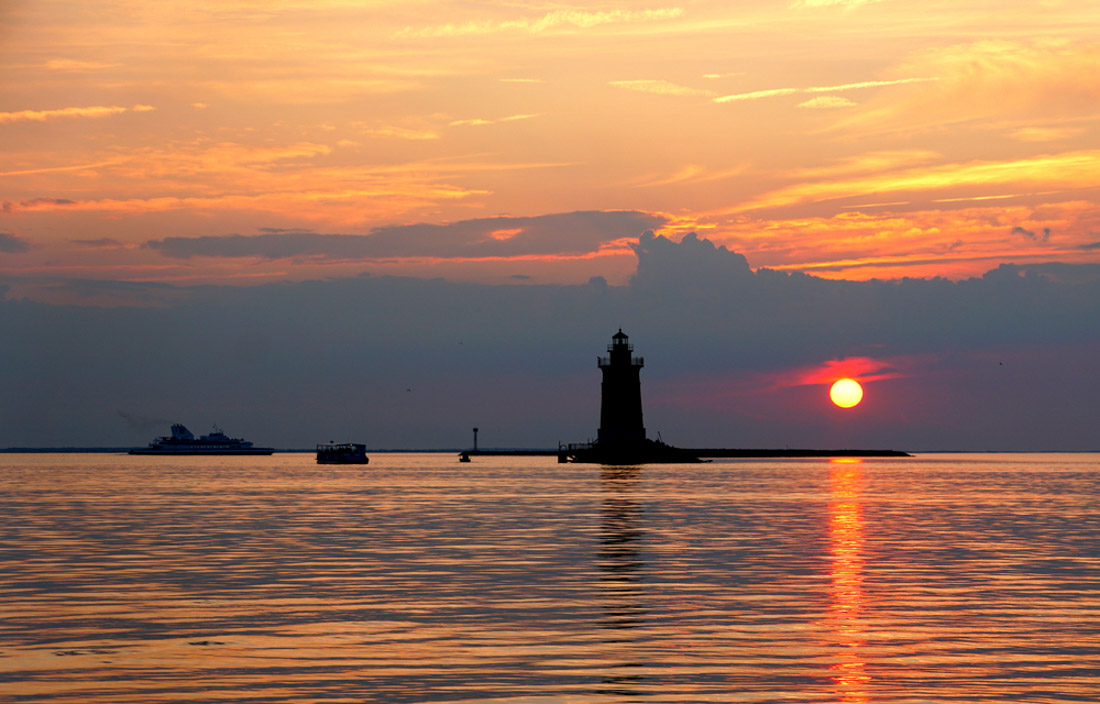 8. Assateague Island, Maryland
10 miles south of the wildly popular Ocean City is the beautiful Assateague Island, a great East Coast beach vacation for the whole family.

The island is known for its wild horses – over 70 of them- that are often seen roaming freely (however it is not recommended that you approach or interact with the horses as they are undomesticated and could be unsafe.)

Assateague Island is ideal for anyone who wants to vacation on the cheapest beach town on the East Coast; the entry fees vary but the most popular option is $25.00 for a weeklong pass and if you're camping it costs $30 a night and reservations must be made in advance.
If you are camping, be sure to pack ample amounts of sunscreen, bug repellant, firewood, screen tents for shade and insect protection, and long tent stakes to anchor tents in the sand and wind.
You'll spend most of your time enjoying what the island has to offer; exploring the salt marshes, 37 miles of beach, and taking in the surrounding nature by hiking, camping, or kayaking.
There are few food establishments on the beach, one restaurant and one provisions shop, however there are multiple eateries and grocery stores a short drive away on the mainland.
Things to do at Assateague Island, Maryland
Take a full or half-day tour of the island on an off-road vehicle and learn about the Island's history.
Brush up on your photography skills as you keep an eye out for wild horses, deer, seals, and more.
Head to the Visitor's Center to learn about all the activities the rangers have scheduled for the week.
Explore the island by biking or hiking one of the many trails.
Have fun in the sun and make the most of the 37 miles of beach coastline.
Go crabbing/clamming/fishing on Ferry Landing
Head to Assateague Outfitters where you can rent a kayak, paddleboard, canoe, or cruiser bicycle and get crabbing and clamming gear and bait.
Make a bonfire (you don't need a permit) and spend the evening around the fire, especially if you're camping.
What to Eat
Maryland Crab Cake- Chunks of crab breaded and fried and eaten as a sandwich or on its own, you can't leave Maryland without eating one.
Fisher's Popcorn- This iconic Maryland staple has been in business for over 80 years and is shipped worldwide.
Crab Dip- Eat it with bread, veggies, or potato chips; no matter how you eat it it is delicious.
Assateague Island Accommodation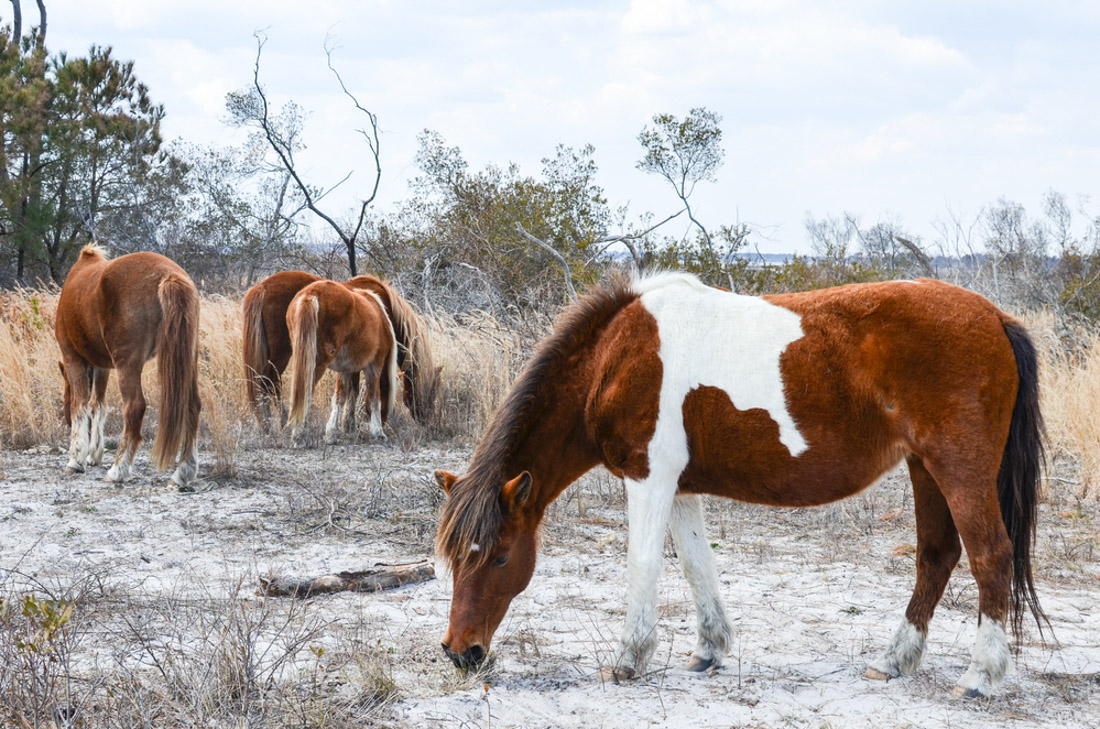 9. Hampton, Virginia
This East Coast small beach town neighbors the larger cities of Norfolk, Virginia Beach, and Chesapeake but holds onto its small-town charm with big-city fun.
Hampton is a town where something is always going on; whether it be a festival, live music, or an event, locals and tourists always have something new to do.
Its charm is evident after a stroll around Phoebus,s neighborhood known for its architecture, art, shopping, and unique dining options.
Buckroe Beach and Park is the highlight for more East Coast beach vacationers; the beach is clean, calm, and usually not too populated.

Beachgoers can lay in the sand, picnic, enjoy watersports, or anything else that they want on this gorgeous beach.
Things to do at Hampton, Virginia
Explore the Virginia Air & Space Center where you can see interactive displays, cutting-edge exhibits, and watch a film on the IMAX screen.
Snap a photo of the Old Point Comfort Lighthouse on Fort Monroe.
Tour the old military fort, Fort Monroe's Casement Museum.
Watch a race at the Langley Speedway with the whole family.
Take a cruise of the harbor to take in all of the sights.
Visit one (or more) of the local breweries and distilleries.
Have fun in the sun doing water sports like surfing, waterskiing, or jet skiing.
Learn at Hampton University Museum, the oldest museum dedicated to African-American culture.
What to Eat
Virginia Ham- A staple at any Sunday dinner or backyard BBQ party.
Brunswick Stew- This meat and vegetable-based stew was or originally made with wild game but is served today with chicken or pork.
Grits- Porridge made from boiled cornmeal usually eaten for breakfast.
Hampton Accommodation
10. Avon, North Carolina
Tucked in the middle of the Hatteras Islands, you'll find Avon, one of the greatest small beach towns in North Carolina.
Vacationers who are looking for small towns on the coast of North Carolina will find bliss in this holiday stay that is away from the typical crowds of the Outer Banks, but with the lovely charm you'd expect from small NC beach towns.
Avon is located more than 20 miles off the North Carolina coast giving true solitude and peace. Still, with its rich history and coastal charm, you'll feel immediately immersed in the local culture.
While on Avon, you'll be able to eat at local restaurants and visit the gift shops, but you'll mostly spend your time on the clean and quiet beach where you can park for free.
Avon is a town with one only chain grocery store and two fast-food chain restaurants; it's ideal for anyone who wants an escape from real life and to spend a week or two in one of the best small towns on the East Coast.
Things to do at Avon, North Carolina
Walk the Avon Fishing Pier and go fishing or watch the sunset.
Rent a bike and see the coast by cycle.
Learn a new water sport like surfing, jet skiing, windsurfing.
Take a private boat tour to see the Island in all of its glory.
Get creative at the Cosmic Octopus and tie-dye a shirt.
Go shopping in the locally owned boutiques to find some souvenirs.
Visit Creative Workshop Spaces to learn about nautical knots, painting, quilling, and more.
What to eat
Shrimp' n' grits – a classic North Carolina dish usually eaten for breakfast
Fried green tomatoes – made from unripe tomatoes covered in cornmeal and fried, this dish is not to be missed.
BBQ- no trip down South would be complete without a little BBQ!
11. Folly Beach, South Carolina
Just a short drive away from the better-known Charleston city, you'll find one of the small East Coast beach towns, Folly Beach.
This East Coast beach vacation is ideal for someone who wants to do more than lounge in the sand with a cold beer in hand.
Known as "The edge of America," Folly Beach is popular with anglers, bird watchers, and other wildlife enthusiasts who are eager to spot loggerhead turtles nesting in the sand and dolphins swimming in the sea; it is easy to see why this is one of the top beach vacations on the East Coast.
Families and couples can enjoy a stroll along the gigantic pier that stretches over 1,000 feet long and is 24 feet wide, where many people spend the afternoon fishing or just simply watching the sun as it sets.
Public parking is available for $7 per day and is free after 8 p.m.
There's no doubt that Folly Beach is one of the best coastal towns on the East Coast.
Things to do at Folly Beach, South Carolina
Rent kayaks, paddleboards, jet skis, surfboards, sailboats, and more to make the most of your time on the sea.
If you don't know-how, you can take lessons to learn how to surf, jet-ski, sail with the best.
Spend the day fishing or people watching on the Folly Beach Fishing Pier.
Take a boat charter and see the Island from the beautiful blue waters.
Take a paddleboard dolphin safari
Spend a day on land and rent bikes to see the hidden parts of the Island.
Bar hop down Center Street and get a little flavor of the local life.
What to Eat
Pecan Pie- Pronounced "pea-cans" and not "pea-kahns" in the South, this sweet treat will quickly become your favorite.
Pimento Cheese- Made from cheddar cheese, mayonnaise, and pimento peppers, you'll find this local favorite on dishes everywhere you go.
Boiled Peanuts- You'll mostly find this South Carolina staple at roadside stands & the best time to eat them is when they're in season in the late summer.
Folly Beach Hotels
Regatta Inn is an adults only hotel with balconies and epic sunsets
Hotel Folly is a newly furbished hotel with comfortable rooms
12. Jekyll Island, Georgia
An hour and a half south of Savannah, Georgia lies the 10 miles of serene beach that is Jekyll Island and is not the most traditional Georgia town on the coast.
In the 1800s, Jekyll Island Club was founded by the wealthiest families in America and only became defunct in the mid 20th century; now, the stately mansions (called "cottages") where those families once lived operate as a luxury resort hotel where vacationers can stay in this historic homes.
Jekyll Island provides one of the best family beach vacations on the East Coast; the Summer Waves Water Park will be a firm favorite, as well as the Wanderer Memory Trail and South Loop Trail.
At the bottom of the Island is St Andrews Beach, where you can enjoy the sun and sand but still enjoy nature and wildlife, you might even be able to see some dolphins!
Parking passes for Jekyll Island are $8 a day, and multi-day passes are also available.
Check out Georgia in our hottest places to visit in December.
Things to do at Jekyll Island, Georgia
Take a guided tour of the beautiful homes in the ancient oak-tree-lined Historic District.
Find the Island's most instagrammable spot, Driftwood Beach, named from the fallen oak trees on the beach.
Take a trip to Mosaic, Jekyll Island Museum, to learn about when the Island was full of the nation's most elite families.
Visit the Georgia Sea Turtle Centre to learn to rescue and release the local turtle population.
Rent a bike and enjoy a long ride around the Jekyll Island Trail System and take in the Island's views.
Get wet n wild at the Summer Waves Water Park, where the whole family can have a great time.
What to Eat
Chicken and dumplings – the ultimate comfort food made up of a chicken and vegetable stew with light and fluffy dumplings.
Biscuits and gravy – A southern breakfast classic; soft biscuits covered in meat gravy.
Peach cobbler – the American version of a crumble with sweet Georgia peaches and often served with vanilla ice cream.
Jekyll Island Hotels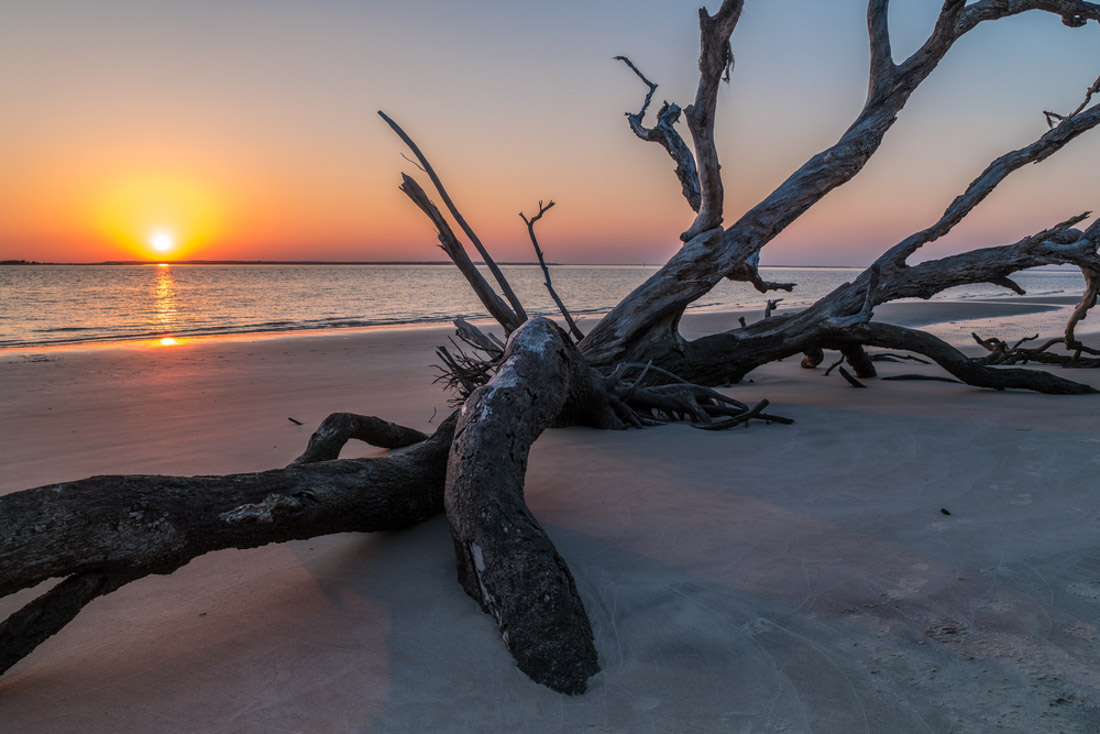 13. Fernandina Beach, Florida
If you're looking for one of the prettiest beaches on the East Coast, you'll love vacationing on Fernandina Beach, located on Amelia Island off the eastern coast of Florida.
Its white sandy beaches and crystal blue water combined with the Island's historic charm make it one of the top small beach towns in Florida.
With a community theatre, unique local shops, a variety of places to eat and drink, museums, and more, it is easy to get enveloped in the small town charm.
Amelia Island was once a thriving Victorian seaport village full of pirates and bootleggers, and that is still reflected in the character of the town today; they even have The Fernandina Beach Pirates Club, Inc., whose members can often be seen in town walking around in full pirate garb throughout the year.
Public parking is free and can be found along most side streets from 7 a.m. to 7 p.m. for a three-hour limit.
How could this be seen as anything other than the best beach in Florida's East Coast?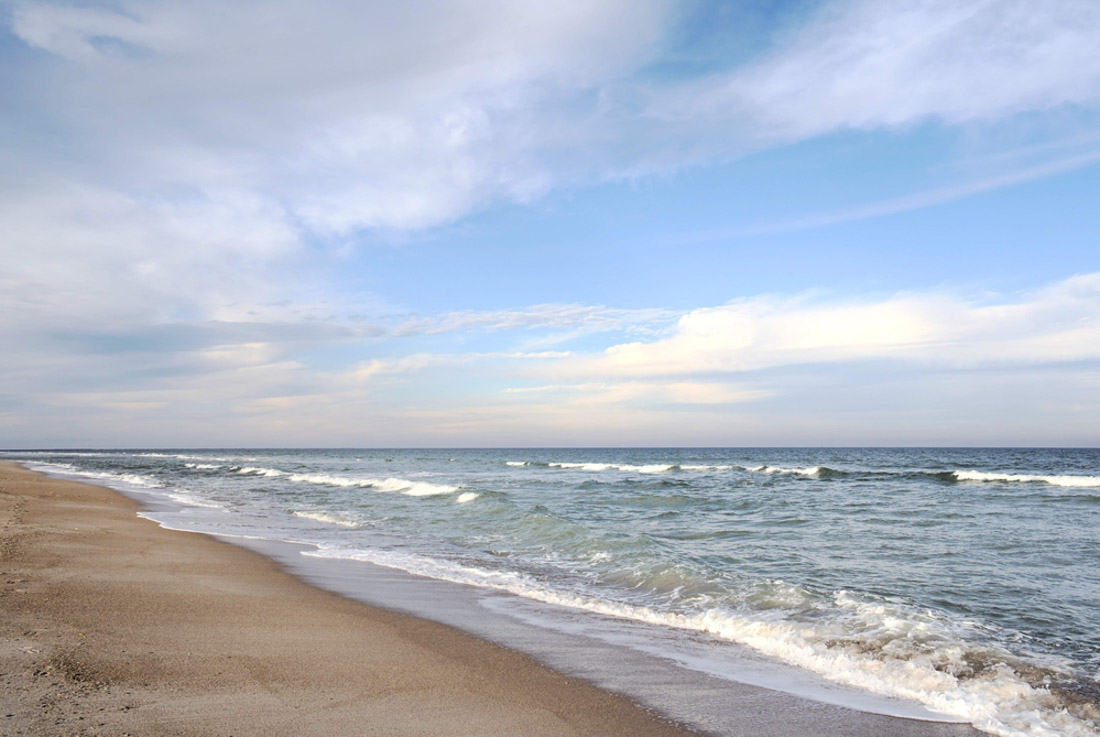 Things to do at Fernandina Beach, Florida
Go golfing at one of the five top-ranked golf courses on Amelia Island.
Take a stroll down the colorful Fernandina Beach Main Street, a preserved and historic downtown area.
Pirate aficionados will love the Maritime Museum of Amelia Island, where they can learn about the Island's centuries-old history.
Explore the Artrageous Artwalk consisting of local art galleries on the second Saturday every month.
Catch a show at Amelia Community Theatre
Shop the eclectic shops on Centre Street to grab some one-of-a-kind finds.
Book a tour of the former County Jail, Amelia Island Museum of History.
What to Eat
Conch Fritters- The escargot of Florida, these Sea snails deep-fried in batter and usually served as an appetizer
Gator Tail- An unconventional dish usually described as tasting like chicken and almost always served deep-fried.
Key Lime Pie- A truly sweet and tangy treat that is rumored to have been invented in Florida.
Amelia Hotels
14. Delray Beach, Florida
Delray Beach is located 50 miles north of Miami and visitors enjoy its small-town vibes and fun beach culture.
Expect sandy beach, blue skies, warm temperatures and a colorful and lively town.
Swim, surf, sail or play volleyball to pass the hours on your Delray Vacation.
Delray Beach was voted "Most Fun Small Town in the USA" and art fans will love what it has to offer.
Things To Do at Delray Beach in Florida
Hatsume Fair at Morikami Park.
Delray Beach's main street, Atlantic Avenue, is the place to go for shopping, restaurants, clubs, bars, souvenir shops, and more.
NYC-themed Big Apple Shopping Bazaar & Flea Market, where you'll get unique finds at discount prices.
Cornell Museum shows "nationally and internationally recognized, contemporary artists who create innovative and provocative works of art" and will captivate you every moment that you're there.
Delray Municipal Beach; the 1.5 mile beach where visitors spend their time swimming, surfing, volleyball, sailing, wind surfing, or just napping on the sand.
Do you love "Florida's Village by the Sea"? Tell us in the comments.
Delray Beach also features in our guide – the best places to visit in September in the US.
Delray Beach Hotels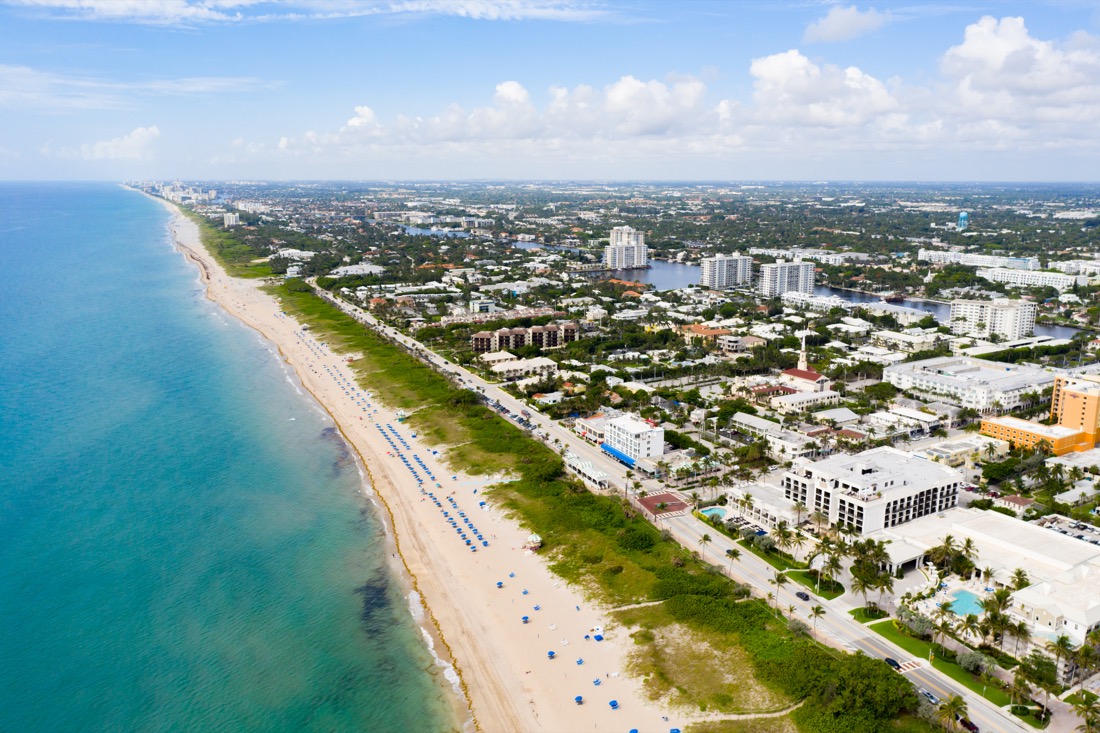 East Coast Beach Map
Here is a Google Maps link which will take you to a map featuring all of the best beach towns on the East Coast.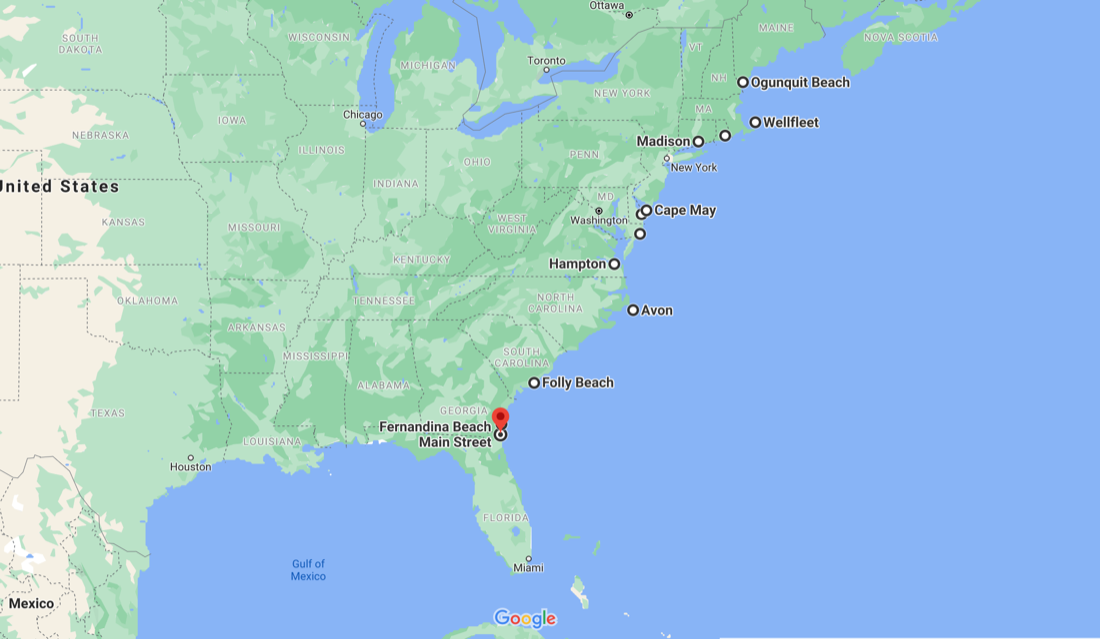 Final Words
Finding the best beach towns in the East Coast can be daunting when there are so many great ones to choose from. But if you're looking for an escape away from the typical tourist traps where you can really get a feel for the flavor of the town, this guide should point you in the right direction.
Pin to your East Coast beaches board to save for later