This article has links to products and services we love, which we may make commission from.
Looking for the best East Coast lakes? There are lots of things to consider! Do you want to be close to a city or enjoy the small-town charm? Would you prefer an adventurous trip with water sports and hiking or a calmer experience relaxing on the beach?
There's always the question of when to go as well – in the summer the water will be the nicest, but that's when the crowds come out as well – are you willing to sacrifice a bit of warmth for peace and quiet?

Don't let the stress of planning your trip spoil the time you'll spend on one of the best lakes on the East Coast; you're supposed to be relaxing and having fun after all!
Let us take all the stress and worry out of your upcoming time away, use this guide to help plan your lake vacation trip so you get all of the fun without any of the fuss.
Best Lakes on the East Coast for Everyone to Enjoy
1. Moosehead Lake, Maine
When you're planning a lake vacation on the East Coast, consider Moosehead Lake for miles of lush shoreline with entertainment close by.

Located in The Maine Highlands, was aptly named for the large population of moose in the area outnumbering residents 3 to 1 as well as the Lake's shape, which resembles a moose's head and antlers.
A short hour and a half drive northwest from Bangor, Maine, will take you to the largest mountain lake on the East Coast.
This gigantic lake is 40 miles long and 10 miles wide, with 400 miles of shoreline filled with shops, dining, nightlife, lodging, sightseeing, and more.
This lake has something different to offer no matter what time of year you visit; snow sports in the winter, whitewater rafting in the summer, and fishing year-round — this is one of the best East Coast lakes for vacation.
Top Tips for Moosehead Lake
If you want to see moose, the best times to visit are from May to July, and keep an eye out for them especially at dawn and dusk. They prefer the woods so keep an eye out when traveling.
Be extremely alert and aware while driving, especially at night; moose do not dart from cars the way deer do, and hitting one could cause serious harm to you both due to their size (they are 800 to 1,100 lbs and 6 feet tall.)
Check out the Destination Moosehead Lake Activity Guide, an annually updated online guide that details where to eat, sleep, shop, and even includes sample daily agendas.
In the warmer months, be sure to bring ample bug repellant and sunscreen, and in the winter, have lots of extra layers and an emergency kit as the weather can be highly unpredictable.
Things to Do at Moosehead Lake
Search for moose and other wildlife on your own or with a guided sightseeing tour.
Birdwatch on your own or with a guided tour, make sure to visit Borestone Mountain which is an Audubon sanctuary.
Explore the 300 miles of the North Woods on an ATV — you can rent one if you don't have your own or you can take a guided trip.
Give fly fishing a try on the water, just be sure to have a valid fishing license.
Take a hike and snack on some wild berries; you can find blueberries, raspberries, blackberries, and strawberries growing in the forest.
Enjoy water activities like boating, kayaking, and canoeing.
Play a round of golf on a 130+-year-old gold course on Mt. Kineo.
Head to one of the popular swimming locations like Red Cross Beach, Little Wilson Falls, or Pebble Beach to swim in the lake.
Take a trip in style on the 100-year old steamboat, Katahdin, a National Historic Landmark.
Go hiking and see the fantastic views that Maine has to offer; for a more adventurous hike, Mt Katahdin is a two-hour drive northeast. Image below.
Watch a dog sledding race or take a guided dog sledding trip.
Try ice fishing, snowshoeing, skiing, snowmobiling, and other winter activities.
Moosehead Lake Rentals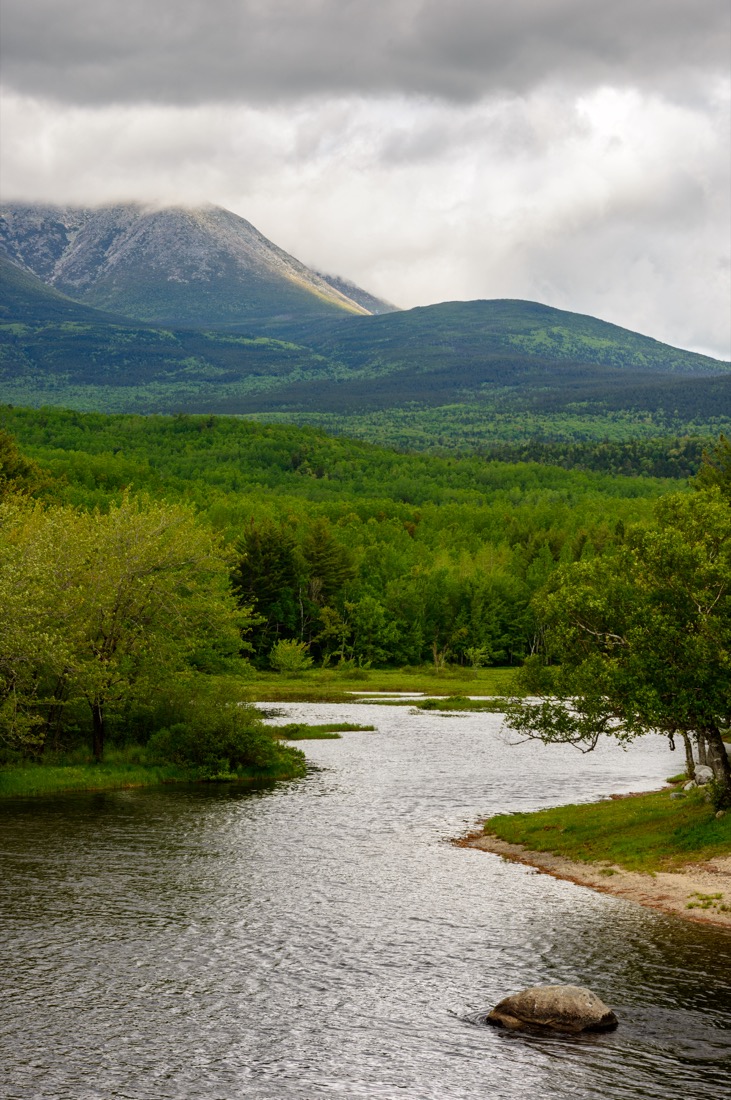 2. Lake Winnipesaukee, New Hampshire
New Hampshire's largest Lake, Lake Winnipesaukee, sits at the southern end of the White Mountains, an hour north of Concord's capital; however, as it is centered in the middle of the state, it is easy to get to from any town.
"Winnipesaukee" is an Abenaki word meaning "beautiful water in a high place" and couldn't be a more accurate description of this beautiful lake on the East Coast; with a surface area of 72 miles and nearly 200 miles of shoreline, it is also the largest lake in New Hampshire.
The lake is home to hundreds of islands — the exact amount remains something of a mystery as the final number is long disputed by its residents but is something like 365 islands, of which 274 are habitable.
These islands vary significantly in size and character; one of the largest islands, Bear Island, has 192 homes, two children's camps, a graveyard, and a church, while the smallest island, Becky's Garden, is about 10 feet wide.
Whether you spend a day, a week, or the rest of your life on Lake Winnepesaukee, it seems that there will always be something new to explore.
Top Tips for Lake Winnepesaukee
For those renting a boat, you must have a NH safe boating certificate or hold a NASBLA approved certificate from another state if renting a boat with a motor over 25 horsepower.
Most lodging rentals are often booked over a year in advance, so it is best to plan ahead of time if you wish to stay on the lake.
Mid-January usually freezes over the lake; however, this is not always the case; if you're planning to come to enjoy the winter be sure to check before you arrive.
Things to Do on Lake Winnipesaukee
Go ice sailing, ice fishing, ice skating, skiing, sledding, snowmobiling, or other winter sports during the cold weather.
Go golfing at one of the many courses around the lake.
Enjoy the water on a cruise ship like the M/S Mount Washington, which offers scenic tours and dinner cruises.
Try your hand at fishing; if you don't have your gear, you cant easily rent it.
If you want to see the Lake from a new angle, you can tour by plane to see it from above.
Take an old-fashioned train ride down the Lake Winnipesaukee shoreline for a scenic tour on the Winnipesaukee Scenic Railroad.
If you're feeling adventurous, you can take a 3-hour self-guided hiking trip in the White Mountains National Forest, which is just a short one-hour drive north. Image below.
Relax in the sand on Weirs Beach, Carry Beach, or Waukewan Beach. Find out more about the best East Coast beach towns here.
Cruise down the 81-mile 2-hour loop around the Lake to get the best views year-round but especially in autumn; you can stop at many small towns along the way to get some local flavor.
If taking long drives looking for the best Fall foliage sounds perfect for you, check this guide out.
Lake Winnepesaukee Rentals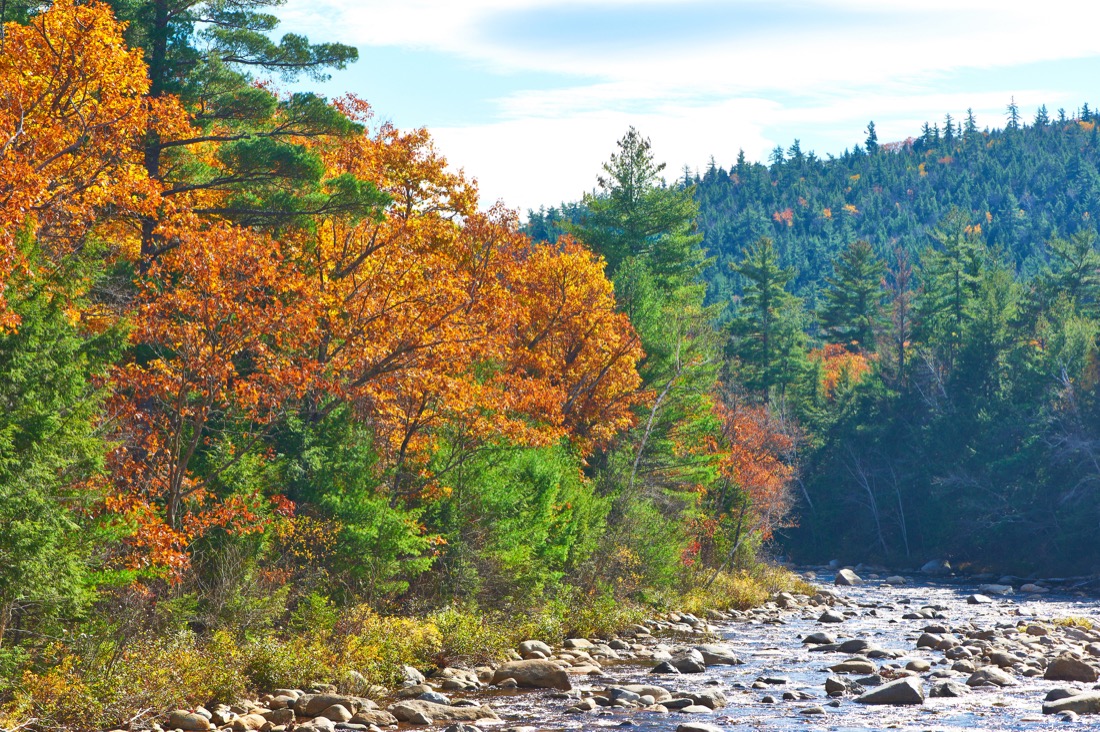 3. Lake Champlain, Vermont
The nation's sixth-largest body of water borders Burlington, Vermont, and Plattsburgh, New York, and crosses the Canadian border into Quebec.
This deeply historic area has seen many battles such as the Revolutionary War and the War of 1812 amongst others and even has a mythological monster, "Champ," whom Samuel de Champlain allegedly spotted in 1609; there was also accounts of a similar sighting by many Native Americans in the area.
Now the Lake is well known for fishing and Audubon enthusiasts, families looking to have some fun in the water, history buffs who want to feel steeped in history, and anyone who just wants a place to kick back and enjoy the natural beauty.
If you want to have one of the best lake vacations on the East Coast, this is the place to go.
Top Tips for Lake Champlain
The main beach, North Beach, has no free access if you are in a vehicle; it costs $8.00.
Although there are many things to do year-round, the most popular time to visit is July-August; all of the shops, restaurants and other amenities will be available, and the weather will be the nicest.
Many people choose to stay in Burlington, a bustling and popular town home to the University of Vermont, so there is always something happening; however, you can also camp on the available campgrounds from May 1 – October 15.
Things to Do at Lake Champlain
Fishers will rejoice; Lake Champlain has 81 species and is particularly well known for its bass fishing.
Visit the other side of the shore; you can cross over by driving over a bridge or taking one of the three boats that connect the two states.
Explore the historic lighthouses built between 1825 and 1874: eight on the New York side and four on the Vermont side.
Spend an afternoon at the Lake Champlain Maritime Museum (free admission) to learn more about the water.
Spot a bird, two or three; the lake is home to over 300 different bird species.
Take a walk or ride your bike up the Island Line Trail, a paved path that runs parallel to the water.
Go shopping at Church Street Marketplace in Burlington.
Hike the Red Rocks Park Loop Trail, where you'll be able to see beautiful views of the mountains and Lake. Dogs are allowed on the trail but make sure to keep them leashed.
Enjoy some time on the water; the Lake Champlain Community Sailing Center in Burlington offers private and group sailing, kayaking, and stand-up paddleboarding lessons.
Lake Champlain Rentals
4. Walden Pond, Massachusetts
The famous Walden Pond inspired famed American writer Henry David Thoreau's Walden, a book about the simplicity of living life in natural surroundings.
Don't let "pond" give you the wrong impression; this body of water is over 60 acres large and is used for boating, swimming, fishing, and many other recreational activities.
Walden Pond State Reservation is located in Concord, Massachusetts, 30-minute drive west of Boston.
Concord is a town steeped in both literary and American history; many 19th century writers have called Concord home.
The city was also the first conflict in the American Revolutionary War and these historical moments still hold influence over the town today.
If you love American history and getting a little escape from the outdoors, this is going to be the best East Coast lake for you.
Top Tips for Walden Pond
Year round hours are: Sunday: 7:00 am-7:30 pm, Monday – Friday: 5:00 am-7:30 pm, Saturday: 7:00 am-7:30 pm.
Parking is located in the large lot off of Rt. 126 and costs $8 for a MA resident and $30 for a Non-MA resident.
No dogs or pets, fires or grilling, camping, bikes on trails, and alcoholic beverages on the reservation.
Things to Do at Walden Pond
Take a peaceful, scenic stroll through Walden Woods.
Enjoy a picnic on the water's shore with food from a local cafe.
Take a Thoreau-inspired self-guided walking tour.
Spend time in the water swimming, boating, or fishing.
Visit the replica of the cabin Thoreau lived in for two years.
Walk the Emerson-Thoreau Amble footpath, an unpaved recreation of the route Emerson, Thoreau, and Alcott once walked.
Go antiquing at the local antique shops in town, where you will find assortments of treasures and oddities.
Explore Louisa May Alcott's Orchard House, where Little Women was written.
Wander through the Sleepy Hollow Cemetery, where the Concordian 19th century writers are buried.
History buffs will appreciate a visit to the Concord Museum, where you will learn all about the American Revolution.
See some of the best views from the observation tower in the Great Meadows National Wildlife Refuge.
Hop over to Boston for a day of sightseeing; a hop-on hop-off trolley is a great way to get around.
Walden Pond Accommodation
5. Lake George, New York
Nicknamed the "Queen of American Lakes," not only is this one of the cleanest lakes on the East Coast but the 32-mile long beauty is surrounded by the majesty of the Adirondacks, making it a top vacation choice for over 50,000 visitors each summer.
Lake George is an hour north of the state's capital, Albany, and it is full to the brim with recreational activities for the whole family to participate in year-round and booming surrounding towns with lots of events, an abundance of choices of where to eat, and stay, and lots and lots to do.
Because of the Lake's long and narrow shape, there are dozens of towns along the coastline, each with its unique attributes; you could visit year after year and always see something new.
Top Tips at Lake George
Many places in the area are dog friendly, so feel free to bring along your furry friends.
Many of the lodging, dining and other amenities shut down for the season during the colder months, so plan your trip to make sure there are things available when you arrive.
The Lake George Winter Carnival is every February which activities for all ages happening every weekend.
Parking issues are rife in the Lake George Village, with available spots being sparse and costly; be prepared to wait for a spot or wake up extremely early to get one.
Things to Do at Lake George
Visit Fort William Henry Museum from May – October, where you can take a guided tour.
Plan a trip to Fort Ticonderoga from May – October, where you'll feel like you've taken a step back in time with the dynamic historical interpretation and exhibitions.
Relax in the sun at Million Dollar Beach, where you can picnic, swim, play, or just snooze.
Go to one of the adventure courses in the area where you can zipline, swing on ropes, and wobble your way across the treetops.
Take a trip back in time and glide on the lake in a historic steamboat.
Experience whitewater rafting on a guided tour.
Go kayaking or canoeing on the lake; you can easily rent it if you don't have gear.
Take your trip to the very top with a hot air balloon flight.
Enjoy a lazier afternoon on the water and go lazy river-tubing.
Sneak away for an afternoon tipple at one of the area's many wineries, breweries, or distilleries.
Get a bird's eye view with a parasailing trip that will take you to new heights.
Rent a boat and experience the lake as the locals do.
Saddle up on a horse and take a guided trail ride through the Adirondacks.
Go fishing either on your own or through a guided tour.
Take the family to an afternoon of mini-golf or enjoy a day on an actual golf course at one of the many locations in the area.
If you have time to drive up, you can take a half-day sightseeing tour to Niagara Falls, where you'll spend the afternoon on the Maid of the Mist seeing one of the most impressive sights.
If you want to explore more of upstate New York, this guide can help with that.
Lake George Rentals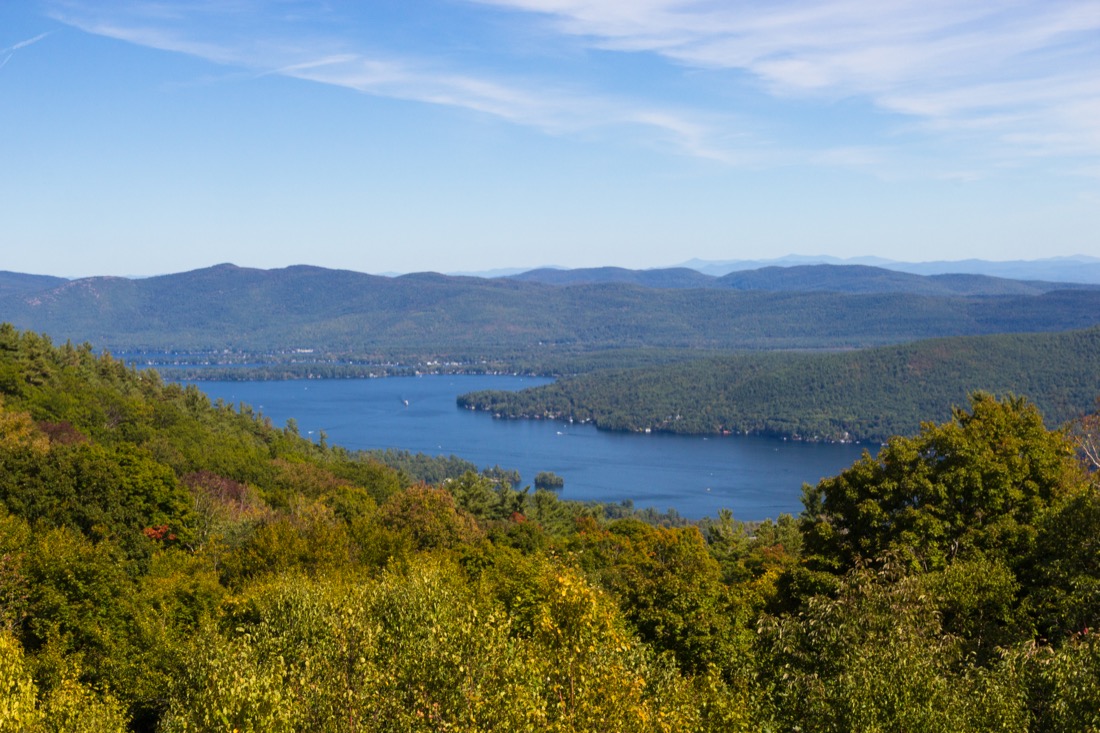 6. Lake Placid, New York
Lake Placid is an hour and a half south of the Canadian border and one hour southwest of Plattsburgh, New York.
The village of Lake Placid was founded in the early 19th century.
It took off as a major development in the abolitionist movement before it transitioned into a place for the elite towards the end of the century, and eventually became a top spot for winter sports.
Nicknamed "The Olympic Village," it has hosted the Winter Olympics twice, as well as other nationally and internationally recognized sporting events over the years.
Today, Lake Placid is still a beloved small town whose population of just over 3,000 people swells with tourists who love to visit this East Coast lake town during the busy seasons.
Top Tips for Lake Placid
Reserve everything you can as early as possible; whether that is lodging, activities, or even a parking pass, this town fills up fast.
In the High Peaks, it is legally required that backcountry visitors wear snowshoes or skis when the snow is 8 inches or deeper.
Be sure to pack seasonally appropriate gear if you want to spend time in the Adirondacks, sunscreen and bug repellant in the summer and extra layers and traction devices in the winter, and a first aid kit, additional sustenance, and extra batteries year-round.
Things to Do at Lake Placid
Take the short trip to the Ausable Chasm, the oldest natural attraction in the US, where you can hike, float, raft, climb and take in the famous sights.
Kick back at Lake Placid Public Beach, where you can dig your toes in the sand, play tennis, or catch up on your book.
If you prefer to spend time on land, you can find adventure in rock climbing, mountain biking, hiking, horseback riding, and more, all either on your own or with a guided tour.
Cool off in the water and try out some watersports like waterskiing, jet-skiing, canoeing, kayaking, paddle boating, wakeboarding, and more.
Visit Mirror Lake, a smaller but still gorgeous lake, for an afternoon.
Get a feel for the local population by spending time on Main Street, where you can eat, shop, and relax.
Visit the Lake Placid Olympic Museum and see the commemoration of the two Olympic Games held here.
Visit the very popular and beautiful Saranac Lake, located only a 15-minute drive away.
Tour the John Brown Farm State Historic year-round, Wednesday through Saturday, 10 a.m. – 5 p.m.; Sunday 1-5 p.m. to learn about this famed abolitionist, his mission to abolish slavery, and his 19th-century life.
In the winter, visit the 30 foot high Lake Placid Toboggan Chute ($15 for adults, $10 for students).
Go downhill, cross-country skiing, snowshoeing, ice skating, ice fishing, bobsled riding, or even try a dog sled ride in the colder months. Mount Marcy, the highest point in New York and only 10 miles from Lake Placid.
Lake Placid Rentals
7. Deep Creek Lake, Maryland
In the most western part of Maryland, nearly touching the West Virginia and Pennsylvania borders, is the infamous Deep Creek Lake, a man-made lake that is the largest inland body of water in Maryland.
Aside from being a beloved home for the locals and a vacation spot for the tourists, there is a large variety of bird and aquatic life in the freshwater lake.
No matter the season, there are outdoor activities to suit anyone and everyone, from boating to skiing and everything in between.
Top Tips for Deep Creek Lake
Deep Creek Lake rentals are popular year-round, so be sure to book in advance, even in the colder seasons.
Deep Creek Lake State Park offers 112 campsites, 26 electrics sites, a picnic table, a fire ring, a lantern post, and a wildlife-resistant food storage box on each side.
This is a very dog-friendly area with few restrictions.
Bring water shoes if you plan to enter the water; the bottom can be very rocky.
Things to Do in Deep Lake Creek
Any angler would be thrilled to vacation here; the usual fish catch could include largemouth, smallmouth, rock bass, brown and rainbow trout, northern pike, and many more species.
Take advantage of the nearby Wisp ski resort, the only four-season downhill ski resort in the state; you can find seasonal activities any time of year; in the warmer seasons, you can mountain bike, kayak, and paddleboard, try archery, and even try the three canopy tour zip lines, and in the winter you can hit the slopes and ski, snowboard, ice skate, and go tubing.
Go golfing between April and October at one of the three nearby courses that offer various scenic views and challenges.
If you're stuck for what to do on a rainy day with the kids, the local arcades, mini-golf, go-karts, and bumper cars provide the perfect solution.
Relax in the white sand on the beach section of the Lake as a bonus; the kids can play on the two playgrounds.
Deep Creek Rentals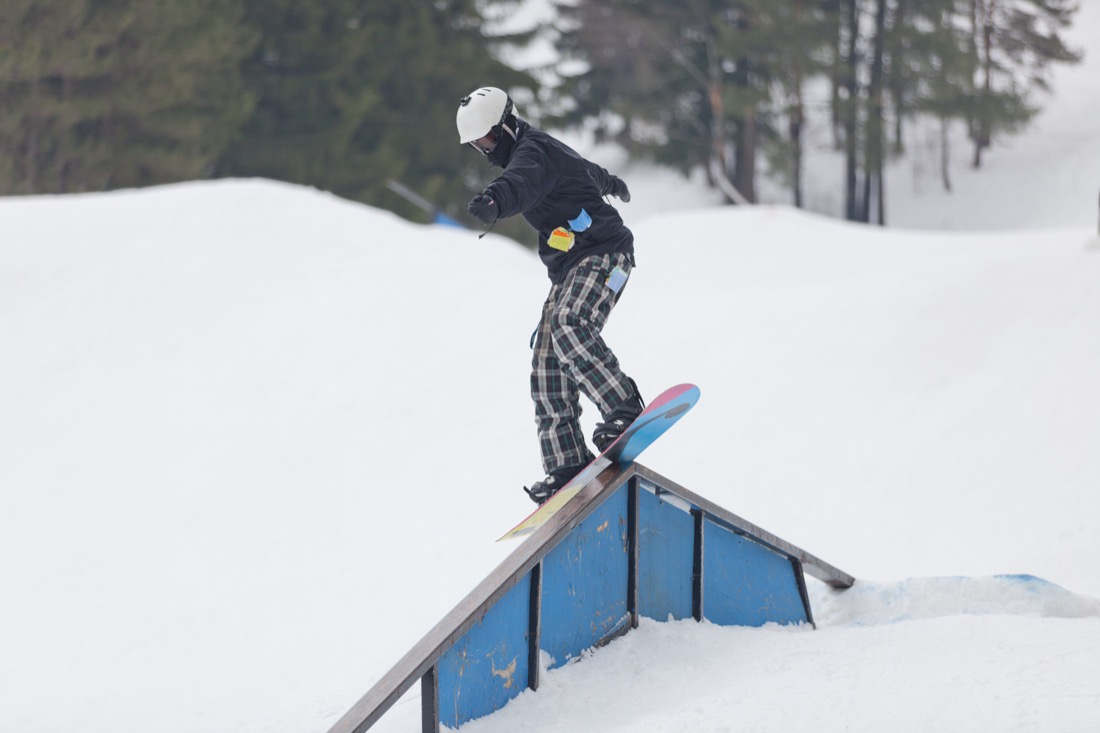 8. Smith Mountain Lake, Virginia
One hour from Lynchburg and Roanoke, you'll find this incredibly popular man-made reservoir created in 1960 and spans 20,000 acres, making it the largest Lake contained entirely in Virginia.
Commonly referred to as "SML," this Lake is considered the "Jewel of the Blue Ridge Mountains and is beloved by locals and tourists alike; many tourists often end up becoming locals once they retire and make their former vacation spot a permanent home.
Many visitors spend much of their time at the Smith Mountain Lake State Park, a 1,248-acre park with 13 hiking trails, a 500- foot public beach, and many fishing and boating opportunities.
The park is open daily from 8 a.m. — dusk and has a $7 parking fee to enter; cabin rental fees vary from $136 — $149, and between $25 — $40 to camp.
Top Tips for Smith Mountain Lake
If you are visiting from the North, be sure to drive through the Shenandoah National Park to get the best scenic views along the way.
If you want to stay for a longer visit, there are so many Smith Mountain Lake rentals to choose from, whether you want a cozy cabin or a lakefront lodge.
If you're visiting with kids aged 6-10, they can join the Junior Naturalist program, where they'll learn about nature and enjoy arts and crafts.
The Lake is visited year-round but is the most popular from May – September so if you want a quieter trip, plan around those times.
A license is required to fish in Virginia, and they can be purchased at many different locations around the Lake.
Things to Do at Smith Mountain Lake
Take advantage of all the lake offers like power-boating, canoeing, sailing, parasailing, swimming, fishing, jet skiing, water skiing, wakeboarding, and more; if your water sport skills aren't strong, many companies offer lessons and rent equipment.
There are various events at the Lake throughout the year, from wine festivals to Pride parades.
Take a cruise to view the lakefront scenery on the Virginia Dare, many of which have themes.
Hit the links on one of the five highly rated golf courses around the Lake.
Rent a boat and head out onto the water from one of the many boat rental agencies.
Visit the Booker T. Washington National Monument at the site of his birthplace and learn about his life and work.
Take advantage of happy hour at one of the many breweries and wineries in the local area.
Smith Mountain Lake Rentals
9. Lake James, North Carolina
On the western side of North Carolina, one hour east of Asheville, is the nearly 100-year old man-made 6,218-acre reservoir, Lake James, nestled inside Lake James State Park.
If the park looks familiar to you, that's because you might have seen it on the silver screen before; parts of The Last of the Mohicans and The Hunt for Red October were filmed here.
This beautiful Lake is often described as quiet and peaceful, a perfect escape to somewhere with a slightly slower pace where you can kick back and enjoy the best the North Carolina's nature has to offer.
Top Tips for Lake James
Swimming is permitted in the designated swimming area of Paddy's Creek Area from May 1 through Sept. 30, 10 a.m. to 6 p.m., daily, a fee of $6/day is charged for adults and $4/day for children under 13.
A fishing license is required to fish in North Carolina.
Two boat ramps, Hidden Cove and Canal Bridge (open 24 hours) offer access to Lake James, where powerboats, sailboats, and smaller craft have ample room to enjoy the water; both are located along NC 126 within two miles east of the park entrance.
No RV camping.
Boat supplies and snacks can be bought at Lake James Marina on the Nebo side, image below.
Things to Do at Lake James
Hike up the nearby Mt Mitchell, the highest mountain on the East Coast, where you'll be able to see spectacular views from the top.
Go birdwatching and see if you can spot one of the many bald eagles.
Stay in one of the three tent camping areas; the Catawba River Area, the Paddy's Creek Area, or the Long Arm Peninsula.
Bring your own or rent a kayak or canoe to see the Lake from the best point of view.
Enjoy a picnic at one of the designated picnic areas equipped with a grill, tables, and trash receptacles.
There are nine hiking trails and five biking trails for you to try; they range from easy to hard and have colored markers to help identify them.
Spend a long afternoon at the nearby Southcreek Vineyards & Winery or Fonta Flora Brewery, sampling some of the area's finest.
If you want to see more of North Carolina, a short 1-hour drive west will bring you to Asheville, where you can take a 2.5-hour electric bike tour to see the sights, another hour drive west from there, and you'll find the renowned Great Smoky Mountains, National Park.
Stay at Deep Woods Getaway near Lake James.
10. Lake Murray, South Carolina
A short half-hour drive outside of the bustling city of Columbia lies the peaceful and serene 50,000 acres Lake Murray, the "Jewel of South Carolina," and easily one of the best lakes on the East Coast.
What was once a hydroelectric generating facility nearly 100 years ago, Lake Murray is now a beloved and top-rated lake destination on the East Coast.
The lake is encompassed by four different counties, Lexington, Richland, Newberry, and Saluda, each having their unique demographic makeup and unique flavor worth a visit of their own.
Top Tips for Lake Murray
This is a well-known affordable area with a wide variety of activities to suit all ages and tastes, making it an ideal East Coast lake family vacation spot.
Pets are allowed in Dreher Island State Park camper cabins 2-5, but not in the villas or the villa areas; pets are allowed in most other outdoor areas provided they are kept on a 6 ft leash.
Things to Do at Lake Murray
Visit Dreher Island State Park, the islands that share 12 miles of shoreline with Lake Murray, explore the three nature trails, enjoy recreational water activities, and go fishing for striped and largemouth bass.
Camp at one of the many lakefront campsites suitable for both RV and tent camping and enjoy a picnic in the rain or shine under one of the ten picnic shelters at the state park.
Visit the SCE&G South Recreation Area to dip in their large swimming areas and the North Recreation Area for the boat ramp and fishing pier.
Visit Lexington and stroll the quaint Main Street, where you can find unique shops and dining opportunities and even fashion and high-end boutiques further along.
Visit Richland and you'll have access to amazing attractions like Congaree National Park, Riverbanks Zoo & Garden, and the Botanical Garden.
Visit Newberry and feel enveloped in southern charm with a popular local farm where you can meet some friendly alpacas, the Newberry Opera House that has been a town favorite for 130 years, and of course, a lively Main Street.
Visit Saluda and get a chance to relax in this more rural area where you can kick back and catch a flick at the drive-in theater.
Take a guided boat tour to Bomb Island, located in the middle of the Lake, home to the Purple Martin Sanctuary; these birds come every summer from South America to spend the summer on the Lake; visitors and locals alike are mesmerized by the daily sight of seeing the millions of birds leaving and returning to their roost.
Walk down the nearby Columbia's picturesque Main Street, where you can have some top-notch southern cooking, pick up some souvenirs, and get a feel for the famous southern hospitality.
Spend a day or two touring Columbia's vast amount of museums in what is called the "Capital of Museums"; there are over a dozen to explore in a wide array of topics, everything from military to education.
If you want to venture out slightly further, the fantastic Congaree National Park is only one hour drive heading east; from there, you can embark to Charleston, another two-hour drive east, where you can go on a 90-minute historic city highlights tour to see the best the city has to offer.
Lake Murray Rentals
11. High Falls Lake, Georgia
Only one hour south of the crowded and bustling city of Atlanta, you'll stumble upon the tumbling cascades of High Falls State Park.
The 650-acre lake is surrounded by what was once a prosperous industrial town with several stores, a grist mill, cotton gin, blacksmith shop, shoe factory, and hotel that descended into a ghost town at the turn of the 19th century.
Today it is a popular vacation spot for tourists or even just a nice spot to relax and stretch your legs if you drive on the I-75.
If you want something that will take you a little off the beaten path, this is one of the best lake towns in the US for you.
Top Tips for High Falls Lake
Check the weather before you go; if it is a particularly dry summer, there is a chance that the falls will have temporarily dried up.
There are many different camping opportunities, like primitive camping, electric campsite, and even air-conditioned yurts, which can all be pre-booked online before you arrive.
The park is open year-round from 7 a.m.–10 p.m. and costs $5 to enter by car.
Things to Do at High Falls Lake
If you're traveling with kids, the High Falls Water Park will be a great place to spend an afternoon.
Bring your boat, kayak, canoe, stand-up paddleboards, or rent one at the marina to get the best of the lake at your fingertips.
Enjoy an afternoon at the waterfront fishing for largemouth bass, crappie, catfish, and striped bass.
Go exploring and try your hand at geocaching, an outdoor adventure game where you use a GPS to find a buried "treasure."
Go hiking on the state park's local trails and get lost in the wonder of nature.
Visit nearby Atlanta where you can see the best of the city by air-conditioned tour bus.
Stay in Atlanta or Jackson and drive to High Falls Lake.
12. Blue Cypress Lake, Florida
If you want to take a vacation to a place where you feel like you've woken up in a fairy tale, you need to visit the 6,500 acre Blue Cypress Lake, one of the best lakes on the East Coast.
With cypress tree branches hanging low, dipping into the clear, deep blue, it's a dream to drift along the water by boat, canoe, kayak, or any other method you choose.
To add to the magic, there are woodland creatures everywhere you turn, from the dangerous alligator to the timid turtle; this wonderland has something new to see at every turn.
This lake is one of the cleanest and clearest in Florida.
Top Tips for Blue Cypress Lake
Bring along your best camera, you are going to want to capture as much of the scenery around you are you can.
Watch out for alligators – there are many in the area, swimming is not recommended for that reason.
Things to do at Blue Cypress Lake
Take a guided boat or pontoon tour down the lake and learn about its history.
Go bird-watching and keep a log of how many different species you can spot.
Take a ride on an airboat to see more of the lake.
Enjoy some top-rated fishing opportunities.
Kick back and relax on the 11 miles of sandy Vero Beach.
Visit the Vero Beach Museum of Art, the Riverside Theater, the Historic District, and shopping on Ocean Drive.
Pin to your East Coast USA planning board for later
Final Thoughts
With over 100,000 lakes to choose from in America, finding the spot that suits everyone in your party isn't going to be an easy job.

These are some of our favorites that we think you'll love too, from small-town charm to cross country skiing these lakes all have something for everyone to enjoy.