This article has links to products and services we love, which we may make commission from.
Looking for a fun Washington bucket list challenge? Thriving with a lively urban culture, beautiful mountains and parks, and big cities, and small towns, Washington State has something for everyone. Whether you are planning a weekend outdoors adventure, searching for quality farmed foods, fancy a unique festival or a relaxing road trip, The Evergreen State could be the answer. Here are the best places to visit and things to do in Washington State.
Fun Things to do in Washington State
Seattle
Downtown Seattle
Downtown Seattle is an excellent place for people who have a thing for buzzing markets, restaurants, and theatres.
Have a cup of coffee at the Westgate Center and then head over to the 5th Avenue Theatre to enjoy some music.
The restaurants offer many delicacies, but the best food in downtown Seattle has to be oyster.
Take the elevator to the Seattle Sky Tower to see 360 views of the city.
---
» You may also like | How to spend 24 hours in Seattle
---
Festivals
Seattle buzzes with festivals throughout the year. Don't miss Bumbershoot if you are visiting Seattle in September.
It is one of the biggest concerts held in the area every year.
If you have a liking for crafts, foods, and music, go to Northwest Folklife and Bite of Seattle festivals.
Ballard Locks
Enjoy some unusually mesmerizing scene watching boats load into the busiest Ballard Locks.
The best scenes happen at the locks in the afternoon.
You may get a chance to see species like Coho, Steelhead, and Cockeye.
Boating in the waters is always a pleasant experience.
West Seattle
West Seattle is the city's most prominent residential area.
The area is known for its unique ambience, shops, and eateries.
You can spend an hour or two walking in the streets or have a surreal evening experience watching the horizon across the water.
I highly recommend strolling along the waterfront boardwalk.
Pike Place Market
The most recognizable Washingon State attraction has to be Pike Place Market.
Established in 1937 for local farmers to sell their produces, Pike Place Market has turned into a tourist landmark.
The restaurants and vendors here serve fresh foods.
It is a popular dockside lunch stopover, having a unique vibe and lively scenes. It is an excellent place for food tours.
You may also like our guide to Seattle in fall.
Bellingham and Skagit Valley
Visit the Skagit Valley in April to see the tulips in full bloom! Each year the area puts on a festival to celebrate the explosion.
Here you'll also find Larrabee State Park, the 2,748-acre park along miles of shore line.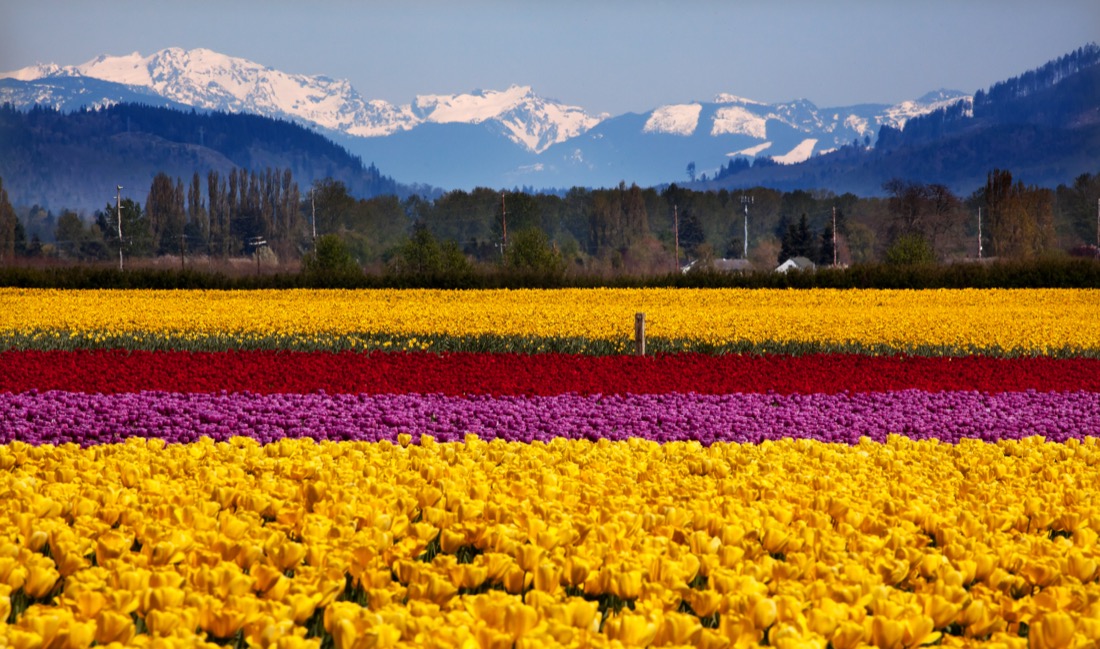 Bellevue
Festivals
Bellevue is always buzzing with festivals and celebrations all year round. If you have a liking for workshops, dancing, and performances, go to the Wintergrass Bluegrass Festival in February.
To get a taste of regional and national acts, attend the Bellevue Jazz Festival in May.
The Bellevue's Strawberry Festival is held in summer and features agricultural products.
Other events of interest include Bellevue's Independence Day and Bellevue Arts Fair.
Snoqualmie Falls
Snoqualmie Falls is a small park located on the outskirts of Bellevue.
The splendid waterfall and hazy river gorge are the main attractions here.
You can spend a few hours enjoying the pristine atmosphere and vistas before heading to Woodinville – western Washington's main wine district. Here you can visit the vineyards and taste some amazing wines.
Try the Miso Ramen
Miso ramen is delicious. If you are in Bellevue, I recommend you to give this ramen a shot. Order chicken with the ramen, and you'll thank me for this genius dinner idea.
Kent
Enjoy views of Mount Rainer from 'Sportstown USA".
Soos Creek Trail
Passing through woods and beautiful meadows, Soos Creek Trail is a perfect trail for hikers.
While hiking on this trail, you would get beautiful views of the Lake Meridian and the forests, besides seeing wildlife.
It is an amazing place to get closer to nature. Lake Meridian is a great place for a family picnic.
The fun activities here include fishing, swimming, live music, and watching the sunset.
Downtown Kent's Historic District
You wouldn't have the real Kent experience without a visit to Downton Kent's Historic District.
The old-fashioned, small businesses are unique and reflect Kent's culture and traditions.
You can do some shopping at the small shops and mingle with the locals or just stroll through the streets to explore the area.
Kent Food Trails
Kent Food Trails are perfect for food tours. You can feast on the spiced stews and craft brews while socializing with the local chefs or walk around to explore the unique and delicious foods.
Carpinito Brothers are famous here for their farm-fresh products. Most restaurants here use locally sourced ingredients.
If visiting in summer, check out these lavender fields. Why not check out the coastal towns in Oregon too?
Forks and La Push
Forks and La Push are two lovely coastal Washington towns.
The Forks section of the Olympic National Forest and is popular wit Twilight fans as this is where Stephenie Meyer located her books!
For more beach locations, check out our guide to dreamy coastal towns in Washington.
Tacoma
Point Defiance Park
The 760 acres Point Defiance Park is a forested park with lush green spaces and beautiful vistas.
It is a good place for hiking, hanging out, and relaxing at a beach.
Fort Nisqually Living History Museum
Built in 1833 as an outpost for a Hudson's Bay Company, the historic Fort Nisqually is now a living history museum.
Located inside Point Defiance Park, this unique museum is where you can see live demos of the 19th-century life.
Go back in time by watching demonstrations of sewing, farming, working with firearms, and other 19th century activities.
Bob's Java Jive
Want to literally have a drink inside a giant teapot?
Bob's Java Jive is a huge teapot-shaped building that has been operating since 1927. This place is not only historic and unique but also serves fantastic drinks.
Tacoma Chinese Reconciliation Park
Tacoma Chinese Reconciliation Park is a waterside garden with a rotunda contributed by Fuzhou, China, which is Tacoma's sister city.
Here, you can acquaint yourself with Tacoma's history and enjoy the picturesque views of Puget Sound and the mountain ranges in the vicinity.
Or you can simply stroll on the trails and see the stone statues.
Vancouver
Sample Brewcouver
Your beer-drinking experience is incomplete without a taste of Vancouver's beer.
Vancouver is a burgeoning beer destination where you can sample your favorite ones in one place at the seasonal brewfests.
Or you can stroll down or drive on Main Street and stop at the dozens of breweries in the street.
Vancouver Mall
The large mall has more than 75 stores and above 25 places to dine.
There is also a play space for children and a luxury theatre. You can shop at large stores like JCPenney and Old Navy and then feast on some steaks at Outback Steakhouse or try Thai cuisine at Ruby Thai Kitchen.
Farmers Market
If you want to buy some local produce on weekends, head over to Vancouver's Farmer Market. Local farmers sell fresh fruits and vegetables, handicrafts, dairy products, flowers, and seafood at the famous Farmers Market.
The market is open on weekends every March to October. You can shop around and enjoy jamming sessions by the local musicians.
Moulton Falls
Moulton Falls offers enthralling scenes and a serene ambience.
The river is densely forested on both sides and there is a trail along the river. If you are an avid and skilled hiker, I recommend you to put your skills to the test on the steeper Bells Mountain Trail.
Other things of interest at the Moulton Falls Park include the historic Indian meeting grounds, the swing bridge, and rock formations.
Spokane
Mount Spokane Ski & Snowboard Park
Located in the northeast of Spokane, Mount Spokane Ski & Snowboard Park is a ski resort known for outdoor activities like skiing and snowboarding.
There are chairlifts at the base that take skiers and snowboarders to the top.
I highly recommend visiting the historic Vista House that serves scrumptious foods and tasty drinks.
Spokane Falls & Spokane River
Spokane Falls is a waterfall on the Spokane River in central Spokane. Visit the area in spring to see the powerful falls plunging along the river, and the torrents raging with snow bursts.
Head over to the Monroe Street Bridge to get the best views and capture some beautiful Instagram pictures.
Perry District
A serene neighborhood on Spokane's South Hill, Perry District is a great place to spend a soothing, sunny day.
There are endless dining options in Perry District. I loved the shrimp and grits at Casper Fry and beer at Perry Street Brewing. During summer, Perry Street gets a farmers market every Thursday where you can buy fresh, local products.
Greenbluff Farms
If you want to pick your own fresh fruits, head over to the Greenbluff Farms.
Pick your cherries, peaches, berries, apples, and other fruits at the farms owned by different people. If you are visiting on weekends, you may get a chance to see a festival or other exciting activities.
---
Pin to your Washington State planning board
---
Final Words
Washington State is a great location for those who love road trips, the outdoors, food and craft beer or wine! About the author
---
Anne is a big fan of the USA with its vast landscapes, captivating culture, diverse culinary and thousands of activities.
---