This article has links to products and services we love, which we may make commission from.
In search of the best places to visit in Andalucia, Spain? Look no further than these charming Andalucia cities and towns!
Are you planning to explore Spain's southern province of Andalusia? If so, you are undoubtedly going to have an unforgettable vacation in this beautiful and distinct region of Spain that attracts millions of tourists to its shores annually.
Stretching from the Portuguese border right through to the Balearic Sea and boasting some of the most iconic landmarks in Spain, you'll never get bored exploring everything that Andalusia has to offer.
Visit charming villages, laze about on the golden beaches on the Costa del Sol, and explore the historical cities of this vibrant region that is filled with history, lovely coastlines, rolling mountains, and national parks too.
Although there is an endless number of places to explore in Andalusia, making the choice of where to visit first that much harder, here are a few of our favourites to hopefully inspire and get you started on your southern Spanish adventure!
So, be sure to pack your bags and get ready for an unforgettable Andalusian holiday!
Note: the names Andalucia and Andalusia are both used to describe this gorgeous region.
Stunning Cities in Andalucia You Must Visit
Seville
If you've never visited this region of Spain before, then Seville, the capital and also the largest city in Andalucia, should undoubtedly be at the top of your list.
A city steeped in history, as is evident in the numerous historic sights such as the Torre del Oro, La Giralda, and the famous Plaza de Espana, Seville offers visitors an incredible array of attractions to explore.

Admire the Baroque churches and the old Jewish quarter of Santa Cruz or the colourful riverside barrio of Triana.
Apart from the historical monuments, the city is also home to the largest Gothic Cathedral in the world, the stunning Seville Cathedral. Of course, the Royal Alcazar palace is the crown jewel of Seville and definitely worth a mention and a visit too.
For a more modern twist, be sure to check out the Las Setas (also known as the Metropol Parasol) viewpoint.
Not only is the structure in itself extremely photographic, but it also offers sweeping views out over the city too.
If there's one thing Spain is famous for, it is for its incredible gastronomy, and Seville is definitely no exception to this rule. As for traditional foods in Seville, you'll definitely want to taste dishes such as Torrijas, Pork cheeks (Carrillada de cerdo), Solomillo al whisky (featuring Seville's famous whisky sauce) and many more delectable treats.
Seville is also famous for its Flamenco shows, definitely one of the best things to experience in Spain.
Jazz up your evening by booking an authentic Andalusian Flamenco show and gastronomy experience whilst visiting Seville!
Granada
Historic Granada is an ancient city that dates all the way back to 5500 B.C., with strong Moorish influences still evident throughout.
Located at the foothills of the Sierra Nevada mountain, the city is most known for the incredible Alhambra complex, one of Spain's top tourist attractions and one of the best sights to explore in Granada.
The Alhambra, with a documented history dating back to the 9th-century, has evolved over the centuries with different rules, including Moorish and Christian rulers, adding and rebuilding the complex into what it is today.
It consists of several palaces (Nasrid Palaces), fortresses, and gardens (The Generalife Gardens), and is today a recognised UNESCO World Heritage Site.
Once the seat of the Moors that ruled this part of Spain, the gorgeous and incredibly intricate Islamic architectural and design features can still be admired here today.
Do note that entry to the Alhambra is carefully managed with a set number of visitors allowed in each day.
If you're travelling, especially during the busier summer months, it's imperative to book your tickets in advance as these slots do tend to sell out fast.
Apart from visiting the Alhambra, Granada also offers a variety of other sights to explore.
Walk down the Carrera del Darro or visit the old Arabic quarter of Albaicin with its quaint and charming cobbled streets.
Enjoy a drink with tapas, which is included in the price of the round!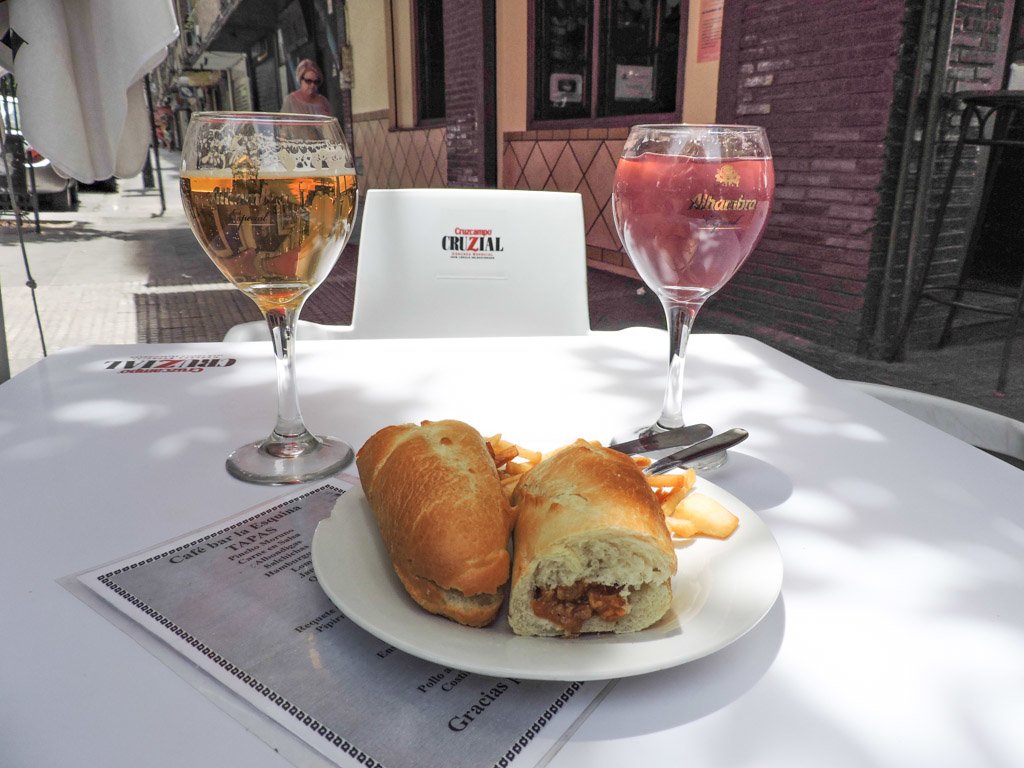 Meander through the old historic city centre and visit sights such as the Basilica de San Juan de Dios.
Outdoor lovers can also venture out to the nearby Sierra Nevada National Park and mountains for a spot of hiking.
Malaga
Just like the other cities, Malaga carries an abundance of history and has its share of castles and fortresses.
The city is sure to surprise, as you walk through the narrow cobblestone streets lined with colourful buildings.
Famed for being Picasso's birthplace, the city has grown to become one of Spain's most culturally dynamic cities.
Spaniards and visitors arrive here for its galleries, restaurants and nightlife and of course, the resorts and endless beaches found along this stretch.
Take advantage of the thriving food scene in the second-largest city in Andalusia, which has long since been a firm favourite amongst travellers.

Pay a visit to the old Roman Amphitheater and visit the impressive Cathedral.
Visit the Alcazaba castle that is located on the hill above Malaga and commands sweeping views of the city.
Visit the Picasso museum to admire some of his most beautiful works.
Or, try out some great spots for food such as Cortijo de Pepe, or El Tapeo de Cervantes or El Meson de Cervantes.
Ronda
There is no denying that Ronda is a spectacularly located town with a 100-meter-deep gorge on either side and set between two natural parks.
It is perched carefully on the El Tajo Gorge. The dramatic history of one of Andalusia's largest white towns has become synonymous with a legend of the "bandoleros" (or the bandits), made famous after Ronda's defence against the French.
Enjoy picturesque views of the city and the Guadelevin river with its sheer cliffs and canyon.
Walk along the southwestern edge to enjoy some spectacular views of the valley below from the iconic Puente Nuevo that connects the two sides of the white-washed village.
Stop by the Plaza de Toros if you're interested in the Spanish tradition of bullfighting. Stop wherever you want for a glass of wine or sample a few local pastries and delicacies such as the tasty pestiños or rosquillas.
Cádiz
Located on a peninsula, Cádiz was an isolated port between the Atlantic and Mediterranean and is considered to be the oldest inhabited city in Spain.
For many decades, Cádiz was regularly attacked by English pirates thanks to its privileged vantage point.
Today, the city is dotted with watchtowers, churches and convents, and many plazas.
You will love the scruffy bohemian charm of the city that is steeped in thousands of years of history.
Many might not know, but the famous Italian explorer Christopher Columbus set sail from Cádiz on his second voyage to the New World.
Climb the most famous of those watchtowers, the Torre Tavira, from where you can enjoy panoramic views of this picturesque city.
Visit the giant Cathedral, the Plaza San Juan de Dios, and the San Francisco church.
Spain is known for its elaborate celebrations.
From the colourful Semana Santa easter celebrations to incredible New Year's Eve festivities, the Spanish sure love a good party.
Each year around the end of February through to the beginning of March you can attend one of Spain's most vibrant carnivals, the Cadiz Carnival.
Marbella
Marbella is well known for its beautiful beaches and beach resorts in Spain, and particularly known as a playground for the rich and famous.
The city has an extravagant collection of expensive hotels, shiny restaurants, and star-studded clubs.
Sheltered by the beautiful Sierra Blanca mountains, the town indeed enjoys a magnificent natural setting. However, there is a lot more to this coastal town than its glamorous beach parties.

Explore the city that carries excellent examples of Moorish architecture.
Visit Plaza de Los Naranjos, which is a beautiful fifteenth-century square located in the Old Town.
Golfers can play a round of golf at La Quinta Golf & Country Club.
Or visit the ultra-luxury marina, Puerto Banús, a known hangout of the rich and famous as you admire the super yachts moored here.
Jerez de la Frontera
Jerez de la Frontera is still very much a hidden gem of southern Spain that is yet to be discovered fully by tourists.
Here you are in the true home of flamenco and at a place famous for its sherry and beautiful horses. Drink with the locals and have some tapas or take guided tours around the city.

Explore the surroundings and enjoy some of the best sherry in Spain! Visit the stunning Mudejar Church of San Dionisio, the incredible Neoclassical Cathedral, and the Alcazar as you explore the old Christian and Moorish neighbourhoods where you'll still find traces of the towns rich history dating back to the Romans, Phoenicians, Visigoths, and the Moors.
Charming Towns in Andalucia
Estepona
Nicknamed the "Garden of Costa del Sol", the gorgeous town of Estepona is often overlooked by many visitors to Andalusia.
However, once you step foot in Estepona, you'll soon realise why it's considered one of the prettiest towns in the region and will no doubt fall in love with its picturesque streets and alleyways bursting colour everywhere you look. Each street has its own colour or pattern on the pots used to decorate each home.
Apart from strolling through the old town of Estepona to enjoy those colourful pots and charming streets you can also explore the Ruta de los Murales (the Mural Route) showcasing stunning street art and murals.
Alternatively, catch some rays at the Playa de la Rada beach and sample some seafood at one of the many top-rated restaurants that line the promenade, such as Restaurante La Escollera or Restaurante El Palangre to name a few.
Nerja
Under an hour's drive from Malaga is yet another Andalusian gem, the seaside town of Nerja.
Nerja is everything you'd expect from a quintessential Spanish town.
With its cobbled streets and whitewashed buildings decorated by colourful doors and flowers and jam-packed with restaurants and tapas bars, it's no wonder many visitors flock here to rest and unwind.

Nerja is also well-known for having the best beaches, coves and most picturesque coastlines on the Costa del Sol.
Visit the Balcón de Europa for unparalleled sea views.
The iconic site Acueducto del Águila, which is also referred to as Eagle Bridge is another must-visit sight.
Nearby visitors can also explore the Nerja Caves, a massive underground network of caves with impressive stalagmite formations and neanderthal cave paintings dating back thousands of years.
Olvera
The historic and beautiful hilltop town of Olvera is another place you won't regret visiting whilst exploring Andalusia.

Visit the Spanish church (the stunning Iglesia de Nuestra Señora de la Encarnación), built between 1822 – 1843, and admire the historic white buildings and architecture found here.
Another site not to be missed is the Moorish castle (the Castillo de Olvera) dating back to the 12th century.
As you explore the charming streets of Olvera, be sure to locate the towns prettiest and probably most photographed street, Calle Calzada.
Bookmark for later by saving to your Spain planning Pinterest board
About The Author
Born and raised in South Africa, Marco Santos from Travel-Boo, currently resides in sunny Lisbon, Portugal. With an absolute love for Europe, he is on a mission to rediscover his own Portuguese & European heritage along the way. Marco has set out to blog and share his passion for travelling through and exploring Spain, Portugal and other parts of Europe, sharing what he's learned through his travel blog Travel-Boo. 

Follow Marco on Facebook, Instagram and Pinterest.