Granada, the south eastern Spanish city which takes siestas very seriously! Granada sits at the foot of the Sierra Nevada mountain range. Not as bustling as Barcelona, but there are certainly still 10 fun things to do in Granada on a budget. It's close proximity to the coast (Marbella and Malaga) make it a very appealing city/beach trip.
Fun Things To Do in Granada On a Budget
1. Treat Yourself to Tapas in Granada
Without paying for it! Ordering a round of drinks in Granada comes with a plate of tapas. This plate can be anything from small hamburgers to fish and breadsticks. One of the limited free things to do in Granada. Since we were dog sitting in Granada to keep our travel costs down, free tapas were greatly appreciated!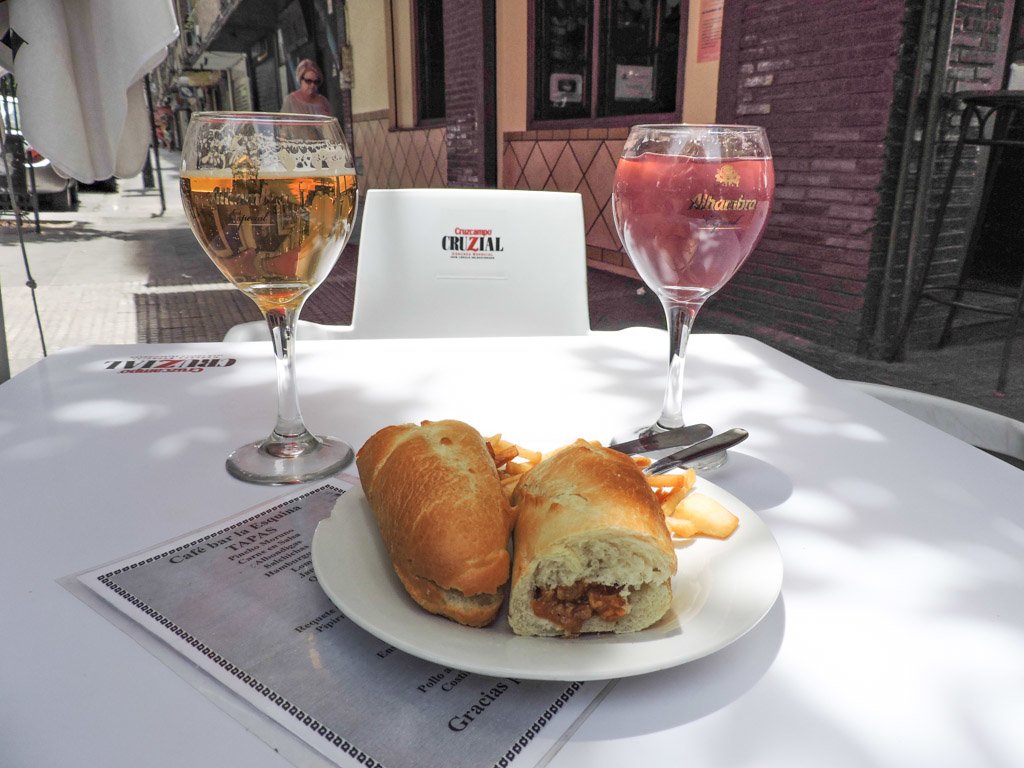 2. Tinto De Verano
Sangria is for tourists, Tinto De Verano is for locals. The Spanish love this red wine diluted with soda and lemon (above image). When summers reach highs of 40 degrees, you'll appreciate this refreshing beverage. On average, a glass costs €2 and is sold everywhere!
For an alternative, but more expensive drinks, check out Bohemian Jazz Cafe. This bar just oozes cool with its throwback decor and eclectic soundtrack (cocktails €6).
3.  Plaza Nueva
Plaza Nueva in Granada is a tourist hub of restaurants, ice cream shops, and a meeting point for many of the tours in Granada. Sip a cerveza and watch the world go by.
4. Walking Tours in Granada
There are several companies who offer walking (or Segway) tours in Granada. Each tour focusses on a different area of the city. History lovers can find out more about the Cathedral, the Royal Chapel, and the Alcaicería. Another walking tour (this was a highlight for me) takes you up to Sacromonte – the gypsy caves of Granada.
Price: Pay by tips
Meeting point: Plaza Nueva
Time: Basic city tour – 11am, every day
5. See Sacromonte
For six centuries, immigrants have made their way to Granada and found refuge in the Cerro de San Miguel hills. Rejecting the norm, these gypsy travellers dug into the mountain and created homes. In the beginning, there were 1000 cave homes, after one earthquake and two floods, there are now approximately 150 caves (some with solar panel electricity!) The prime location of these caves put these 'modern gypsy' homes at stake. If the men in suits have their way, the Sacromonte gypsy caves will no longer stand so visit quickly. Could you live in a cave?
We walked and talked, up and down Sacromonte with Walk-In Granada. Our guide, Ana, was lovely and informative. Online tips state that this hike is difficult. It really isn't, there was even a couple with a pram in our group (there is hope for the future)! I highly recommend taking this hike to Sacromonte because you walk through the white houses of the Muslim area, see the best views of Granada (especially the Alhambra) from the top, and get an insight into how the bohemians of Granada live. There is even a bar!
Price: Pay by tips
Meeting point: Plaza Neuve
Days / Times: 6pm, Tuesday, Thursday, and Saturday
Duration: 2 hours
6. Magic Fountain of Youth
Overdosed on the tapas and tinto? No stress, the solution lives at the back of the church at the viewing point in Sacromonte – the Fuente del Aceituno. Take a sip and let the years fade away…
7. Alhambra
You can't miss the palace of Granada – the Alhambra. It overlooks the city from the top of the palace grounds (which make for a nice nature walk for those on tight a budget). The fortress was originally built by the Romans but further developed by the Moors, the palace offers guided tours for an additional charge and exhibitions change frequently – typical things to do in the Alhambra, Granada.  A visit to this UNESCO World Heritage Site is the #1 thing to do in Granada on Trip Advisor. Check out this tips on purchasing Alhambra tickets.
Address: 

Calle Real de la Alhambra, s/n, 18009 Granada

Price:  €14 + €7 for gardens / limited numbers per day / book in advance
8. Granada Cathedral
Granada Cathedral or Catedral de Granada is imposing and difficult to miss! The dramatic building is 115.40 m long and 65 m wide.
Address: Plaza de las Pasiegas, 18001 Granada
Price: €4
9. High Kicks for Granada Flamenco Shows
Beat that city angst away by clicking your fingers along with a flamenco show in Granada! This dance is partially native to the Andalusia region and there is a gig for every budget. Most of Granada's flamenco shows take place in Sacromonte (see above). Shows cost between €20 and €30. If you are feeling flush, there is the option of dinner for an extra €20. Maria La Canastera comes recommended by locals (€22 – show only) as well as Venta El Gallo and Los Tarantos. A slightly cheaper show, Jardines de Zoraya (€18) takes places between Albayzín and Sacromonte. Backpackers who watching the purse strings but don't want to miss out on some passion on the dance floor should check out Le Chien Andalou (€10) near Plaza Nueva. One of the best things to do when it rains in Granada.
Image by Marlon Dias on Flickr
Prices: vary from €10 – €30
10. Hiking in the Sierra Nevada
A short bus ride from Granada will take you to the scenic town of Monachil. From here there are several hikes along the river which involve crossing a few rickety rope suspension bridges called the Hanging Bridges of Los Cahorros! Take your swimming gear to cool off. One of my favourite places to go in Granada. If you like hiking, read our day trips from Barcelona for other ideas of Spanish routes.
Monachil has lots of small bars to award yourself with a beer. A personal favourite was Art Café Barbershop (don't expect a haircut!) Two beers and one Tinto De Verano was €6, with tapas of course.
Bus: 181, 182, 183 bus from Granada to Monochil. Very limited on a Sunday
Bus from Granada to Monachil: €1.50 one way
Taxi from Granada to Monachil: approx. €20
Accommodation in Granada
There is a variety of accommodation in Granda to meet every budget. Hotels in Granada start at €31. Dorm beds are the cheapest option – €10 per person. Check out Wandertooth's recommendations for where to stay in Granada (it's extensive!)
Airbnb averages at €77, however, private houses are available from €29. Yet to sign up for Airbnb? Use my code and get money off! I will also get credit as a thank you! Camping in Granada is possible. Do take this warning about hot summers carefully though!
Transport in Granada
Granada is easily discovered by foot and excluding the Alhambra and Sacromote area is pretty flat. There is a bus system which operates in Granada and connects the city to the coastal beaches of Malaga (you can then go on to Marbella). Taxis are also available all over the city.
Getting to Granada
Granada has its own airport but flights are pricier than flying to Malaga. Buses from Malaga to Granada are very frequent. Buses also make the reverse journey.
Map of Granada
There are plenty of spots to pick up a map of Granada. Here is an online version for the very organised traveller to print off!
Currency in Granada
Spain is in the European Union and uses the Euro. Most ATMs charge you to take out money, with the exception of BBMV. For the most up to date exchange rates, click here.
Weather in Granada
Ooft! Granada summers are hot! The maximum temperature reaches 39 degrees and the lowest of the year dips to a mere 18 degrees. The rainiest month is November, with July showing little signs of a downpour.
Heading elsewhere in Spain? Check out this Valencia Travel Guide – I'm keen to go, Craig has already visited to see the Moto GP!
Going to Granada?
Hover over image and pin to your Spain Pinterest board!
Granada would make a perfect two or three-day city break merged with a beach holiday – close to the coast it would be rude not to! So now you know what to do in Granada, Spain – get booking, rapido.
Have you been to Granada?
Any questions – hit me up in the comments below!
*I have no affiliation with companies named above, just sharing what worked for us