This article has links to products and services we love, which we may make commission from.
Looking for fun things to do in Spain? This bumper guide details a variety of things to do, from popular flamenco shows to lesser-known graffiti murals, from adventurous water sports to beach hopping and party spots. We'll look at the best-rated hiking trails and the locations that put a spotlight on Spain's history. How could we forget the art and architecture? We've got tips for that, too. So let's take a look at Spain's attractions and what to do there from A-Z.
Top Things to Do in Spain
Almeria
Explore the Film Locations of Almeria, Plus Much More
Almeria is a hidden gem in the south-east corner of Spain. The area is known for its tomato growing, thanks to the warm and dry climate, but there are so many things to do in Almeria.
The city is overlooked by an imposing Moorish fortress that was used in the filming of Game of Thrones.
It's also home to a fortified Gothic Cathedral and underground tunnels from the Spanish Civil War, not to mention some of the best tapas in Spain!
As well as Game of Thrones, Almeria and its surroundings have also been used in the filming of many Hollywood movies.
For example, Indiana Jones, Lawrence of Arabia, and plenty of Spaghetti Westerns, most of which were filmed in the nearby Tabernas Desert where you can still visit the old film sets.
In 1966, while John Lennon was filming a movie in Almeria, he wrote Strawberry Fields. There's now a statue honouring him in the city centre.
Zapillo Beach is located in the city itself, but it's also worth visiting nearby Cabo de Gata Natural Park, where the turquoise waters meet the dry, desert lake landscape.
It's also a short drive from Almeria to the historic, white-washed coastal Moorish villages like Mojacar, or those in the Alpujarras mountain region.
As you can see, you won't be short of things to see on a trip to Almeria!
By Sonja, Migrating Miss
Andalusia
Take a Road Trip Through the White Villages of Andalusia
The white villages of Andalusia (Pueblos Blancos) are one of the most scenic destinations in southern Spain.
There are many picturesque little settlements of white-washed houses clustered in the hills behind Costa del Sol that you can visit easily from Malaga, Seville, or Cordoba.
Our tip is to explore the region by car (your own or a rental) and discover where the road takes you. You could make a round trip from one city or drive from one to the other via a very panoramic detour.
The most important thing is to slow down; allow for small, winding roads and numerous photo stops, enjoy the mountain scenery, stroll through as many of the white villages as you fancy, and enjoy a quiet drink at one of the many picturesque plazas.
Each of these villages has its own unique atmosphere and, often, several historic landmarks.
During the Berber invasion, this mountainous region was an ever-changing frontline between the invading Muslims and the Christians.
The legacy from these tumultuous times is countless fortifications and watchtowers dotting the hills. Today this history is preserved in many village names, which end in "de la frontera" (of the border).
So, which of the many white villages you should visit? It's difficult to say.
Ronda is certainly the best known of all, mostly due to its spectacular clifftop setting.
But others are quieter and no less photogenic. Just explore and discover your own favourite!
Our favourite was probably Setenil de las Bodegas, famous for its "houses under the rock". This village is wedged into a deep river gorge.
Many of the buildings' roofs are simply rock overhangs, left behind in the soft sandstone by the formerly fast-flowing river.
Find out more in our guide on towns and cities in Andalucia.
By Juergen Klein, Dare2go Road Trip Ideas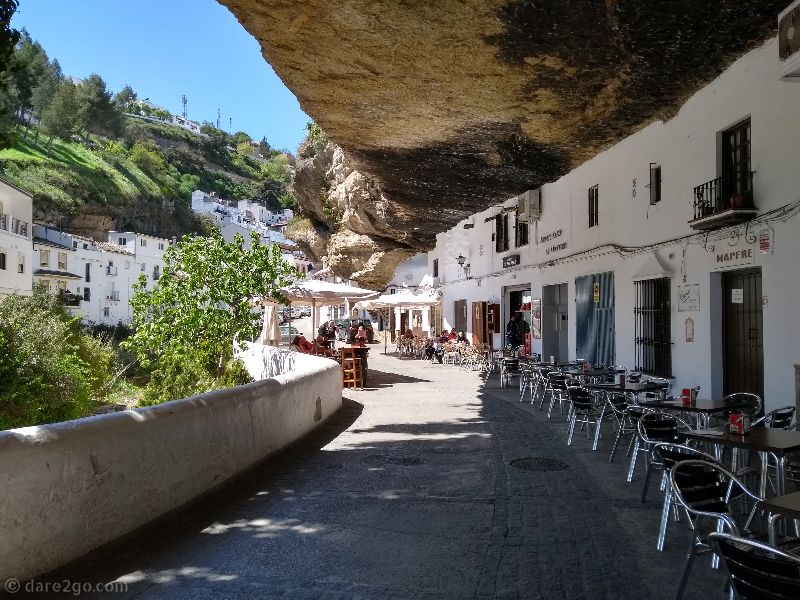 Asturias
Drink Asturian Cider in 'Green Spain'
Forget flamenco and vino, it's all about bagpipes and cider in northern Spain!
You may have been to Barcelona, Madrid, or Seville and think you've got Spain nailed. Sun, sea, sangria….
But northern Spain (AKA 'Green Spain') is a completely different world entirely.
Made up of the lesser-known Celtic regions of Galicia, Asturias, Cantabria, and the Basque Country, you're more likely to see a band of tartan-clad bagpipe players than a flamenco show.
But that's not all it's known for. Ask any Spaniard what makes the 'Costa Verde' so special and they'll likely regale you with tales about the amazing seafood (owing to the fertile stretch of Atlantic coast on which it sits), and they'll most definitely make quite a fuss about Asturias' famous hard cider (or 'sidra').
Fret not, however, if you have fever-inducing memories of sipping cider in the park, as this isn't the sugary, headache-inducing swill many of us grew up on.
No, Asturian cider is a zesty and purely natural artisanal product made with as much care and skill as Spain's more famous grape-based beverages.
But cider is so much more than just a drink. Much like coffee in Italy and tea in the UK, Asturian sidra is the anchor that daily life revolves around.
From the workaday 'sidrerias' (cider bars) of Gijón and Oviedo (Asturias' two main cities) to the rural restaurants where you're invited to pour it directly from the barrel, it is sipped with great gusto night and day.
Head to any and all of the sidrerias you come across and order a bottle.
The best bars have professional sidra pourers who will keep you topped up with 'un culin' ('a little bottom' or 'short pour') that you knock back in one while the cider is still fresh and 'alive'.
You'll be ready for la fiesta in no time!
By Ben Holbrook from DriftwoodJournals.com
Party in Oviedo
Oviedo is the capital of Asturias in Spain's lush, green northern region.
This regional capital is a stately, gracious affair with the traditional central plaza surrounded by the requisite cathedral, government buildings, and Baroque architecture.
The leafy parks are among the most beautiful in Spain.
Broad pedestrian avenues showcase upmarket stores on both sides of the street.
It is a pleasant town with its museums, galleries, and restaurants offering the Fabada Asturiana, the region's classic dish.
But don't be fooled by the gracious, sedate atmosphere.
Oviedo has another side to it and can party with the best of them.
Head over to Gascona street and surrender to the exuberance and musical merriment of an evening in Gascona's cider taverns. There is nothing quite like it in Spain.
The street has cute little tapas bars and big family restaurants on both sides.
The speciality of the establishments is the traditional Asturian cider, a lightly alcoholic beverage that the waiters pour from three feet above the glass in order to aerate the liquid. It's fun to see who can fill a glass without missing a drop.
The cider is accompanied by the specialities of Asturian cuisine: stews, roasts, and seafood.
While all of this is going on, local musicians play lively traditional music and encourage patrons to sing along, which they do with wild abandon.
The excitement builds to a crescendo. When the musicians leave to play elsewhere, the patrons follow them out into the street and into their next gig.
Nobody parties like an Asturian.
By Talek Nantes, Travels With Talek
Ávila
Eat Yemas de Ávila
Yemas de Ávila, or Ávila egg cake, refers to what might be one of the best and well-known Spanish confectionaries.
The origin of this famous delicious sweet dish from the medieval walled city of Ávila is not very clear, but it was first commercialized and popularized as Yemas de Santa Teresa.
However, an interesting story for its origin goes by this…The convent of Santa Teresa had winemakers as its neighbours. They were using only the whites of eggs to clean their casks of red wine and used to throw the egg yolks.
When residents of the convent came to know of this, they requested the winemakers donate the yolks to them, as they were always in need of some foodstuff. Hence started a new revolution in eating habits.
For hundreds of years, the sisters would prepare Yemas from yolks. Its shape and recipe remain almost unchanged.
The tradition is passed on from parents to children to date.
These delicious little balls are dream souvenirs for every tourist to Spain. More than 2,50,000 boxes of Yemas are produced in Avila every year!
It has a simple recipe made of egg yolk, sugar, and lemon rind. Made by hand, they are very delicate and melt in the mouth very easily.
They are small orange balls in a tart white paper. No preservatives or additives are used and it has an expiration of almost 30 days! It can be bought anywhere in Spain but typically they are a souvenir associated with the city of Ávila.
By Nisha and Vasu, Lemon Nicks
Barcelona
Art and Architecture
Barcelona is often the 'entry' city for many tourists to Spain. One taste of the winding Gothic streets and whacky Gaudi architecture and they are hooked. Barcelona is a walking museum.
Every Spain itinerary should include some time in the Catalan capital, visiting the yet-to-be-completed La Sagrada Familia, two Gaudi Casas, and Park Guell.
Gaudi is not the only creator that is celebrated in the city. Picasso has a mural and a museum, pop artist Roy Lichtenstein has a structure, even the locals have had their hand at it via The World Begins With Every Kiss mural.
---
» Find out more | How to spend two days in Barcelona
---

Barcelona's Christmas Markets
While Barcelona is not the most festive of places, it is nice to spend some time in warmer temperatures during winter.
You can visit the beach for a walk, enjoy sundown drinks at sunset and then visit the markets which sell two poo-related items!
Yes, Catalan Christmas culture and tradition includes two poo items. You can are about both in our Barcelona in December guide.
Caminito del Rey (Hiking)
Caminito del Rey is one of Spain's most famous and beautiful hikes. It is located in the community of Malaga in Andalusia and takes place in the incredible Chorro Gorge, on a wooden path 100 m above the ground. The views are simply breathtaking.
The trail is a linear route of 8 km, of which 2.9 km is done on wooden pathways. You will also need to cross a high hanging bridge, so it isn't advised for people with a fear of heights.
Besides the heights, it isn't a hard trail, and at the end of the route, you can catch a bus back to the starting point.
Caminito del Rey was once designated the "most dangerous trail in the world", but nowadays, it is perfectly safe.
It was rebuilt on top of the old pathway, but parts of the old trail were kept untouched, making you realize how crazy dangerous the path was before.
Hiking Caminito del Rey has to be on your bucket list when visiting Spain. It is an adventurous hike with unforgettable scenery.
Normally fully-booked in summer, you have to book the hike in advance through the official site, and it has a cost of 10€.
You should also be aware that Summers in Andalusia tend to be very, very hot, so the ideal time to hike Caminito del Rey is Spring or Autumn.
Claudia Bastos from Travel Drafts
Castilla – La Mancha
La Ruta de Don Quijote
The Don Quixote Trail (Ruta de Don Quijote) is a list of sites related to Don Quijote de la Mancha, one of the most famous novels in the history of literature.
The novel, written by Miguel de Cervantes in the 17th century, tells the adventures of a man who wanted to be a knight-errant in the land of La Mancha and who could not distinguish fantasy from reality to the point to confuse the windmills of Campo de Criptana with terrible giants. This route was declared European Cultural Itinerary in 2007 and it is the fourth of this kind in Spain.
All the sites of the Don Quixote Trail are located in the five provinces of Castilla – La Mancha, a region in central Spain. Due to the distances and scarce public transportation options, this trail is best explored on a road trip.
The trail is very varied and includes the sites mentioned in the novel plus some sites related to the author. On the way, there are small towns (Belmonte, Puerto Lápice, Toboso), national parks, natural parks, posadas (road inns), 16-century traditional houses, and other sights, without forgetting the infamous windmills! This trail is also a great opportunity to explore a lesser-known region in Spain, world reputed for its cheese and wine.
The Ruta de Don Quijote is best done in spring or fall, when the weather is good and the roads are less crowded. Summers in central Spain are very hot and dry so you could also end up seeing giants in the plains of La Mancha, just like our hero Don Quixote.

By Elisa, World in Paris
Costa Brava
Cami De Ronda, Hiking in Southern Spain
One of the most picturesque things to do in Southern Spain, the Cami de Ronda is a fairly unknown hike along 220km of Costa Brava's beautiful coastline.
Also known as the GR92, the hiking trail starts in the Northeastern Spanish town of Portbou. It then follows the coast through some of the most popular Costa Brava towns.
These include Cadaques, Roses, L'Escala, Palamos, Tossa De Mar, Lloret De Mar, and Blanes.
The Cami de Ronda was originally built to help the Guardia Civil control the coast and stop smuggling. Today, the route is one of the best for hiking in Southern Spain.
The Cami – also known as Camino – De Ronda is made up of a series of small footpaths weaving through the cliffs, short tunnels, and lots of stunning beaches and tranquil coves.
Some of the most beautiful beaches in Spain are based along the GR92 route.
You can start hiking at any part you wish. Platja D'Aro is close to the highest density of amazing beaches, coves, and crystal blue waters.
The coastal path is a fairly easy and straightforward route. However, there are quite a few parts that go up a number of stairs and inclines along the way.
Make sure to be prepared depending on the weather. There are limited shops on the way, so take some water and snacks. Wear proper walking shoes or trainers and suncream.
There are a number of hotels and campsite placed along the route so you can do multiple days walking if you want.
By Amy Gillard, Follow Our Freedom
Marimurtra Botanical Garden in Blanes on the Costa Brava
Blanes is a seaside town on the northeastern Mediterranean coast of Spain known as the Costa Brava. It is part of Catalonia (Catalunya), an autonomous region in Spain where the primary language is Catalan.
Most tourists head to the Costa Brava for sun, sand, water activities, and seafood in congenial restaurants and bars.
A bonus attraction is the world-class Marimurtra Botanical Garden (el Jardí Botànic Marimurtra) in Blanes. The garden has earned classification as a Cultural Asset of National Interest.
The Marimurtra Botanical Garden is a well-established, mature garden. It boasts flora from Mediterranean climate habitats on 5 continents with some 4,000 specimens.
The garden is set high up on a cliff overlooking the Mediterranean, such that the gorgeous setting of the garden is a specimen in and of itself.
There are some stairs and uphill/downhill paths. When you need a rest, there is a lovely pergola with a bird's eye view of the coast where you can sit in the shade. Drinks are available at a small snack bar.
Give yourself at least 2 hours to walk through the 4-acre site which is divided into 3 gardens. If you're a plant or photo person, allow more time!! For more information to plan your visit and to download a PDF map of the garden visit the Marimurtra Botanical Garden website.
By Suzanne Fluhr, Boomeresque: Baby Boomer Travels for the Body and Mind
Cadiz
Hunting for Sea Glass in Cadiz
Cadiz is a beautiful coastal town in the south of Spain on the Costa de la Luz. Located on the Atlantic Ocean, some of the beaches are a good place to go sea glass hunting.
Many people enjoy the iconic sandy beach of Playa la Caleta. However, to the southern side of the beach is Paseo Fernando Quiñones, which is a great spot for sea glass hunting.
Head halfway down the walkway to find steps leading down to a small beach dotted with pebbles. Wear sturdy shoes to avoid your feet getting cut.
Keep your eyes open for odd colors.
Bright blues, vibrant greens, icy blues, and frosted white are some of the most common colors.
But you can find red, yellow, orange (the rarest colors), black, brown, lavender, and just about any color in between!
Morning is the best time to find sea glass as this is when the best batch is washed up by the tide.
By Niki Gordon Chasing Departures
Comillas
Visit El Capricho de Gaudi in Comillas
If you ever find yourself driving along the northern coast of Spain, then you may want to visit the small town of Comillas in Cantabria.
It's home to this unusual castle-like villa called El Capricho, which was designed by renowned Catalan architect Antoni Gaudi.
Commissioned by the wealthy lawyer Maximo Diaz de Quijano, it was constructed between 1883 and 1885 when Gaudi was in his early thirties. It's considered one of his earliest works of importance and is just one of a handful of buildings he created outside of Catalonia.
Walking up the hill to El Capricho, the first thing you'll notice is the building's cylindrical tower.
It's designed in the shape of a Persian minaret, with its surface covered in glazed sunflower ceramics.
At the time of its construction, Gaudi was drawing inspiration from the art of the Middle and the Far East, hence the building's oriental style. It's a fascinating structure which, unfortunately, not as many people get to see due to its more remote location.
You can go to Comillas by bus, but the easiest and best way to visit El Capricho is by rental car. We rented a car from San Sebastian and drove to Santiago de Compostela, making stops in key cities like Bilbao, Oviedo, Lugo, and Comillas.
Comillas wasn't even in our plans but we had to make a quick detour there after learning about El Capricho. After all, it isn't every day you get to see a Gaudi building like that outside of Barcelona.
By JB Macatulad, Will Fly for Food
Cordoba
Patio Festival in Cordoba
The Patio Festival in Cordoba is a bucket list experience in Southern Spain. This festival, which began in 1918, is UNESCO recognized as an intangible heritage site.
During the Patio Festival, at the beginning of May, residents of Cordoba open up their patios to visitors.
There are over fifty patios across Cordoba that are free to visit.
However, most of the patio owners do accept donations. These patios are elaborately decorated with flowers, each more intricate than the next.
The patios are either singly owned or multi-family dwellings, the owners working hard to design and upkeep their patios. It is a true sensory overload, with vibrant flowers, floral scents, and excited crowds.
You may even be lucky to experience some traditional singing, flamenco guitar playing and dancing during the festival. Crowds move from one residence to the next to visit the beautiful patios across the historic center of Cordoba.
Lines are fairly long, especially at the more popular patios. Yet, the floral displays are well worth the wait.
The Patio Festival also doubles as a contest: the patio owners vie for the title of best patio each year. The patios are only open for visitors during specific hours of the day; from 11 am to 2 pm and from 6 pm to 10 pm, allowing you time to explore some of the other incredible things to do in Cordoba when the patios are closed.
If you are unable to visit Cordoba during the Patio Festival, be sure to check out Palacio de Viana.
Palacio de Viana is the patio museum in Cordoba, which has twelve impressive patios to visit year-round.
By Anna Hammerschmidt, Come Join My Journey
El Torcal de Antequera National Park
If you enjoy spending time in nature and are a mountain lover, then hiking in the El Torcal de Antequera is one of the activities you must do when you visit Spain.
El Torcal de Antequera was formed millions of years ago when this entire area of Spain was under the sea. As the water retracted, the karst formations were sculpted by the wind and rain into unique shapes that people are coming from all over the world to see.
El Torcal de Antequera is over 1,200 meters high, only 48 kilometres away from Malaga, and it is easily reachable by car.
There is no public transport to the National Park, so to get there you can either rent a car or book a taxi from Antequera.
Hiking in the El Torcal de Antequera National Park is quite magical because very often, even if in Malaga it is sunny, the mountain will be covered by clouds and fog.
There are two public trails that can be accessed at any time by the general public: the green one is very easy and can be finished in 45 minutes, whilst the yellow one is a bit more difficult and takes around 2 hours.
On top of the unique karst formations, you will often notice the Iberian ibex looking curiously down at the path. El Torcal de Antequera is not a very popular touristic place and, out of season, you can easily notice that you are alone on the trail.
At the end of the hike, next to the parking lot, there is a viewpoint from where you can see Malaga, the Mediterranean Sea and, on a clear day, the mountains of Morocco.
By Joanna, The World in My Pocket

Galicia
Check Out Celtic Traditions in Spain
You are still on time to visit Galicia without being a victim of over-tourism that affects other parts of Spain (such as the Mediterranean coast or islands).
Galicia is located in the northwest of the Iberian Peninsula, north of Portugal and with access to the Cantabrian Sea and the Atlantic Ocean. About 3 million people live there, among which I include myself.
Due to its capricious geography and being away from historically significant centers such as Madrid, Seville, and Barcelona, Galicia has remained more virgin over time, more authentic if you want to say so.
For me, it is the most beautiful land in the world, more similar perhaps to Scotland and Ireland (for its Celtic tradition, traditional music, weather, own language, and other factors) than to Andalusia, in southern Spain. If you want to fully experience the unique Galician culture, the best thing to do is getting lost there.
This land will make you find yourself. It has been a pilgrim's mecca since the Middle Ages – as it is where Santiago de Compostela is located, which is the end of the world-known Camino de Santiago.
You will discover how down-to-earth Galician people are, how delicious and healthy its cuisine is, how wonderful is its coast with estuaries that will remind you of the fjords, the history that can be breathed in the cobbled streets of the historical centers of its cities, and ultimately, the blind passion that its inhabitants feel for their land.
You are invited, the Galician highlights are waiting for you.
By Inma Gregorio, A World to Travel
Granada
Visit Granada Alahambra
Constructed by the Romans and the Moors, you literally can't miss the city's top attraction as it sits perched on the hill.
Tourists can visit the palace and fortress grounds independently or as part of a tour. During your visit, you can walk through the archways, courtyard, and Royal Complex.
It is advised to reserve your ticket months in advance, especially during high season.
After you've toured the palace, grab a drink at a bar and enjoy the free tapas that are served with every round!
---
» Further information | Things to do in Granada
---

Guadalupe
Sleeping Inside the Guadalupe Monastery
When you hear the name "Guadalupe" as a Catholic place of worship, the first thing you think of is probably the Basilica of Our Lady of Guadalupe in Mexico City.
That one is now the world's most visited site of Catholic pilgrimage, but it's not the original.
That claim to fame goes to the monastery in Guadalupe, Spain, in the remote region of Extremadura, and for hundreds of years, it was the most important cloister in the whole country.
As the official royal sanctuary, this was where King Ferdinand and Isabel signed off on the papers authorizing Christopher Columbus' voyage in 1492.
Indeed, many of the Spanish conquistadors came from this region, and they were the ones who spread their devotion to the Virgin of Guadalupe to Mexico and beyond.
Nowadays, the monastery of Guadalupe remains popular among Spaniards but is virtually unknown among foreign tourists.
A visit to this quaint town is the perfect opportunity to get off the tourist track and experience a slice of real Spanish life.
And while you're there, you have the chance to not just visit an architectural masterpiece, but also dine in the cloisters and even sleep inside the monastery itself!
Dining al fresco in the monastery courtyard, surrounded by intricately carved arches and colonnades, is an experience you won't soon forget. The restaurant staff are very accommodating and willing to cater to special requests, such as vegetarian or vegan meals.
After dinner, you can retire to one of the rooms inside the hospedería — a section of the monastery that has been converted into a guesthouse. Despite the opulent surroundings, the rooms here are extremely affordable, sometimes going for as little as 65 euros for a double room.
By Wendy Werneth, The Nomadic Vegan

Gran Canaria
Fishing in Gran Canaria
There are many exciting places to see and things to do when you visit Spain. However, nothing is more exciting than going on a fishing expedition in Gran Canaria.
Gran Canaria is a part of the Canary Islands, which belong to Spain. They are located just off the northwestern coast of Africa, surrounded by the lovely Atlantic waters. It's only a short and relatively inexpensive flight away to reach an all-year-round sunny destination.
Moreover, this kind of activity offers a breathtaking experience and it gives you the opportunity to get a glimpse of the stunning coastline from the boat. Best of all, you'll have the opportunity to watch the sunset right on the sea.
Going on a fishing expedition is quite simple. It's best if you book your stay at the Bohemia Suites & Spa Hotel, which is a five-star, adult-only hotel. They can organise plenty of expeditions for you (tailored to your needs), including your own fishing expedition.
You'll have the chance to join the local fisherman and fish for some beautiful Atlantic fish, like bonito or wreckfish. The best part is, that they'll even show you how to prepare them, gut them, clean them, as well as cook them.
All in all, a fishing expedition is adventurous and educational. Plus, it's a fantastic way to catch some sun and discover Gran Canaria's coast as you travel in the waters. To learn more about going on a fishing expedition and things to do in Gran Canaria, click here.
By Michelle, Greedy Gourmet
Guatiza
Visit the Cactus Garden
If you are looking for the best things to do in Spain, you will probably first think about stunning beaches, tapas in Barcelona, or a party on Ibiza island, right?
But what about something different? What if we tell you that one of the most interesting places to visit is a… Cactus Garden!?
Jardín de Cactus, or Cactus Garden, is proof that architecture in the Canary Islands can be an integral part of the natural landscape. This place can be found in the tiny town of Guatiza (Costa Teguise municipality) in the northeast of Lanzarote.
What awaits us inside the garden? Cacti, of course! More specifically – over 1,400 species of these plants.
This is the last great work of Cesar Manrique, who lived and created on the island and it is mainly thanks to him that Lanzarote is the most interesting island (in my opinion) of the Canary Islands. The cacti are tiny, measuring only a few centimetres, as well as huge giants several dozen meters high.
Their shapes, colours, and various forms in which they combine together create a view from which it is difficult to take your eyes off.
The garden was built like an ancient theatre, in the shape of a circle, with bunk terraces and cacti grow everywhere, so for lovers of these plants, it is a paradise.
If you ever go on holiday to Lanzarote island, make sure you visit Jardín de Cactus – it is one of the best places to visit in the whole of Spain.
Ibiza
Sailing Around Ibiza
From postcard-perfect beaches to fresh seafood paella to some of the most trendy clubs and parties in Europe, Ibiza has it all.
But since it ticks so many boxes, Ibiza also attracts a lot of people and can get a bit crowded, particularly in the summer.
There´s a solution: Ibiza is best enjoyed by boat.
You can be based on the water, sailing from cove to cove and discovering the island from the seaside.
During the day, go snorkeling or go for a paella lunch at a beach restaurant (they will pick you up at your boat!).
In the evening, head inland to famous Pacha if clubbing is your thing, or lie on deck and watch the stars.
It´s easy to rent a boat for a few hours or an entire week, with captain or without (license required), and Ibiza has lots of stunning coves and anchorages that can easily be reached within a couple of hours sail from each other.
You can also take a day trip to the neighbouring island of Formentera.
Even the famous Café del Mar at sunset is a fun, relaxing experience from the comfort of your own sailboat – and you can search for yourself in other people´s Instagram shots afterwards.
By Edwina, Traveling German
Sunset at Cafe del Mar in Ibiza
Ibiza is the party island of Spain, known for its pumping club nights. But not everything in Ibiza is high energy!
If you like listening to chill-out music while watching the sunset, a visit to Cafe del Mar is worth it.
Cafe del Mar is located on Sant Antoni de Portmany, the second-largest town in Ibiza.
The bar plays a mixture of music including chill out, lounge, ambient, and Balearic beats; music with the beauty of nature. It offers an unforgettable show for locals and tourists.
Of course, you do not have to be a client of the bar to enjoy the beautiful view, because at the seaside there is enough room for everyone and it is open for the public.
After the sun is down, only a few steps separate you from the largest cluster of clubs and discos on the Ibiza island.
If you're still not convinced to visit, turn on one of Cafe del Mar's mixes on YouTube to feel the good vibes.
The most convenient way to get to Ibiza is to fly from Barcelona.
You can get to San Antonio from the Ibiza airport by public transport, but it is more convenient to rent a car (prices are very low out of season).
By Marta & Milosz, BackpackersWro
Madrid
Explore Madrid's Local Market
There are countless things to do in Madrid over the span of a few days, including visiting the capital's inimitable art museums, like the Prado or the Reina Sofia, seeing the beautiful Palacio Real, or strolling in El Retiro Park.
However, one of the best ways to get a bit off the beaten tourist path and to really get under the skin of traditional Madrileño culture is to head to a local market.
While upscale food halls like the Mercado de San Miguel are definitely popular in Madrid and have become one of the city's top tourist attractions, this isn't what a traditional Madrid market looks like.
If you want to explore a part of Spanish culture that has held true for centuries, you need to venture only slightly away from the tourist centre and explore a proper local market. One of the best places to visit in Madrid is the Mercado Antón Martín in the trendy and diverse Lavapiés neighbourhood, just south of central Madrid.
In this market, you can browse stalls selling everything including fresh fruits and vegetables, delicious brined olives, beautifully cured meats, and exquisite cheeses. Most markets will also have a couple of areas where you can rest your feet after (or during!) your shop.
The Mercado Antón Martín, for instance, includes a couple of places to grab some tapas, a vermouth bar, and even a taco shop!
Another fantastic nearby market is the Mercado de San Fernando in the Embajadores neighbourhood.
There are excellent and authentic local markets in most Madrid neighbourhoods and this is where you will see local Madrileños going about their daily lives.
It is also a great place to sample local cuisine at a fraction of the price that you will find in restaurants and bars in the city centre.
By Maggie Turansky, The World Was Here First
Street Art in Madrid

One of the best things to do in Spain is visiting Madrid.
It is a vibrant city, full of life and with many activities that will surprise you. One of them is a walking tour to discover the best street art in the city, definitely, one of the coolest things to do in Madrid.
There are many hidden places in Madrid where you can find murals by artists such as Suso 33, Borondo, Okuda or Jonipunto, which fills the walls and facades of the capital with color and poetry.
You don't need to pay to watch them, just walk around and enjoy!
Some of the most famous murals in Madrid that you can not miss on your visit to the capital are:
The Monkey by Okuda San Miguel with Bordalo, a geometric graffiti full of symbols made with recycled materials, that has become one of the most popular murals in Madrid, located in the corner of Embajadores with Travesía.

The walls of the old Tobacco Factory of Madrid, that have become an open-air art museum, with a total of 57 graffiti, including the popular by Borondo or Suso33.

The mural of the Paco de Lucía metro station, the largest suburban graffiti in Madrid of 300 square meters, made by artists Okuda and Rosh333.
By Sara, Madrid Traveling
Malaga
Hiking El Saltillo trail in Malaga is a great thing to do on your trip to Spain.
The hike has been called "the other Caminito del Rey" by hikers for its boardwalk hanging close to a hundred meters up on the vertical cliffside.
Only this hike can be done for free, it doesn't require a helmet, and hardly any tourists know about it! How cool is that?
The hike of El Saltillo starts in the small white village of Canillas de Aceituno and begins at the same trail as the more famous hike up La Maroma, which is Malaga's highest peak.
Actually, if you forget to turn right onto the small path that is hidden in the middle of the stairs above the village, you are quite likely walking up towards La Maroma instead. Which is a great hike, don't get me wrong! But El Saltillo is just much more unique.
Following the path through olive groves, the views open up and you start following the water pipes along the hillside.
The path is extremely narrow at places, and just as steep, so if you suffer from vertigo, you might reconsider as this part of the trail doesn't have any rails to hold on to.
After walking like this for a while you finally meet the boardwalk. It's actually two parts with boardwalks hanging on the cliffside with views of the rugged mountains on the other side.
Following the path to the end, there is a small but refreshing waterfall to cool down and have a lunch break.
The whole hike there and back takes 4 hours and is great to combine with a walk around the village of Canillas de Aceituno.
By Linn Haglund, Brainy Backpackers
Mallorca
Hiking and Stand Up Paddle in Puerto Pollensa
Beach and nature lovers must book a trip to Puerto Pollensa, Mallorca.
The Spanish island is world-famous for its beaches and parties, but it's much more than that, especially Puerto Pollensa town.
Think about crystal clear water, breathtaking sunrises, stunning mountains, and delicious fresh seafood. Puerto Pollensa can give you all of that, with lovely beachfront hotels, laidback restaurants, and a quiet vibe.
The fishing village is the perfect destination for nature and outdoor lovers, and among all the top things to do in Puerto Pollensa, our favorite ones are hiking and Stand Up Paddle.
Puerto Pollensa is a hiking paradise due to its location on the foot of Sierra de Tramuntana.
Bring your hiking shoes and get lost in magnificent trails that go through the rocky mountains and end in secluded beaches.
On the way, you might find old windmills and some curious goats. Don't forget to pack water, beachwear, and a snorkel, as most of the beaches offer excellent swimming spots but no restaurants or shops.
Another unmissable thing to do in Puerto Pollensa is SUP (Stand Up Paddle). If you have never done it, give it a try. You can find many shops renting the boards and even offering SUP classes. Look around town or ask at your hotel.
The main beach of Puerto Pollensa is a great place to do it and we also recommend trying at Can Cap Bou Beach, where all the kite surfers go. It has a very flat sea, the water is shallow, and it doesn't have many people.
Our last suggestion would be going for a SUP session during the sunrise.
OK, we know it's hard to wake up before 6 am, especially on your holidays, but it's worth it. It will be an unforgettable experience, that's for sure.
By Natalie Deduck, LoveandRoad
---
» Read next | Romantic places to visit in Europe
---
Calo des Moro Beach Hopping
Calo des Moro is one of the most beautiful calas (bays) in Spain, known for its lush and protected nature with pristine sand and turquoise water.
Moreover, it's quite isolated and despite its fame, it doesn't get too crowded most times of the year. There is even the possibility to stay overnight in a cave on the beach.
There is also a parking space right before the small road that leads to the stairs down to Calo des Moro.
From the parking lot, it's a 15-minute walk until you reach the stairs, and from there you can descend in approximately 5-10 minutes.
There are signs leading to Calo des Moro, which makes it easy to find, although some effort is needed to get there.
Mallorca, also known as Majorca, is very famous for its beaches, and while Calo des Moro is absolutely stunning and well worth visiting, there are lots of other beautiful beaches in Mallorca.
Some of the best beaches include Alcudia Beach, Cala Agulla, Playa de Canyamel, Es Trenc, Cala Mesquida, and Cala Mondragó.
These are known for their fine sand, plus their water quality and the stunning blue color in various shades.
For those who venture further and go by rental car, it's possible to find remote beaches with untouched nature in several parts of the island. However, most of the best beaches in Mallorca can be accessed by public transportation.
Most of them are located in the southern part of the island while a few are located in the northeastern part of Mallorca.
By Alexander Waltner, Gourmand Trotter
Touring Mallorca on a Motor Scooter
If you find yourself in the Balearic islands, with a sense of adventure and little time, a motor scooter can enhance your trip.
Due to the island's infamy of attracting mass tourism at 10 million visitors annually, you might not expect much bar tourists hot sports.
However, exploring by scooter will show that Mallorca is an incredibly multifaceted island.
From Palma, explore the beaches, lighthouses, castles, capes, cafés, and cute villages. It is a lot easier to find a parking spot in a historic center with a scooter than with a car.
The freedom of the scooter is a great fit for all the random things you can do such as challenging hikes, relaxing at Cap de ses Salines lighthouse, the hike to and swimming at Coll Baix beach, the views from Alaró castle, and the winding road through the Serra de Tramuntana.
Pro tip – it is best to reserve a rental scooter before you arrive in Mallorca.

By Iris Veldwijk, Mind of a Hitchhiker
Marbella
Party at Beach Clubs of Marbella
If you love a good party and you love to connect with other travelers, plan a night out in Marbella.
Even though Marbella is not the largest town, it boasts some of the best clubs in all of Spain.
Marbella is renowned for being the playground of the rich and famous…thus the perfect setting for people who want to enjoy and celebrate life to the fullest.
One of the most famous beach clubs in Marbella is Amare Beach for more relaxing afternoons with cool DJ sounds in the background.
Another beach club you can't miss in Marbella is the legendary Nikki Beach. The club offers the full VIP experience, from sun loungers to the terrace, combined with world-class DJs.
Opium Beach Club is the place to be for younger travellers. It's one of Marbella's trendiest summer establishments.
If you are wondering where to stay in Marbella to make the most of your stay, I recommend one of the world-class beach resorts such as Puente Romano or Hotel Don Pepe. Many hotels in Marbella have their own beach club, thus in many cases, you don't even have to leave your resort.
By Paulina, Paulina On The Road
Montserrat
Attend a Montserrat Boys' Choir Performance
An 11th-century monastery spans the Montserrat mountain peaks in Spain's Catalonia region.
The monastery alone is reason enough to visit Montserrat. But within the monastery is the home of the internationally-known L'Escolania de Montserrat (the Montserrat boys' musical school).
You can attend one of the choir's daily performances in the Basilica of Santa Maria (13:00 and 18:45 Monday-Friday).
That is, when they aren't performing around the world in places like The Vatican, New York City, or Moscow. Witnessing and hearing these talented kids sing is a once-in-a-lifetime experience, and it's also completely free.
The prestigious choir is rooted in tradition. The choir became well-known and relevant in the 17th century, although records of its existence date to the 14th century.
The 50 kids who are accepted to the live-in school begin their intensive education and musical studies at the age of 9, and they remain members until they turn 14.
Join an organized tour to visit the interior of the school. You'll tour the school's classrooms, music rooms, and recreation areas while hearing the school's history and curriculum from the school's administrators.
There are also plenty of things to do in Montserrat outside of the choir performance.
Tour the monastery grounds, do some hiking, check out Catalan art at the Montserrat Museum, or soak in the mesmerizing views from an outdoor café.
If you're planning a trip to Barcelona, the one-hour train ride to Montserrat makes for an easy and memorable day trip!
Elizabeth, Anchored Adventure Blog
---
» You may also like | Barcelona's best day trips
---
Palafrugell
Palafrugell Carnival
Palafrugell is an appealing market town on the Costa Brava in northeast Spain, around an hour from Girona.
As well as being an excellent base for a beach holiday, Palafrugell is a great destination for visitors after a spot of authentic Spanish culture as the town holds a particularly good carnival each year.
Unlike most European carnivals, the Palafrugell Carnival is held in late spring, at the end of May.
The processions begin in the early evening with dramatic floats, people in elaborate costumes, and live music.
Confetti and sweets are thrown from floats to excited children waiting by the side of the streets and there's an infectious party atmosphere. It feels like most of the town is involved in the festivities, with locals young and old involved in the parade.
Palafrugell has a lovely central square, which is perfect for morning coffee before a wander through the local market. There's also a cork museum that charts the growth of the town in line with its cork production during the 19th and 20th centuries.
If you're visiting the Costa Brava with kids from the U.K., the carnival usually falls in line with the May half-term holiday, so it's a great opportunity for families to combine culture with a beach holiday.
There are some fabulous beaches close to Palafrugell, with Aiguablava being particularly lovely: crystal clear waters and excellent beachfront restaurants.
Palafrugell can be reached easily from Girona airport (50km). Hiring a car is the best way to get the most out of a holiday in this part of Spain.
By Annabel Kirk, Smudged Postcard
Ronda
Vacation Like Hemingway
Spain is home to dozens upon dozens of lovely villages and towns, each with their own appeal, but few are more magical than Ronda.
This striking town in southern Spain's beguiling Andalucía region has attracted the likes of Ernest Hemingway and Orson Welles, both of whom are said to have drawn inspiration from the historic town.
The Austrian poet and novelist Rainer María Rilke even described it as the "city of my dreams".
But there's more than just a few celebrity endorsements to lure you to Ronda during a southern Spain road trip. So, lace up some good walking shoes, because this town is perfect for exploring on foot.
First up, start at the top of the El Tajo Gorge and feel your jaw drop as you gaze down into the rocky chasm.
Cross the Puente Nuevo (New Bridge) and marvel at this engineering feat that straddles the ravine and provides a means to cross between the two parts of Ronda. The "new" part of the bridge's name is a misnomer, as the bridge is, in fact, more than 200 years old.
The Arab Baths are another highlight of Ronda. These 13th-century baths are no longer in operation, but you can imagine the thousands of people who have bathed in the waters that once flowed.
While visiting Ronda, tick off some other historic sites: crossing the Puente Viejo (Old Bridge, a more appropriate name), visiting the world-famous bullring and museum, and strolling through the Old Town with its crumbling walls that once protected the citadel from invaders.
When you've had enough history, plonk yourself down in front of a cup of hot chocolate and churros, or nibble on some tapas.
By Rebecca, Rebecca and the World
Salamanca
Salamanca's Quirky Graffiti Neighbourhood
Admittedly, Salamanca might not be a city you've heard of. Don't get me wrong, that's not surprising considering the overwhelming number of cities in Spain that are worth a visit.
However, after studying abroad in Salamanca for five months, I can tell you that it's just as worthy of your time as Valencia or Seville. One reason for that is its vibrant street art neighbourhood, called Barrio del Oeste.
Barrio del Oeste is located just outside of the city centre, but it's easily accessible by foot (as is the rest of Salamanca). When you're wandering around the neighbourhood, you'll come upon a new dazzling work of art each time you turn a corner.
These artworks were created by young Spanish artists, who really did a splendid job of sprucing up an otherwise uneventful neighbourhood and making it one of the most vibrant places to be in Salamanca.
The whole project was commissioned by Salamanca's tourism board and the project has its own website, where you can see an overview of every artwork that is a part of this 'urban gallery'.
The website also includes some videos that give you a general idea of the neighbourhood, as well as an app and a downloadable map with the main artworks.
So, while many people may never make it to Salamanca, you now know better than to skip over this boring (yeah, right) city in western Spain. Happy wandering!
By Sander, Arscurrendi
San Juan de Gaztelugatxe
Ring The Bell
An island located near Bilbao, this tourist destination became famous because it was the filming location used for Dragonstone in Game of Thrones.
Its scenic chapel up the top and gorgeous man-made bridge is enough motivation to get you there. It is also a great day trip from Bilbao, which is only a 45-minute drive away.
You will need to hike to get to the island, down from the mainland, through the bridge, and up to the chapel of St John.
Once you get to the chapel, make a wish, ring the bell three times, and hope that your wish will come true. This place is seriously picturesque!
By Ruby, A Journey We Love
San Sebastian
Experience the Cider House Culture in San Sebastian
San Sebastian is one of the trendiest cities to visit in Spain right now.
It's hard to beat those beautiful beaches, picturesque landscapes, or the pintxo craze that has travelers flocking to this northern Spanish coastal city.
Yet, something I've also noticed is that there's a forgotten piece to this story, one that seems to get repeatedly glossed over by tourists: the cider house experience.
At the Cider House Experience, you can devour the Basque Country's best steak, talk to friendly Basques with a little Dutch courage from the alcohol and learn cider traditions.

Most visitors wouldn't know this, but a lot of locals follow certain customs at the cider house.
For example, when you hear someone scream "txotx" it means a new cider barrel is opening.
Also, as you are getting some cider from that barrel (which you literally "catch" in the air with your glass), you shouldn't fill it up all the way, nor should you drink your glass empty afterwards.
The custom is to toss the last part of your drink into the drain on the floor.
After all, the point of being there is to sample various ciders, not just chug down heaps of alcohol.
Ultimately, many tourists come to San Sebastian and only visit the beaches and fill their tummies with lots of delicious Basque food.
However, one of the most memorable experiences you can have there is waiting for you at the cider houses in Astigarraga.
Just be prepared for a great time.
By Natalie, Tourist 2 Local
Santillana del Mar
Spend a Few Days in Santillana del Mar
Wander around the cobblestone streets of Santillana del Mar in Cantabria and you'll think that you are walking through a movie set.
The charming town is a treasure trove of Renaissance palaces and Medieval buildings housing museums, galleries, shops, inns, and bars.
Wander past lush gardens decorated with statues and fountains. Santillana del Mar is an Instagrammer's dream.
The town's churches and halls often host classical music concerts. The town is packed with delightful cafes, restaurants, and wine bars, making it a perfect getaway for a romantic weekend.
The town is rich in history and grew around the Santa Juliana Collegiate Church to become one of the most beautiful places in Cantabria.
The best way to explore Santillana del Mar is on foot, stopping for a drink of cider in a local tavern and to shop for ceramics or silk, and to watch local artisans chisel beautiful designs in timber furniture. Taste candy, cheese, and locally-produced chocolate.
One of the things to do in Santillana del Mar for your bucket list is to visit the National Museum and Research Center of Altamira, where you'll learn all about the UNESCO World Heritage Altamira cave paintings.
This museum has a replica of the original Altamira cave and its paintings. These are famous palaeolithic paintings that are between 14,000 and 20,000 years old.
The paintings of European animals – which include bison and bulls – are fragile and only five people can visit the original cave each week.
Santillana del Mar is about 30km from Santander Airport.
By Christina, Travel2next.com
Santander
Go Surfing in Santander
One of the best things you can do in Spain is head to the north and go surfing. Surfing in Northern Spain is world-class and, with an abundance of surf schools, it's also a great place for beginners.
I did a week-long surf camp there a few years ago and it was a truly wonderful experience. Most of the small towns in the Santander area where surf schools are located are great places to visit.
I stayed in a town called Loredo and it was bliss, a far cry from visiting the larger cities that most tourists go.
A normal day started early with a fresh breakfast in the surf house, then a morning lesson, a lunchtime siesta, followed by an afternoon class.
The rest of the day was spent hanging in the surf house where someone always had a guitar and a deck of cards. It was a truly blissful time filled with good food and even better company. Plus, you get so fit after a week of 2 surf classes a day!
If you are new to surfing, book a minimum of 1-week surf camp in Spain and find a school that has accommodation, especially if you are traveling solo.
The surf house will be set up to cater to all of your needs and they will often have social events happening in the evenings.
Whichever town you end up in, rent a car and explore the neighboring places, too, as there are so many beautiful places in this area of Spain.
By Claire, Claire's Itchy Feet
Seville
See a Flamenco Show in Seville
If your Spain itinerary takes you to Andalusia in the south of the country, and specifically to Seville, make sure you spend an evening seeing a flamenco show!
Flamenco is the traditional form of music and dance in the region. It is known for classical guitar music accompanied by rhythmic clapping patterns, bright dramatic costumes, and passionate presentation.
There are many places to see a flamenco show in Seville. Many of them are in specialized venues that offer a combined dinner and dance show.
Often, you can just go later to the show if you prefer to eat on your own. If you are visiting Spain on a budget, traveling in Spain with kids, or simply prefer a different type of atmosphere, you can see a show at the excellent Museum of Flamenco Dance.
They offer multiple shows every night of the year to meet your scheduling needs and the venue is even more intimate than you'll find at a dinner show.
By Melissa Conn, The Family Voyage
Visit Metropol Parasol in Seville
Metropol Parasol (Las Setas De Sevilla) or, as it is affectionately known, the 'mushroom' is one of the top things to do in Seville.
It is a unique and iconic (and dare we say pretty 'out there') structure that opened in 2011, after six years of construction. It is said to be the largest wooden structure in the world and consists of six parasols in the form of giant mushrooms – 'las setas' in Spanish (I personally think it looks like a big waffle).
To access the top of the 85-foot high structure, you will need to take a lift up after paying an entrance fee (pretty affordable at just 5€ per person).
The panoramic views across the city are breathtaking and there are several walkways winding across the structure that offer great viewpoints and many amazing photo opportunities.
Time your visit just before sunset for glorious red-hued views of the city. The evenings are a little busy, though, so if you want to visit with no crowds, head up first thing in the morning.
There is a reasonably priced café at the top that sells alcohol, smoothies, and snacks if you need to refuel. This is one of the coolest architectural things I've seen (although the locals are rather divided about it), and would highly recommend if visiting Seville or Andalucia.
By Caroline Keyzor, CK Travels
See the Cathedral of Seville
Recognized as a UNESCO World Heritage site, the colossal Cathedral de Seville is the third-largest church in the world.
It's also the largest Gothic cathedral in the world in terms of surface area. The church's long-winded history started in the 12th century when the Moors built an Almohad mosque where it currently stands.
Later, the mighty Ferdinand III of Castile conquered Seville and the mosque was converted into a Christian cathedral. In the 15th century, city officials wanted to create a grand church so "that those who see it finished will take us for mad".
Construction on building the imposing cathedral started in 1402 and its sheer size and opulent details continue to inspire awe today. What seems endless is the cathedral's nave, which rises to 42 meters. The church also has an astounding 80 chapels.
One of its most famous features is the bell tower, La Giralda, which has an emblematic statue on top called El Giradillo, making the tower the tallest monument in Seville.
It's recommended to climb the tower to get a sweeping view of Seville's cityscape. But be prepared to climb 35 floors!
The Cathedral also holds the remains of the great and controversial explorer Christopher Columbus. His adorned tomb is held regally by four pallbearer statues representing the kingdoms of Navarra, Aragon, Castile, and Leon.
Finally, visit the Patio de Los Naranjos ("patio of orange trees"), a delightful courtyard where Moorish worshippers used to wash their hands and feet in the fountains before prayer. Its surrounding orange trees and cathedral in the background make for a picture-perfect backdrop for a classic photo of Seville.
By Justine Ancheta, Latitude 41
The Royal Alcazar, A Must-Visit Sight in Seville
If you are planning a visit to Seville, the capital of Andalusia, visiting the Royal Alcazar should be at the top of your list of things to do there. The beautiful Mudéjar architecture of the Alcazar will take your breath away.
Seville's Royal Palace was built for King Peter of Castile on the site of a Moorish fortress, after the Reconquista.
Some of the original Moorish parts, such as the Patio del Yeso, survived the destruction of the fortress-palace by the Christians. But much of the current structure is from the 14th century. The palace is still used as a residence by the Spanish royal family when they are in the city.
Declared a UNESCO World Heritage site in 1987, the Alcazar has served as a Game of Thrones shooting location. See if you can recognize the Water Gardens of Thorne when you visit!
Some of the must-not-miss parts of the Alcazar include the stunning Courtyard of the Maidens and the golden-domed Hall of the Ambassadors. Allow lots of time so you can take in the beautiful arches in the courtyards and the lovely tile work you will see in many rooms at leisure.
The grounds and gardens of the Alcazar are just as gorgeous, especially if you visit when they are in bloom. In the early spring, especially, the gardens are a joy to explore, with the sweet scent of citrus blossom and jasmine wafting along the pathways.
The Alcazar is one of Seville's most popular attractions, so reserve skip-the-line tickets well ahead of time!
By Dhara, It's Not About the Miles
Semana Santa in Seville
One of the top things to do in Spain is visiting Seville during Easter. Seville celebrates Easter with a whole week called Semana Santa.
This Holy Week is filled with Spanish traditions. Different fraternities go around the city and carry statues (pasos) depicting the suffering of Christ and Maria.
These processions come from all over the city and always pass through the cathedral. The cathedral is a sight itself, since Seville has the biggest gothic cathedral in the world.
It is easy and free to watch the processions.
It is very popular with Spanish tourists and inhabitants, but foreigners are very welcome as well. People have been nothing but helpful and kind. They will always point out where the processions are going or tell you what time they will be at your location.
Even though it is a big festive week, all of the sights in Seville are still open to the public. It is recommended to book tickets online because the lines can get long.
Do not forget to leave the busy streets and processions in the city centre for an afternoon to discover the neighbourhood of Triana, which used to be another village.
Seville is always beautiful, but Semana Santa makes it extra special.
By Manouk, Groetjes uit Verweggistan (With Love from Far Away in Dutch)
Sitges
Drag Shows in Sitges
There are so many amazing things to do in Spain, so it's hard to know where to start and what to prioritize.
For LGBT travelers, there's one Catalonian beach town that stands out among the rest: Sitges.
There's nothing like a Sitges gay beach holiday for LGBT visitors to Spain. The coastal town is a charming and beautiful enclave of tolerance, sun, and fun.
The town of Sitges is located about 35 kilometers southwest of Barcelona and is easily reached by train or bus in about 40 minutes. It's a wonderful destination to plan your holiday around or to visit for a day from Barcelona.
Sitges has gorgeous beaches, a compact old town, and it's full of charming boutique shops, delicious restaurants, and lively gay nightlife.
One of the best things to do in Sitges is to eat. The tapas bars serve some of the freshest seafood and an after-dinner stroll on the seaside promenade is perfection.
The Passeig Maritim runs along the coast and offers spectacular views of the Mediterranean. You can find other great views in the Museu Cau Ferrat (a museum of Catalan art) or along the beach itself.
That's where you can scope out the seaside church of Sant Bartomeu.
Speaking of beaches, the microclimate in Sitges gives visitors about 300 sunny beach days per year. There are multiple golden beaches in Sitges, some with beachfront bars and clubs to add to your fun.
LGBT visitors will enjoy the gay nightlife which offers everything from cocktail bars to nightly drag shows. There's really something for everyone in Sitges and it's one of the best things to do in Spain.
By Derek and Mike, Robe Trotting
Tarifa
European Capital of Kitesurfing
Tarifa is an amazing, off-the-beaten-path village in Spain.
This Andalusian beach town is the south-westernmost point of Europe and the place where the Atlantic Ocean meets the Mediterranean Sea.
You will find a budget-friendly, walled city with a labyrinth of cobblestoned alleyways full of shops, restaurants, and bars.
Camping on the beach is popular in Tarifa, 4-star accommodations are affordable, and tapas are 1.5-2 euro each. Tarifa is traditional, so visitors should be prepared for everything to shut down for siesta between 2-4 pm.
With the almost constant sun and wind, Tarifa is most well-known as being the European capital of kitesurfing.
Many professional kitesurfers make Tarifa their home base; watch for kites with Red Bull logos to see them in action. There are kitesurfing shops and schools up and down the 10km beach.
After a few kitesurfing lessons, beginners will be jumping waves in no time. The wind is most consistent between April and October; June through August is the busiest time of year.
There are also many other things to do in Tarifa.
If the wind is weak, adventure lovers can go mountain biking, rock climbing, hiking, sandboarding, horseback riding, or scuba diving. Day trips are available to Tangier, Chefchaouen, Rock of Gibraltar, Seville, or to see the bulls on the beach in Playa Bolonia.
Simply eating tapas, drinking beer, wandering the alleys, and relaxing on the beach is time well spent. There is something for everyone in Tarifa.
By Sherianne at OutOfOffice.Blog
Tenerife
Hiking
The largest Canary Island is a mountainous wonderland full of hiking trails and varied terrain. Closer to West Africa than to mainland Europe, Tenerife enjoys mild temperatures throughout the year.
While most travelers flock to the island's southern coast for a sunny beach holiday, a small number are dedicated to exploring the island's most sensational scenery on foot.
The most impressive places to hike in Tenerife are the Anaga Mountains, the Teno Mountains, and Teide National Park.
The Anaga mountain range occupies the northeastern tip of the Island and is best accessed from Santa Cruz and La Laguna. Expect rugged coastal scenery, remote hamlets, and dense laurel forest. One of the most popular hiking trails in Anaga starts in Cruz del Carmen and ends in Punta del Hidalgo.
My favorite trail is the Grand Faro de Anaga circuit, starting in Benijo.
Tenerife is also home to Spain's highest mountain: Mount Teide. To check out this impressive volcano, head to Teide National Park.
While a permit is needed to ascend to the top of Teide, there are a number of other hikes worthy of your time, including the easy Roques de García and moderate Guajara loop hikes.
If hiking in Tenerife is something you want to do, make sure to bring sturdy hiking shoes and sun protection (sun hat, polarized sunglasses, sunscreen).
Also, download the Tenerife map on Maps.me, a reliable offline map app. While it's super easy to follow trails on this Canary Island, it's not always easy to find the trailhead. Maps.me is super helpful for locating starting points and viewpoints along any given trail in Tenerife.
By Sabrina Brett, Moon & Honey Travel
---
Read next: Fun things to do in Tenerife
---
Whales and Dolphin Watching in Tenerife
Tenerife, a Spanish island found in the Canaries, is a popular destination amongst English families for its many all-inclusive resorts, all-year-long sunny and warm weather, as well as its affordable prices.
But what's less known, is the fact its southern coast is also the home to resident Pilot whales and Bottlenose dolphins.
This is where you can go whale and dolphin watching in Tenerife.
It is in fact, one of the only places in Spain to see these marine mammals up close and in the wild, and probably the most incredible activity to do with the entire family on the island, with a 99% chance to see the whales and the dolphins during a tour!

Moreover, while the Pilot whales and bottlenose dolphins can be seen at any time during the year, you can also spot migratory marine mammals from November to February, if you are in luck.
During these months, humpbacks, Bryde's whales or even the majestic Blue whales can be seen passing through the Tenerife waters for a small break on their huge migration route taking them to or from their feeding and breeding spots.
2 to 4-hours tours are organised on a daily basis by responsible companies and you'll have plenty of choice in term of boats! Will you prefer a large catamaran, monohull sailboat or a bottom glass boat from where you can see the whales underneath the surface?
By Jenny – Tales From The Lens
Toledo
Learn About The City of 3 Cultures
One of my favorite things to do in Spain is to go on a day trip to Toledo, on an adventure back in time.
Toledo, a UNESCO World Heritage city in Spain, is only a 1-hour drive away from Madrid, making it a perfect destination for a day trip from the capital city.
But what's so interesting in Toledo? Well, the City of 3 Cultures is absolutely filled with epic monuments to visit – from the cathedral to churches, to medieval bridges and castle.
The best way to discover the city is by foot and you'll be able to see all of the old town (where you'll find all of the monuments) in a day. Ready for a trip back in time? Let's see what you'll find in Toledo!
The Catedral de Toledo: One of the finest Gothic cathedrals in the world, absolutely gorgeous from the outside, and even more impressive inside, with so many things to see inside (really, plan 2 hours for the visit)

The Alcazar de Toledo: The symbol of the city, a massive castle overlooking Toledo

Monasterio de San Juan de Los Reyes: A monastery open to the public with a jaw-dropping church inside and a 2-level cloister

There are actually more than 25 great things to see in Toledo – you can find them all

here



Oh and I almost forgot to mention, Toledo was Spain's Capital of Gastronomy in 2016. Yep!
So, not only will you discover a historically-rich city, but you'll also satisfy your taste buds with Toledo gastronomical heritage. Try the Carcamusas (a snack served in bars), one of Toledo's most famous foods.
By Kevin from Kevmrc.com

Get Lost In The Medieval Town
Toledo, Spain, is a medieval town filled with history. It is a favorite with tourists, with its unforgiving labyrinth of ancient streets enclosed by massive stone walls. It is also a town that is very easy to get lost in when visiting.
Even with the advent of GPS and good old-fashioned maps, you will most likely get lost.
Therefore, the best way to explore Toledo is to put down the map, close the GPS on your smartphone, and let yourself get lost. It is not a large city, so a day is all you need to explore Toledo.
All signs point to Toledo Cathedral, located right in the center of town, which makes it easy to reorient yourself in the town.
The Toledo Cathedral doesn't look as massive as it is on the inside. It is filled with gold relics, stained glass, and a fantastic treasury filled with gems, gold, and silver.
The Cathedral took 200 years to construct and was completed in the 15th century. It is also a great introduction to the famous artist El Greco, as he was commissioned to paint many altarpieces as well as artwork throughout.
Two Jewish Synagogues in the Jewish quarter, Santa Maria la Blanca and El Transito Synagogue are remaining examples of the once-thriving Jewish population of the town.
El Transito Synagogue is now a museum detailing the arrival of the Jews to the Iberian Peninsula, as well as their culture and importance to the area. It also tells of their expulsion, persecution, and conversion during the Inquisition.
Kids may like the torture museum in Toledo, but the Spaniards had a way of masking the truth about whom the devices were used on by calling the victims "heretics."
They were not "heretics," they were the Jews of Spain. They tortured and killed them during the Inquisition.
Don't leave without trying the marzipan, a thick dessert consisting of sugar, honey, and almond meal. Toledo is famous for this sweet and it can be found throughout the town.
By Alison Netzer, Five Family Adventurers
Valencia
What to do in Valencia
Valencia is coined the City of Arts and Sciences for its uber-modern scientific and cultural values, and the architectural novelty that spans approximately two kilometres across the city.
Most of the six iconic buildings were designed by Santiago Calatrava and each is awe-inspiring.
The Oceanografic, Europe's largest aquarium, is home to seven marine environments hosting 45,000 specimens of ocean species.
Next in line is the Hemispheric, a 3-dimensional cinema noticeable due to its concave screen, which is symbolic of the eye of wisdom.
This cinema screens films on a daily basis that are generally education-based; it operates dually as a theatre and a planetarium.
The Principe Felipe Science Museum is an interactive museum that celebrates science and technology. The museum hosts workshops and exhibitions.
Classical music lovers are sure to enjoy the Palau de Les Arts Reina Sofia opera house. A variety of operas, concerts, zarzuela, and ballet shows are showcased daily.
The Umbracle is a futuristic garden of sorts, featuring contemporary sculptures and Mediterranean plant species. In summer, the terrace opens at night for visitors to enjoy the view under the moonlight.
The Agora is the most recent addition to the City and generally hosts private events, such as the Tennis Open. Nonetheless, its stunning design is worth capturing.
Lastly, the Assut D'or Bridge is built across the Turia's riverbed and connects the two banks of the garden.
By Chrissy, Travel Passionate
Las Fallas
Las Fallas is the most important festival in Valencia, a festival that is constantly evolving and one of the best things to do in Valencia.
From the 1st of March to the 19th of March, at 2pm, the Town Hall Square is filled with locals and tourists, who do not want to miss the opportunity to enjoy one of the most characteristic events of this festival – the Mascleta. Gunpowder, noise and the fallero environment are the main ingredients of the famous mascletas.
The Planta marks the beginning of the last week of the festival.
After a whole year of intense work in the workshops of the Fallero artists, the work will be materialized in perfectly arranged ninots.
On the 15th of March all the Fallas monuments should be ready.
The Crema puts an end to the Falla monuments of the year. The 19th of March, the day of San José, marks one of the most anticipated days for the falleros and falleras, the crema of its monuments.
After 4 days where the monuments have taken to the streets of many Valencian neighborhoods, the flames will put an end to renewing cycle, as all Falla monuments will be burned.
Although the main days of the festival are from the 1st to 19th of March, the truth is that, throughout the year, the city of Valencia enjoys different fallero acts, which are also a tradition, such as the preselections of the Candidates to form the Court of Honor, the presentation of the sketches of the municipal monuments or the fallero theater contest, in which the different commissions present their work.
By Laura, Travelers Universe
Learn to Cook Authentic Paella in Valencia
If you're visiting Spain, then I'm sure trying paella is on your list. If you happen to be in Valencia, don't just sample it, also learn to cook it for yourself.
Paella is an internationally-known rice dish that was first made in Valencia, Spain, originating in the 19th century.
Traditional Valencian paella is comprised of rice, rabbit, chicken, and spices and is characterized by its color due to the use of saffron.
Nowadays, you can make paella with just about anything. Many people will order seafood paellas in restaurants, especially when visiting the coastal cities in Spain.
You can learn to cook it for yourself with local chefs, in the heart of where it all began.
In Russafa, there is a class that takes you to the local market to learn how to buy the right ingredients, and then back to the kitchen where you and a few others learn to cook the dish step-by-step while sipping on Sangria.
It's an experience you'll never forget, and you'll be able to take your skills home with you.
By Lauren Cirkot, Always Find Adventure
Drink Horchata in Valencia
Valencia is world-renowned as the birthplace of paella and rightfully so.
The best paella can be found in decades-old restaurants scattered throughout the city.
There is another tasty treat, though, that is best enjoyed in Valencia. It's often overshadowed by the more famous Spanish rice dish. Horchata is a cold and refreshing drink loved by Valencians, especially on hot summer days.
The popularity of horchata in Spain dates back to 1000 A.D. when it was first brought over from Africa. Made from dried and sweetened tiger nuts instead of cow milk, this vegan-friendly drink is milky, creamy, and sweet.
There is a little more texture than typical milk, almost with a chalkiness to it. Perfect first thing in the morning or as an afternoon pick me up, horchata is truly a Valencian speciality.
To enjoy horchata like a local, no glass of Horchata is complete unless you enjoy it with fartons, which are long, thin, sweetbreads sprinkled with sugar or frosting. Dip it in the horchata or don't – it's completely up to you.
Horchata can be found throughout Valencia. Horchata and fartons are one of the best treats to eat in Valencia.
Some of the best places around the city to enjoy horchata and fartons are in the L'Orxateria del Mercat Central, Horchatería Daniel at Mercato de Colon, and Horchatería Santa Catalina on Plaça de Santa Catalina.
By Amber, Food and Drink Destinations
La Tomatina

Music is not the only kind of festival in Spain. La Tomatina, the world's biggest food fight is where big kids go to have one hundred metric tonnes of tomatoes thrown at them.
The festival takes place in Bunol near Valencia on the last Wednesday of August.
For safety, the number of participants has been limited to 20,000 people.
Zaragoza
Old Spain
Zaragoza might not be as well-known as Madrid or Barcelona, but it is Spain's oldest settlement.
It has over 2,000 years of history and has been ruled by the Romans, the Moors, and the Christian kings, giving it a rich history and leaving a ton of ancient sites for visitors to explore today.
One of the most unique things you can do in Zaragoza, Spain, is visiting the Aljaferia Palace.
This stunning Moorish palace is truly a remarkable gem and a rare historical architectural monument from the Taifas time that is still standing today. It is the best Moorish architecture you can find outside Andalusia.
Built in the 11th century, Aljaferia was originally the residence of the Banu Hud dynasty. After the reconquering of Zaragoza by the Christian armies, it became the home of the kings of Aragon.
The interlacing arches, geometric carvings, and ornate brickwork reflect the coexistence of the Muslim and Christian cultures. That is the reason why UNESCO declared the Aljaferia Palace as one of the most representative Mudejar architectures in 2001.
There are many palaces in Spain, but Aljaferia is a true must see!
By Cat Lin from For Two, Please
---
Pin to your Spain planning board