This article has links to products and services we love, which we may make commission from.
Looking for things to do in Barcelona in winter? Locals, keep reading for festive ideas. Visitors, if you prefer palm trees over poinsettia and tapas with your tinsel, Barcelona is a great choice. This Christmas European city break offers a balance of balmy temperatures by day and Christmas lights at night, fewer crowds at attractions but still lots to see. There's even a couple of Christmas markets that sell traditional Catalan decorations which revolve around poo! Keep reading to find out what to expect of Barcelona in December, what to eat, drink and where to stay.
Things to do in Barcelona in Winter
Barcelona Christmas Markets
1. Fira de Santa Llúcia Christmas Market
In the Gothic Quarter, Barcelona's Cathedral towers over Fira de Santa Llúcia Christmas Market and while the market sits in its shadows it doesn't hide quietly!
The lanes of stalls are bustling with locals and visitors buying soaps, nativity scenes, crafts and some sh*t gifts… Keep reading to find out more.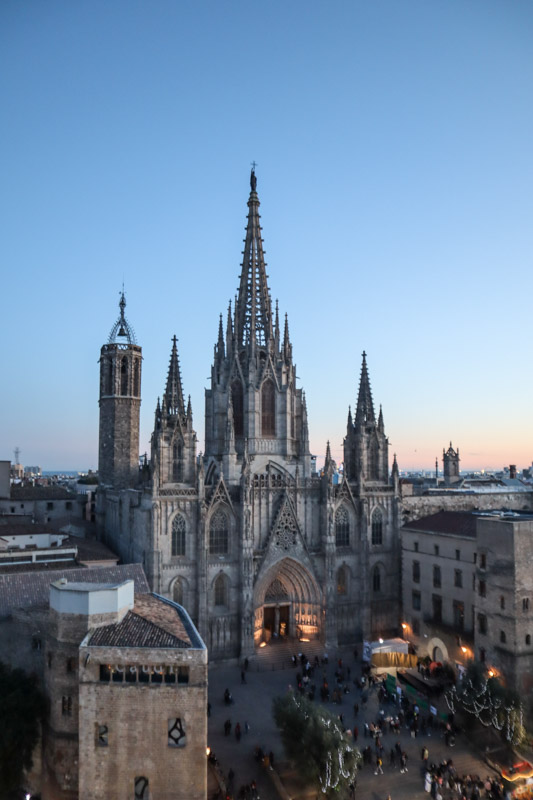 2. Fira de Nadal de la Sagrada Familia Christmas Market
Behind La Sagrada Familia is small Christmas market selling churros and gifts under a festive string of fairy lights.
It's not as extensive as the other Christmas markets in Barcelona.
3. Port Vell Christmas Fair
Port Vell is a big Christmas market down the waterfront.
Stalls sell food and hot chocolate around the huge lit up modern Christmas tree.
Unlike the other markets, live shows take place at Port Vell throughout the month.
4. Take Tio de Nadal Home
To outsiders, the smiling sliced up logs with happy faces and red floppy hats hanging from trees and the full wooden Tió perched on stalls might seem strange, but they are a big part of the Catalan Christmas tradition.
Caga Tió, or poop log, has pride of place in Catalan homes from the 8th of December and is fed by kids until Christmas Day when the nurturing ends and the beating starts! In retaliation to the whipping, Caga Tió poops out goodies such as candy for the kids.
There's even a song to go with it which says something along the lines of – poop decent treats or I'll hit you with my stick.
Now I know what you are thinking but in Scotland, we tell kids a fat stranger slides down chimneys while they sleep in their beds so…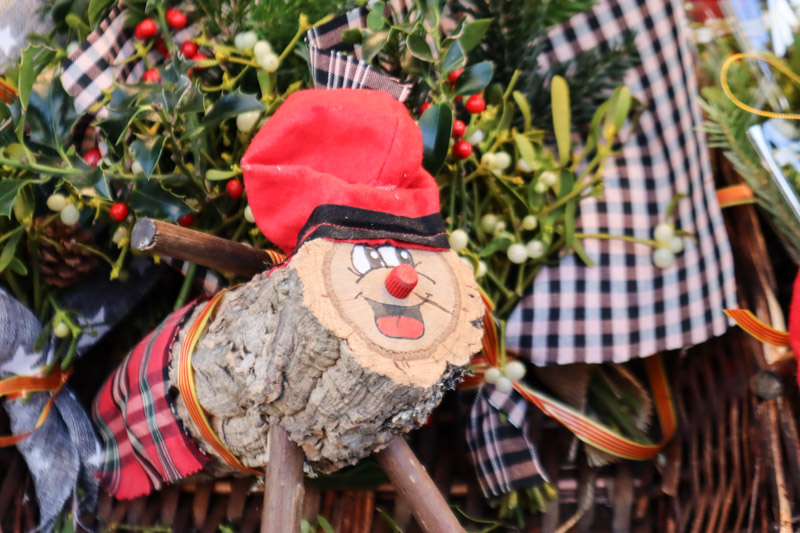 5. Laugh a The Caganer
If you thought Caga Tió was amusing wait until you meet The Caganer.
Does the Queen sh*t? I'm not sure of her bowel movement at Buchanan Palace but she certainly does in Barcelona!
The Caganer figurine is another local tradition which sees famous international personalities such as political leaders and cartoon characters sitting in the toilet position ready to do a number two. Are you seeing a theme here?
Caganer is a family-run business which started created ceramic figures as an act of defiance in the 90s.
You can buy both Caga Tió and Canganers at Fira de Santa Llúcia Christmas Market. The Caganer will be the most popular stall.
6. Spectacular Passeig de Gràcia Christmas Lights
Passeig de Gràcia is not only the spot for upmarket shops and Gaudi's Casas but also the impressive Christmas lights in Barcelona.
Lights hang like icicles over the main road. Wait until the traffic stops to get a shot.
Many of the shops make a big effort too, check out the oversized hanging balls at Condes Hotel.

Address: Passeig de Gràcia
---
» You might also like | Our guide to things to do a night in Barcelona
---
7. Portal del Angel Lights
Not far from Passeig de Gràcia, Portal del Angel also has festive street lights worth checking out. Here you can find high street names such as H&M.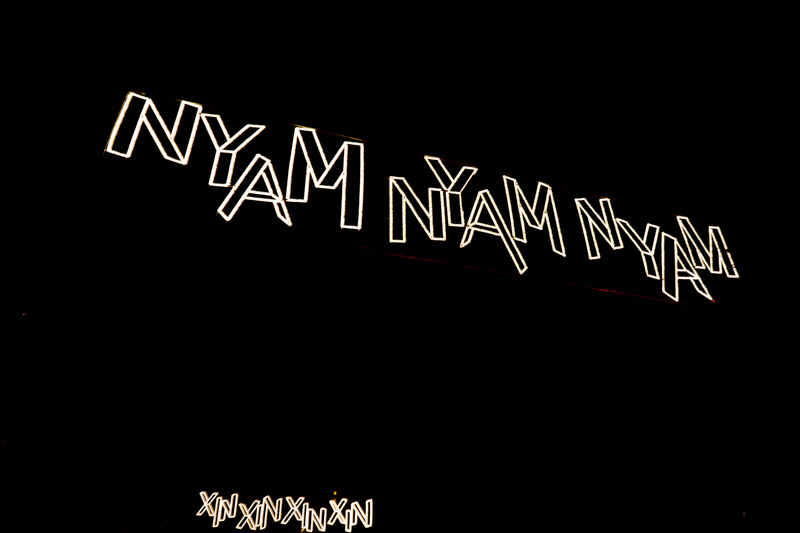 8. Plaça Reial Barcelona
Plaça Reial Barcelona is a popular square with a water feature, rows of restaurants and fairy lights.
9. La Sagrada Familia – Barcelona's Top Attraction
No trip to Barcelona, regardless of the season, would be complete without a visit to the incomplete La Sagrada Familia by Antoni Gaudi which is open on Christmas Day until 2pm.
Started in 1882, with Gaudi taking over in the next year, this piece of architectural magnificence is still in construction mode, even though Gaudi died in 1926.
It is hoped that the final block will be mounted in 2026, a century after its original creator passed.
The outside of the building shares Christ's story in concrete and the inside is a museum and place of worship.

Since this is a busy attraction all year round, we opted for a small group tour with a knowledgeable guide. On arrival, we met a GetYourGuide representative who was holding a branded flag.
Once everyone in the group arrived, we met our guide and skipped the lines to enter. After a quick security check, which everyone must do, we were given earphones. A microphone and audio system is used by tour guides of groups to keep the noise level down and so you can hear the facts and stories.
We spent time talking about the facade before entering the building to see the explosion of light through the stained glass windows. It is recommended visiting in the morning or late afternoon to get the best light. For more tips, read our guide on things to do know before going to Familia Sagrada.
If you would prefer to experience La Sagrada Familia without a tour you can purchase a reserved time slot here instead. Do not underestimate how busy the lines are even during December.
As to be expected, opening times are reduced slightly in winter, from 9am to 6pm. Find out how to buy tickets here.
La Sagrada Familia is open on Christmas Day from 9am to 2pm.
A Christmas market selling food and souvenirs can be found close to La Sagrada Familia.


How to get to Sagrada Familia

Metro: L2 and L5 lines

Bus: 19, 33, 34, 43, 44, 50 (fast), 51, B20, B24.

As part of a tour: use your hop on-off bus pass
10. Hotel Ayre for Sagrada Views

Tucked away on a side street close to La Sagrada Familia is Hotel Ayre.
As you enter the door staff will ask if you would like to use the rooftop, directing you to the bar first.
Next, take the elevator up to the top for incredible views of the towers, just photoshop the construction out of your vision!

Address: Carrer del Rosselló, 390
11. Recinte Modernista de Sant Pau

Closeby is a lesser-known building, Hospital de la Santa Creu i Sant Pau designed by artists and politician, Lluís Domènech i Montaner.
It takes 11 minutes to walk from Sagrada Familia.
From 21st December until the 6th of January, a festival called The Light of Sant Pau takes places where lights and shapes are mapped on the building against a soundtrack.

This is a free event.

Address: Carrer de Sant Quintí, 89



12. Barcelona Cathedral and Gothic Quarter

Wow.
Cathedral of the Holy Cross and Saint Eulali was constructed in the 13th to 15th century and is a working place of worship today.
During Christmas, Barcelona's most traditional Christmas market takes at the plaza in front of the Cathedral.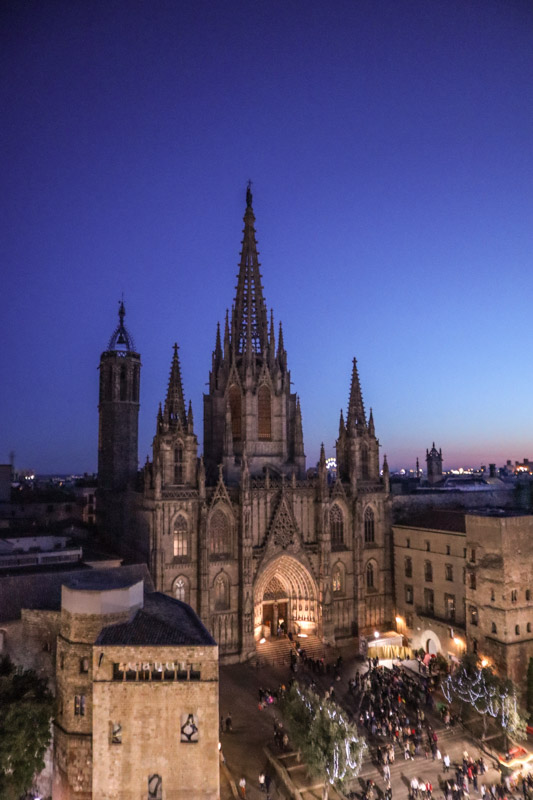 13. Hotel Colón

For awesome views of Barcelona Cathedral and Christmas market, take the elevator to the rooftop of Hotel Colón.
There are two levels so seating isn't too much of an issue. Servers take your order while you relax.
We went at dusk and stayed drinking strong sangria until dark.
While we were there we could see the Santa bikers taking over the streets on their annual charity run.

Address: Av. de la Catedral, 7



---
» Looking for the best photo spots in Barcelona? Here's the guide
---
14. El Born

When I asked my ex-pat friend who lives in Barcelona where to stay in the city she suggested the Born area, a perfect recommendation.
El Born is a series of small streets, lit up by lights at Christmas, surrounded by local shops, cafes, restaurants and bars.

15. Bar Hopping in El Born

My bank statements tell me I drank wine and vodka in You're Super Super and Savannah.
The nightlife in El Born is bouncing and since all the bars are in close proximity to each other, they make for a fun pub crawl.
Your challenge is to seek out the Speakeasy, Paridiso, behind the deli akin to the Sopranos setup but hipster. Avoid the drink that comes in a plastic ice cream cone. It is rank!

16. Port Vell

Expensive boats bob in the water at Port Vell next to Barcelona Beach. Locals will tell you not to bother with the area as it is touristy but I like being by the water and when you only have 2-3 days in a city sometimes areas are busy for a reason!
There's a handful of bars with outdoor seating, palm trees, rides and a Ferris wheel at the port too.
From here you can pick up a tuk-tuk back into town which whizzes through the backstreets to avoid the traffic.
This is where Barcelona's newest Christmas market takes place.

17. The Ice Bar Experience at Icebarcelona

Get out of the heat and into the -5ºC (20ºF) ice bar.
Check out the ice sculptures, sip on a drink while you stay snug in provided coats and gloves. Book your slot here.

18. Casa Milà La Pedrera Night Experience

Casa Milà, one of Gaudi's creations, is a white building with unusual curves like waves and gothic balconies which look like sharp branches.
Inside you can rent an audio guide and climb the stairs (there are many) to the rooftop where the views of Barcelona share space with more of Gaudi's work.
The audio describes Gaudi's thought process and desire to include nature into his work whenever possible.
Looking for a unique experience in Barcelona?
Visit Casa Milà's rooftop at night to see an animation show bouncing off Gaudi's work. Reserve a ticket here.
19. Casa Batlló
Casa Batlló is the first of Gaudi's houses on Passeig de Gràcia.
From the outside, it looks like watercolour painted on the front of the house with the landmark wavy shaped windows representing the Meddetarian sea.
Casa Batlló is open on Christmas Day.
20. Park Güell
For free, you can walk along the outskirts of Park Güell and this what I did initially until I realised you can't really see anything.
The famous tiled balcony with views of the city is kept behind the closed entrance so it is worth paying to play.
Even with buying in person you have to pick a time slot so avoid wasting valuable vacation time and book online before you go.
Park Güell is open on Christmas Day.
If you love Gaudi you should consider this small-group tour of the most popular Gaudi site's in Barcelona. The tour lasts for just over 5 hours so set aside a day. This guided tour sells out, check availability here.
21. Palau Montjuic – Font Màgica de Montjuïc
Palau Montjuic is my favourite building in Barcelona. Designed by Eugenio Cendoya and Enric Catà, this Spanish Renaissance-inspired building is home to an art gallery and impressive waterfalls that cascade down the entire front of the national palace.
At night on Thursday, Friday and Saturday, the palace waterfall put on a light show from 8-9pm in winter.
Address: Parc de Montjuïc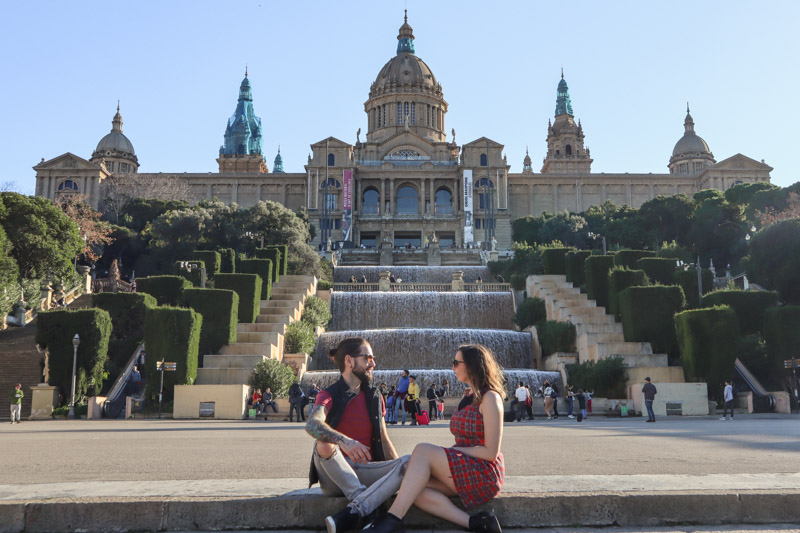 Christmas Shopping in Barcelona
You are never far from a shopping district in Barcelona!
Portal del Angel Lights is over 200 metres of shops including high street brands such as H&M and Mango.
Passeig de Gracia is where you will find your upmarket brand names like Gucci and Armani. This is the street where Guadi's Casas stand too so you can mix in some culture with Cartier.
Souvenirs can be bought at the Christmas markets, don't forget your Caganer!
Born District has a small selection of craft and maker independent shops.
Taxes are included in the price, North Americans! You don't have to add anything additional to the final bill. Bliss.
We managed to pick up Barcelona and tartan kilt baby grow fusion!

Christmas Day in Barcelona
25th of December is Christmas Day in Barcelona and most shops and museums are closed to the public.
Surprisingly, some of the top tourist attractions such as Park Güell and Casa Batlló are open on the 25th. La Sagrada Familia is also open in the morning, closing at 2pm.
It is best to book a meal in advance to ensure you don't miss out.
Expect restaurants to close early on Christmas Eve, 24th December.

Three Kings Day

Three Kings Day is a massive festival in Barcelona which is celebrated in January.
On January 5th, locals line the streets which are closed off to traffic, making way for a parade packed full of dancers, costumes, decorated trucks and music.
The real stars of the show are the Three Kings who arrive to give young children sweets from the floats during the parade.
So although many families celebrate Christmas in Barcelona, there's another festival around the corner in the new year which you might want to plan a trip for in future.

New Year's Eve
Nochevieja, or New Year's Eve, in Barcelona takes place on the 31st of December each year.
Locals tend to dine and celebrate with families. At midnight, traditionally, you eat 12 grapes to 12 bell dongs.
There are many events running throughout the city. Plaça d'Espanya plays host to a huge fireworks display which is executed to a soundtrack. Expect large crowds in front of Palau Montjuic.
There is also a street celebration at Plaça Catalunya. At midnight, locals young and old throw champagne/cava bottles so watch out!
There is no shortage of bars and clubs in Barcelona. Big name clubs like Slow Club, Zuu and BCN Future put of special NYE shows. Hotels such as W also host events. You must reserve tickets in advance.
Restaurants book up very fast so ensure you have planned and made reservations.
Barcelona Travel Information

Getting to Barcelona
It's really easy to get to Barcelona city from El Prat Barcelona Airport (BCN).
Head outside of the main terminal and look for the long line of holidaymakers. That's where you can catch an Aerobus into the city centre. The ride takes under 30 minutes.
Alternatively, reserve your ticket before you fly here.
Getting Around Barcelona
Barcelona has a very easy to use the metro system.
The lines and stops it covers are well documented at each station and on the metro too. Individual rides cost 2.20.
If you are spending some time in Barcelona I recommend you buy the ten stops ticket for 10 euro.
You can purchase this at the metro ticket machines which have an English option.
You need your ticket to walk through the barriers.
We actually shared a ten stop ticket over two days and bought another for day three. We walk a lot during city breaks though.
If you plan to use the public transport system a lot, you might want to invest in the Hola BCN card.
Be careful, pickpockets operate on the metros. A guy jumped up from his seat just as the doors were closing and 'bumped' into Craig. Luckily he had to his travel vest on and his belongings zipped away on the inside of the vest.
Barcelona has an open-top hop on/off bus which is handy in summer. I used this the first time I visited Barcelona to help find my bearings while avoiding walking long distances in the heat! My Mum says the Barcelona open-top bust tour is the best she's ever been on.
The Telefèric de Montjuïc lifts are a great way to see the city disappear while you sail to Castle Montjuïc. The 360 glass cable car rides to the top of the mountain, stopping at Castle Montjuïc.

How to get to the Telefèric de Montjuïc.

If walking, be prepared to enjoy a hefty hike up through a residential area, past a football court and among lots of street art. Alternatively, avoid the walk and hop on the 150 or 5 bus or L2 or 3 Metro to Paral·lel.
Open 10am-6pm during winter. We took one of the last rides to enjoy the sunset. Check the website for more details.


Where to Stay in Barcelona
Hotels in Barcelona
Park Hotel – affordable, comfortable hotel in El Born. Rooftop swimming pool all year round [we stayed here]
Iberostar Paseo de Gracia – located on Plaça Catalunya Square, swimming pool and free parking available.
Hostels in Barcelona
Yeah Barcelona Hostel – super modern and creative hostel with custom-made beds. Excellent central location.
Ten to Go Hostel – relaxed hostels in the authentic Sants neighbourhood. Capsule dorm beds for privacy.
Park Hotel, El Born
Where to Eat in Barcelona

Senor Pina – Acai bowls and poke bowls
Brunch & Cake – Instagram friendly all-day brunch
El Xampanyet – Tiled decor, local tapas and drink in El Born
Gats – small courtyard, indoor seating, cool mural and toilets
Pasta Bar – build your own pasta plate

Weather in Barcelona
The weather is lush in Barcelona in December. Lows of 9 and highs of 15 which means you need to pack a light coat and a cardigan but don't leave your shades.
Barcelona in Winter Packing List
Layers like a cardigan for shaded areas and indoors

Trousers and tights for skirts/dresses

Leave the hat, gloves and scarf unless you are going to the mountains

Comfortable walking shoes
Camera and battery

Tote bags for Christmas shopping

Travel Insurance
Book your travel insurance before you arrive. We use True Traveller Insurance for bigger trips, many others use World Nomads Travel Insurance.

Currency
Barcelona uses the Euro. Check out today's rates here. Most restaurants, accommodation and tours accept all major credit cards.
Tourist Information Address
There are a few tourist information points in Barcelona, the main one is located at Placa de Catalunya, 1708002 Barcelona, España.
Barcelona Map
Here's a free map with all of the best things to do in Barcelona.
Overtourism in Barcelona
Tips to follow so you can enjoy your visit while reducing the impact on the city.
Visit in low season, avoid June – September
December is a fun time to stay, visit the Christmas markets and enjoy the warm days. Read more here
Avoid cruises, the port is said to be one of the most polluted in Europe
Book a room in a hotel and not Airbnb*
Stay longer than a day, I appreciate that set vacation/holidays dictate this
* We love self-contained apartments but there are some cities I won't because of the impact it has on local people. Too many businesses 'buy to rent' which forces locals out of their homes and communities.
---
Save for later
Pin to your Barcelona planning board


---
Final Words
Whether you are a local looking for Xmas ideas or a visitor choosing the city as your annual festive trip, there are so many things to do during the Barcelona in winter. Tell us what you do in the comments below.