This article has links to products and services we love, which we may make commission from.
Looking for tips on how to spend 2 days in Barcelona? Look no further! We (Gemma and Craig) have created a jam-packed Barcelona itinerary with additional options to suit your travel style. From the Barcelona must-sees such as La Sagrada Familia to lesser-known activities, time-saving tips and budget advice. Let's dive in and if you have any questions, please leave a comment at the end of the guide.
2 Days in Barcelona Itinerary
Day 1: Morning Gothic Quarter, Port Vell, La Rambla
For breakfast, if required, start the day in the Raval area, next to La Rambla but not quite on it.
You have two options for breakfast, a healthy acai bowl at Senor Pina (sit-in or takeout, nice wee patio out back) or a cooked breakfast at a local cafe with beautiful tiles, Restaurant La Boqueria (Carrer de la Boqueria, 17). They are next door to each other.
Once you've filled up on coffee and food, it's time to hit the itinerary.
Gothic Quarter
Walk over La Rambla (we'll come back to that) and through the cobbled streets of the Barcelona sightseeing spectaculars, the Gothic Quarter and Barcelona Cathedral (Pla de la Seu).
Constructed in the 13th to 15th century, Cathedral of the Holy Cross and Saint Eulali is a fine example of gothic building with sharp edges and towering heights.
The Cathedral is open in the morning, again at lunch, then in the evening.
During Christmas, Barcelona's most traditional Christmas market takes at the plaza in front of the Cathedral.
Visiting in December? Read our guide on festive things to do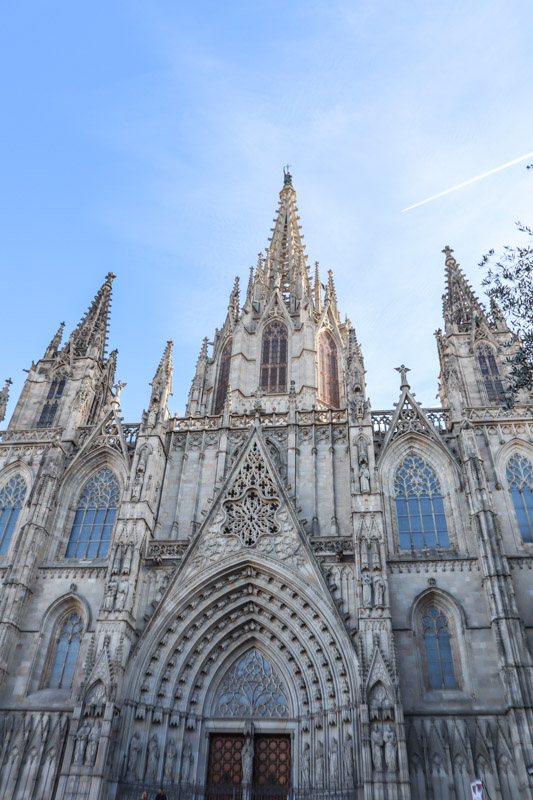 Picasso Mural
While you are in Pla de la Seu, look out and up for the Picasso mural, which looks etched on the side of the Architects' College of Catalonia.
Is It Too Early?
It might be a little too early for a drink, depending on what time your start this itinerary, but if you are game check out the panoramic rooftop at Hotel Colón (Av. de la Catedral, 7). Alternatively, take note of its location for a sundown drink.
The World Begins With Every Kiss Mural
Swing by Plaça d'Isidre Nonell to see the mural called The World Begins With Every Kiss.
If you look closely you will see a thousand images which were provided by locals when asked to contribute to the theme 'Freedom Kiss'. Sweet eh?
This is one of the places to visit in Barcelona if you like to find the best Instagram spots in a city.
La Rambla
Everyone rumbles about La Rambla, Barcelona's most notable street, but I'm going to be honest, it's just a very busy touristy street which you have to have your wits about you.
My advice, get in, take a picture and get out. Look out for the gorgeous Gran Teatre del Liceu if you are an opera fan. You can get a tour of the theatre which first opened in 1847.
Port Vell
Walk down to the water to see the beach and boats at Port Vell. The palm-tree-lined streets down to the sea are a delight and a nice reminder that you are on vacation!
Head of Barcelona
One more mural for you to spot while you are out and about near Port Vell, El Cap de Barcelona Roy Lichtenstein.
There' are two different faces on either side. See if you can recognise the artists who influenced this piece.
Two options for lunch, stay down the Port Vell area and grab a seat at the Instagram-worthy Brunch & Cakes By The Sea (Passeig de Joan de Borbó, 5) or head up to La Rambla for market food.
Mercado de La Boqueria
Mercado de La Boqueria or just La Boqueria is a popular market on La Rambla. I'm not allergic to everything touristy, I genuinely really love the buzz about this place.
There is a quiet market in El Born, not far from here, called Santa Caterina if you find La Boqueria too much.
La Boqueria's stalls selling meats, juice and seafood are covered so you can still visit when it rains.
Day 1: Afternoon Guadi's Attractions
Passeig de Gràcia
Take the metro to Passeig de Gràcia or enjoy the 20-minute walk from La Boqueria. This is the brand-friendly shopping street for those with money to spend.
At Christmas time, the lights are very impressive at Passeig de Gràcia.
Casa Batlló
Casa Batlló (Passeig de Gràcia, 43) is the first of the two Casas designed by Antoni Gaudi on Passeig de Gràcia and one of the more popular Barcelona points of interest.
Created for the Batlló family, the building is now a museum for visitors. Audio guides are available. Reserve your ticket here.
Casa Milà
Casa Milà or 'La Pedrera' which means stone quarry, is the second casa you can visit. Designed for, you guessed it, the Milà family, visitors can climb the many (many) stairs to the rooftop to see Gaudi's work up top.  Reserve your ticket here.
If architecture is the main reason your main reason for visiting Barcelona, you should consider this five-hour group tour of the most popular Gaudi sites in Barcelona. This guided tour sells out so check availability here.
Everything that Gaudi did resembled some relationship with nature. You can definitely see the waves and plants at Casa Milà.
At night there is a special animation show which you can sign up for here.
You probably only have time for one tour so choose between Batlló or Milà.
La Sagrada Familia
Now it is time for the star of the show, Gaudi's La Sagrada Familia. This is one of the places to see in Barcelona in 2 days.
The highlight of many Barcelona itineraries, this wonder was started in 1882, Gaudi took over the in 1983 until his early death in 1926.
Today, construction still goes on around you and other tours but there is enough in place for you to really feel Gaudi's work.
It is advised to book a group tour so you can learn about the facade which tells the story of Christ in tiny detail. Group tours also get to skip the line which is beneficial because Sagrada Familia is busy all year round. Reserve your spot here.
Failing a tour, definitely reserve a timed entry so you save valuable time during your 2 days in Barcelona.
The reason I have reserved this thing to do in Barcelona until later in the day is so you can see the light change through the stain glass windows. It can create an explosion of lights inside the basilica.
---
» For more tips | Read – everything you need to know about Sagrada Familia
---

How to get to Sagrada Familia
Metro: L2 and L5 lines
Bus: 19, 33, 34, 43, 44, 50 (fast), 51, B20, B24.
As part of a tour: use your hop-on /off bus pass
Hotel Ayre
Celebrate your visit with incredible views of the La Sagrada Familia from Hotel Ayre's rooftop (Carrer del Rosselló, 390).
Buy a drink at the downstairs bar then relax on the roof.
Day 1: Evening El Born Escapades
We stayed in the El Born area at Park Hotel – and recommend this option for anyone who travels on a midrange budget.
We purposively chose not to promote self-contained apartments like Airbnb during our Barcelona guide because we are very cautious of the issues the rental industry is causing locals.
Dinner at a Traditional Tavern
Grab a seat or standing space at El Xampanyet (Carrer de Montcada, 22) for tapas and drinks.
White wine is served is really cute glasses. The staff are super friendly and the bar/restaurant is charming.
Bar Hopping in El Born
El Born is a series of small streets serving a variety of bars, cafes and independent shops.
Enjoy a few brews at the likes of Savanah and Corner.
Once you've warmed up, complete this challenge – find the Speakeasy, Paridiso, which hides behind the deli. Did you get there?
Tell me in the comments. Avoid the cocktail which comes in a plastic cone. It tastes like baby sick.
Stumble home, sleep well. You have one more crammed day in Barcelona to look forward to it.
---
Day Two of Your Barcelona in 2 Days Itinerary
Day 2: Morning – Park Guell
Make your way to Park Guell using the metro stop Alfons X (L4).
If you need breakfast I recommend grabbing a bocadillo (sandwich) from the cafes close to Alfons X before you hop on the free Bus Guell. Melt in your mouth material.
You must reserve a time slot to access Park Guell, regardless of whether you do it at the park, before you go or what time of the day you plan to visit. This is as busy as La Sagrada Familia. You can't just walk up and pay.
Tour the grounds checking out the famous tiled balcony, popular lizard and houses inside Park Guell.
This should take around one hour. Hop back on the free bus service to the metro station and make your way to Pl. Espanya using the L3 metro line.
Honestly, the Barcelona Metro is one of the easiest I've used in the world. See below for our Barcelona travel advice and details on how to save money on the subway.
Seville also has incredible architecture. Here's a 3-day Seville itinerary for you to check out.
Day 2: Afternoon – Montjuïc
From Pl. Espanya, hop on the 150 bus to Castle Montjuïc for awesome views of the city and castle ruins.
Take the Telefèric de Montjuïc back down (or up to begin with) for panoramic views in the clear cable car.

Palau Montjuïc
Now we've arrived at my favourite building in Barcelona, Palau Montjuïc.
This building has waterfalls flowing down the front of it and at night, this is where the Font Màgica de Montjuïc light show takes place on Thursdays, Fridays and Saturdays.
If you are peckish you can grab a bite to eat the cafe just outside of Palau Montjuïc.
---
Day 2: Evening – Dinner and Rooftop Drinks
Dinner at Plaça Reial Barcelona
Enjoy dinner at one of the many restaurants on Plaça Reial Barcelona or at Gats plaza (Carrer d'en Xuclà, 7).
Wondering what to do in Barcelona on your last night?
It's time to end the trip back where we started at Hotel Colón (Av. de la Catedral, 7). Come face to face with Barcelona Cathedral as you sip of overpriced sangria. Salud!
---
Other Things to do in Barcelona in 2 Days
We appreciate that everyone's travel style is not the same so we've put together a list of other shows, landmarks, museums and tours. So let's take a look at the other options for what to see in Barcelona in 2 days.
Flamenco Show in Barcelona
Arco de Triunfo de Barcelona
Hospital de la Santa Creu i Sant Pau
Picasso Museum
Palace Guell
Paella cooking class
Sunbathing at the beach
Barcelona's IceBar
Palau Montjuic – Font Màgica de Montjuïc
Bunkers viewpoint – read about all the viewpoints here
---
» Find out more | Things to do in Barcelona at night
---

Day Trips From Barcelona
From art to wine, mountains to beaches, there are so many really easy Barcelona day trips. Read about them in detail here.
Do you have three days in Barcelona? Read this next
---
Barcelona Travel Information

Getting to Barcelona
El Prat Barcelona Airport (BCN) is the main airport and there is an Aerobus just outside of the terminal.
You can buy there or reserve your ticket before here. 
Getting Around Barcelona 
The main mode of transport you will use in Barcelona is the metro system.
It is easy to navigate as it has clear signs at each station and on the trains.

If you are spending some time in Barcelona I recommend you buy the ten stops ticket for 10 euro (English machines). 
If you plan to use the public transport system a lot, you might want to invest in the Hola BCN card.
Be careful, pickpockets operate on the metros.
A man jumped up from his seat just as the doors were closing and 'bumped' into Craig.
Luckily he had to his travel vest on and his belongings zipped away on the inside of the vest.
The city has an open-top hop on/off bus which is useful in summer.
I used this the first time I visited Barcelona to help find my bearings while avoiding walking long distances in the sun!
My Mum says the Barcelona bus tour is the best she's ever been on and my parents use it in most cities. Reserve here.
Unique to Barcelona is the Telefèric de Montjuïc cable cars stopping at Castle Montjuïc.

How to get to the Telefèric de Montjuïc

Hop on the 150 or 5 bus or L2 or 3 Metro to Paral·lel.
You can walk, we did on the way up. It is not for those who get out of breath quickly.

Check the website for more details. 


Where to Stay in Barcelona 
Hotels in Barcelona
Park Hotel – clean, comfortable hotel in El Born. Rooftop pool all year round [we stayed here].
Iberostar Paseo de Gracia – Plaça Catalunya Square location, swimming pool and free parking available.
Hostels in Barcelona
Park Hotel, El Born
Where to Eat in Barcelona

Restaurant La Boqueria – traditional cafe

Senor Pina – Acai bowls and poke bowls

Brunch & Cake – Instagram friendly all-day brunch
El Xampanyet – tiled decor, local tapas and drink in El Born
Gats – small courtyard, indoor seating, cool mural and toilets
Pasta Bar – build your own pasta plate
Santa Caterina Market – quieter market in El Born
Weather in Barcelona 
Barcelona doesn't face much rainfall all year round but it is at its rainiest in autumn and spring.
Temperatures soar in July and August reaching 30 degrees. The coldest times of the year is January when the average is 13 degrees.
Barcelona Packing List
A layer for the shade
Comfortable walking
Camera and battery
Filter and purifying water bottle like Water To Go [quote TSA15 at checkout for 15% off]
Book your travel insurance before you arrive. We use True Traveller Insurance for bigger trips, many others use World Nomads Travel Insurance.
Currency
Barcelona uses the Euro. Check out today's rates here. Most restaurants, accommodation and tours accept all major credit cards.
Tourist Information Address
There are a few tourist information points in Barcelona, the main one is located at  Placa de Catalunya, 1708002 Barcelona, España.
Barcelona Map
Here's a free map with all of the best things to do in Barcelona.
Overtourism in Barcelona
Consider the following so you can enjoy your trip while reducing the impact on the city.
Go in low season, avoid June through to September
Visit the Christmas markets and enjoy the warm days. Read more here
Skip taking a cruise, the port is said to be one of the most polluted in Europe
Book a room in a hotel, not Airbnb*
Stay longer than one day
* We love booking self-contained apartments and have done so all around the world but there are some cities I won't because of the impact it has on local people. Too many businesses 'buy to rent' which forces locals out of their homes and communities.
---
Pin to your Barcelona planning board
Have any questions? Just leave them in the comments. 
---
Final Words
We hope you have found our Barcelona itinerary: 2 days in the Catalan capital useful. Barcelona is an obvious choice of art fans, sports fanatics, beach lovers and folks who can appreciate a really good looking city, even through the crowds.