This article has links to products and services we love, which we may make commission from.
Looking for the best Barcelona viewpoints and Barcelona photo spots? Barcelona, the Catalan city that steals the hearts of travel lovers and photographers alike. The popular city in the northeastern corner of Spain attracts millions of food, wine, architecture and photography fans! Charlie from World Travel Photography has created this guide packed with landscape shot ideas and Instagram hot spots, from above.
About World Travel Photography
Charlie spent a summer living in and capturing Barcelona through his lens from sunrise to sunset. Always on the lookout for great viewpoints in cities since his biggest passion in life is to shoot travel photography and helping other people carve out a career in travel photography for themselves.
---
Barcelona's Best Viewpoints
1. Montjuic
Montjuic is a large hill that sits on the edge of Barcelona. Until 1992, it was an undeveloped area with nothing particularly interesting about it. When Barcelona hosted the Olympics in 1992 all that changed.
Montjuic was home to a number of venues hosting various events and, as a result, was totally redeveloped into a maze of parks, museums, sports centres, enhanced by the stunning viewpoints.
There are so many spectacular viewpoints dotted all over Montjuic that it's impossible to list all of them in this article.
However, two of my favourites are the view from behind the cemetery (pictured above) and from a lookout next to a bar called La Caseta del Migdia (pictured below).
From there, you get one of the best nighttime views of the port and surrounding area.
How to Get to Montjuic
To get to the viewpoint behind the cemetery (which btw is beautiful and worth a visit itself), you need to first take bus 21 directly to the cemetery and then follow the small road that leads you to the right and it's found next to the main entrance.
The only way you can really get to La Caseta del Migdia is with your own transport (scooter or car) unless you feel like walking up a pretty steep hill for a couple of kilometres.
I recommend you rent a scooter and spend half a day driving around Montjuic exploring anyway, there are so many amazing things to see there and this Barcelona city view from the castle.
Some of the best views in Barcelona
2. Best Barcelona Photo Spot for Instagram, Palau Nacional, at Montjuic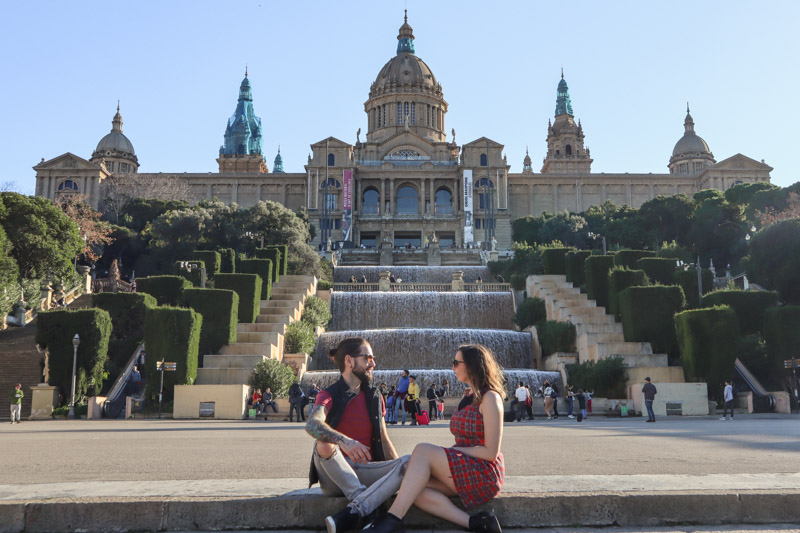 3. Cable Cars
There is a cable car that stretches from a huge industrial-looking metal tower (more on this tower later) that's next to the sea, right up to one of the viewpoints on Montjuic.
It's a great way to get to Montjuic, even if it means being crammed in a little metal box with 10-15 other people and dangling from a cable hundreds of meters in the air.
But if heights don't bother you, you'll be rewarded with an amazing view as you make the roughly 8-minute journey suspended in the air to Montjuic.
You'll also experience the scene from one of Montjuic's most popular viewpoints when you arrive. So you're getting two spectacles for the price of one.
At €11 for a single or €16.50 for a return ticket, it's a little pricey for the relatively short journey.
Some might even go so far to say that it's a bit of a tourist trap, but there's no denying that you will be getting one of the best views of Barcelona as you make your way over the port below.
How to Get to the Cable Cars
The tower where you board the cable car is found in the Port Vell area, near to the beach and just behind the port. You'll be able to see the red cable car once you get near, so just head towards where it stops.
4. Tibidabo
Barcelona is trapped between the Mediterranean Sea and a number of mountains, one of which is Tibidabo.
The mountain is perhaps most famous for the church found at its summit.
There is a huge statue of Jesus with his arms stretched open on top of the building that overlooks the city below. At night, the church is lit up so brightly that you can see it glowing from almost anywhere with an unobstructed view of it.
There is also a small amusement park and cafe at the top of Tibidabo where you can get great views in two directions.
A clear view over the city itself and in the opposite direction where the landscape is mountainous and worlds apart from the hustle and bustle of city life.
→ Bonus: don't miss this guide on how to get the best out of your trip to Sagrada Familia
How to Get to Tibidabo
Like most of these viewpoints on the outskirts of the city, the Metro doesn't go in that direction. You'll need to take bus 111 which will drop you off about 5 minutes walking distance away from the viewpoint.
5. Mirador de Colom
Almost anyone who has ever visited Barcelona has seen the Columbus Monument but not many people realise that you can actually get inside it and go to the top for a great city view of central Barcelona.
It's not very well advertised and, from the ground, it's almost impossible to tell that there are actually people inside of it looking out of openings just below his feet.
Fun fact about the Columbus Monument – he is supposed to be pointing in the direction of the Americas, but whoever installed the statue must have missed the memo because it's not even close.
How to Get to Columbus Monument
You'll find the Mirador de Colom monument right at the bottom of the famous La Rambla street. If you walk to the very bottom, you can't miss it. A secret Barcelona viewpoint, shhhh!
6. Park Güell
Park Güell is another attraction that most visitors to Barcelona have visited. But if you're reading this before your trip and planning an itinerary out, then the view from Park Güell should cement its place at the top of the list.
The park was designed by the famous Catalan architect Antoni Gaudi.
Barcelona was his playground and he designed most of the city's iconic buildings. Like all of his work, Park Güell is an abstract design where walls that seem like they are melting are held up by sweeping arches and thick columns.
It's the uniqueness of this park along with its captivating view of the city that I love so much.
Especially on a Sunday during the summer months between 17:00 and 20:00 when it's free to enter 😉
Naturally, Park Guell is incredibly busy, it does have the best view of Barcelona some would argue.
How to Get to Park Guell
You have two options. Option one is to take the metro line 3 (green line) to the Lesseps station. From there you have to walk roughly 20 minutes to Park Güell.
Option two is to take either bus number 24 or V19 to the Carretera del Carmel stop.
Alternatively, you could get a taxi but public transport is very efficient in Barcelona so I find it hard to justify the overinflated price of taxi journeys.
---
» Useful guides: the best ways to reserve Sagrada Familia tickets + things to know before you go
---

7. Arco de Triunfo de Barcelona
Built as the main access gate for the Barcelona World Fair in 1888, this pretty red-bricked gate is an Instagram favourite.
Address: Passeig de Lluís Companys, 0800

8. The Bunkers
Up until a few years ago Bunkers del Carmel, or simply 'The Bunkers', were a bit of a hidden gem.
However, these days you'll find more than a few locals and tourists sitting with a bottle of sangria or beer watching the sun as it falls over the city below, eventually dropping into the sea.
The bunkers are leftovers from the Spanish Civil War where anti-aircraft guns were stationed on top of Turó de la Rovira, a vantage point overlooking the entire city.
The guns are gone but the platforms that they sat on, and the bunkers the soldiers used as protection, are still there.
How to Get To Bunkers Del Carmel
They are quite far from the city centre and the Metro does not run in that direction, so the best way to get there is by either renting a scooter or taking the V17 bus which drops you off at the top of Turó de la Rovira.
From the bus stop/car park you'll see some stairs and a dirt track on your right leading up to the viewpoint itself. Don't forget the sangria/beer!
9. Helicopter Tour of Barcelona
If you've got a little extra cash to splash, and you really want to see Barcelona from above, then there are a few companies that offer helicopter tours of the city.
There are packages available that range from just a few minutes flying time over the coastline, to full aerial sightseeing tours where you will get to see some of the most famous landmarks from the skies.
If flying in a helicopter is on your bucket list, then Barcelona is a great place to cross it off!
Meeting Point
That depends on which tour operator you book with! Most leave from the city's heliport, but you're better off checking with whichever operator you have chosen.
10. Montseny Massif (Turó de l'Home)
This last viewpoint isn't actually in Barcelona itself but makes for a great day trip if you feel like getting out of the city and taking on some of Catalonia's beautiful hiking trails.
Montseny Massif is a mountain range about an hour or so drive outside of the city.
There are quite a few different hiking trails crisscrossing through the range. But my favourite is the trail that leads to Montseny's highest peak, Turó de l'Home.
You have to be reasonably fit and comfortable with hiking to reach Turó de l'Home. It takes roughly two hours to reach the peak and in some parts can be quite steep.
Remember to take plenty of water and some sandwiches, especially during the summer!
How to Get to Montseny Massif
Having your own car or motorbike is really the only way. You could take buses but it would involve a lot of hassle and you'd have to walk from the last stop to the beginning of the hike.
Plus you'll be thankful you have a car to jump into after you're back from the peak, trust me…
---
The city is home to plenty of restaurants and bars with a great view of their surroundings. Here are a couple of the best restaurants with viewpoints in Barcelona.
11. 1881 per Sagardi
This restaurant/bar is hands down my favourite rooftop in Barcelona. I've spent probably too many afternoons and evenings sitting on the terrace sipping on a beer and taking in the views.
The bar is located on the top floor of the Museu d'Historia de Catalunya (the history museum of Catalonia) with stunning views over the port where the rich and famous park their mega-yachts.
The best time to visit is in the evening to watch the sun as it sets over Montjuic in the distance.
As you would expect with a view like that it's not as cheap as other bars in the city, but isn't outrageous either. A bottle of wine will set you back about €15-€20.
How to Get to 1881 per Sagardi
Head to the Museu d'Historia de Catalunya and as you walk through the main entrance you'll see an elevator directly in front of you. Simple take it to the very top floor and enjoy the view. There's no entrance fee for entering the museum.
12. Torre d'alta Mar
Remember when I talked about the cable car tower earlier in this article? Well, it holds another surprise.
At the very top, you can do more than just take a cable car ride. There's a fine-dining restaurant that doubles up as one of the best viewpoints in Barcelona.
The name of the restaurant is Torre d'alta Mar and if you're into great food and magnificent views, it's one not to miss!
How to Get to Torre d'alta Mar
Just like you would the cable car. The address is Passeig Joan de Borbó, 88. 08039 Barcelona.
---
Hotels with a View in Barcelona
To round off this article nicely, I'll leave you with a couple of my favourite hotels with a view.
13. Barcelo Hotel, El Raval
In my opinion, the neighbourhood of El Raval is the best area to stay in Barcelona.
It was once a less desirable neighbourhood but, like so many other neighbourhoods in cities like London and Paris, it has gone through a regeneration process and is now home to a young, hip and artistic crowd.
The Barcelo hotel is right in the heart of El Raval. It's a uniquely shaped, cylindrical building that shoots up out of the ground and towers over its surroundings.
At the top, there is a 360 bar and even a rooftop pool.
You can look over the city in any direction and admire most of the famous landmarks that make up Barcelona's skyline from here.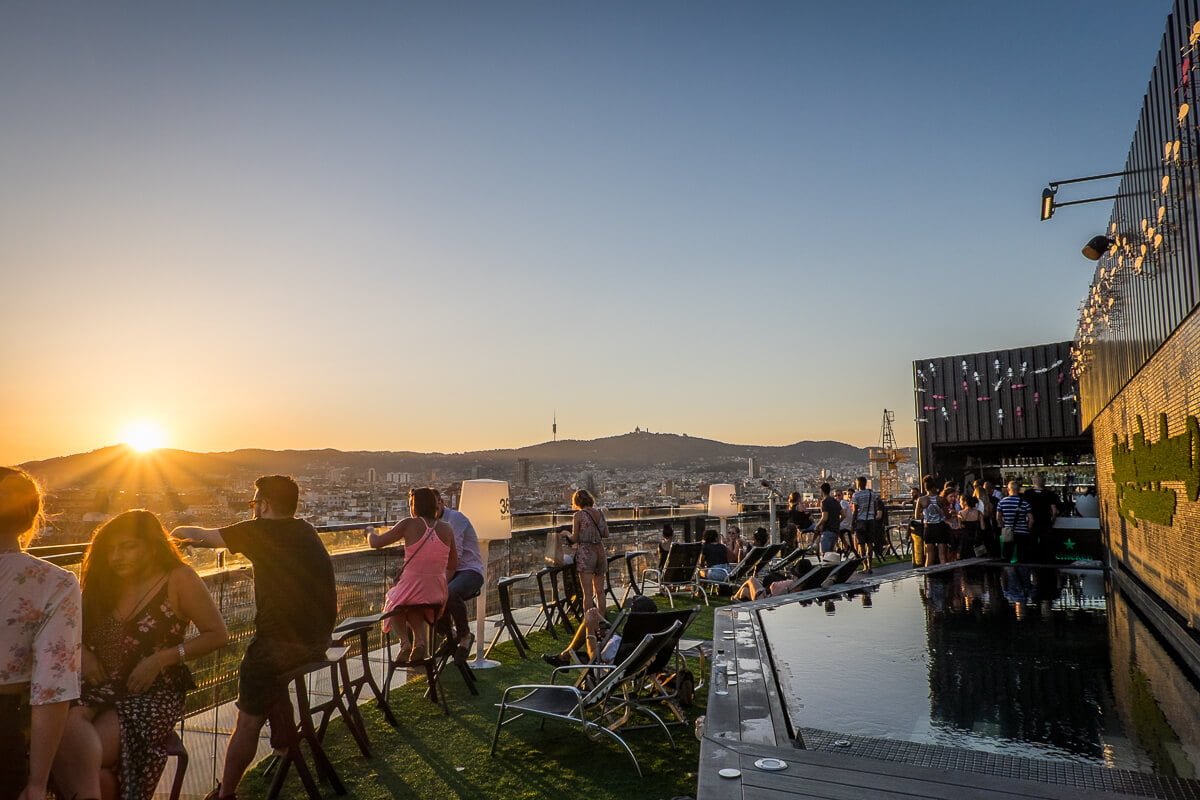 How to Barcelo Hotel, El Raval
The Barcelo hotel is located in the centre of the El Raval neighbourhood on a street called Rambla de Raval.
14. W Hotel
The last place on this list is probably Barcelona's most well-known hotel (and most expensive), but it would be unfair not to talk about what it would be like to wake up in one of their sea-view rooms.
Those rooms have floor-to-ceiling windows and the view over the sea is amazing
The sail-shaped building sits at the end of Barceloneta beach and is instantly recognisable to anyone who's ever been to Barcelona before.
How to Get to W Hotel
The address is Plaça Rosa del Vents, 1 Final, Passeig de Joan de Borbó, 08039 Barcelona.
15. Hotel Colon
Hote Colon has a balcony and terrace. Drinks are served by waiters. Best views of Barcelona Cathedral. Av. de la Catedral, 7.
16. Hotel Ayre
For the best views of La Sagrada Familia head to the rooftop at Hotel Ayre. Customers must buy a drink at the downstairs bar. Read our guide on everything you need to know about La Sagrada Familia here. Carrer del Rosselló, 390.
---
Final Words
Barcelona is home to so many great things; architecture, food, culture, the people and, of course, the viewpoints. It's a city that truly has something for everyone.
I hope that I've inspired you to explore more of the city and that you've discovered places you didn't already know about.
Which viewpoints are you going to visit? Or if you've been to Barcelona before, have you visited any of the places in this article?
---

Pin to your Barcelona planning board
Leave any questions in the comments below!
---
» Read next: Two Scots Abroad's guide to Spain
---