This article has links to products and services we love, which we may make commission from.
The Basilica of the Sagrada Familia is a gem in the city of Barcelona, making it a top attraction on many European bucket lists. Regardless of what images you've seen of the church designed by Antoni Gaudi, they will not compare to visiting it in real life. Unfortunately, everyone wants to see the 'Builder of God's' work too making it a hot spot for time-sucking lines.
This guide discusses the five best ways to reserve your La Sagrada Familia tickets, ensuring you don't miss out on this architectural, religious and cultural wonder!
---
How to Book Tickets to Sagrada Familia
Buy Sagrada Familia On the Day
To purchase your Sagrada Familia ticket on arrival, you just need to enter via the Nativity façade entrance. Last tickets are sold 30 minutes before closing time.
During summer, tickets do sell out. A reader on TripAdvisor could not get a ticket for three days so please do keep this in mind if visiting in high season.
In honesty, in this day and age of technology, I smugly walk past people lining up to pay on arrival.
Unless you have made a last-minute decision to visit Barcelona, there's really no need when you have 'skip the line' tickets at your disposal. These tickets save you time meaning you can pack more into your Barcelona itinerary.
Pro: Option for last-minute visits
Cons: Waiting in line, wastes time, sells out in summer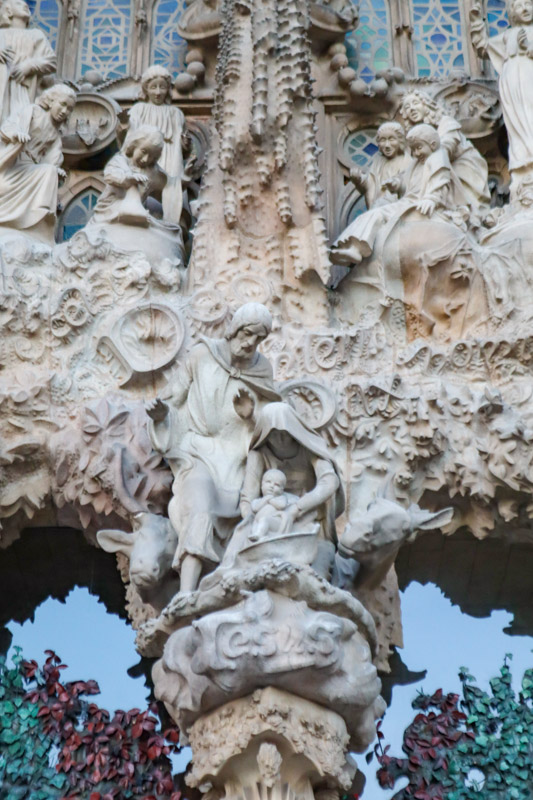 ---
Book Official
Sagrada Familia Tickets
Online
You can purchase the ticket which best suits your travel needs at the Sagrada Familia website.
You choose whether you are an individual or group, whether you would like to just buy an entry ticket or join a group tour.
The group tours are great for the history of the Sagrada Familia but they can be quite large with a maximum number of 30. The tour lasts for 50 minutes.
You are restricted to a time slot so factor that into your itinerary for the day. There are no cancellations. If you would prefer a ticket with cancellation you can reserve one with GetYourGuide.
Pros: Direct
Cons: No cancel option, large groups, no 'fast track' option
Buy Sagrada Familia online here.
---
Sagrada Familia Fast Track Tickets + Group Tours
One of the most popular tickets sold on our partner's site, GetYourGuide, is the Sagrada Familia fast-track small group guided tour.
Customers like that the groups are no larger than 20 (in comparison to the official group tours at 30 people), the tour guides are super enthusiastic about their jobs and La Sagrada Familia.
You also get a headset so you don't miss anything the guide is saying.
The tour is 90 minutes, 40 minutes longer than the official tour and there is the bonus of the 'skip the line' pass which saves you waiting.
If your plans change, no stress! You can cancel for free up to 24 hours in advance.
→ Note: Every visitor has to go through security, this can't be helped.
Pros: Small tours, skip the line, free cancellation
Cons: Group tours not for everyone, lots of information shared
---
Sagrada Familia Skip The Line Tickets
If you don't want to take a group tour, you can do a self-guided tour of La Sagrada Familia and still enjoy the benefits of the fast track ticket and 24-hour cancellation.
There is also the option to add on an audio guide headset.
You could combine this ticket with the Barcelona hop-on/off as the route takes you close to the Basilica.
Pros: Independent trip, skip the line, cancellation, audioguide

Cons: No guide
---
Hotel Bookings
The final way to book your Sagrada Familia is through your accommodation.
Most hotels will reserve a ticket for you. You are of course at the mercy of availability so consider this during high season.
Pros: No effort for you

Cons: High season tickets sell out
---
↓ Pin to your Barcelona board for later
---
Final Words
A visit to The Basilica of the Sagrada Familia is well worth a morning or afternoon of your Barcelona itinerary. You will be in awe of this iconic structure steeped in religion and art. If you are interested in history and culture, do consider an audio guide or local tour guide so you don't miss any detail.