This article has links to products and services we love, which we may make commission from.
Top of every Barcelona itinerary, regardless of your religious following, is a trip to the Basilica of the Sagrada Familia. This Gaudi 'builder of God' sculpture, eccentrically designed with sprawling internal tree-like structures and dreamy stain glass windows is a must-see in Barcelona. Avoid making the most common mistakes by reading our guide on things to do know before you visit La Sagrada Familia.
---
» Don't miss our 3-day Barcelona itinerary guide + » Read next: Barcelona in winter
---
1. Where is Sagrada Familia?
La Sagrada Familia is located at Carrer de Mallorca (401) in Barcelona which is a 40-minute walk from the tourist street, La Rambla and the popular Gothic Quarter.
It does, however, keep good company with many of Barcelona's top attractions within walking distance.
For example:
Casa Mila is a 20-minute walk away

Casa Batlló is a 25-minute walk away

Park Güell is a 25-minute walk away
Even closer is the lesser-known Hospital de la Santa Creu i Sant Pau (Carrer de Sant Quintí, 89) which is only 11 minutes walk from Sagarda Familia.
2. How to Get to the Sagrada Família
The Sagrada Família is best reached by foot, taking in the Barcelona streets along the way.
If you prefer to use the public transport system, there are two options.
1. Barcelona Metro

The first option is the very easy to use Barcelona Metro. L2 and L5 lines both offer stops close to Sagrada Família. If you are spending some time in Barcelona I recommend you buy the ten stops ticket for 10 euro. Individual rides cost 2.20.
You can purchase this at the metro ticket machines which have an English option. You need your ticket to walk through the barriers. We actually shared a ten stop ticket over two days and bought another for day three. We walk a lot during city breaks though.
The lines and the stops they cover are very well documented at each station and on the metro too.
If you don't walk as much as us and plan to use the public transport system frequently, you might want to invest in the Hola BCN card.
2. Bus

A variety of buses – 19, 33, 34, 43, 44, 50 (fast), 51, B20, B24. The stop is València – Lepant. From here, you are about 4 minutes walk away.
3. Tourist Bus
Most of the top attractions in Barcelona are featured in the as part of the hop-on/off bus pass including Sagrada Família.
3. La Sagrada Familia is Open All Year Round
The Church can be enjoyed all year, which is great for those visiting in low seasons to beat the crowds and the heat.
It's even open on Christmas Day, which is an attractive option for Christians visiting in December.
However, the La Sagrada Familia opening times change with the seasons.
November through February: 9 am to 6 pm

March and October: 9 am to 7 pm

April through September: 9 am to 8 pm

25/26 December, 1/6 January: 9 am to 2 pm
4. If you Must Purchase on Arrival…
You can buy an entry ticket at the Basilica but you must buy your ticket 30 minutes before closing or you won't be granted entry.
Since this is the number one thing to do in Barcelona, it is strongly advised that you book your ticket before you go.
Pre-booking allows you to choose your preferred timeslot by using the dropdown option when you choose your date and hit check availability. The ticket is sent to your email electronically.
A review on TripAdvisor recently said that the in-person ticket system is 'quite difficult' so 'plan ahead'.
Another member of the forum visited in June and could not reserve tickets as they were sold out for the next five days.
Don't delay or you may miss out. Especially in high season when there are large groups visiting the city.
---
→ Further reading: 5 ways to book Sagrada Familia tickets
---

5. Skip the Line at Sagrada Familia
The first mistake visitors make when visiting the Sagrada Familia is not buying a ticket before they arrive. The second mistake is not opting for a 'skip the line' ticket so time is sucked up waiting in line.
It's really easy to purchase a ticket before you go so there is no need to lose valuable sightseeing time.
For example, reserve your 'skip the line ticket' (separate entrance) with a GetYourGuide 'Original' tour (hosted by a local 5-star tour guide) or simply purchase an entry ticket in advance and do a self-guided tour.
All visitors must put their belongings through the security machines and larger items will be held in a cloakroom for you.
6. Audio Tours Are Available
Not only are audio tours available, but they are also recommended.
Even group tours use audio devices so they don't have to shout at the group visitors.
Learn about the history, Nativity and Passion Facades, the bell towers and Gaudi as a religious architect, as shown through the Sagrada Familia. You will be in awe of the detail, narrative and variety of materials used.
Look up to see red, black and sand stone, granite, glass and bronze.
7. La Sagrada Familia is Peaceful
Regardless of the numbers of tourists that walk through its doors and the busy design that fills every nook and cranny of the building, the Familia is surprisingly peaceful.
Visitors are so stunned by the architectural design and absorbed by their audio guides to think about talking.
The experience is a really nice contrast to the busy tourist areas like La Rambla.
Please respect that people visit to pray. If you are lucky you will hear the organ play.
8. "Works of Antoni Gaudí" and UNESCO World Heritage
Many may already know this but La Sagrada Familia was built, in part, by the architect Antoni Gaudi.
I say 'in part' because the design isn't actually finished yet, more than a century after his death.
It started in 1882 (Gaudi took over in 1883) and is hoped to be completed by 2026.
Sagrada Família was Gaudi's last project, which he had been working on for the previous twelve years. His tragic death, by trolley car, happened in 1926.
Gaudi is responsible for a variety of landmarks in and near Barcelona, some of which are protected by the UNESCO World Heritage Site stamp.
Gaudi's other work worth visiting includes:
Parque Güell
You can visit the outskirts of the park for free which I initially did until I realised you can't actually see anything. I then had to book in person at the ticket box, waiting in line for a time slot.
Save time and book online, choosing your own time, before you go. You'll get an e-ticket sent to your inbox which you just show to the ticket guys.
There is a free bus which takes you to the metro.
Palacio Güell
This is just off La Rambla so you don't have to stumble far to see Gaudi in Barcelona!
Casa Mila
Casa Mila and Batlló are very close to each other on Passeig de Gràcia which is a long street with fancy shops. At Christmas, this street has incredible hanging lights on the road.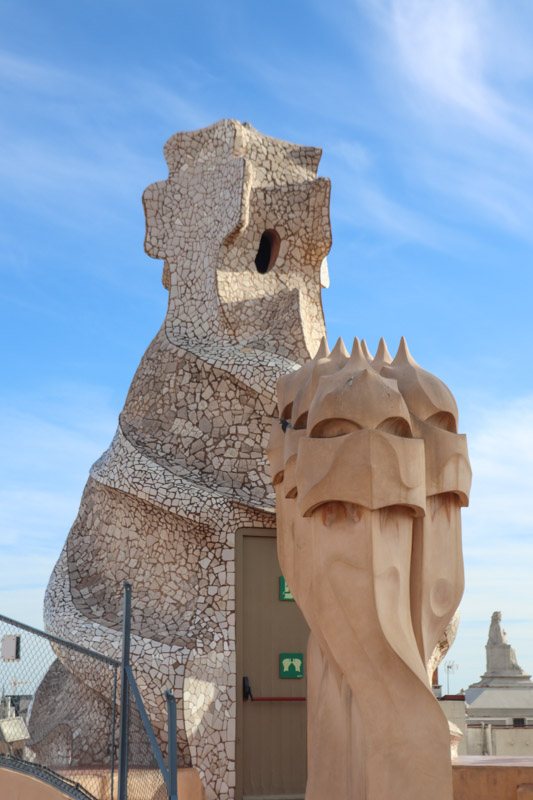 Casa Batlló
Gaudi's designs are so prominent because he was not restrained by rules, unlike many other architects during the late 19th and 20th centuries.
---
» You may also like: how to find Barcelona's best viewpoints for sunset
---
9. La Sagrada Familia is not a Cathedral
That doesn't mean it is not special.
Although often referred to as a church, La Sagrada Familia is actually a Minor Basilica.
It was consecrated, which means 'declared sacred' by Pope Benedict XVI.
The basilica title means the church has been awarded special privileges by the Pope.
People of all faiths are naturally welcome to La Sagrada Familia. There are areas set aside for prayer.
Every Sunday and during holy days of obligation, mass is held by the Archdiocese of Barcelona.
Regardless of religious belief, when visiting you have to dress appropriately, as you would entering any place of worship (no boob tube/belly tops/short skirts/shorts).
There is a beautiful cathedral in Barcelona which you will likely come across. The Holy Cross and Saint Eulalia Cathedral is located at Pla de la Seu, near La Rambla. During winter, this is where one of the city's Christmas markets is held.
10. Go Early or Go Late
Gaudi really put a lot of focus on the use of light so morning or late afternoon visits will give you the best chance of catching the sun shining through the stain glass windows.
This tour starts later in the day to accommodate the light. Just remember to take your outside photos before you go in.
Alternatively, simply choose your own time slot with the line skip ticket.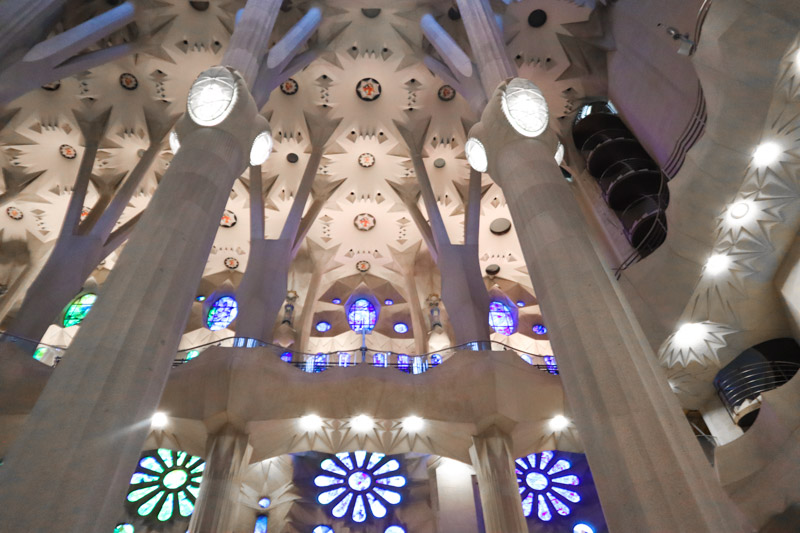 11. Photography
It's actually pretty difficult to get decent shots of the Sagrada with it being a building site and freaking huge!
For individual/couple/group shots there's a handy cement block across the road from the building. Expect lines to access it.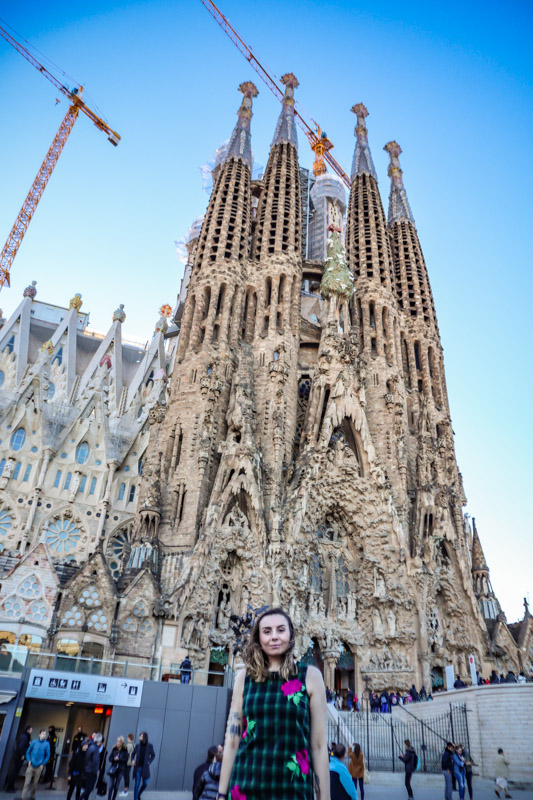 Hotel Ayre is a great spot if you want to enjoy a drink and take photos of the Familia. Customers must buy a drink at the downstairs bar before heading up to the lovely rooftop.
12.
Sagrada Familia in Winter
Sagrada Familia is open all year round but it gets darker earlier in winter so be prepared to take your photos before entering for a later tour.
There is a Christmas market just outside of the Sagrada Familia. It's not as extensive as the one at Port Vell or La Fira de Santa Llucia (at the Cathedral) but still a nice stroll. Food is served at the stalls.
Art in Barcelona
Gaudi isn't the only artist to have his work on display. I highly recommend you check out the following pieces of art and architecture too.
The World Begins With A Kiss – Plaça d'Isidre Nonell
El Cap de Barcelona by Roy Lichtenstein
Palau Nacional by Eugenio Cendoya and Enric Catà
---
Final Words
As the Basilica of the Sagrada Familia is still under construction, it is an attraction that you can visit time and time again to observe its progress. This is especially true as time draws closer to 2026, will it take the lead as the world's tallest church as once thought?
---
» More time in Barcelona? Read about the best day trips from the city
---
Any other tips?
Tell us below.