Striking architecture, delicious food and of course, the beaches, one day in Barcelona is just about enough to enjoy a taster of what the Catalan city has to offer. This 24-hour guide will detail exactly what you should do to get the best out of your Barcelona itinerary, provide advice on how to save time and as always, offer choice! So let's take a look at the best things to in Barcelona, all year round.
One Day in Barcelona Itinerary
Morning – Breakfast, La Rambla, Barcelona Cathedral
Start your day with breakfast at your accommodation. If that's not on offer, there are three options we can recommend.
Brunch & Cakes for something sweet and photogenic at Passeig de Joan de Borbo, near Port Vell

Restaurant La Boqueria for something traditional at Carrer de la Boqueria, Raval

Señor Pina for something healthy at Carrer de la Boqueria, Raval
The first option is slightly off the itinerary where are the other three are close to our next stop.
Factor a 15-minute walk between Brunch & Cakes and the start of your Barcelona sightseeing.
La Rambla
Next, we're heading to the most popular boulevard in Barcelona, Las Ramblas, but just to walk through it because it's very touristy and really just a street.
Watch your belongings, pickpockets do operate here.
Mercado de La Boqueria on La Rambla
This is a popular covered market with stalls selling sandwiches, empanadas, cheese, meat, snacks and fruit juice.
→ Time-saving tip: Pick up lunch items to eat in the sun or on the run this afternoon.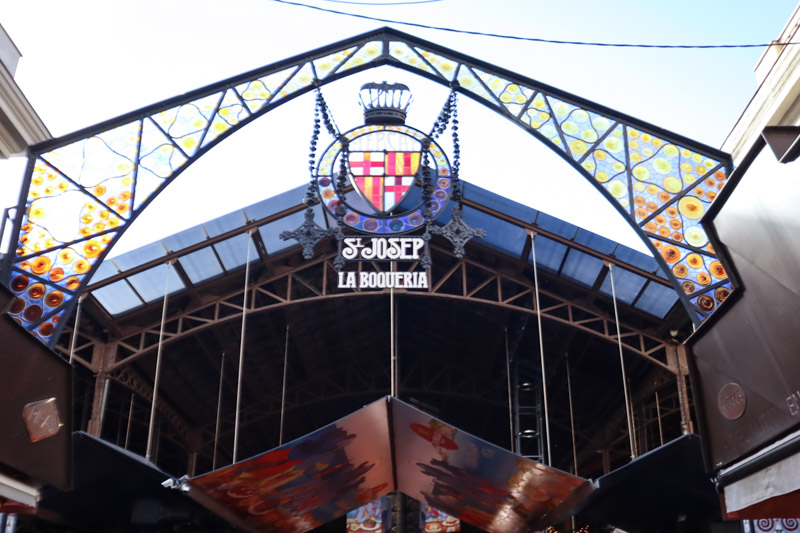 Gothic Quarter/Barcelona Cathedral
Barcelona Cathedral
You literally can't miss Barcelona's Cathedral which pierces the sky with its gothic-style tips and floral design.
Built in the 13th to 15th century, the detail is so intricate it makes your eyes melt trying to focus.
Don't labour too much time taking it all in because we have a busy schedule ahead.
Across from the Cathedral is the Architects' College of Catalonia which, in comparison, is more, let's politely say, practical looking but what brings it to life is the Picasso mural which is drawn on the stone.
At Christmas, this is where one of the busiest markets takes place. Read our Barcelona in winter guide for more.
Barcelona Bus Tour
From the Barri Gotic (Gothic Quarter) you can jump on the Barcelona open-top bus which lets you hop on and off at the main Barcelona sightseeing stops such as the Gaudi attractions – La Sagrada Familia, Casa Batllo, Casa Mila and Park Guell.
Plus many more Barcelona points of interest around the city.
It isn't just a mode of transport though, the bus also offers panoramic views from the top of the bus and an audio guide.
If you'd prefer to stick to public transport, I will discuss the Barcelona Metro below in the travel advice section.
Afternoon at Casa Batllo and Casa Mila on
Passeig de Gràcia.
Casa Batllo and Casa Mila are houses (casas) designed by the Catalan architect, Antoni Gaudi.
To get here from Barcelona Cathedral take the L3 line from Liceu to Passeig de Gràcia. If you find the time, the walk is around 20 minutes.
The great news for time-saving is that both casas are both on the same street.
The bad news is they take around 30 to 60 minutes to tour (with audio guide) depending on your interest levels.
Since you only have a day in Barcelona, I would recommend choosing one or saving a visit to both for the next time you return.
If you are planning on visiting either, it is advised to book at 'skip the line' ticket which you can reserve here:
Late Afternoon at La Sagrada Familia
Now it is time for the highlight, for some, of today's itinerary, Gaudi's La Sagrada Familia.
Did you know that although it was started in 1882 this incredible piece of architecture is still not finished?
It is hoped that it will be completed by 2026.
You have two options for visiting La Sagrada Familia to ensure you get the best out of your visit:
Your first option is to reserve a time to enter.
This means you can choose when you enter and skip the line.
Since you only have a day to see as much as possible, it is advised you do this as Gaudi's attractions are busy all year round. Book here.
The second option is to join a small group tour with a local leader.
We opted for this as I wanted to hear the stories behind the Sagrada!
The tour lasts for 1.5 hours, the guide speaks to you via audio as to keep the noise levels down and so you can hear.
A red flag comes with the tour guide so you don't lose them when you are mesmerised by the basilica! Reserve a spot here.
To get here from Passeig de Gràcia take the L5 Metro from Diagonal to La Sagrada Familia.
For other more information, read our guide things to do know about La Sagrada Familia and five ways to buy tickets.
Hotel Ayre's Rooftop
If you are early for your tour or reserved time, buy drinks at Hotel Ayre's bar downstairs and take the short elevator ride to the top to enjoy stunning views of Sagrada Familia.
This could be done after your tour if daylight is on your side.
Alternative Afternoon – Park
Güell
Parque Güell
If you'd prefer to see Gaudi's whacky and bright garden then head to Park Güell on Carmel Hill.
Parque Güell is on a mountain so be wary of this if you intend to walk there from a metro station.
Alternatively, there is a free Güell Bus which leaves frequently from Alfons X (L4) metro station.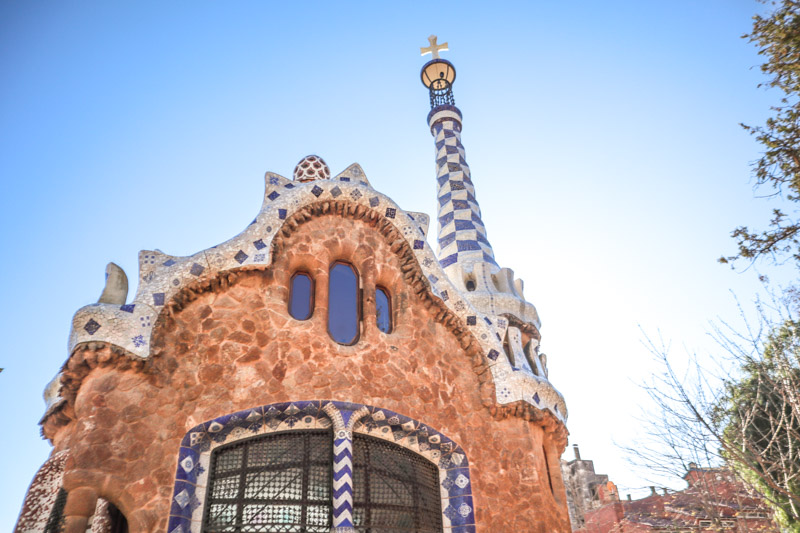 Across the road from the bus stop, there are lovely deli/cafes where you can pick up a bocadillo.
I dream of these Spanish sandwiches, so do try to pick one up during your day in Barcelona so you can experience the soft baguette lunch too.
You can choose a time slot to enter.
This is the case if you rock up to the park to pay directly or whether you reserve online. Since Güell is popular they have put in measures to control the crowds.
If you don't want to see the tiled balcony, houses and famous lizard inside the park you can just walk on the outskirts.
You can't really see anything bar palm trees and touts selling selfie sticks though.
Alternative Afternoon – Montjuïc
Montjuïc is a hill with a lot going on. Firstly, you can ride the Telefèric de Montjuïc cable car one-way or return to Montjuïc Castle.
From here you can walk through the castle ruins with sweeping views of the city and beyond.
Secondly, and this is my favourite thing to do in Barcelona after bar hopping, visit Palau Montjuïc.
This huge national palace with its flowing waterfalls is home to the National Art Museum of Catalonia.
Take a snap but save a visit to the gallery for another time.
There is an affordable bus (150) that runs up and down Montjuïc so you don't have to walk and the closest metro station is Pl. Espanya.
There is a small outside cafe that sells coffee and bocadillo sandwiches outside of Palau Montjuïc.
Evening – El Born Dining
El Born is an energetic area of Barcelona with lots of small streets, cute shops, hip cafes and jumping bars. We ate at El Xampanyet (Carrer de Montcada, 22) which is a tapas bar.
Customers eat sitting down or standing up while chatting and sipping drinks.
If you'd prefer a sitdown dinner you could try Cap Pep, Bodega La Puntual or Cafes El Magnifico.
Close the night with a bit of bar hopping.
Check out Cactus Gin-Bar and Super Super. Can you find the speakeasy in El Born?
Alternative Evening – Plaça Reial
Dine alfresco at Plaça Reial Barcelona.
Enjoy dinner under an umbrella at one of the many restaurants around this popular square/plaza.
Then close the night with sangria at Hotel Colon, with views of Barcelona Cathedral from both the balcony and terrace.
You may also like | Most romantic cities in Europe.
Alternative Evening – Flamenco Show
Dine at one of the above but leave room for a fantastic flamenco show. During this one-hour show at the City Hall Theatre, feel the passion and rhythm of Catalan flamenco as the song and dance take over the stage.
The energy, the heat, the talent of flamenco on one stage. Feet stomping, hands clapping, skirts flowing, a perfect end to 24 hours in Barcelona.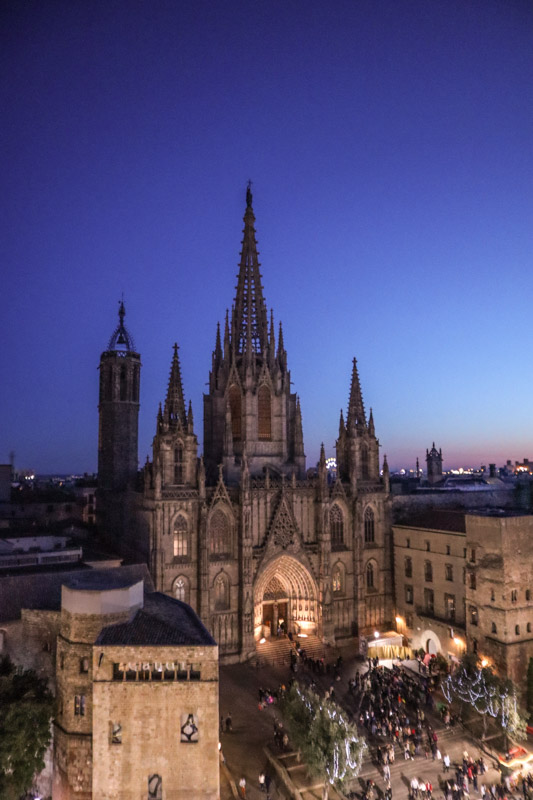 Practical Barcelona Planning Information
Where to Stay in Barcelona
Hotels in Barcelona
Park Hotel – comfortable, clean hotel in El Born. Rooftop pool all year round [we stayed here, image below].
Iberostar Paseo de Gracia – Plaça Catalunya Square, pool and free parking available.
Hostels in Barcelona
Currency
Barcelona uses the Euro. Check out today's rates here.
Most restaurants, accommodation and tours accept all well-known credit cards.
Tourist Information Address
The main tourist information is located at Placa de Catalunya, 1708002.
Barcelona Map
Here's a free map with all of the best things to do in Barcelona.
Getting to Barcelona
El Prat Barcelona Airport (BCN) is the main airport and there is an Aerobus outside of the terminal.
You can buy there or reserve your ticket before here.
Getting Around Barcelona
The metro system is easy to use and stops at all the major Barcelona points of interest.
Stations have clear signs at each station and on the trains.
If you are spending some time in Barcelona I suggest you buy the ten stops ticket for 10 euro (English machines).
If you plan to use the public transport system a lot, you might want to invest in the Hola BCN card.
Pickpockets operate on the metro so be cautious.
We had an attempt at theft!
A man jumped up from his seat just as the doors were closing and 'bumped' into Craig.
Luckily he was wearing his travel vest and his wallet and phone were zipped away on the inside of the vest.
As mentioned above, Barcelona has an open-top hop on/off bus which is useful in summer when it is very hot.
My Mum thinks is the best bus tour she's ever been on and my parents use it in most cities. Reserve here.
Telefèric de Montjuïc cable cars operate in the city too stopping at Castle Montjuïc.
How to get to the Telefèric de Montjuïc
Hop on the 150 or 5 bus or L2 or 3 Metro to Paral·lel.

You can walk, we did on the way up. It is not for those who get out of breath quickly.

Check the website for more details. 
Weather in Barcelona
Barcelona sees the least rainfall in autumn and spring although it never really sees much rainfall throughout the year. Temperatures spike in July and August reaching 30 degrees. The coldest times of the year is January when the average is 13 degrees.
Barcelona Packing List
Layers like a cardigan for shaded areas and indoors

Camera and battery

Tote bags if shopping

Travel Insurance
Book your travel insurance before you arrive. We use True Traveller Insurance for bigger trips, many others use World Nomads Travel Insurance.
Overtourism in Barcelona
Consider the following so you can enjoy your stay while reducing the impact on the city.
Visit in low season, avoid June through to September
December is a great time to stay, visit the Christmas markets and enjoy the warm days. Read more here
Avoid taking a cruise, the port is said to be one of the most polluted in Europe
Book a room in a hotel and not Airbnb*
Stay longer than a day, I appreciate that set vacation/holidays dictate this
* We love booking self-contained apartments and have done so all around the world but there are some cities I won't because of the impact it has on local people. Too many businesses 'buy to rent' which forces locals out of their homes and communities.
Final Words
Barcelona in a day is doable and will leave you with a taste for returning! So whether you are swinging by as part of a cruise, hopping off the train on a Euro inter-railing trip or just enjoying a quick stopover, have fun and share your experiences with us in the comments below. When you do plan to return, check out our guides before you go:
Our Barcelona Travel Guides
Pin to your Barcelona planning board. Any questions? Please leave them in the comments