Heading to the white isle and looking for the best things to do in Ibiza (Eivissa)? Whether you are planning to party at the super clubs, bar hop the infamous West End, or enjoy a cultured holiday in the Old Town, this guide shares the Ibiza activities and locations you can't miss!
An archipelago of Spain in the Mediterranean Sea, this Balearic island attracts millions of tourists each year.
It is said to have spiritual powers which might explain why visitors return each year!
Let's find out the best places in Ibiza to add to your itinerary.
Things to do in Ibiza's San Antonio
There are two main areas on the island where most couples and groups base themselves if they are visiting Ibiza to party – San Antonio and Playa d'en Bossa.
San Antonio is situated on the north-central coast of Sant Antoni Bay.
It is the OG location for partying, so it makes sense to start here!
Watch the Sunset in Ibiza
Set aside at least one evening to watch the day slip into night from San Antonio's Sunset Strip with ambient chill-out music to enhance the experience.
The most famous spot to do this is at Cafe Mambo.
Cafe Mambo (Carrer Vara de Rey, 40) opened in 1994 and was featured in BBC Radio 1's Ibiza Weekender sessions, where international DJs played while the sun melted into the sea.
Today it is still as popular for revellers taking two hours out of partying to enjoy a slow dinner and drinks accompanied by a mellow soundtrack.
Check when the sun is due to set before making a terrace reservation.
Next door to Cafe Mambo on the Sunset Strip is Café del Mar (Calle Vara de Rey, 27) which was the first bar to open on this promenade in 1980.
It has a huge complex of tables at varying levels, from practically on the beach to elevated for great views.
Architect Lluís Güell envisioned Café del Mar's stunning interior.
Next to Café del Mar is Savannah Ibiza (Carrer del General Balanzat, 38), serving an extensive cocktail list and international Asian food with ocean views.
Further up the Sunset Strip is Wiki Woo (Carrer Ponent, 14).
Most of the Sunset Strip bars have a minimum spend of around 70 Euros per person.
If you are on a budget or can't get booked, there's a free area to watch the sunset in Ibiza.
Sandwiched between Cafe Mambo and Savannah, join other party goers with their carry-outs on the stony beach.
Remember to pick up your cigarette butts and tins and take them with you after the sunset show.
Even if you're not clubbing in Ibiza, watching the sunset from one of these bars or the beach area is a must on any Ibiza itinerary.
Sunset Party Cruise
For an up-close sunset experience hop aboard this 3.5-hour party cruise.
During the boozy boat tour, you can expect two drinks, a live DJ, access to the sundeck, and panoramic views of the sun setting over the Mediterranean.
Have Lunch at Ibiza Rocks Bar
Not to be confused with Ibiza Rocks Hotel, Ibiza Rocks Bar (Avinguda del Doctor Fleming, 6) is located on the promenade of Platja de S'Arenal (Beach).
Multiple friends recommended getting food at the bar, especially the chicken pitta, and I can confirm that it is tasty.
A DJ plays at the back of the bar, so it is unobtrusive if you just want to dine and enjoy a few cocktails.
The toilets have an interesting roof so look up as you pee.
Two daiquiris, a chicken pita and a loaded fries cost 37 Euros.
Day Party at Ocean Beach
Affectionately known as 'O Beach', Ocean Beach (Carrer des Molí, 12-14) is a popular day party.
Unlike other resort-style clubs (Ibiza Rocks and Ushisha), you can actually go in the pool.
However, you can't stay at O beach as it isn't a hotel and lights out is around 10:30pm.
It puts on a series of themed days throughout the week, and the show is a spectacle.
Expect costumed dancers, acrobats, and fizz on your face.
Day tickets are available, but most groups buy packages which include drinks and the use of a sun lounger/bed area.
Bar Hopping at The West End
Not everyone's cup of tea, San Antonio's West End is where younger groups bounce about the bars, whilst sucking up Venoms and having fun, or being a nuisance, depending on who you speak to!
Ibiza's West End features heavily in the 90s TV show, Ibiza Uncovered.
Other Things to do in San Antonio
There are many bars and restaurants to choose from in San Antonio, for example, the beachfront Palapa for salads and cocktails or Gran China, tucked up a back street, for Chinese or Japanese food.
Things to do in Playa D'en Bossa
Those who choose to stay in Platja d'en Bossa describe the area as the place where older party goers stay, many of whom have based themselves in San Antonio before.
However, De'n Bossa is far from quiet with its lively bars and super clubs, Hi (formerly Space) and Ushuaia.
Playa D'en Bossa is the closest area to the airport, with taxi rides costing 10 Euros.
Ushuaia
Ushuaia (Ctra. de Platja d'en Bossa, 10,) is a hotel resort and outdoor music venue which hosts international acts such as Calvin Harris and David Guetta.
The nights at Ushuaia are huge; expect 20 minutes to get through the crowds to the toilets and 40 minutes to get drinks at the bar.
It's very much a festival feel, with fire flashes from the stage and elbows in the eyes in the audience.
If you purchase your ticket online, you can buy a ticket/drinks package for under 200 Euros which lowers the cost of the event.
If you go for the package, collect two drinks at a time or you won't get to see much of the gig.
Our friends stayed at Ushuaia for two weeks and would say that it is one of the best party hotels in Ibiza for couples or groups who want to balance a resort holiday with a couple of party nights.
Since Ushuaia gigs end by midnight, hardcore party people head over the road to Hi to keep the night going.
Hi
This Ibiza superclub transformed what was formerly Space and made it a playing ground for Gen Z and those with short attention spans.
Hi (Platja d'en Bossa) consists of two spacious event spaces (the Theatre and the Club), two outdoor terraces, and a toilet with a DJ.
Since there are lots of indoor and outdoor options, unlike Ushuaia, which is shoulder to shoulder crowd, Hi is one of the best places to go in Ibiza if you need a bit of breathing space, which someone in your party will at some point during the night.
Each night there is a different DJ or event.
We went to Glitterbox at HI, and honestly, it was one of the best nights of my life.
Honey Dijon played in the Theater, and Horse Meat Disco took to the decks in the Club, both acts accompanied by professional dancers.
When the club ended, we wandered down to Playa D'en Bossa beach and watched the sunrise.
In Hi, a rum and coke cost 19 Euros, a vodka (Belvedere) and lemonade is 22 Euro, and a bottle of water is 12 Euros – welcome to Ibiza!
For tickets, you can purchase online or look out for the boards detailing prices and buy from the bar that the board is perched up against.
The latter is safe; we did it for Hi.
DC10
DC10 (Carretera las salinas) is a club located in an old hangar at the end of a runway.
It is famous for its open roof and its proximity to planes flying overhead.
Partying while planes take off and touch down is one of the Ibiza attractions that people always talk about.
Starting as an underground club in the 90s, DC10 is now one of the most popular clubs in Ibiza.
Bora Bora Ibiza
Bora Bora Ibiza (Playa D'en Bossa) has been a much-loved beachside bar and dancefloor since the 80s.
What's unique about this venue is its large outside seating section and an inside dance area.
Expect smoke machines and pumping music.
A rum and coke and a vodka and lemonade comes to 32 Euros, but the drinks are free pour which means half spirit and half mixer!
Bora Bora announced that 2022 would be the 'last chance to dance' at the club.
We hope someone takes it over!
Mechero Camp
Mechero Camp (Carrer del Fumarell, 2) is a dreamy beach bar on D'en Bossa.
Servers take your order for cocktails as a DJ plays live music.
What's unique about Mechero Camp is that it has open views of the beach and sea.
You'll hear the music from MUMAK.
MUMAK Tropical
If you're looking for a chilled-out spot to catch up on last night's gossip while enjoying a light and fresh meal, look no further than MUMAK (Carrer de Porreres, 1).
Based on the beach, everything is perfect about this restaurant/bar – the decor, the friendly staff, the cocktails, and the menu.
Everyone rated their meals at our table, and some of the party returned the following days so their partners could have a decent meal too.
All about lining the stomach at our age; eating is not cheating!
One bowl of bang bang chicken and a cocktail costs 29.50 Euros.
Mogambo
Another food rec is Mogambo which is part of Vibra Mogambo Aparthotel from the Hiperion Hotel group.
The Daiquiri at Mogambo was the best-iced one of the holidays; not all Daquiri come as an iced drink in Ibiza, which is wild because we obviously want the brain freeze in that heat!
The food was great, and some of the group returned for breakfast the next day.
Friendly staff, great location, can't fault it.
Vibra Mogambo Aparthotel looks like a lovely accommodation option in D'en Bossa, just five minutes walk from the beach, and it has an outdoor pool on-site.
Baloo
Baloo (Carrer de les Begònies, 23) is a Bali-style outdoor cocktail bar.
Some of the seats are rope swings, that kind of vibe, and you can book private spaces in the bamboo teepees.
The toilets are even in keeping with the decor!
DJs play loud sets while customers dine and drink.
I have a receipt for 40 Euros; think I had three cocktails?
It was the last bar on the cocktail crawl with the girls…
Other Places to Eat in D'en Bossa
We had a really tasty breakfast at Big Ben Night where two soft drinks, a full breakfast, and toastie cost 30 Euros.
One coffee, one Irish coffee, an English breakfast and a very milky bowl of muesli cost 24.50 Euros at Dunes.
Dinner at Moorea included two pizzas, water, and a jug of sangria for 58 Euros.
Two pastries, two pizzas, one wine and one beer came to 33 Euros at Emiliano.
Other Clubs in Ibiza
Located between San Antonio and D'en Bossa is Amnesia and Pacha, two of the older superclubs in Ibiza.
You drive past both in a taxi from D'en Bossa to San Antonio so it wouldn't matter which location you stayed at.
Playa D'en Bossa
A day at D'en Bossa's beach is one of the most popular Ibiza tourist attractions.
You can rent sunbeds, swim in the sea, and grab lunch or drinks at one of the beach bars that line the shore.
All-Inclusive Boat Trip to Formentera
If you're looking for things to do in Ibiza aside from clubbing and bar hopping, consider a boat trip to Formentera.
You'll see this trip advertised all over D'en Bossa.
The cruise includes coffee, pastries, dinner, drinks, access to sun loungers, and two stops for swimming.
On Formentera you can rent a scooter, go shopping at the hippie market, and chill out Ses Illetes beach.
This is one of the more unusual things to do in Ibiza since most people that visit to hit the clubs and sleep until 1pm!
Things to do in Figueretes
Figueretes is an attractive beach area sandwiched between D'en Bossa and the Old Town.
You can easily walk along the promenade to Figueretes from D'en Bossa.
Platja de ses Figueretes
Most people visit this stretch of sand to sunbathe at Figueretes Beach and dine at the restaurants with Med views.
We had an Ibiza coffee at Haddocks but it doesn't compare to a Canaries coffee which you can read about in our guide to Tenerife.
Things to do in Ibiza Old Town
Ibiza Castle
If you look up from D'en Bossa you will see Ibiza Castle (Zona Castillo) perched on top of the cliff and if you've got any stamina left you can walk up that cliff for incredible views of the island and beyond.
The castle building is said to be from the 16th century but there have been ruins found from the 12th and 13th.
The walk up is pretty brutal in the heat so remember to pack water and sunscreen.
Wander The Cobbled Streets
From the castle, you can wander down the tight, charming streets through the Dalt Vila (Old Town).
One street, Calle Conquista, has hand prints from celebs like Penelope Cruise.
Plaza del Sol (Plaça del Sol, 7) and S'escalinata (Carrer Portal Nou) are two restaurants with marina views or there are hundreds of food options around the centre of town.
You can get a taxi from the waterfront, which is what we did to get to San Antonio from the Old Town.
Museum of Contemporary Art of Ibiza (MACE)
Museo de arte Contemporaneo de Ibiza Spain (Zona Dalt Vila, Ronda de Narcis Puget Viñas) is a modern art museum which has been open since 1964.
The permanent collection includes work made on the island in the 1960s.
Ibiza Travel Tips
Accommodation Options
Most people either stay in a villa, an apart hotel, or a resort during their stay in Ibiza.
We stayed at Villa Torres just up from the De'n Bossa strip which was great because we were away from the party noise and could make our own in private!
The villa has a pool, sunbeds, BBQ, outside fridge, and rooms have AC.
Most accommodation options will have additional island taxes so check the small print or ask before booking to get an overall rate to avoid any surprises.
Taxis
It costs 10 Euros to get from Ibiza Airport to Playa D'en Bossa using an official taxi.
Some private hires will try to rip you off by charging 50 Euros and claim that is the price for an eight seater.
However, we had an eight seater on the way to villa and it was still 10 Euros.
In Ibiza, there are official taxis and pirate taxis.
We never had to use the latter, but friends have in the past and say it is interesting…
A one-way trip from D'en Bossa to San Antonio will cost you around 30 Euros.
Buses run from San Antonio to D'en Bossa for those wanting to go to Ushuaia and Hi.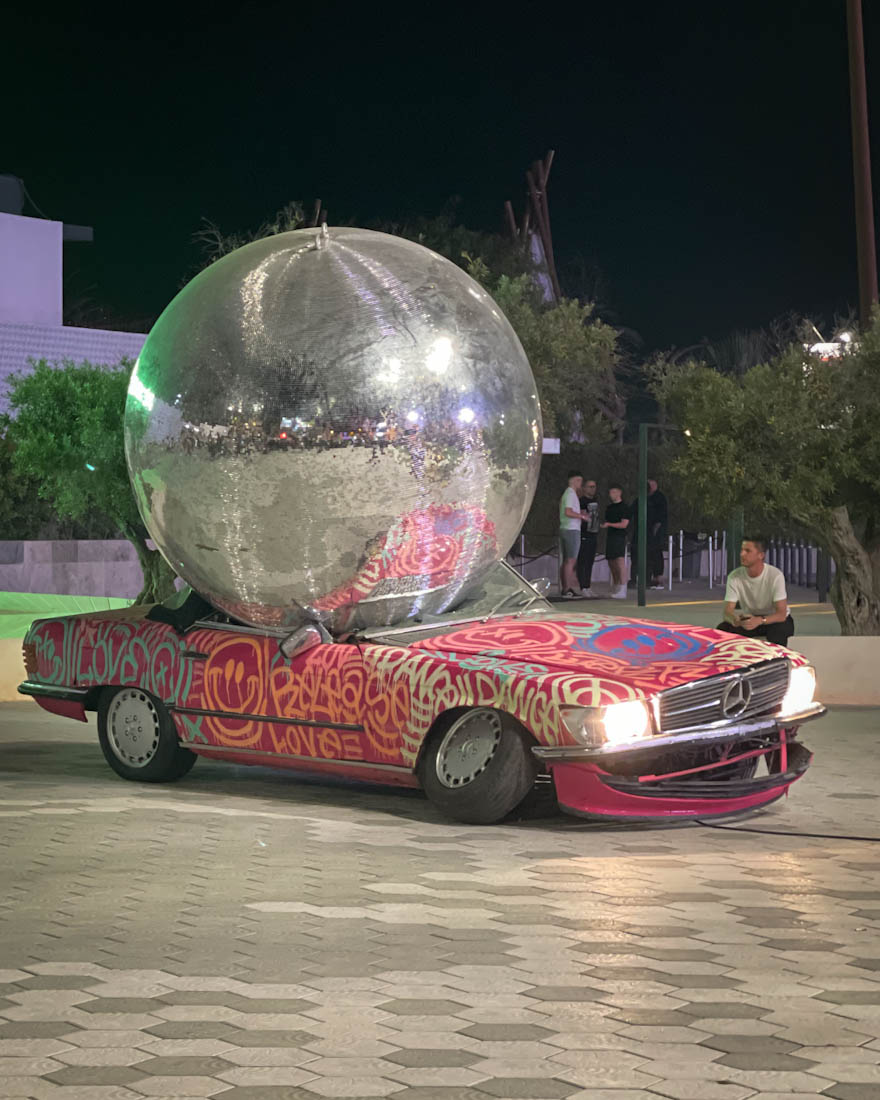 Staying Safe
Our villa owner advised us not to give personal information like what parties we wanted to go to and how big our group was to pirate taxi drivers or anyone asking on the street as there has been a spate of villa break-ins.
Add your accommodation address and a screenshot of its location from Google Maps to your notes just in case you need to get a taxi home and you are worse for wear.
If you are 'partying' in Ibiza, check the Pill Report website and ask others who have already been out for the season how strong it is.
Drink water! Buy at the supermarket every time you go out and pay the 12 Euros in clubs; it'll be the best bottle of water you've ever had!
Wear sunscreen; don't be the guy that has to sit in the shade for half of the holiday because they f*cked it on day one.
Speaking of day one, it's inevitable that you'll rip the ar*e out of it on the first night, so plan your party itinerary around it.
My friend suggests booking O Beach for the arrival day if you're confident your flight will take off and get in at a decent time.
Budget
Everyone talks about how expensive Ibiza is.
Sure, if you're used to Benidorm, you will feel the burn, but if your bank balance is more familiar with city partying, you won't feel it as much.
We think we spent £1650 between us for six days going to two parties and eating out for two meals each day.
Friends usually spend around £1000-1500 for 5-7 days; it depends on how many parties you plan to attend.
Keep costs down by buying drinks and snacks at the supermarket.
You can't buy cigarettes at the supermarket, by the way, look for the machines at pubs.
Any tips you'd like to share? Pop them in the comments.
I hope you enjoyed our guide to the top things to do in Ibiza? Tell us in the comments!