This article has links to products and services we love, which we may make commission from.
Tenerife, a popular Canary island for families looking for a sunny holiday, couples hoping to sink multiple jugs of sangria and groups of friends with their sights set on cheap drinks! 
Whatever your reason for visiting, this guide details the best things to do in Tenerife with a focus on the south of the island since that is usually the destination of choice for hotels, apartments and all-inclusive stays. 
However, if you have the time, we recommend hiring a car and driving around the island for a day to visit the lesser-known areas, including Mount Teide and the capital, Santa Cruz.
If this is your first time going to Tenerife, scroll to the bottom to read our essential information section, which includes accommodation, getting around, what to expect and how to stay safe. 
Things to do in Tenerife South/Tenerife Sur
1. Relax at one of the Beaches
One of the top things to do in Tenerife is sunbathing at one of its many beaches.
Rocks, black sand, man-made golden beaches, you'll find it all in the south.
Here is a summary of what the most popular Tenerife beaches offer.
Since these lovely shorelines run into each other and are connected by a wide path, it is often quite difficult to tell the difference unless you take note of the beach signs.
There are a few lesser-known beaches dotted in between the following too.
2. Los Cristianos Beach
Playa de Los Cristianos is a sandy beach with a built up area packed with bars and shops.
If you don't want to lie on the beach, there are benches sandwiched between the tree-lined boardwalk.
Los Cristianos also has a harbour where you can see day cruises sailing off.
Look out for the pirate's ship!
Consider a whale-watching cruise from Los Cristianos.
This tour has a no chase policy, which is important because there are captive animal day trips in Tenerife which should be avoided.
3. Las Américas Beach
The most popular beach in is Las Playa de Las Américas is the golden sands of Playa de Troya.
The area also has a pebble beach with grassy patches for people to sunbathe on.
This area is used daily by surfers and you can hire boards on the streets just behind the beach.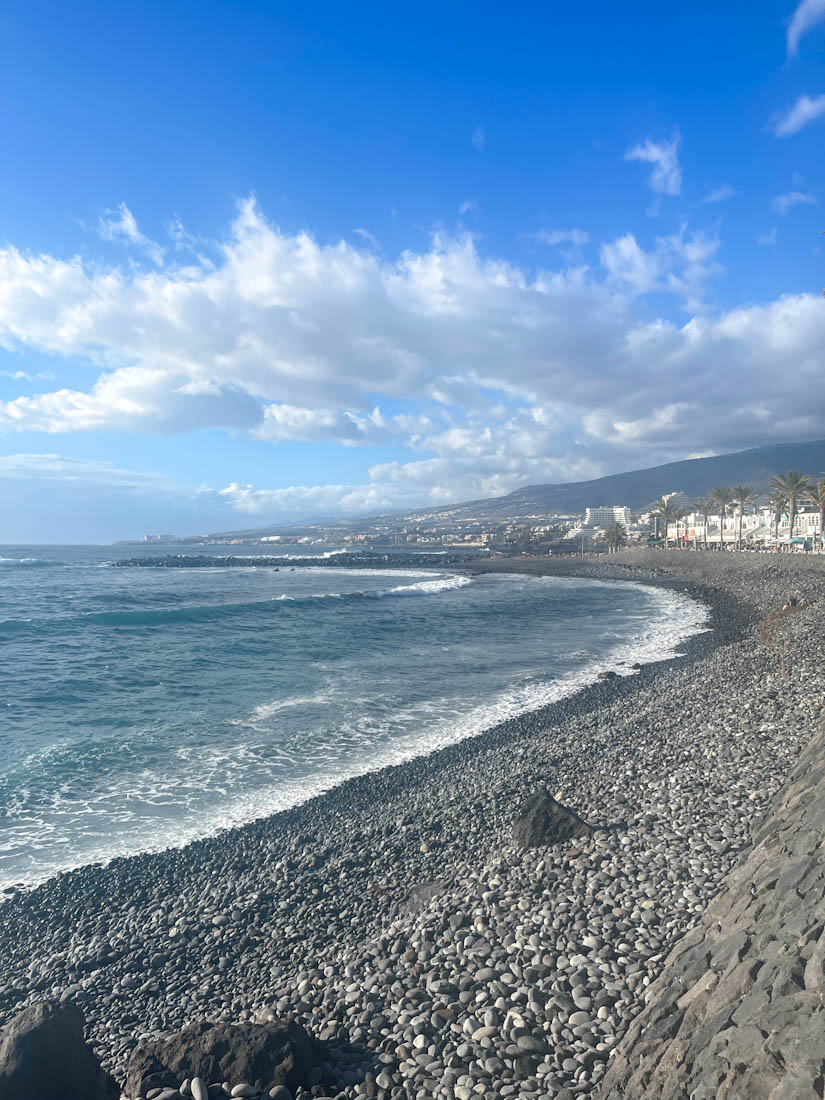 4. Playa de la Pinta
Playa de la Pinta is the beach with the big inflatable in the water!
There are sun beds with umbrellas to keep your family in the shade during the hottest time of the day.
Toilets are limited around this beach, but there are bars and restaurants.
For sunset views over la Pinta, reserve a table at El Horno de Neptuno in the shopping centre just before the beach.
Note: There are quite a few street sellers around this beach, which is part of South Tenerife life.
5. Torviscas Beach
Playa de Torviscas is a great spot for a full day at the beach as you can hire a sun lounger by card machine, and you are close to toilets.
The toilets are technically free, but there is a tip jar for change.
If you are hankering after a McFlurry, there is a Golden Arches on the beach or, if you prefer to support local, a lovely beachfront cafe which serves ice cream, cocktails and barraquito, more on that delight below!
A wooden boardwalk takes you to the beach, which saves your feet from burning in the sand.
The boardwalk also leads to Fanabe Beach, which has many lively beach bars.
Street sellers roam the sand offering fresh fruit and massages.
The sea is swimmable, and while the stretch out to the buoy is relatively easy, the swim back can get tiring, so be aware of your abilities before attempting.
You'll find disabled access and support station located at Torviscas.
Lifeguards man it.
6. Fañabé Beach
Just along the road from Torviscas Beach is Playa de la Fañabé, another sandy beach with sun loungers and elevated beach bars.
This is a great area day and night with many restaurants and pubs.
Fanabe is one of the best places to visit in Tenerife for foodies, and we share where to eat and drink below.
7. Duque Beach
Playa del Duque is an upmarket beach resort area.
There is also a shopping centre nearby.
8. La Caleta and Enramada Beach
Playa de la Enramada near La Caleta is a pebble beach popular with windsurfers.
There is a beach bar and restaurant by the water.
You may also like our beach packing list.
9. Hit the Pubs
There are so many pubs and bars in Tenerife you wouldn't be able to squeeze a pint at every one during a month's stay, never mind a two-week holiday.
There is no shortage of pubs with big TVs showing sports so you won't miss any football or rugby games.
In Adeje alone, there is The Rumpot, Eugines, Temple Bar, The Ginger Pig (image), The Thirsty Turtle, and many more.
Some pubs put on live artist music shows featuring acts such as Blondie and Lady Gaga. 
Others have karaoke with compères like News Cafe at Torviscas.
Most pubs have indoor and outdoor seating.
10. Enjoy a Slow Brunch
While nighttime activities and daytime drinking are the reason most people visit, there are a handful of cafes that do a decent brunch in Tenerife.
Suka offers healthy açai bowls with a side serving of pancakes and fresh fruit juices.
Cinnamon and Vanilla do crepes with Nutella. 
Both cafes are located near Fanabe.
In Adeje, head to The Smart Bakery for fresh bread and pastry-based brunch or The Ginger Pig for poached eggs in a hip setting. 
Bloom in Caleta has a boozy brunch menu, but it is pretty pricey. 
If you find yourself in the ex-pat area around Aqualand, Hemmingways and The Deli are a go-to for brunch or breakfast.
11. Set the Day up with a Big Breakfast
Since many of the people that visit the island are from the UK, most cafes and restaurants have full English and Scottish breakfasts on their menus.
The Cozy Cafe is an affordable breakfast we return to often.
They also bake cakes for special occasions, which is ideal if someone in your party is celebrating a birthday or anniversary.
12. Try a Canaries Coffee
Skip the breakfast pint and go for a barraquito instead!
Layers of hot and cold liquids, including coffee, Liqor 43 and condensed milk, makes this mid-morning cocktail. 
The Guest bar serves them in champagne glasses and has seats overlooking the beach. Bliss!
We tried an Ibiza coffee, and it doesn't even compare slightly to how good the Canaries coffee is!
13. Ron Miel
The local tipple is a liquor called Ron Miel and it is delicious.
Best served on the rocks.
You can pick up miniatures for a euro in supermarkets.
14. Drink Sangria with a View
Multiple jugs of sangria are consumed during most Tenerife holidays!
What's your preference – sangria with a beach view, at the top of rocks at Cafe Wolfi or in the shade at one of the many beach bars?
Lagarto in Caleta does rose wine sangria if you want to switch it up from traditional red wine.
The Duque area has the most expensive sangrias, so avoid here if on a budget. 
15. Have a Beer, in a Boot
Dorado is the cheapest beer in Tenerife, and by cheap, we mean cheap!
€1.50 will get you a pint, and sometimes it is served in a glass boot for novelty pics. 
16. Try an Extensive List of Cocktails
Frozen daiquiri, milky choco loco or fresh mojito, whatever your poison is, plenty of bars spread out over the south with a cocktail menu waiting to be devoured.
Check out Bar Fresh in Fanabe for a lovely ambience and fun social media counter or Lumma Beach Bar for chilled daiquiris with a sea view. 
While we don't normally recommend chains, Hard Rock Cafe in Las Américas does a good cocktail and has a rooftop with live music.
17. Spend the Day at a Beach Club
Kaluna Beach Club in between La Pinta and Fanabe Beach is a fun day out for young, and young at heart, visitors.
Chill out on the sun beds, sipping on cocktails served to you or cool off in the infinity pool as live jazz players compliment the DJ's tunes.
Don't be put off by the bod on KBC's IG; we've been and felt totally welcome.
This is a popular thing for hen groups to do in Tenerife.
18. Eat Tapas
You'll need to line the stomach if you plan to drink all our booze recommendations, and since you are on a Spanish island, you should try tapas at least once.
Our favourite tapas restaurants in Tenerife are El Horno De Neptuno (Fanabe) and Pipos (Las Américas).
19. Don't Skip Canaries Potatoes
While patatas bravas is a difficult small plate to give up, you will want to sample local Canaries potatoes.
These are small potatoes with dry and salty skin and are usually served with green and red sauce. \
Delicioso!
20. Other Places To Eat
Italian Food in Tenerife
Try Milano for simple bowls of pasta and beer in boots at Fanabe.
For an upmarket and unique take on Italian, consider Il Forno in the ex-pat area of Costa Adeje.
Indian Food in Tenerife
Mantra Tikkas and Tacos and Delhi Darbar are two great options for curries you will recognise from home.
Both are located in Fanabe.
Thai Food in Tenerife
Banh Noï Thaï Viet Food (Fanabe) is a very popular restaurant that serves big plates of Pad Thai.
To guarantee a seat, arrive when Banh Noi opens.
Oriental Garden (Las Américas) does a mix of Thai, Chinese and Japanese food.
Pub Grub Food in Tenerife
The Ginger Pig does a nice selection of burgers and salads.
The chicken Caesar comes in an edible bowl!
The dessert menu changes daily, so you have a reason to keep going back.
Chill Out in Los Cristianos is recommended for meat dishes and pizza.
And if you want to end the night on a high, Planet Kebab (Costa Adeje)!
Most of the things to do in Costa Adeje involve eating and drinking, but who is complaining at that?!
Things to do in Playa de las Américas
If you've had a bit too much to drink or are travelling with wee ones who need entertained, here is a list of things to do in Las Américas that don't involve alcohol.
21. Play Mini Golf
Just across the road from the infamous Veronicas you will find Treasure Island Mini Golf or, closer to the upmarket shops across from Hard Rock Cafe is Mini Golf Santiago.
22. Light and Music Fountain
Check out the Light and Music Fountain at Centro Comercial Safari (Safari Shopping Centre), which comes alive at night.
23. Escape Rooms
If you want to hide from the sun or wind, consider an escape room challenge where you and your team are given clues to help you get out of the locked space in a set amount of time.
No pressure!
24. Enjoy a Massage
There are heaps of spa rooms located around the south, many of which are just off the beach next to the bars.
Most offer head, back and foot massages and other beauty treatments.
Prices are similar to that in the UK, sometimes a little cheaper.
Trained masseuses also work on the beach, approaching potential who are sun bathing.
25. Make a Splash at Siam Park
Siam Park is a wild day out for all of the family.
Whether you are visiting with your kids or you are a big kid yourself, you can easily spend a day at this waterpark.
The park is split into sections, with most people basing themselves at the Siam Beach sun loungers.
This 'beach' has an 'ocean' with a crazy wave machine, fake sand and restaurants serving burgers, hot dogs, ribs and salads.
You can also buy beer and cider in this area.
Tip: Use the locker rooms at Siam Beach, skipping the most popular ones closest to the entrance.
There is also a quieter area called Coco Beach at the other side of the park.
Most adult flumes require a dingy, and some rides are for four people but don't worry if there are only two of you; the guards arrange for others to join you.
Be prepared for big laughs and lots of 'no ways'.
Pack a pair of water socks for walking about the park; the floor is just concrete and rough at the newer sections.
Water shoes/socks are an essential item on our beach packing list.
Some rides require lots of walking upstairs and waiting during busy times.
If visiting during high season, consider a fast pass.
How to Get to Siam Park
Siam Park busses run daily but be prepared for a tour of the island when in reality, Siam Park is a 10 minute taxi ride or 40 minute walk from Las Americas!
Where to Buy Siam Park Tickets
You can buy your Siam Park tickets here with GetYourGuide and take advantage of the buy now, pay later option.
You can also purchase the tickets as a gift.
Siam Park is one of the most, if not the most, popular Tenerife attractions, and it enjoys custom from repeat visitors, which is a testament to how much fun the waterpark is.
27. Teide Buggy or Quad Tour
If you don't want to hire a car but are curious about the huge mountain that the beaches sit in the shadow of, you can hop on a buggy tour of Mount Teide!
This buggy tour lasts around 3-4.5 hours and tours Las Cañadas del Teide National Park with a local guide.
Alternatively, do a messier quad bike tour.
My brother did a quad tour and highly recommends it.
Tenerife Road Trip
There are plenty of car hire options in each area of South Tenerife.
We picked up car keys from a shop front in Adeje and walked five minutes to a public car park where the car was located.
As always with car hire, take photos of the state of the car and note any damage with the company before driving off.
Also, find out what the situation is with petrol.
For example, do you get a full tank and return it full?
You can drive around the island in a day with lots of stops for photos, snacks and meals.
If you think you will arrive back in the south after the car rental office is closed, ask what the out-of-hours options are.
You might also find our road trip packing list useful.
The first stop on the Tenerife road trip is Mount Teide which gets busy by afternoon so set off as soon as the car rental opens.
28. Mount Teide
Mount Teide is the volcano on Tenerife and although you can't always see it from the beach, its summit is the highest point in Spain and the highest point above sea level in the islands of the Atlantic!
The drive to Teide National Park takes just over one hour.
When you arrive, park at the base station car park where you will find restaurants and public toilets at around 2,356 metres.
Most visitors pay for the cable car ride to the top, which can be chilly, so pack layers!
There are a few paths to walk around, but if you want a proper hike, you must organise a free permit before your visit.
Mount Teide is one of the most popular places to visit in Tenerife for day trips, so be sure to arrive early and leave before lunch to avoid traffic.
If you think geology rocks, consider a trip to another Canary Island in the future, such as Timanfaya National Park which is one of the best things to do in Lanzarote!
29. Los Gigantes and Masca
The next stop on your road trip is the resort with cliffs, Los Gigantes, which has lunch options.
Then the ride takes you to a daring drive along hairpin bends at Masca, 650 m high in the Macizo de Teno mountains.
We stopped in El Pilón (C. el Pilón, 30, 38680 Guía de Isora) to dine on stew and Canaries potatoes at a local restaurant.
30. Garachico
Drive on to Garachico, park up and enjoy an ice cream from Heladería La Alsaciana while watching the waves lap around the town.
31. Things to do in Santa Cruz
Santa Cruz de Tenerife is the capital and a port city in the north of the island.
Wander through the old town colonial buildings and admire the murals at Plaza Los Patos.
As with every capital, there is a shopping street, so if that's your bag, head to Calle del Castillo.
If you are done with Tenerife sightseeing and want a dip to cool off before the drive back to the south, join the locals at Playa de Las Teresitas.
Every year, Santa Cruz plays host to the Tenerife Carnival, where parades fill the streets and parties celebrate with lots of colour.
So now we've covered Tenerife activities, let's look at everything you need to know about your visit.
Essential Travel Information
Tenerife Areas Explained
Las Américas is often the preferred location for first-time visitors.
This hot spot is sandwiched between Los Cristianos and Costa Adeje, two areas which can be slightly more affordable compared to Las Américas.
It is easy to walk between all three areas so you can enjoy all of the beaches, shops, restaurants, pubs and bars dotted along the seafront and the back streets.
Fanabe and La Caleta are a little more expensive, and the latter is the quietest holiday destination.
Most beaches have small supermarkets which sell water, snacks and tat.
Getting Around Tenerife
Most visitors walk, or stumble, their way from their accommodation to the beaches and bars. 
There is a long and wide path which connects all of the beaches and areas, which is shared by walkers, runners, and motor scooters which you can hire. 
There is also a white train-bus that rides between Las Américas and Playa Torviscas near Costa Adeje.
Taxis are relatively cheap and found at hotels and ranks. 
Tenerife Airports
There are two airports, Tenerife North and South.
Most fly into the south.
You can hop in a taxi to your accommodation and see the price on the metre.
A taxi from Tenerife South to Costa Adeje near Aqualand costs around 25 euros.
Since budget airlines are often used to fly to Tenerife, you will be limited regarding luggage.
Check out our hand luggage review for the best space-saving options.
Accommodation
There is a variety of accommodations to suit every budget.
There are usually packages at hotels, for example, bed only, breakfast included, half board or all-inclusive, including local alcoholic drinks.
High season is obviously more expensive than low, and the closer you are to the beach, the pricier hotels get. 
Las Américas Hotels
Gran Oasis is a family favourite which my brother returns to frequently.
Coral Beach is an adult-only resort close to the beach.
Costa Adeje Hotels
Laguna Park I is compact, central hotel surrounded by bars and restaurants.
Not to be confused with Laguna Park 2!
Iberostar Las Dalias is a huge complex for all-inclusive bookings.
Safety
Tenerife is a relatively safe place, with crowds on streets near the bars at all hours of the day and night.
If you feel uncomfortable at any time, get in a taxi.
You can drink the tap water in Tenerife, and the council pleads that you do to help reduce plastic waste, so remember pack a water bottle.
If you forget, you can pick up water bottles at Ale Hop, which is similar to Tiger. 
Have we missed any of the best place to go in Tenerife? Tell us in the comments.