This article has links to products and services we love, which we may make commission from.
Dilemma: you are taking a travel trip with a purpose. There is that business meeting in NYC, a wedding in Santorini or a date trip with the other half and you need to trade your boardies for the best travel pants.
I (Craig) don't believe we are one type of travel fan. At different times in our lives (or even a year), our reasons for travel differ and sometimes we need to look business even if we feel backpacker, so here is a guide to the best travel pants for men online has to offer with tips on what to look for before purchasing too.
Short on time? Check out my travel trousers of choice –
see here
Best Mens Travel Pants Overview
Choosing Your Travel Trousers
When deciding which pants are the best fit (boom boom) you may want to consider the following specifications.
Crushability
Can the mens travel trousers fold or roll away neatly into small cabin bags or busy backpacks for days on end without resembling the skin of a Shar-Pei?
Materials such as wools, nylon and polyester tend to come out on top for crushability ratings.
Breathability
Gemma's uncle has to change his suit twice a day on business trips to Saudi Arabia.
He needs this travel trousers review. We need our 'trews to let our hairy bods breathe in warmer climates yet keep off the chill in colder.
Storage
The storage category is two-fold. Can the backpacking pants be packed (see crushability) and does it have pockets?
There is an increasing trend for designers to add internal and hidden pockets for essentials such as passports and currency to help ward off opportunists.
My friend is just back from Paris; there's this scam where entertainers ask tourists to guess which cup the item is under while thieves rifle through bystanders' pockets and bags – don't be a fool!
Finally, now that our phones resemble iPads, we need these pockets to be big, Mary Poppins style.
Lightweight
This category covers the feel of the travel trousers on your body and the ability to carry them and keep to luggage restrictions; it's not only the budget airlines that are cracking down now. If they are lightweight, it's an excuse to pack two different colours.
Waterproof yet quick dry
Ever tried to dry your everyday threads on a bed and breakfast radiator after a Scottish downpour?
Since many of our trips involve one-night stops, the pants need to keep the rain off but dry quickly with minimum support.
No one wants to bag wet clothes (hello damp smell) or wear clammy outdoor trousers, so quick-dry pants are worth the investment.
Hey good lookin'
Finally, and most importantly, our new travel pants must make us look and feel good.
Especially when your other half is Instagram obsessed.
Versatile colours that can match nicely with the limited clothes you can pack in a bag are a big win.
So now we know how hard it is to find the best travel pants.
Let's put the top seven through the wringer.
Travel Pants Review 2021
Convertible Travel Pants
The following travel pants have a split personality – turning from full length to shorts in less than two minutes flat.
Avid travellers and adventure lovers will appreciate how versatile these converter travel pants are.
Convertible pants don't have to be ugly just because they are practical!
Columbia Silver Ridge
These stylish straight-legged Columbia Silver Ridge US / UK are 100% nylon travel trousers and have much to offer.
Pros
Side cargo pocket
Quick-dry (Omni-wick material)
UPF factor 50 material (Omni-shade)
Zip-off above the knee (stylish, not frumpy)
Right/left identified for ease while attaching
Functional pants
Cons
Reviews say to order one size bigger
White Sierra Point
White Sierra UK has been making travel pants since the 1970s and is a trusted family-run brand.
The Sierra Point zip-off action will keep you cool in warmer climates. 100% nylon material.
Pros
Quick-dry woven nylon
Teflon fabric protection
10″ inseam shorts measurement
UPF factor 30 sun protection
Pockets galore – 2 front, 2 cargo, 1 'rip + stick' back pocket
Cons
Beige colour not to every man's tastes (other colours available)
Not as attractive as the Columbia Silver Ridge above
UK only
Best Chinos Pants
A step up from the safari look, these pants are suave and more suitable for dinner dates and business meetings.
Bluffworks
When it comes to best men's dress pants these are my personal choice because they are stylish yet practical, combining the best of the above-mentioned pants.
Bluffworks comes in a variety of six colours (charcoal, harvest gold, steel blue, navy blue, khaki and stone) which you can mix and match with the suit jacket.
There's also a choice of two fits 'regular $98' and 'chino $125' (I'm sporting steel blue chinos below). These Bluffworks really are comfortable pants for travel.
Bluffworks men's pant's zipper pockets are perfect for keeping personal items close and protected.
Discreet zips can be found on one bottom pocket and one side pocket.
The opposite open side pocket has an internal zip which is flush with the body.
Bluffworks are expanding its travel range; they now have a quilted travel vest which is stylish yet practical for storing your belongings.
Don't believe me?
Read our review here.
For me, Bluffworks does the best travel clothes for men on the market at present.
Pros
Quick-dry nylon
Water-resistant
Machine washable
Lightweight 5.31 oz.
Extremely good looking
Cleverly hidden pockets
Pockets big enough for a phone
Delivers worldwide
Cons
I like my suits super skinny, so tailored to create an even slimmer fit look (I am very slim, not by choice!)
Not on Amazon – buy direct (I'm a cheerleader)
Rainer Travel Chino
UNIONBAY men's Rainer chino pants USA / UK are lightweight and look great.
Popular, so often difficult to find, the Rainer pants are dual-purpose chinos – they look nice so work for smart travel gear but also work as active pants.
They are water-resistant and quick drying, so ideal for those hiking and moving on between trips quickly. Made from 94% nylon and 6 % spandex.
Pros
Stretch
Lightweight
Quick-drying
UPF 50
Cons
Men's Hiking Pants
From Tarzan to trekking, the following robust action pants are tough, so suitable for many terrains.
Craghoppers
Kiwi
Smart yet sturdy, Craghoppers is a well-known brand trusted by many internationally regarding hiking pants for men.
The Classic Kiwi US / UK has nine pockets, five of which have zips and one big enough for a map for those who are looking for quality men's hiking pants.
The Kiwi comes with a belt and is made of 65% polyester, 35% cotton.
Pros
Best-selling Craghoppers range

Quick-drying

Water repellent

SolarShield fabric (UPF50)
9 pockets
Cons
Free Soldier
Free Soldier trousers US / UK are sturdy but also stylish.
Made with 100% breathable nylon and comes in 4 colours (green, black, grey, mud)
Pros
Rip-stock fabric
Stretch waist adds 2 inches
6 pockets (hand, zipper, and back)
Waterproof Teflon-coated material
Lightweight travel cargo pants
Cons
Colour can vary from that advertised
Limited reviews
prAna Stretch Zion
prAna Stretch Zion US / UK is a popular hiking pants.
Prone to getting hot around the boys?
PrAna offers a ventilated inseam gusset. You read that right. Made from 97% Nylon and 3% Spandex so, scratch durable yet flexible.
Pros
Ventilation around the privates
Roll-up leg snaps
Cargo pocket
UPF 50+ sun protection
Variety of colours
Cons
Not quite streamline if that's your look
Best Comfortable Pants
Long haul flights or overnight bus journeys are not comfortable in the majority of travel pants so that's where casual pants are recommended.
prAna Sutra
Not quite jogging pants because jogging pants would be too heavy for travel, the prAna Sutra US / UK is a lightweight alternative that does not skimp on comfort. Ideal flight pants for international travel.
The Sutra pant is made from a mix of hemp, recycled polyester and spandex. The waist is held up by a drawstring, and the pants come in various colours.
Pros
Comfy
Lightweight
Quick-dry
UPF 50+
Variety of colours
Cons
Drawstring belts are not for everyone
---
Frequently Asked Questions
What are the best men's pants to wear on a long flight
PrAna's pants are the most comfortable pants suitable for long-haul flights as well as overnight bus journeys and long road trips.

What are the best travel pants for hot weather?
It is advisable to go for a convertible pant if you are visiting warm climates. That way you can have the best of both worlds – long trousers for night and shorts for day wear/hiking.

Which are the best travel pants for Europe?
Personally, I think Bluffworks travel pants are the top choice for a trip to Europe. They are classy enough for an evening at the opera in Vienna yet casual too; you wouldn't look out of place at a sports game.
What are the best pants for RTW travel?
Convertibles! Columbia Silver Ridges as an example.
Final Words
At present, there is a huge variety of pants to suit every budget, which this review has detailed, from men's walking trousers to the best backpacking pants.
Whether you are bird watching on safari or at Dublin's Temple Bar, there is a type of travel pants for every male traveller.
You may also like our guide to men's plaid shirts.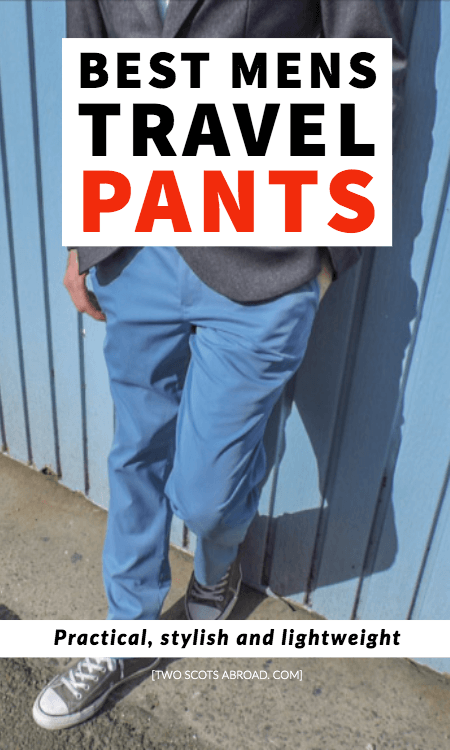 Over to you.
Which are your favourites?