This article has links to products and services we love, which we may make commission from.
Gone are the days where thieves could spot the tourist in a safari-looking travel vest! In fact, today's stylish travel vests are actually anti-theft products.
At first glance, they look like attractive windbreakers but underneath the material, you can pack away passports, tickets and cards protected by RFID technology. Ideal travel gear for minimalist travel.
Here's an up-to-date guide to the best travel vests with pockets for both men and women. Keep reading for a comparison table, factors to consider before buying and six of the best lightweight travel vests on the market.
Best Travel Vests with Pockets Comparison Table
Choosing Your Travel Vest
Consider the following factors before buying your travel vest/gilet/windbreak.
Also, 5/6 recommended products are available on Amazon Prime.
Amazon offers a free 30-day trial for two-day delivery free of charge.
You can cancel Prime once you've done your shopping, or continue to gain access to Prime Video and Music.
Click here to read more.
UK readers can sign up here.
Materials
You need your vest to be comfortable and breathable in warmer climates. Sweat is not sexy! It also helps if the vest can be washed in sinks and dries without wrinkles.
You can expect the top brands to offer a travel vest with hidden pockets option so you can store your personal belongings close to you. Some even swap the day bag for a travel vest.
Zips tend to be prefered over velcro fastenings for extra protection and coverage although velcro allows faster removal.
Lightweight
Go for a lightweight material which makes packing the travel vest in your day bag or carry-on luggage easier.
Airlines are becoming stricter on how much you can actually pack in your cabin bag, a lighter material will mean you can pack more.
Even better, wear the travel vest in transit and have your personal belongings close to your heart, literally!
Waterproof
Keep your back and chest dry with a waterproof travel vest.
Trying to dry travel gear on small hotel radiators is no fun! A fast-drying travel vest will solve this.
RFID Protected
It's not just pickpockets that are the issue in travel crime, today more established thieves can swipe our data from our bank cards and the like.
RFID travel products prevent these scams from happening.
Inside Pockets
The best thing about using a vest during your travels is the ability to hide your personal items.
A pickpocket in Barcelona attempted to get into Craig's front pocket but luckily he was wearing a vest and his wallet and phone were hidden inside.
We had been warned by our Facebook community about the high number of pickpocketing incidents in the city so we were pretty pleased to get away from that situation with a positive story to share!
Aesthetics
You don't want to look like you are going fishing when really we are gallery visiting in Florence!
The way the travel vest looks is very important. Take into consideration the style, the colour and most importantly, the fit.
Travel Vest Review
1. SCOTTeVEST Travel Vest
There is no denying that SCOTTeVEST is the Mercedes of the travel vest market and with good reason too.
The main material is treated Teflon making it breathable but rain repellent.
There are 26 pockets on the SCOTTeVEST Featherweight for both men and women vests.
You can tuck away phones (inside pocket), wallets, keys, one pocket has an extendable holder, sunglasses (front pocket), small cameras and even tablets via large inside pocket.
Ideal for moving through airport customs efficiently.
Interestingly, women's multi-pocket vests tend to have fewer pockets, SCOTTeVest has not discriminated against the ladies!
You can listen to music or speak on your phone via earphones discreetly with SCOTTeVEST's patented Personal Area Network (PAN).
PAN allows you to hide cables within the jacket.
This is especially handy if you need to charge a phone via a battery pack (we recommend Anker battery charger US / UK which stores two charges worth for energy).
RFID protected pockets are especially for credit cards, blocking 13.56 MHz frequencies.
SCOTTeVEST has been dominating the market since the Millennium and one of the features that fans enjoy most is the weight management system which distributes the balance of weight across the garment.
In saying that, you don't want to overload the vest or you will be weighed down while sightseeing.
With just the necessities required for trekking, SCOTTeVests would make great hiking vests with pockets.
This is the leading brand on the market when it comes to vests so let's now see if there are any SCOTTeVest alternatives!
Pros: 26 pockets, RFID technology.
Cons: Avoid packing too much for walking.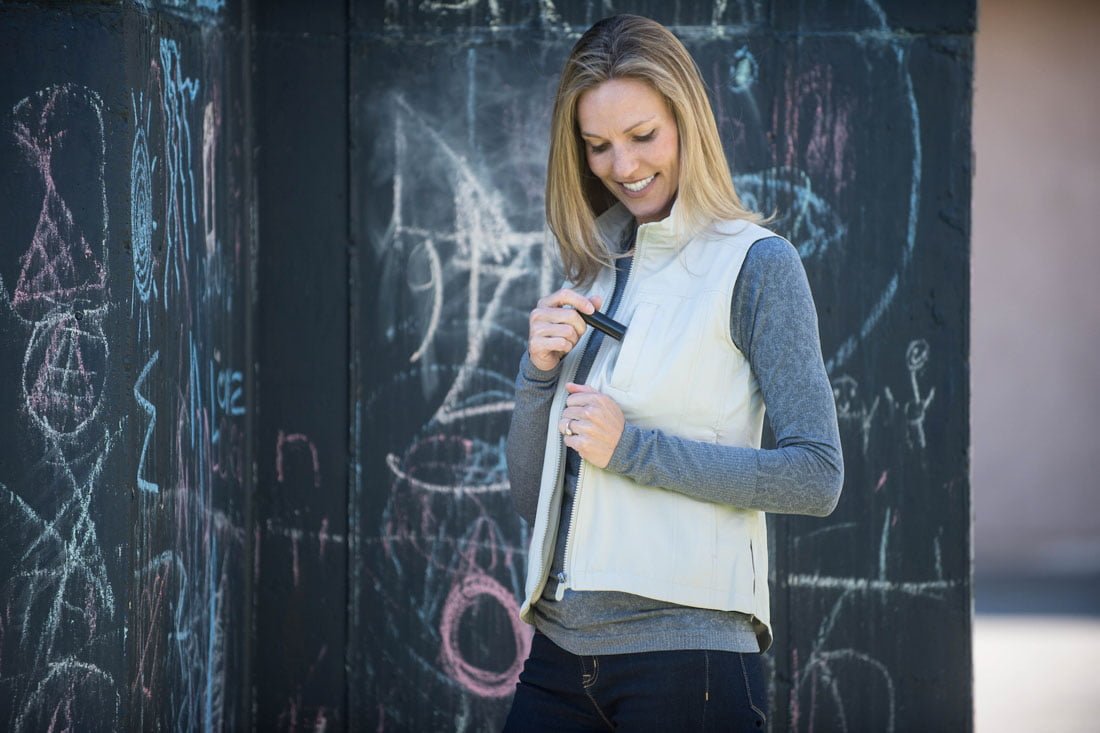 2. ExOfficio Sol Cool FlyQ
A celebrated cheaper alternative to the SCOTTeVEST is the ExOfficio's FlyQ travel vest for both men US / UK and women US / UK.
The material is 100% nylon with Teflon Shield+ technology.
This vest is aimed at warmer climate travels with its sun-repelling UPF 30 fabric and its heat-releasing/cooling Sol Cool technology.
There are eight interior pockets on the FlyQ and two exterior pockets for all the usual travel mods and cons.
The women's Sol Cool FlyQ looks slightly different with a waistband drawcord if you want to make the vest look more flattering.
It offers the same qualities as above.
Pros: Economical, sun vacation-specific.
Cons: Women's version is long.
3. Bluffworks Oslo Vest (Men)
Woohoo! Our beloved Bluffworks have branched out from just travel suits (read our travel pants review here).
Their newest travel product is the Horizon Oslo Vest.
This is the best looking travel vest in our review, best suited to those who like to look sharp during their travels.
Travel vests with inside pockets don't have to look stuffy, the navy and black Olso Bluff vests really are aesthetically pleasing. 
Craig likes to match his vest with a plaid shirt or plan t-shirt.
This vest is his go-to transit coat and it offers natural water resistance.
The main shell material is quick-drying polyester making it machine washable.
There are five hidden pockets on this lightweight travel vest, the largest pocket fits a large phone.  
Guess what? We had an attempted pickpocket situation in Barcelona.
As we entered the metro, a man stood up quickly just before the doors were about to close and brushed past Craig.
A local behind Craig nudged him to tell him that the pickpocket tried to get into his pocket.
God bless the travel vest!
Craig had his phone and wallet tucked into the INSIDE pockets so there was nothing for the pickpocket to get.
The vest closes via a zipper, keeping those internal pockets safe.
The collar stands up to give it that suave look.
Can be worn on top of shirts or under a suit jacket like the ridiculously stylish yet practical for travel, Gramercy Blazer.
This really is an all year round winner but also a stylish summer vest with pockets.
Pros: Stylish, quilted, lightweight.
Cons: Men only.
» Click here to shop for Bluffworks Oslo Vest « 
Note: images below of the discontinued Bluffworks Horizon Vest.
4. AyeGear V26 (unisex)
One of the newest travel vests is the unisex AyeGear V26 US / UK and due to its sensitive touch pockets, it is the most up to date technology-wise.
The material is machine washable and breathable but a little on the warm side in hot climates.
There are 26 pockets in total, internally and externally. One of the internal pockets is big enough for a phone and is part sensitive touch which means you can change music, send quick messages or make calls without removing the phone. Ideal for hiking trips.
The AyeGear V26 has vertical external top pockets in comparison to the SCOTTeVEST which has horizontal (items can fall out easier when unzipped with horizontal).
There is a card organiser and coin pocket inside the vest as well as a retractable cord for keys.
To the rear of the vest, there is a pocket that can fit a 15" laptop, although this would not be comfortable during your travels.
Technically you can leave your garments in the coat during airport security but of late new rules state that all electronics tablet or larger must be placed in separate boxes.
Pros: It can pack a lot, touchscreen pocket.
Cons: Unisex fitting not always ideal.
» » Buy AyeGear V26 US / UK « «
5. North Face
North Face is a brand used for weekend gear as well as travel.
Always slick, the Thermoball Vest (man US / UK and woman US / UK) is good looking and stylish.
This down vest has the North Face trademark quilted squares which sit flat so don't make you look big and bulky.
It comes with large pockets for storage, although these are not discreet or RFID like the SCOTTeVest.
There are over 25 shades and designs to choose from including camouflage and classic navy.
Windproof and water-resistant, the Thermoball runs a little on the large size.
Pros: Stylish.
Cons: Runs big in size.
» » Buy man US / UK and woman US / UK) « «
6. Allegra K Quilted Gilet
The Allegra K Women's Gilet Jacket Stand Collar Lightweight Quilted Zip Vest US / UK is a popular choice for a ladies vest.
It is definitely marketed more as a fashion item than travel but reviews say it is well made and of great quality for the price.
It comes in a variety of shades including baby blue and pale pink.
The quilted vest has a silver zipped front and two zipped pockets.
Pro: Lots of shades.
Cons: USA true to size, UK mixed reviews for sizing.
» » Buy Allegra K Women's Gilet US / UK ««
7. Little Donkey Andy Men's Lightweight Softshell Vest
Readers have purchased this vest for its windproof capabilities making it a good contender for hiking, running and golfing.
This Little Donkey men's vest US / UK is also water repellent.
It has three layers.
The surface is treated to repel water, the middle layer is breathable and is made from a waterproof TPU membrane while the outer layer is made from polyester synthetic material.
There are three external pockets.
According to customers, the vest runs small so consider going up a size if purchasing.
It is lightweight at 10.09 ounces.
Pros: Waterproof
Cons: No inside pocket
» » Buy Little Donkey Vest for Men US / UK ««
Final Words
Travel vests have moved on vastly from the stuffy old beige safari-looking days! Now there is not only a choice of shades but also seasons.
You can pack as little or as much as you can carry and can use the travel vest to move swiftly through security and safely through cities.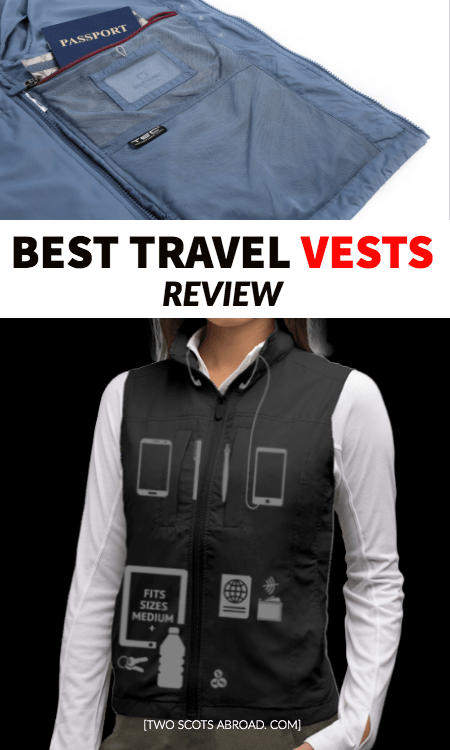 Which travel vest do you prefer? Tell us below.