This female travel packing list has been created after a 17-month travel trip around the Americas and Europe. This is now the fourth edition of my travel packing list, I've whittled down my original oversized travel wardrobe and I now think I've nailed it! I've backpacked around extremely hot countries, very rainy climates, freezing snow for skiing, and cities with a nip in the air (check out our long-term travel itinerary for some travel inspiration).

Long – Term Travel Backpack
Before you start purchasing your sunnies and sandals, it's probably wise to think about where you are going to put them! I backpack with an 80-litre Vango backpack which has an additional 20-litre day bag. This rucksack is ideal because it opens up like a suitcase which makes access to clothes much easier. Try getting something out of the 'old style' top access backpacks while nine other people doze off in a dorm, this is how to not make friends while travelling! Respect the hostel dorm etiquette. Full review of the Vango rucksack coming soon (sign up here to ensure you don't miss the post!)
While on the move, I usually have a cloth totes bag with my electronics in it for easy access on buses / planes / trains. I do carry a safe net with me, it is made by Pacsafe and has protected my belongings well – I was not robbed while travelling! In accommodation, I put my day bag into the net and secure it around a radiator or bed frame then close it with a padlock. I then cover with a coat etc.
How to Pack for Long Term Travel
I will have a more detailed post on how to pack for long term travel which will take you through my successful packing technique but in short, my best tip is to roll your clothes, as opposed to fold. This creates more space and fewer wrinkles. Pack similar clothes in separate bags.
Packing Cubes and Alternatives
Many travellers use packing cubes to organise their clothes. Some packing cubes have a vacuum technique which squishes your clothes down to nothing, this saves lots of room but causes wrinkles (there are no irons on the road!)
I have not invested in packing cubes because I found large sandwich bag type bags in an army store for super cheap. I separate my tops and bottoms and pack away in these bags. I also carry cute makeup bags from Primark (low-cost European shop, similar to Forever 21 but cheaper) which I pack my underwear and swimwear into (see contents of my backpack in image below).
Long Term Female Travel Packing List
Please factor into your budget that it is highly likely that you will replenish some of your long term female travel packing list at some point. Washing machines and laundrettes in the likes of Vietnam, Peru, etc are pretty harsh on your clothes. White clothing quickly becomes gross yellow colour! Suntan lotion, curry, alcohol stains can't always be avoided (if it was a good night!) Things get stolen, yes, annoying but opportunists carry a backpack too.
Kensington Market, Toronto – Never sacrifice style for long – term travel in cities 

Travel Tops
Tops – this is where packing starts to get difficult for me because although I am practical, I still like to look nice.
3 x day vest tops (mixed colours)
1 x night vest top
1 x hoody (ditched when reached warmer climates)
1 x thin jersey
2 x cardigans (1 x black / 1 x yellow)
1 x fold-away raincoat (Marmot – love)
Vesties are besties – easy to pack for trips to Machu Picchu, Peru
Don't Skirt Around – Dresses
I love dresses! If you choose the right type of material (avoid denim and wool), they roll down very small. Perfect for hot days, party nights, and Instagram photos!
1 x fancy summer dress (black)
1 x black wrap – around (LBD for travel)
1 x yellow (my favourite colour)
1x playsuit (navy)
Tip: I tend to avoid patterns – easier to dress up, dress down, to keep looking new.
Travel Trousers / Bottoms
I'm not the biggest fan of trousers or shorts. My dumpy 5'2 1/2 body does not look good in denim shorts, praise be to the chicas who can rock that look. For those who do look cool in hot pants, you could replace some items in the bottoms list.
1 x black culottes (4 years old, love them)
1 x khaki shorts (hiking)
1 x plain skirt
1 x denim skirt (probably don't need this as heavy but I like it)
1 x black long gym trousers (doubles up as disco pants)
1 x waterproofs (thin / light, pull on top of gym trousers for hikes)
Hiked up an active volcano in Nicaragua & boarded down it, in culottes!
Mosquitos. The little horrors love me! All guides tell you to wear light, floaty clothes but that look is just not me so I compromise with wearing the disco pants after dusk in areas which are very prone to them. Take malaria tablets in malaria zones and be wary of Zika, especially if trying to get pregnant. We did carry mosquito nets for the first year but did not use them. Check if the countries you are visiting have a malaria warning.
Black gym pants – press ups, partying, and falling into Pringles

Underwear
This aspect of the long – term travel packing list for women is really a personal choice. I would always go for the higher number of underwear as I'm a clean freak. Yes, you can hand-wash (and you will) but it is often not warm enough from hand-washing to dry, especially when moving on every couple of days. Tired of moving? It happens, consider the benefits of slow travel!)
5-7 pairs of pants (knickers)
4 pairs of trainers socks
1 – 2 pairs of longer socks (traditional / 'normal' – better for hiking)
2 x bras
1 x sports bra
PJs (1 x vest / 1 x shorts)
Underwear storage: Cute makeup bag with zip
Swimwear
1 x black bikini top
1 x blue bikini top (one halter / one straps is ideal)
3 x bikini bottoms
Storage: stripy makeup bag, hello sailor!
Travel Shoes
Walk your way to long – term travel packing success by learning from my mistakes… I used to carry way too many shoes! This was pointed out to me when I posted a photo of packing list version three on Two Scots Abroad Facebook page! Here are my long term footwear essentials.
1 x flip-flops (Havaianas – 5 years old)
1x day trainers (black)
1x walking boots / shoes (Salomon)
1 x fancy sandals (black)
1 x sports trainers – if your day trainers can double up, great, but remember they will smell pretty quickly, especially if in warm and then rainy climates. My gym Nikes squashed down really neatly so I didn't mind carrying them.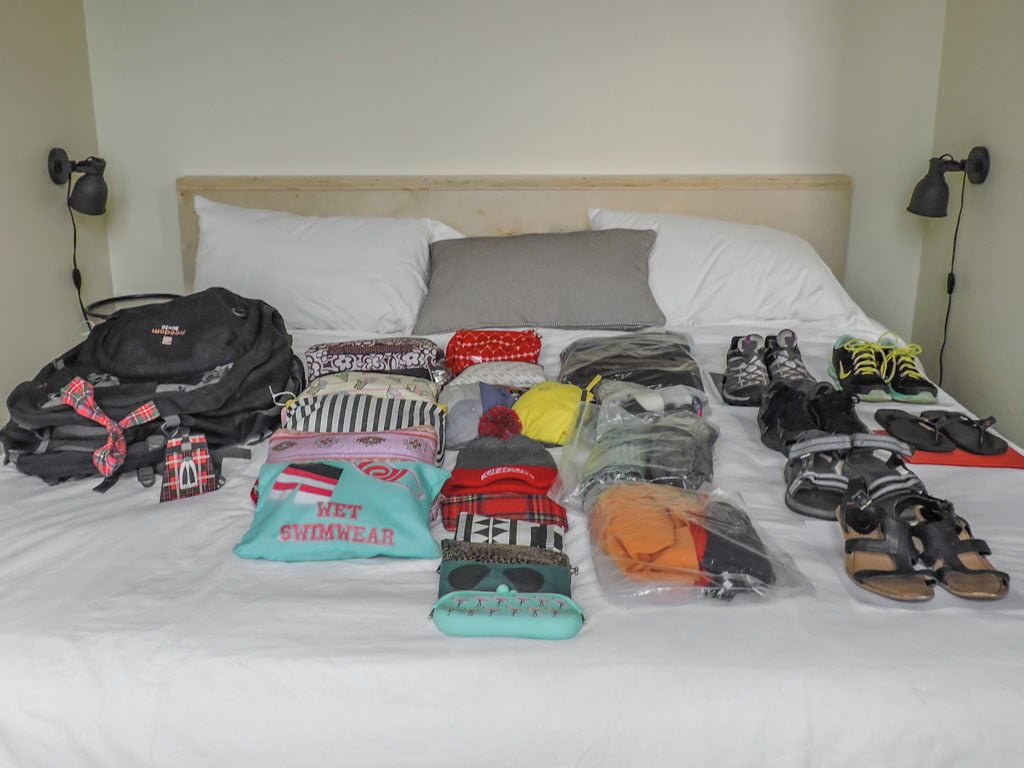 Female Packing List #3 – get rid of some shoes!
Exercising While Travelling
I packed a sports bra so when we moved to Canada for six months I began exercising again. I bought cheap gym trousers from a charity shop and used a downgraded vest top.
Sports bra
Gym trousers
Downgraded vest top
Nike trainers (mentioned in travel shoes section)
Bling, Rings, and Other Accessories

2 x sunglasses (lose / break / replace)
1 x large scarf (multi-use: cover up, beach towel, create a den around your dorm bed for privacy)
2 x headscarf (hides day 2 hair)
Jewellery (leave expensive bling at home, this means engagement / wedding rings – most insurance policies will not pay back the full amount and obviously the sentimental heartbreak of losing them is not worth it)
Watch (phone battery won't always be charged!)
Documents wallet
Small money purse
Handbag? I bought a cheap one in Vancouver as we moved there for 4 months
Cloth bag (beachwear / picnics / electronics)
String bag (great for putting wet clothes in / or lunch on travel days as it attaches to clips on day bag)
Shadey!
Travel Toiletries & Makeup
In all honesty, I rarely wear make when in super-hot climates like Nicaragua but I wore a full face on nights out in Austin, Texas so this will change with your own personal routine.
Face – Avoid Ageing Skin
Factor 50 moisturiser, always! (La Roche–Posay if feeling flush)
Cream lotion wash (with re-usable makeup cloths)
Exfoliating wash (I am prone to acne)
Travel Hair
Lush solid shampoo
Lush solid conditioner (avocado – lovely)
Bobbles
Kirby grips / bobby pins
Hairspray
Dry shampoo (I dropped this from list)
My normal routine is washed hair worn down (watch for sunburn in your parting), day two hair worn up. I like quiffs and buns to pull my hair back. I found head scarfs a nice way to hide greasy hair too.
Body Talk
 Soap
Body wash (if stationary)
Deodorant (tried the chemical free stuff, not suitable for sweaty climates like Cuba!)
Razor
Factor 50 suntan lotion (always)
Avon 'Oh So Soft' as mosquito repellent (given up on deet, works as well / bad as Avon so rather use something that doesn't melt plastic on my skin)
We did not bother taking a towel. I hate those quick dry micro fibre travel towels! They just move the water around your skin. Personal choice to hire instead. If travelling as a couple and booking private rooms you'll find that towels are often included (oh, the privilege!). Alternatively, towels always come with Airbnb bookings (new to Airbnb? Sign up using my code – you get credit and we get credit too, thank you!)
Makeup – The Slap
Light foundation
Urban Decay 'On The Run' palette
Liquid eyeliner
Lipstick for party nights
Real Techniques brushes (comes with case)
No nail varnish (exploded twice, luckily packed in sealed Tupperware!)
Nail file
Nail clippers
Tweezers
Luminous face paint for a festival!
Imagine they weren't in a tub?!

Delhi Belly – Long Term Travel Medical Kit
This covers every day normal pills to deathbed essentials.
Contraceptive pill (photocopy proof of prescriptions)
Paracetamol
Aspirin
Tablets for constipation
Tablets for diarrhoea
Malaria tablets
Anti-histamine tablets
Anti-bacterial cream for bites
Plasters
Blister pads
Leukotape hiking tape (prevent blisters)
Tubigrip support
First aid kit (including needles, approx. £30)
Filter and purifying bottle (like DrinkSafe Travel Tap)
Tampons! A reader pointed out in the comments that you may struggle to get them on the road, so true! I had to get my mum and mother in law to bring packs over for me on two occasions. Stock up! Alternatively, pack a menstrual cup (those words make me shudder), not something I've tried myself but would consider for future – saving space, time, and the environment (another great suggestion from reader)!
Travel Electronics
Blogging, watching Netflix, taking snaps – here are the essential travel electronics which I travel with
Macbook Air (maybe not an essential for non bloggers)
WD My Passport external hard drive (dropped several times and still works)
Nixon Coolpix p500 (upgrading but moving away from SLR / bridge this year)
SD cards (I never delete images, another form of backup)
iDrive online storage (which is taking an age to back up images)
iPhone (4s – surely no one wants to steal that…)
Anker phone capacitor battery (recharges phone)
Earphones
SKROSS universal travel adaptor with USB slots
Replenishing Clothes
How do you guys look so suave all the time on the road?! I'd love a blog post about that! Seriously!! – Facebook follower.
Quick answer – we are vain! Craig and I have purchased additional items to meet needs and replenished our clothes when required for the likes of moving to a different climate. I usually shop in charity shops but with the exception of Canada this wasn't really an option so had to settle for H&M.
Peru (April)
1 x scarf (market)
1 x fake North Face puffy jacket
1 x Peruvian handbag (fell apart by June!)
Canada (September)
New brogue shoes (Forever 21)
Sunglasses (Forever 21)
Denim skirt (Topshop)
Dress (Urban Outfitters – birthday)
Handbag (pre-loved)
Tights (H&M)
Socks (H&M)
My friend brought over Marks and Spencer knickers and a Topshop dress
Splurged on 4 items for $12 CAD / £6 at the Salvation Army
New vintage raincoat – sent home (yellow)
Ski gloves (should have bought liners too at the hardware store)
Grey winter hat for snowshoeing (Toronto Kensington Market)
Winter hat – Vancouver souvenir…
… and a vintage wedding dress, but I don't expect everyone has 'eloping in Austin' on their long-term travel plan
Portland, Oregon (January)
New vest tops (H&M) as moving to Nicaragua (35 degrees heat!)
Austin, Texas (March)
Wedding shoes / bag / jewellery / underwear
Budapest, Hungary (May)
Three new dresses (H&M)
1 x vest tops (H&M)
1 x cardigan (H&M)
1 x bikini bottoms (H&M)
Socks (H&M)
Sandals (Deichmann Shoes)
Lisbon, Portugal (July)
1 x new dress (H&M)
1 x sunglasses (festival time!)
Our family kindly gave us money throughout the trip for birthdays, the Vancouver engagement, the wedding, and out of feeling sorry for us! This helped fund Project Replenish.
When we returned home after travelling for 17 months it felt so good piling up the contents of the rucksack and burning them. Jokes! I'm pretty certain the culottes, Salomon shoes, and Marmot raincoat will be going on our next trip to Iceland too. Want more? Check out this crazily extensive packing lists directory!
I hope this packing guide for females has been of use. I have created a pin to accompany this long – term planning list for women – please feel free to save and share (hover over to pin to Pinterest packing board!)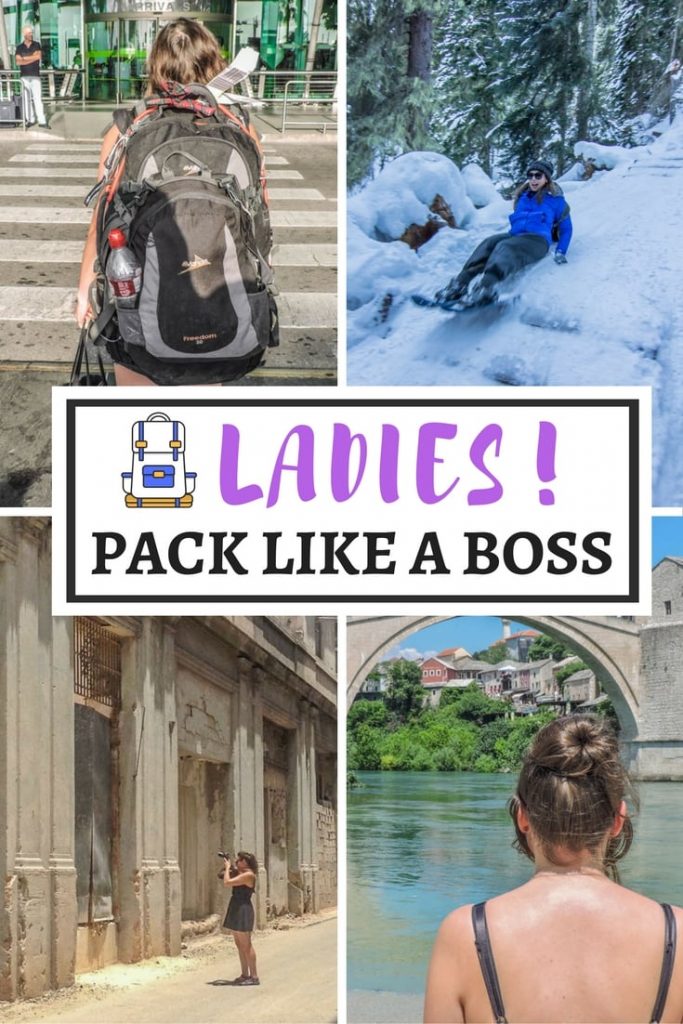 So what do you think?
Have I nailed the female travel packing list?
What can't you travel without?