This article has links to products and services we love, which we may make commission from.
Lightweight hiking shoes are essential for hikers who love to travel. This guide will compare the best on the market detailing how to choose good lightweight hiking shoes and boots and also which brands come out best. We (Gemma and Craig) have personally tried the products in this guide before reviewing. We currently wear two of them as our hiking footwear of choice.
For ease, all of the recommended boots and shoes are available at Amazon and they can be with you in two days (for free) if you sign up for Amazon Prime 30-day trial. You can cancel Prime once you've completed your shopping (or continue to gain access to Prime Video and Music). Click here to read more. UK readers can sign up here.
Lightweight Hiking Shoes
Salomon Ellipse GTX
Weight: 0lb 31oz/136g (w)
The Salomon Ellipse GTX US / UK is the trekking shoe, I wore to hike to Machu Picchu in Peru.
is a great shoe. It was my hiking shoe of choice for our 18-month career break to travel the Americas and Europe. It got me successfully through many hikes including the multi-day Lares trek to Machu Picchu in Peru.
The reason I went for a shoe was down to an Achilles injury I suffered from during Scotland's West Highland Way six-day hike.
I don't wish that pain on anyone! I couldn't stand the thought of anything touching the back of Achilles so the Salomon trail shoes were perfect.
Before buying, I was advised to bend the soles of any lightweight shoe I was trying, if it bends too far then it is not going to support your ankles causing them to roll during hikes.
The Contagrip sole on the Ellipse is very sturdy but has some give for flexibility.
The shoe is extremely light so easy to pack away in day bags and in bigger backpacks. The GORE-TEX membrane keeps your feet dry (it rained during the Lares trek, a lot) which I was genuinely surprised at for the price.
They look great, the base colour of grey with a splash of pink or blue depending on the version makes it an attractive shoe.
I had no qualms about wearing them with dresses as well as hiking trousers.
The only downside is an obvious one – they are not boots so water can enter if above the ankle.
The laces also broke and had to be replaced.
Note: On the strength of my experience with the first pair I bought a second pair. Turns out it wasn't a brilliant deal I had nailed – the cheaper versions are not GORE-TEX. Make sure the title states 'Ellipse GTX'. The equivalent for men in the X Ultra 3 GTX US / UK.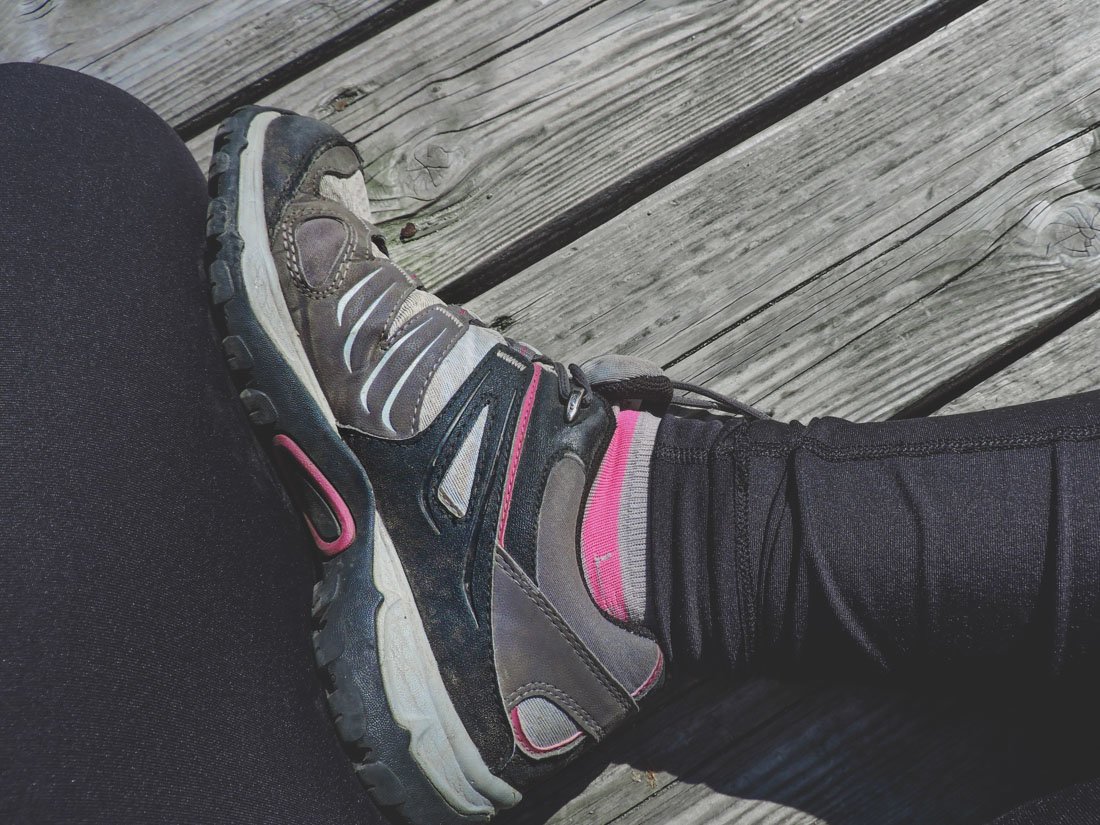 Merrell Moab 2 GTX
Weight:

1lb 10oz/744g (w)

1lb 14oz/844g (m)
Merrell is another brand respected by the outdoor community and the Mother of All Boats 2 (MOAB) US / UK is the second generation of this hiking shoe. Like the Salomon, it uses GORE-TEX for waterproofing and like the Scarpa has a Vibram sole. The main material is synthetic leather and mesh.
The reason I didn't go for the MOAB (although I do like the name) is that the fitting was wide and I'm not keen on the lower section of the walking shoe around the ankle.
Don't confuse the MOAB with the MOAB Ventilator which does not have GORE-TEX waterproofing.
Lightweight Hiking Boots
Salomon Quest Prime GTX
Weight: 1lb 1oz/490g (w)

1lb 3oz/570g (m)

The Salomon Quest Prime GTX is the boot that Craig wore during our big trip. He not only hiked the Colca Canyon in them but also used them as everyday work boots (gas engineer) and they managed to last for three years. They also survived our first ever backpacking trip to Southeast Asia back in 2013.
Always the copier, I have now invested in a pair of Salomon Quests US / UK. and it is love. Not only are they cute hiking boots – light grey and green in colour but they are also very comfortable and supportive.
As mentioned above, I've had issues with Achilles pain. This has made me avoid high walking boots but after five years and the nod from a specialist, I decided to give the Salomon a whirl.
The boot is comfortable, there is excellent support through the Contagrip sole and laces which can be tightened or loosed using the 'lace locker' clips at the ankle.
The GORE-TEX and leather/suede outer kept my feet dry through downpours in Iceland and boggy water in Scotland. The Salomon Quest is not only my prefered lightweight hiking boot, but they are also my daily dog footwear.
For travel trips, I wear the boots while in transit to avoid carrying them but at 490g it's not a challenge to make room for them in my bag for a longer trip.
As I said, these are genuinely what I would call fashionable hiking boots. I'm happy to team them up with a dress and tights as I wade through dirty water to take photos!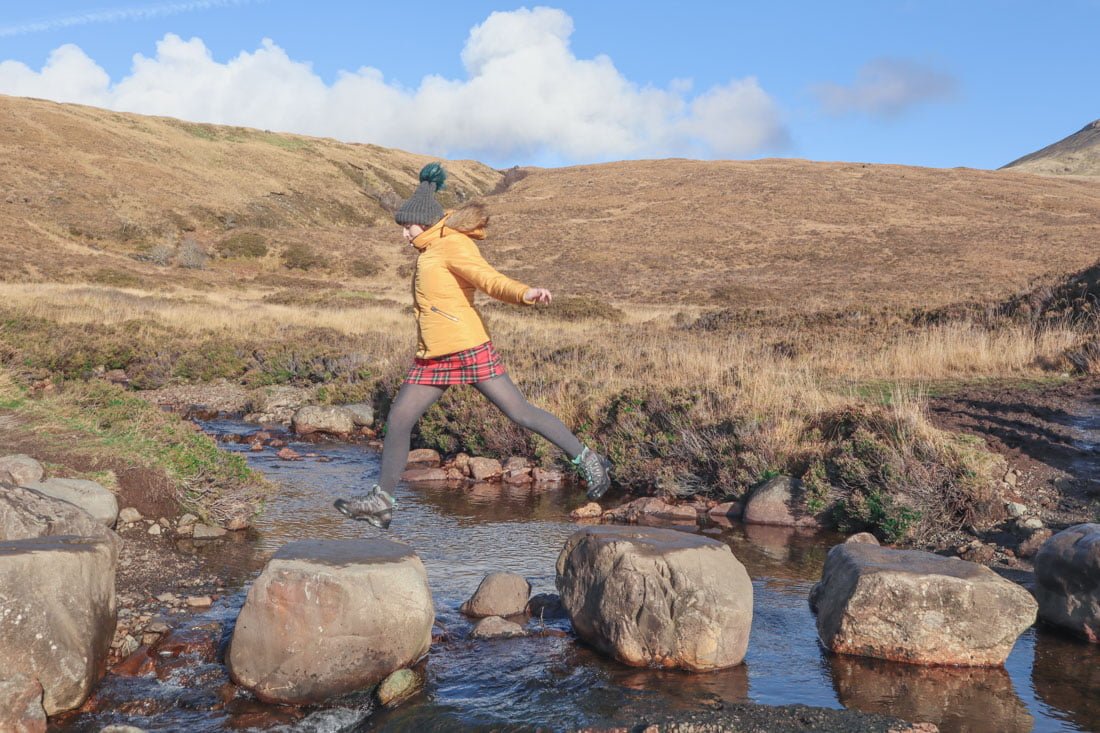 Scarpa Delta
Weight: 2lb 7 oz/1230-3lb 3 oz/1500g

Scarpa is one of the best-known hiking boots in the industry and this is where Craig has moved to next, however at 1500g they are more than double the weight of the Salomon.
So what's adding the pounds? The Scarpa Delta range is full leather. It also has a Vibram sole and enjoys GORE-TEX water resistance. However, Craig loves them. He claims they are more comfortable than his Salomon Quests!
Scarpa Kinesis
The Scarpa Kinesis US / UK is a lighter alternative to the Delta which makes them a better option for those who like to travel and hike. This is Scarpa's 'backpacking boot' hence the cautious effort to keep it light.
How to Choose Lightweight Hiking Shoes and Boots

Weight
Since the focus of this guide is 'how lightweight the hiking shoe and boot is', the weight of the boot is an important factor. The lighter the boot/shoe, the easier it is to carry. However, you don't want to compromise on the quality of the boot.
Naturally, hiking shoes are lighter than boots although shoes might not be for every hiker. It is commonly suggested (but more recently contested) that those who need additional ankle support should consider a laced up boot instead of a shoe. If you have Achillie's issues, you may want to choose a shoe. It is best that you consult with a medical professional if you suffer from either of these hiking problems.
Fit
Since feet swell (sexy) when you hike, it is advised to go at least half a size up. Before trying the boot on, take the sole insert out if this is an option and place your feet on it. Your heel should be cupped by the insert and your toes should have some room at the front.
For boots, put your feet in, unlaced, point your toes to the ground and let a gap form at the back of the boot as your toes lightly touch the front. Can you fit an index finger comfortably down the back of the boot? If it's tight you might want to try the next size up.
Next, for both boot and shoe, tighten the laces from the bottom to the top. More pressure can be applied around the ankles is required, use the lace hooks as leverage when pulling but don't stop the blood circulation!
While sitting, point your toes down and then with the heel to the ground, point your toes up, checking for flexibility.
Next, stand up and create a walking motion downhill and you should create a gap at the back of the heel. Repeat this going uphill, the ideal fit will create a gap at the front. This gives your feet room to swell and breath without bruising your toes as well as creating less opportunity for horrid blisters.
Prone to blisters? I use Leukotape US / UK before big hikes to prevent them from the start.
Cheeky tip – for more pressure you can use the laces to your advantage. With boots, you can lace them up from the top hooks then down instead of the way you would normally lace-up shoes. The tied lace then sits where your ankle flexes instead of on top of your ankle.
Material
The best hiking boots on the market are made from a variety of materials to support our feet, to keep them dry and to ensure that they are comfortable during multi-day treks. GORE-TEX is the most widely waterproofing material.
It has been around since the 1960s. Some brands like Rab are creating their own technology to compete with GORE-TEX but it really does still hold the gold star for keeping feet and bodies dry.
Some shoes and boots are made from suede, others are leather and some brands use a mix of both.
Many, like Scarpa, use Vibram rubber as the main material for the soles. This was the first material to replace leather soles so it has decades of existence in which it has gained an excellent reputation. Contagrip is another rubber alternative used by Salomon.
Leather makes a boot heavier and we are advised by a hiking boot specialist that the notion that a leather boot gives you better protection from wet weather is outdated. The materials that quality brands use now compete with leather boots. In saying that, Craig loves his leather hiking boots!
Grip

You don't want to slide while wearing your hiking shoe or boot, grips on the sole are essential in preventing this. A decent sole also stops you feeling stones and gravel underneath foot.
Price

Naturally, you have to go with what your budget dictates. Don't join the 'all gear no idea' gang and let expensive items sit in a cupboard.
You want to buy the right walking boots for you and the best price. I've been down the Regatta pricepoint rabbit hole before and it only ends up in wet and smelly feet! Buy cheap, buy twice.
Final Words
The most important thing to remember when buying your lightweight walking boots or shoes is that they have to be worn in. Don't expect them to be mould to your feet at first hike.
If you are planning a multi-day trek do build up to it through regular training to avoid injuries (this is me speaking from experience!) I hope that you have found our guide to the best trekking shoes and boots. Do leave us any comments or questions below.
Like it? Pin it.