This article has links to products and services we love, which we may make commission from.
Wondering what to wear in Dubai? Look no further! This guide details the best Dubai packing list items, explains the reasons for the rules and gives examples of how to dress in all areas of the country so you can have fun without worry!
The United Arab Emirates is a Muslim country that follows the Sha'aria law. All tourists and residents are required to dress modestly, no matter how hot the climate. That is why a lot of people wonder how to dress in Dubai before they book their trip.
A tourist will not end up in prison if they aren't dressed properly. They might get some stern looks from other people and a security guard would kindly advise them to cover up but it's not worth offending the locals.
When you're visiting any country, it's always good to obey their laws and respect the local culture. So let's take a look at how to dress in Dubai. We've also provided links to outfits so you can buy online before you fly.
You may also like our 1-3 day or 5-day Dubai itinerary and packing list.
What to Wear in Dubai
Weather in Dubai
It's very comfortable to visit Dubai between November-March.
These are the cooler months when most tourists arrive because it's easier to do more outdoor activities.
The temperatures during these months can be between 20C/68F-35C/95F.
From April-October it can be very hot and sticky.
The hottest months are from May-September.
That's when the temperatures are around (35C/95F-55C/131F).
It's essential to find the right balance between modesty and dressing comfortably, especially during the summer months.
Dubai is the most liberal city in the United Arab Emirates.
It's nothing like Saudi Arabia, so you don't have to wear clothes that are too conservative.
Women are allowed to show their hair, arms, and legs.
There's no objection to that at all. But there's a limit.
You may also like our guide, what to do in Dubai in December.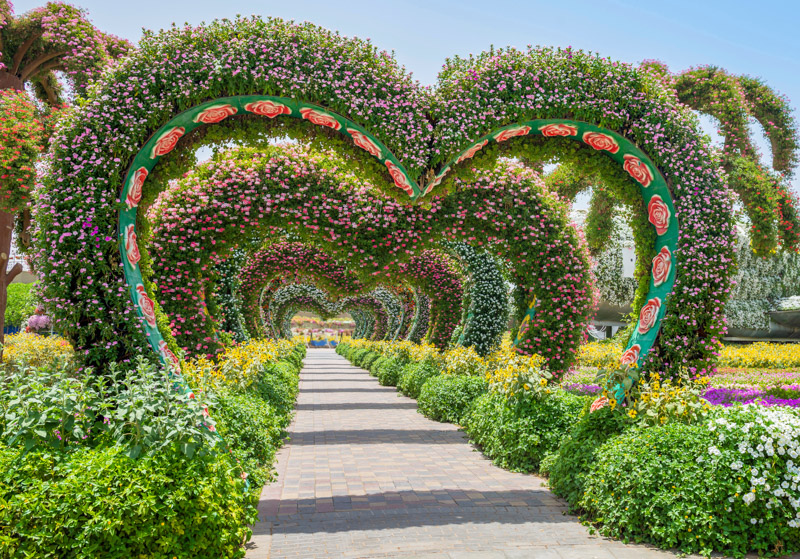 Why Does Dubai Have Clothing Rules
A lot of people ask what can you wear in Dubai.
When it comes to finding the right clothes to wear in Dubai, it's not the Sha'aria law that solely determines the dress codes.
Dubai is a very family-friendly city.
The government expects Dubai clothing to be modest to protect families and their children.
A lot of kids are raised in conservative homes.
They don't want to see people wearing speedos or bikinis at the mall, no matter how lit your summer bod is.
That's the main reason behind the clothing rules in Dubai.
When you're packing outfits for your trip, think about what's appropriate enough for children to see you wear in a public place.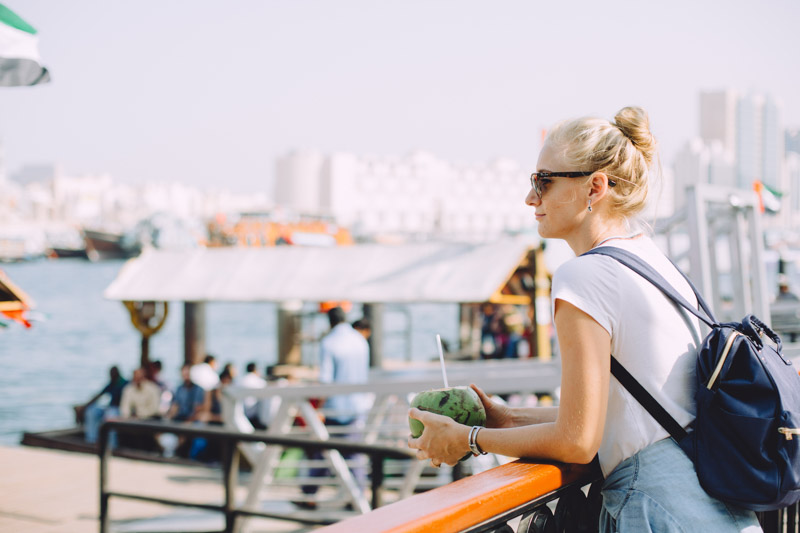 What Should Tourists Wear in Dubai?
It depends on where you are planning to go, a tourist in Dubai may need to alter their wardrobe when out in public but wear close to their home fits in private hotels.
Some areas of Dubai are more conservative than others.
If you are in Jumeirah or Downtown Dubai, you'll see people dressed more casually.
If you go to some parts of old Dubai, such as the Spice Souk, it's wise to dress more modestly.
The summer months in Dubai can reach up to 55C/121F.
The heat can be very overpowering, making it difficult to breathe.
It's best to wear light and airy cotton clothes because you will sweat a lot!
Shorts/tops co-ords like this light outfit are ideal or flowy co-od pant suits like this.
Since it's so hot outside, all the indoor spaces have air conditioning on full blast, and it can feel very cold and this has always been a problem for people in Dubai.
You might be a little sweaty in a sleeveless summer dress while watching the fountain show, and then suddenly wish you had long sleeves when you step inside Dubai Mall.
Take a look at this light cardigan in a variety of colors, cute blazer or shorter Bolero which is a nice match for summer dresses.
Next we're going to discuss tourist rules in Dubai for specific public places so you can pack confidently and feel comfortable while sightseeing and being social.
We'll also consider Dubai fashion for private events such as brunches and pool parties so you can get past the door staff and have a fun time.
Note: It is likely you will use taxis to get between parties so you won't be out in public in short or tight outfits.
Dubai Women's Clothing: What you CAN wear

in public
Dubai Women's Clothing: What you CANNOT wear

in public
Dresses that are too tight and fitted

Clothes that are see-through

Swimsuits and bikinis

Tops where your bra can be seen

Any clothes that reveal too much cleavage

Shorts or skirts that are too short (no bums hanging out please)

Clothes that do not cover the midriff area

T-shirts with inappropriate slogans or jokes – they might be funny to some but also offensive to others.
Dubai Men's Clothing: What you CAN wear

in public
Cotton Pants

Jeans

Trousers

Shorts knee length

Any shirts and t-shirts

Singlets/tank tops/vests such as this classic by Adidas as it's not too low
Suits – if you dare to in the summer months – read Two Scots Abroad's guide to travel pants

Any shoes, sandals, flip flops, etc.
Dubai Men's Clothing: What you CANNOT wear

in public
Singlets that hang too low, no nips

Any shirts or pants that might be see-through

Tight pants – no one cares if you have a good-looking backside like David Beckham

Shirts that are too small and reveal your tummy, soz Dad bods

Swimsuits
Shopping at the Mall
In the malls in Dubai, you can wear anything that makes you feel comfortable and dress respectively.
Local families are often shopping at malls across Dubai so you're going to want to dress appropriately.
You can wear shorts in Dubai and even skirts, if they are at knee length and not shorter than that.
Just be mindful of the fact that there are a lot of families and children there.
Do not wear swimsuits or bikinis at a mall.
Do not walk around shirtless even if you have just come from the beach.
If you have any tattoos that might offend someone, please make sure your outfit covers them properly.
Here are more detailed tips for public outfits.
Going to the Beach
There are public and private beaches in Dubai.
Many popular hotels have their own private beaches and swimming pools.
They are more open to letting tourists wear anything they want to.
Families and children in hotels are often on holiday themselves so the atmosphere is different.
Public beaches, on the other hand, are where local families go to.
A lot of them can be conservative.
On Fridays, a lot of local laborers spend time at the beach as well and they're mostly men.
That's why it's wise to dress appropriately to avoid getting stared at.
It was reported that just under 300 people had been caught taking images of women on beaches in Dubai.
Dubai Women's Clothing: What you CAN wear on Private Beaches
Any and all kinds of bikini tops and bottoms
Any swimsuit – no see-through material or G-strings
Dubai Women's Clothing: What you CAN wear on Public Beaches and Waterparks
One-piece swimsuits
Sports suits
Wet suits
Burkinis
The Dubai dress code for males at beaches is simpler.
They can wear any swimsuit on BOTH private and public beaches and waterparks except for bottoms that are white in color.
White swimsuits become transparent and see-through when you come out of the water.
Please be mindful of other people on the beaches.
Here's an example of a modest yet stylish suit from Nordstrom and swimsuit from ASOS.
Watch out for burnt heads!
Protect your hair with a cute bucket hat or hair scarf.
Also check out our beach packing list for essentials.
Clothes to Wear in Dubai for Brunch or Dinner
Brunch in Dubai
Restaurants that host all-you-can-eat brunch buffets in Dubai are mostly in hotels because they are licensed venues allowed to serve alcohol.
Each hotel has its own dress code, so it's always best to check their website when you're booking a table.
Please don't wear a swimsuit even if you have just been to the hotel pool.
Always make sure you're wearing shoes because they do turn people away for arriving barefoot after a swim.
Some brunches also have certain themes during the year.
For example, on Halloween, hotels around Dubai might host a brunch and encourage you to wear a scary costume.
A few brunch restaurants have had The Great Gatsby theme, where people had to dress in character.
Let your imagination run wild and just make sure you're not close to being naked.
A typical Dubai brunch sells all-you-can-drink alcohol packages.
It's very easy to get inebriated in no time.
Make sure you choose an outfit where you will still look respectable by the end of the day.
Do not wear anything that might fall and expose any private parts.
If you have any tops with straps around the neck, make sure they are tied properly.
It is likely that you will take a taxi from your accommodation to the brunch and back again.
There are also brunch spots that aren't geared up around drinking like the cool 2D Forever Rose, which is owned by Ebraheem Al Samadi from the Netflix show, Dubai Bling, or Walnut Grove.
Dinner in Dubai
If you are planning to have dinner at restaurants that aren't in hotels, the dress code for both males and females is mostly casual.
You can wear dresses, t-shirts, tops, pants, jeans, shorts, or skirts.
Any shoes are acceptable as long as you're not barefoot.
Make sure you are not wearing anything see-through or revealing.
If the restaurant is in a nice hotel such as Skyview Bar in Burj Al Arab or Atmosphere in Burj Khalifa, the dress code would be either smart-casual or formal attire.
Here you can wear evening dresses, skirts, dress shirts, pants, suits, etc.
The top hotels won't allow you to enter in shorts, and tank tops.
Even if some of them do, it will feel uncomfortable to stick out because most people in Dubai love to get glammed up for a nice dinner.
They might not allow flip-flops either, so it's always better to have some closed-dress shoes.
Most restaurants and hotels in Dubai will state their dress code rules on their website or social media pages.
Make sure to have a quick read when you're booking a table.
You can also phone them before your reservation to ask about the dress code, and they'll be happy to clarify any questions.
You may also like our long-term female packing list,
Nightlife in Dubai
Most clubs in Dubai are in hotels.
The dress code for both men and women in Dubai clubs is smart casual to glam.
Clubs
Clubbing in Dubai is very expensive.
A pint of beer can cost upwards of $20 each unless they have Ladies Nights where women get free drinks.
Bouncers can be very judgmental and analyze each person from head to toe to determine if they should be let in or not.
The more you dress up and the richer you look, the better chances you'll have of getting in.
The famous clubs such as White Dubai and Club Boudoir want a very specific clientele and judge people's outfits most harshly.
Both men and women are expected to get glammed up and look like social media influencers to fit in.
Most women wear bandage dresses, body con dresses, wrap dresses, strapless dresses, etc with high heels.
Although heels are very uncomfortable to dance in, a lot of women get turned away if they're not wearing them.
They can also wear smart casual tops and pants, as long as they have the right heels as well.
Men are expected to wear dress shirts and pants.
Never wear sports trainers because they won't let you in.
Make sure to have proper dress shoes for clubbing.
These kinds of clubs have strict rules for entry and they're very expensive, but they also host live concerts with famous celebrities and international DJ's.
So, it's worth a visit if you want to see Tiesto or Armin Van Buuren perform live.
Pubs and Bars
A lot of hotels also have cozy pubs and sports bars.
These have a much more casual atmosphere and are easy to get in.
Women can wear any tops, jeans, pants, dresses, skirts, shorts, and casual shoes like sandals or trainers. No flip flops or bikinis.
Men can wear any shirts, t-shirts, jeans, pants, shorts, and casual shoes such as trainers.
No flip flops or singlets.
Barasti is a popular bar on the beach so people can also wear flip flops there if they want to.
A lot of people also wear swimsuits and go to the restaurant with a towel around their waist.
This is fine to do in the afternoon, but when the bar is packed in the evening the atmosphere changes and people are expected to get a little more dressed.
Going on Tours in Dubai
Since all the tourist hotspots are in family-friendly areas, it's important to dress semi-conservatively.
The safest thing to do is wear casual outfits as if you were going to Dubai Mall.
This is because most tours are in the new part of Dubai, and there are fewer conservative people there.
Women can wear dresses, shorts, t-shirts, skirts, tops, jeans, pants, etc.
Men can wear shirts, t-shirts, pants, shorts, jeans, etc.
Make sure nothing is too revealing or too short. Nothing that is see-through at all.
For other tours that are in the old part of Dubai such as Deira Spice Souk and Dubai Museum, people are more conservative.
There are also more mosques in these areas so it's important to dress modestly.
Here's a guide to the most popular Dubai tours.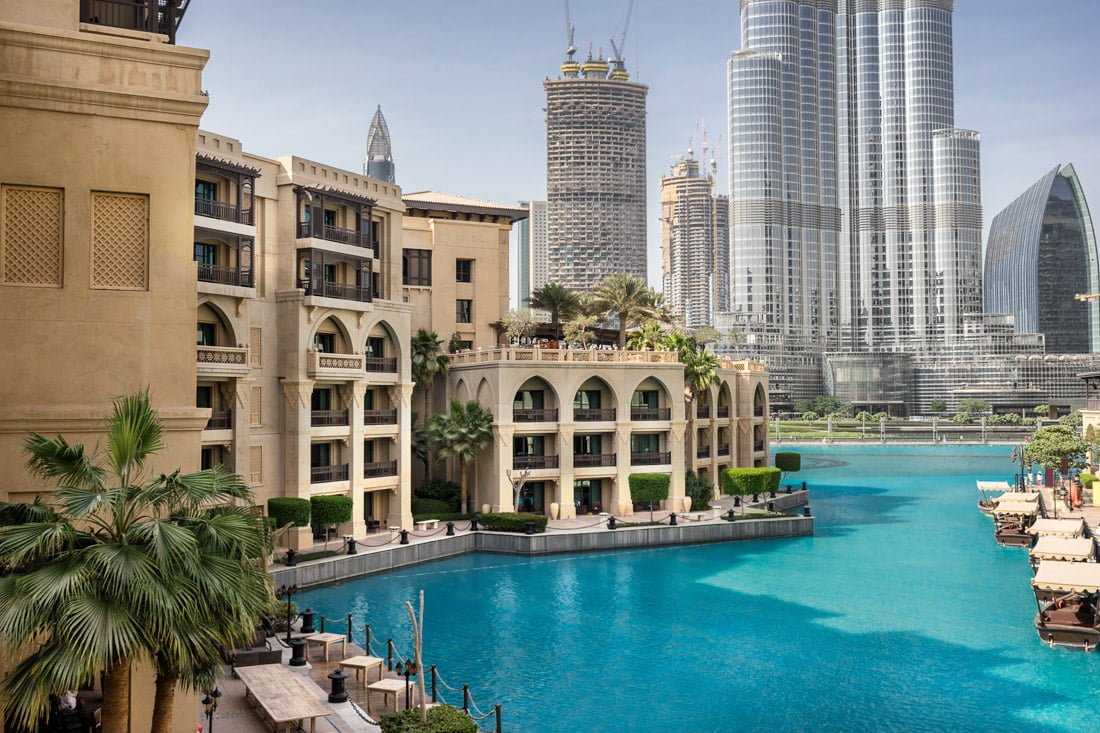 Dubai Dress Code for Female Tourists Visiting Souks and Museums
Women should not wear shorts, short skirts, or sleeveless tops. Otherwise, you will get stared at by a lot of the locals.
It's better to wear t-shirts and jeans, or pants.
A summer dress is fine if it's not sleeveless, see-through, or too short.
Make sure everything is at least knee-length.
Long dresses are the best option.
If you want to get a little bit more cultural, you could purchase a Salwar Kameez.
A Salwar Kameez US / UK is very comfortable, especially in the heat.
Don't be put off by the foreign-sounding name, they are essentially just long dresses with loose pants.
There are many beautiful and colorful options to choose from. It consists of loose cotton trousers called "Salwar," and a knee-length tunic called "Kameez."
Some of them also come with a shawl called "Dupatta," US / UK to wrap around.
If you have seen the Shahs of Persia, you might have heard about Caftans US / UK.
A Caftan is a loose and flowy long gown, and you can choose some very beautiful designs.
You are probably familiar with caftans as they are popular over-beach wear in Europe like this stylish version by Elan.
These are some examples of what can women wear in Dubai and typical uae clothing for some locals.
If you forget to buy one before your trip, a lot of shops at the souks sell them. But the problem is that you will have to barter hard, to get a good price.
The prices for these outfits can vary between $20-$70, depending on your bartering skills.
Shopping with a friend who can speak Arabic or Urdu, will lead to an automatic discount.
Since you'll need to walk a lot to explore the souks, the best shoes to wear are trainers and sandals. Flip flops are also allowed for both men and women.
Men can wear anything in these areas. Even shorts and singlets. Just be mindful to never walk around without a shirt no matter how hot it is.
If men want to also feel a little cultural, they can wear a "Kurta Pajama" US / UK.
This consists of a top tunic called the "Kurta," and loose cotton pants called "Pajama."
Desert Safari Dubai Dress Code
When you're going for a desert safari in Dubai, it's important to dress as comfortably as possible.
This is because you will spend an entire day there, and it's going to be very hot.
You will also get covered in sand.
Make sure you wear clothes that are loose so that you can move about more easily.
The desert safaris are run by locals, and your driver might be conservative.
You don't have to be completely covered up, but women should avoid wearing short skirts, short shorts, and any revealing or see-through dresses.
It's okay to wear sleeveless tops if the neckline isn't too low.
It does get chilly in the desert after sunset, so it's better to wear a bit of sleeve. Shorts need to be knee-length.
The best outfit for women in the desert is a Caftan.
Or any long dress, pants, shirts, and t-shirts.
Jeans are also allowed but you might feel very uncomfortable in them when it's hot.
Men can wear shirts, t-shirts, shorts, and any pants.
They can also wear singlets, but it gets cold at night, so it's better to wear a shirt over the singlet.
Sandals are the best to wear in the desert. Try not to lose them in the sand, or you can buy sandals that have a strap around the ankles.
Flip flops are very easy to lose because they will slip off your feet when you're walking on a sand dune.
You can also wear trainers, but then you'll have to keep dusting the sand out of them.
You may also like: How to choose the best desert safari tour in Dubai.

Dubai Airport Dress Code
Dubai airport is a place where you want to make a good impression because you'll meet Emirati immigration officers.
If they feel that you are not dressed appropriately, it will give them a bad impression about letting you into the country.
Tourists don't have to be fully covered up at the airport.
There isn't a particularly strict Dubai airport dress code.
Women can wear long dresses, tops, shirts, t-shirts, pants, hoodies, sweaters, and jeans.
It's best to avoid wearing any sleeveless shirts, sleeveless dresses, mini-skirts, and short shorts.
Most women wear smart jogging pants or gym pants and a hoodie for comfort.
There's a lot of walking in Dubai airport because it's so big.
It's best to avoid any high heels and wear comfortable trainers or sandals instead.
Even flip-flops are okay.
Men can wear shorts, t-shirts, shirts, hoodies, sweaters, pants, and jeans.
Avoid wearing any singlets.
Men can also wear trainers, sandals, regular shoes, or flip-flops.
If you have a lot of tattoos, even if they might not be offensive, it's better to cover them up as much as possible.
Some immigration officials might frown upon seeing too many tattoos.
Tattoos aren't illegal, but it's better to cover them up out of respect.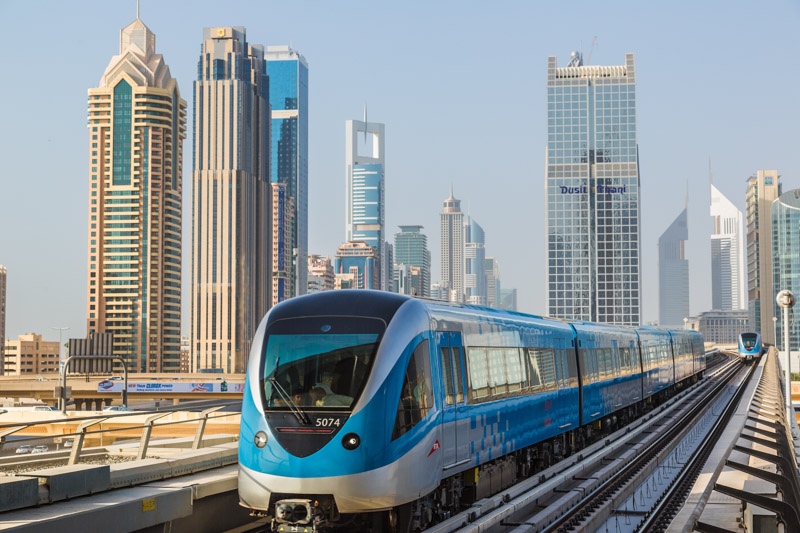 Packing for Dubai Outfits
A lot of flights on Emirates Airlines offer 20 kilos per passenger, which is a generous amount.
But it's always better to pack less on holiday.
Here's what you should take with you to Dubai.
Dubai Packing List for Women
Vests, tanks

Tops and t-shirts

Skirts

Dresses

Co-ords

Cardigan or hoodie – it's freezing inside malls

Shorts

Comfy pants

Jeans

Salwar Kameez or caftan

Sandals

Trainers and socks

Flip flops

, siders or Crocs

Heels for clubbing

Evening dresses – for clubbing or fancy dinner

Bathroom products – toothpaste, toothbrush, shower gel, shampoo, conditioner, sanitary products, etc.

Makeup

Sunscreen

Cameras and chargers

Passport and visa documents
Dubai Packing List for Men
Shirts

T-shirts

Pants – like the stylish travel pants by Bluffworks

Jeans

Shorts

Suit jacket

Sweater

Hoodie

Trainers and socks

Sandals

Flip flops

Bathroom products (toothpaste, toothbrush, shaving cream, shower gel, shampoo, conditioner, etc.)

Sunscreen

Cameras and camera chargers

Passport and visa documents
General Dubai Packing Tips
Most hotels will have soaps and towels etc.
That way, you won't have to pack a lot more things to take to Dubai.
Bringing medication is difficult from overseas.
You will need to have a doctor's letter for all your medication.
Some medications are completely banned in Dubai, such as Tramadol.
If you do need to bring banned medicine into the country, the customs officer might make an exception for you depending on your doctor's letter and medical condition.
Discuss any prescription concerns with your airline.
It might also help to have a printout of some of your bookings.
This is just in case you have difficulty getting an internet connection to access them later.
Dubai has now started offering free SIM cards for tourists when they arrive at the airport.
Feel free to grab one and activate it on your phone.
This is perfect for emergencies because it will have 3 minutes of talk time, 20MB of data, and 5 SMS.
If you want more minutes and data during your trip.
All the malls have Etisalat and DU shops that you can go to.
Both companies have special offers for tourists to stay connected during their stay.
Read all of our Dubai tips here.
Frequently Asked Questions
Do You Have to Cover Up in Dubai?
Not in an extreme way. Dubai is not like Saudi Arabia or Iran.
Everyone is free to wear anything they like over here if it's decent enough.
People can wear sleeveless tops and shorts too. The only exception is the conservative parts of Dubai.
The police won't arrest anyone, but you might get stared at, which is an uncomfortable experience. I
f you go to a government building such as the Dubai court, then it's better to wear long sleeve tops over pants, or any long dresses that cover the shoulders and chest well.
What Not to Wear in Dubai?
Anything that is too short, or see-through.
Avoid wearing sleeveless outfits in old parts of Dubai, such as the Spice Souk.
Don't wear trainers to go to clubs.
Also, avoid any tops or dresses that might show too much cleavage.
Don't wear t-shirts that might have any rude jokes, as they might offend someone.
What Clothes to Wear in Dubai?
Tops that cover your shoulders and have half sleeves.
Long sleeve shirts, jeans, pants, shorts (up to knee length), summer dresses, caftans, salwar kameez, and skirts that are also up to knee length.
Can You Wear a Bikini in Dubai?
Yes! Bikinis are allowed on most beaches.
The only problem is that on a public beach such as the one next to Burj Al Arab, a lot of local families and laborers go there.
They might feel uncomfortable and stare.
On private beaches which are attached to many hotels, it's perfectly acceptable to wear bikinis since a lot of other tourists will too. T
hen you won't stand out as much.
What to Wear in Dubai in December?
December is the most pleasant month in Dubai. It can also be very windy during this time and a little cold.
Most people wear hoodies and sweaters over any jeans or trousers.
What to Wear in Dubai in January?
January is one of the colder months.
But cold in Dubai is around 20-30 degrees Celsius. A light cardigan or a hoodie would be best.
What to Wear in Dubai in February?
February is also one of the cooler months in Dubai. It's also a very rainy month with a few sandstorms.
Bring an umbrella with you and a scarf to wrap around your face, in case you do get caught outside during a sandstorm.
A sandstorm in Dubai is nothing like the one they showed on Mission Impossible: Ghost Protocol.
It's gentle, but still annoying having little bits of sand get inside your eyes, ears, and mouth.
What to Wear in Dubai in March?
March is when the weather starts getting much warmer. There might still be a few rainy days but not as much as February. It still isn't hot enough to wear summer clothes. Any tops or t-shirts with pants, skirts, or shorts will be enough.
What to Wear in Dubai in October?
October is when it just starts getting cooler in Dubai, but it's still a little warm. You should wear light clothing and carry a sweater or hoodie with you.
Can Women Wear Shorts in Dubai?
Yes, they can. As long as the shorts aren't too short.
If they are knee-length or a little above the knees, it's fine.
Women should refrain from wearing shorts in parts of old Dubai.
Can Men Wear Shorts in Dubai?
Yes. Men can wear shorts too.
The only time they should avoid wearing shorts is if they are visiting a mosque or government building (courts).
Can You Wear Flip Flops in Dubai?
Yes, you can wear Flip Flops anywhere you go in Dubai.
The only time you shouldn't wear them is if you're at a really nice hotel. It's also best not to wear them in the desert because they're very easy to lose in the sand dunes.
What to Pack for Dubai?
Dubai is all about the shopping experience, so you don't want to bring too much with you.
Just pack enough clothes and shoes. Prepare to buy some new ones too when you get here.
Most hotels offer toiletries and other amenities. In case you forget to bring sunscreen, there are many shops and pharmacies to buy it from.
Dubai Practical Travel Information
Getting to Dubai
There are two main ways to fly to Dubai to Dubai International Airport or to Abu Dhabi and take a bus to Dubai.
The metro from Dubai International Airport to Downtown takes around 30 minutes to the Burj Khalifa stop.
If you have lots of luggage you can hire a local taxi, Careem or Uber.
A taxi from the airport to Atlantis the Palm costs around $30 USD. It is not advised to take a taxi during rush hour. Be wary, Al Maktoum International in Dubai is actually closer to Abu Dhabi.
Get Around Dubai
Everyone uses taxis in Dubai which you can hitch or schedule at +971 4 208 0808. Dubai has its own Uber service called Careem.
It also works from an app, just like Uber and Uber is also available. For cheaper options, there is a regular air-conditioned bus service in Dubai.
Dubai also has a metro. You can use the journey planner app, Wojhati, to make the most of your Dubai itinerary.
The Nol smart card will save you money on public transport.
Dubai's tram stops at top attractions like Palm Jumeirah, Dubai Marina, Jumeirah Lakes Towers and more.
Finally, there is also a monorail in Dubai that runs from the trunk of the Palm to the iconic Atlantis The Palm.
The Dubai tram is connected to The Palm monorail station.
Where to Stay in Dubai
Read our extensive guide on the best Dubai districts to stay in.
Best Tours in Dubai
Desert Safari: dune bashing on a 4WD, sunset and BBQ dinner. Book here.
Abu Dhabi Day Trip From Dubai: see all the Abu Dhabi highlights in one day! Reserve here.
Dubai Helicopter Flight: incredible 25 min ride. Inquire here.
Hop-On Hop-Off Bus: See Dubai in a day in comfort. Reserve a ticket.
Keeping reading about tours in our guides; the best tours in Dubai and how to choose a safari tour
Travel Insurance
For travel insurance check out True Traveller Insurance, which Two Scots Abroad personally uses for bigger trips. Many others use the popular World Nomads Travel Insurance.
Save for future planning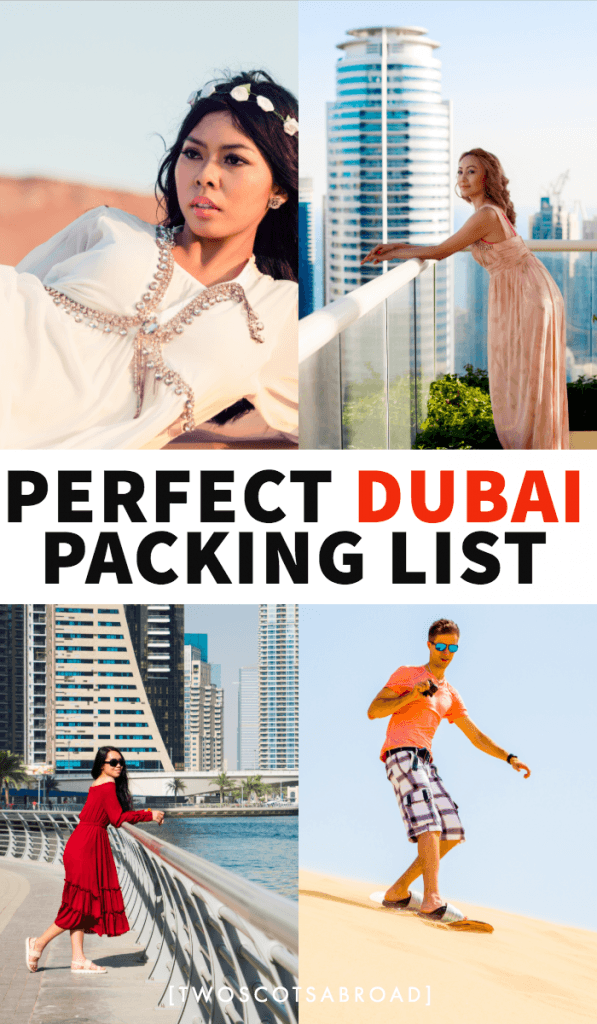 Final Words
The dress code in Dubai for tourists is very relaxed compared to other cities in the region. The only condition is that people should be considerate of families with children in public places.
There are plenty of private hotels and beaches that allow tourists to wear bikinis, but then people should put on a top and pants before going to the mall. Some parts of Dubai are a little more conservative. In those areas, it's better to cover up the shoulders and legs a little more.
Police in Dubai does not arrest people for their clothing unless they are publicly in the nude, which is extremely rare. Even if you wear something a little too revealing, the most trouble you will get is a few bad looks and warnings from others.
My sister saw a woman in Dubai Mall wearing a swimsuit top and shorts. Even though that isn't technically allowed, she was more concerned about the woman catching a cold, rather than wanting to tell her off.
That's how cold malls in Dubai are with so much air conditioning. The locals become more sympathetic about tourists getting sick than what they are wearing.
Author Bio: Shipra has lived in Dubai for over 30 years and has always been dressed appropriately the entire time. She enjoys how relaxed Dubai is when it comes to clothing. She has never seen anybody get arrested for wearing shorts.