This article has links to products and services we love, which we may make commission from.
Scotland's route 66, the North Coast 500, has hit popularity scales to make your 'See You Jimmy' hat ginger hair stand on end. This is great for Scottish tourism but a bit of a challenge for visitors when it comes to finding North Coast 500 accommodation if not booking ahead.
However, there are plenty of options from luxury to penny-pinching budget if you are organised and this North Coast accommodation guide will help you make the right choice for your type of trip.
You can check out our full North Coast 500 guide for a free itinerary, budget and ridiculously stunning images if I don't say so myself. Credit to Scotland and not my photography skills!
PS. We have no affiliation with NC500 at this time.
---
Quick Overview North Coast Accommodation
The Scottish Highlands has every type of accommodation starting at the budget end with private rooms, hostels and campsites then moving up to private apartments, glamping pods, lodges and bed and breakfasts.
If you are partial to the more luxurious side of travel, there are 5-star hotels and castles that you can stay in
There's even a yurt if you prefer something really unique!
North Coast 500 Bed and Breakfast
Although there are hotels all over the North Coast 500 route, some modest and other grand, it is traditional for holidaymakers to stay in bed and breakfasts in Scotland.
A B&B is a private room in a local's house. Some may have private bathrooms, others may not.
Interaction with the host depends on the personality but usually, they meet and greet you on arrival and serve you breakfast the next day.
We enjoy sitting at the family table, minus the family members, chatting with the locals to find out more about the area and also the peculiar life of Highlanders!
You'll meet many Scots or even ex-pats who have left city life to move up north and enjoy the tranquillity that you are about to experience.
North Coast 500 Apartments
If you prefer your own space and use of a kitchen, self-contained apartments will be the best option for you.
All of the apartments in this self-contained apartments guide have private parking so you don't have to pay extra during your road trip.
North Coast 500 Hotels
Hotels are vast and vary in size and cost. If you envisage yourself sleeping in a 15th-century castle then your wish is my command.
On the North Coast, 500 dreams do come true!
For those just looking for affordable shut-eye options, there are hotels for under £100.
If you are on a budget, pick hotels with breakfast included as you may end up spending more eating out.
Due to logistics/tourism, you can expect a ⅓ mark upon central belt Scotland prices.
See our NC500 guide for our budget costs.
During any hotel stay, we recommend asking the reception/door staff/bell staff for tips on what to do in the local area, they have first-hand knowledge to get you off the beaten path.
North Coast 500 Hostels
I am happy to say that hostels are an option on the NC500.
This means that those who are solo travellers but like to socialise or are on a budget can still enjoy what this scenic Scottish road trip has got going on!
These hostels advertise a bed in a dorm or sometimes a private room.
Most hostels have kitchens for those who want to cook their own food.
Inverness and Ullapool have a large grocery store called Tesco, other villages have smaller shops.
Many of the hostels have drying rooms, this is ideal for those hiking as it rains in Scotland (shock!)
Drying rooms were very much appreciated during the West Highland Way hike, which you can read about here.
---
» You may also like: our NC500 packing list
---
This guide is going to focus on hotels, B&Bs and apartments but you can read about hostels in detail on the NC500 here and campsites here.

North Coast 500 Accommodation
Inverness Accommodation
The first and last stop of the NC500, the capital of the Highlands, Inverness offers lots of variety.
The closer to the city centre the better for those hiring a car or having a dance and tot at the ceilidh club, Hootenanny. Remember to check if your Inverness hotel has parking.
Inverness Hotels
The Royal Highland Hotel
The Royal Highland Hotel is 3-star hotel is in the heart of Inverness so you can stumble back from the bars at night and still get up and out early to visit the historic attractions near the city.
Since it is located next to Inverness Train Station, this is a great option for those hiring a car in Inverness as you won't have to roll your luggage far.
Smithton Hotel
Smithton Hotel is a popular two-star hotel is 3.5 miles from the centre, 5 miles from the airport and only 1.2 miles from Culloden.
It offers free parking, free breakfast and WiFi throughout. Customers rave about the friendly staff, nice food and well-stocked bar.
Our readers book this property often.
Mercure Inverness Hotel
The super modern Mercure Inverness Hotel overlooks the River Ness, has extensive facilities including a gym, 24-hour room service and the Brasserie Restaurant for meals.
Parking is available and breakfast options can be added or are included in some packages.
The Mercure is a popular choice with our readers too.
---
Inverness Luxury Hotels
While holidaying in the UK why would you not stay in a four-star country house?
Macdonald Drumossie Hotel
Macdonald Drumossie Hotel is set in 9 acres of parkland and is only 10 minutes drive from the centre of Inverness.
Not only does each room have a shower but also a bath, robes and slippers for pure relaxation before the big NC500 tour (or after?)
Guests can enjoy breakfast with some packages. Dinner menus are also available at the award-winning restaurant, the Grill Room. Parking available onsite.
Hotel Kingsmills
Hotel Kingsmills is a mansion hotel with a swimming pool and spa.
Originally built in the 18th century, it is one mile from the city centre, 10-minute walk away, and offers free parking to guests.
Many of the rooms uniquely have garden views.
There a few dining options, the Kingsmills Restaurant offers a menu of fresh, local produce. Guests can also dine in the garden conservatory brasserie, for a more informal menu.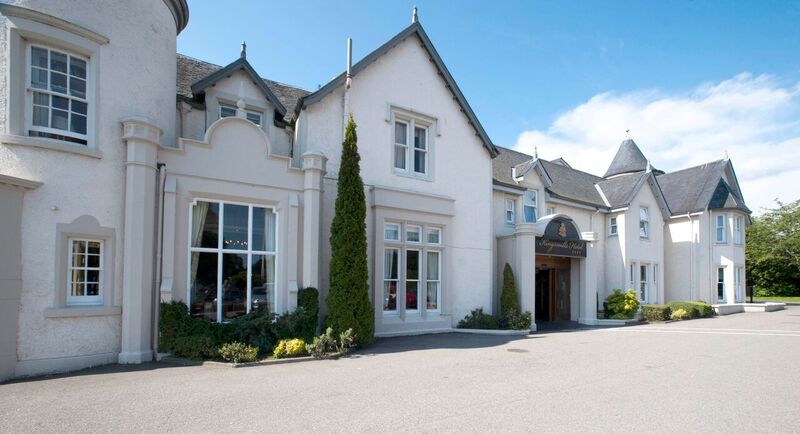 Inverness Apartments
This nicely decorated 1-bed Inverness flat (apartment) is less than 10 minutes away from restaurants, bars and attractions.
It includes a fully equipped kitchen, bathroom with bath and a shower and an enclosed terraced garden.
A great affordable find for those looking for some privacy.
---
Wester-Ross on the North Coast 500
After the nail-biting Bealach na Ba, you will be looking for a stiff drink and a lie-down.
Depending on which area of breathtaking Torridon you choose to stay in there are the following options.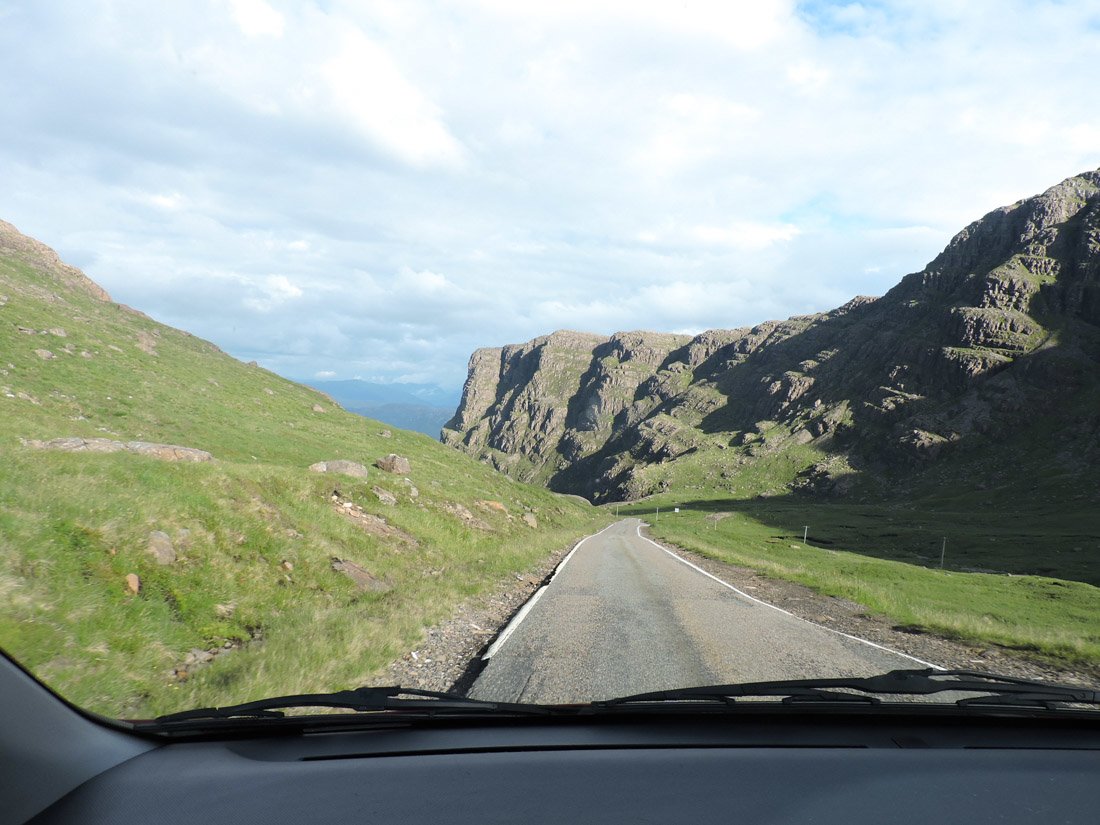 Applecross Accommodation
Applecross is the first stop after taking on those hairpin bends.
---
Applecross Hotels
An economical yet enchanting option for Applecross is to stay in the old hunting lodge of the Applecross Estate at Hartfield House.
This hotel is located in the bay with views of the Isle of Raasay and Cuillin Hills of Skye ahead.
Rooms have shared bathrooms which may not be everyone's cup of tea.
Hartfield House welcomes families, bikes and pets to the Highlands and the North Coast 500. Parking available onsite.
→ Check availability at Booking.com and read reviews or book with TripAdvisor
---
Shieldaig Accommodation
My favourite village in the Torridon area, Shieldaig.
If caught on a dry day you can watch the sunset over Shieldaig Island. Bliss.
Minch View is a 3-bedroom self-catering apartment in Shieldaig. It has a fully equipped kitchen or you can grab some pub grub in the village.
Shieldaig Lodge Hotel
The 19th century Shieldaig Lodge Hotel is one of the few remaining traditional Highland shooting lodges open to the public.
Each room has its own private en-suite and free toiletries.
A full Scottish breakfast is available as well as a selection of whiskies (for after breakfast!) WiFi is available in public areas.
This is not in the village of Sheildaig mentioned above. Image courtesy of Shieldaig Lodge.
Torridon Estate
There is really only one option for romance and luxury in the Torridon area of the Scottish Highlands and that is the respected hotel, Torridon Estate.
Set on 58 acres of private parkland on the shores of Loch Torridon, each boutique room has been designed individually.
This luxury NC500 hotel shows off its castle turrets and period features but decorated with a modern twist.
The Torridon Restaurant features a Scottish menu, and cooked breakfasts are optional.
This estate really is a perfect spot for those taking a Scottish Highlands honeymoon.
This is my friend and Two Scots Abroad writer, Ruth's top find. She has stayed at Torridon Estate often.
---
Gairloch Accommodation
The popular childhood holiday destination for many Scots, Gairloch is home to two beaches and a few coffee shops.
There is also a very scenic golf course so you can phwoar while you fore.
Gairloch Hotels
The Gairloch Hotel appears a tad outdated but it does offer free parking and breakfast. The hotel is less than 10 minutes walk to the beach.
---
Poolewe Hotels
Poolewe is an attractive NC500 village with one sleeping option – the Poolewe Hotel.
The 16th-century building is popular for its seasonal entertainment, log fire bar, local produce meals, and views of Loch Ewe.
---
Ullapool Accommodation
Ullapool is the largest village on the NC500 itinerary, home to serious musical talent including my good friend, Kim Richards.
'Trad scene' fans should devote two nights to Ullapool if you want to enjoy the scene and/or do a bit of hiking.
We recommend walking the Stac Pollaidh, it's only two hours and relatively easy (image below).
There are quite a few options for North Coast hotels in Ullapool.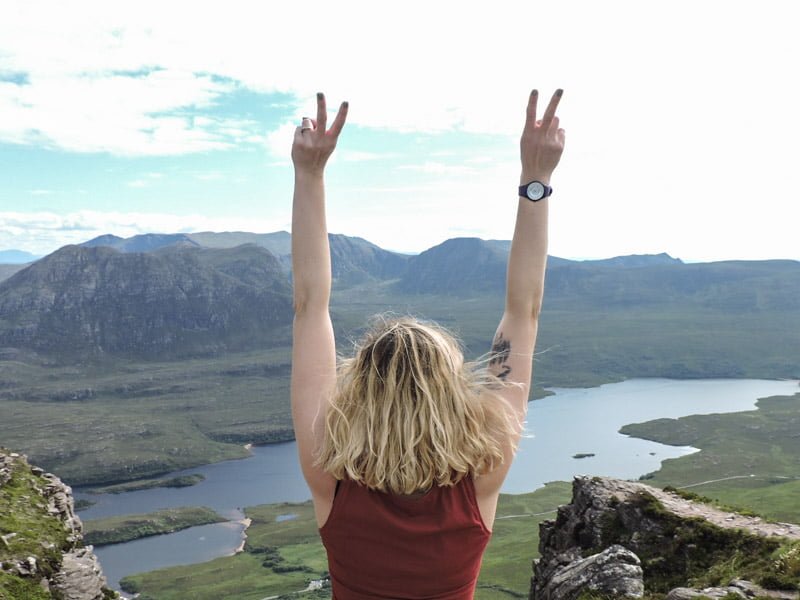 Ullapool Hotels
Caledonian Hotel
One of the oldest hotels in Ullapool is one of the cheapest!
The building in which the Caledonian Hotel was constructed in the early 1900s, the decor has had some sprucing up since then mind you!
The hotel allows pets, offers parking and WiFi. Breakfast and dinner are included in some packages.
Don't forget your Smidge spray (UK) or Avon Skin So Soft (UK/US) for the blasted midges in Ullapool!
The Arch Inn
The Arch Inn is located on the waterfront. On a warm day, visitors perch up and drink pints on the seats which spill onto the road overlooking the Loch Broom and Ullapool ferry terminal.
Live music can often be found at the Arch Inn bar and food is served daily in the restaurant. Breakfast is included in many packages. Sea view rooms are a tad more expensive.
---
Ullapool Apartments
If you prefer more privacy, check out these luxury lochside cabins at Loch Broom.
The cabins have floor-to-ceiling glass windows, a private terrace, a super kingsized bed and an en-suite shower.
If you want to try a traditional Highlands breakfast, you can join other guests at the family-run hotel in the dining room.
Sutherland North Coast 500 Places to Stay
Lochinver and Achmelvich
Lochinver is a small village most popular for its (expensive) pies.
It is also close to the B869 (it needs a sexier name) which was one of my favourite parts of our NC500 itinerary.
Tucked into the B869 you will find Achmelvich Bay (and campsite) as well as Clachtoll Beach (and campsite) and a small cluster of houses amongst the hills.
---

Lochinver Hotels
Glencanisp Lodge is a traditionally decorated hotel located in Lochinver. Free WiFi access and free private parking is available as well as breakfast.
The four-star Inver Lodge overlooks Lochinver Bay in the Scottish Highlands.
The spacious rooms each have a flat-screen TV and free Wifi is available throughout.
The award-winning hotel restaurant, the Chez Roux, serves a variety of meals and breakfast is available with some packages.
Afternoon tea in front of the log fire is a delightful option available to guests.
---
Durness Area Accommodation
Durness is a very small area in the northwest however it is a good base for Cape Wrath boat trips and visits to Smoo Cave.
Balnakeil beach is also located in Durness, with breathtaking turquoise waters and white sand dunes. John Lennon used to holiday here, now you can too rock star!
Durness has a hostel and an incredible (albeit very exposed) campsite.
There is a local Spar shop (limited groceries, maximum snacks) as well as a restaurant/bar next to the Sango Sands campsite.
---
Durness Apartments
This popular stop has a 3-bed apartment with two bathrooms, one fully equipped kitchen with a dishwasher and a washing machine.
Bettyhill Hotel
Bettyhill Hotel boasts views of Torrisdale Bay, games rooms and beautiful rooms.
Guests love the breakfast, exceptional staff and location.
Thurso Accommodation
Close the John o' Groats, Thurso is the northernmost town in mainland Scotland and is known to have the best waves in Scotland. People actually come to Scotland to surf!
Thurso Hotels
Inn at Y-Not
The trendy Inn at Y-Not is located in the heart of Thurso.
The hotel is a 10-minute walk from all amenities, shops, bars and restaurants.
Rooms have en-suites and there is free Wi-Fi throughout the hotel as well as free parking.
The Inn @ Y-Not bar has live music and the hotel also serves food in its restaurant. Traditional breakfast is available for an additional cost.
Dunnet Head and John o' Groats
Those travelling around the Route 500 looking to see wildlife may get lucky in John o' Groats; seals, dolphins, minke and killer whales do visit.
There is also a nice option to walk the coastal path from John o' Groats to Duncansby Head Lighthouse and the famous Stacks of Duncansby.
Those looking to take a trip to Orkney can do so from John o' Groats.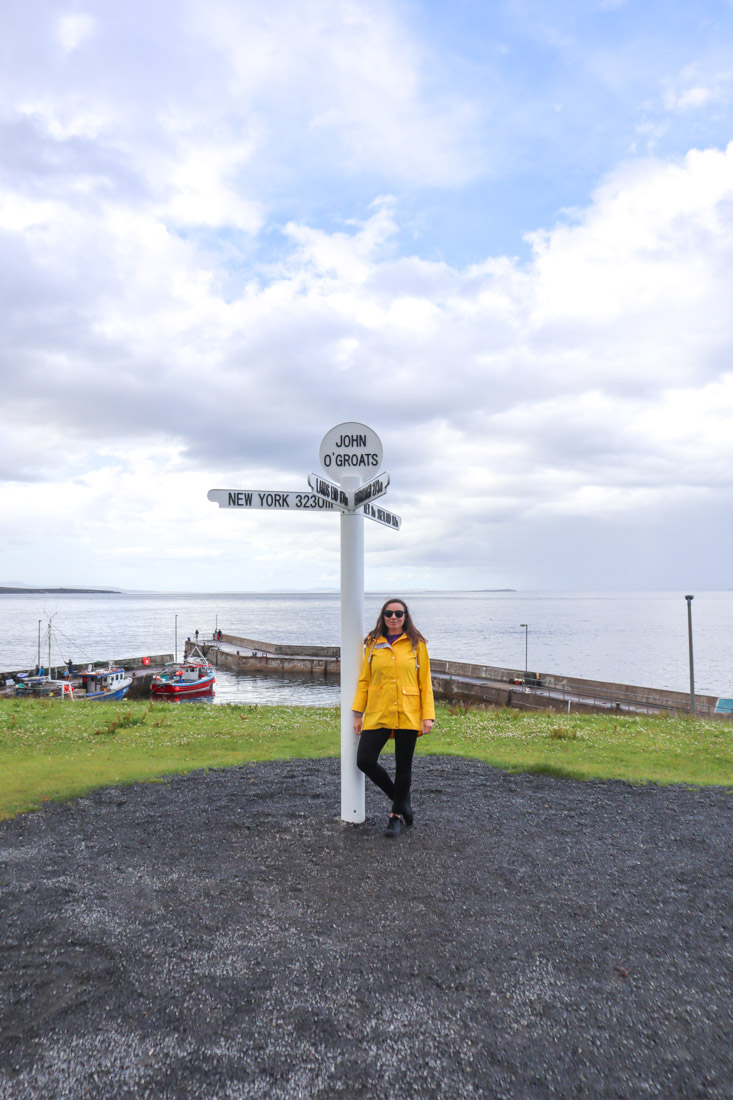 Northern Sands Hotel
Northern Sands Hotel is situated in the village of Dunnet, 1.9 miles from Dunnet Head and 6 miles from the beach.
WiFi is available throughout and parking is reserved for guests.
The hotel also runs a restaurant selling meals made with local produce Dunnet Bay Distillery is a one-minute walk away.
Dunnet Bay and John o' Groat both have NC500 campsites.
---
Wick Accommodation
Harbour House is a converted home of the harbour masters of Pulteney.
This 19th-century building is located in the heart of Wick.
Harbour House offers free Wi-Fi, a lounge with a pool table and breakfasts (Continental or cooked) served in your own room!
Harbour House is a few minutes away from the pub.
Wick Apartments
These private riverside apartments are located in the heart of Wick.
Double and single bed rooms available as well as apartments with balconies.
---
Golspie B&Bs
Close to Dunrobin Castle, Golspie is a timely overnight stop on the North East Coast 500.
Invicta House B&B also offers free breakfast, WiFi and parking.
The B&B is a 6-minute walk from the beach and bikes are available for hire.
---
Tain Accommodation
Tain is a good base for those looking to explore the NC500 distilleries on the east coast of the North Coast 500.
You are never more than a 40-minute drive from the 'water of life' – please ensure that your designated driver is not participating in the tasting.
---
Tain Hotels
Springfield Guest House
Springfield guest house has nicely decorated private rooms with bathrooms, free breakfast served at a communal kitchen table, WiFi and parking.
Guests think it is in an excellent location too.
Glenmorangie House
The elegant Glenmorangie House comes in at 5/5 on TripAdvisor down to its surroundings, attentive staff and focuses on whisky!
Rooms are grand; some with four-poster beds! There is even a cosy snug with fire. Parents, childcare options may be available. Perfect or what? Image courtesy of Glenmorangie House.
---
North Coast 500 Castle Hotels
You can read all about the castle stays in the Scottish Highlands in our dedicated guide here.
Here's a quick glance overview of the castle accommodation on the NC500.
Dornoch Castle Hotel (below)
Kincraig Castle Hotel
Tulloch Castle Hotel
Bunchrew House Hotel
NC500 Guides
We have created a number of free guides to help you with your NC500 planning:

Final words
I am not underestimating when I stress how popular the NC500 route has become.
If you are interested in walks along deserted beaches, ironic since the route is so popular, I know, hikes up mountains and drams in castles get booking using the advice from our North Coast 500 accommodation guide!
As the saying goes, "It's not about the destination – it's about the journey" and this is especially true for Scotland's equivalent to Route 66.
Oh, don't forget to check out our jam-packed NC itinerary and tips and packing guide.
If you would like to follow more of our (Gemma and Craig) adventure join us on Facebook, Twitter and Instagram as we show off our home country, Caledonia.
---
Pin to your Scotland board!

Where are you planning to stay on the NC500?
Tell us in the comments below!
---
» Check out our Scotland travel guide! We're locals.
---