This article has links to products and services we love, which we may make commission from.

Diverse landscapes from deserts to waterfalls, free things to do like beaches and national parks, food from the farm, nightlife in the city. Whatever is on your kind of USA bucket list, we've got it covered. So whether you are a local looking for staycation itinerary ideas or a visitor ticking off the big USA bucket list travel ideas, this guide details the top USA attractions and things to do in each state. Missed your favorite? Tell us in the comments below.
---
»You may also like | How to plan a trip to the USA
---
US Bucket List – Over 100 Places to Visit in the USA
Alabama Bucket List
Explore the natural preserves, white sand beaches, and coastal waters at the beautiful Orange Beach.
Buy some precious and interesting items at the Unclaimed Baggage Center in Scottsboro.
Train like an astronaut at Huntsville Space Camp.
Drink craft beer, eat meat and two and throw axes in hip Huntsville.
Alaska Bucket List
View Denali peak, alpine ranges, and glaciers in the Denali National Park.
Kayak through icebergs and glacier-carved fjords near the coastal waters.
Get amazing views of the Mendenhall Glacier from the observatory at the top of the Mendenhall Glacier Visitor Centre.
Observe the beautiful animals from the Pack Creek Brown Bear Viewing Area inside Tongass National Park.
Try the locally sourced products and seafood on the menus of Alaska's restaurants.
Grab your partner and take to the floor at a pub or club.
Shop Alaska's modern and traditional arts and crafts.
Have fun at the 5-day festival dubbed Golden Days in July.
Arizona Bucket List
The Grand Canyon is one of those places to see in the USA before you die.
Take a dip in Havasupai Falls situated in the vicinity of the Grand Canyon.
Experience the wonders of Mother Nature at the Painted Desert.
Enjoy the serenity and vistas in the desert town of Sedona. Sedona is enclosed in spiritual whirlpool energy, and many people experience a lift in spirit when they visit the town.
Go wine tasting at the wineries on the Verde Valley Wine Trail.
Eat mouthwatering foods like chimichangas, Navajo tacos, posole, and salsa.
Attend the Arizona Taco Festival at Salt River Fields, Scottsdale, held in October every year.
Arkansas Bucket List
Go on a hike along the bank of the Buffalo National River and explore the river on a canoe, kayak, or raft.
Get breathtaking views of Arkansas from the top of Mount Magazine State Park.
Take a dip at Hot Springs National Park.
California Bucket List
Walk across the Golden Gate Bridge in northern California to get impressive views and have a surreal experience. More San Fran? Read this.
Get thrill rides at California Adventure.
Go wine tasting in Napa Valley that is home to more than 450 vineyards.
Make your visit memorable by eating some fantastic Mexican foods like burritos and guacamole at Highway 99.
See geological wonders at Yosemite National Park. The park is enclosed by high granite peaks like Half Dome and El Capitan and is heavily forested with pines.
Have fun at the Fresno Fair in Fresno's Central Valley.
Check out the art and enjoy beach walks at Carmel-By-The Sea.
Visit the lavender farms during summer.
Colorado Bucket List
Have fun with activities like skiing, biking, hiking, and dining in Aspen.
Try jet skiing, rafting, tubing, and kayaking in the lakes and rivers of Colorado.
Do adventure activities like paragliding and skydiving.
Climb a 32-two foot ladder and then crawl through a tunnel to get to Balcony House.
Take a free ride to Telluride Mountain Village Gondola. Jump on the gondola, relax, and take in the breathtaking views!
Taste some wine at the vineyards on the Western Slope in Palisade and Grand Junction.
Feast on Colorado's fruits and vegetables and make friends at the farmers' market.
Drink, eat, see a show in the Mile High City, Denver.
Connecticut Bucket List
Try scrumptious farm-inspired culinary and finest seafood at celebrity chef-owned restaurants, and get delightful experiences with agri-tourism and wine and beer tours.
Take a fall foliage road trip to the beautiful town of Kent.
Have a pizza in Mystic. Just like the 80s movie.
Delaware Bucket List
Get inspired by Du Pont's all 77 exquisite collections of arts and antiques at the 47,000 square feet Nemours Estate in Wilmington.
Visit the Ryves Holt House and other historic buildings in Lewes.
Spend time fishing at one of the best Delaware beaches.
Florida Bucket List
Bring storybook fantasies to life for your children in Walt Disney World.
Drink Butterbeer at the Wizarding World of Harry Potter.
Ride the loops at Universal Studios.
Dine and drink cocktails on iDrive.
Have lunch with an astronaut at Kennedy Space Center.
Seek out the small-town East Coast beaches.
Tour the Dry Tortugas National Park and enjoy snorkeling in the clear waters.
Glide through the Everglades while on gator watch.
---
» Bookmark | Orlando on a budget tips
---
Georgia Bucket List
Kick back and relax at the little-known Golden Isles in the mainland port city of Brunswick.
See amazing monumental architecture at the Savannah Historic District. It is one of the largest districts of its kind in the United States.
Experience genuine Southern hospitality and enjoy locally made cuisines like tomato pie, fried chicken, and shrimp and grits at the 70-year-old Mary Mac's Tea Room in Atlanta.
Go shopping and dine at a fine restaurant at Pone City Market in Atlanta.
Sip from the source and enjoy delicious wines with picturesque views at the Georgia Wine Country in Dahlonega.
Attend the Rhythm & Ribs BBQ Festival in Tifton. The festival is held in March each year.
Savannah features in our warm US destinations guide which you can read here.
Hawaii Bucket List
Take a snorkel tour with your family or friends to the astoundingly scenic Hawaiian Islands.
Relax and unwind all the stress of your daily life under the Hawaiian Sunshine on the beaches of Hawaii.
Hike along the cliffs to Puu Pehe, a rock formation rooted in Hawaiian mythology.
Have fun at one of the traditional Hawaiian and Polynesian-style party called Luau feast.
Embark on a sunset cruise and witness some of the best likely sunsets.
Tantalize your taste buds with traditional Hawaiian cuisines like Poi, Laulau, Kalua pig, and Lomi Salmon.
Enjoy a warm winter trip to Hawaii.
Idaho Bucket List
Have mountain biking adventure on the trails of The Route of the Hiawatha.
Chase the waterfall at Shoshone Falls.
Illinois Bucket List
Hike on the trails while watching beautiful flowing waters and canyons at the Starved Rock State Park.
Enjoy the famous Italian beef sandwiches and deep-dish pizza at the restaurants.
Touch the shiny bean in Chicago.
Get festive at the Chicago Christmas parade on Magnificent Mile.
---
» Read next | Fun-filled 3 day Chicago itinerary
---
Indiana Bucket List
Experience the weekend festival vibes at Festival Country in the south of Indy.
Engage in outdoor adventure activities in Brown County.
Iowa Bucket List
Trip along the scenic Great River Road in the east of Iowa and do shopping and dining in the beautiful towns, such as Le Claire and Dubuque.
Celebrate Iowa's farm heritage at the 11-day-long Iowa State Fair.
Kansas Bucket List
Get amazing Instagram photos at Rocky Kansas High while touring within 30 miles of the interstate in east-west Kansas.
Get a break from the busy city life by escaping to the 116-acre Ernie Miller Nature Center and see the wonders of nature.
Kentucky Bucket List
Enjoy art performances, attend exhibitions, and do other fun things at Kentucky Artisan Center.
Be close to nature at the Big South Fork National River and Recreation Area.
Louisiana Bucket List
Explore Eunice, Mamou, and Lafayette for amazing food, culture, and music in Louisiana.
Try the local specialty cuisines comprising pork, rice, and seasonings in Boudin.
Get stupidly drunk on Bourbon Street and listen to jazz in New Orleans.
Maine Bucket List
Swim in the alpine pond situated between three peaks on Tumbledown Mountain near Mount Blue State Park.
Take a kayak ride to explore the picturesque islands in Merchant Row.
Do a New England road trip.
Take a foliage tour of New England to see the region at its best.
Highly recommend doing an east coast road trip! Here's the best routes for weekend trips to longer vacations.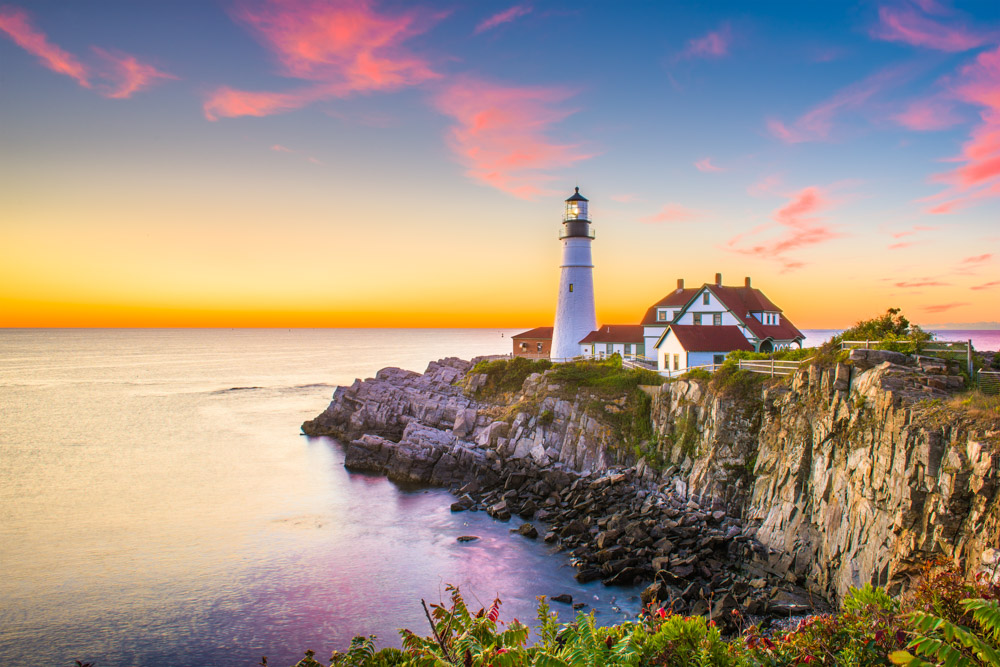 Maryland Bucket List
Experience nature walks, adventure sports, and buzzing city life in Maryland.
Enjoy local, regional, and international Irish music, dance, and cuisine, besides attending workshops and exhibitions at the Maryland Irish Festival held in November each year at the Maryland State Fairgrounds in Timonium.
Massachusetts Bucket List
Visit the Naismith Memorial Basketball Hall of Fame in Springfield.
Take a trip to Coast Guard Beach and enjoy great swimming.
Explore history strolling on the 2.5-mile Freedom Trail in Boston.
Take a trip back in time in the Old Sturbridge Village. Don't forget to visit the history museum and other interesting historical landmarks like Tantiusques.
Go to the Boston or Holyoke St. Patrick's Day parades.
Cheer on the Boston Red Sox from atop the wall at Fenway.
Hunch some famous foods like fluffernutters, grilled blueberry Muffins, and Boston baked beans.
Relax at Waldon Pond. Read more about the best lakes on the East Coast here.
---
» Read next | Perfect 3 days in Boston itinerary
---
Michigan Bucket List
Get a horse-drawn carriage ride in Mackinac Island State Park. Enjoy the high limestone bluffs, beautiful vistas of sparkling water, and vibrant scenes.
Swim and relax on the beach at Holland State Park. The park comprises separate Lake Macatawa and Lake Michigan constituents on the north of the channel that links Lake Macatawa with Lake Michigan.
Spend a couple of hours sailing on Lake Michigan. Explore the dramatic multicolored Pictured Rocks cliffs and unique sandstone creations like Miners Castle and Chapel Rock.
Enjoy freshly picked cherries and have fun at the National Cherry Festival in Traverse City every July.
Put your ice skating skills to the test at Campus Martius Park in Detroit.
Eat scrumptious foods like Detroit-style pizza and Greek Salad.
Take a tour of Michigan's Upper Peninsula and enjoy the rugged beauty and thrilling adventure, including mountain biking, sea kayaking, and dog sledding.
Minnesota Bucket List
Have fun in Brainerd, which is famous for its trails, parks, shops, and restaurants.
Visit the beautiful Munsinger Clemens Gardens to see beautiful flowers, annuals, and perennials.
Take a tour of Minneapolis' Grand Rounds to get impressive views of the downtown skyline.
Attend the Minnesota Renaissance Festival in Shakopee that features a mix of delicious food, shows, and jousting.
Enjoy delicious foods like walleye, lefse, and lutefisk.
Take a boat ride on the Boundary Waters.
Mississippi Bucket List
Venture deep into the forests and wildlife refuges to watch birds and wildlife, including migratory birds in Mississippi.
Have the ultimate Mississippi experience by visiting a corn maze, spending the night in a sharecropper's hut, fishing on the Gulf Coast, or picking organic vegetables and fruits from the farms and orchards.
Missouri Bucket List
Get a Jeep-drawn tram ride through the Fantastic Caverns in Springfield to explore the state's wonderful underground phenomenon.
Visit the Titanic Museum and get acquainted with the tragic experiences that the crew and passengers of Titanic endured during the ship's maiden voyage.
Montana Bucket List
Do snowshoeing and skiing at the Big Ski Resort.
Do a tour of Yellowstone National Park.
Look out for grizzlies and American Bison/buffaloes!
Enjoy the Cowboy Capitol.
Nebraska Bucket List
Walk between colorful daffodils, tulips, and other beautiful flowers and celebrate the onset of spring in Sunken Gardens.
Get on an off-road jeep tour at Fort Robinson State Park or walk the trails at Chadron State Park.
Nevada Bucket List
Take a helicopter tour of the Grand Canyon or a hot-air balloon ride over Las Vegas.
Have fun at live music shows or take Slotzilla Zipline Thrill Ride at Fremont Street, Las Vegas.
Enjoy amazing sights, gambling, nightlife, food, neon signs, and dancing fountains in the buzzing city of Las Vegas.
---
» Check out our Las Vegas itinerary!
---

New Hampshire Bucket List
Take amazing pictures inside the Ice Castles in North Woodstock.
Get adventurous with tame mountain escapades or thrilling adventures like river rafting at Mt. Washington Valley Chamber of Commerce.
New Jersey Bucket List
See the most extensive collection of fluorescent rocks in the world at the Sterling Hill Mining Museum.
Get amazing views of Atlantic City from Steel Pier amusement park.
See the Victorian-style holiday homes in the Old Victorian Cape May, the heyday stylish resort town of the 18th and 19th centuries.
Head over to Ocean City Boardwalk and walk along the world-famous and award-winning boardwalk.
Try some of the state's popular foods like pork roll, sloppy joe, and Trenton tomato pie.
New Mexico Bucket List
Cross the Rio Grande Gorge Bridge and get priceless views of the surrounding areas.
Get lost in New Mexico's wilderness areas like Gila Wilderness or the Bisti Badlands and create unforgettable memories.
Get high at the Albuquerque International Balloon Fiesta.
Hop on the famous Route 66, in a Cadillac or on a bike. USA road trip bucket list must!
Albuquerque features in our guide to US cheap cities to visit. Find out more here.
New York Bucket List
Walk from lower Manhattan to Brooklyn on the Brooklyn Bridge and take some selfies.
Get amazing views from the top of the Empire State Building and explore the immersive experience.
Take a free ride with the Staten Island Ferry to see the Statue of Liberty.
Visit The MET or American Museum of Natural History, the top two impressive museums in New York.
Get lost in Central Park on the twisting paths and make amazing discoveries.
Get dazzling experience with the digital displays, billboards, and flashing lights in Times Square.
Pay homage at the 9/11 Memorial.
Try Manhattan clam chowder and New York-style cheesecake and pizza.
Dine at Montauk's famous beachfront restaurant and snap the lighthouse.
Go see the fantastic waterfalls at the Niagara Falls State Park on the US-Canada border.
Drink wine at Fingerlakes
Spend a night at Singer Castle on Dark Island.
---
---
» You may also like | How to spend 4 days in New York
---
North Carolina Bucket List
Photograph the Cape Hatteras Lighthouse
Have fun swimming, shopping, or dining at the Wilmington area's Carolina, Kure, or Wrightsville beaches.
Visit the very first documented commercial gold find in the USA at Reed Gold Mine.
Slide down Sliding Rock, Pisgah National Forest (image).
North Dakota Bucket List
Explore the famous Theodore Roosevelt National Park and take pictures with the amazing canyons while seeing bison grazing along the road.
Enjoy open-air, broadway-style music at the Medora Musical along the hills of Medora.
Ohio Bucket List
Take roller coaster rides at Cedar Point in Sandusky.
See the marvellous Great Serpent Mound situated along Ohio Brush Creek in Adams County.
Hike through forests, caves, and rock formations on the trails at Hocking Hills.
See spectacular waterfalls and beautiful scenery in Cuyahoga Valley National Park. There are around 100 waterfalls in the valley. Most of them are located in the northern part.
Satisfy your sweet tooth with buckeye candy.
Oklahoma Bucket List
Explore amazing artworks by artists from Europe, Asia, America, and Africa at the Philbrook Museum of Art.
See and photograph bison, longhorn cattle, and elk roaming free at the Woolaroc Museum & Wildlife Preserve.
Oregon Bucket List
Feast on famous Oregon oysters.
Walk the Cannon Beach towards Haystack Rock featured in our romantic places to visit guide.
Feel the spray of Multnomah Falls
Test the notorious beer scene at the Ale Festival this winter in Portland.
Try the food trucks, every type of food, fast in Portland.
---
» Read next | How to spend three days in Portland
---
Pennsylvania Bucket List
Hike the trails or swim and take a sunbath at the scenic Presque Isle State Park.
Try some delicious Asian, Mexican, or Italian food at the new restaurants in Pittsburgh.
Rhode Island Bucket List
Witness an impressive sunrise from Fort Adams State Park in Providence, and then go to the Johnson and Wales Culinary Arts Museum to learn about the traditional food history.
Spend some peaceful moments at Narragansett Bay.
South Carolina Bucket List
Do shopping, walk along the scenic river, and stroll through the peaceful streets of the beautiful Georgetown.
See the largest old-growth bottomland hardwood forest at Congaree National Park.
South Dakota Bucket List
Try the famous Snickers Salad and Klub at the restaurants in South Dakota.
Visit the Badlands National Park to see nature's blessings, including protected wilderness, grasslands, and towering mountains.
Tennessee Bucket List
Get a boat ride and explore the intricate cave system of the famous Lost Sea, an underground lake.
Explore the history and heritage of Tennessee at the Museum of East Tennessee History.
Stomp out a line dance in Nashville.
See where Elvis lived at Graceland, Memphis.
Texas Bucket List
Go to Hamilton Pool – a breathtaking natural oasis situated 23 miles west of Austin. The pool developed naturally when the dome of an underground river broke due to huge corrosion thousands of years ago.
See space artifacts and attend fun shows at Space Center Houston.
Walkway along the San Antonio River and see parades and artisan walks.
Experience canopy tour, flying through cypress and pine timberlands in Spicewood.
Try the slow-smoked pit barbecue, one of the delicacies, of Texas, and don't forget to taste the famous Texas wine.
Head over to the National Polka Festival to have fun with your family.
Drink craft beer and eat Tex Mex in the cool city of Austin.
Attend the annual 10-day festival, South By Southwest.
Take a road trip to Big Bend and sleep under the stars.
Catch a ballgame at Minute Maid Park, the Houston Astros stadium.
---
» Did you know? Two Scots Abroad got hitched in Austin!
---
Utah Bucket List
Be adventurous climbing to the top at the Brave Angels Landing.
Explore the lofty sandstone monoliths, slot canyons, rock creations and suspended gardens at Zion National Park.
Run like Forrest Gump and check out the mesa tops at Monument Valley.
Vermont Bucket List
Pay your culinary condolences at Ben & Jerry's Flavor Graveyard in Waterbury Village.
Have fun outdoors hiking, biking, waterskiing, waterboarding, and lake cruising at Basin Harbor.
Enjoy the serene and calm atmosphere of the picture-postcard village of Woodstock.
Go shopping at Church Street Marketplace in Burlington.
Vermont is particularly special in fall. Here's our list of places to visit to see spectacular foliage in the US.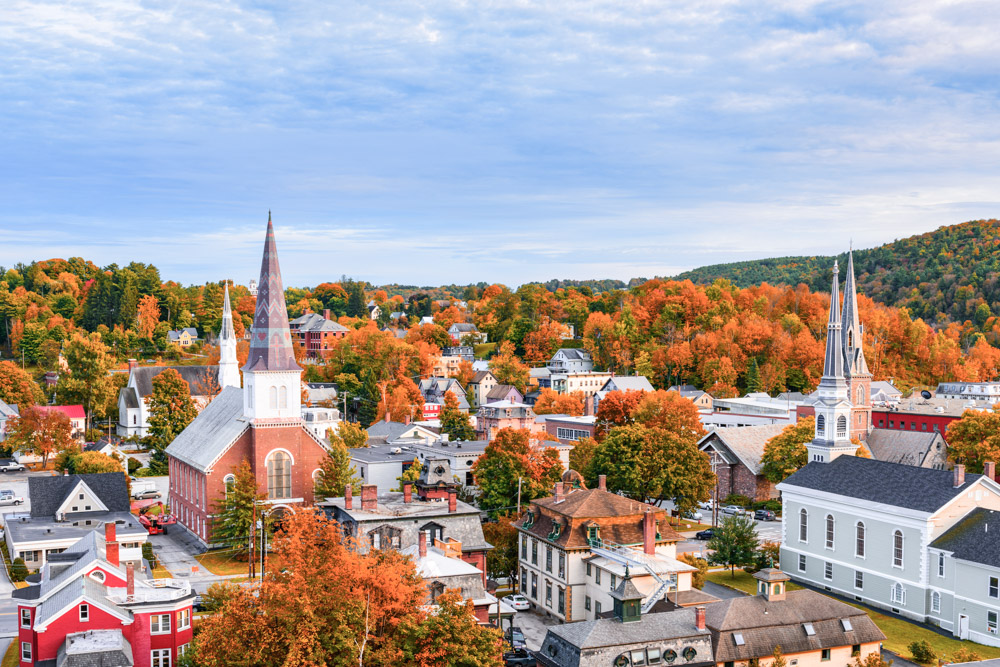 Virginia Bucket List
Relax and enjoy amazing views while driving the scenic Blue Ridge Parkway. The mountain views and waterfalls along the way will surely lift your spirit.
Attend the annual Apple Blossom Festival in Winchester and enjoy tasty apples.
Get epic views of Virginia from Mt. Rogers, the tallest peak in Virginia. It has a height of 5,729 feet above mean sea level.
Head over to the James River for swimming, rafting, or kayaking.
Spend a day or two camping in Shenandoah National Park. Explore the forests and the vast network of trails, such as the long-distance Appalachian Trail.
Don't forget to try Virginia wine and Virginia oysters.
Pay tribute to King Neptune and have fun at the Neptune Festival, Virginia Beach, every September.
Washington State Bucket List
Eat chowder at Pike Place Market and drink in the first-ever Starbucks in Downtown Seattle
Go boating on Ballard Locks.
Hit the slopes at Mount Spokane.
Read our Washington bucket list next.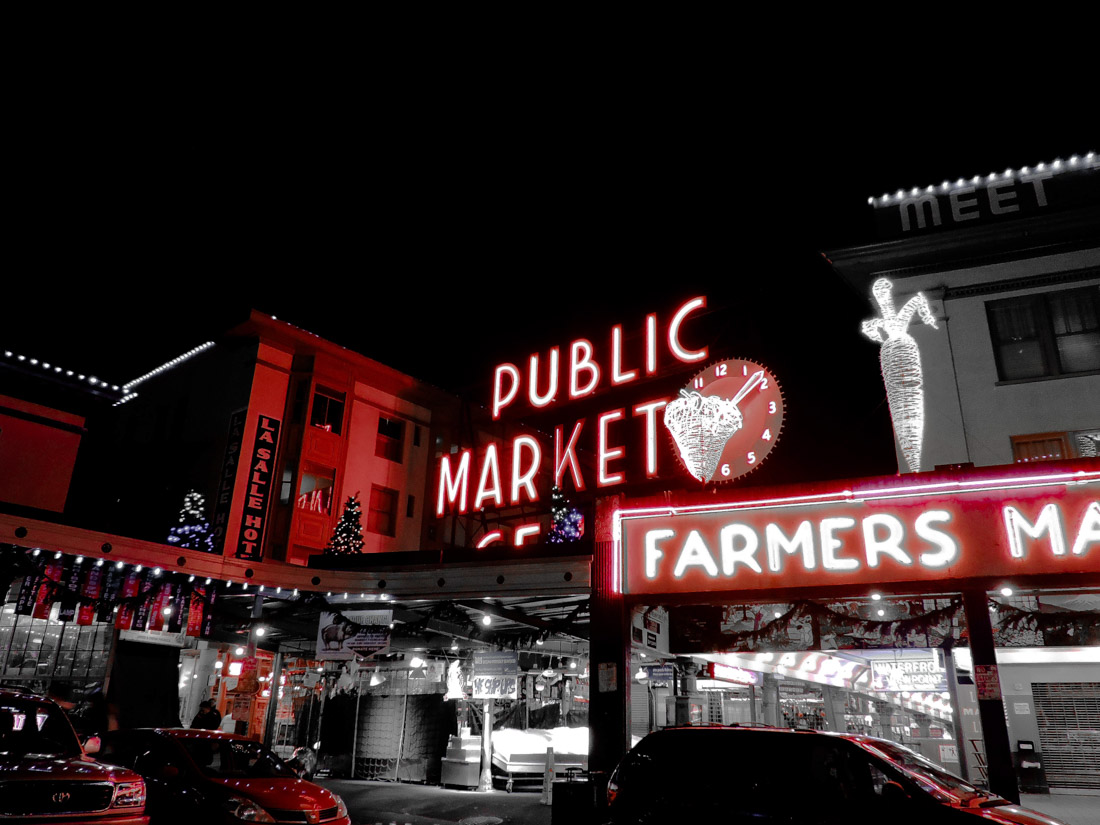 West Virginia Bucket List
See spectacular waterfalls at Blackwater Falls and Elakala Falls.
Visit Harpers Ferry and explore the rocks where the Shenandoah River meets the Potomac River.
While you're there, see the historic high street, too.
Dark tourism fans should check out Lake Shawnee Amusement Park, the abandoned theme park from the 1920s.
Wisconsin Bucket List
Meet Door County's cool and friendly community and have fun at the lighthouses, beaches, and forested state parks.
Drive on the scenic Wisconsin Great River Road parallel to the magnificent Mississippi River.
Grab some good luck by rubbing the nose of the honey badger statue at the Wisconsin Capitol Building in Madison.
Wyoming Bucket List
Experience winter and summer adventures like skiing, snowboarding, rafting, and horseback riding at Jackson Hole, Grand Teton National Park.
Take a dip at Hot Springs State Park – the largest single mineral hot spring in the world and known for its relaxing effects.
Washington, DC Bucket List
Take a free, guided tour of the US Capitol building, home of the US Congress.
Explore the beauty of nature while hiking in Rock Creek Park and enjoy some recreational activities.
Do some quality shopping and dining in Georgetown.
Explore the free Smithsonian Museums.
Attend a concert or show at the Kennedy Center.
Explore the attractions and historical buildings in the old town of Alexandria.
Have fun at fall-themed celebrations like Oktoberfest, focused on food, beer, and games.
Taste mouth-watering foods like smoked sockeye salmon, sauteed geoduck, and oyster stew.
---
Save to your United States Bucket List planning board
---
Final Words
How long will it take to cover all these things to do in the USA? Let us know how many you've done in the comments below! About the author
---
Anne is a big fan of the USA with its vast landscapes, captivating culture, diverse culinary and thousands of activities.
---