This article has links to products and services we love, which we may make commission from.
Looking for the best places to visit in the USA in September? This guide details options for a variety of trips. So if you're planning a sunny trip to the beach, chasing the start of leaf peeping season or hoping for a Labor Day getaway, let us help you create the perfect September vacation.
As with all of our US by month travel inspiration guides, we've outlined the temperatures in September for each location, the fun festivals and events taking place, what the prices are compared to summer and why you might want to visit that destination.
Which US destination do you hope to visit this September? Tell us in the comments below. We love to hear about your travels!
If you are still deciding what month to travel in, check out our guide on the best places to visit in the US in October too.
Best Places to Visit in September in the USA For a Warm Vacation
Maui, Hawaii in September For Fewer Crowds & Warm Temperatures
If you are looking for a beach vacation in September with fewer crowds, consider Maui in Hawaii,
Maui's September temperatures range from 60°F to 77°F (15°C to 25°C), but some areas still see temperatures near the 90s.
The weather is perfect for cruising down the picture-perfect Hana coast that's dotted with black sand beaches and waterfalls.
Take a leisurely stroll along the Wailea Beach Path (image) which is 3.5 miles along the oceanfront.
Visit Hamoa Beach, a small patch of sand with stunning views.
There's also the black-sand Honokalani Beach along the Hana drive.
Maui is one of the world's top diving destinations, so hop in the crystal clear water for a snorkel tour.
Further inland, there's Haleakala National Park where you can hike active volcanoes and explore plants only found on Maui.
September is also full of festivals and events including the Festivals of Aloha, the Chinese Moon Festival, and weekly community parties.
Although Hawaiians indeed love Spam, there's certainly more to the local cuisine than canned meat.
Fuel up for a day on the beach with a Loco Moco breakfast.
You can't go wrong with fresh seafood dishes, especially poke.
A September Maui vacation will be cheaper than going to the island during the peak summer and winter seasons and you can save $50-100 per night on hotel rates compared to July.
Read our guide free things to do in Maui for budget-saving tips!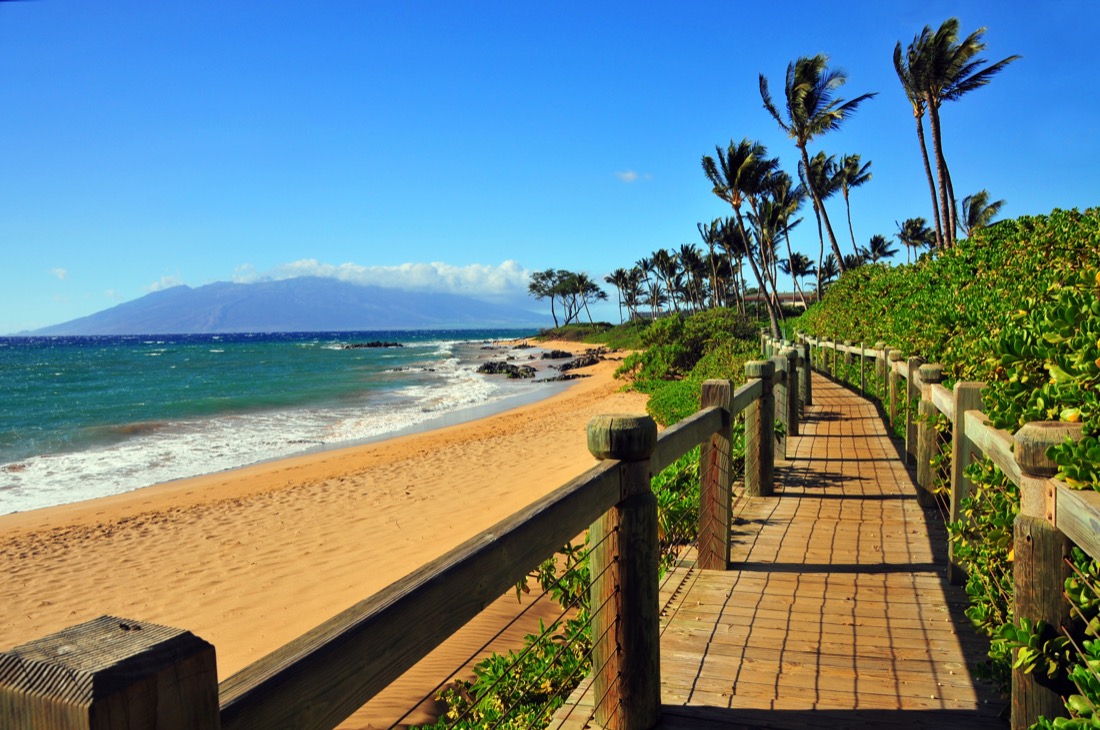 Delray Beach in September for a Sunny, Small Beach Town Vacation
If you fancy a beach getaway this September but don't want your shores attached to a city or a big resort, head to Delray Beach in Florida.
Delray Beach was voted "Most Fun Small Town in the USA" and art fans will love what it has to offer.
September temperatures range from 76°F to 88°F.
If you can only handle a few days lazing on the beach, Delray has enough to keep you in town for a week.
Visit the museum and ground of Hatsume Fair at Morikami Park or Cornell Museum for contemporary art.
Dine and shop on Atlantic Avenue and get your sounvenirs at the Big Apple Bazzar.
Look out for the happy hour deals for Downtown bars at 'Florida's Village by the Sea'.
Delray Beach isn't just one of the best beaches to visit in September in the US, it is rated all year round.
However, it is slightly more expensive for hotels compared to July.
Looking for more small coastal town inspiration? Check out our guide to East Coast beach towns.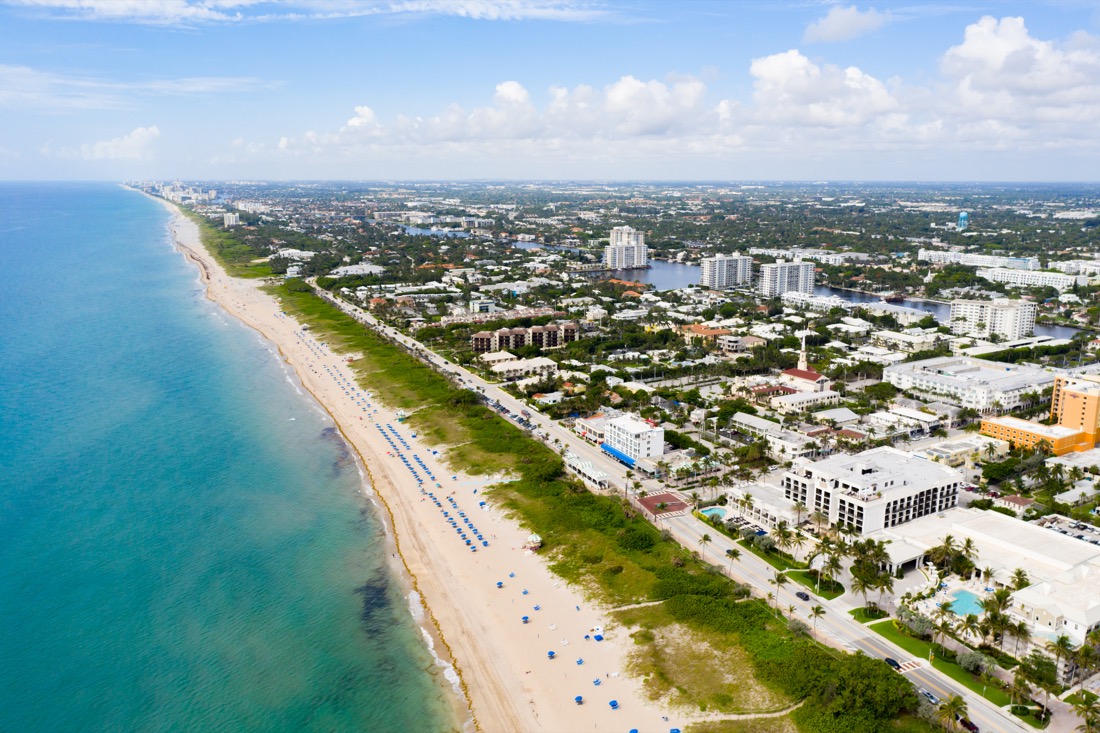 Palm Springs in September For Warm Weather & Desert Nature
Holiday as the rich and famous used to at Palm Springs in California.
Today, this location is ideal for those who appreciate modern art and mid-century architecture.
Expect random 6-ft (7.9-m) Marilyn Monroe and floating cars around every corner and pops of color on many buildings.
Golf or admire the gardens at Sunnylands Center, check out the natural palm fans at Indian Canyons once home to the Agua Caliente Band of Cahuilla Indians and see the area from high via the Palm Springs Tramway up Mount San Jacinto.
Dine at Azucar (contemporary cuisine), 1501 (rustic-chic gastropub), Wilma Frieda (comfort food), and Birba (changing menu, patio).
Take a day trip to Pioneertown, created in the 1940s as a "Living Breathing Movie Set".
It's just a 40 minute drive away and there is free parking, partner.
Want to visit a famous national park?
Let someone else do the driving on this day tour to Joshua Tree National Park.
This arid location enjoys temperatures of 64°F to 91°F in September so remember to pack your sunscreen and hat.
Hotel prices in Palm Springs in September are similar to that in summer.
Palm Springs also features in our guide the best bachelorette destinations in the US.
Best Places to Travel in the US in September for Fall Colors
Crisp morning, cozy sweatshirts, pumpkin spiced everything and fall colors – these are a few of our favorite things.
The following New England and New York State destinations have a smidge of a chance of showing off the start of their foliage towards the end of September however, we always stress – don't just plan a trip just for trees!
Make sure there is enough going on at the location for you to still enjoy your vacation if leaf peeping takes place later than previous years.
It is difficult to determine for definite when leaves will change color but you can keep an eye on handy foliage reports curated by locals which we'll link to below.
If seeing fall colors is non negotiable, check out our guide to the best places to visit in October in the USA.
Bar Harbor in September For a Chilled Coastal Retreat
Bar Harbor, Maine at the outskirts of Acadia National Park, gets inundated with tourists during the peak summer and autumn months.
Early to mid September visitors can take advantage of Bar Harbor's mid-season lull with cheaper prices and less-crazy crowds.
Although temperatures will be getting cooler between 50°F to 68°F, visitors can embrace the easy access to stunning lookouts and rugged beaches in Acadia National Park.
Early birds should make reservations to watch the sunrise on Cadillac Mountain in Acadia.
If you're more of a night owl, head to the annual Acadia Night Sky Festival for the best stargazing on the east coast.
Bar Harbor also has plenty to explore including seaside restaurants, historic mansions, and peaceful walking paths along the beach.
Be sure to keep an eye on the water to catch a glimpse of migrating whales off the coast.
You can also do some shopping at the annual Bar Harbor Fine Arts Festival or take a walk downtown.
Bar Harbor is expensive, especially during summer and fall.
Check out our guide to free things to do in Bar Harbor and Acadia to budget saving tips.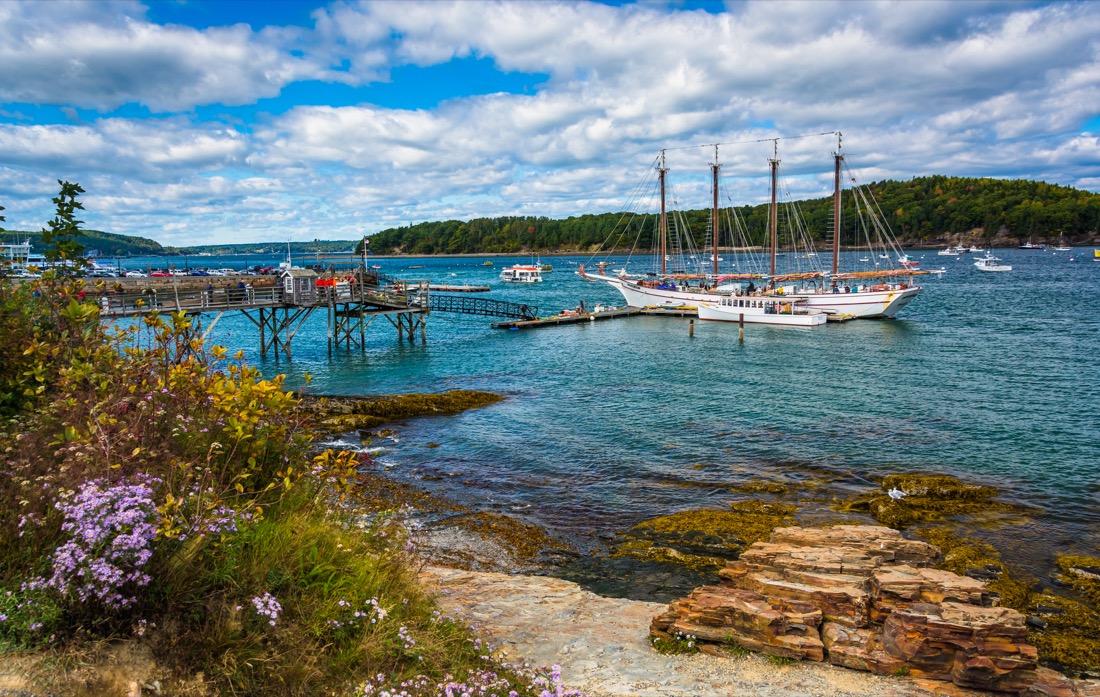 Although Bar Harbor may feel like a remote destination, there are certainly some delicious local foods to explore.
Sample the fresh lobster rolls and fresh blueberry pie that Maine is famous for.
Bar Harbor is an ideal location for more mature visitors so why not take your grandparents for Grandparents' Day?
While the north of Maine sees its greens turn to orange and red first, there is a chance you will experience foliage change if you visit Bar Harbor towards the end of the month.
Keep an eye on the foliage reports here.
Bar Harbour is one of the best places to visit in the USA in September for a cool, coastal getaway and fresh ocean air with the chance of seeing summer slip into fall.
Hotel prices in September are similar to summer, you might find a small saving of $10 per night.
Bar Harbor and Acadia National Park also feature in our recommended October destinations for fall colors.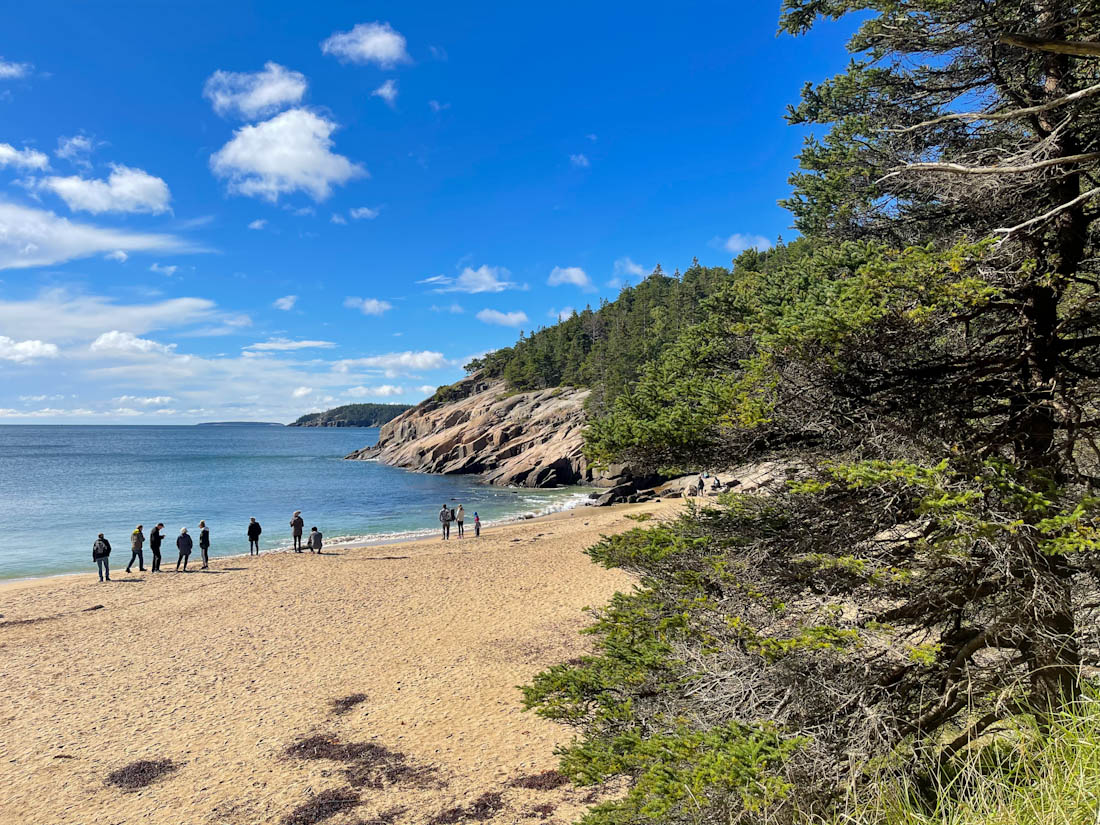 Lake Placid, New York State For Foliage & Fall Getaway
Lake Placid is one of the most visited areas in New York State.
It is known for hosting the Winter Olympic in 1980 and is a popular snow vacation but don't let that put you off visiting in September because if you time it right, the fall colors have been known to turn at this time of year.
Follow the Lake Placid foliage report here.
Located in the Adirondack Mountains, there is plenty of outdoors activities to do around Lake Placid.
Hike around Mirror Lake or get on it in a boat, learn to luge the roller loops at Mount Van Hoevenberg and play Stick n' Puck at the Olympic Ceter.
Shop local at Lake Placid Downtown and dine at the family owned Generations or eat pub grub with a view at The Cottage.
Lake Placid's September temperatures range from 39°F to 69°F so pack accordingly.
Good news! September accommodation prices at Lake Placid are around $30-50 cheaper than July.
You may also like our New York State bucket list.
New Hampshire White Mountains For a New England Road Trip
Late September can be a good time for moderate foliage change in New Hampshire but again, we stress, plan other activities in case peak fall is later in October.
Follow the foliage tracker here.
Plan for temperatures ranging from 43°F to 74°F.
The majority of things to do in the White Mountains are based around nature, making it a great escape from the city, office or working from home.
Choose between the small mountain towns of Lincoln, Littlejohn or the busier North Conway as a base for your White Mountain exploration.
Enjoy the scenic 7.6 mile drive on the Mount Washington Auto Road which is only open from May through to October.
If you prefer not to drive, you can still get great views using the gondolas at the Cannon Mountain Aerial Tramway and the White Mountain Express (Loon Peak) or by taking a ride on the Mount Washington Cog Railway.
The White Mountains are no stranger to beverages, pick up drink from White Mountain Cider Co or Seven Birches Winery.
Like a souvenir?
New Hampshire is one of the few states that has tax-free shopping!
Hotel prices vary between lodgings but some come in at $50 cheaper per night compared to July.
As to be expected, prices hike up for October's peak fall season.
Best US Cities to Visit in September
Food, festivals and the last of the summer days.
September might just be the perfect month to visit the following cities considering crowds are fewer but the sun is still out.
Chicago in September For Lots of Live Music Festivals & Football
The Windy City, Chicago in Illinois, is the perfect September escape for its comfortable temperatures, unbeatable shopping, and a busy lineup of festivals.
The weather is usually pleasant and mostly clear with temperatures ranging from 62°F to 74°F (16°C to 23°C).
Spend a warm afternoon cruising down the Chicago River on a guided boat tour of the city's stunning architecture, or head to the Magnificent Mile for a day of shopping.
If you'd rather be indoors, Chicago happens to be home to some of the nation's top museums.
Try to get to the Museum of Science and Industry and the Art Institute of Chicago.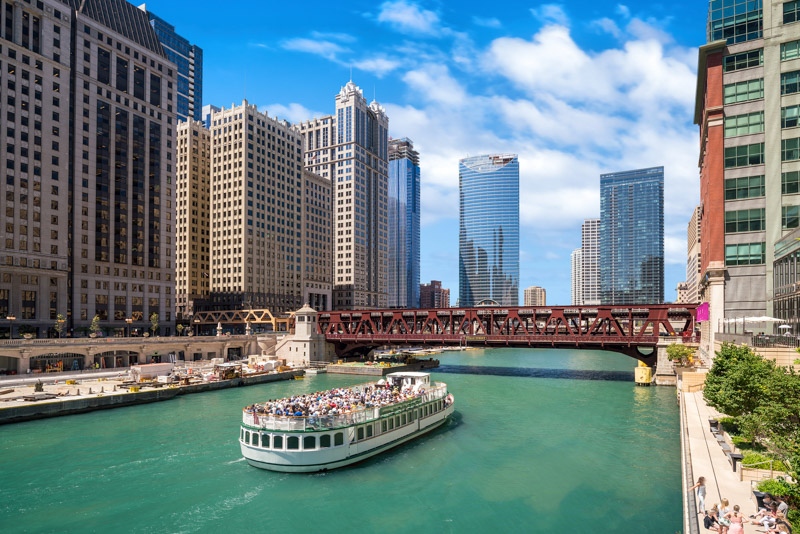 September visitors can choose from several music festivals to attend including the Chicago in Tune music festival, the North Coast Music Festival, Riot Fest alternative music festival, Pitchfork Music Festival, and the Hyde Park Jazz Festival.
There is also art, food and film festivals on such as the EXPO Chicago modern art festival, Reeling Film Festival, and the Chicago Gourmet food festival.
Chicago knows how to do celebrations well and features in our guide to the US in March for its St Paddy's Day events.
September means football for many in the US and the Chicago Bear's schedule kicks off so look out for games at Soldier Field.
With so much going on downtown, it's easy for forget that Chicago is a waterfront city.
Escape the city center and head east to Navy Pier for food, drinks, and family-friendly entertainment.
When it comes to local food, it's hard to beat Chicago's tasty menu.
Try Chicago deep dish pizza, a Chicago Italian beef sandwich, and a Chicago-style hot dog.
Chicago is known for its steakhouses and its great Greek food in Greektown.
Hotels prices vary but some offer savings of up to $100 in September compared to July.
Chicago also features in our guide to the best places in the US to visit in July, if you can handle the heat!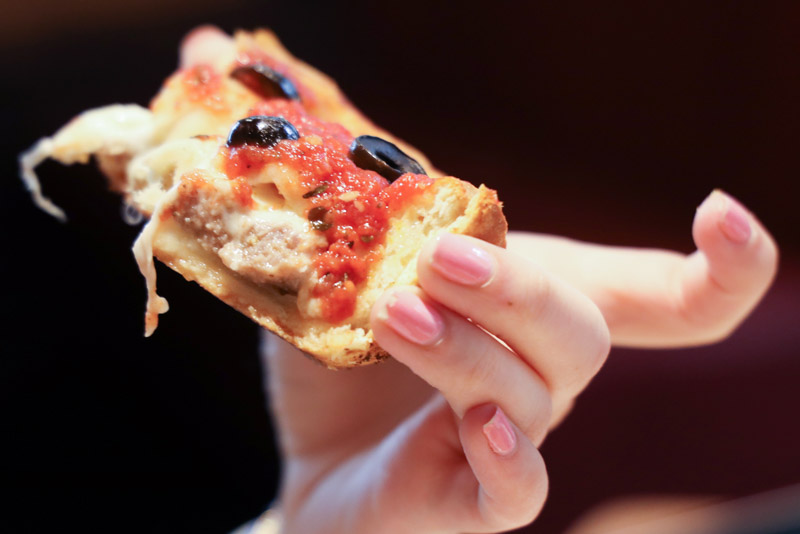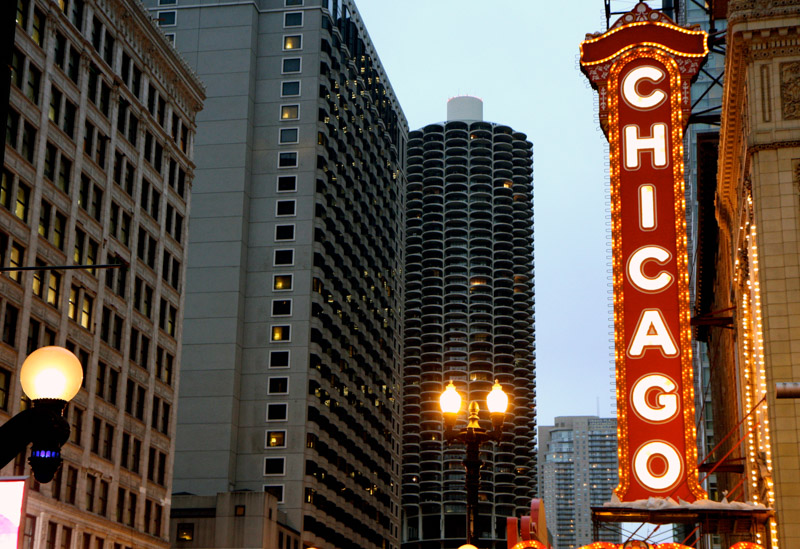 San Francisco in September For Clearer Skies & Fringe Festival
Tourists flock to southern California beaches in September, but smart travelers turn to San Francisco for better prices and smaller crowds.
The weather is still comfortable in September, with temperatures ranging from 56°F to 71°F (13°C to 22°C).
San Francisco Bay's pervasive fog tends to lift in September.
That means ideal conditions for a seaplane tour over the water for a bird's eye view of the Golden Gate Bridge.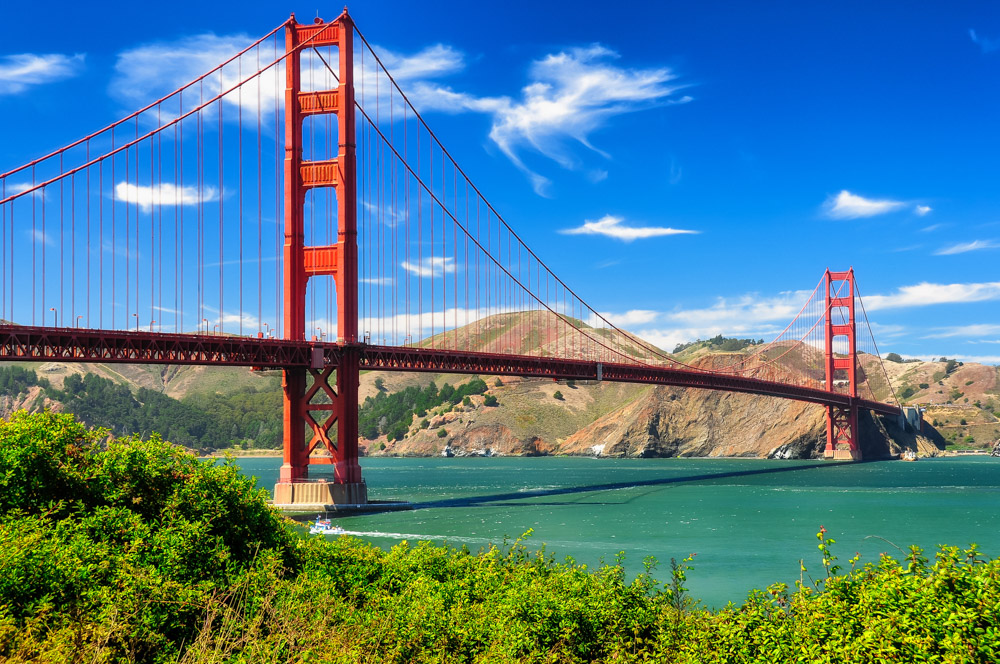 Just because it's not peak season doesn't mean there's nothing to do on land.
San Francisco is the birthplace of many of our favorite adult beverages.
Check out America's first craft brewery, Anchor Steam Bar. When in doubt about your cocktail, order a martini, which was invented in the city.
Sample the food along Fisherman's Wharf, especially fresh seafood and Cioppino stew.
You can also catch The Ghirardelli Square Chocolate Festival and the San Francisco Fringe Festival in September.
Once you've eaten your way through the city, get some fresh air on a day trip to Redwood National Park to gawk at the tallest trees on earth.
As above, hotel prices vary but there are some savings to be had in San Francisco in September compared to July.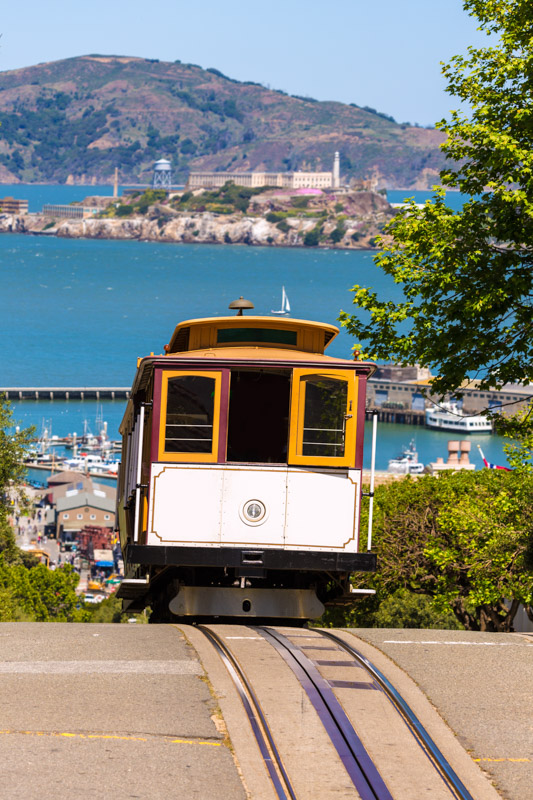 Charleston For History and City with Beaches Close By
It's easy to feel like you've traveled back in time while vacationing in the small city of Charleston, South Carolina.
Get a feel for the city's history strolling down cobblestone streets surrounded by historic mansions in the French Quarter and Battery districts.
You can also learn more about the Gullah people in Lowcountry at McLeod Plantation or via the Geechee Experience Tour.
History buffs can visit the site of the first Civil War battle at Fort Sumter.
If you have a car, take a drive to the country's oldest landscaped gardens at Middleton Place, which is also a plantation that offers tours such as Beyond the Fields: Enslavement at Middleton Place..
Once you've seen enough of the city, spend a day or two visiting Charleston's elegant white-sand beaches.
Explore Kiawah Island, Folly Beach, Sullivan's Island and the Isle of Palms.
September is still warm and sunny with temperatures ranging from 72°F to 83°F (22°C to 28°C) offering pleasant beach conditions.
September's great weather is perfect for festivals.
Visitors can relax to live music at the Lowcountry Jazz Festival, eat through the city during Charleston Restaurant Week, and admire contemporary art at the MOJA Arts Festival.
As for food, there's always fresh seafood – especially oysters – on the menu in Charleston.
You'll also see Beaufort Stew, Beaufort Boil, or Lowcountry Boil – it's all a delicious combination of shrimp, sausage, corn, potatoes, and Old Bay seasoning.
Hotel prices are the same in Charleston in September and July.
Charleston also features in our guide to warm winter vacation destinations.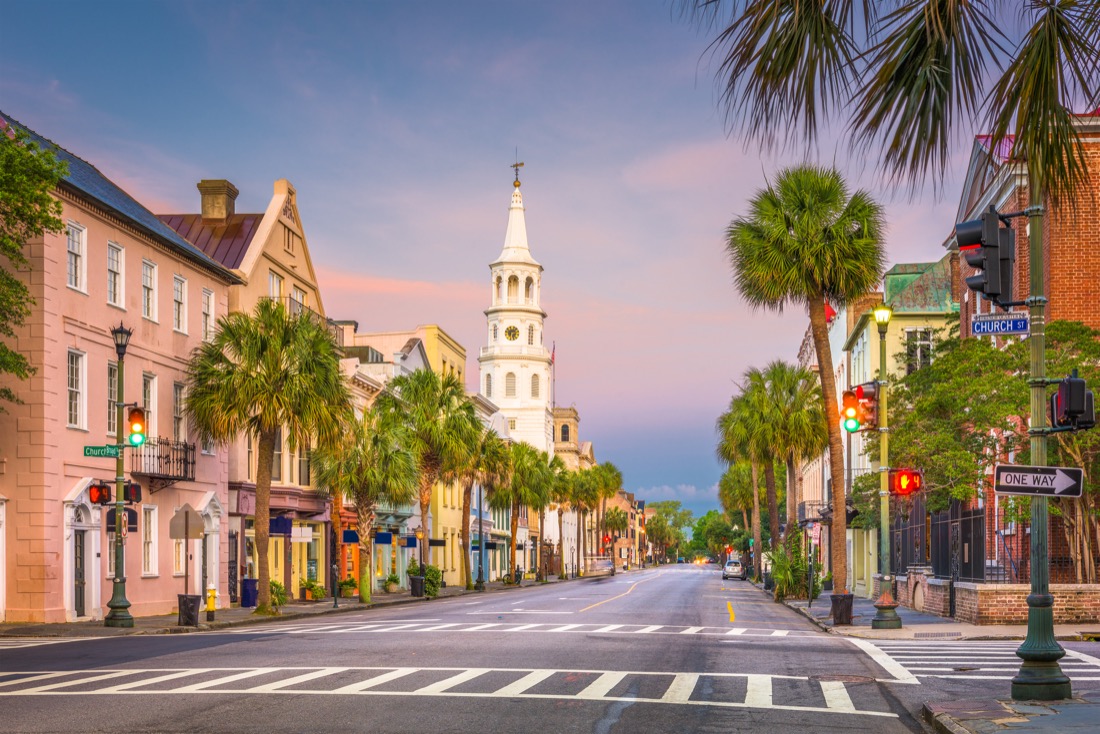 Las Vega For a Party Vacation & Desert Day Trips
Las Vegas, Nevada is always one of the best places to vacation in the US if you are looking for 24/7 indoor and outdoor fun.
September is finally when Sin City starts to cool down from its sweltering summer heat.
Temperatures can be between 57°F to 96°F (13°C to 36°C).
The cooler temps make it easier to explore more of the city – from the Strip's luxurious hotels to the kid-friendly Neon Museum.
One of the most popular things to do in Vegas is the Highroller, a 550-foot observation wheel which overlooks the Strip.
Visit the various hotels including Caesar's Palace and Wynn.
At dusk head to the Bellagio to see the famous fountains light up and dance to music.
Whether you're in town to party the night away, try your luck at blackjack, or take advantage of the world-class hotel spas, Vegas has something for everyone.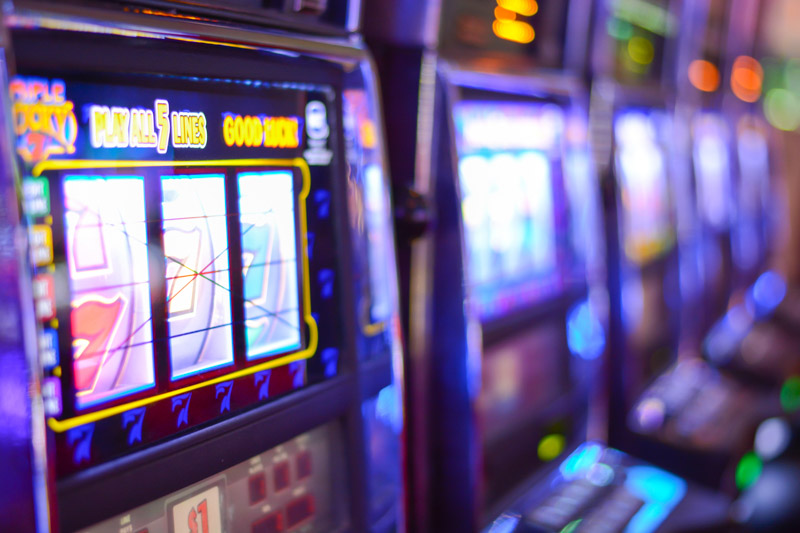 That also goes for the local food scene.
Vegas cuisine ranges from class American late-night comfort food to high-brow gourmet dining.
For some, Vegas is a bit of an assault on the senses and can start to feel overwhelming.
That's when you hop in the car and head west for a 13-mile scenic drive through Red Rock Canyon.
There are also guided tours of the Hoover Dam for an inside look at the massive structure holding back the country's largest man-made lake.
It is really common for visitors to take a day trip to the Grand Canyon.
It's a long day on a 10-12 hour tour but worth it to see the national park on every US bucket list.
Travel prices are usually reasonable in September, but book your stay in advance for the best rates.
$10-20 per night savings can be made booking a hotel in Vegas in September instead of July.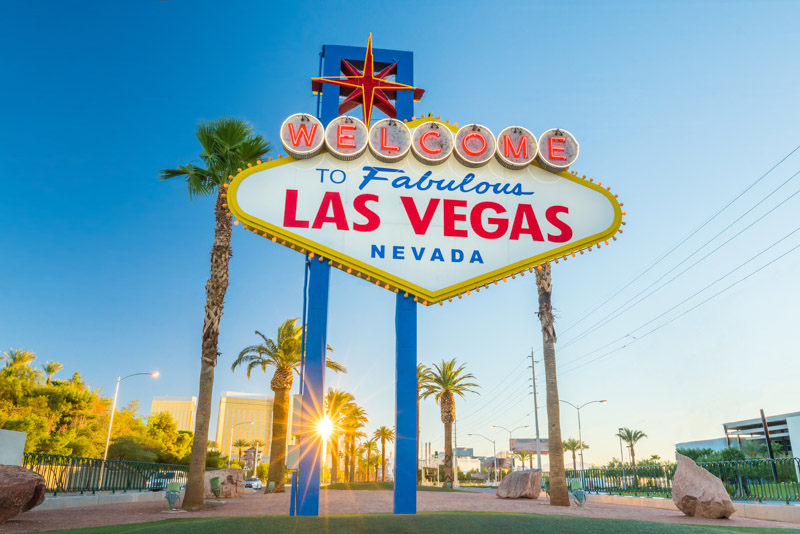 New York For Labor Day Celebrations, Tennis & Baseball
The Labor Day Weekend falls in the month of September and a city that is no stranger to a parade or a party puts on a show viewed by millions of people.
Of course we are talking about New York City and the West Indian Day Parade aka the Carnival.
The event held along Eastern Parkway, Brooklyn tends to take place around the first Monday in September and is organized by the West Indian American Day Carnival Association (WIADCA).
Expect West Indian dance, music, costumes and food during this colorful explosion of a parade made up of groups of masquerades.
Join 1-3 million people from around the world in the spirit of carnival this September in NYC.
Brooklyn's Coney Island is also a holiday hot spot where locals enjoy the last days of sunshine along the boardwalk and at the beach.
Since Coney Island is seasonal, the Labor Day weekend is a great time to enjoy the amusement park and rides which close in October although the boardwalk stays open all year round.
September is also when the US Open kicks off in New York taking place at USTA Billie Jean King National Tennis Center in Flushing Meadows–Corona Park in Queens.
If you are visiting NYC over September 11th there will be some form of memorial for the victims of the 9/11 tragedy.
You can visit the museum and observation deck of One World Observatory too.
September isn't just football season, it is also the month where baseball takes off.
Get your tickets for the Mets or Yankees to catch a game and this cultural experience.
First time visiting NYC? This city does't sleep so you better pack comfortable shoes and a little black dress or two.
While some the September events in NYC take place in Brooklyn, the majority of NYC attractions that new visitors want to see are located in Manhattan.
Get lost in the madness of Time Square, find peace in Central Park, dine at Hell's Kitchen and listen to jazz in Harlem.
Catch a sunset from the Top of the Rock or the Empire State Building and watch the day turn to night over the city that doesn't sleep.
Take a boat tour to Ellis Island to see the Statue of Liberty or hop aboard the free Staten Island Ferry.
You may also like our 4-day NYC itinerary.
NYC's September temperatures range from 57°F to 85°F.
As to be expected, hotels are slightly more expensive over Labor Day compared to July.
Philadelphia For The Made in America Festival
Philadelphia also has a lot going on over the Labor Day weekend with the 2-day Made in America music festival.
Curated by Jay Z and hosted at Franklin Parkway in Philadelphia, Pennsylvania, this multi-genre show attracts visitors from all over the country so book your tickets as soon as they are released.
It's not just about the music – food trucks and fairground rides share the festival space and some ticket proceeds are donated to charity.
Other things to do in Philadelphia include, eat a Philly cheesesteak at Pat's or Geno's, join a food tour to learn more about the craft beer in the city and visit the birthplace of independence, Independence Hall.
Maybe not in that order!
Walk off all that food by running up and down the Rocky steps next to the Philadelphia Museum of Art and wandering around the Delaware River Waterfront.
Temperatures in September range from 55 °F to 82°F.
Philadelphia hotels are cheaper in September compared to July, even over the Made in America weekend.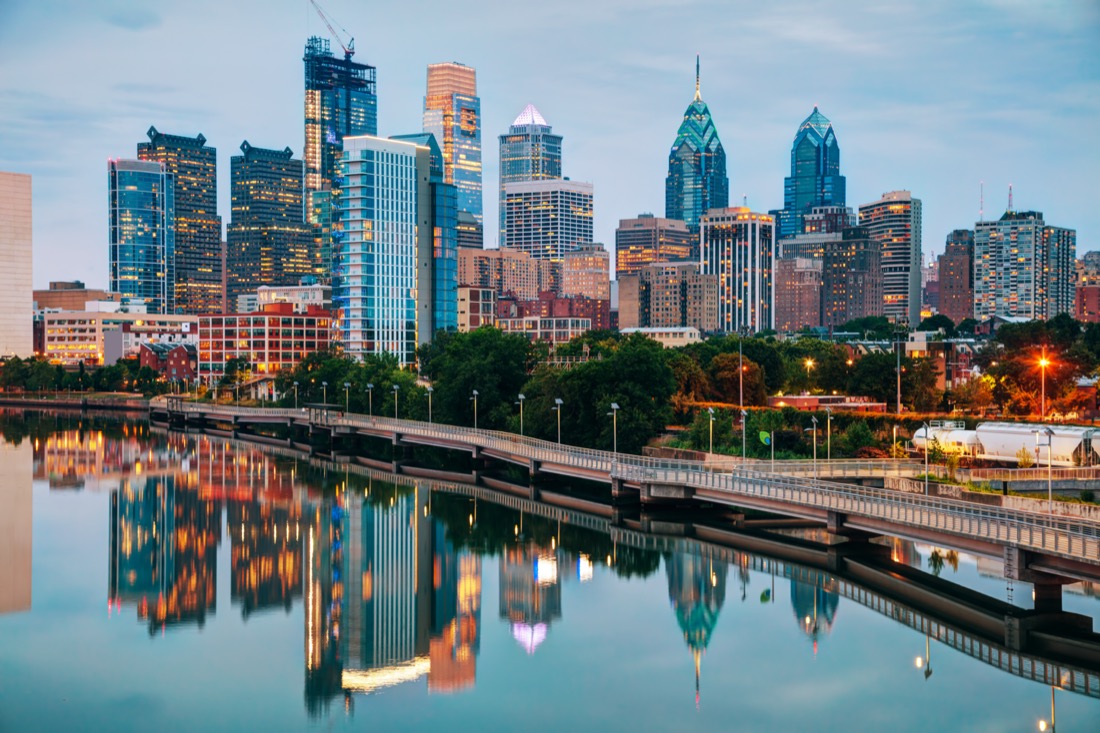 Savannah in September For a Coastal City Experience & Jazz
Georgia's oldest city Savannah enjoys fewer crowds in September and temperatures of 66°F to 87°F.
If you like jazz, this is the month to visit Savannah as this is when the Jazz Festival toots and blows through the city.
Other things to do include, the Ralph Mark Gilbert Civil Rights Museum, learning more about the Gullah-Geechee culture at Pin Point Museum and a 2-hour tour of the US's most haunted city and
A popular reason to visit Savannah is for the antebellum architecture with many of these mansions in Georgia being associated with plantations and enslaved people so be sure to take on a balanced learning experience when visiting the "Hostess City of the South" and other locations with this style of buildings.
Since September is still fair weather wise, consider a trip to Forsyth Park for a walk and some people watching.
Savannah's hotel prices in September are considerably cheaper than July with savings up to $100 per night!

Flagstaff in September For Route 66 & The City of Seven Wonders
A trip to northern Arizona's eclectic city of Flagstaff lets you experience high-altitude desert scenery without the sweltering desert temperatures.
Monsoon season should be over by September so you can expect dry conditions and temperatures that range from 42°F to 74°F (5°C to 23°C).
Flagstaff is known as The City of Seven Wonders as it is surrounded by Grand Canyon, Oak Creek Canyon, Walnut Canyon, Wupatki National Monument, Sunset Crater National Monument, and the San Francisco Peaks with the latter being sacred to Apache, Hopi, Hualapai, Navajo, Yavapai and other Native Nations.
Since the city is located in the world's largest ponderosa pine forest, there are many amazing hiking trails.
Check out the Aspen Nature Loop and Bismarck Lake Trail.
The city is an 80-mile drive from the Grand Canyon with plenty of beautiful scenery along the way.
Make sure you see all the best sights with a guided day trip to Antelope Canyon and Horseshoe Bend.
Reserve your tour here.
September is Flagstaff's off-peak season, so expect lighter crowds from tourists and lower prices.
In September, visitors can catch Flagstaff's popular Pickin' in the Pines Bluegrass and Acoustic Festival, or get in the fall spirit at the annual Cornucopia Fall Festival.
You'll also have an easier time perusing local goods at the seasonal Community Farmers Market and getting a table at downtown restaurants.
Be sure to spend a crisp fall night on Lowell Observatory's Giovale Open Deck equipped with a half dozen high-powered telescopes for public use.
Flagstaff is the world's first International Dark Sky City, making it the ideal spot for stargazing so stick around for night.
Flagstaff also features in our guide to best places to visit in the US in December for its stargazing and festive events.
This city in Arizona, was voted one of the best college towns which means there are plenty of scope for drinks such as breweries and bars.
There is an Amtrak station located between downtown and the campus of Northern Arizona University.
Even if you're not getting a train you might want to take a picture of the Route 66 sign.
Flagstaff is part of the The Southwest Chief route from Chicago to Los Angeles.
If you are driving to Flagstaff you will take on part of the famous Route 66.
Check out the Museum Club for line dancing and live music on the route.
Where do you plan to visit in the US this September? Tell us in the comments below.
You may also like our guide to the best places to visit in the US in October for foliage and fall festivals.