This article has links to products and services we love, which we may make commission from.
Close your eyes and think about warm sand on your feet, the sound of ocean waves lapping, the smell of sunscreen and the taste of a cold beer or your favorite cocktail. OK, it's time to stop dreaming and start planning with our guide to the best US beach destinations in December.
We've also included a couple of cooler temperature beach locations for those who prefer a cozy Christmas in nature.
As with all of our ridiculously useful US travel guides, we've included essential information such as how to get there, where to stay and what to do.
You may also like our other winter guides such as the best US vacation spots, warm weather US destinations, cheapest cities to visit in December, festive cities, and the best national parks to visit in November.
Best US Beaches in December to Visit This Year
California Beaches in December
If you are planning to spend December in California you will definitely want to add the following beaches to your bucket list.
While they are all extremely scenic, the temps do drop in winter so pack layers for comfort.
We've detailed the temperatures at each California beach so you can pack accordingly.
You may also find our beach packing list useful.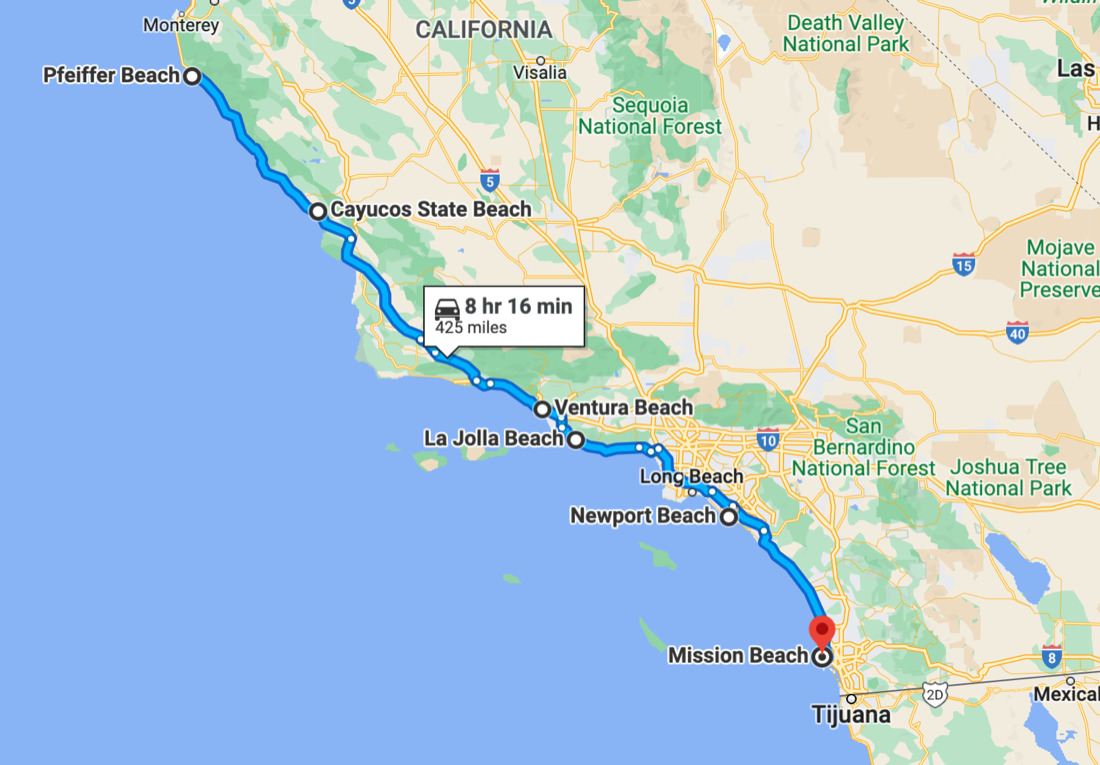 Pfeiffer Beach, California
Pfeiffer Beach is a purple sand beach in Big Sur, part of California's Central Coast, and it's a great place to visit in winter.
During the last few weeks of December, photographers flock to Pfeiffer Beach to photograph the famous Keyhole Arch at Pfeiffer Beach, which frames the setting sun perfectly.
But even if you don't happen to be at Pfeiffer Beach for this rare winter event, it's still a great place to visit in the winter months because it doesn't get too drastically cold in California.
Like many beaches in Central and Northern California, Pfeiffer Beach is more of a scenic beach than a swimming beach, because the tides are rather intense off the coast and the water is extremely cold!
That said, Pfeiffer Beach is still usually pleasant enough for a picnic (just bring some layers) and some sightseeing of the scenic rock formations and coastal landscape that Big Sur is beloved for.
Plus, you can check out the famous purple sand for which the beach is known (yes, it's actually purple when it gets wet due to the mineral composition of the sand!)
It's great for any kind of traveler — couples, families, friends on a road trip — as long as you keep in mind that the current is strong and the water is cold.
There are limited facilities at Pfeiffer Beach — just toilets and parking — and you must pay $12 for day use parking.
There is only one way to get to Pfeiffer Beach and that is via Sycamore Canyon Road, which is located off of Highway 1 (aka the Pacific Coast Highway).
It is a very narrow one-lane road that is not very well-maintained, so you will have to drive carefully and be ready to pull off for oncoming traffic.
Most people drive from Big Sur Town (15 minutes and 5 miles away) where there are a few different accommodation options scattered along the highway.
Add the song Big Sur by The Thrills to your playlist to get you in the west coast mood.
Big Sur is rather remote so the nearest major airport with car hire is SFO which is about 3 hours drive away.
Pfeiffer Beach in December Temperatures, Weather and Animals
The average December high in Big Sur is 60° F and low is 43° F, so you'll definitely want to pack layers and be ready to get bundled up!
That said, there is usually plenty of sunshine in December (with 9.5 hours of daylight) as long as you are not visiting on a rainy day.
However, note that on this part of the Central Coast, fog can often roll in unexpectedly and make things quite cold with low visibility, so be ready to change plans if you need to.
Keep an eye out in December through April for migrating gray whales which pass by on their way to Baja California.
Pfeiffer Beach Lodgings and Hotels
The best place to stay is the Big Sur Lodge, which is an affordable option located within Pfeiffer Big Sur State Park, complete with fireplaces and cozy cabin vibes!
You cannot camp at the beach itself but you can camp nearby at Pfeiffer Big Sur State Park, which has 189 sites including tent and RV sites.
Things to do at Pfeiffer Beach
Look for whales migrating off the coast
Try to catch the sunset lining up perfectly with Keyhole Arch
Admire the beautiful natural purple sand
By Allison, California Crossroads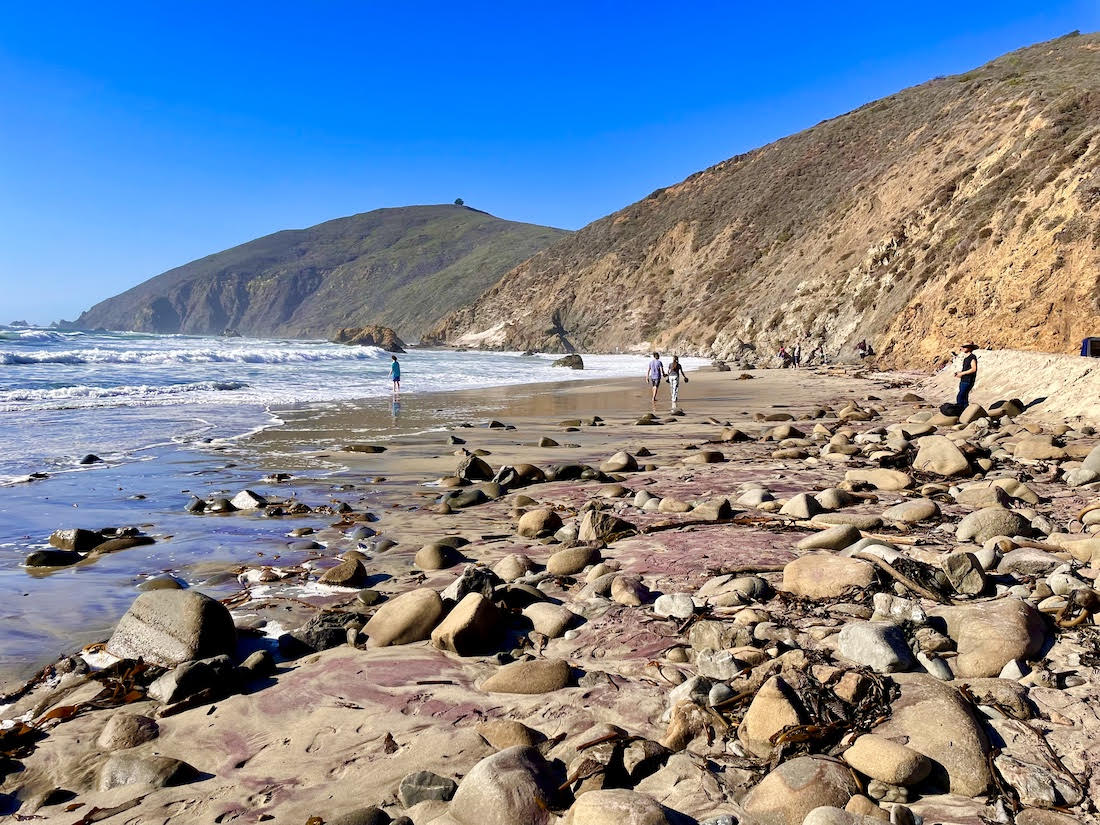 Cayucos State Beach, California
Cayucos is a small town located on the Central Coast of California.
The town is best known for its beautiful beaches, which makes it a popular destination in the summer.
However, the town is also a great place to visit in the winter, when the temperatures are a bit cooler and the crowds have thinned.
When you visit in December, you'll also be able to celebrate Christmas with the small town of Cayucos in their tree lighting ceremony and extended holiday hours to enjoy cookies and hot chocolate.
You will also be able to enjoy horse-drawn carriages and wagon rides as well as visit Santa and Mrs. Claus in their home.
The main beach in Cayucos is Cayucos State Beach.
This beach is perfect for all types of visitors from solo travelers to couples and families.
Families with small children will especially love Cayucos State Beach because there is a playground right on the sand.
There are also restroom and changing facilities on the beach so visitors can easily change clothes for water play.
The sand is easily accessible right around the corner of the changing facilities.
Fire pits, grills, and tents are not permitted on the beach, but you can bring a blanket and have a picnic on the sand.
There are also numerous restaurants lining the oceanfront, making food only a few minutes' walk away.
You can order seafood at Duckie's and Schooners, head to the Hidden Kitchen for gluten-free waffles and tacos, or grab a slice of pizza at Ocean Front Pizza.
Dessert is just across the road at the local Brown Butter Cookie Company.
The easiest way to reach Cayucos State Beach is driving on the Pacific Coast Highway, also known as Highway 101.
You can also rent a car at San Francisco International Airport or Los Angeles International Airport.
The drive south from San Francisco is 227 miles or 3.5 hours and heading north from Los Angeles is 207 miles or the same 3.5-hour drive.
Parking on the beach is free for visitors; however, plan to arrive earlier in the day as parking spots on Ocean Avenue are limited.
Cayucos State Beach in December Temperature, Weather, and Animals
Cayucos State Beach has a high temperature of 63°F and a low temperature of 43°F in December.
Although the temperatures are cooler, the weather in the wintertime is perfect for hanging outside on the beach.
Your packing list should consist of a light jacket and long pants. If you are planning on visiting in early December, you can also pack shorts as temperatures may also be warmer.
Make sure to check your calendar before you head out as there might be rain.
Daylight is much shorter in December, so you'll want to plan accordingly.
The sun rises around 7 am and sets around 5 pm. You definitely want to make time to see the sunset over the Pacific Ocean – it's a beautiful sight!
Although one of the sites of the Whale Trail is the Cayucos Pier, you may not spot a whale when visiting in December.
However, there are other animals you might find while hanging out in Cayucos: California sea lions, sea otters, and humpback whales.
You can also find anemones, crabs, starfish, and more in the nearby tide pools!
Cayucos State Beach Lodging and Hotels
If you're looking for a place to stay near Cayucos State Beach, there are numerous hotels and bed-and-breakfasts in the town.
One of the best places to stay is the Shoreline Inn as it provides direct access to the beach.
Shoreline Inn has also recently renovated its rooms, so you'll be sure to have a comfortable stay.
Although there aren't any campsites in Cayucos, visitors with an RV can book a site to park at Morro Dunes RV Park, which is just next door in Morro Bay.
Things to do at Cayucos State Beach
While there are a lot of things you can do in the small town of Cayucos, listed below are just a few fun activities you can enjoy:
Water activities such as swimming, surfing, kayaking, and fishing
Watch the sunset at the tidepools
Walk the Whale Trail on the Cayucos Pier
Shop at the antique stores Remember When 1 and 2
Explore the Bruce Munro Lights at Sensario in San Luis Obispo
This fun smartphone scavenger hunt tour in nearby Paso Robles
By Pafoua, Her Wanderful World
Ventura Beach, California
Ventura Beach is on the central coast of California, located along the shores between Santa Barbara and Los Angeles.
Winter is a great time to visit because the weather is sunny, relatively warm, and the sky's are blue. It is relatively easy o reach Ventura beach, as you can get their by car, rail, or bus.
During the December holidays, Ventura holds multiple events including a wine walk, tree lighting ceremony, holiday street fair, winter wonderland and holiday marketplace, and a stand up and paddle with Santa, to name a few, making it one of the best best places to visit in California in December.
As for New Year's Eve events, there are several in Ventura and the surrounding towns.
Ventura is a wonderful place for all travelers: solo, families, couples, girls trips, etc.
To access Ventura beach, you can drive, take the bus, or even the train as there is a stop in downtown Ventura which is a short distance away.
While at the beach, there are restroom facilities, plenty of parking (both paid and free), picnic tables, barbecue grills, a grassy area, and dogs are allowed on leashes.
Within walking from the beach, there are multiple convenience stores restaurants. If you decide you want to drive, there are more restaurants in downtown Ventura.
The closest big city to Ventura Beach is Thousand Oaks or Santa Barbara, with Los Angeles not being too far as well.
If you're flying to Ventura, the airports to use are Oxnard, Santa Barbara, or LAX. If you're looking to rent a car, you can book that prior to your scheduled trip or if you're flying into the LAX, you can rent on when you arrive.
You may also like our guide to coastal cities in California featuring Ventura Beach.
Ventura Beach in December Temperature, Weather, and Animals
The temperature ranges from 45 degrees to 80 degrees, year round. In December, you can expect highs in the 60's and lows in the 40's.
When packing, you want to make sure you bring layers and a nice jacket, as it can get chilly at night due to being by the ocean.
During the daytime, you will want to be able to be comfortable as it can get warm in the sun.
Sunrise is generally about 650 AM with the sunsetting generally around 730 PM in December.
From mid-December through mid-April, you can go take a whale watching cruise as this is when the whales migrate through Ventura waters on their way to Baja California.
Ventura Beach Lodging and Hotels
Up and down the Ventura coast, there are many options for lodging.
However, the Waypoint Hotel is made up of Airstreams that have been restored, with options from restored vintage to luxury to family options and dog friendly trailers available.
This location also has BYO trailer amenities to camp with your own trailers.
If you're looking for tent camping, there are multiple options along the Ventura coast with locations being open during the winter.
The main campsites are Emma Wood State Beach and Ventura Beach RV resort.
Things to do at Ventura Beach
Santa to the Sea
Channel Island Farmers Market Holiday Arts and Crafts
Oxnard Tamale Festival
Ventura Pier and Promenade
Serra Cross park and Ventura
Botanical Gardens
Four Brix Winery
Ventura Harbor Village
Museum of Ventura County
Mission San Buenaventura
San Buenaventura State Beach
Island Packers Cruises
Old Creek Ranch and Winery
Ventura Food Tour
Lure Fish House
Cafe Fiore
By Jaclyn of Myrestingbeachface
La Jolla Shores, California
La Jolla Beach in California, is an unbeatable beach to visit in winter as you will reap all the benefits of off-season prices, low crowds, and the incredible ease of finding car parking, all while still enjoying the full range of shops, restaurants, and other attractions.
Since it is a part of San Diego, La Jolla receives visitors all year round which means beaches are open and businesses do not shut down in winter as in other parts of the USA.
Families will love the unique mix of that classic holiday atmosphere with sunny sandy beaches and plenty of space for the kids to run around, without the fear of them being lost in the crowds.
At the beach itself, you will find everything you could possibly want for a fun, carefree vacation.
La Jolla shores features large bathrooms and changing areas with outdoor showers, playgrounds, picnic tables, BBQs, and bonfire pits on the beach!
You can have endless fun on the water by surfing, boating, kayaking, snorkeling, scuba diving, surfing, and more.
Many of these activities can be rented right on the beach or in its surrounding streets. Dogs are even allowed before 9 AM and after 4 PM from November 1 to March 31.
La Jolla is a public beach meaning there are very few restrictions and it is free to enjoy for all.
Plus, it is one of the most accessible beaches in the country thanks to its cement boardwalk lining the sand, plenty of large handicapped parking spaces and bathrooms, plus its shallow, cloth entrance to the beach just north of the lifeguard stand.
When you get hungry, it's just a 5-minute walk to Downtown La Jolla Shores where you can find a huge variety of different restaurants, shops, and cafes to choose from.
What's more, La Jolla comes alive in December with parades, holiday markets, Christmas lights, special events at all the best attractions, and even a surfing Santa!
While for New Year's Eve, most of the large celebrations actually take place in downtown San Diego, it's easy to reach the huge hotel parties and hotspots in just 20 min by taxi.
Alternatively, families might enjoy a quiet celebration with a nice dinner on Avenida de la Playa followed by watching the fireworks display over San Diego Bay.
Getting to La Jolla Shores couldn't be more simple from anywhere in the US (or the world).
The closest airport is the San Diego International Airport where you can easily rent a car and drive just 20 mins (13.3 miles) north to reach the sandy shores of La Jolla Beach.
There is free parking limited to 2 hours right at La Jolla Shores beach, alternatively, you can find street parking in the surrounding area.
La Jolla in December Temperatures, Weather, and Animals
Winter temperatures at La Jolla are quite mellow ranging from a low of 51°F at night to highs of 70°F during the day.
So pack some warmer sweaters in case of a chilly evening and rent a wetsuit if you wish to spend long periods of time in the ocean.
Occasionally, La Jolla can be hit with winter storms that come from the Gulf of Alaska and bring heavy rains lasting a couple of days.
However, these short periods are normally followed by clear, sunny, and warm days.
There is plenty of daylight to enjoy outdoors with the shortest day of the year still providing nearly 10 hours of light (6:45 am – 4:45 pm).
Make sure to be on the lookout for gray whales who migrate to these waters in the cold months in addition to the regular seals and sea lions that call La Jolla home all year round.
La Jolla Lodgings and Hotels
If you're looking for the ultimate place to stay in La Jolla, you can't go wrong with the famous La Jolla Shores hotel.
As you may imagine, it's located right on the beach with an onsite restaurant and outdoor pool.
Unfortunately, it is not possible to camp in La Jolla however you can find some campgrounds and plenty of other accommodation options in both La Jolla and the other neighborhoods of San Diego.
Things to do at La Jolla
Picnic at La Jolla Shores Park
Visit the Museum of Contemporary Art
Go scuba diving in La Jolla Cove
Walk in the Torrey Pines State Reserve
Take a surfing lesson
Play golf at Torrey Pines Golf Course
Explore the La Jolla tide pools
Snorkel at the La Jolla Underwater Park
By Yulia, Miss Tourist
Newport Beach, California
A visit to Newport Beach, California, in winter brings mild weather along with a quiet time to enjoy uncrowded beaches.
This is the most romantic time of year for couples to visit because the sunsets are at their best, coloring the sky with pink, purple, blue and orange.
But it's also a fun-time for families with the annual Newport Beach Boat Parade taking place in Mid-December.
Boasting 10 miles of coastline, there's a beach for every interest. Surfers like Blackies Beach for its winter-time waves.
Mother's Beach is popular for families with young children thanks to its protected location on the harbor along with the nearby playground and park.
Couples can enjoy the long, virtually empty stretches of sand on the peninsula, perfect for a stroll.
Bathrooms, showers, and changing facilities are available at several locations in Newport Beach.
Fire rings are available on a first come first served basis near Balboa Pier.
Be aware that grills are not allowed anywhere on the beach in the city of Newport. Fortunately, when you get hungry, there's a great selection of restaurants, cafes, and convenience stores.
For the best selection of restaurants and stores head to the beaches surrounding Newport and Balboa Pier. A local favorite is Dory Deli, serving breakfast, lunch, and dinner. 7-11 is located on Balboa Blvd. and 20th street.
While there is a local airport, Orange County/John Wayne, many visitors to the area fly into Los Angeles International, and rent a car for the journey to Newport Beach.
Take the 55 freeway south until it ends and then follow Newport Blvd. into town. Beaches can be found along the Balboa Peninsula or north along Highway One.
There is plenty of parking close to the beach, especially in the winter. The one exception is during the board parade–if you're coming to see this event, arrive early to find parking.
Newport Beach in December Temperatures, Weather, and Animals
Visitors to Newport Beach can expect daytime temperatures of around 64 degrees and nighttime temperatures to be around 50 degrees.
There may be some light rain in December. Expect about eight hours of daylight.
Dress in layers and be sure to bring a jacket. Shorts and tank tops generally aren't ideal this time of year.
Keep your eyes peeled while walking along the beach because dolphin sightings are common.
There are a wide variety of shore and seabirds that can also be seen in the area.
Newport Beach Lodgings and Hotels
Bay Shores Peninsula Hotel offers a great location near Mother's Beach and Marina Park, and is walking distance to many restaurants.
Another option is the Newport Dunes Waterfront Resort & Marina which provides either beach cottages or RV sparking. Advance reservations recommended at all places.
Things to do at Newport Beach
Shop and dine at Lido Marina Village
Rent a Duffy Electric Boat to explore Newport Harbor
Go whale watching –see finback and grey whales during the winter
Explore Balboa Island, located at the end of the Balboa Peninsula.
Great shopping and dining
Rent a bike and roll along the boardwalk
Rent a kayak from the City of Newport Beach at Marina Park and paddle around the harbor
By Wendy Lee, Empty Nesters Hit The Road
Mission Beach, California
Mission Beach is one of the most popular and longest beaches in San Diego, California and winter is a great time to visit to avoid the crowds.
This little beach community is about 7.5 miles, a quick 15 minutes drive, from Downtown San Diego and there are plenty of parking nearby.
There is a walking and bike path along the beach leading from Mission Beach all the way to Pacific Beach, dotted with cafes, restaurants, and souvenir shops. For amusement park enthusiasts, a visit to Belmont Park is a must, which has one of the two remaining historic wooden rollercoasters on the West Coast.
Public bathrooms and open air showers are available, but no changing rooms.
Rules are pretty strict in all of San Diego Beaches and there is no smoking, or drinking allowed, so while there are plenty of New Years Eve and Christmas events in San Diego, there are non directly on the beach.
There are beach volleyball courts, bike, kayak, and SUP rentals making it ideal for anyone who wants to play and have fun on the beach.
Mission Beach is a favorite among San Diegans and attracts families, groups of friends, and people who like to be active on the beach.
Mission Beach in December Temperatures , Weather and Animals
While November – February in Mission Beach is not really suitable for swimming in the Pacific, with some summery hot days in between.
Average daylight hours are between 10-11 hours a day and temperatures are around 10 Cº at night and 20 Cº during the day.
If the Santa Ana winds (wind direction from the deserts in the East) hit, it can easily reach 30 Cº with bright blue skies and dry heat.
These winds are notorious for turning small brush fires into huge wildfires.
While the beach areas won't be affected, it can affect the air quality and disrupt travels to other areas nearby.
December through March are the prime whale watching months in San Diego as the large mammals migrate along the coast.
Whale watching tours are offered all over San Diego and include tours on large ships led by marine biologists, kayaking adventures, and sailing tours.
Mission Beach Lodgings and Hotels
There are several hotels in Mission Beach, but most people that stay there choose a vacation rental.
The Blue Sea Beach Hotel is located right on the beach, only separated by the board walk. They offer simple, yet functional accommodation at a reasonable price.
Things to do at Mission Beach
Belmont Park

Relax on the beach and soak up the sun

Get drinks & sushi and enjoy the sunset at Cannonball
By Maria, San Diego Explorer
East Beach, California
East Beach is located on the eastern side of Santa Barbara's four mile stretch of city beach parks.
It's a great beach to visit during winter thanks to a combination of sunshine and fewer visitors, since winter is a low season in the area.
This is a perfect wide sandy beach for families, couples and solo travelers because it offers a plethora of activities and plenty of space, which means it never feels too crowded.
Here you can rent a kayak or SUP, surf, play volleyball, and enjoy beautiful ocean views.
Water is typically chilly to swim during winter, but you can compensate for it by renting a bike at Wheel Fun Rentals and exploring the bike path that runs parallel to the beach.
December is a quiet time at East Beach, with no special events, but there are volleyball tournaments throughout the year. There are several volleyball courts throughout the area.
The beach has no designated changing facilities, but it offers many amenities such as bathrooms, beach shower, parking, picnic areas and bike trail.
The beach is operated by Santa Bárbara City Parks and doesn't allow any pets.
Alcohol is also prohibited. Camping is not available in the area.
There are several facilities near the beach including Chase Palm Park, Skater's Point, and Cabrillo Pavilion Arts Center.
There are also a few restaurants in the area like East Beach Grill and Reunion Kitchen.
The East and West Beach in Santa Bárbara are separated by Stearns Wharf and can be accessed via main Interstate.
Parking lots are located on both sides of the Cabrillo West Lot and Cabrillo West Lot. Parking costs $2 per hour and $12 per day maximum.
Parking can also be found along East Cabrillo Boulevard and on several lots along Corona Del Mar Drive and Garden Street.
The closest airport with the car hire is Santa Bárbara International Airport.
East Beach in December Temperatures, Weather and Animals
The average water temperature drops to 57 degrees in winter, which means you will not find a lot of people swimming on East Beach during this time.
During the night temperatures can drop to high 40s and low 50s, which means you will need to pack some layers if you plan to spend time at the beach.
Daylight hours are from 7:20 a.m. through about 6 p.m. during winter months.
Winter is the best time to see whales in Santa Bárbara and you can do it by joining a guided tour with one of local companies.
Santa Bárbara Channel is home to many marine animals including dolphins and grey whales that can be seen during winter months.
East Beach Lodgings and Hotels
There are many hotels near East Beach, so you can book your stay here if you want to enjoy the incredible ocean views from your window.
Santa Bárbara Inn, Santa Bárbara House and Hyatt are some of the hotels located within walking distance from East Beach.
There are no campsites in the immediate area, but you can stay in Santa Bárbara RV Park, a small urban park located close to downtown Santa Bárbara.
Things to do in and near East Beach
Visiting Stearns Wharf
Taking pictures near Chromatic Gate
Enjoying a drink at Biergarten
Touring downtown Santa Bárbara
By Daria, The Discovery Nut
Other West Coast Beaches
This section will consider the best beach vacations in December for Washington, Oregon and Hawaii – a mix of fresh, winter ocean adventures and hot island life!
Cannon Beach, Oregon
Most people don't think of the PNW as the best destination for beaches in the winter, but Cannon Beach in Oregon is quite the exception.
With the chance to spot whales, minimal crowds, and beautiful ocean storms, Cannon Beach is a destination that the entire family can enjoy.
While the water isn't warm enough to swim in during the winter, you can still enjoy fun events on the beach.
Around the holidays, the small-town lights up its main street, and visitors can partake in special events.
One of the best parts of visiting in December and January is that it's peak whale watching season, and you can spot them right from the shore!
Many people bring small grills and enjoy a meal right on the shores of the beach.
There is no dedicated changing facility at Cannon Beach.
At the nearby Tolovana Beach State Recreation Site, you can park for free, and there is a restroom available.
Cannon Beach has a program dedicated to providing beach wheelchairs for those who need them, making the beach accessible for most people.
There is just one convenience store in Cannon Beach, but there are multiple others just 10 minutes north in Seaside.
For dinner, stop at one of the many fantastic restaurants, one of the best being Pelican Brewing, just ¼ mile from the beach.
Portland International Airport (PDX) is the closest airport to Cannon Beach, just 1.5 hours (79 miles) away.
Car rentals are available at PDX, and it's recommended to have one for exploring the coast.
Cannon Beach in December Temperatures, Weather, and Animals
The average temperature in December at Cannon Beach is about 48°F, with highs reaching 56°F and not dropping below 42°F.
When the sun sets, typically around 5 or 6 pm, the weather tends to be chilly, so it's important to pack clothes that will you keep you warm.
Ocean storms occur often in December and January, which can be quite a sight to see.
But you also must be aware of the weather, and always be cautious of the powerful waves, as they can sometimes reach up to 30 feet tall.
Cannon Beach experiences one of the most magical things in the winter months, specifically from mid-December to mid-January.
Thousands of whales begin their migration south, and you can view them, just off the shoreline of Cannon Beach!
The local herd of Roosevelt Elk also tends to make their appearance during the colder season.
Cannon Beach Lodgings and Hotels
For lodging near Cannon Beach, book a stay at the beautiful Tolovana Inn, where you can enjoy incredible oceanfront views.
Things to Do at Cannon Beach
Whale Watching from the shore.
Marvel at the massive storm waves.
Hike at the nearby Ecola State Park
Search for sea life during low tide at the iconic Haystack Rock
Explore the town of Seaside, about 10 minutes North.
You may also like our guide to the loveliest Oregon beach towns.
By Kassidy, The HikingHelper
Ruby Beach, Washington
Ruby Beach, in Washington's Olympic National Park, is pure magic in the winter, given that it offers quintessential Pacific Northwest vibes throughout this season.
And while there are no special activities along the beach to celebrate the holidays, this may just be the perfect place to ring in New Year's Eve, given the beach's incredible sunsets and otherworldly beauty.
While you have a decent chance of running into rainy weather in the winter, you're also likely to see low-hanging clouds blanketing the towering pine trees, have dramatic waves crashing against its shores, and experience almost no other visitors exploring the beach.
Unfortunately, despite the damp weather along the shore, you're not allowed to have fires or use grills here, so bring along a blanket or two to snuggle up while taking in the beach's breathtaking views.
Because of its rugged landscape and tranquil vibes, Ruby Beach would be best enjoyed by couples looking for a unique getaway.
You're definitely more likely to don a sweater here as opposed to a bikini in the wintertime- but, if you're a hearty soul that feels like braving the Pacific's icy waters (and some surfers certainly do!), there's a vault toilet near the parking lot to change (or just use the bathroom!).
To get to Ruby Beach, the closest major airport is Seattle Tacoma International Airport in Seattle.
Once you arrive at the airport, grab a car from one of the many rental agencies and make the three hour (or 185 mile) drive across the Olympic Peninsula to Ruby Beach.
There's plenty of parking in the beach's designated lot, but even in the busiest times, visitors may find parking beyond the lot alongside the road leading to the beach.
Once you're parked, you'll need to make a short trek down a 0.1 mile hill and scramble over several pieces of enormous bleached driftwood to reach the beach's pebble-strewn shores.
While the beach is definitely worth a visit in and of itself, the surrounding area also has a lot to offer.
Say, for example, its proximity to the incredible Hoh Rainforest (one of the largest temperate rainforests on the planet), a number of other stunning Olympic National Park beaches, or to Forks, Washington- the famed hometown of the protagonist, Bella Swan, in the teen vampire romance novel, Twilight.
And if you get hungry or thirsty while you're visiting the beach, you can always run to one of the many gas stations or convenience stores in Forks, less than half an hour from the beach.
You may also like our guide to the most romantic national parks which features Olympic.
Ruby Beach in December Temperature, Weather, and Animals
Even though Forks is one of the northernmost towns in the country, the weather stays pretty moderate year round, due to its location on the coastline.
You can expect fairly consistent weather between 35-45° and usually rainy (again- not bikini weather!) and limited daylight (typically, a little over 8 hours, from 8 AM to a bit past 4 PM).
While the weather may not be ideal for sunbathing, it is a fantastic place to go tidepooling- or if you're lucky, even a great lookout to spot a gray whale. from mid-December through mid-January (during their migration through the Pacific Northwest from Alaska to Mexico's Baja peninsula).
Ruby Beach Lodging and Hotels
There are plenty of places to stay in Forks or in the surrounding Olympic National Park.
Take, for example, the Hoh Valley Cabins, a clean, yet rustic retreat tucked into the forest less than half an hour from Ruby Beach's shores.
Alternatively, if camping is more your style, the nearby Kalaloch Campground, which overlooks yet another stunning beach, is open year round (and on a first-come, first-serve basis in the wintertime).
Things to do at Ruby Beach
While it's likely too cold to go swimming in the wintertime at Ruby Beach, there are still plenty of things to keep you busy
From hiking up and down its rugged shoreline to exploring its beautiful tidepools for the abundant sea life, there's always something uniquely beautiful to look at here
And don't forget to stay for sunset, where the sinking sun casts gorgeous colors on Ruby Beach's jagged sea stacks
By Jess Schmit at Uprooted Traveler
Best Beaches in Hawaii
There's no denying that some of the best beach vacations in December are found in Hawaii.
Sun, sea, watersports, geology, volcanoes, hikes, what else could you want from a winter adventure?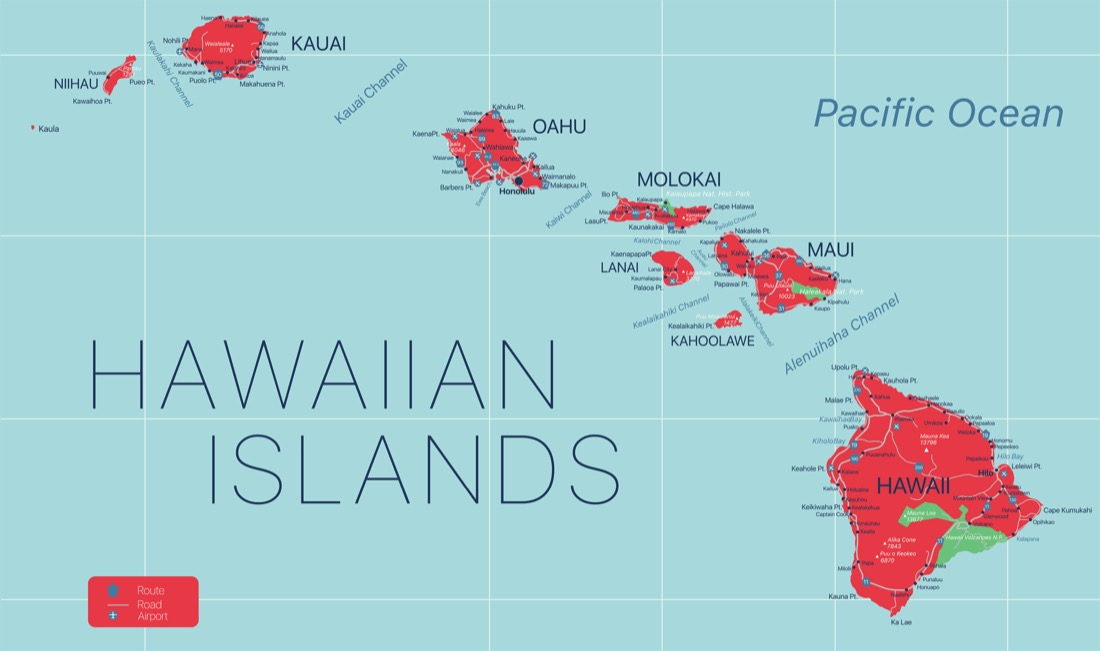 Hapuna Beach, Big Island
Winter time is a very popular time to visit the Big Island and Hapuna Beach located on the west side of the island.
Always noted as one of the top USA beaches to enjoy in major publications, Hapuna Beach is very popular with locals and visitors to the island of all age groups and one of the best family friendly beach on the island.
An accessible beach for disabled people, the beach has full amenities to include showers, restrooms and a small cafe on site with picnic tables with stunning views of the beach area.
There is ample parking spaces with $10 parking for guests and free for Hawaii residents.
Hapuna Beach in December Temperatures, Weather and Animals
Average temperatures at Hapuna for winter are in the low 80s and even though winter-time is the rainy season on the islands, Hapuna is located on the leeward or dry side of the islands and is dryer compared to the rest of the island.
Pets are not allowed on the beach area.
Hapuna Beach Lodgings and Hotels
Located right on the beach on the far right is the Westin Hapuna Beach, a luxury Westin property with stunning views, a world class golf course and resort facility.
There is no camping on the beach area, but there are A frame cabins that are run and reserved through the Hapuna State Beach Park website to make reservations.
Things to do at Hapuna Beach
With soft golden and sandy beach area, Hapuna beach is popular with boogie boards and body surfers, swimming, snorkeling and other water sports on the beach
People also enjoy walking, jogging and exercising on the beach area along with just enjoying the beach area
There are fabulous picnic tables and barbeques with excellent views of the beach for visitors coming on a first come first serve basis
By Noel, This Hawaii Life
Lanikai Beach, Hawaii
One of the nicest white sand beaches in Hawaii is Lanikai Beach on the island of Oahu, and winter is a great time to visit it because of the perfect weather and slightly lower crowds.
Lanikai Beach is good for couples, families, and groups alike, but it's especially ideal for families because it's quieter than other parts of Hawaii, and because the water is gentle enough for kids and older folks to swim in safely.
There generally aren't any special events at Lanikai in the winter, although it's worth checking out the nearby Lokahi Kailua Market, which is held every Sunday from March to December.
Lanikai is a very simple beach so there aren't any changing facilities, although you can find restrooms at the Kailua Beach Park, which is just 1 mile away.
There aren't any convenience stores or restaurants directly on the beach, but there are some popular places nearby like Buzz's Steakhouse or the Kalapawai Market, both of which are a short drive away.
Lanikai Beach is a 2 mile drive (10 minutes) from Kailua, or a 17 mile drive (30-45 minutes) from Honolulu and Waikiki.
There is no dedicated parking at Lanikai Beach, so you'll have to either find street parking or (better yet) park your vehicle at the bigger Kailua Beach Park, which is about 1 mile away.
Lanikai Beach in December Temperatures, Weather and Animals
Temperatures at Lanikai range from 71 to 78 degrees Fahrenheit during the winter, so it's never cold even at night.
There are about 11 hours of daylight in the winter, which varies a little bit from month to month.
Whales can sometimes be seen here in the winter months, although you can see them better from the nearby Lanikai pillbox, which sits on a hill overlooking the beach.
Lanikai Beach Lodgings and Hotels
There are no hotels, B&Bs, or campgrounds at Lanikai, as it's been preserved as a very simple beach with pristine nature and no accommodation.
Things to do at Lanikai Beach
Experience the family friendly Lanikai Pillbox Hike, which takes you up to an old bunker with wonderful views of Lanikai Beach and Oahu.
Go kayaking at nearby Kailua, which is also a launch point for kayaking at Lanikai
Take a helicopter tour over the island of Oahu and see Lanikai from above
Contributed by David, The World Travel Guy
Oahu also features in our article, the best islands to visit this December.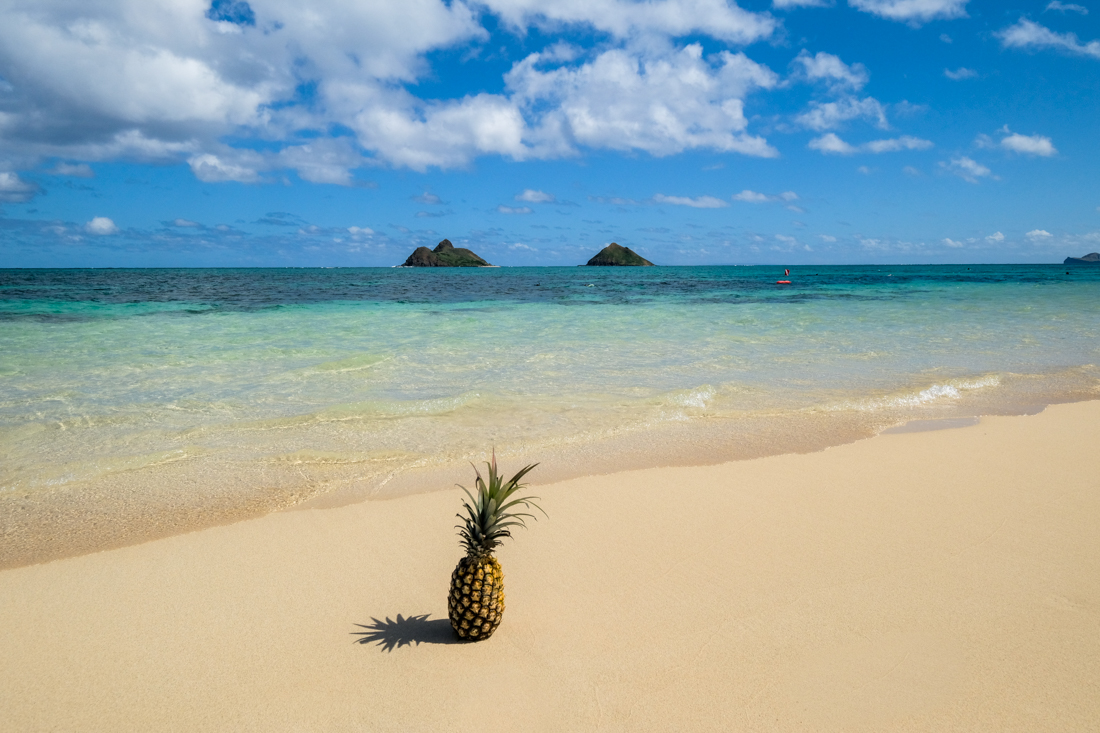 Waikiki Beach, Honolulu, Hawaii
You will find several beaches in Hawaii worthy of a visit but one of the top ones to check out any time of the year (and especially in winter!) is world-famous Waikiki Beach.
The 2-mile-long Honolulu beach is calm, friendly family, and surrounded by plenty of things to do – including restaurants, water activities, and plenty of entertainment.
If you are planning on visiting the famous Hawaiian beach over the New Year, expect crowds of around 100,000 for epic fireworks displays across the shoreline.
During Christmas, however, you will find a variety of things to do such as the Honolulu City Lights even that lasts throughout December as well as the Waikiki Holiday Parade (right after Thanksgiving).
Kids will love taking a ride on the Waikiki Christmas trolley or the Waikiki Trolley Holiday Lights Tour.
On the beach itself, you will find plenty of changing areas (and hundreds of hotels nearby that can accommodate), rentals (for kayaks, snorkeling equipment, surfboards, stand-up paddleboards), and more. It is not permitted to grill on the beach or pitch a tent there.
Please also note that while you may see others doing it, alcohol on the beach is illegal.
If youʻre on the hunt for snacks to take with you or any beach gear you neglected to bring, there are numerous ABC stores just a block or two from the beach.
Parking at Waikiki is not easy but it is so centralized that your hotel will likely be a stoneʻs throw away from the beach. If you do need to drive there, opt for parking a bit away along the Ala Wai Canal.
Otherwise, take ʻThe Busʻ to Waikiki. Honoluluʻs bus system is one of the nationʻs best and it is only $2.75 for a ride anywhere on Oahu (you can buy HOLO cards at the ABCs stores near the beachfront).
One thing to note is that December tends to be the most expensive month on the island!
If youʻre looking to travel over the holidays, expect more expensive flights and hotel prices.
Waikiki Beach in December Temperatures, Weather and Animals
However, if you wait to travel until January/February, you will be pleasantly surprised by the decrease as well as the weather!
December is one of the busiest months for Waikiki Beach despite there being, on average, around 7 days of rain.
Fortunately, rain comes and goes in Hawaii and never sticks around for an entire day.
The average temperature at Waikiki in December is 82F (28C) with a low of 67F (19C). January and February see a little less rain than December.
Daylight hours are standard and sunrise is around 6am and sunset is around 6pm or so. Beachgoers tend to arrive early on the beach so be sure to get yourself settled there at a decent hour!
One of the best things about Hawaii during the winter months is that it is a key point on the humpback whalesʻ migration journey!
The whales will come down from Alaska to give birth in the islands and you can even see whales from Waikiki with binoculars or good eyes.
Fortunately, there are plenty of tours that will take you out to sea for a closer look.
Waikiki Beach Lodgings and Hotels
You will find several options for accommodation, including high-end hotels and budget-friendly options.
If youʻre looking for a budget hotel, opt for the White Sands Hotel, and for a luxury option, the Espacio The Jewel of Waikiki is a great choice!
Camping is not an option at Waikiki as you will be in the largest city in Hawaii.
Things to do in and around Waikiki Beach
Surfing
Take a helicopter tour from Honolulu (where youʻll get aerial views of the water!)
Go whale watching (I have done this one myself… it is very ethical)
Grab a cold brew at Kona Coffee Purveyors
Have breakfast on the veranda at the Ala Moana Surfrider Hotel
Take a photo tour of the island leaving from Waikiki
Hop along the Waikiki Trolley to check out lights around the city
End your day with a sunset cocktail cruise of Waikiki Beach
Waikiki also features in our guide to the best US bachelorette destinations.
Ehukai Beach, Hawaii
You may balk at visiting a beach in the winter, but winter is actually the best time to visit 'Ehukai Beach on the North Shore of Oahu in Hawaii…
So be sure to add it to your Oahu itinerary!
'Ehukai is a famous beach beloved by big wave surfers who want to tackle Oahu's biggest waves, which tend to peak between November and February.
The waves in 'Ehukai are typically around 6-12 feet, but they have been known to reach as high as 30+ feet during severe winter weather — and yes, some surfers are crazy enough to go out in those conditions!
The biggest waves are found off the Banzai Pipeline, a famous surf break that is known as one of the most dangerous in the world.
Still, surfers come from all around to try their luck on these waves!
'Ehukai Beach is best for adults (groups, couples, solo travelers, etc.) because the waves are quite strong and dangerous, making it not the best choice for families with small kids.
The Vans Pipe Masters competition happens each year in December and is considered one of the most epic surfing competitions in the world.
'Ehukai Beach has your standard beach amenities such as ample free parking, picnic tables, outdoor showers, restrooms where you can change, and lifeguards on duty.
There are no restaurants or convenience stores at the beach, but you can get everything you need in Haleiwa town, the largest town on the North Shore.
Most people arrive to 'Ehukai Beach from Honolulu/Waikiki area, which is 40 miles away but takes about an hour to an hour and a half depending on traffic, taking I-H-2 to get there.
You can rent a car at the Honolulu Airport and there are ample choices for car rental companies — spring for a convertible if you can afford it!
'Ehukai Beach in December Temperatures, Weather and Animals
In December, the average high temperature at 'Ehukai Beach is 80° F and the average low is 63° F…. so bring that bikini and plenty of sunscreen!
'Ehukai Beach is about 20 degrees north of the Equator, so the daylight hours do not change too dramatically in between winter and summer.
Even on the shortest days of the year, you can expect about 11 hours of daylight on the North Shore of Oahu.
The waves in December are quite extreme, so be sure that you are being cautious if you approach the water.
In fact, this beach is better treated as a place to sightsee and sunbathe — it's more about watching the surfers than it is about swimming yourself!
Bonus: keep an eye out for humpback whales who tend to migrate past Oahu in the months of December through May!
However, if you want to go whale watching, those tours depart from Waikiki Beach and the leeward side of Oahu where the waves are less intense and better for whale watching tours
'Ehukai Beach Lodgings and Hotels
The North Shore of Oahu is rather undeveloped compared to other parts of the island and there are limited lodging options up here.
There is the famous Turtle Bay Resort, where Forgetting Sarah Marshall was filmed, but it's rather expensive and so many people choose to just visit the North Shore as part of a day trip from the Honolulu area.
Campsites and RV parking are not available at 'Ehukai Beach, but there are campgrounds not too far away at the Malaekahana Beach Campground.
Things to do at 'Ehukai Beach
Watch the surfers tackle big waves on the Banzai Pipeline
Admire the large sandy stretch of shore along the North Shore
Grab lunch and shave ice in nearby Haleiwa Town
By Allison, Eternal Arrival
Best Florida Beaches to Visit in December
Heading over to the east coast, lets dive into warmer waters at the following Florida beaches.
Did we miss out your favorite?
Tell us in the comments below.
We'll start with the east coast Florida beaches then move round to the west then discuss Puerto Rico and St Thomas as these destinations offer some of the best tropical vacations in December!
Fernandina Beach, Florida
Located on Amelia Island just off of Florida's northeast coast, Fernandina Beach's beauty can best be appreciated in the winter months.
With the peak season crowds gone, you'll have the 13 miles of coastline in the city of Fernandina Beach practically to yourself!
Couples will enjoy long romantic beach strolls, and families with kids can search for unique shells and shark's teeth that wash up on shore.
Peters Point Park is one of the best areas in Fernandina to set up a tent right on the beach, and they offer indoor and outdoor showers, changing facilities, and picnic tables.
Main Beach in Fernandina is accessible to people who use mobility devices, with a Mobi Mat to allow for wheelchair access.
Beach wheelchairs are available for rent by calling Parks and Recreation at (904) 310-3350.
Open fires aren't permitted on any of the beaches, but the city does allow campers to use self-contained, gas-fueled heating devices.
Hungry beachgoers will appreciate the variety of restaurants close to the beaches.
There's everything from diners to tapas to fine dining nearby (Beach Diner on S. 8th St. is fantastic for breakfast!)
Each December, Fernandina hosts a variety of festive Charles Dickens-inspired events, including the Dickens on Centre Festival and Dickens Dining Week.
New Year's Eve celebrations are also unique, featuring the annual Shrimp Drop with live music and a fireworksdisplay.
The closest city to Fernandina Beach is Jacksonville, located 36 miles away (about a 48-minute drive).
Jacksonville International Airport offers rental cars from many of the major national rental agencies.
Fernandina Beach is easy to reach from the mainland by car via one of two bridges.
The beaches offer ample parking—many of the public access points along Route A1A also include small parking areas.
Fernandina Beach in December Temperatures, Weather, and Animals
December's average high temperature at Fernandina Beach during the day is around 68°F, with lows around 50°F overnight.
Visitors can enjoy an average of 10 hours and 15 minutes of daylight on Amelia Island in December.
Although Florida's hurricane season is over by December, it can still be windy on the island.
Be sure to pack extra layers for cool evenings and occasionally windy days.
In December Amelia Island's famous sea turtles are long done with their nesting, and moms and hatchlings alike are already far out to sea.
However, look to the ocean to spot endangered North Atlantic right whales, who make their home in the waters off the island's coast from November until March.
Bottlenose dolphins are also a common sight year-round.
Fernandina Beach Lodgings and Hotels
Fernandina Beach offers dozens of hotels and private vacation rentals right on the beach or just a short walk away.
If you'd prefer to stay away from the crowded downtown area, the oceanfront Omni Amelia Island Resort offers miles of private beach, as well as heated pools and hot tubs.
The hotel also features propane fire pits, perfect for warming up on a chilly December evening.
Campers and RVers will want to head to Fort Clinch State Park, just north of the main beach, to take advantage of one of its two year-round camping facilities.
Make reservations well in advance, because their sites tend to fill up fast.
Things to do at Fernandina Beach
Visit historic Fort Clinch, overlooking the Cumberland Sound
Explore the various art galleries and antique shops in town
Learn about the island's roots at Amelia Island Museum of History
Take an electric bike tour around the island
Explore downtown Fernandina on a historical walking tour
Play some vintage games at the Fernandina Beach Pinball Museum
Go birdwatching at Egan's Creek Park
By Carrie Ann, Should Be Cruising
St. Augustine, Florida
St. Augustine, Florida is a unique city destination with great beaches or a beach destination with a fun and interesting city nearby.
Families, couples and groups will all find plenty of suitable activities, hotels and restaurants.
The Colonial Quarter of St. Augustine predates both Jamestown and Plymouth.
As you walk around town admire the brightly painted wood-frame houses and look for softball sized cannonball indentations in the stone walls.
In addition to sightseeing, the Quarter is a good place to come in the evening for restaurants featuring local seafood and regional southern cooking.
Additionally the city was a popular destination for Gilded-Age millionaires and you'll find plenty of examples of art nouveau and art deco architecture and interior design, particularly on the campus of Flagler College, and the former Hotel Alcazar.
For a day trip to the beach, head to Anastasia State Park, south of town. Moss-draped Oaks border a wide expanse of beach with sand that is firm enough to fat-tire biking. Rent bikes, SUPs and kayaks from an onsite outfitter.
The park has walking trails in its dunes and off-beach woodlands, parking, bathrooms, grills and picnic tables and a snack bar. It doesn't allow pets or vehicles on the beach.
St. Augustine Beach, south of Anastasia is parallel to a strip with inexpensive seafood shacks, Mexican restaurants and mini golf.
Ocean Hammock Park Walkway leads to a small beach that is nice and quiet but doesn't have facilities. Nearby Crescent Beach has restrooms and picnic tables and you can drive on the beach from March to September with a permit.
Vilano Beach is a rugged and scenic stretch of beach north of the city The surf at Vilano routinely churns up fossilized shark teeth and hunting for them is a popular local pastime.
This beach has restrooms, showers, parking, picnic tables and lifeguards in season. You can drive four-wheel drive vehicles on the sand with a pass from March to early September.
On the Northeast Coast of Florida, St. Augustine is any easy drive from Florida, Georgia, and parts of Alabama and South Carolina.
St. Augustine has a small regional airport, but most people fly into Jacksonville and rent a car to drive the 55 miles south to St. Augustine.
St. Austine in December Temperatures, Weather and Animals
You can count on sunny days and daytime temperatures in the high 60s to 70s in December and throughout the winter.
While it's not beach swimming weather it's fine for sightseeing in town, walking and biking on the beach and for hunting sharks' teeth. Some hotels have heated pools in winter.
Anastasia Park and St. Augustine Beach are on on the Great Florida Birding and Wildlife Trail.
So And look for hawks, eagles, heron, terns, ospreys and other water and shore birds as you walk along the beach. Look for turtles in the grassy areas.
St. Augustine Lodgings and Hotels
If you want to stay in town you'll find inexpensive motels along the river.
Quaint B&Bs and small inns, often in historic buildings like the Casa de Solana B&B, are tucked further back but in and around the Colonial Quarter.
St. Augustine Beach has a good number hotels in several price points. The more you pay the closer to the water you get.
The most resort style hotel is the beachfront Embassy Suites by Hilton at the north end of the beach. It's a top choice for families.
Guy Harvey Resort at the south end of this strip is just steps from the beach and usually has lower rates and couples or child-free groups might prefer it.
Anastasia State Park has off-beach camping facilities for RVs and tents. Pets are allowed in the camping area.
The town of Vilano Beach is the place to look for inexpensive hotels and vacation rentals, most of which will be near but not quite on the beach.
Things to do at St. Augustine
Explore the Castillo de San Marcos, a National Park Site the Spanish built to protect the city from the British
Take a walking tour or Flagler College
Get festive at the Night of Lights
Drink your way along St George Street
Climb the steps of the St. Augustine Lighthouse for views of the coastline and the city
By Eileen, FamiliesGo!
St Augustine also features in our guide to the best warm destinations in visit the December.
Vero Beach, Florida
One of the best beaches in the winter in the USA is Florida's Vero Beach, a family-friendly destination about an hour's drive from Orlando.
Located on the Atlantic side, Vero Beach has wide, gorgeous soft beige sand, perfect for sand-castle making.
It is also known for its beautiful green water, which is home to many of Florida's famed wildlife.
In fact, one of the things that make Vero Beach so wonderfully family-friendly is that it is quieter than many of Florida's east coast beaches, and they are careful to respect the wildlife, especially nesting turtles.
At night, lights are dimmed so sea turtles can safely lay their eggs and guest are asked to be mindful of protecting the turtles by following this practice.
Vero Beach in December Temperatures, Weather, and Animals
Winter is a great time to visit Vero Beach because day time is often warm enough to enjoy sunning on the beach and pool time.
Ocean temperatures are considered "warm", at about 75 degrees Fahrenheit.
You may need a sweatshirt in the morning or in the evenings, but this is a great time for walks on the beach, seashell collecting, or enjoying a bike ride.
While you can certainly pack shorts for your December visit to Vero Beach, I would recommend a pair of pants or two, and a couple of sweatshirts.
Vero Beach Lodgings and Hotels
Vero Beach is also home to Disney's Vero Beach Resort, part of their Disney Vacation Club collection, and one of the best family-friendly resorts on Vero Beach.
With restaurants on-site, including character dining, and villas with kitchenettes and laundry on the property as well as plenty of family-friendly activities, you don't have to leave the resort for the duration of your stay.
You can enjoy the magic of Disney while also enjoying the magic of the ocean.
As a quieter beach location, you can also enjoy fun and simpler beach activities like bike riding, mini-golf, and making smores by the campfire.
If you aren't staying at one of the resorts, you can enjoy one of Vero Beach's public beaches, which will have restrooms, picnic tables, a boardwalk, and some (not all) have a lifeguard on duty.
Many surfers enjoy the public beaches here, and you can enjoy other ocean activities like fishing or boating.
If you are looking for some off-property activities, there are several family-friendly restaurants and activities nearby, including Mel Fisher's Treasure Museum, Pelican Island Wildlife Refuge, and the McKee Botanical Gardens.
Things to do at Vero Beach
Vero Beach is on Florida's Treasure Coast. It is not far from a few great attractions, including:
Kennedy Space Center (1 hour 15 minutes)
Walt Disney World (1 hour 45 minutes)- Downtown Orlando (2 hours)
Universal Studios Orlando (1 hour 45 minutes)
Sea World Orlando (1 hour 45 minutes)
Vero Beach is the perfect, quieter vacation ideal for spending quality family time by the sea, and it is one of the best beaches to visit in December in the USA.
By Keri, Bon Voyage With Kids
South Beach, Miami Beach, Florida
The best beach in the U.S. to spend a few mellow days in winter is South Beach.
With an average temperature of 75 F (24 C) it is the envy of everyone wintering in the cold climes to the north.
The sun is warm, not the blazing heat of summer.
The winds are balmy.
The honey-colored sand on the beach is great for lounging and the water is warm enough to swim in.
There is something for everyone in South Beach. It is perfect for singles, families and a girl's getaway.
If you happen to be in South Beach in late December, you're sure to enjoy the New Year's Eve celebrations on the famous and iconic Ocean Drive.
Art Deco designed hotels, clubs and restaurants line onside of Ocean Drive with the beach on the other side.
The crowds begin to gather around 9 p.m. patronizing the clubs and restaurants on Ocean Drive waiting for the fireworks.
At midnight the fireworks display bursts over the inky black sky and lasts for several minutes before ending in a massive explosion of magnificent fireworks.
Happy New Year!
Winter is also the ideal time to catch many other winter attractions such as the world renown Art Basil and other art expositions making it one of the best beach destinations in December for travelers who like a side serving of culture with sunbathing.
The beach itself is one of the cleanest and most beautiful in the country.
It is wide and despite there being several sections reserved for hotels, there is plenty of room for the local visitor or vacationer not staying at the beachside hotels.
Visitors enjoy spending the day at the beach and arrive with coolers full of food and beverages for a beach picnic. Tents are allowed. Cooking appliances like grills are not.
Although dogs are technically not allowed, they are pretty common and no one seems to be bothered by them.
Parking can be an issue on South Beach.
Many empty lots turn into parking lots when the beach is busy.
The busier the beach, the higher the price for parking which can go up to 30 USD for the first hours and 10USD per hour thereafter.
Parking could be the biggest expense of your beach stay.
Your best bet for reasonably priced parking on South Beach is to park the car in the massive multi-story indoor parking garages; one is South Beach Parking at 424 Ocean Drive or Miami Beach Parking at 710 1st street.
These parking garages are farther from the beach but they'll save you lots of cash.
There are plenty of places to eat at the beach.
You'll find lots of cute little outdoor cafes, mid-range restaurants on the ground floors of the beautiful Art Deco hotels and memorable upscale establishments like Joe's Stone Crabs and Smith and Wollensky that have been there for decades.
There are also plenty of small supermarkets, grocery stores and convenience stores to stock up on whatever you need for the afternoon or the entire week.
South Beach is very easy to get to from the Miami International Airport on 836 East which leads into A1A across the Macauthur Causeway.
The causeway ends at the door of the Atlantic Ocean. The trip takes about 20 – 25 minutes with no traffic and the view is a beautiful introduction to South Beach.
Of course, you can rent a car at the Miami Airport.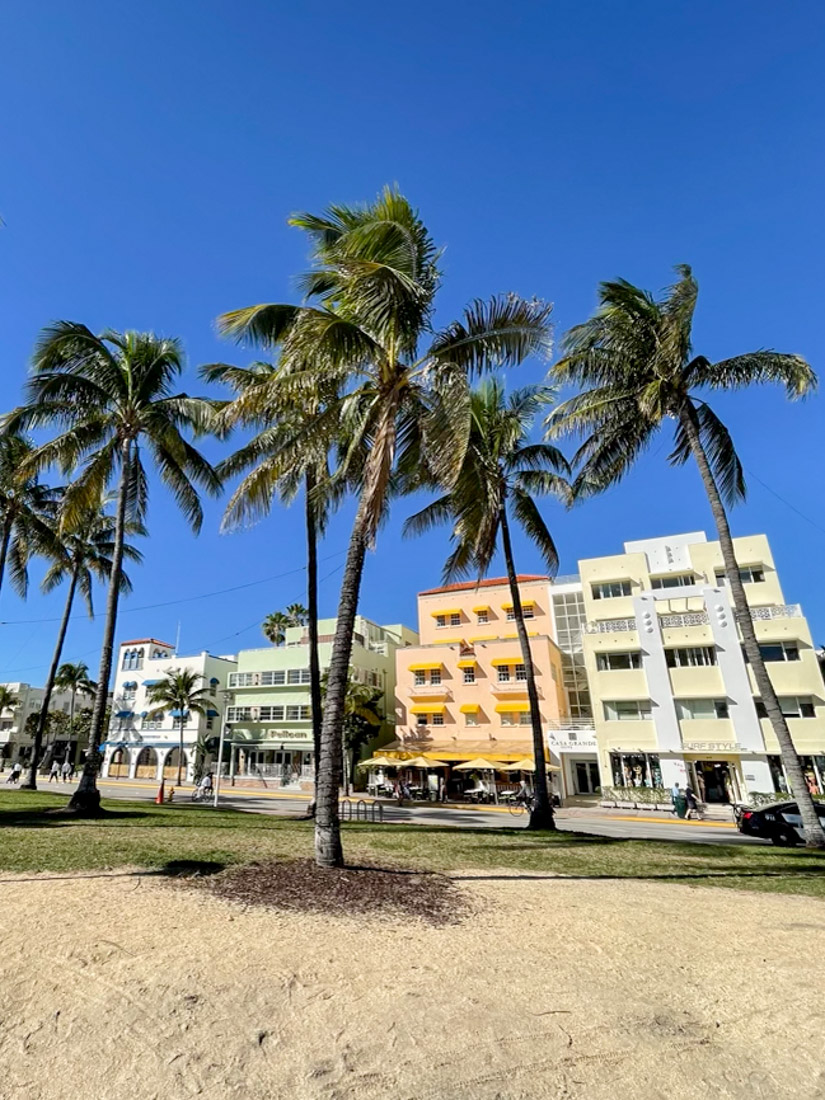 South Beach in December Temperatures, Weather and Animals
South Beach temperatures range from a low of 64F to a high of 79F during the winter months so you might want to take a light sweater for cooler nights especially since many of the best restaurants are by the water.
With about 10 to 11 hours of sunlight in the winter, there is still plenty of time to dine by the water in daylight.
If it gets especially cool, don't be surprised to see giant iguanas falling from the trees as they cannot tolerate cold weather, but that rarely happens.
Don't worry about the South Florida hurricanes in winter since the hurricane season is from June 1st to November 30th.
South Beach Lodgings and Hotels
South Beach is all about glorious Art Deco hotels all decked out in pastel pinks, baby-blue, burnt orange and deep purple colors with seafaring motifs.
These hotels, refurbished in keeping with city ordinances to maintain the Art Deco District, have been restored to their original 1920s splendor.
One lovely hotel is the Breakwater on South Beach with a restaurant, pool, all the amenities and right across the beach.
There are also ample Airbnb selections.
There are no RV or camping sites on South Beach.
Things to do in South Beach
Enjoy the beautiful beach
Lounge by the pool at your hotel
Enjoy a meal at one of the many restaurants in all price ranges
Party the night away at the local clubs
Visit a couple of the regional museums
Take an Art Deco District tour to learn about the history
Hang out at South Pointe Park
Do free yoga on the beach twice daily
Exercise at muscle beach
Walk or bike the length of the newly renovated promenade
Do some shopping a people watching on Lincoln Road
Play tennis or handball at Meridian Park
Rent jet skis or take boat tips from the marina
Go fishing off South Point pier
Have a cocktail and enjoy the view at one of the many roof top bars
Stroll around and have a meal at Espanola Way
Sample the best Cuban cuisine in town
By Talek Nantes, Travels with Talek
Fort Zachary Taylor State Park Beach – Key West, FL
A great US beach to visit in winter is Fort Zachary Taylor State Park beach in Key West, Florida.
Key West is the southernmost point of continental USA and is actually closer to Cuba than Miami.
The water around the beach is calm, making it perfect for families that like to swim and snorkel, however there is no lifeguard on duty.
Located right on the beach are restrooms/showers, a restaurant and concessions stand, with sun loungers, umbrellas and snorkel gear rentals.
Picnic benches and grills are free to use or visitors are welcome to bring their own. Many of the facilities are accessible for all visitors and beach wheelchairs are available free of charge.
Fort Zachary Taylor State Park is minutes from Downtown Key West, or a short 15 minute walk from the popular Duval Street.
Alternatively, Key West International Airport (with car rental companies) is 4.5 miles away which is approximately a 20 minute drive.
There is a charge for vehicle and foot traffic but it has a large parking lot and entrance to the historic Fort Zachary Taylor is included.
Fort Zachary Taylor State Park in December Beach Temperatures, Weather and Animals
Florida experiences warm temperatures year round, with December marking the end of Hurricane season.
Daily highs in Key West in December average 77F with lows of 70F.
Fort Zachary Taylor State Park is open from 8am until sundown 365 days a year. In December, this occurs around 5.50pm.
The state park is on the Florida Birding Trail and is a popular location for birds that migrate south during the winter months. Over 20 species of wood-warblers are commonly seen.
Key West Lodgings and Hotels
There are many different types of hotels and B&Bs in Key West.
The Ibis Bay Beach Resort has a private beach and is around a 20 minute drive from Fort Zachary Taylor State Park.
It also has a free shuttle bus into Downtown Key West for those without personal transport.
Boyd's Key West RV Campground is open year round.
Things To Do At Fort Zachary Taylor State Park Beach
Swimming/Snorkelling
Kayaking
Fishing
Explore historic Fort Zachary Taylor (free tours available)
Walking/Cycling Trails
Bird Watching
Geocaching
Yoga On The Beach
By Kylie, Between England and Iowa
Sanibel Island, Florida
Located in southwest Florida, about two hours south of Tampa, Sanibel Island is a tiny barrier island (33.16 square miles) just off the coast of Fort Myers, about 20 miles from downtown.
Major outlets such as Travel + Leisure and U.S. News & World Report frequently rank Sanibel Island among the best beaches in the United States, and it is particularly popular among families because there are so many great things to do with kids on the island.
There are no major events on the charming little island during the holidays, but lots of residents will decorate their boats and palm trees with Christmas lights, which makes the marinas and neighborhoods look more festive for the season.
There are different public beach areas you can visit– Bowman's Beach, Lighthouse Beach, Blind Pass, etc– but it's really just one huge white sand beach that stretches 12 miles, and is covered with millions of shells brought in by the Gulf of Mexico tides.
There is paid parking available at all the public beaches, and several also offer restrooms, BBQ grills, and picnic tables for visitors to use.
Camping on the beach is not allowed (endangered sea turtles often nest here), but you can bring canopies and tents for use during the day.
There are no restaurants directly on the beach, but the island is only 3 miles at its widest, so there are always plenty of dining options nearby.
Sanibel Island also features in our guide to free things to do in Southwest Florida.
Sanibel Island in December Temperatures, Weather and Animals
Winter is a great time to visit Sanibel, with average high temperatures around 77ºF/25ºC and an average of 3 rainy days a month, but it's also the most popular time for older "snowbirds" flocking to the island to avoid cold weather in the northern U.S.
Low temperatures tend to get down into the upper 50s, so it's best to bring a light jacket or sweater (which also helps protect against tiny biting gnats known as "No See-Ums").
Due to Daylight Savings Time, the sun often sets around 5:30PM in winter, but this is an "early to bed, early to rise" kind of place anyway, with many visitors out looking for seashells in the first light of morning.
Morning is also a great time to see shorebirds, as well as dolphins feeding in the shallows just offshore.
Sanibel Island Lodgings and Hotels
The east coast of Sanibel is dominated by the J.N. "Ding" Darling National Wildlife Reserve, but the west coast beaches are lined with an array of resorts, condos, and cottages that are available for rent.
The Sundial Beach Resort and the West Wind Island Resort are two of the most popular places to stay, but you can also find more intimate properties such as Beachview Cottages.
There's only one place that allows camping on Sanibel, Periwinkle Park & Campground, which offers spots for tents and RVs. It's best to make reservations in advance, and dogs are not allowed.
Things to Do on Sanibel Island
Shelling (it's one of the world's Top 10 Shelling Beaches)
Take a Dolphin-watching cruise with Captiva Cruises
Visit the J.N. "Ding" Darling National Wildlife Reserve
Kayaking with Tarpon Bay Explorers
Visit the Bailey-Matthews National Shell Museum
By Bret Love & Mary Gabbett, Blue Ridge Mountains Travel Guide
Keewaydin Island, Florida
The beaches of Naples Florida are among the best in the US, but one beach stands out for its utter isolation and natural beauty — Keewaydin Island.
With southwest Florida's winter temps hovering comfortably in the 70s and 80s (lows are in the 50s), it's a perfect winter sun destination.
Keewaydin is only accessible by boat, making it a perfect destination for couples seeking a remote beach experience, but also for families — the wildlife and shelling here is unmatched, plus kids especially enjoy the journey in getting there.
While the experience here is remote, it's just a 15-minute boat ride from Naples or Marco Island to enjoy local restaurants, and enjoy the festive events around the Christmas and New Year's holidays.
There are several ways to get to Keewaydin but the most popular are the several local water taxis which run from both Naples and Marco Island.
Getting to Naples and southwest Florida is also straightforward by flying into Southwest Florida Regional (International) Airport.
Keewaydin in December Temperatures, Weather and Wildlife
There are no amenities on Keewaydin, such as changing rooms, rest rooms, beach rentals, or restaurants though there are several beach boats moored at the southernmost beach selling everything from ice cream and sandwiches to ice cold beer.
What Keewaydin lacks in amenities however, is more than made up by its incredible and raw beauty.
Surprisingly, while the local beaches around Naples are not dog-friendly due to an abundance of nesting birds and sea turtles, you can bring your dog to Keewaydin as long as it is leashe
Lodging near Keewaydin Island
The closest hotels to Keewaydin are located in Naples and Marco Island.
There are several excellent ones like Hyatt House within easy walking distance to local marinas and Tin City in Naples where boats to Keewaydin dock.
Camping is prohibited on the island.
Things to do on Keewaydin
The most popular things to do on the island include shelling, beach combing, and enjoying the sun
Several nature trails run through the island which are free to explore
Or you can take an organized shelling cruise to the island to explore and hunt for seashells that wash ashore by the thousands
By Lori, Naples FloridaTravel Guide
Clearwater Beach, Florida
Clearwater Beach in Florida is one of the best beaches to visit in December in USA, thanks to the warm weather, warm water, powdered sugar white sand, and lots of nearby shops and restaurants.
There are even a few popular restaurants right on the sand, so you can enjoy a meal with a great view. There are also plenty of amenities on-site, including public restrooms, sand volleyball courts, lifeguard towers, cabana rentals, and more.
Bonfires, barbeques, and pets are all banned from Clearwater Beach to keep the trademark white sand as pristine as possible.
Clearwater is a laid-back beach town that tends to attract couples and families.
Singles tend to gather elsewhere to party. In fact, it's a fantastic kid-friendly place to ring in the new year.
The city puts on a great firework show every year from the pier and there's just something special and refreshing about celebrating on the beach.
The nearest airport is the Tampa International Airport, just a 30-minute drive across the Tampa Bay causeway. The easiest place to park is at the public parking lot near the pier or at your hotel.
Clearwater Beach in December Temperatures , Weather and Animals
You can likely expect weather to be in the mid-70s and sunny, with water temperature hovering around 67-degrees.
It does get a bit chilly at night, so you'll want to pack long pants and a jacket to change into once the sun goes down, which is around 5:30. Another reason to visit in December – hurricane season in Florida is over and the weather patterns are typically very mild.
When it comes to animals, there isn't anything special about December.
You may see dolphins, stingrays, or sharks year-round. But don't fret, it's a safe beach for swimming.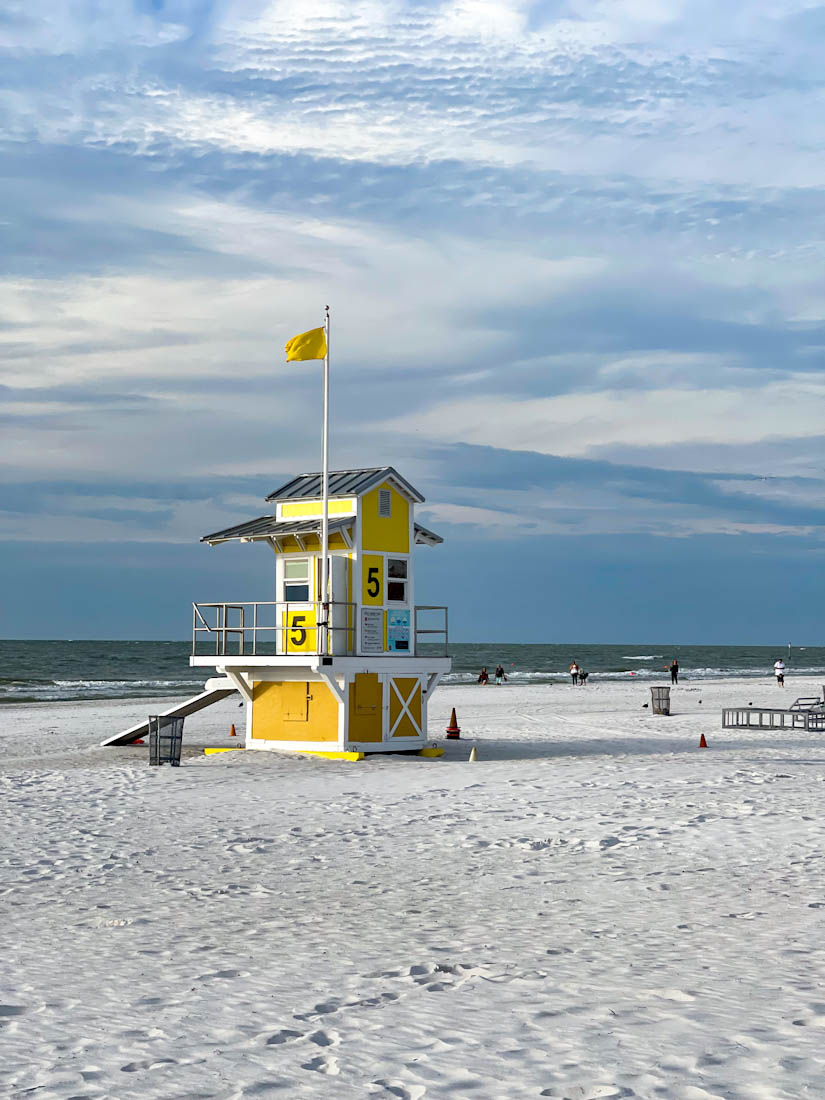 Clearwater Beach Lodgings and Hotels
There aren't any campsite or RV parks nearby, but there is a plethora of lodging options, from vacation rentals to affordable hotels and motels near the beach to big brand-name resorts, like the Hilton Clearwater Beach Resort.
We recommend staying at the waterfront Clearwater Beach Marriott Suites, an all-suite hotel with great amenities and a large outdoor pool.
Things to do at Clearwater Beach
Go for a stroll down Pier 60. If you want to try your hand at fishing, you can rent gear at the bait shop. The pier is nice any time of day, but every day from two hours before sunset to two hours after sunset there is the Daily Festival featuring live music and entertainers along the pier.
Go for a dolphin-watching cruise. There are a number of boat outfits that will take groups on a cruise through Clearwater Bay.
Clearwater is only a 90-minute drive from Orlando. If you want to do a side trip to visit the theme parks, check out this guide on ways to save at Disney World.
By JJ Haglund from The Minivan Bucket List
Flamenco Beach, Puerto Rico
One of the best beaches to visit in the winter is Flamenco Beach, located on a small island in Puerto Rico called Culebra.
Winter is a great time to visit because there are fewer crowds, and the weather is amazing.
This beach is great for families because of the beautiful sandy beaches and the water is very shallow with small waves.
It is also a secluded beach making is great for couples.
There are great amenities at Flamenco Beach including restrooms, fresh water tanks, outdoor showers, and changing rooms.
There are also some kiosks there where you can rent beach chairs, umbrellas, and camping gear if you are spending the night.
Open fires are not permitted but you can use the BBQ fits for charcoal or you can bring your own gas stove.
There is a short walk from the parking area to the beach.
There are some booths at the beach, where you can buy some food like snacks, sandwiches, and drinks.
Other restaurants are nearby in downtown Culebra near the ferry landing.
To get to Flamenco Beach, you will either need to take a ferry over from the main island or fly.
The ferry is the most cost-effective way to get to the island.
From the ferry landing, there are shuttles you can hire to take you over to the beach.
You can also rent your own jeep or golf cart if you want to explore the island in addition to visiting Flamenco Beach.
There is a large parking lot at the beach, and you should not have any difficulties finding a parking spot.
Flamenco Beach in December Temperatures, Weather, and Animals
The high temperature on Flamenco Beach during the month of December is 85 degrees Fahrenheit.
The overnight low is 74 degrees Fahrenheit.
There are about 10 days a month of rain on the island, so it is a good idea to bring a light rain jacket.
There is about 11 hours of daylight in December from 7:00 am to 6:00 pm.
If you're doing any snorkeling on the island, keep an eye out for turtles and other coral fish.
Flamenco Beach Camping and Nearby Hotels
There is camping right on Flamenco Beach which is a great experience if you have camping gear.
There are some kiosks there that rent camping gear like tents, air mattresses, and more.
You can pay for your campsite at the entrance of the campground at the office.
The Club Seabourne Hotel is a great hotel within four miles of Flamenco Beach.
It has lots of great amenities like access to water sports facilities, a dock, an indoor pool, and massage services.
Things to Do at Flamenco Beach
Snorkel on the east side of the bay to see coral and sea life
Take pictures with the painted World War tanks on the beach
Enjoy the beautiful white and sandy beaches
Magen's Bay Beach, St Thomas US Virgin Island
Magen's Bay Beach on St. Thomas in the US Virgin Islands is one of the best best Caribbean islands to visit in December.
Because St. Thomas is a protectorate of the United States and a passport is not required for US citizens to visit there.
It's also much closer to the equator than the mainland United States, so the weather is warmer.
Couples, families, and groups can easily visit Magen's Bay Beach.
While there are usually Caribbean-style Christmas and New Year's parties around St. Thomas, none are planned specifically on Magen's Bay Beach.
Magen's Bay offers changing facilities and showers.
Grills are not permitted, and tents are only allowed for St. Thomas residents.
There is a concession area that sells food and drinks. When driving to Magen's Bay there are several routes you can take.
The closest city from which people drive is Charlotte Amelie, which is 3.5 miles away.
Just drive Maude Proudfoot Dr out of Charlotte Amelie to Magen's Bay Rd and drive that all the way to the end. The drive takes about 15 minutes.
There is one island on St. Thomas, which is the Cyril E. King international airport. It has multiple car rental facilities available there.
Magen's Bay Beach in December Temperatures Weather and Animals
Temperatures at Magen's Bay Beach range from the mid-70s to mid-80s (°F).
It does not get cold enough at night to need a jacket or long sleeves.
Daylight lasts approximately 11.5 hours in December, which is the high season in St. Thomas because there is practically no rain or bad weather at that time of year.
Magen's Bay Beach Lodgings and Hotels
There are no hotels or vacation rentals directly on Magen's Bay Beach.
However, there are several high-quality resorts in Charlotte Amelie, including Bluebeard's Castle.
The best campground on St. Thomas is the Virgin Island's Campground, which offers rustic cottages and tent sites. Both of these options can be booked in advance on their website.
Things to do at Magen's Bay Beach
Rent including paddle boats, sunfish, and kayaks
Relax on water floats
Enjoy drinks on the beach
Dine at the beach restaurant
By Brodi, Our Off Beat Life
Save for later!
Did we miss any of the best beaches to visit in December in USA? Tell us in the comments.