This article has links to products and services we love, which we may make commission from.
Hiking and biking around the NC500, visiting on a budget or prefer somewhere slightly more social than a hotel? Whatever your reason for searching for North Coast 500 hostels, this guide details the best options at some of the most popular stops on Scotland's answer to Route 66.
Planning your NC500 trip? Start here and you might also like our guide to apartments on the North Coast 500.
Hostels on the North Coast 500
A couple of things to look out for when considering which hostels to stay at.
Firstly, if you are driving check that the hostel has free parking.
Secondly, consider the climate in Scotland. Hostels with drying rooms are recommended if you plan to do a lot of outdoor activity! Take a look at our packing list for more tips and hacks.
If you plan to use the kitchen facilities at the hostel, plan a grocery shop before you arrive.
Take note of addresses and phone numbers. Don't rely on phone signal around the route. Here are more NC500 hacks.
Another aspect to think about is seasonality. The NC500 is super popular April through to October and some accommodation providers close down over winter.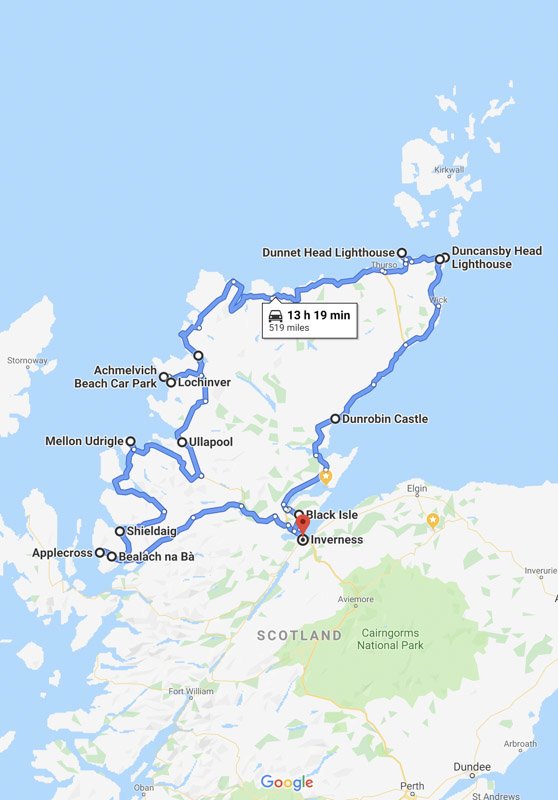 North Coast 500 Hostels
Hostels in Inverness
There are six hostels in Inverness for budget travellers. For information, reviews and prices for all six click here.
One of the most popular hostels is the Black Isle Bar and Rooms. The appeal?
It's the first bar to sell craft beer and also offers tours of the Black Isle Brewery. The Black Isle itself is stunning.
Rooms sleep 1-4 people and all rooms have an en-suite bathroom (image below). The bar also sells organic pizzas.
Hostels in Torridon
There is one Torridon hostel, Torridon Youth Hostel ran by the Scottish Youth Hostel Association.
This family (and dog!) friendly hostel is surrounded by hills ready for hiking, perfectly located under the highest peak in the area, Liathach.
Torridon Youth Hostel boasts of a large kitchen, two social areas, a drying room and panoramic views along with private rooms and dorms.
Hostels in Gairloch
The Gairloch Sands Hostel, managed by the Scottish Youth Hostel Association, is the oldest of the SYHA hostels.
The former hunting lodge was built in 1880 but is now maintained as a family and dog-friendly hostel.
Dorms (from £23) and private rooms are available for booking.
The hostel offers free parking and meals are available.
Hostels in Ullapool
There is only one Ullapool hostel, again managed by SYHA. Ullapool Youth Hostel sits on the seafront with views of Loch Broom and Beinn Dearg mountain.
Like Torridon, it has two social areas, a kitchen and dorm rooms (from £23) or private rooms available. There is also a laundry and drying room if it has come to that point of the road trip (clean pants time, we've all been there!)
Hostels at Achmelvich
O.M.G, and I do not use that phrase often. SYHA has a hostel at Achmelvich Bay.
Just book it now, seriously. Crystal clear turquoise waters and white sand beaches are the views from this hostel, no wonder it is rated 9.7/10.
You will not be surprised to hear that Achmelvich Beach Hostel is often (mostly) sold out.
It accepts group bookings and dogs.
The hostel has a self-catering kitchen, dining room, and dorm beds.
One of the most scenic hostels on the North Coast 500 – catch it if you can.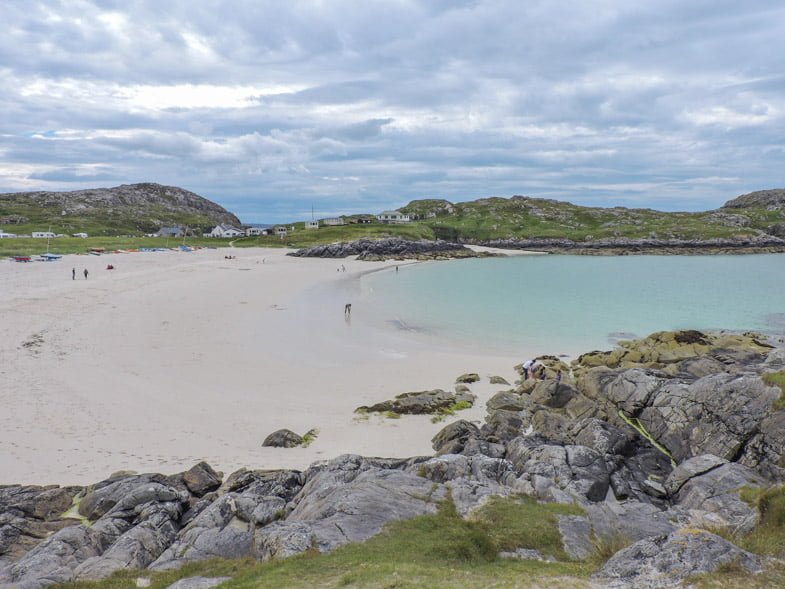 Hostels in Durness
Right next to Smoo Cave (and Sango Sands campsite) you will find Durness Smoo Youth Hostel.
Yet another family and dog-friendly (regretting not taking our German shepherd/husky, Bowie) SYHA hostel with dorms and private rooms.
Self-catering kitchen, drying room and coal-burning stove heated area also provided.
The hostel is relaxed and friendly, providing a simple base from which to explore the area on a budget.
There are multi-share and private rooms, a well-equipped self-catering kitchen, drying room and cosy lounge heated by a coal-burning stove.
Hostels in Thurso
Sandra's Backpackers receives positive reviews for friendliness and location. Breakfast is included, and Thurso has restaurants and cafes for those choosing to eat out.
Sandra's Backpackers offer luggage storage, linen hire and bike rental.
Dorms and private rooms are available.
Availability of hostels eases on the North Coast 500 as you hit Caithness.
NC500 Guides
We have created a number of free guides to help you with your NC500 planning:
Any questions? Just ask below.