This article has links to products and services we love, which we may make commission from.
Sun, ski and seasonal events! If you are looking for the best places to visit in February in the USA, this guide details destinations with winter scenes for ski or spas, hot temperature trips for sun worshipers, romantic ideas for Valentine's Day, and locations with a jam-packed events calendar for those who like to keep busy during their vacation.
We've shared things to do, festivals to attend and provided a rough idea of accommodation prices for each destination.
If you prefer to travel on a budget, check out our guide to the cheapest citifies to visit in the US.
Choosing a destination for Valentine's Day weekend? Here's our guide to the most romantic places in the US.
Just browsing? Consider the best places to visit in the US in January too.
Places to Visit in February in US for Winter Activities
1. Park City in February for Ski & Sundance Film Festival
Park City, Utah is a haven for winter sports enthusiasts, but there's more to the city than just skiing.
If you get to town a little early, try to catch the Sundance Film Festival.
The famous film event usually falls in late January and early February.
Most people come to Park City, which is a 40-minute drive from Salt Lake City, for the 7000 acres of slopes.
In fact, the mountain town hosted the 2002 Winter Olympics and still has training facilities for recreational and professional winter athletes.
In February, expect typical winter weather in Park City. February temperatures range from 15°F to 37°F (-9°C to 3°C).
After a day of skiing or snowboarding, head downtown to warm up and explore the town's old west roots.
Downtown is full of 19th-century charm from the area's silver mining history.
Today, Park City boasts a diverse food scene with award-winning restaurants and bars.
Park City has plenty of options for travelers on almost any budget but you can expect accommodation in February to be at least double the cost of July.
Dig deep for big snow experiences!
2. Big Sky in February for Snow
Big Sky, Montana has more than 5,800 acres of skiable terrain at the outskirts of Yellowstone National Park.
The impressive slopes are why the town is widely considered America's biggest skiing destination – also making it one of the best places in the U.S. to visit in February.
But if skiing the Northern Rockies isn't your thing, travelers can also get outdoors for plenty of other winter activities.
There are options for snowshoeing, ice skating, dog sledding, sleigh rides, ice climbing, snowmobiling, and touring Yellowstone National Park.
When it's time to eat, Big Sky travelers have several tasty options to choose from nearby. More dining options are available with a scenic drive to downtown Bozeman, Montana.
Plan on wintery conditions for your Montana trip.
February temperatures range from 9°F to 36°F (-12°C to -2°C).
As with Park City, accommodation prices are 2-3 times more than their July rates.
Big Sky is a popular winter destination that also features in our guide to ideas for a US in January getaway.
3. White Mountains in February for Chocolate Festival and Snow Activities
Head to the White Mountains in New Hampshire for the annual Chocolate Festival where local inns dotted over 45km put on homemade treats for cross country skiers and snowshoers!
The 'sweetest day on the trails' has been running for decades and people travel in for the rewards.
Tickets do sell out so book in advance.
There are a number ski resorts around Mount Washington Valley such as Loon Mountain, Waterville Valley, Wildcat Mountain, Attitash, Bretton Woods and Cannon Mountain.
Other things to do in the White Mountains include tax-free shopping on Main Street in North Conway, the snow train at Conway Scenic Railroad, gallery hopping and tubing at Cranmore Mountain Resort.
For an easy hike, head to Echo State Park to hike the one-mile lake loop or the Cathedral Ledge for views of the River Saco Valley in winter.
15-minutes north of North Conway is Nestlenook Farm in Jackson which is popular for ice-skating and s'mores.
Average temperatures in the White Mountains in February are between 9°F (-12°C) and 35°F (2°C).
4. Honolulu in February for Sun & Nature
Want to escape cold and dreary February weather?
Consider a trip to tropical Honolulu, Hawaii on the island of Oahu.
Honolulu typically has the warmest February temperatures in the U.S., ranging from 65°F to 81°F (18°C to 27°C). The top temperatures are why it's considered one of the best places in the U.S. to visit in February.
Hawaii's humpback whale season peaks in February, giving whale watchers a great excuse to spend time on the water.
Plus, travelers can catch a festival to celebrate the whales' arrival to the islands, like the Maui Whale Festival.
Whether you're spending the day on Waikiki Beach, surfing the waves, or touring the islands by boat, there's plenty of warm weather fun to look forward to.
Foodies will have a fantastic time exploring the island.
Oahu is home to some of the best chefs in the world specializing in different cuisines featuring fresh produce.
For cheaper options, try one of the many food trucks or small neighborhood eateries.
There isn't much difference in cost for accommodation for Honolulu in February, July and September.
Honolulu also features in our warm places to visit in December, best beaches to visit in winter, and festive lights top locations.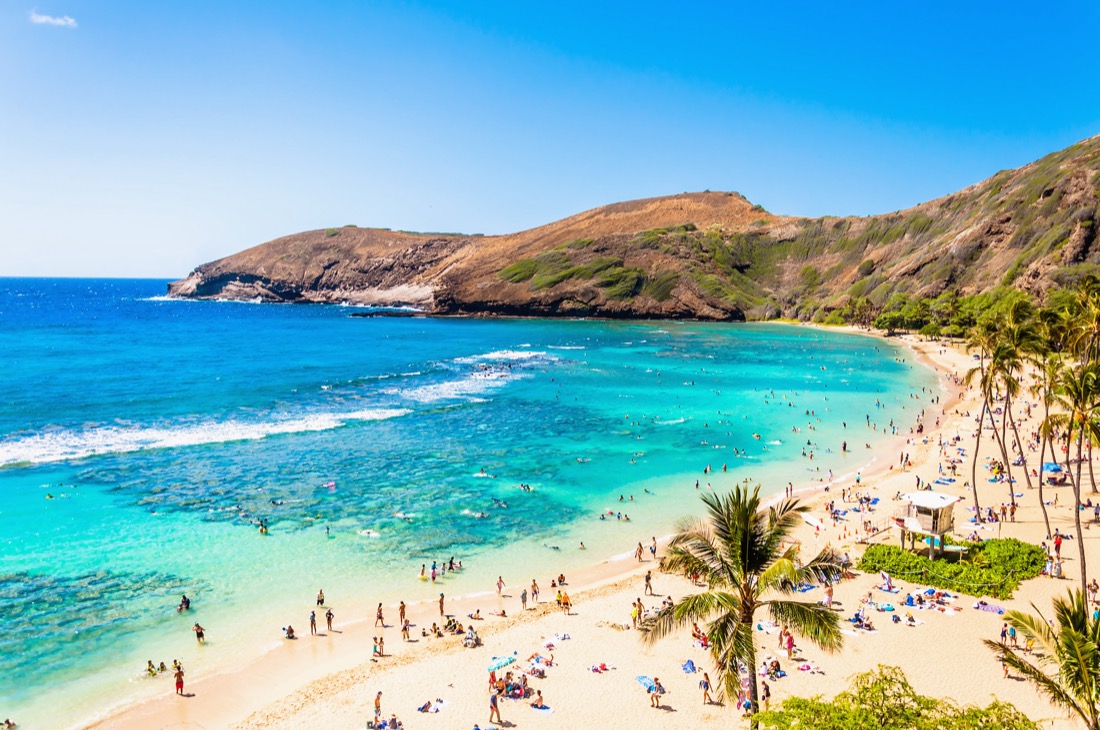 5. San Antonio in February for Food & Festivals
The historic city of San Antonio is known as a modern city that fully embraces its diverse Spanish culture.
Travelers can explore San Antonio's famous River Walk, stop by the historic Alamo, admire beautiful southwest scenery, and catch a concert at one of the many local entertainment venues.
Desirable temperatures and a full calendar of events make February the best time to visit the old west town.
San Antonio's February weather tends to be pleasant with temperatures ranging from 43°F to 67°F (6°C to 19°C).
Accommodation, outside of events, can be $100 cheaper in February that July!
Although you may not need a jacket this time of year, bring a loose pair of pants to comfortably enjoy San Antonio's bustling culinary scene.
The city is famous for its Tex-Mex and barbecue eats; and the new wave of upscale restaurants is putting the city on the map as a foodie destination.
Plus, the famous San Antonio Stock Show and Rodeo comes to town every February, attracting two million visitors.
For the best deals, try to plan your trip a few months in advance of the city's peak tourist season.
6. Los Angeles in February for Parades
All eyes are on Los Angeles in February as the city hosts famous awards shows including the Grammys and Academy Awards.
First, the month kicks off with Lunar New Year and the famous Golden Dragon Parade in Chinatown before awards season gets in gear.
Temperatures range from 51°F to 69°F (11°C to 21°C), which is comfortable for sightseeing or a guided tour of the city.
The LA food scene is one of the best, with plenty of options for any type of eater and budget.
If you're in town for Valentine's Day, you won't have a problem finding a romantic restaurant to impress your date.
Check out Mama Shelter Los Angeles's rooftop for homemade meals, city views and original cocktails or the stylish Margot for Italian in a contemporary indoor rooftop restaurant.
The cooler temps may not be great for the beach, but they can help you get better hotel and airfare deals.
Accommodation can be around $50 cheaper than in July.
Check out our LA bucket list to see how many items you can tick off.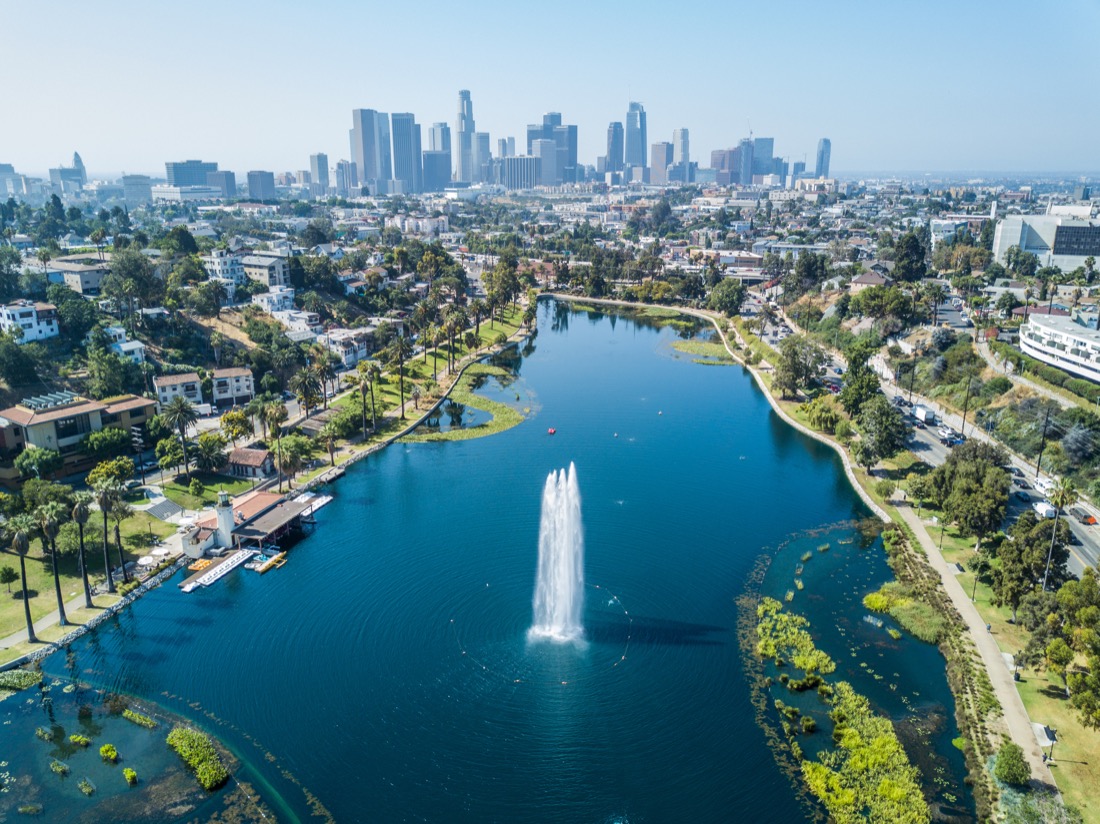 7. Miami in February for Food & Art Festivals
Miami's gorgeous weather, delicious food, and plenty of art await visitors who are looking to escape cold February weather.
Miami is home to world-class restaurants, lush botanical gardens, white-sand beaches, and museums.
Just a few days in the sunny city can help anyone shake off the winter blues.
Miami temperatures in February are very comfortable, ranging from 64°F to 75°F (18°C to 24°C).
That's probably why some of Miami's biggest annual events happen in February including the South Beach Wine & Food Festival, Coconut Grove Art Festival, Miami International Boat Show, and the Miami Marathon.
All of these events make Miami one of the best places to travel in February in the US for people who like to keep busy and immerse themselves in local culture.
To relax, spend a morning on the water for a boat tour of Miami's most impressive homes before dining at one of Miami's amazing restaurants.
After dinner, enjoy sunset drinks at a rooftop bar such as Area 31.
Remember that February is a busy month for in Miami, so be prepared to see higher prices this time of year.
Accommodation is coming in at around $50-100 more than July per night.
8. New Orleans in February for Mardi Gras
For great parties and unforgettable cultural experiences, one of the best places to visit in February is obviously New Orleans in Louisiana.
The city of New Orleans comes alive in February as the epicenter of Mardi Gras.
There are parades, festivals, and non-stop parties in the days leading up to Fat Tuesday which falls on the day before Ash Wednesday.
Fat Tuesday isn't always in February, it sometimes lands at the start of March so be sure to forward plan your trip to New Orleans if you aim to go for the Mardi Gras celebrations.
Even if Mardi Gras lands in March you still want to be there for the parades and parities on the run up.
Mardi Gras actually kicks off on Kings Day, the Twelfth Night and the Epiphany, where locals celebrate with colorful cake.
Accommodation starts to book out around August and there is usually a four or five day stay minimum.
If Mardis Gras is you calling, there are more destinations which celebrate it featured in our US in March and US in April guides.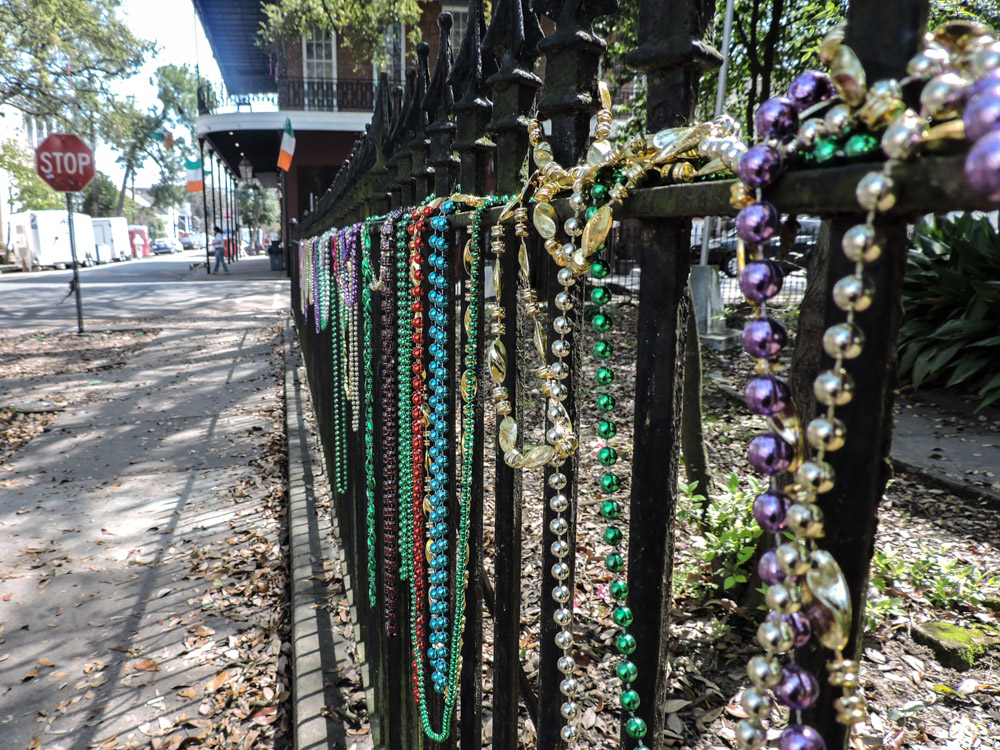 Aside from world-famous Mardi Gras celebrations, February is also time for Tet Fest to ring in the Vietnamese New Year as well as Black History Month.
Escape the crowd for a few hours aboard the historic Sternwheeler Steamboat Natchez for a two-hour jazz cruise around the city.
No trip to New Orleans is complete without partaking in a crawfish boil.
Other famous local dishes include gumbo, jambalaya, red beans and rice, beignets, king cakes, po-boys, and bananas foster.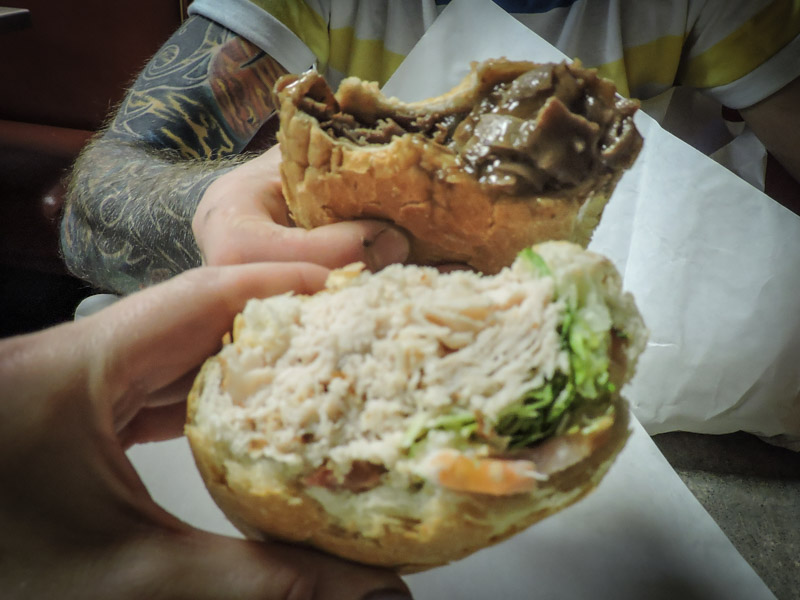 February weather can be pretty unpredictable in the Big Easy, so wear light layers and comfortable shoes. Temperatures range from 47°F to 66°F (8°C to 19°C).
February is the most popular time to visit New Orleans, so plan on higher prices and limited ticket availability.
NOLA also features in our best places to visit in May in the US guide as an idea for a Mother's Day vacation.
If you plan to visit NOLA at a later time of the year, you may find our guide to New Orleans in fall useful.
9. Napa Valley in February for Cheaper Wine Travel
As one of the most romantic destinations in the U.S., Napa Valley, California is among the best places to visit in February in the U.S. – especially for Valentine's Day.
Couples can spend lazy days meandering through vineyards, sampling the best California wine, dining at Michelin-rated restaurants, and taking in beautiful natural scenery.
Enjoy brunch at the Oxbow Public Market, where you'll find upscale restaurants such as C Casa for tacos and Hog Island Oyster Bar.
February falls in Napa's off-season, but it also happens to be peak cabernet season.
That means plenty of great wine and reasonable prices at luxurious California hotels just in time for Valentine's Day.
Visitors can also catch the Yountville International Short Film Festival held every February.
Bring a jacket if you do go. February temperatures range from 37°F to 60°F (3°C to 16°C).
Accommodation at Napa Valley in February saves you around $100 per night compared to July.
Napa Valley also features in our guide the best bachelorette destinations in the US.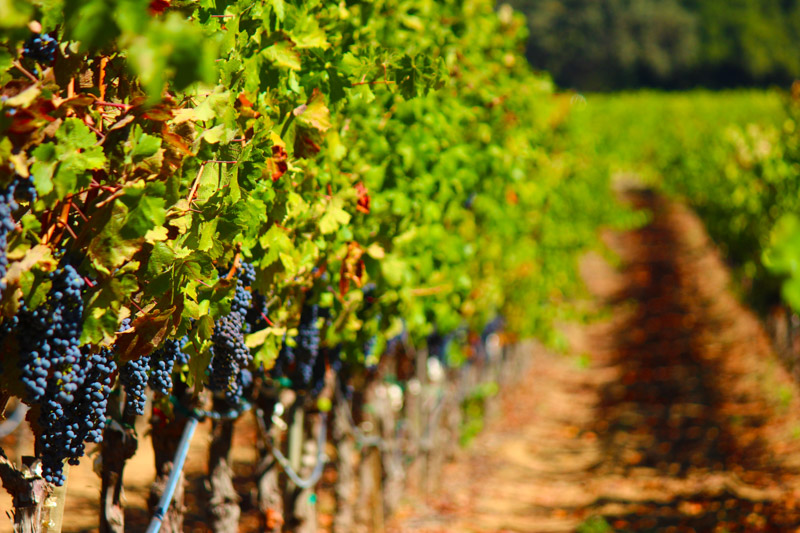 10. Sedona in February For Budget Travelers
Stunning desert landscapes, pleasant weather, and a wide selection of relaxing spas make Sedona, Arizona a perfect Valentine's Day getaway.
Expect temperatures to range from 36°F to 64°F (2°C to 18°C) with a small chance of snow in higher elevations.
Sedona's moderate temperatures and stunning landscape make for great hiking, scenic drives, or a romantic dinner at the Grand Canyon.
Wine lovers will be delighted to know Sedona's Verde Valley Wine Trail has some of the nation's best vino. There are also plenty of gourmet restaurants and health-conscious cafes to choose from.
You can catch the Sedona Yoga Festival as well as the Sedona International Film Festival that usually happen every February.
Although Sedona may get a bit of snow into February, travelers can avoid crowds and score some deals on hotels.
Sedona is a cheap place to visit in February in the US so if you're on a budget, consider it.
There are some savings to be made in accommodation compared to summer.
11. Fairbanks in February for Dancing Aurora Borealis
If you are hoping for a decent chance of seeing Aurora Borealis in the US consider Fairbanks in Alaska.
While March is the best time to catch them, Fairbanks also features in our US in March guide, the window in which the Norther Lights can been seen here is August 21st until April 21st.
Fairbanks is located under the Auroral Oval, a huge ring above the Earth's Geomagnetic North Pole, and locals recommend Lake Chena for sightings!
You can even use the Aurora Tracker to see in real-time visibility.
Other things to do in Fairbanks in February include, World Ice Art Championships where artists craft sculptures into ice and Denali Winterfest which starts at the end of the month and features dog sledding, snowshoeing and food.
Looking for a romantic activity? Check out Chena Hot Springs for a relaxing dip.
Visiting Fairbanks in February will save you on accommodation!
Some hotels are double the price by summer.
12. Palm Springs in February for Architecture & Design
February means one thing in Palm Springs, Modernism Week.
An annual event looking at 'midcentury modern design, architecture, art, fashion and culture'.
With over 350 events including home tours, sessions, bus tours and parties, Palms is the place to visit in February for budding designers.
Other things to do in Palm Springs, California include golfing at the Sunnylands Center, learning about the Agua Caliente Band of Cahuilla Natives at Indian Canyons and taking in the views from the Palm Springs Tramway up Mount San Jacinto.
Palm Springs is cool town with balance of pops of color and rustic vibes which isn't easy to nail!
If you like design, do a day trip to Pioneertown, created in the 1940s as a "Living Breathing Movie Set".
And since you are so close, let someone else do the driving on this day tour to Joshua Tree National Park.
You may also like our guide to the US in March.