This article has links to products and services we love, which we may make commission from.

Vienna – the city of music, dreams and really impressive buildings. This laid-back and bizarrely quiet Austrian city is one which I (Gemma) thought would be vanilla for activities but oh how I was wrong. I would argue that a weekend in Vienna is just not enough if you love eating, people watching, museums, music, drinking, dancing, markets, sunsets, street art, and architecture. Here's your dazzling guide on what to do with 3 days in Vienna (the opera is optional, eating cake is not) as well as some of our fave tours.
And yes, you will have that song in your head for the duration of the trip. I've now been to Vienna twice, that's a testament to how much I enjoyed these things to do in Vienna.
---
» In Vienna for a few days? Click to read our guide on the best Vienna day trips
---
What To Do in 3 Days in Vienna
Day 1 – Innere Stadt (First District)
Vienna is a city packed full of history (even its cakes have a story) and much of the history is free to look at on the streets. The architecture of the city's most important buildings is an incredible and massive throwback to times past. The First District is linked by the Ringstraße (Ring Road), which is not quite a full ring.
Coffee Culture in Vienna
If your hotel does not provide breakfast, consider kicking off day one in Vienna with breakfast and/or coffee at a traditional coffee house like Cafe Hawelka.
We had the funniest of experiences at Cafe Hawelka. Stereotypically the waiting staff in Vienna are a little grumpy so we were half expecting this kind of response from the server…
We asked for a menu and he replied 'I am the menu' while raising one eyebrow in a comedic way. He then offered us apple strudel, cheese strudel, vegetable strudel or sausages. We chose the sausages and he rolled his eyes. Two orders of sausages with a bread roll, one coffee and one hot chocolate came to €22.
Order a 'Schwarzer' for a black coffee, 'Brauner' for a black coffee with milk or a 'Melange' for coffee with cream. Sit back and enjoy the coffee shop environment which consists of wooden seating arrangements and interesting people to watch.
Address: 

Dorotheergasse 6, 1010

Note: Sausages come with a dollop of mustard (not to my taste)
Rathaus Vienna/City Hall
This neo-gothic building could be confused for a cathedral at first glance. During the festive season, visitors will find one of the many festive Christmas markets in Austria built up in front of the City Hall as well as an ice rink.
Address:  Friedrich-Schmidt-Platz 1, 1010 Wien, Austria
---
Parliament in Vienna
This Greek-inspired building was created between 1874 and 1883. Remember to always look up in Vienna; can you see the Greek scholars that line the roof?
Hofburg Palace
These buildings make up one of the largest palace complexes in the world and the size of it is daunting.
Up until 1945 the palace was home to the Habsburgs monarchy but now houses the office of the Austrian president and cabinet. Fans of the 'most beautiful queen in Europe' Empress Elisabeth Sisi, can view over 300 of her personal objects, including those dresses, at the Sisi Museum within the Hofburg grounds.
The oldest area is the 13th century Swiss Wing, previously known as the Old Fortress.
Address: Michaelerkuppel, 1010 Wien, Austria
Wiener Staatsoper/State Opera House
This is a place of worship for those who want to experience a famously intense Viennese opera show. Originally built in 1869, the Opera House was damaged during WWII then reopened in the 50s.
Every year the prestigious Vienna Opera Ball takes place and for a mere 2K euros you can hire a circle box. There are a variety of options for seeing the Opera House such as a concert, dinner and even a Christmas show. Check out the Mozart Show here. It sells out so you have to book speedily.
Address: Opernring 2, 1010 Wien, Austria
Cheap seats sell out fast but standing tickets are available for under 10 euros
Fun fact: Ball season takes place every winter where dancers waltz in over 450 venues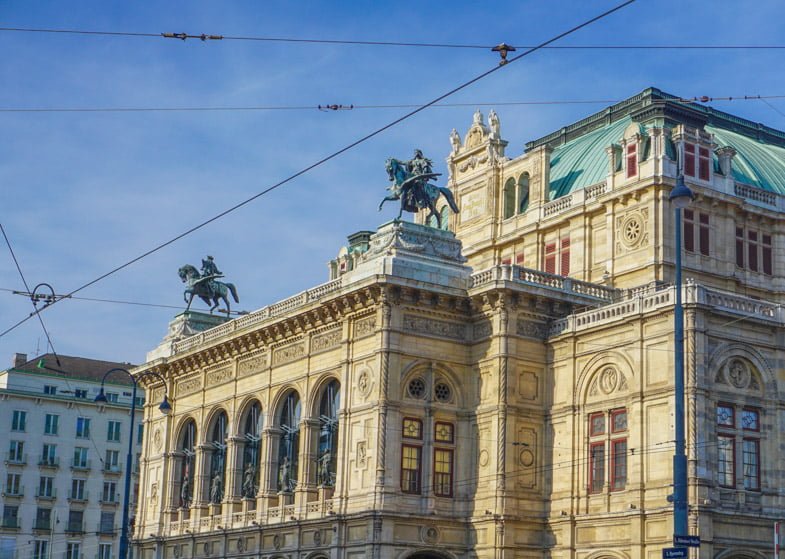 Burggarten (+ Lunch Stop)
The Palmenhaus at The Burggarten (castle gardens) is a hotbed (literally, a glass house) for casual diners looking to enjoy a glass of Riesling and is a potential lunch stop. This oasis in the city is also home to the Schmetterlinghaus, butterfly house, full of tropical plants and you guessed it, butterflies.
Address: Josefsplatz 1, 1010 Wien, Austria
Otto Wagner–Pavillon (Karlsplatz)
This underground station turned museum is an absolute darling of a building and my favourite in Vienna. The art nouveau building covered in marble and gold was erected in 1898 and now houses the work of the architect Otto Wagner.
Address: 1040 Vienna, Karlsplatz
Notes: Free entry first Sunday of every month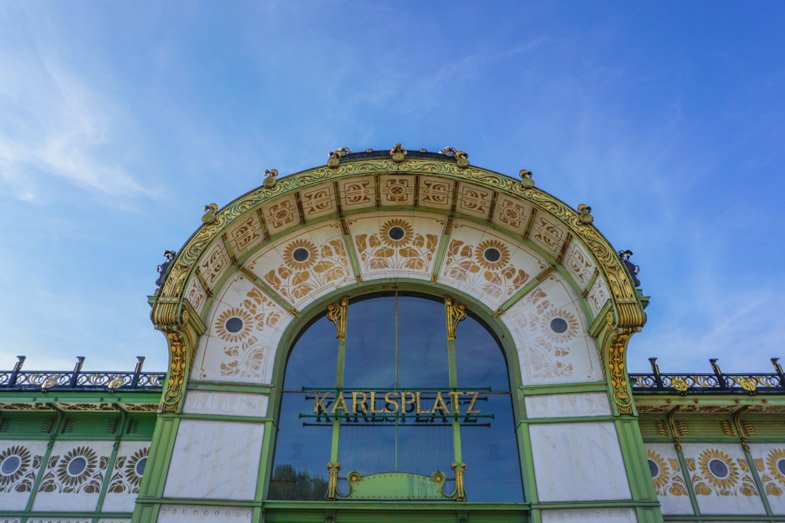 Food On The Go
A trip to Vienna would not be complete without trying a sausage at one (or two or three) of the city's Wurstelstand AKA sausage kiosks.
These stands serve a variety of sausages chopped up or popped into a hollowed out bread roll and accompanied with condiments. The sausages range from Käsekrainer (cheese-filled), Scharfe (spicy) to Waldviertler (smoked).
The Viennese take their sausages very seriously so don't be surprised to see some of these food retailers queued out. These stands also sell alcoholic beverages and you are allowed to drink in the street. Don't eat too much if you take on our recommendation for night one – a food tour in Vienna.
This is just a selection of the sights that Vienna's 1st District has to offer; each can be reached by foot (approximately one hour with no stops) or via the efficient tram system or underground.
At the end point at Karlsplatz you are close to the hip and trendy MuseumsQuartier so if you wanted to pack even more in, you could swing by the Leopold Museum or mumok (modern art museum). You could then have a sundown drink at the boutique and never boring 25hours Hotel rooftop bar.
---
Belvedere Museum
If you whizzed around the above route and wanted to leave the MuseumsQuartier for day two (below) you could squeeze in a visit to the 18th-century Belvedere Museums. The complex is split into two Baroque palaces, Lower Belvedere (Rennweg 6) and Upper Belvedere (Prinz Eugen-Straße 27) divided by a beautiful garden.
You can enter via the Lower palace and walk through the gardens to the upper to purchase tickets.
Expect very long lines, even in December. Save time and preorder your ticket here.
The Upper Belvedere is home to the largest Gustav Klimt's collection including the famous print The Kiss. Up close my personal choice is Judith I.
Karl Platz – Belvedere takes around twenty minutes by foot
Night 1 – A Vienna Food Tour?
One of our recommendations for every city guide is to take some kind of tour on day one to get your bearings and to steal tips from someone who actually lives and breathes the city.
Although one of the pricier types of city tours, Vienna food tours come packaged with enough edibles and drinkables to stuff you full for the three days and what better way to get to know a city's past and present than through its produce.
Alternatively, take a food tour during the day kicking off with a Viennese coffee, a visit to Vienna's famous Naschmarkt to sample seasonal Austrian produce washed down with three types of Austrian wines.
If I had 1 day in Vienna, I would waltz around District 1, eat sausage (see below) and catch a sunset drink at one of the rooftop bars (below).
Day One Alternative: A Photo Tour With Sophort
If you like photography, an alternative way to see Vienna is through a Polaroid camera. Step back in time, slow down the snaps and take a souvenir home with you.
This vintage photo tour of the city is one of the romantic things to do in Vienna. We have our polaroids displayed above our bed, attached to our wall by foldback clips.
Sophort's Instant Tour takes you by Vienna's iconic buildings above and the local guide (ours was Jackie, a super cool expat) supports you in taking the right shot since you don't have the capacity to take hundreds that you'll never print as you do with your phone or DSLR.
Another option is the urban tour, which goes off the beaten track and takes a look at the other side of the city.
Like all tours, I love finding out about local life and also stealing tips for things to do! Jackie recommended the 25Hours Hotel rooftop bar, my spirit hotel described below.
More information: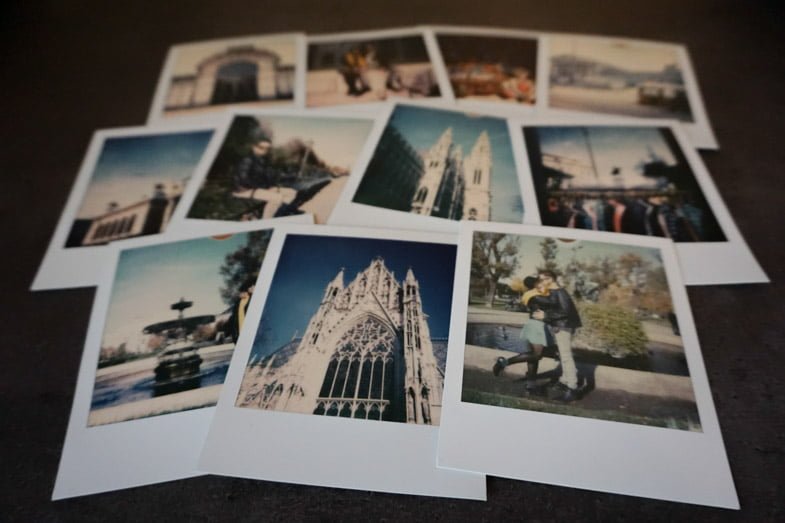 Day 2 – Cake, History, Art and Views
If your accommodation does not offer breakfast, you definitely want to brunch out at one of Vienna's cafes or why not taste one of Vienna's famous cakes?
Cakes To Try in Vienna
In 1832, a teenager called Franz Sacher created the Sachertorte cake that fast became the hallmark of the celebrity sought after Sacher Hotel and a symbol of Vienna. Today the recipe for chocolate sponge, apricot jam and a thick crust of hard dark chocolate casing continues and is sold in most of Vienna's coffee houses. Coffee culture is a big deal to the people of Vienna.
Tip: The most popular place to try Sachertorte is Café Sacher
Address: Philharmoniker Str. 4, 1010
The cake advice does not stop here! There was an actual cake war between Café Sacher and Demel over who owned the original Sachertorte. The whisks were put down when Café Sacher was awarded the rights. However, many still flock to Demel, the once bakery of the Royal Family and loved by the gorgeous Empress Sissi.
Café Demel: Kohlmarkt 14, 1010
Café Central's twist on the Sachertorte is also hugely popular and favoured by the intellects of the city such as Leon Trotsky and Sigmund Freud, the thinking man's haunt. Food for thought…
Café Central: Herrengasse 14, 1010
Warning: These cafes have large lines out of the door, even in the quiet seasons
Strudel Tasting at Schönbrunn Palace
Double up on all things Wein but taking part in a traditional strudel tasting session at the striking Schönbrunn Palace.
Every hour at the court bakery of the Café Residenz, an entertaining guide talks you through how to make original Viennese apple strudel and then you taste test!
4D History Tour
If you are keen to discover Austrian history but on a lighter note check out the Time Travel Vienna interactive museum. Travel back in time and walk amongst the rats and the plague doctors, observe a beautiful Viennese ball before meeting Vienna's famous composers and some royalty too.
This interactive experience is more than just the answer to what to do in Vienna on a Sunday.
Price: 15.60 euros (adult)
Address: Habsburgergasse 10A
Note: Tour in German with English translation speakers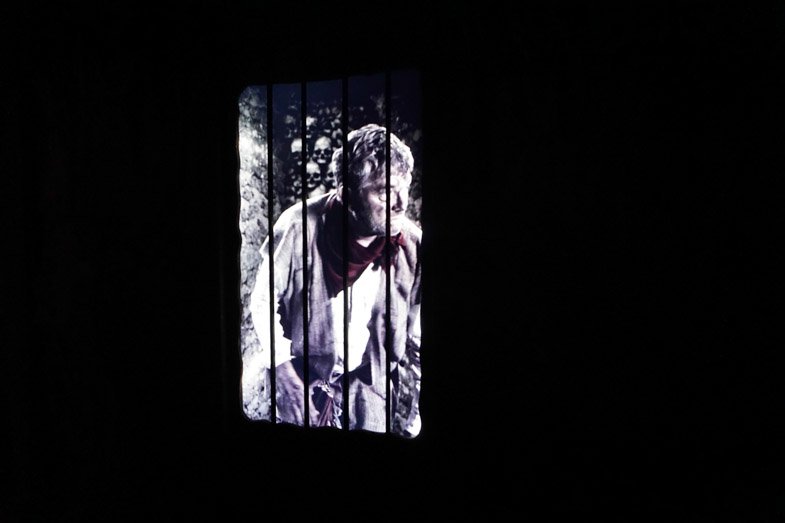 St Stephen's Cathedral
St Stephen's Cathedral should be visited twice, once during the day and once at night to see it lit up.
The multi-coloured tiles are unique, making it a landmark of Vienna.
This romanesque and gothic building at Stephansplatz can be viewed, with a drink, from the 6th-floor ONYX bar at the Do & Co Hotel.

MuseumsQuartier
Vienna's MuseumsQuartier is a neat collection of museums such as Architecture Center Vienna, The Kunsthalle Wien (contemporary art), mumok (modern art) and the beautiful Leopold Museum collection.
MuseumsQuarter is a cool place to hang out, people watch and grab some Schnitzel for dinner. These galleries are surrounded by the edgy Street Art Passage for fans of graffiti.
Hip District 7th
My hipster radar gravitates towards the area of each city that offers alternative bars, music, and people, and for Vienna, this is the 7th District.
You will find bars with cool artwork, disco balls and vintage photos dotted along the main drag.
A nightcap at my spirit hotel, 25Hours Hotel rooftop bar, The Dachboden Loft is a must for things to do in Vienna at night if you can elbow your way in amongst the locals admiring the city views.
Address: Lerchenfelder Strasse 1-3
Naschmarkt
If you are not planning on taking a food tour which passes through Naschmarkt you should dedicate a lunch stop to taste the fresh, seasonal produce on offer at the market.
Address: 1060 Vienna, Austria
Public Transport: U4 Kettenbrückengasse or thirty-minute walk from MuseumsQuartier
Note: Closed on Sundays, take note if spending a weekend in Vienna
Day 3 – More Museums, Walks and the Wheel
The Vienna attractions on the following itinerary are a little more spaced out and may require public transport to get to each.
City of Dreams
Head to Sigmund Freud's house to see why Vienna is known as the 'city of dreams'. This self-service museum takes you through the rooms of Freud's home, which was also his office, with an audio guide and numbered artefacts. You really don't need to set aside much time for this item on your Vienna itinerary.
Address: Berggasse 19, 1090
Price: 12 euros – discount with Vienna City Card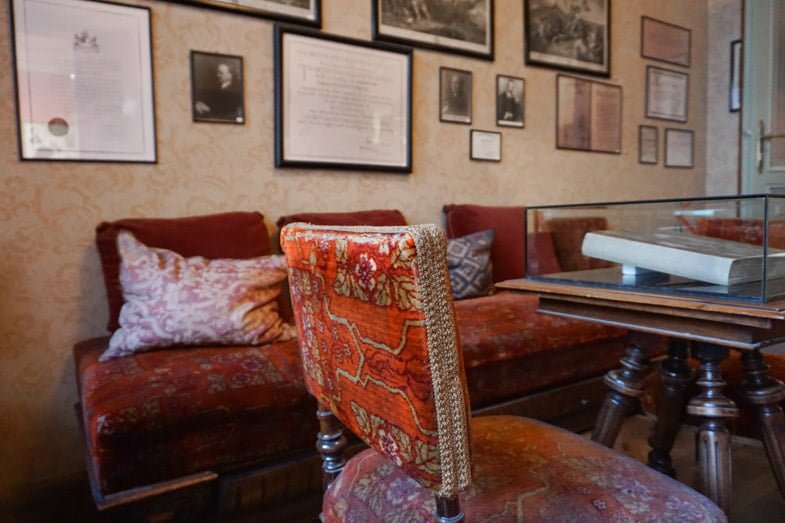 The Whacky Museum Hundertwasser
Jump on the tram to Vienna's first green, Museum Hundertwasser. A shrine to one of Austria's most important artists,  Friedensreich Hundertwasser, this three-story museum displays Hundertwasser's work (including his Teletubby style dream housing project) and the changing exhibition on the third floor. Again, this is a quick stop for Vienna's places to visit.
Address: Kegelgasse 37-39, 1030 (forty-minute walk from Sigmund Freud's house)
Hundertwasserhaus
A few streets (about five minutes apart) away you can visit 'a house in harmony with nature', Hundertwasserhaus – home to the unique artist.
Address: Untere Weißgerberstraße 13, 1030 (short walking distance from above)
For lunch grab a kebab or dine at one of the local cafes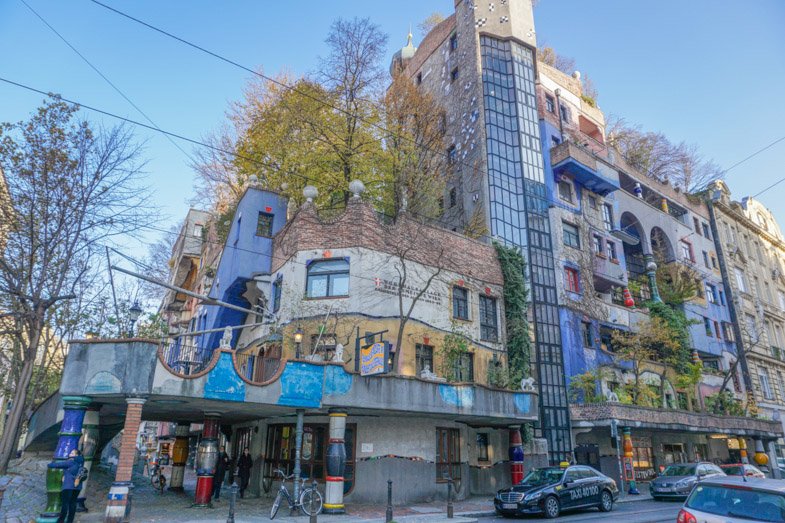 Danube Canal
Now it's time to get some fresh air and stretch the legs. Head to the city's Donau Canal for a stroll along the water and to check out the vibrant street art.
---
Get High!
Our second rooftop recommendation is sleek and stylish. Take the elevator to Das LOFT at Hotel Sofitel Vienna to watch the sunset through the 360 (well, nearly) glass windows of the rooftop bar. Absolute bliss. You can see the striking St Stephens in the skyline from here.
Address: Praterstrassse 1, 1020 Wien, Austria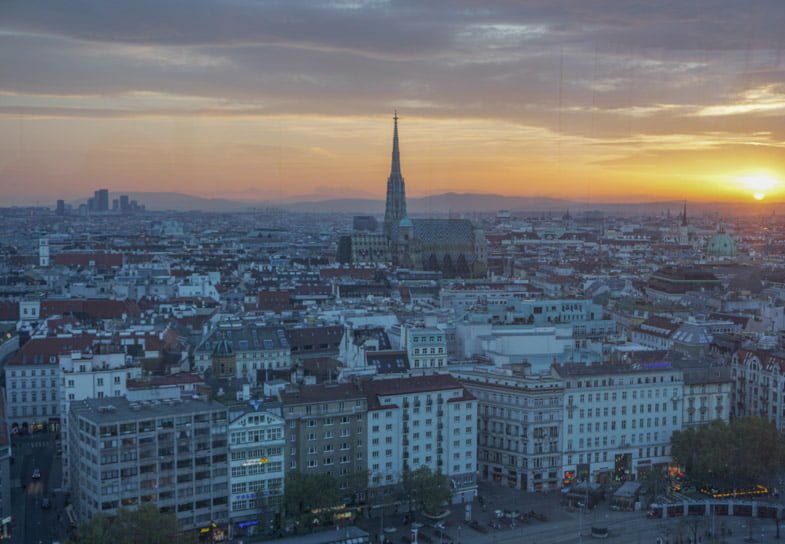 Prater Fairground
Our final stop on our Vienna three-day itinerary is the fairground! As night falls, ride the 64.75-metre-high Wiener Riesenrad, eat Langos (without the sour cream, sadly) or win a teddy at this throwback fairground. A true step back in history.
Address: Riesenradplatz 1, 1020 Wien, Austria
Opening times: 9am-11:45pm
» » Save time and skip the line at the Ferris Wheel here« «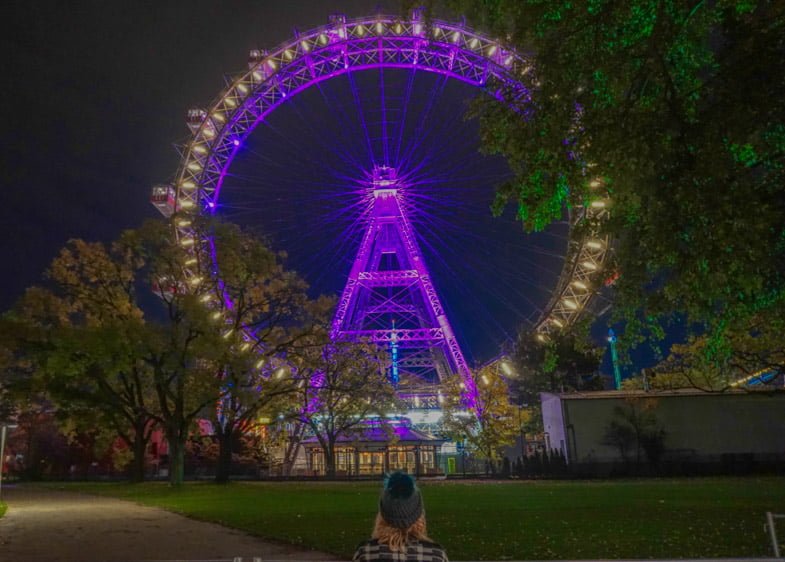 For two days in Vienna itinerary, I would select to suit your own travel needs and consider the hop on/off tour if you are pressed for time. Definitely eat cake, visit a museum and see the fairground for some nostalgia.
Day 3 Alternative
There really is so much to pack into your perfect trip to Vienna that you could extend it by another day or two.
Schönbrunn Palace
This impressive Baroque palace was the summer home of Emperor Franz Joseph and Sisi. The palace has over 1400 rooms spanning over three centuries of differing decor!
Quick Q+A
How many days in Vienna?
I would argue that even three days in Vienna is a tough gig. I felt I missed out on so many of the museums during our stay and that was even without dancing at a ball. Use the above itinerary as a pick and mix of activities to help build your own to suit your holiday needs.
Is Vienna expensive?
To drink and dine in Vienna is certainly not Hungarian prices. Over three days we spent
Totals for 2:
Food: £100 (food tour included in activities)
Taxi: £22.71
Transfers: £48
Activities: £334
Socialising: £141.92 (£4-6 glass of wine)
Disclaimer: Vienna's tourist board gave us two City Cards, thank you
Is Vienna worth visiting?
Yes! I had my reservations about visiting Vienna.
It has never been top of my bucket list or even on my radar if I am honest but I was mighty impressed with the architecture the cool 7th and the helpfulness of the locals.
What to See in Vienna Bucket List
First District Architecture
Austrian waiter stereotype at a cafe coffee
Hofburg Palace
Wiener Staatsoper Opera House
Burggarten Garden Cafe
Otto-Wagner Pavillon
Wiener Wurstelstand
Belvedere Museum – give Judith a wave for me
Naschmarkt
25Hours Hotel Rooftop
Cafe Sacher or Demel
Schönbrunn Palace
Time Travel Vienna
MuseumsQuartier
Cool bars at 7th District
Freud's Home Museum
Hundertwasserhaus Museum
LOFT at Sofitel Rooftop
Prater Fairground
Vienna Card
The Vienna PASS offers visitors free entry to over sixty of Vienna's top attractions as well as line skipping and free passes to the Vienna hop on/off tour.
Prices: Start from €13.90
Note: Does not include airport train link to city
Where We Stayed
The 4-star Am Konzerthaus Vienna MGallery by Sofitel offers quiet rooms close to Karlsplatz and other city centre attractions. Rooms are equipped with TV, hairdryer, toiletries and an in keeping image by Gustav Klimt above the bed.
I always judge a hotel by its breakfast and the Konzerthaus offers a Frühstück of kings. Staff are friendly and can point you in the right direction of the closest Wurstelstand for a midnight snack.
---
» You may also like: our guide to Vienna's districts and best hotels for every budget 
→ Or hostels guide for more affordable options
---
Self-Contained Apartments, VRBO and Airbnb in Vienna
Airbnb and VRBO are international rental companies that operate in Vienna for those on a budget.
The average price for an apartment is 120 euros however here are some rentals for as low as 45 euro. Private rooms are more affordable averaging at 68 euros but going as low as 24 euro.
This guide details ten of the loveliest apartments in Vienna.
---
Getting to Vienna
Flights leave with Jet2.com from Edinburgh, London Stanstead and Manchester airport in under three hours.
Vienna Airport to Vienna city
The airport and city are very well connected by train. The CAT journey takes under 20 minutes for €11 one way.
 Heading to Budapest next? Check out our Hungary guide.
Getting around Vienna
You are never more than 40 minutes away by foot in between Vienna's biggest city attractions, however, the city can boast of great transport links served by trams (remember to time stamp the card), buses, underground, taxis and Über.
There are a number of tours which will take you to the main attractions by foot or bike. There's even a private motorised cart tour which you can read more about here.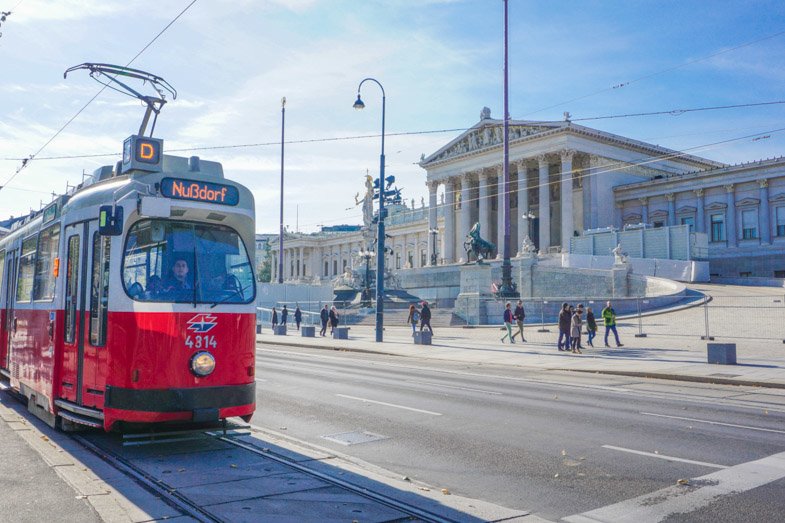 Vienna Tours
In my opinion, the best way to get to know a city is by taking a tour with a local. It's always one of the first things I do for three reasons.
Firstly, you get to see the city's top attractions and learn more about them. Secondly, tours help you get your bearings. Finally, I like to bombard the local with lots of questions about their lives and local tips!
Check out these Vienna tours as you build your itinerary.
---
Vienna Packing List
Cute dresses that can be layered with tops.
1 x jeans/pants.
Sunglasses.
Leave the umbrella at home, invest in a decent but stylish waterproof like my brilliant Mountain Equipment Rupal US / UK.
1 x eco water bottle such as TreeTribe which keeps hot drinks hot and cool drinks cold (international shipping).
Camera, charger and SD card.
If you find a missing yellow scarf, it's mine!
---
Final words
Whether you are waltzing through Vienna in a day or visiting for a long weekend, since it is home to over 100 museums and events change seasonally, there will be a reason to return to tick off more of these places to see in Vienna.
Like it?
Pin it to your Austria planning board
Are you going to Vienna?
Ask any questions in the comments below.
Disclaimer: This trip was created with our partners, Jet2.com and with thanks to Sophort and Time Travel Vienna for the tours. Our honest opinions as always.