This article has links to products and services we love, which we may make commission from.
You've had coffee and cake, marvelled at the museums and maybe even visited one of the twenty Christmas markets but now it is time to get out of the city! Our guide to day trips from Vienna will have you filling up your itinerary with tours to Austria's top attractions and side trips to countries close by. Chosen by professional travel writers so you can be assured, these are the best Vienna day trips that tourists just can't miss.
---
» Don't miss our essential Vienna city travel guide + accommodation guide
---
Vienna Day Trips
1. Vienna to Salzburg

The Vienna to Salzburg day trip is the most popular of all Vienna excursions.
Welcome to Salzburg or Salt Castle if you go by its literal meaning! Austria's fourth-biggest city is so The Sound of Music but also so much more than that.
One Day in Salzburg
Sound of Music Fans who want to follow in the footsteps of the Trapp family, check out Mirabell Gardens and Pegasus Fountain, Nonnberg Convent, Schloss Leopoldskron and Hellbrunn Palace which are all within two hours of each other by foot.
Further afield filming locations include St. Gilgen and Mondsee Basilica which you may need a Sound of Music day tour for.
Next, you will want to head to Hohensalzburg, also known as Salzburg Fortress.
This is one of the biggest medieval castles in Europe.
To get to the castle, you can ride the one-minute historic funicular.
Walking up the hill by foot takes around 20 minutes.
Built in the 11th century at an altitude of 506m, Hohensalzburg not only looks good in your pictures, but its location also offers stunning landscape photography of the city.
For food on the go, head to the daily market at Grünmarkt on Universitätsplatz which has been running since 1857.
Stalls sell fresh food like fried cheese. How typically Austrian!
Smack bang in the middle of the market is the Mayer Delikatessen where you can pick up sandwiches and Austrian pretzels.

End the day on Getreidegasse for a spot of shopping and if Mozart's life story interests you, pop into his birthplace home, one of the most visited museums in Austria.
If you are visiting during winter, there are lots of Christmas markets to explore.
The oldest, Salzburg Christmas Market, is located at the foot of the Hohensalzburg fortress on Cathedral and Residenz Square. Just follow the smell of punsch and gluhwein.
How to Get to Salzburg from Vienna
Salzburg can be reached from Vienna by train. The journey takes two to three hours. One of the most popular day trips from Vienna by train.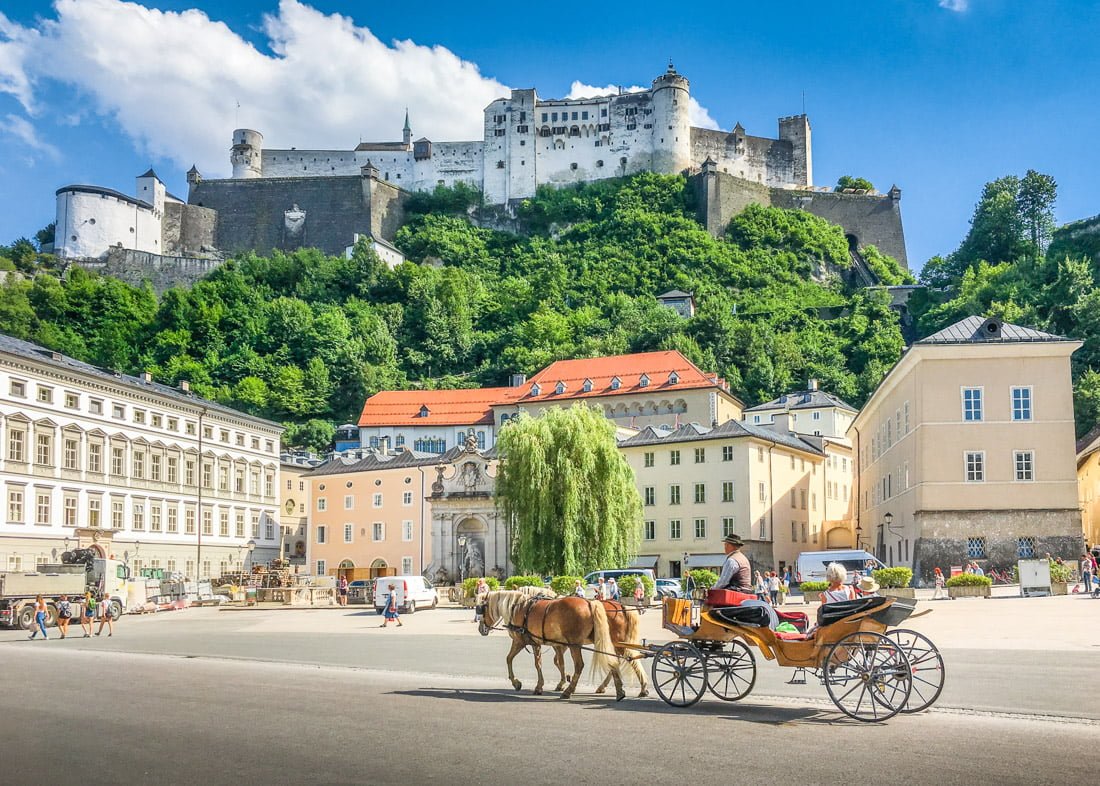 ---
» Driving? You may also like our guide on what to pack for a road trip
---
2. Vienna to Bratislava
Bratislava in Slovakia is an ideal option for a day trip from Vienna, Besides being a beautiful and interesting city it is only 80 km from Vienna.

One Day in Bratislava
The capital of Slovakia has a cute city center full of surprising statutes, and a huge castle overlooking the city from a hill.
As the city center is relatively small you can visit the Bratislava main attractions in one day.
Visiting the medieval Bratislava Castle is absolutely recommended but be aware that the Castle is closed on Mondays.
The Castle is surrounded by gardens and from the walls, you can view the city and the Danube.
This is a perfect Instagram spot in Bratislava.
Next, visit the art nouveau Blue Church at Alžbety, Bezručova which is, unsurprisingly, blue!
This fairytale-like building is in the east of the city.
In the west of the city, you can visit St Martin's Cathedral. This three-nave Cathedral is open seven days per week, with a delayed opening for tourists on Sundays.
The city is also a good place to eat very cheap food in generous quantities.
Try traditional food such as Bryndzové halušky (potato dumplings with cheese and bacon), Zemiakové placky savory pancakes or fried cheese!
How to Get to Bratislava from Vienna

The Vienna to Bratislava train takes one to two hours, making it one of the best places to visit near Vienna. The bus, which is cheaper, takes three hours in total.
3. Vienna to Budapest
One of the best day trips from Vienna (I'm biased, we've spent a lot of time in Pest) is a trip to Hungary's capital city, Budapest.
One Day in Budapest
Highlights for 24 hours in Budapest include eating langos (pastry, sour cream and cheese) at Central Market Hall, having a dip in one of Budapest's many spas (the most popular spa is Széchenyi, the yellow one) and doing the short hike to Gellért Hill.
Breathe in those views of the Danube!
If you were to extend your stay you should visit the House of Terror to learn more about Hungary's horrific past, have drinks at one of the ruin bars in the Jewish Quarter (Szimpla Kert is the most popular) and visit Buda Castle on the other side of the river. Check out our guide on how to spend a few days in Budapest.
Your Vienna to Budapest day trip should be filled with food as options are plentiful!
Head to Karavan for street food trucks, eat soup at Bors GasztroBár, have lunch at the Belvarosi Disznotoros butcher shop then indulge in Eszterházy and Dobos Cake.
---
» You can find out more about Budapest's best restaurants here.
---

How to Get to Budapest from Vienna

The best and easiest option is to take the train to Budapest from Vienna Central Station. The journey lasts 2.5 hours.
4. Vienna to Hallstatt
Wow. If you are looking for clear waters, dwarfing mountains and cute houses then Hallstatt in Austria's Salzkammergut Lake Region is the Vienna day trip for you.

One Day in Hallstatt

Much of your day will be spent getting to Hallstatt but they say that travel is about the journey and not just the destination! You won't be alone, thousands of tourists visit this tiny Alpine town every day.

Relax and enjoy the scenic views from the train and then the open air on the ferry once you arrive in Hallstatt.
In Hallstatt, wander through the narrow streets, take photos of the Dachstein mountains, hire a boat or walk through the Echerntal trail.
Want to find out more about the town's wealth? Take a tour of Hallstatt Mine.

How to Get to Hallstatt from Vienna
It is actually quicker to get to Hallstatt from Salzburg if there was time to fit a road/rail trip into your itinerary.
However, there are connecting trains which run from Vienna to Hallstatt. You do change to another service and the journey takes around three hours.
Once in Hallstatt, you need to take the ferry from the end of the river to the other. What an entrance!
Alternatively, consider a small group Vienna to Hallstatt tour picking you up from your accommodation and returning you 12 hours later.
This full-day tour also stops off at Sound of Music locations as well as other Lake Region attractions. Click here to check for availability.

5. Vienna to Prague
Prague was the first stop on my very first backpacking trip around Europe. The capital city of Czechia (previously the Czech Republic) has grown in popularity since then and I don't just mean with British stag parties.
One Day in Prague
The first stop on many visitors bucket list is Charles Bridge. It is touristy but for a reason, the bridge really is a beautiful part of the Prague landscape.
Tourists can be seen touching the St John Nepomuk plate, this is not actually a local tradition apparently. During the summer months, artists offer to paint your picture, a typical touristy activity in Europe.
You can get a good look at the bridge from a river cruise or by hiring a rowboat.
Make sure you are in front of the Astronomical Clock on the hour to see the apostles mechanically stop by as the bells ring.
Head to the top of the Old Town Hall for panoramic views of the city.
There is an elevator for those who prefer not to take the stairs.
For local food (long lines at times) check out Lokal Dlouhaaa. Expect goulash, dumplings and a lot of meat and beer.
After your food coma has subsided, use that energy to power around Prague Castle.
According to the Guinness Book of Records, Prague Castle is the largest castle complex in the world with standing structures ranging from the 10th to 14th century.
For those who have visited Ljubljana in Slovenia, you may be familiar with one of the architect's names, Josip Plečnik.
You can join a small group tour around the castle which lasts three hours (includes a skip the line pass) or take a self-guided tour of the grounds and gardens.
See if you can fit in (literally) Prague's narrowest (and unnamed) street near U Lužického semináře. Respect the traffic lights or you may cause a traffic jam!
How to Get to Prague from Vienna
This is one of the longest train routes for Vienna's day trips at three to four hours.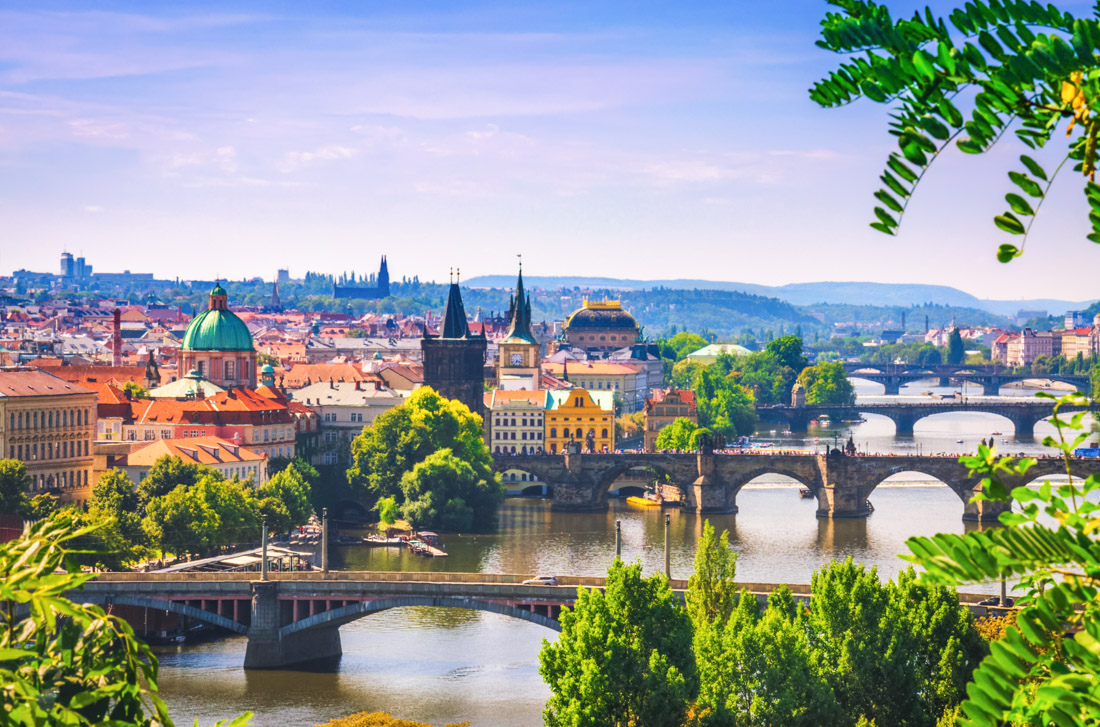 6. Vienna to Brno
Prague is not the only Czechia city you can visit from Vienna!
One day in Brno
Brno is probably not the first destination that comes to mind as a day trip from Vienna since it's in a whole different country. But it's an easy 1.5-hour train ride away, and there are some great things to do and see in Brno, the second-largest city in the Czech Republic.
At the same time, Brno is a compact city and can easily be explored on foot. Even on a short day trip, you'll be able to experience all the city's main highlights. It's also a much more authentic Czech experience than Prague, which is overrun with tourists.
One of the top sites is the Špilberk Castle, perched up on a hill looking over the city. Back down in the city center, you won't want to miss the Cabbage Market, known as Zelný Trh in Czech.
This medieval square has been operating as an open-air produce market for hundreds of years, ever since the 13th century.
Grab a cone of vegan ice cream from the Tutti Fruitt truck that's usually parked here. Then take a stroll past the many colorful stalls.
If you're into dark tourism, the city also has several unusual, rather macabre attractions.
These include the ossuary underneath St. James' Church with the bones of more than 50,000 people and the nuclear bunker known as the 10-Z Fallout Shelter.
The latter was built during the Communist era to protect the city's politicians and bureaucrats (but not the rest of the population) from a nuclear attack.
How to Get to Brno from Vienna
The train journey from Vienna to Brno is 130 km, and trains leave frequently from the Hauptbahnhof station in Vienna throughout the day.
The ÖBB Railjet train is direct, whereas if you take the EuroCity train you will have to change in Breclav. The journey takes around two to three hours.
There's also a FlixBus that runs this route, but it takes a lot longer than the train, and you only save a couple of euros.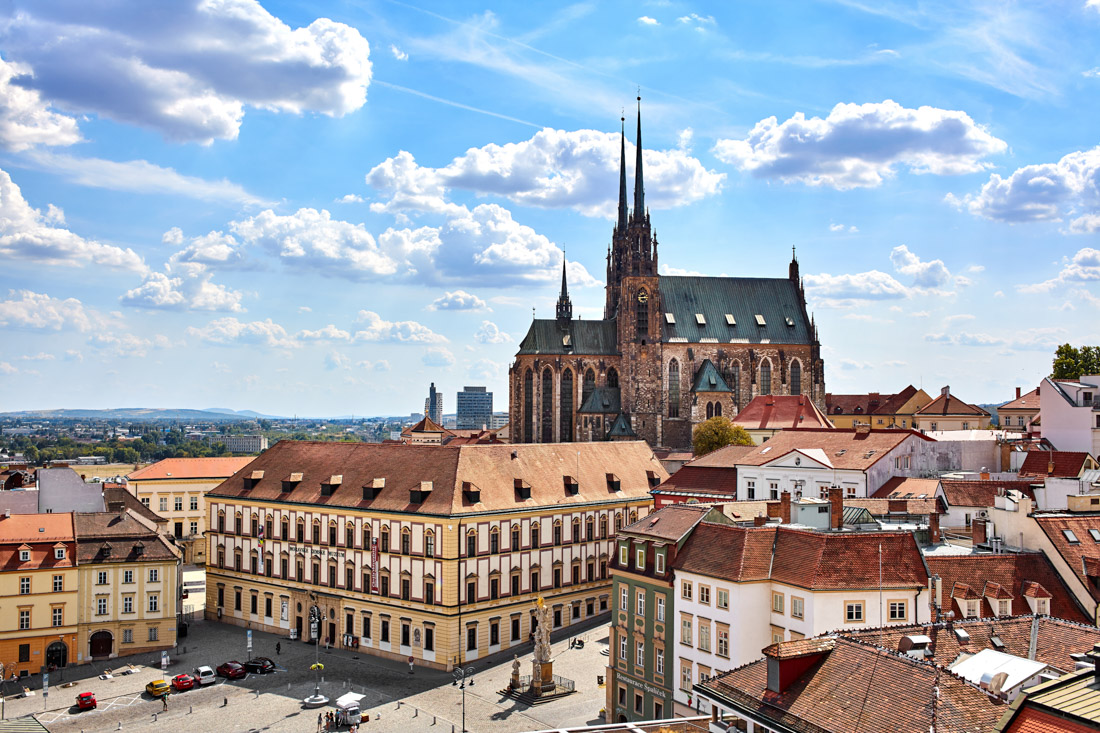 7. Vienna to Linz
A day trip from Vienna to Austria's third-largest city, Linz, offers everything you want from a European city!
Expect oodles of history and culture, a picturesque town square, a famous local cake, and a hilltop castle!
Linz is often overlooked because it is lesser-known, industrial and carries the burden of being considered Adolf Hitler's home city.
For those with an interest in history, this may be a drawing factor and a tour of the city is recommended to find out more about Hitler's life in Linz.
One Day in Linz
Linz is perfect for a day trip from Vienna thanks to its size – it's easy to walk almost everywhere.
Things to do in Linz include visiting the Old Quarter's narrow medieval streets lined with pastel-painted Baroque houses, visiting the city's two cathedrals and snapping a picture from the castle on the hill with the city rooftops and River Danube in the backdrop.
Linz was named a European Capital of Culture in 2009, a credit to its art and music scene. Check out the LENTOS Kunstmuseum (modern art gallery) and the Ars Electronica Center (AEC) for exhibitions.
Both galleries are futuristic in design and content. Into street art? Head to the Harbor to see the Open Air Gallery Murals.
For food and drink in Linz, enjoy a slice of the famous Linzer torte at Hauptplatz. This is a dried fruit cake and is believed by many to be the oldest cake in the world.
Dine or have a drink at Cubus restaurant in AEC for views of the Danube River.
Why not time your visit with one of Linz's festivals such as NextComic Linz, Ahoi at the Harbor or Black Humour Festival?
What I personally like most about Linz was how it marries opposites well.
Old and new architecture stand side-by-side, student bars and music venues are found next to up-market restaurants and luxury cruises sail pass the steel factories along the Danube.
Linz has not ignored or denied its past. In the 1990s the city embarked on an award-winning project to account and apologise for its role in the Second World War.
Today, you see a city that focuses on the future of creativity through its vibrant arts scene which fuses music, art, technology, science and industry in a way that is true to the city's roots.
How to Get to Linz from Vienna
The train from Vienna to Linz is a speedy two-hour journey. It is a comfortable and scenic route which provides lots of eye candy for landscape lovers.
Expect to pass Austria's green countryside, a big difference from the snowy mountains we are accustomed to seeing in Austria!
8. Vienna to Melk Abbey, Wachau
Part of UNESCO's world cultural heritage, the bright yellow Melk Abbey sits majestically on a rock overlooking the Danube, in the Wachau region.
Don't miss Melk Abbey's beautiful European Baroque architecture when visiting Austria.
One Day at Melk Abbey
Since 1089, the Benedictine monks have been living and working in Melk Abbey. Following the rules laid down by St. Benedict, they pray and work and learn – they glorify God in all things, not only through their prayer but also through their work and their daily willingness to learn every day.
Melk Abbey was established as a fortified Benedictine abbey in the 11th century, it was later destroyed by fire. What you see today is 18th-century Baroque style architecture.
When visiting the monastery pay attention to the Imperial Corridor, the Imperial Staircase, the abbey museum, the Marble Hall with a beautiful ceiling fresco, the library that holds about 16,000 ancient books some of which are 500 years old and the abbey church with its 200-foot-tall dome, gilded pulpits and marble columns.
There is a lovely abbey park with roses, a beautiful pavilion and a café where you can get lunch or some refreshments.
The yellow archways are photogenic and so is the panoramic terrace from where you can see a scenic stretch of the Wachau Valley.

How to Get to Melk Abbey

The best way to get to Melk Abbey is by car. The journey is a mere one hour away from Vienna. We visited during our road trip driving through Austria and Switzerland on our way to Salzburg from Vienna.
If you don't have a car you can still get to Melk Abbey through one of the many day tours available from Vienna.
By Priya Vin | Outside Suburbia
9. Durnstein in the Wachau Valley
One of the most popular day trips from Vienna is an hour west to the quaint village of Dürnstein in the scenic Wachau Valley.
One Day in Dürnstein
When you reach Dürnstein, the main cobbled street into the town is just a short walk away. This is a pedestrian-only area which protects its 16th-century residences, shops and cafes.
Remember, this is perhaps the most visited town in the Wachau Valley and can be very crowded with busloads of tourists.
Hiking is one of the most popular things to do in the Wachau Valley.
Two hiking trails lead up to the ruins of Schloss Dürnstein (Castle Dürnstein) where King Richard the Lionhearted was held captive in 1193.
It's roughly a 30-minute climb up the steepest trail but you'll be rewarded with an incredible view. The view from the castle ruins is the best Instagram spot in the Wachau Valley.
Fall is the season for all things apricot, so be sure and try them fresh.
Our favorite is Drunken Apricots — fresh apricots infused in Schnapps.
The Wachau Valley is known for producing their famous Austrian white wines and you can try them here at several vinotheks along the Danube.
During harvest time in the fall, vintners will hang a straw wreath outside their door as an invitation to stop in and taste their first pressing, called sturm.
For dinner, try the local specialities like schnitzel and dumplings at a charming restaurant before heading back to Vienna.
Be sure and pack comfy shoes or hiking boots if you plan to climb to Schloss Dürnstein.
It is well worth taking the 15-minute detour to see Aggstein Castle ruins (below).
How to Get to Wachau Valley from Vienna
By far the easiest way to get there is to rent a car and take in the scenic beauty along the drive.
It will cost a bit more (around $60 USD/53 Euro), but it also gives more freedom to slow travel the Wachau Valley, not bound by train schedules.
A ferry boat sounds romantic but takes too long for a day trip since you're going against the current of the Danube.
10. Vienna to Graz
Graz, so close to Vienna yet so different. With only 200 km between the two, a day trip to Graz is an easy one to make.
Graz in One Day
Like Vienna, Graz has beautiful architecture and cobbled stone streets but it is less touristy than the capital. Graz is also known for its foodie scene so arrive with an empty stomach. Fill up on a hearty meal at the traditional but yet cool Speisesaal.
Next, walk off the calories by simply strolling through the city and making your way up to Schlossberg for a perfect view of the city.
Art lovers! Head over to Kunsthaus Graz and enjoy the galleries.
How to get to Graz from Vienna
To get from Graz to Vienna, you can simply take the train and you'll be there within 2.5 hours.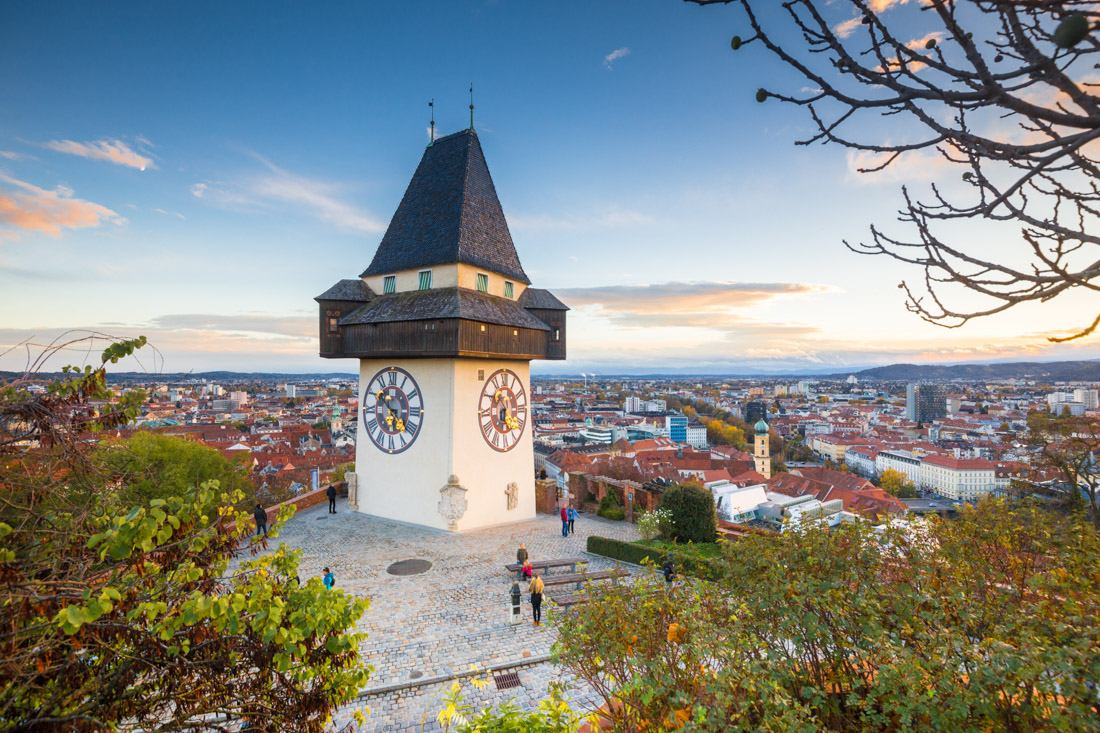 11. Lednice Park, Czechia
When taking a day trip from Vienna, why limit yourself just to Austria, when there are so many country borders close by?
For instance, if you drive just over an hour north to the Czech border, just across it you'd find the glorious park landscape of Lednice Park.
One Day in Lednice Park
Lednice Park wasn't always part of the Czech Republic!
Up until WWII, it belonged to the ancestral home of the Liechtenstein family, who now rule the small country at the other end of Austria.
However, after being confiscated by the Nazis when they invaded the region, it was later absorbed into the newly formed Czechoslovakia, a country that wasn't too keen on returning ancestral chateaus to aristocratic families.
The park is most popular with visitors in summer, enjoying the green space and multiple islands set within the artificial lake.
But the park is open year-round, and I found it delightful when I visited in late October, with the leaves a riot of colours.
Some of the most beautiful spots to snap for Instagram include the neo-gothic chateau itself and the views across the lake to the Minaret-style watchtower.
During the warmer months of the year don't miss the French formal garden near the main entrance (it lies dormant over the winter), or make your way to John's Castle, a mock medieval ruin.
There's a small cafe on site, next to the boathouse, plus plenty of restaurant options in the village itself.
How to Get to Lednice Park from Vienna
Lednice Park is best reached by car, with ample parking places available on site. Entrance to the park itself is free, while guided tours of its chateau, entrance into many of the buildings and boat rides on the waterways cost extra.
12. Rogners Bad Blumau
Wellness day-trippers from Vienna can head Rogners Bad Blumau, one of Europe's most unique hot springs spas.
Designed by the renowned Austrian architect, Friedensreich Hundertwasser, Rogners Bad Blumau is located in the Austrian state of Styria.
One Day at Rogners Bad Blumau
Styria is approximately 130 km from Vienna, and is an exuberant tumble of colors, spirals, walking paths and pools, with architecture that feels like a crazy love triangle between the Dutch artist Piet Mondrian, Spain's Antoni Gaudi and Dr. Seuss.
Following a philosophy of living in harmony with nature, the spa complex has thermal water springs, and the result is an upscale wellness playground designed to bring out both your inner child and your spiritual self.
In addition to bathing in the thermal pools, you can get a massage at the full-service spa, have a sauna or relax in the salt grotto. Day tickets (excluding spa treatments) start at € 45 for adults, € 54 on weekends, and include bathrobe and towels.
How to Get to Rogners Bad Blumau from Vienna
By car, Bad Blumau is about 90-minutes. The nearest train station is Bad Blumau, two km from the spa, and free transfers from the station are offered.

Vienna Day Tours
Want to let someone else do the driving? There are a number of day tours from Vienna to consider.
Wachau and Danube Valleys tour – this day tour includes a visit to Benedictine Abbey of Melk and a Danube river tour (duration 8.5 hours). Book here.
Vienna to Bratislava tour – Visit Slovakia's capital by bus, spend time in the city and then depart back to Vienna via boat passing the Danube-Auen National Park on the way (9 hours). Book here.
Melk, Hallstatt and Salzburg – hit three of Austria's highlights in one day with this private tour (12 hours). Book here.
Day Trips from Vienna in Winter
It is hard to pull yourself away from Vienna at Christmas because the city is in full festive swing with its 20 Christmas markets, inner-city ice skating and Christmas concerts.
However, if you have ample time and want to get out of the capital do consider the following winter day trips via rail from Vienna. The emphasis is on train trips as snow outside of the city (it does not actually snow often in the city) can cause delays.
Vienna to Salzburg – check out Salzburg's Christmas markets, the Sound of Music tours and the city where Mozart was born.
Budapest – skip over to another country to see how they celebrate the festivities. A Vienna and Budapest (

Vorosmarty Square)

Christmas market combo is a popular choice of those who love the season. Chimney cakes, palinka and 40 degrees baths while snow falls, yes, please!

Bratislava – Visit one of the most beautiful modes of transport in Europe, the Christmas tram. Image below.
---
» You may also like: our review of things to do in Vienna in winter
---

Vienna Day Trip Packing List
It's all about the layers in Europe! Expect two to four seasons in one day during the shoulder seasons.
Cute dresses that can be layered with tops or worn with tops.
1 x jeans. Jeans are heavy, try to replace with a lighter material.
1 x black gym pants. Great for hikes or dressing up as disco pants.
Sunglasses. For shade and tired eyes.
Camera + battery
Or Water to Go Water To Go [quote TSA15 at checkout for 15% off]
Get the Guides
Final Words
From The Sound of Music to soothing spas, marvellous markets to majestic mountains, our guide to the best day trips from Vienna offers a jam-packed itinerary for those visiting Vienna then looking to leave.
Whether you plan to take these day trips individually or to combine the route as a road trip, have an incredible time and let me know how it goes in the comments below.
Going to Austria? Pin to your board.
---
» Read next: things to do in Slovenia's fairytale, Bled
---