This article has links to products and services we love, which we may make commission from.
Scotland's capital, Edinburgh, is an obvious destination choice for visitors but did you know that there are fourteen best day trips from Edinburgh that can be reached in less than two hours? So after you've strolled the cobbled streets of the Old Town and ate your way through the New Town (maximum three days), hop on a bus, train, or take a road trip or guided tour to one of Edinburgh's best day trips recommended by Scotland's top travel bloggers including me, Gemma from Two Scots Abroad. These can be done with a tour group (recommendations below) or as part of an independent drive. Here's our road trip packing guide if doing the latter.
---
Best Day Trips From Edinburgh
East Scotland
South Queensferry
Edinburgh to South Queensferry: 42 mins/11 miles.
Cute cobbled streets, pastel-painted houses, and views of the Forth Bridges – welcome to South Queensferry! Still technically in the Edinburgh postcode.
South Queensferry is a charming day trip from Edinburgh many tourists take to try out a chippy (fish and chips takeaway meal) and purchase some local but crafty products.
At South Queensferry, you can also take a 90-minute boat trip along the Firth of Forth and amongst the UNESCO World Heritage, Forth Rail Bridge bypassing Blackness Castle which is famously used in the filming location of both Outlander and Netflix's Outlaw King.
You may see a few sleepy seals on the way and end the tour with an onboard cream scone tea!
There is plenty of choice when it comes to food in South Queensferry.
The Little Bakery and Manna House for cakes, breakfast at Down the Hatch, brunch at Scotts, lunch with a view at The Railbridge Bistro or get a chippy and watch the water as you eat.
How to Get to South Queensferry From Edinburgh
You can drive and park in South Queensferry (very busy during summer), take a train to Dalmeny (ten-minute walk to the shore) or even cycle from Edinburgh.
What's Around?
A trip South Queensferry could easily be married up with a day trip to the Kingdom of Fife (where I'm from) to visit the old historic capital of Scotland, Dunfermline, the fishing villages of the East Neuk, and Prince William and Princess Kate's old stomping ground, St Andrews. Keep reading to find out more.
South Queensferry Accommodation
If you'd prefer to stay in South Queensferry and watch the mass groups of tourists leave, there are a couple of stylish options.
Firstly, the sought after Dakota Hotel with its award-winning restaurant. This 4-star hotel is used by tourists and locals alike. It also offers a shuttle bus to Edinburgh Airport if you planned to leave from South Queensferry.
Alternatively, hop over the bridge to the new North Queensferry DoubleTree by Hilton. This super modern hotel in Fife boasts of panoramic views of the Bridges and onsite restaurant.
West Fife – North Queensferry, Dunfermline and Culross
If you want to avoid the crowds in summer but still want to see the Forth Bridge, North Queensferry is just over the Forth Rail Bridge if travelling by train or the Queensferry Crossing if travelling by car.
North Queensferry has a couple of cute cafe options as well as the smallest functioning light tower in the world!
The next stop on your West Fife road trip is to the cobbled streets of Culross which is best reached by car.
When you first park up in Culross you will be wondering why this village has been recommended but after a short three-minute walk, the bright yellow Culross Palace will be in sight.
Outlander fans will want to explore the gardens – this is where Claire's herb garden was filmed!
Head to Mercat Cross to see where the little boy's ear was nailed and also where Geillis Duncan lived in the show.
Finally, make your way to the old ancient capital of Scotland, Dunfermline.
Here you can visit Robert the Bruce's resting place at Dunfermline Abbey and also see where the scenes of Westminster were shot in the hit Netflix show, Outlaw King.
Dunfermline has a large green space called Pittencrief Park (Dunfermline Glen) which is in the centre of town.
---
---
How to Get to West Fife From Edinburgh
Both North Queensferry and Dunfermline have train stations with trains running from Edinburgh daily and into the evening.
West Fife Accommodation
If you'd prefer to stay in West Fife, Rooms at 29 Bruce Street is a central and affordable option.
What's Around?
Head further north to the East Neuk of Fife and St Andrews, stopping at the seaside towns of Aberdour and Burntisland on the way.
East Neuk of Fife + St Andrews
Edinburgh to St Andrews: 1 hour 40 mins/53 miles.
Another very popular day trip from Edinburgh is one to the fishing villages of the East Neuk of Fife and then on to St Andrews. St Andrews is an obvious choice for golf lovers as it is home to the Old Course. However, other tourists like to visit the Cathedral and the shops.
Anstruther is one of the East Neuk fishing villages that sells a great portion of fish and chips. Expect lots of crowds in during the summer months of June through to August (although May is often warmer!)
How to Get to St Andrews From Edinburgh
Unfortunately, the public transport links aren't that great as you get further than the Fife town of Glenrothes. There are public buses that run to St Andrews from Edinburgh but taking a car or joining a small tour group like this one is recommended.
St Andrews Accommodation
If you'd prefer to stay in St Andrews check out the Georgian townhouse, Ardgowan Hotel.
Dundee, Tayside
Edinburgh to Dundee: 1 hour 47 mins/64 miles.
Dundee really is an emerging city that every visitor to Scotland shouldn't miss. Don't believe me? Well, Dundee is 'Europe's must-see city' voted by the Lonely Planet! Dundee is evidently one of the best day trips from Edinburgh according to travel experts.
Why? Dundee is all about art and design. The paint may be fresh in newly opened Dundee V&A but locals and students who love Dundee will tell you, the creative scene has always been alive in this city.
Art lovers should check out the V&A obviously, less obviously (because you have to hunt for it), the Open/Close street art trail (free), Dundee Contemporary Arts (free) and the McManus Museum (free).
How to get to Dundee from Edinburgh
Trains run regularly from Edinburgh Waverley and Haymarket to Dundee. Multi-storey car parks are available in the city centre too.
Dundee Accommodation
Keeping with the art theme, the beautifully decorated Malmaison Dundee is a perfect choice as it is just over the road from the V&A (and train station). Although we've not stayed at the Dundee Malmaison we have stayed with them in Leith in Edinburgh and enjoyed our stay.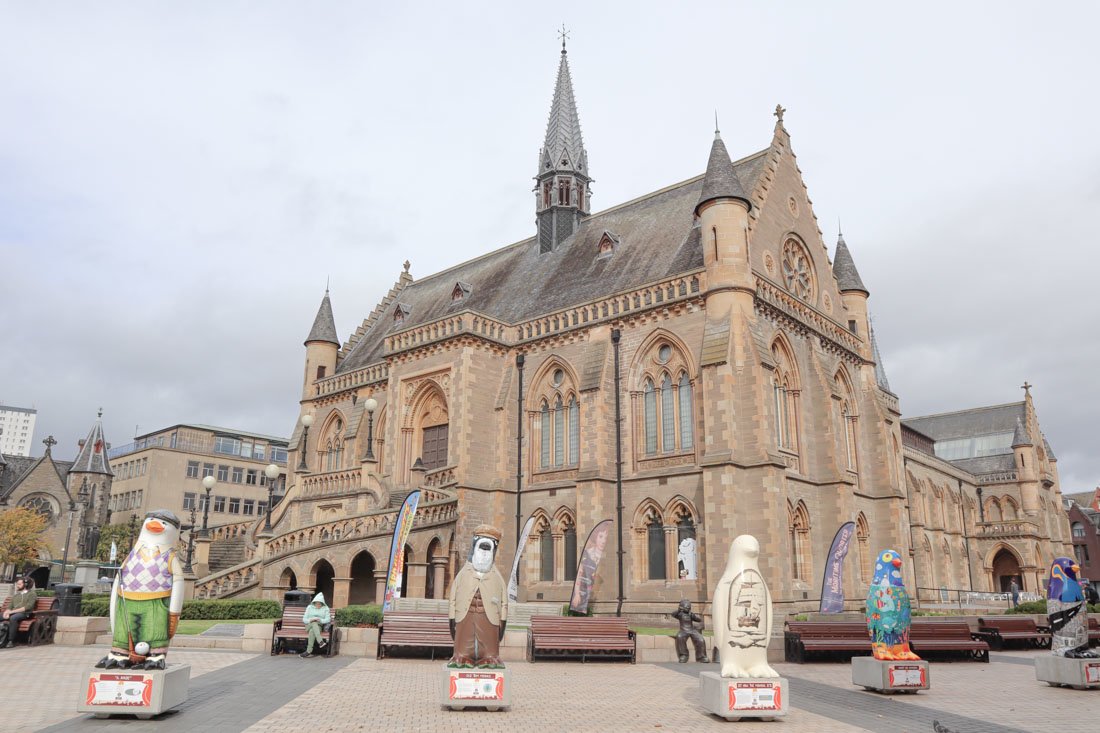 North Scotland
Dunkeld
Edinburgh to Dunkeld: 58 miles/1 hour 16 minutes.
Perthshire boasts all the beauty of the Highlands, without the long journey to get there. The charming town of Dunkeld is the perfect starting point for a day of outdoor exploration, and you don't even need to drive. Macaroni pies from The Country Bakery are a must, as well as some giant olives or ice-cream from The Scottish Deli.
Walk past rows of 18th-century houses to check out the beautiful, partly-ruined Dunkeld Cathedral and make sure you don't touch the effigy of the wicked 'Wolf of Badenoch' inside – it's said to be cursed! Take the scenic route along the Tay to the enchanting forest at The Hermitage to see some of the tallest trees in the country, and get sprayed by an epic waterfall.
For an extra sprinkling of magic, visit during autumn – the vibrant colours are stunning! Rest your legs and get cosy at the end of the walk with a hot drink – or something stronger – at The Taybank. Oh, it's such a perfect day…
How to Get to Dunkeld from Edinburgh
There is a direct train that runs from Edinburgh to Dunkeld in just over 1 hour 15 minutes. This is not the most frequent route though. The alternative train route is the Edinburgh to Perth then Perth to Dunkeld & Birnam. Driving takes 1 hour 16 minutes.
What's Around?
The city of Perth and Pitlochry.
Recommended by Kay | The Chaotic Scot
---
Find out more | Things to do in Perthshire
---

Pitlochry, Perthshire
Edinburgh to Pitlochry: 1 hour 26 mins/71 miles.
Pitlochry, in Perthshire, hugs the banks of Loch Tummel and is filled with beautiful Victorian baronial architecture. It's the main town of Highland Perthshire and is popular as a local's 'stay at home holiday' destination and tourists love it just as much.
Famous for its Fish Ladder and 'Theatre in the Hills' there is so much to do here and in the surrounding area, including visiting the cute cafes and quirky gift shops, walking the miles and miles of stunning country paths or taking to the lochs for a spot of kayaking, canoeing or fishing.
The nearby villages of Blair Atholl, Killiecrankie and Grandtully are well worth a visit too.
How to get to Pitlochry from Edinburgh
You can take the train and bus from Edinburgh to Pitlochry. The train is slightly faster at 1 hour 50 mins. The bus takes around 2 hours, traffic depending. You can reach Pitlochry by car in 1 hour 30 minutes. Free on-street parking is time-limited (30 minutes) but there are several 'pay and display' car parks which are free from 6pm.
Where to Stay in Pitlochry
There's no shortage of hotels in Pitlochry and they meet every price point too. You can find every type, from hotels with pools to lodges with hot tubs around the area. We (Gemma and Craig) stayed at the Pitlochry Hydro on our first weekend away together. Craig didn't bother telling me to pack my swim stuff which is annoying because the Hyrdro has an indoor pool!
What's Around?
Cute villages of Blair Atholl (plus distillery), Killiecrankie and Grandtully as mentioned above. You can even bungee jump or 'swing' at Killiecrankie if you are game. Read about our experience here.
Recommended by Nicola | FunkyEllas Travel
Central Scotland
Finnich Glen, Stirling
Edinburgh to Finnich Glen: 1 hour 30 mins/60 miles.
Finnich Glen is a gorge carved into the sandstone by a river that still runs through it. Although it's been well known by locals for years it sprung into general popularity after featuring as liars spring in the Outlander TV series.
---
» Outlander fans! Check out Scotland's locations and tours (yes, Jamie!)
---
The glen is a little difficult to find since it's not signposted or a managed tourist attraction. You might see it also called the Devil's Pulpit, which is actually a particular stone within the glen that kind of looks like a church pulpit. It's likely the reddish colour of the peat-stained water that flows through the glen is what led to it being associated with the darker side.
How to Get to Finnich Glen from Edinburgh
To get to Finnich Glen (postcode G63 9QJ), you are the best using this punch code – http://2HMJ+J7%20Craighat, Glasgow or the full GPS coordinates [http://56°02'02.6″N 4°25'09.5″W] into a maps app. Parking is limited to a small space on the main road near the bridge or on a nearby intersection.
To get down into Finnich Glen itself you can follow a small path off the main road and descend down a rather perilous 150-year-old staircase with only a few ropes to grip for support! Make sure you're wearing sturdy shoes and don't attempt to go after it's been raining. Half the adventure is finding Finnich Glen and once you're down there it's up to you to decide how far you want to explore depending on the water levels.
What's Around?
Finnich Glen is close to the cities of Stirling and Glasgow, as well as smaller towns and villages such as Balamaha (part of the famous Scottish hike, the West Highland Way).
To get to Finnich Glen from Edinburgh you bypass notable tourist stops, South Queensferry (cute village with cobbled streets, colourful houses and views of the Forth Bridges), Linlithgow (Lithlingow Palace where the new Outlaw King was filmed, click here to find out more), and Falkirk where Scotland's majestic Kelpies live.
Where to Stay
If you wanted to make more of your time around the Stirling area you could consider the popular Friars Wynd which is a small modern hotel which offers à la carte or Full English/Irish breakfast. Each room is named after a glen, apt considering! Click here to check rates and availability during your stay.
Budget travellers may want to check out the colourful and central, Willy Wallace Hostel. Dorm beds available in rooms of six, eight and ten as well as private rooms. There is a large well-equipped kitchen too.
Recommended by Sonja | Migrating Miss
Stirling
Edinburgh to Stirling: 1 hour 35 mins/40 miles.
Stirling is the essential day trip from Edinburgh as it's just 50 minutes away by train and has so much to see and do that it's impossible to get bored there.
Cute and tiny Stirling has one of the prettiest castles in Scotland, a wonderful old town full of cobbled streets and a historic cemetery with some of the best views in the country.
Also, not to miss are Stirling Bridge, where William Wallace defeated the English, many moons ago, the romantic ruins of Cambuskenneth Abbey and the very picturesque Wallace Monument.
And if you still have some time, make sure you visit nearby Bannockburn battlefield and visitor centre. It does provide a wonderfully immersive experience, it feels like you were there when King Robert the Bruce defeated the English.
How to get to Stirling From Edinburgh
There is a frequent and direct train link between Edinburgh and Stirling. There are parking opportunities but like all Scottish cities, there are parking charges.
Alternatively, there are group day tours from Edinburgh which also stop at Loch Lomond and Glengoyne Distillery for the whisky lovers!
Recommended by Patrícia Cuní | Mad About Travel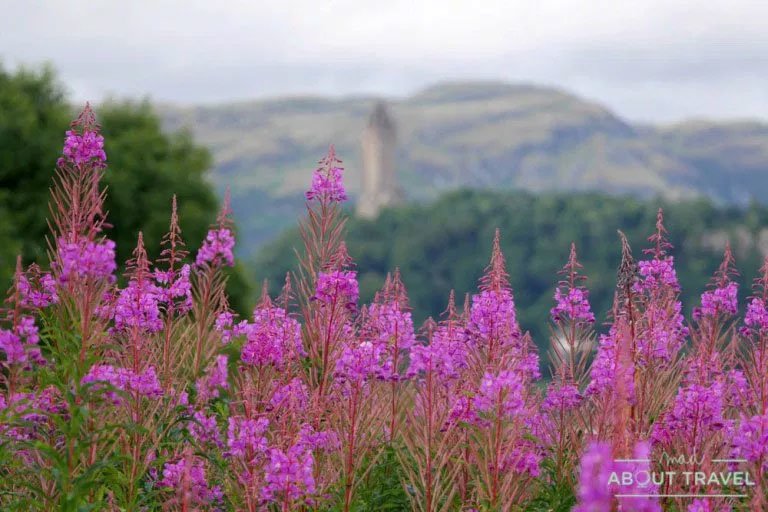 Kelpies, Falkirk
Edinburgh to Falkirk: 49 minutes/26 miles.
Did you know that Scotland has two majestic beasts which sit in a park and light up at night? Strange eh? But honestly, the 30-metre-high horse-head sculptures Kelpies by Andy Scott truly are one of the highlights in Scotland.
Located at The Helix in Falkirk, visitors can spend a good few hours taking a casual walk through the grounds and along the canal after photographing the 600-tonne double act based on two Clydesdale horses called Duke and Baron.
How to Get to Falkirk from Edinburgh
There are two train stations in Falkirk. The Helix is 3 miles away from Grahamston Station and 2 miles from Falkirk High Station.
What's Around?
Falkirk is close to the town of Linlithgow where Linlithgow Palace is located, another day trip idea.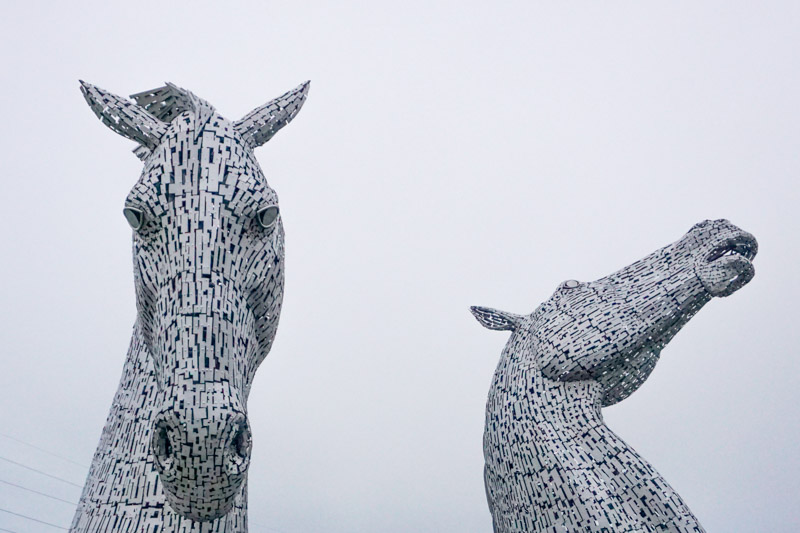 West Scotland
Glasgow
Edinburgh to Glasgow: 1 hour/47 miles.
No visit to the city would be complete without a stop at Glasgow Cathedral and the Necropolis, a Victorian cemetery, behind it.
The views from up there are stunning! Another great viewpoint is the Lighthouse Museum for architecture and design in the city centre, which was designed by no other than Charles Rennie Mackintosh.
Around the corner lies Glasgow's newest street food market, Platform at the Arches which is open Friday-Sunday. Alternatively, traditional afternoon tea at the newly restored Mackintosh at the Willow tearoom will do the trick.
The essence of Glasgow is not about its sites though, but the vibrant scene of arts and music. The City Centre Mural Trail showcases some of the most impressive street art in the city and can be picked up right outside the Lighthouse on Mitchell Street.
It leads past iconic local venues like The Clutha pub, The Britannia Panopticon and the Old Fruitmarket, and on the streets between buskers prove that the city deserves its status as UNESCO City of Music.
The final stop of the day is Finnieston, Glasgow's trendiest neighbourhood in the West End. The Hidden Lane is home to the city's creative makers who open their studios to the public on a regular basis, and the city's brand-new whisky distillery, The Clydeside Distillery, is open daily for public tours. In Finnieston there is also no shortage of great restaurants, The 78, The Gannet or Mother India, just to name a few!
After dinner, there is only one thing left to do, before catching the train or bus back to Edinburgh: have a dram of whisky in a local pub, either the Ben Nevis bar in Finnieston or The Pot Still near the stations!
Glasgow has a lot of sightseeing to offer, more than you can fit in a day so to speed things up consider the hop on/hop off bus is ideal to get a brief introduction to Glasgow's fascinating history OR you could book a private tour with a local that is tailored to your interests. For more details of personalised Glasgow tours, click here.
How to Get to Glasgow from Edinburgh
It takes about an hour to get to Glasgow from Edinburgh, either on the bus (from £10 return, 75 minutes) or on the train (from £13 return, 50 minutes). It's easy to arrive in the morning for breakfast and leave again after a few drams and live music in the local watering holes.
Where to Stay
Motel One is a new, central and affordable hotel in Glasgow. We had a comfortable stay with them in Newcastle and recommend.
What's Around?
Glasgow is a mere 33 miles from Loch Lomond and the two are connected by train line!
Recommended by Kathi | Watch Me See
---
Loch Lomond
Edinburgh to Balloch – 90 mins/70 miles.
Famous for its 'Bonnie Bonnie Banks', Loch Lomond and the surrounding National Park is the west coast gateway to the Scottish Highlands. The scenery is about as different from Edinburgh as you can get but easily sampled on a day excursion from the city.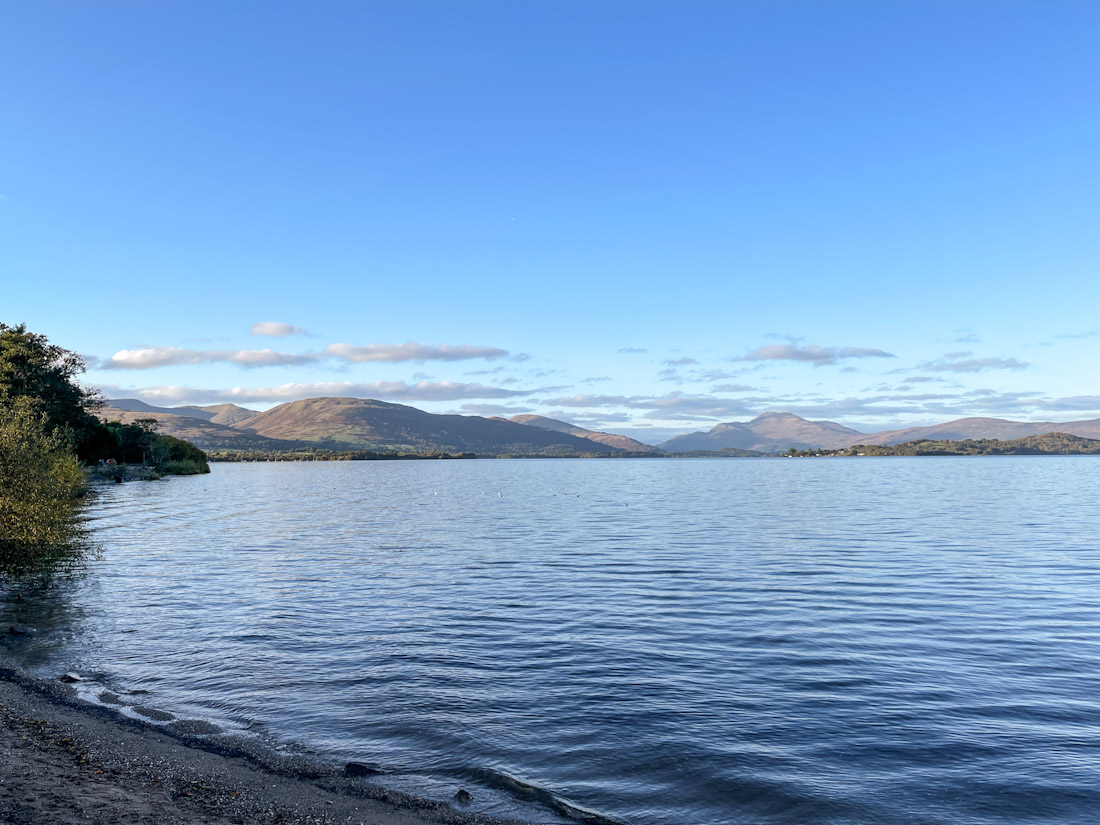 From the towering Ben Lomond, the most southerly of Scotland's Munros, to the small but perfectly formed 'Dumpling' – hill-walkers will be in their element.
Other available outdoor activities include cycling, stand up paddleboarding, canoeing and Segway tours.
Fancy a more relaxed day out? Then hop on one of the many cruise boats that tour the loch at a leisurely pace, or sail to the small island of Inchcailloch to explore its historic sites.
For a shopping fix, head to Loch Lomond Shores in Balloch before finishing your trip with tea and cake on the decks of the Maid of the Loch paddle steamer – the stunning views are a bonus!
There's also an areal adventure park called TreeZone if you like a thrill.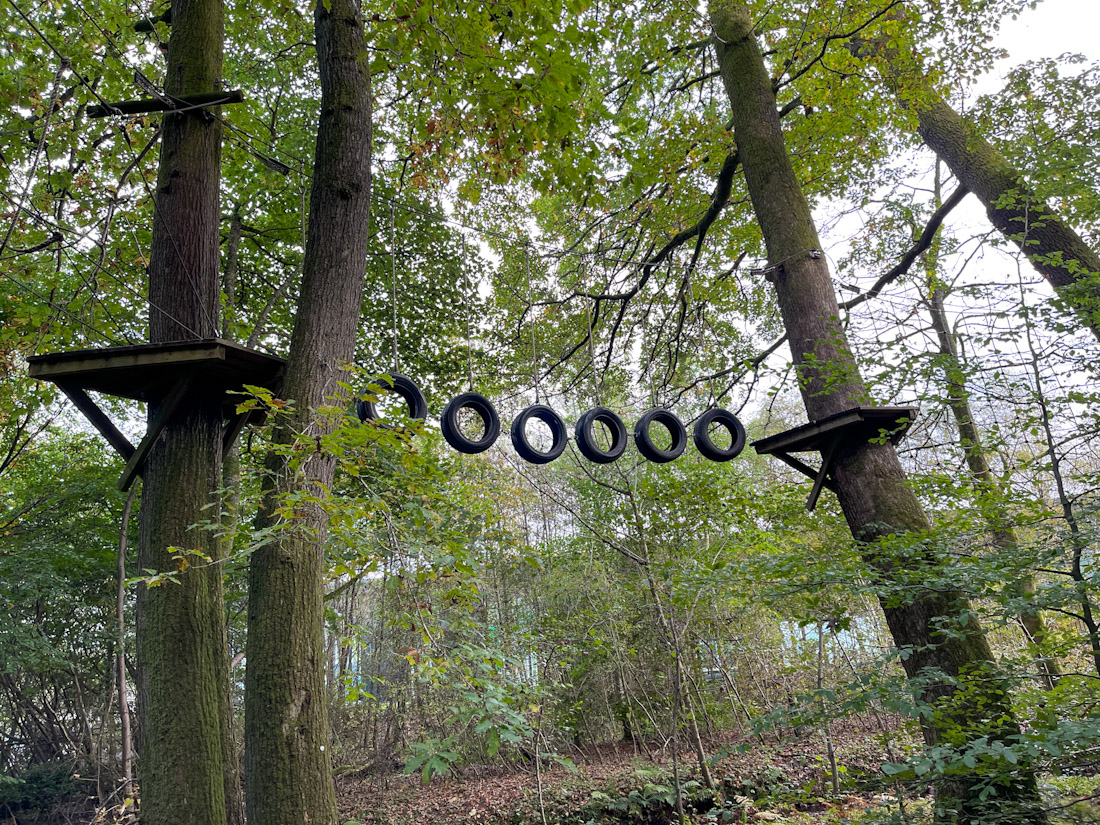 How to get to Loch Lomond from Edinburgh
The train is the best form of public transport. Starting at Edinburgh Waverley take the train to Glasgow Queen Street (50 mins). From Glasgow Queen Street go on to Balloch (50 mins).
Naturally, Balloch can be reached by car quicker. The journey takes 90 minutes.
Or book one of the many day trips to Loch Lomond from Edinburgh.
Recommended by Susanne | Adventures Around Scotland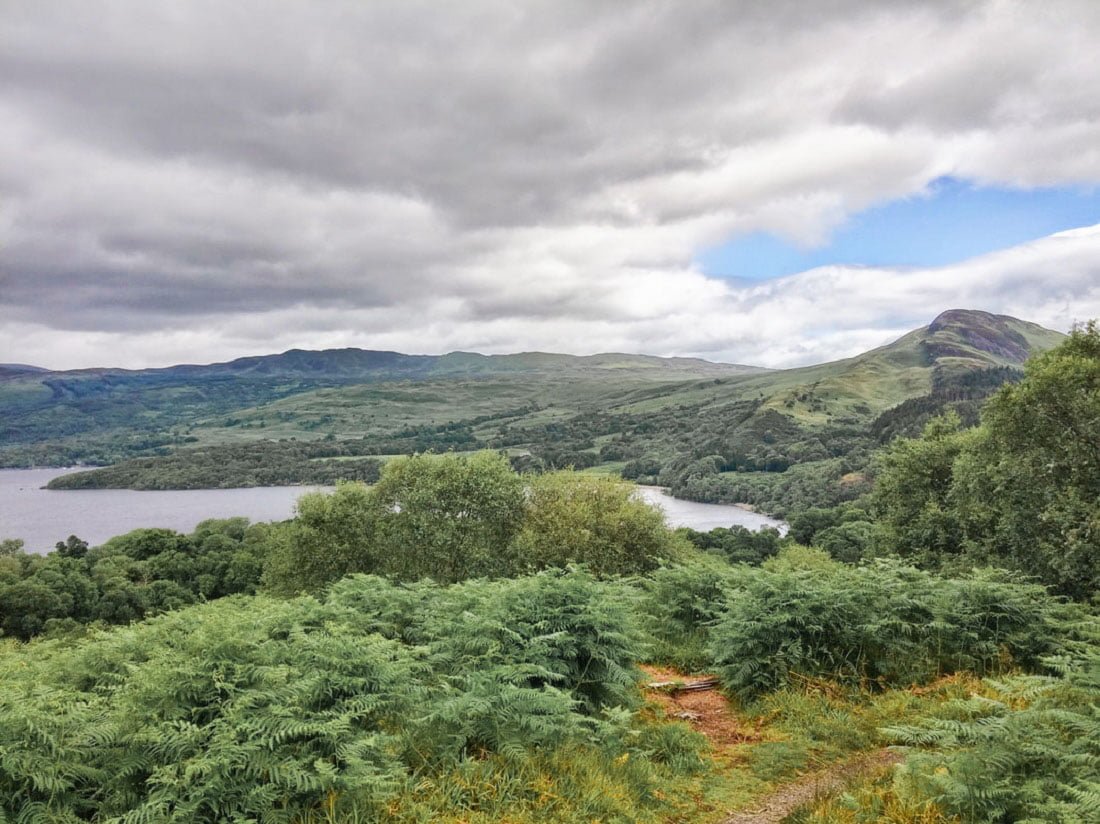 South (of Edinburgh)
North Berwick
Edinburgh to North Berwick: 30 minutes by train /1-hour drive
If you reminisce about holidays at the beach, then a visit to the cute seaside town of North Berwick should be on your list of day trips from Edinburgh.
With two of Edinburgh's best beaches – the huge sweep of West Beach and Milsey Bay with its boating pond – don't forget your bucket and spade, or you could hire a kayak right from the beach.
If you are feeling less energetic, visit the Scottish Seabird Centre to look through the 14 cameras trained on nearby Bass Rock and the Isle of May where you can see the biggest puffin colony on the east coast.
North Berwick is full of independent shops to explore – then grab a coffee from Steampunk Coffee or ice cream from Alanda's Gelateria. For lunch don't miss freshly grilled lobsters and perfectly cooked chips from the Lobster Shack, eaten right on North Berwick's harbour.
How to get to North Berwick
To get to North Berwick, hop on a regular train from Edinburgh and just 30 minutes later you will be strolling down through the town.
There are 'pay and display' car parks close to the beach if driving.
Where to Stay in North Berwick
There isn't much in the way of hotels in North Berwick but there are lots of holiday homes which you can check out here.
What's Around?
North Berwick is thirty minutes from Dalkeith Country Park (by car) which is home to lots of walks and cycle routes. There is also a really cool shop/cafe called Restoration Yard in the park which sells local produce in the shop and the cafe.
East Lothian made it into our top places to visit in Scotland this year. Read here.
Recommended by Kate | Love From Scotland
If you find North Berwick too busy, a new Two Scots Abroad favourite is Dunbar. Read all about it here.
Roslin, Midlothian
Edinburgh to Roslin: 45 mins/7miles
The main attraction in this small Midlothian village is Rosslyn Chapel. The 15-century building previously featured in the Hollywood movie, The Da Vinci Code and continues to be shrouded in mystery and possible conspiracy. Roslin is definitely one of the most popular places to visit near Edinburgh.
What's Around?
Roslin is close to Melrose making a trip to the Chapel and then the abbey (see below) a logical day trip from Edinburgh. The Pentland Hills are also very close, here there are a series of signposted hikes used by many locals.
Getting to Roslin from Edinburgh
Eskbank is the closest train station however you then need to take a local bus service to the chapel. Prefer to go by group tour? This full-day tour covers Rosslyn Chapel, Melrose Abbey and Hadrian's Wall at the border.
Melrose, Scottish Borders
Edinburgh to Melrose: 1 hour 6 mins / 38 miles
While most people gravitate towards the highlands from Scotland's capital city, a day trip Melrose in the Scottish Borders shouldn't be missed. For a quaint town, it packs a lot of history and is the final resting place for some of Scotland's most famous kings.
It is home to Melrose Abbey, regarded as one of the most beautiful monastic ruins in Great Britain. Melrose Abbey is where Robert the Bruce's heart is buried- yes, just his heart!
After his death, King Robert asked that his heart was taken on a crusade and later be buried at the abbey. There is a plaque commemorating Bruce in the courtyard, next to the abbey ruin. Bruce's body is buried at Dunfermline Abbey, which you can read about above.
Melrose is also a popular town with walkers completing St Cuthberts Way, the Southern Upland Way and the Scottish National Trail.
The Eildon Hills lay directly south of the town and are the supposed area where King Arthur was buried. On a clear day, the view from each of the three summits offers grand views of Melrose and Galashiels. Allow half a day to hike this.
Sir Walter Scott was also from this area. His former residence, Abbotsford House, lies west of Melrose on the River Tweed. He is buried at Dryburgh Abbey, another fantastic ruin which is a 20-minute drive from Melrose.
How to get to Melrose from Edinburgh
It takes about an hour to reach Melrose by car. Trains run regularly from Edinburgh to Tweedbank station, which is 1.5 miles from Melrose.
You can walk to Melrose via the Southern Upland Way along the River Tweed. Bus X62 with Borders Buses runs from Edinburgh to Peebles and then on to Melrose, Monday-Saturday.
Where to Stay in Melrose
If you prefer to stay in Melrose overnight there are a couple of accommodation options.
Dryburgh Abbey Hotel which is set on 10-acres of private land boasts of an indoor swimming pool and an award-winning restaurant.
The Plough Inn is an affordable option. Customers state it is a 'flawless' modern inn hotel with an atmospheric bar and great food.
There is a campground open in the summer and a range of homely bed and breakfasts in Melrose.
Recommended by Yvette | Wayfaring Kiwi
Scotland Packing List
You will know this already but the weather in Scotland is super unpredictable so do pack for all four seasons. We've had snow in March and summer in April – waterproofs, layers and midgie defying sprays are your winning armour against the elements.
Camera and battery
Filter and purifying water bottle like Water To Go [quote TSA15 at checkout for 15% off]
Cute hat, gloves and scarf
Tote bag for shopping, bags cost 5p in Scotland
It is a rite of passage for tourists to wear something tartan. Pick up a scarf or poncho souvenir!
---
Final Words
As you can see there are a plethora of reasons to make room for days out from Edinburgh on your Scotland itinerary! From history to hikes, design to dining there is something for everyone outside of Edinburgh.
Pin to your Scotland board
Any questions?
Just pop them below and we'll get back to you.
---