This article has links to products and services we love, which we may make commission from.
Looking for the perfect New York State bucket list? Hikes, festivals, food and of course, Niagara Falls, let's dive into the best things to do in New York State.
Best Things to do in New York State By Area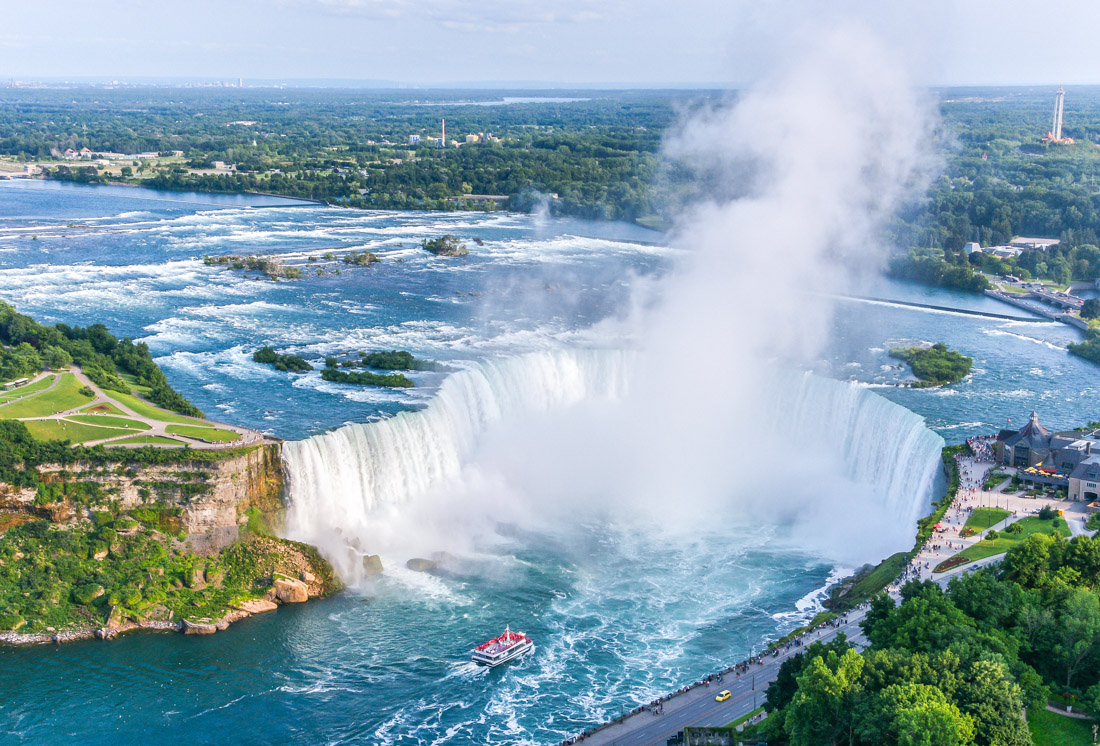 New York City
Get a sneak-peek into the impressive old City Hall train station from 1904, which features tiled ceilings and brass fittings.
Wander around the beautiful streets on Arthur Avenue, dine at the restaurants serving authentic Italian-American delights.
Hit the famous bars like JJ's Hideaway and Formerly Crow's for some booze.
Walk across the Insta-famous Brooklyn Bridge.
Take an enjoyable subway trip to Coney Island – a vintage New York State attraction.
Enjoy eating the famous burger and steak at Minetta Tavern.
If you have a thing for northern Vietnamese flavors, head over to Hanoi House.
Get a free ferry ride to Staten Island to get spectacular views of lower Manhattan.
Walk around the streets in the West Village for shopping and dining.
Attend the historic Kings Day Parade at 106th Street and Lexington Avenue on January 4.
Enjoy the foliage of New York in fall.
Listen to jazz in Harlem.
Visit the Great White Way to see a Broadway show one of the best things to do at night in NYC.
Hangout on the High Line.
For great views, check out the Empire State Building. Reserve your ticket here.
Find the best observatory decks in our guide.
Visit during December for festive fun, shopping and shows.
---
» You may also like | How to spend 4 days in NYC and this NYC trivia quiz!
---
Long Island
Run through lavender fields evocative of the French countryside at Lavender by the Bay.
Try wine and cheese at Catapano Farms.
Swim, surf, or take a stroll on the white sand at Cooper's Beach.
Have fun with your family at Adventureland Park.
Don't miss the annual Oyster Festival held every October 19th to 20th.
Feast on the spicy tuna on crispy rice at Toku or head over to Commander Cody's Seafood on Shelter Island to try some the freshest local catches.
Spend a night or two at the Surf Lodge in Montauk. It is a 1960's inspired beach dream house.
Dine at Montauk's famous beachfront restaurant and snap the lighthouse. Montauk is where The Affair was filmed.
Visit the 3,000 acres of vineyards in Long Island's easternmost region.
Spend some calm moments at Sands Point Reserve.
Check out the lavender farms in summer.
Central New York
Head over to the CNY Regional Market that features local produce, food, fruits, vegetables, and crafts.
Have fun at Destiny USA – a large entertainment complex and shopping mall. The mall has abundant dining and play areas.
Go adventurous exploring the mountains, lakes, grassy valleys, and sharp cliffs in the Adirondack Mountains, read more about East Coast lakes here.
Have hands-on experience with art and crafts, music, poetry, culinary arts, and literary arts at the famous Colorscape Chenango Arts Festival held in September every year.
Enjoy craft beer, dance to live music, and experience the CNY nightlife at Brew Central, the region's famous craft brew destination.
Feast on the delicious and culturally phenomenal spiedes.
Spiedie and Rib Pit at 1270 Upper Front Street Binghamton is famous for serving many varieties of spiedes.
Have a storybook getaway at Foxfire Mountain House and spend a night in one of the beautiful guest rooms.
Chautauqua County
Hike through a half-mile long rim of 60 feet high rocky caverns, crevices, and pathways in a historic forest at the Panama Rocks Scenic Park.
Get closer to nature at the beautiful Cassadaga Lake.
Join the celebration of local farmers at the annual Fredonia Farm Festival held in August. The 3-day-long festival features food, music, and entertainment.
Spend a night at The Lodge at Chautauqua Lake, overlooking the picturesque lake. The luxurious resort has a unique vibe that is sure to mesmerize you.
Feast on Italian cuisine along with traditional steaks and seafood at the famous La Scala Restaurant.
Attend local history exhibits at the Fenton History Center in Jamestown.
Experience outdoor activities like snowboarding and skiing at the Peek'n Peak Resort.
Niagara Falls
Be thrilled watching the spectacular waterfalls at the Niagara Falls State Park on the US-Canada border.
Explore the beautiful islands on the Niagara River.
Embark on the Maid of the Mist to explore the waterfalls.
Explore the 18th century Old Fort Niagara
Stay at the charming 1923 English Tudor style Red Coach Inn History Bed and Breakfast Hotel, overlooking the waterfalls.
Dine for local and American flavors at the top of the Falls Restaurant in Goat Island.
Learn about the history of Underground Railroad at the Niagara Falls Underground Railroad Center.
Enjoy concerts and Broadway shows at Art Park.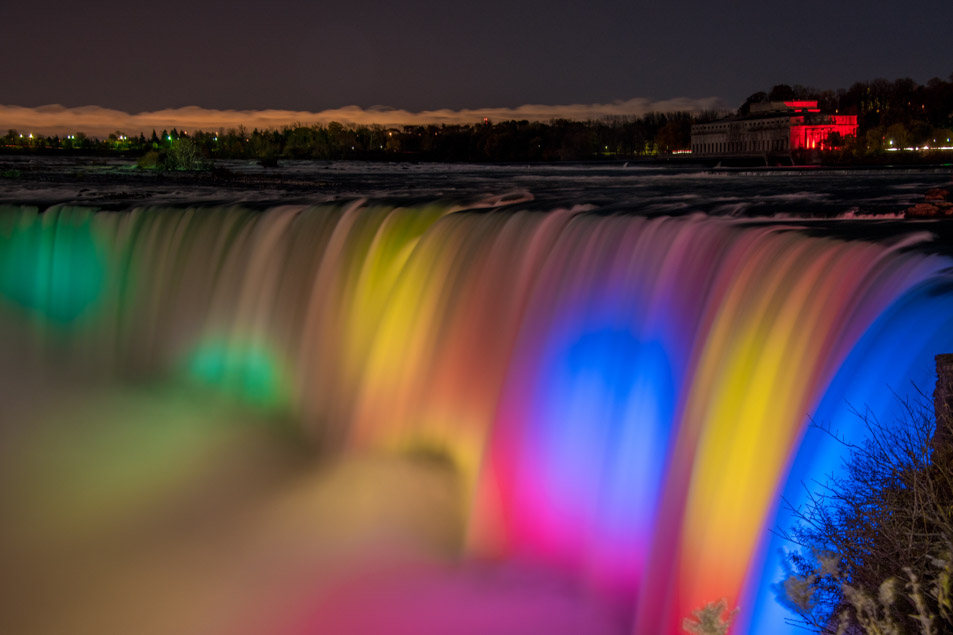 ---
» Read next | The best tours Niagara Falls Tours
---
Finger Lakes
Get amazing views of Skaneateles Lake's sparkling waters, besides dining and shopping at the surrounding shops and restaurants.
Visiting Finger Lakes in winter? Do skiing at famous resorts like Bristol Mountain and Greek Peak.
Explore the shimmering waterfalls and scenic trails at Watkins Glen State Park.
Get a taste of the local craft wine at the more than 35 wineries on the Seneca Lake Wine Trail.
Relax, romance, or rest at the Quiet Place – your own private cottage snuggled in the woods.
Have a first-hand experience of the traditional and modern culture at the Ganondagan Native American Dance & Music Festival. The seven-day-long festival is held at Ganondagan State Historic Site in Victor every July.
Go berry picking at Tomion's Farm Market in Penn Yan.
Thousand Islands
Take a boat ride to the spectacular Boldt Castle, one of the most popular wedding destinations in New York and one of the castles in New York State.
Have a delightful experience walking the Thousand Islands Bridge.
Catch diverse varieties of fishes in the St. Lawrence River
Explore the stories of the past of the Horse Island Lighthouse in Sackets Harbor.
Taste craft beers, wines, and hard ciders at the famous Dark Island Spirits and Distillery in the village of Alexandria Bay.
Enjoy Thousand Islands' traditional 'shore dinner.' It comprises freshly caught and fried fish, salad, French toast, sandwiches, and pork strips.
Camp at 1000 Islands Camping Resort and engage in outdoor activities like boating, swimming, fishing, hiking, and golfing.
See a variety of antique boats at the Antique Boat Museum.
Spend a night at the majestic Singer Castle on Dark Island.
Spend some peaceful time at Sandy Island Beach State Park.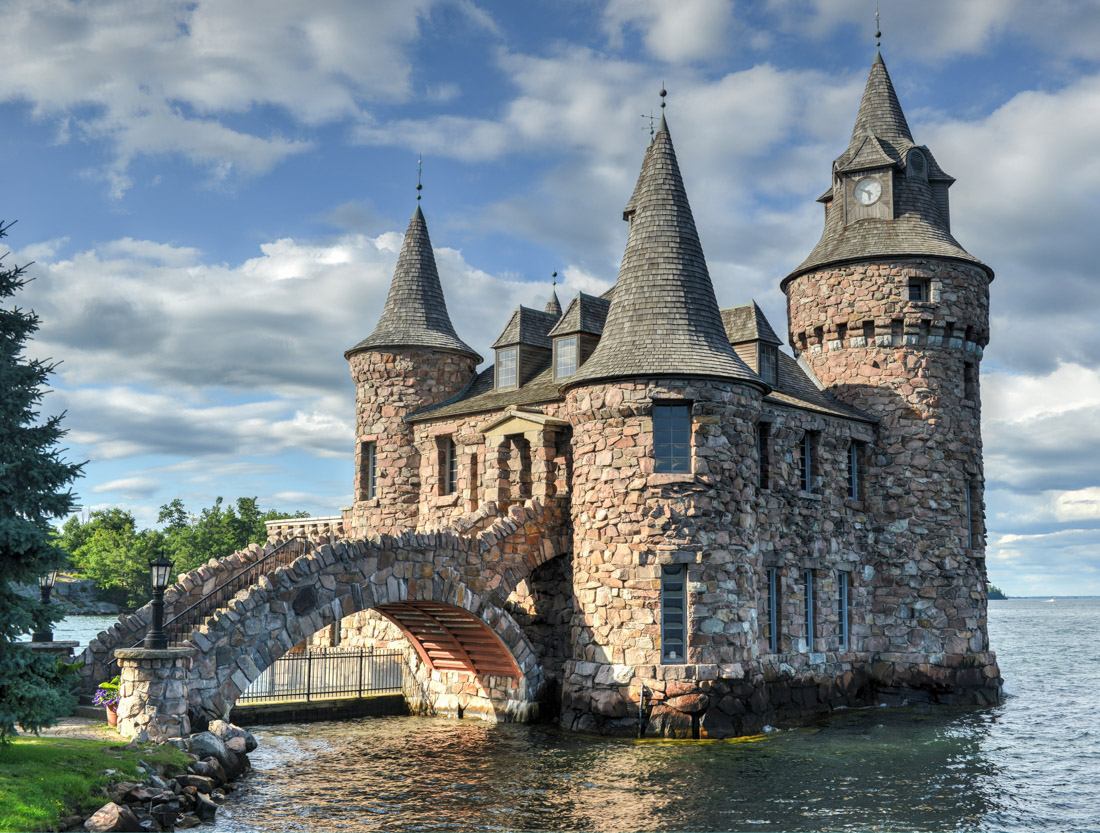 Adirondacks
Do rafting, kayaking, and tubing at Sacandaga Outdoor Center.
Catch large fishes at the famous Lake George that is known for its large fish population.
Experience a touch of Finland by staying in a tupa (cottage) at Lapland Lake Nordic Vacation Center. Recreational activities at the resort include swimming, hiking, skiing, and paddling.
Taking a breathtaking thirty minutes walk at High Falls Gorge, enjoying the impressive views across the bridges and trails.
Sample Adirondacks' seasonal flavors prepared with freshly picked local harvests at fine dining places like Jeb's Restaurant and The View Restaurant at Mirror Lake Inn.
Enjoy a craft beer on the outdoor patio at the Bolton Landing Brewing Company.
Have fun at the annual Sparkle Village Arts & Crafts Fair held every December at the Harrietstown Town Hall.
Live like a royal at Adirondack Safari Luxury Tent Camping.
Get wet at Enchanted Forest Water Safari.
Albany
Visit the New York State Capitol and explore the Million Dollar Staircase, the Senate Chamber, and the War Room.
Have fun staying at Rocking Horse Ranch, a great place for a family adventure.
Pick pumpkins and explore the corn maze with your family at Ellms Family Farm.
Head over to Berkshire East Mountain Resort to enjoy summer outdoor activities like mountain biking, ziplining, and whitewater rafting and winter activities like skiing, snowboarding, and snow tubing.
Go shopping and dining at Crossgates Mall. Have fun at the mall's entertainment venues.
Taste amazing, award-winning handcrafted wine at Ledge Rock Hill Winery & Vineyard.
Explore human and natural history at the New York State Museum.
Go hiking at Albany Pine Brush Preserve and see different species of plants and animals on the way.
Catskill Mountains
Take a breathtaking 11-minute ride to the top of Hunter Mountain.
Enjoy the stunning views of the Northern Catskill Mountains, Vermont's Green Mountains, and the Berkshire Mountains in Massachusetts.
See the marvellous Kaaterskill Falls that drops in two tiers and is over 260 feet high.
Wander in the Catskill Mountains and have adventure experiences with activities like zip-lining.
Spend a calm night in the woods, sleeping in a handcrafted timbered hut with a wood-burning stove.
Try food prepared with locally sourced ingredients and served in farmhouses at Peekamoose Restaurant and Tap Room.
Have fun at the largest craft beer festival in New York State during the TAP® NY at Hunter Mountain from 25-26 May.
Go hiking on the trails of Slide Mountain.
Learn history about the Revolutionary War at Minisink Battlefield County Park.
Try the Catskills Beverage Trail challenge.
See the foliage colors during autumn, for more read our things to do in Upstate New York in fall guide.
Marvellous Mrs Maisel fans will recognize The Catskills from season two. Dirty Dancing's Kellerman's Resort was also influenced by this area. The "Borscht Belt" heyday came to end but the region is still popular with outdoors and beer fans.
Hudson Valley
Go to the Samascott's Garden Market, Kinderhook, to sample the locally sourced fresh fruits, vegetables, eggs, meat, pork, and chicken and homemade foods.
Explore the historic and picturesque Hudson River on a cruise ship tour.
Get picturesque views of Hudson Valley while cycling or hiking the Walkway Over the Hudson, which is the longest pedestrian bridge in the world.
Watch the beautiful landscapes, natural habitat, and wildlife while hiking down the trails of Constitution Marsh.
Do outdoor activities like fishing, swimming, boating, hiking, and ice-skating at the Bear Mountain State Park.
Spend a night at famous Shinglekill Falls B&B, a renovated 18th-century house situated near the 32 feet Shinglekill Falls.
Try a sizzling grilled octopus at 8 North Broadway.
Have fun sampling more than 50 craft beers and hard ciders and feast on some delicious local food at the Food Truck and Craft Beer Festival on June 8.
See Thomas Cole's paintings at the Thomas Cole National Historic Site.
Enjoy watching the spectacular Cohoes Falls at Falls View Park.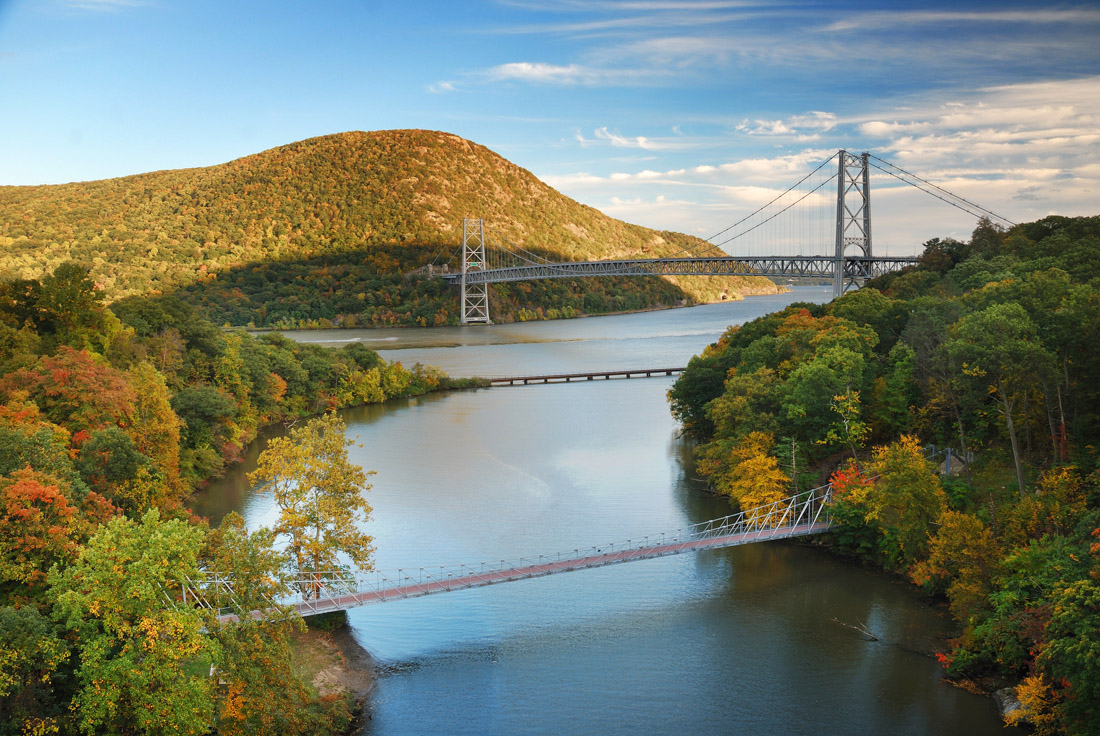 ---
Save to your New York State planning board
---