This article has links to products and services we love, which we may make commission from.
Can you believe that you can visit geysers, canyons, waterfalls and hot springs with only 4 days in Iceland? Well, you can, and we (Gemma and Craig) are going to show you how to do it by driving the famous Ring Road. Iceland has always been a bucket list destination for us and it did not disappoint.
---
» We visited Iceland for our very belated honeymoon. Why are you visiting?
Tell us in the comments below.
---
Four-Day Itinerary for Iceland.
Day 1 Reykjavik – Hofn or Jökulsárlón (380-458 km/5-8 hours)
On day one of your Iceland itinerary, you want to collect your car and head straight to South Iceland on Iceland's Ring Road.
Forget the Golden Circle which is jam-packed with bus tours. Since you have four days to play with, you want to to see the real, less touched, beauty of the south.
Don't worry, you will visit the Golden Circle on your return to the airport.
Trust me, you won't regret this route.
→ Pro tip: most car rental companies offer pickups and drop-offs from Keflavík Airport (which is the main airport) for an additional fee. It is well worth doing this because the car rental stations are not at the airport.
You can check out the variety of cars available at the likes of Discover Car Hire. My advice is to go for something robust like the Suzuki Vitara which is the car we hired.
We filled up with fuel (unleaded, not diesel, take note of your type!) just outside of Keflavík.
You have two main goals at the start of your Iceland adventure.
Firstly, get to a Bonus Supermarket and stock up on meals and snacks.
Remember to bring tote bags so you can pack your items without purchasing plastic bags (also better for the environment).
We spent €132 on food in total. This included eating dinner out once in Reykjavik and lunch twice in the south. We also purchased a few evening drinks.
---
» Click here to read about our Iceland budget
---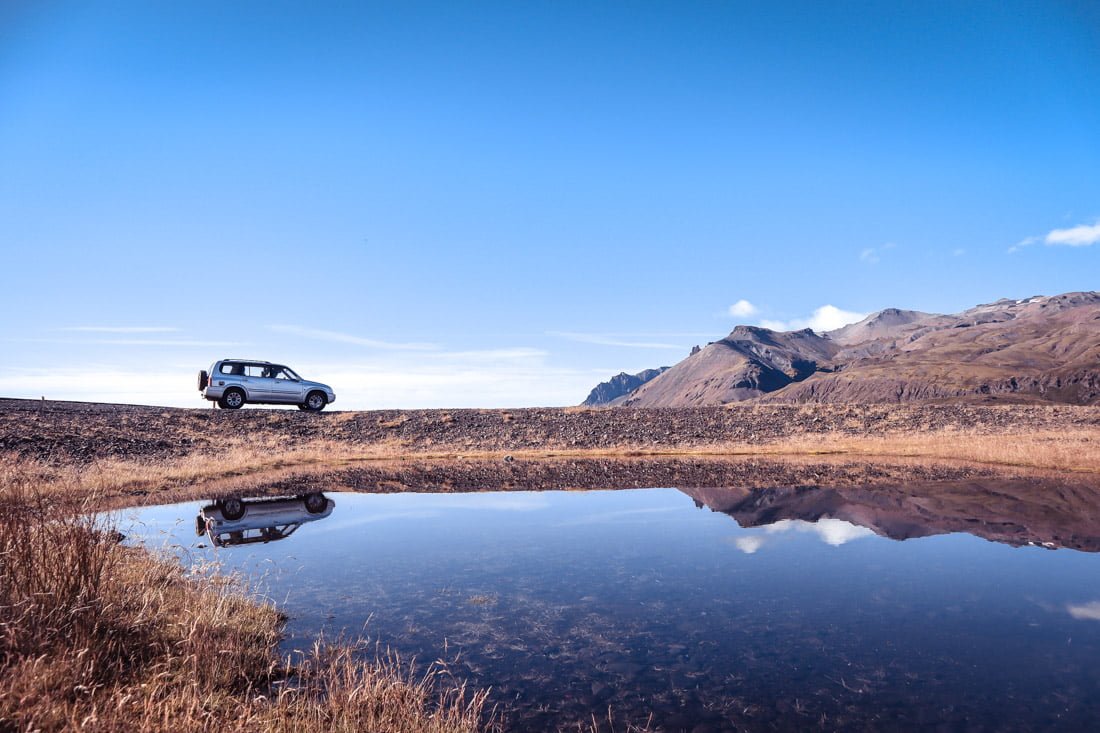 The second goal is to drive to the furthest away point which is either Hofn or Jökulsárlón, the famous diamond beach, depending on how much driving you want to do and where you manage to get accommodation.
There is no denying that today's drive is long, even without stops. Feel free to pick highlights from the first two days of our itinerary and build them into the day one route if you need to break it up a bit.
You will not be able to do all of them, so save some for the following days.
If you are visiting during winter, do consider sunset times as the Ring Road is not lit well and the landscape is vast.
You won't see house lights in the distance. It is not advised to drive in the dark.
The darkness is obviously great for Aurora borealis which is at its most active during October to March!
South Iceland Highlights (In Order)
Fjaðrárgljúfur Canyon 
[potentially closed to the public]
The short hike to Fjaðrárgljúfur Canyon is a perfect location to stretch your legs after 3.5 hours of driving. Just follow the path up to the top of the canyon and take a few photos.
→ Note: Stop here on the way, as it is not on the route back. By this stage, you will want out for some fresh air.
Look out for the famous Icelandic horses in the farms around the Ring Road. We met some before the waterfalls.
Seljalandsfoss Waterfall
We attempted to visit Seljalandsfoss waterfall in the afternoon of day two but were rained off so went back for sunrise.
I highly recommend going at this time because there were only a handful of other visitors.
This is the waterfall that you can walk behind (except during winter). Check out our romantic picture!
There is also another waterfall called Gljúfrabúi within walking distance. You have to tread through water to get there so wear appropriate clothing. Remember a camera or phone waterproof cover too.
We just used Craig's phone and a waterproof phone case.
→ Tip: There is a charge for using the car park Seljalandsfoss. The machines only accept credit cards.
The best thing about staying in the south is that you can visit the top Iceland attractions more than once if the weather is against you (which is often!)
Skogafoss Waterfall
Not far from Seljalandsfoss is Skogafoss which is one of the most photographed waterfalls in Iceland. You can't get behind this one but you can get above it!
There are a few accommodation options around here including a campsite if you are on a budget.
Vik
Vik is the cute town in the south with the church which you see in lots of Instagram images.
Reynisfjara Black Beach
Iceland's famous black sand beach. Fifty shades of grey and stormy seas await.
Jökulsárlón aka Diamond Beach
Wow, this is what really made me fall in love with Iceland.
Diamond Beach is a glacier lagoon. Think massive ice cubes, all sparkly and blue.
We reached this spot for sunset and the pastels tones really complemented the ice.
You can do boat tours of Jökulsárlón. If interested, factor this into your road trip schedule.
The final stop for the day is your accommodation.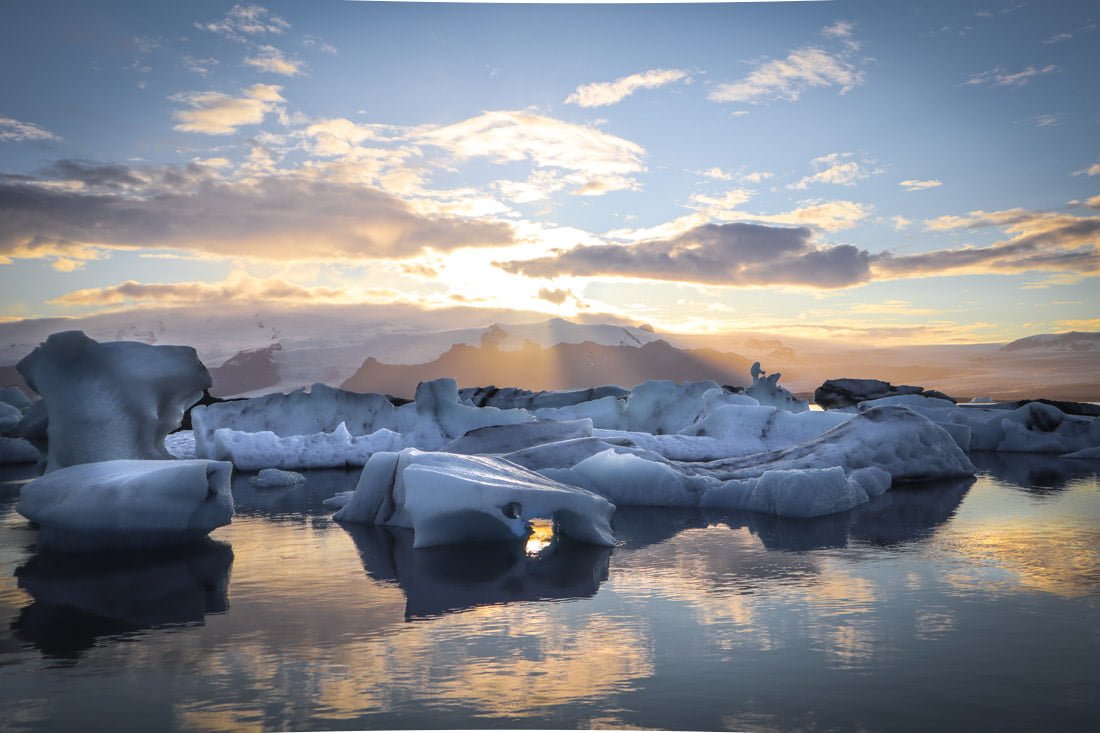 Night One Accommodation
We stayed at the HI Hofn. The rooms were super cosy, the showers were hot and the kitchen was fully stocked. Perfect for cooking with the products you bought during your shop.
We ended up just making a pot of noodles and buying wine and beer from the hostel reception. Check the best rates at TripAdvisor.
Day 2 Hofn or Jökulsárlón to Seljalandsfoss Area (331.9 km/ 4.5 hours)
For day two you are going to drive back on yourself along the Ring Road, stopping at the locations you were teased with on day one.
Remember to make up sandwiches for lunch and make snacks easily accessible.
Diamond Beach
We stopped again at Diamond Beach to catch Jökulsárlón in a different light. At around 09:30, we had it to ourselves. You can catch a boat tour of Jökulsárlón at this point.
Reynisfjara Black Beach
Iceland's Black Beach is bleak, in an intriguing way.
From the car park (free) walk down the hill for about five minutes then let the dark stones of the beach and the stacks swallow you up.
→ Tip: The toilets here are pay only.
Skeiðará Bridge
As you drive along you will notice what can only be described as a chewed up bridge!
Skeiðará Bridge remains still stand, yet slightly graffitied, on the side of the road.
Iceland's longest bridge met its maker in the 90s when massive floods carried ice the size of two-storey houses through it.
Vik
Vík í Mýrdal is a fishing village, popular with tourists for its wooden church which sits starkly on a hill, often surrounded by mist.
Reyniskirkja Church has a red roof and white walls, a great contrast which pops against the lush green landscape.
Here you can, and should, fill up with gas/petrol, and food.
→ Tip? Wondering where the beer is?
You won't find it in the supermarkets! Alcohol can be bought at Vínbúðin which is a state-run chain.
Next, pop into Seljalandsfoss is Skogafoss if you missed them yesterday or if you want to see them flow at a different time of day.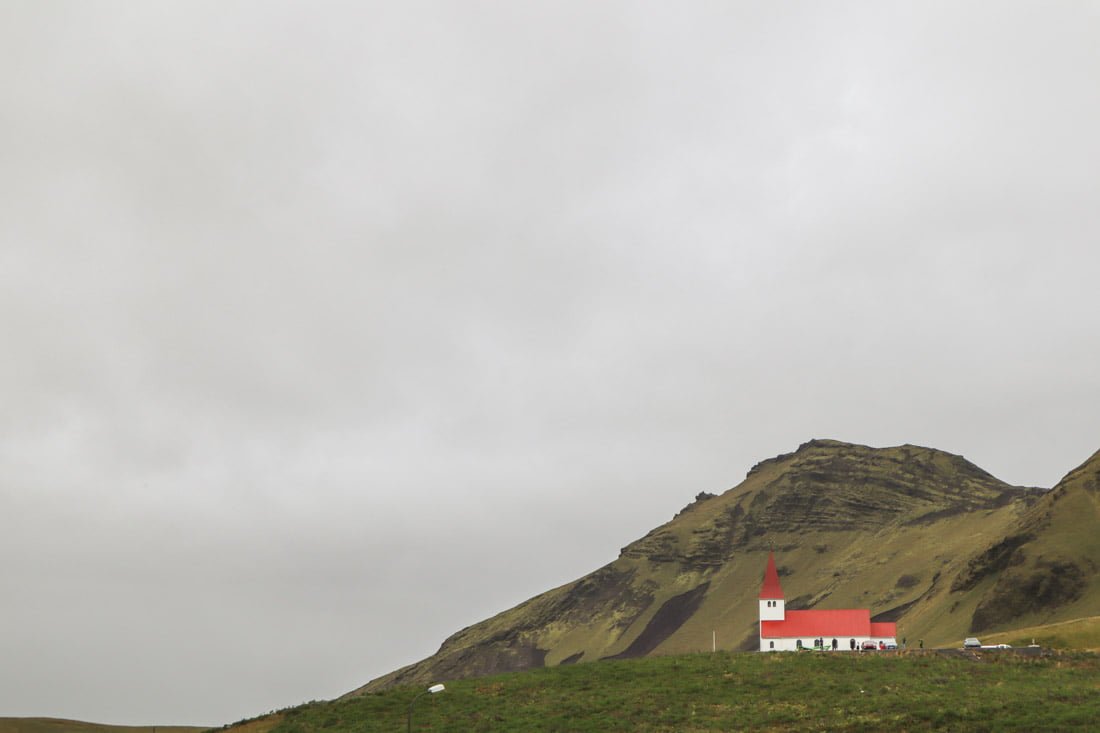 Additional Option: Seljavallalaug Geothermal Pool  
If you fancy doing a short hike (10-15 minute) to get some exercise with an incentive, there is a free geothermal pool nestled amongst the mountains.
Unfortunately, this pool is not a hidden secret and it is pretty gross if being honest.
We were really disappointed to see that people had left their crap in the dark and dank changing rooms. Tourists were smoking in the pool too.  
You do need to cross a small river so wear shoes that you can get wet in.  
---
» Read more about the hikes in Iceland here (all-seasons)
---
To get to Seljavallalaug geothermal pool, turn off the Ring Road at Raufarfell, park at Seljavellir then walk ahead.
You'll see lots of other tourists doing the same too. Remember your swimming gear.
Evening Hike
Plane Wreck at Sólheimasandur Beach
This is a really interesting part of Iceland's history which they've not removed. It's actually one of the best things about Iceland, how they use their landscape so well, leaving the objects that aren't supposed to be there anymore.
The American wreck DC-3 plane is tucked away 4km (45-minute walk) from the Ring Road. You can't actually see the DC plane but you will see a full car park.
This is a popular spot with budding photographers (read, don't get in their shots).  
The hike itself is pretty dull so download some tunes and stick this coordinate in maps before you go: 63 27.546-19 21.887.
How to get to DC Plane Wreck at Sólheimasandur
In the past, you could drive right up to the place wreck but this is no longer the case.
Now you have to park your vehicle at the designated car park and walk the 45-minute flat track to the plane

Go past Skogafoss waterfall on your left (going East on Route 1)

Drive for just under 10 km/10 minutes

Look for Sólheimajökull Glacier sign to your left

After 2 km, take the right

You will see lots of cars/camper vans parked up


Walk straight ahead then veer to the left
Pack a torch if you plan to arrive leave after dark (or arrive, some photographers aim to get cool Northern Lights shots here).
Night Two Accommodation
We opted for an apartment around the Eyjafjallajökull volcano area for night two (and three).
This was a great spot because we were close to both waterfalls and the DC hike car park.
Day 3 Seljalandsfoss Area to Golden Circle (2-10 hours stops/110.6 km+)
In all honesty, I would advise you to stay another night in this area and skip the Golden Circle.
I know first-timers to Iceland won't understand why I'm suggesting this so let's go with a Golden Circle tour for our day three Iceland itinerary.
Additional Option: Secret Lagoon.
Seljalandsfoss to the Secret Lagoon takes just over one hour (86.7 km).
One of the most popular things to do in Iceland is to take a dip in a hot spring.
This isn't just a tourist attraction, hot springs and geothermal pools are part of Icelandic culture.
The busiest is the Blue Lagoon which comes at a premium cost of between €55 to over €200 per person.
There is a cheaper alternative, the Secret Lagoon (€22 per person).
The Secret Lagoon enjoys 38 degrees heat all year round, has changing facilities and a bar.
Expect to pay an additional fee for towels.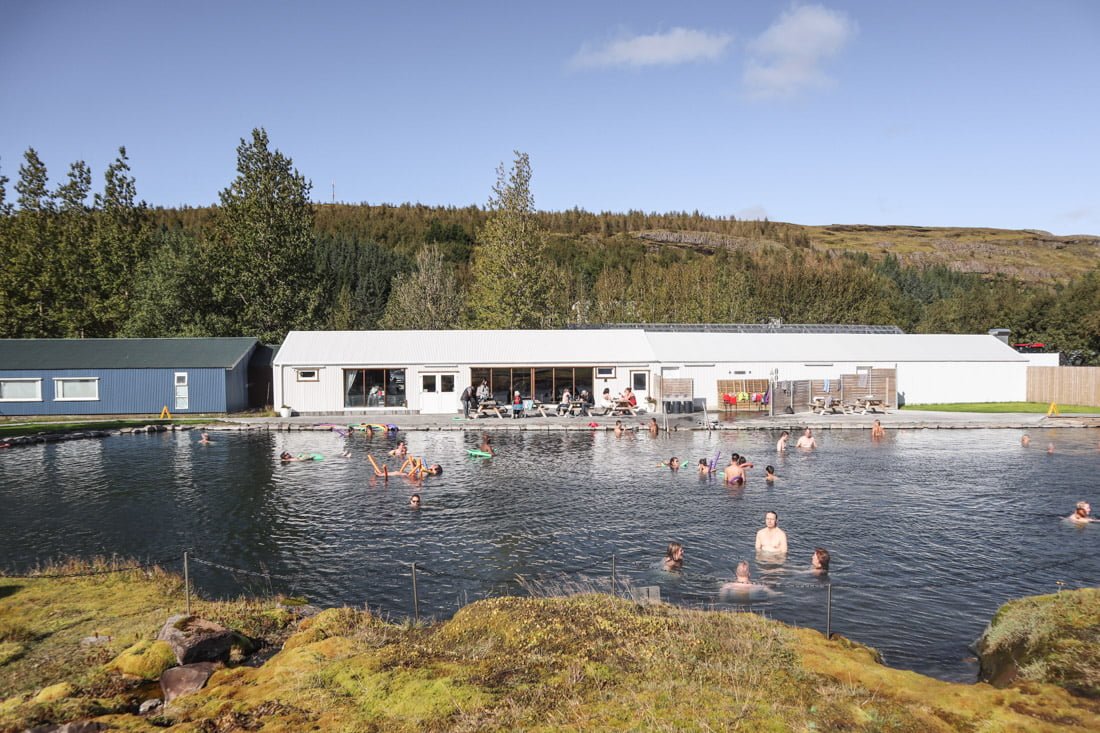 Now it is on to the Golden Circle.
The Golden Circle Highlights
Geysir
Geysir is a geyser located in the Haukadalur Valley. It shows off by exploded frequently throughout the day!
Expect to get wet if you stand too close. There is a car park with toilet facilities and a restaurant within walking distance to the park.
Gullfoss
The Golden Falls, found at Hvítá river canyon, is one of the most visited waterfalls in Iceland.
Gullfoss has two areas, with viewing platforms close to both.
Again, a free car park with toilets is close to the waterfall.
Thingvellir National Park
Thingvellir National Park (Þingvellir) is a UNESCO World Heritage Site just 45 minutes drive from Reykjavik.
Here is where you can snorkel in the clear waters of Silfra. Game of Thrones fans, Þingvellir is where many scenes were filmed too.
Night Three Accommodation
There is no shortage of hotel or hostel options on the Golden Circle.
Day 4 Golden Circle to Reykjavik (1.5 hr)/Keflavik (2hr)
Your fourth-day itinerary really depends on when your flight departs.
Factor in an hour for car return checks and the shuttle bus journey. Some companies only run a shuttle two times per hour.
If you have ample time you could stay in the south longer and devote more time to hikes and exploration.
Or alternatively, take a tour of the Golden Circle to learn about the geology which is one thing you will miss out on when doing an independent trip of Iceland.
Personally, I don't think you need any time in Reykjavik unless you have deep pockets.
We went for dinner at Hlemmur Mathöll and paid around €22 for a burger which came with crisps/potato chips.
If you are staying in the city and fancy a few drinks, go for happy hour, as the locals and expats do too.
Additional Option: Blue Lagoon near Keflavik Airport.
This is the most popular hot spring in Iceland and definitely the most photogenic! Tourists either love it or hate it. We can't vouch for it ourselves as we chose the Secret Lagoon over the Blue Lagoon to avoid the tour bus crowds and prices.
Renting a Car in Iceland
Here are some tips on what you need to know before you go. I used to be a car rental advisor so trust me on the following tips:
Book your rental before you arrive in Iceland so you can hit the road on day one.

Not all cars are created equal! Expect a few bumps and grazes on the metalwork.

Check over the car and record any damage before you leave the forecourt.

Look for damage on the hidden undercarriage of the car, the roof and also inside.

I used to be a rental car check-in advisor so trust me, record damage or pay the price!

Purchase the additional insurance (full coverage) option to avoid hefty fees if damaged

Gas/petrol is expensive! We spent €278. That's double the amount we spent on food.

Some parking has a small charge, most are free.

We filled up the tank with unleaded fuel (not diesel) three times during our trip.

Gas stations are a mix of stations with cafes attached, self-service (credit cards), and unmanned pump-only stations.

It is not advised to drive during winter, in fact, it will be impossible at parts of the Ring Road.


Iceland Weather
When is the best time to go to Iceland? A popular question made during the planning stages. Let's look at the pros and cons of each travel season.
Spring and Summer (April – September)
Spring starts in April and ends in May and the first day of summer is April 18th.
Pros
There is a lot of daylight so you can fit in more of Iceland's activities

Less rainfall

Driving is safer

Hiking is easier

Photographers can capture the golden hour light

Cons
Pack an eye mask, especially if you are camping

Mass tourism, especially around the Golden Circle

Selfie sticks and stupidity, did you see the tourist falling into Gullfoss waterfall for a picture?

You must book accommodation, car rental and tours well in advance

Low season (October to April)
Pros
Fewer tourists

Winter activities such as ice hiking

Northern Lights optimal sightings

Cons
Adverse weather during winter

Driving is harder or often not possible at times

Daylight is limited to six hours per day

Northern Lights not guaranteed

October to February sees most rainfall (although it rained a lot for us in September)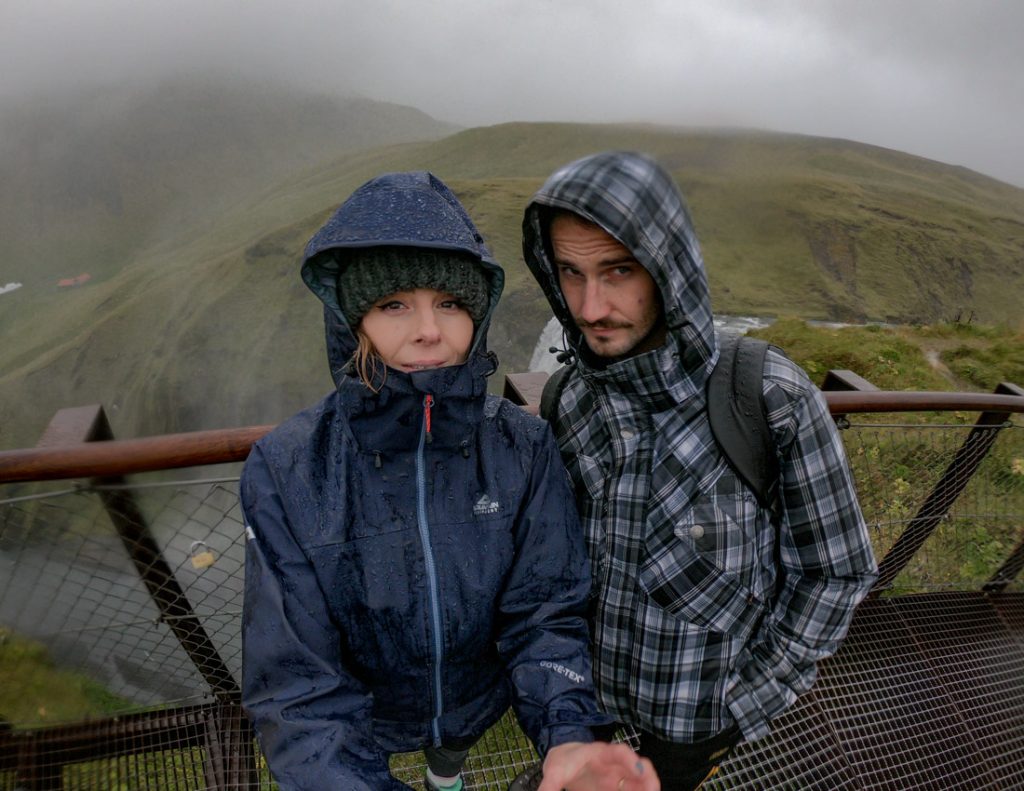 Affordable Iceland Tips
Reserve your car before you travel.

Purchase the additional insurance option to avoid hefty fees if damaged.

Shop at Bonus and cook in your accommodation.

Book accommodation with a kitchen, or pack a stove if camping.

Bring tote bags with you for shopping.

Pack snacks like cereal bars from home.

Eat hot dogs! The national food found at gas stations (still expensive).

Drink from the tap water, it is safe! Bring a refillable water bottle.

Stay in hostels, they are not party hostels!

Camp. But be mindful that it gets very wet in Iceland.

Avoid drinking in Reykjavik or enjoy the happy hour offerings.

Swap the Blue Lagoon for the Secret Lagoon.

Invest in a really good waterproof coat and boots. You can't buy the feeling of being dry!

Iceland Packing List
Here are the essentials you should pack for Iceland:
Europe gets cold, layers are essential!

Hat, gloves and scarf

Comfortable and waterproof walking shoes and hiking boots – I swear by Salomon Ellipse trek shoes US / UK
Camera and battery
Shades

Tote bags for shopping

Travel Insurance 
---
» You may also like our lightweight hiking boots review
---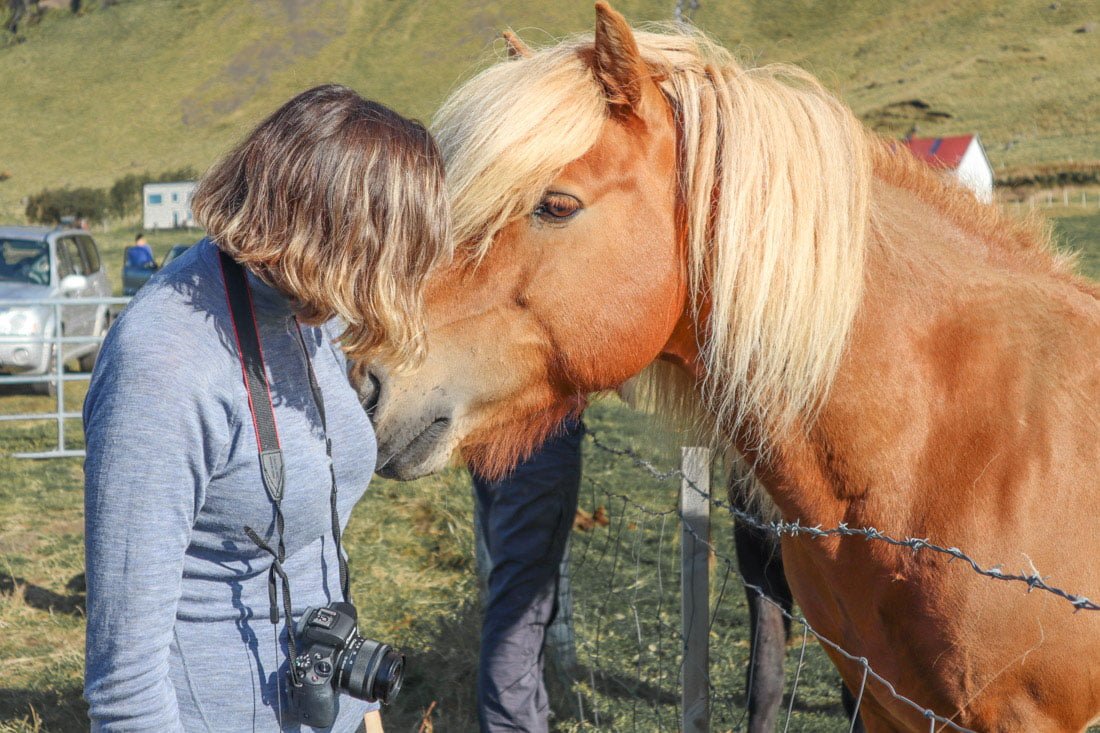 You may also like:
---
Final Words
Although Iceland is an expensive country to dine, drink and fill up a car in, there are so many free things to do making it an awesome road trip from those with an adventurous nature. Be prepared to be awestruck by waterfalls, canyons, geysers and hot springs as you follow our four-day Iceland itinerary through the world in miniature!
---
Save for later.
Pin to your Iceland planning board.
---
Any questions or comments?
Please use the comments section below.
---
This post was written in partnership with Discover Car Hire. We have not used the online service ourselves but you can read Trustpilot reviews here.
As always, these words and opinions are our own. We had a magic time in Iceland, and are confident that once you get over the price point, you will too.