This article has links to products and services we love, which we may make commission from.
Wondering where to stay in Edinburgh? Each of Scotland's capital areas has its own charm, appeal, and options for accommodation with varying price points. So whether you are visiting to explore the museums, to attend the incredible Edinburgh Fringe Festival, for the Christmas and Hogmanay festivities or just for a couple of days, this guide is here to help you sift through all of the possibilities of places to stay in Edinburgh to find the perfect place for your budget. 
---
Best Places to Stay in Edinburgh
In Scotland, we call our different parts of a city 'areas'. I know in other countries such as the USA, you would call these areas ' neighbourhoods' and in Europe, 'districts'.
There are around 20 areas in Edinburgh. Each of these different areas has its own attractions, lifestyle and affordability calculator.
I will be looking at five which are close to the main city centre. What you dictate to be the 'best area to stay in Edinburgh' depends on your style of travel and reason for visiting. Use the information below to help you make a decision.
If you are visiting during the Edinburgh Fringe, expect prices to triple. 
For the sightseers! New Town/Old Town City Center 
For the young at heart looking for hipster bars: Leith
For the trendy, slow pace visitor: Stockbridge
For the readers with upmarket taste: Morningside/Bruntsfield
→ Note: Two Scots Abroad personally use Booking.com. They find it great value for money, easy to use and love that you can often cancel without charge. As committed customers, they enjoy 'next level' Genuis discounts which can be a nice wee $30 off your stay. This site also links to TripAdvisor to give our readers a choice.
---
Map of Edinburgh's top areas for accommodation
---
Getting Around Edinburgh
Edinburgh is one of the most walkable and visitor-friendly cities you can visit. In the city centre, you can get to all of the attractions on foot. 
Make use of the extensive public transport network. Jumping on and off the Lothian Transport buses is easy with a day rider ticket ($5 or £4). 
The trams are readily available through the city centre and out to the airport. You can use your day rider ticket for Lothian Buses on the network. 
Taxis and Ubers are available. However, as Uber is just setting itself up in Edinburgh, you may have to wait for a while if you are on the outskirts of the city. 
Self-drive is fine if you are going out of the city. The centre is difficult to navigate and often gridlocked, particularly at The Fringe or Christmas and, there are lots of streets blocked off at these times which makes it even harder.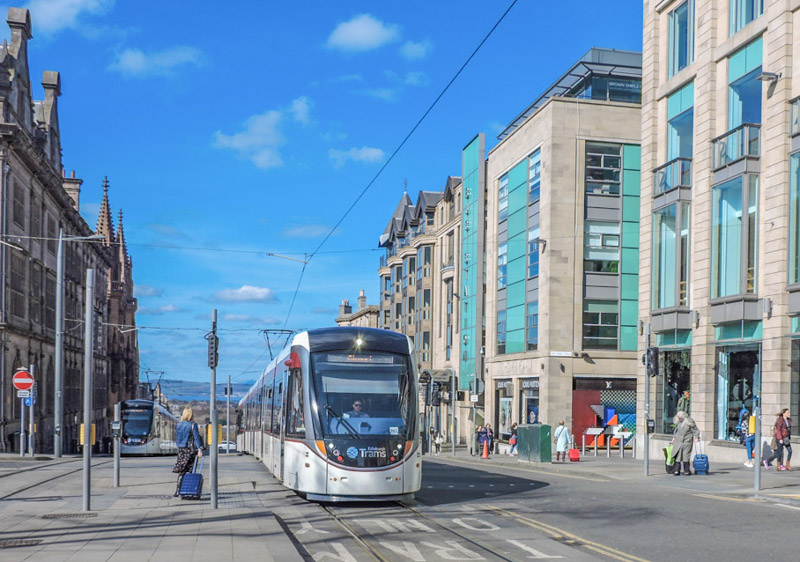 ---
Best Area to Stay in Edinburgh
City Centre
The city centre is made up of two areas, Old Town and New Town. Looking over from the New Town towards the Old Town, you see Edinburgh Castle, the Spires of St Giles Cathedral and The Mound.
Think of all the top Edinburgh attractions and 90% of them can be found here including Royal Mile, Harry Potter, Princes Street shopping and Rose Street/George Street pubs.
If you are looking for hotels near Edinburgh University, this is the area to be situated in. 
Looking over from the Old Town towards the New Town you can spot the Scott Monument, Calton Hill, and the beautiful Princes Street Gardens, home to Edinburgh's Christmas and many music events. 
With the architecture and history which this small area of around 40km squared holds, it is little wonder that in 1995, it was awarded the status of UNESCO World Heritage Site.
Old Town Accommodation
Best Seller Hotel in Edinburgh $$
Apex Grassmarket Hotel, with views of the Castle and easy accessibility to some of the most fabulous eateries that Edinburgh has to offer, this hotel is loved by travellers for its location, staff, and amenities. 
This popular chain is located directly across from one of the best pubs in Edinburgh, the Last Drop. On Saturdays, you can enjoy the local farmer's market. Read what others say at TripAdvisor and compare rates.
Boutique Hotel $$
Edinburgh Old Town rents out trendy serviced apartments, one of which is Old Town Chambers. Set just off the iconic Royal Mile, these modern apartments come with city views.
Luxury toiletries are included. An open plan fitted kitchen, dining area, lounge, and luxury bathroom, this is a secret sanctuary from the busy city street. Compare prices at TripAdvisor. 
Luxury Hotel $$$
If it is an unadulterated luxury that you are after, you will find it difficult to go anywhere else but The Witchery by the Castle.
Set just outside the gates of Edinburgh Castle, this hidden gem is the epitome of history meeting luxury.
Sumptuous decor with gothic inspiration, velvet-lined walls with reds and golds adorning the rooms.
You don't have far to go to enjoy a gastronomic delight as The Witchery restaurant serves up food which would please a king. Compare prices for your trip. 
Budget Hostel $
If you are looking for cheap hostels in Edinburgh, this one is perfect for you. Kick Ass Greyfriars is set in the historic Old Town and offers dorm beds, security, USB charging and is close to all the bars.
Its sister hostel, Kick Ass Grassmarket has just introduced Japanese-style pods for extra privacy. Read reviews from a variety of travellers at TripAdvisor.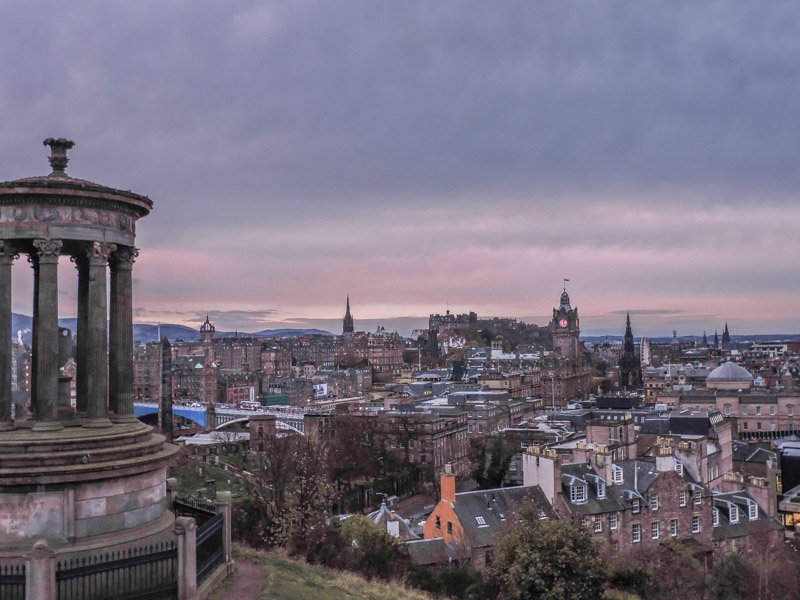 ---
New Town Hotels
If you are looking for places to stay in Edinburgh city centre but want to avoid the touristy Old Town then the New Town might be right for you.
This is where you will find the popular shopping area Princes Street, Princes Street Gardens and Waverley Train Station.
You can walk to the Old Town from Waverley Station in less than 15 minutes.
New Town Hotels 
Best Sellers $$
Set in the heart of the shopping centre of Edinburgh, the IBIS Styles Edinburgh City Center Hotel offers modern rooms, comfortable beds and breakfast.
Guests love the close proximity to Waverley Station, Princes Street, and Mulberry Walk, Edinburgh's luxury shopping area. Compare prices here.
Boutique $$
There are boutique hotels on every corner of the New Town, it seems! Situated on George Street, one of the trendy bar areas of Edinburgh, Tigerlily Hotel offers you award-winning rooms with all that you will need to relax in comfort.
With a restaurant, bar, and nightclub all on-site, your evenings are sorted. Enjoy the cocktail list and then stumble upstairs to bed. Bliss. Check out TripAdvisor prices. 
Luxury $$$
Built-in the early 1900s, The Waldorf Astoria, The Caledonian gives you the luxury you want.
It offers rooms with fluffy bathrobes, flat-screen TVs and views of the Castle.
Situated at the end of Princes Street in Edinburgh's West End you are sandwiched in between Waverley Train Station and Haymarket Train Station.
Another plus of this hotel is the restaurants it boasts. You will be spoiled for choice! Compare prices and read reviews at TripAdvisor. 
New Town Budget Hostel $
The Baxter Hostel offers a new type of hostel, with comfortable beds, secure lockers, and a self-catering kitchen with boutique vibes. Changing the way you feel about cheap hostels in Edinburgh, don't bypass The Baxter. 
This custom-built hostel screams 'take my photo' but it isn't shallow! Guests love the top quality utilities and cooked breakfast. See what others are saying about The Baxter at TripAdvisor.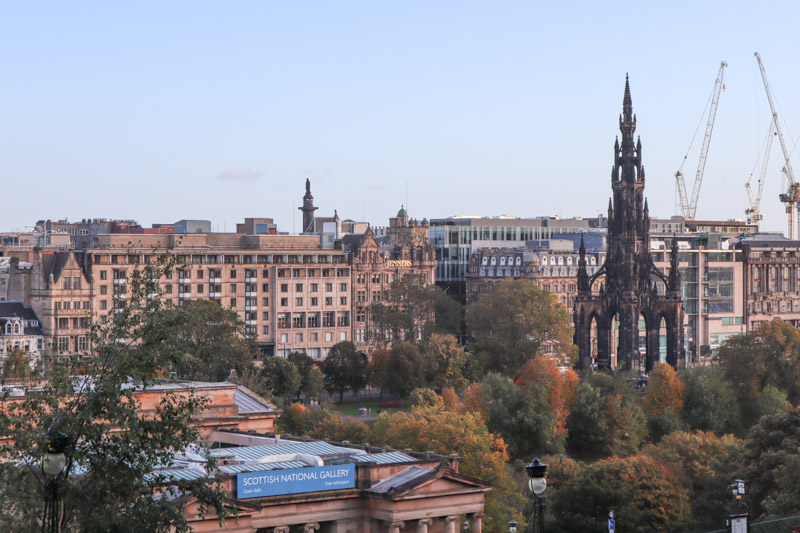 ---
Leith Hotels
Leith is one area of Edinburgh that you will recognize from the film 'Trainspotting".
Yet this city village by the water is alive with the buzz of artisans and entrepreneurs offering their wares in independent boutiques.
This is where the cool kids hang out. With craft beer pubs, seafood restaurants and Edinburgh's top bakery mixing with a Michelin starred restaurant, Leith offers you a different side to Edinburgh, away from the overworn areas of the more popular parts. 
On a warm evening, Leith can feel very European with its cobbled streets, canal and al fresco dining.
Looking for something less sophisticated?
Do a pub crawl around the Waters of Leith stopping at Roseleaf, Teuchters Landing, Nobles and Port o' Leith then fall into bed. Feed the hangover at Ostara or The Kings Wark.
Leith Walk is the area of Leith which is closest to the city centre. The Playhouse, Omni Centre (cinema, restaurants) and the St James Quarter all sit at the top.
Saunter down this long street to reach Leith proper, this walk will take you around 40 minutes.
Fuel up at Valvona & Crolla, an Edinburgh institution since the 1930s and pop into The Mouse Trap for a pint and some board games.
From the heart of Leith, you can walk or cycle all the way into town using the Waters of Leith walkways nestled under trees.
This path also connects you to Dean Village.
Leith is where Gemma lived when she started dating Craig. They also had their big Scottish wedding party at Leith Theatre Thomas Morton Hall.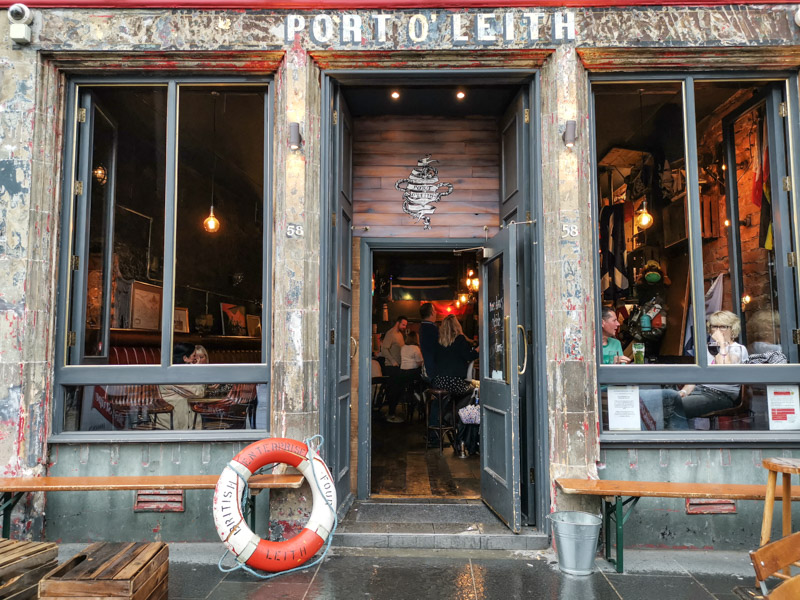 Leith Hotels
Leith Guest House $
If you are looking for a cheap guest house in Edinburgh, The Sandaig offers you good value for money.
Overlooking Leith Links, this Victorian house has free parking, good access to public transport, a hearty breakfast and comfortable rooms. Read reviews here at TripAdvisor. 
Best Seller $$
Situated beside Ocean Terminal, The Holiday Inn Express Waterfront in Leith gives you the freedom to explore the shopping area.
It is close to The Royal Yacht Britannia which is a must for those exploring Leith. Compare prices at TripAdvisor. 
Boutique $$
Set at the top of Leith Walk, the No. 11 Brunswick Street is a cosy boutique hotel. I love this place!
It has a fantastic restaurant, gorgeous rooms and is in easy walking distance of both Leith and the New Town. Check out rates at TripAdvisor.
Luxury $$$
Right on the waterfront in Leith, Malmaison Hotel Leith offers you a luxurious bolt hole away from the busy streets of the city centre.
Close to all the bars and restaurants along the canal which runs through the area, it's the perfect place to stay. The hotel has free parking which is unusual for Edinburgh. 
This is where Gemma and Craig (Two Scots Abroad) stayed for their big Scottish wedding party (they eloped to Austin, Texas) and family members bumped into the Celtic football team. Compare prices at TripAdvisor.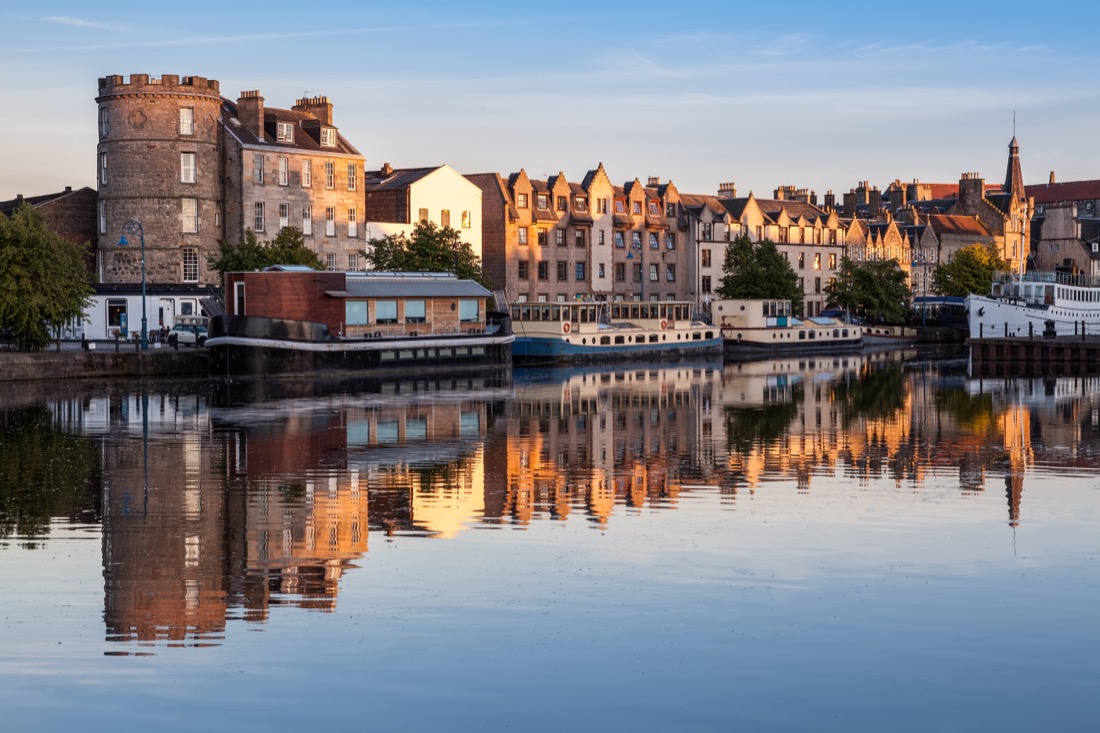 ---
Stockbridge Accommodation
As areas in Edinburgh go, this is one of my favorites.
Wandering through the streets here takes you to a more bohemian feel and far more relaxed than the city centre.
If you are into vintage shopping, there are lots of upmarket charity shops in Stockbridge. 
The Sunday afternoon market promotes local artisan items and fresh produce.
In close walking distance to the Royal Botanic Gardens, Circus Lane (image below) and the beautiful Dean Village, you will fall in love with Edinburgh right here.
It is also a perfect base for you if you are looking for ideas on where to stay for the Edinburgh Fringe. 
Stockbridge Hotels 
Best Sellers $$
In the very heart of Stockbridge, there is one hotel that will soothe your weary soul with its food, drinks, and rooms.
It is one of my favourite places to go and enjoy a meal and relax in the bar. The Raeburn hotel is modern and comfortable. Compare prices at TripAdvisor. 
Luxury $$$
Within five minutes walking distance from Stockbridge's centre, the Nira Caledonia is a Georgian Townhouse with rooms to ensure you have a good rest after all that exploring. Compare prices at TripAdvisor. 
Budget Hostel $
As far as cheap rooms in Edinburgh go, you will struggle to find as good a deal as the West End Hostel. 
With comfy beds and secure lockers, you have everything you need for a base to explore Scotland's capital. Compare rates at TripAdvisor. 
---
Southside
The Southside of Edinburgh includes two lesser-known areas of the city, Bruntsfield and Morningside.
Both are affluent neighborhoods with independent boutiques, cozy cafes and a picture house in each area. 
Morningside has The Dominion film house, a local's favorite and a lesser-known oddity, the Wild West Morningside, an alley that looks like a cowboy film set at Springvalley Gardens.
Morningside and Bruntsfield Accommodation
Bed and Breakfast $
If you are looking for cheap places to stay in Edinburgh, Albyn Townhouse (bed and breakfast) offers affordable prices for excellent accommodation.
Clean rooms, comfortable beds, breakfasts to sort out even the fussiest in your party. Read reviews and compare rates at TripAdvisor. 
Best Seller $$
Overlooking Bruntsfield Links, the Best Western Plus, is a popular choice.
Near The Kings Theatre, it has free parking and public transport is easily accessible. Compare prices at TripAdvisor. 
Boutique $$
The Black Ivy is a wee hidden gem in Bruntsfield. Super modern, Instagram-friendly, and a popular bar underneath which is open until 1 am at weekends. 
With the Edinburgh Conference Center, The Usher Hall and Filmhouse Cinema all within a 15-minute walk, this offers you a luxurious stay in a quieter area but with everything close by. Compare rates at TripAdvisor. 
---
Apartments in Edinburgh
Apartments are available in Edinburgh. The average price for an entire apartment is £200 however here are some I'd classify as liveable as low as £60. Private rooms are cheaper averaging at £77 but going as low as £35.
---
Save to your Edinburgh board for later
---
Final words
I love Edinburgh, the vibes the food, the bars, and the hotels. These are a few of my best places to stay in Edinburgh and I hope that you will enjoy exploring everything this Scottish capital has to offer. 
---
About the author – Ruth is a school teacher and a travel fanatic with a bucket list that's getting smaller.