This article has links to products and services we love, which we may make commission from.
Craig and I (Gemma) have been travelling together since we met in 2012. Our first trip to Southeast Asia was a test run to see if you could spend over a month in such close proximity without killing each other. Surprise, we had a thrilling experience and no one was drowned in the Gulf of Thailand or pushed in front of a moped in Hanoi! Three years later we took an 18-month career break to travel the Americas and Europe, in taking this risk we had ample time to tick off our ever-growing cool bucket list ideas. We prefer to travel slow, at times even volunteering to help stretch our budget for longer and giving us the chance to immerse ourselves in the local community but often time and money dictates, and we take a whirlwind tour of our desired destinations – we believe it's all about balance and hope that after reading our travel tips and quips here at Two Scots Abroad that you will believe that you can make travel happen too.
The Big Two Scots Abroad Cool Bucket List Ideas
I've identified what we've managed to do and link to the story so you can have a nosey.
Visit Westminster – I did work experience
Take a photo of Bled, Slovenia – it rained all day, unfortunately (still nice, take a look)
See a diver at Mostar – no one dived while we were there, stunning though
Take a road trip – North Coast 500 in the Scottish Highlands
Appear on TV – Craig was interviewed in Austin!
Go to space camp – video to prove it
Sunbathe on a boat while sailing –
Aztecs in Mexico –
Glacier in Argentina –
Go to Siberia –
Take a helicopter ride –
See the northern lights –
Go to a lagoon – this September!
Live in Canada (permanently…)
Adventure Bucket List Items
Hike a volcano – Cerro Negro and Maderas in Nicaragua
Hike an active volcano and board down it – Volcano boarding in Nicaragua
Hike to Machu Picchu – via the Lares Trek
Scuba dive – Craig did his first dive in Cuba + video! (Gemma's first was Australia)
Cycle the World's Most Dangerous Road in Bolivia – hated it, Craig loved it!
Ski at Whistler in Canada – my second ski attempt
Surf – Colombia, I am rubbish at it
Road trip around the Faroe Islands –
Skydive and get a ridiculous photo with my cheeks pushed back –
The polar bear plunge in Alaska – (did it in Canada)
Swing at the end of the world in Ecuador –
Trek the Amazon –
Ride the bobsled track in Alberta –
Camp at Yellowstone National Park –
Go zorbing –
Do a safari –
Parachute –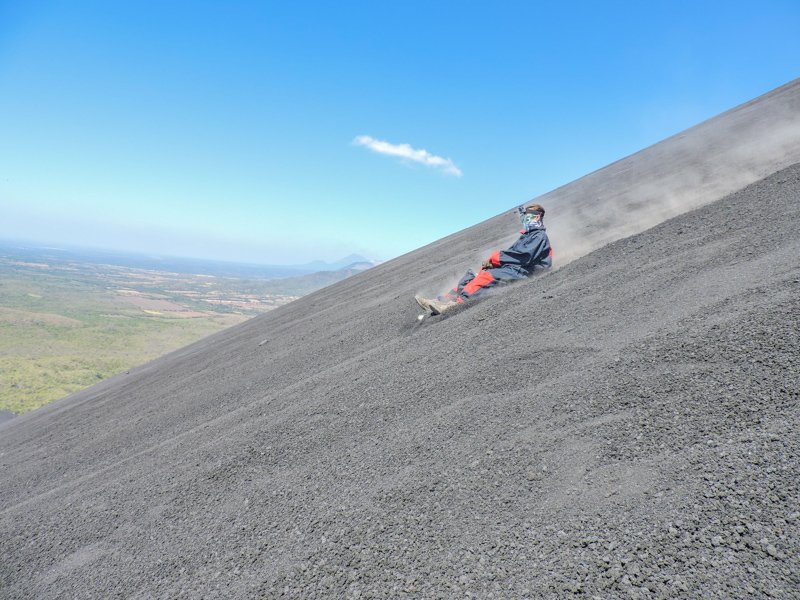 Unique Bucket List Ideas
Say 'I do' abroad – we did it! On March 22nd 2016, we eloped to Austin, Texas.
Eat breakfast by a river or ocean – Organic breakfast baskets at Big Berry in Slovenia
Ride in a convertible – Havana in a vintage yellow mustang
Make maple syrup lollies in the snow in North America –
Swim in the infinity pool at Marina Bay Sands –
Watch the hot air balloons at Cappadocia (Turkey) – did it, it was magical!
Ice skate on a natural rink –
Dine at a high viewpoint –
Visit the Ice Castle in Edmonton
Do The Stans tour –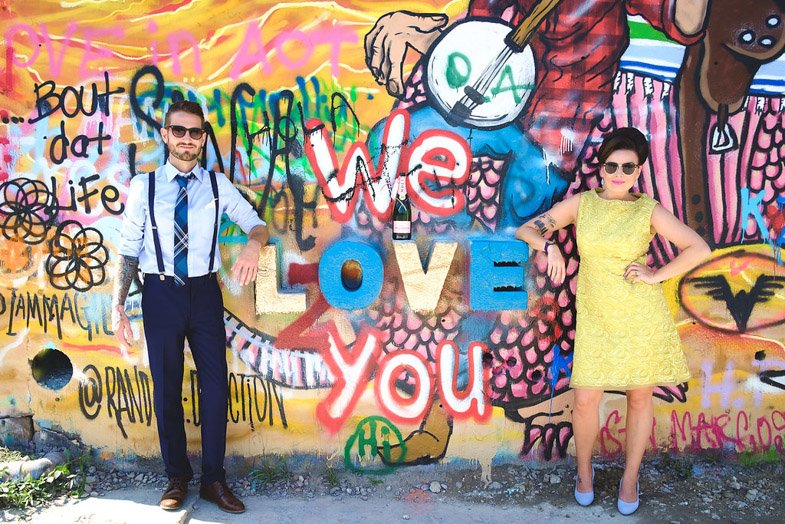 Art and Music Bucket List Items
Attend South By Southwest (for free) – Done, twice, then we got married after it! Craig is going again this year
Have a drink in a jazz club in New Orleans – kicked off our career break with this
Ski and party and Snowbombing in Austria – our belated honeymoon – we also went to Vienna, the city of music
Get a travel-related tattoo – León in Nicaragua (Gemma – Banff in the Rockies, Craig – space)
Take photos at Bolivia's Salt Flats – during daylight and sunset, magical
Take the City Centre Mural Trail in Glasgow, Scotland – check out our Facebook for our mini guide
See the street art in Vilnius, Lithuania –
Party at Dreamland in Margate (Shoreditch by the sea!) –
Also, check out Bristol's street art –
Visit the area where Broadchurch was filmed (Dorset) –
Stalk the city that Arcade Fire formed in (Montreal) –
Get our hipster on in Hamburg –
Sit on that bike in Penang, Malaysia –
Attend the Hindu festival Holi –
Attend Up Helly Aa in Shetland –
See DJs in Ibiza –
Be a Burner –
Simple Bucket List Ideas
Eat authentic Thai (Gemma, Craig hates Thai food) – for two weeks in the north and south Thailand
Get up to watch a sunrise – We set the alarm in Koh Samui, Thailand
See a sunset at the same spot for at least one week – Las Peñitas, Nicaragua (for three weeks)
Witness a winter sunset – Sunshine Coast, BC
Swim in the sea at night – Koh Samui (after a few cocktails, I lost £50)
Travel solo – Gemma NYC, Boston and Chicago, Craig in Canada
Sleep under the stars – Gemma in Monument Valley (no tent!)
Dispel a country's stereotype – Colombia!
Cycle a coastline – Fife, my home region and Lima in Peru
Attend a baseball game – not as exciting as I thought!
Rollerskate – around Stanley Park in Vancouver
Watch a sloth move –
Hot air balloon ride – It was magical, read about Cappadocia here
Sleep in a castle –
Foodies Bucket List
Eat ceviche in Peru – Gemma, Craig hates fish! Minus the cilantro (coriander) though
Gorge on a Tex Mex breakfast – best hangover meal in Austin
Make a pizza – in Slovenia as part of the Big Berry glampsite experience
Eat a sandwich in NYC – I chose baloney, yuck!
Chow down on bugs –Bangkok, salty
Make Pad Thai – Chiang Mai Basil Cook School
Eat Pasteis de Nata in Belém, Portugal – magic in your mouth
Eat empanadas – every day in South America pretty much!
Stuff our faces with a North Am breakfast – Vancouver, Canada (pancakes!)
Make something new once a month (I hate cooking) – ongoing
Try deep fat fried Mars Bar – we did it, but not in Scotland!
Visit a Scottish whisky distillery – Isle of Islay and Isle of Skye
Drink a flight of beer in Portland – Portland is craft beer heaven
Drink Guinness in Ireland – on the Ancient East
Try Filipino Pancit Palabok and Biko –
Eat Laksa in Malaysia (image below is Liverpool) –
Eat bull tongue in South Africa –
Make a maple syrup lolly in Ottawa –
Try true Mexican food (and not just mushy nachos) –
Eat an authentic curry in India –
Try a cornish pasty –
Go to vodka distillery –
Taste pasta in Italy –
As the stamps on our passports increase, the items here multiply. Bucket lists are supposed to be fluid and adaptable, there will be no stage in our lives where we manage to do all of the exciting experiences the world has to hold but we'll definitely give it a bash! We think our travel bucket list is realistic, what do you think?
Like it? Pin it!

What are your bucket list ideas?
Tell us in the comments below