This article has links to products and services we love, which we may make commission from.
Leon in Nicaragua is hot! The second largest city in this Central American country can expect temperatures of 35 degrees in dry season (December – April). We spent much of our time crossing the road to the darker side of the street but with cool Things To Do in Leon and such variety of food to choose from it's not difficult to lose a few days in hiding in colonial Leon.
6 Things To Do in Leon
1. León Cathedral
Don't miss a visit to the top of the Cathedral of Leon aka Real Renowned Basilica Cathedral of the Assumption of the Blessed Virgin Mary. For $3 USD, and the removal of your shoes, you can walk on the rooftop of God's House which displays the best views of the city and its surrounding volcanoes.
We did this as part of Hokano Adventures Revolution Tour. This Cathedral was first built in 1747 and took over a century to complete. You can see today that a recent paint job on the go. Not the most exciting thing to do in León but does offer beautiful views.
2. Hokano Adventures – Revolution Tour

After four trips to Leon (we were living thirty minutes away, by chicken bus timing, in the beach town of Las Peñitas), we were none the wiser about Leon's past. Or who the handsome man on the monument was (Carlos Fonseca, teacher and founder of Sandinista Nation Liberation Front, FSLN). We had no facts about the street art story, which describes the passage of time, concluding in a utopian view of the city.
Personally, I think one of the most important things do in new cities is to stop wandering the streets not knowing what it stands for, so we attended the Revolution Tour, which lasted a little under four hours.
Time passed quickly as we took a rapid verbal and visual tour of Leon's past and then, whilst walking the streets of Leon, discussed the county's present and potential future.
It is not just Leon's buildings that have taken a battering, the city and country has been crumbling at the hands of dictators controlled by both The United States and The Soviet Union (now Russia) beginning in the 1920s when Cesar Augusto-Sandino and his outnumbered army of farmers and workers overthrew American marines.
You will see Sandino's black shadow outline all over Nicaragua, in particular in the north (Esteli). The national hero and was soon murdered at the hands of a friend and head of the National Guard, Anastacio Somoza García. You won't be surprised to hear that Somoza García became the President in 1937, a strong alliance for the States.
The García Somoza legacy continued to reign Nicaragua until Carlos Fonseca brought the individual guerrilla armies together to form the Sandinista Nation Liberation Front (FSLN), which included resistors from farmers to students, including a man named Daniel Ortega.
The FSLN would then fight against this Somoza family, as a result of an arms ban by the USA, with the support of weapons bought from the Soviet. Sandinistas then walked into a post-revolution dictatorship, now with America's enemy at the time – Russia.
From 1979 to 1990 change was made, illiteracy rates were reduced from 50.3% to 12.9%. In 1984, the FSLN leader, Daniel Ortega, took the presidency and although not a straight reign, and a quick fix of the constitution to permit power for two consecutive terms, continues to do so today. Supporters state that he has improved the economy, given grants to farmers, and injected money into health care. Opponents argue that he is too interested in making a small percentage of rich people wealthier. Sounds familiar…
Carlos, our tour guide, told us that Nicaraguans are tired. Tired of living with war. They want progress but not through the use of propaganda and a government run by one family.
Carlos and his artwork at the Cultural Center, Granada
---
Website: Hokano Adventures
Address: 1ra calle NE 50 Mts Norte de la Segunda Avenida SE, León
Contact: 8839 4713
Cost: $25 / £18 per person
For Spanish speaking travellers and a less intimate tour, The Revolution Museum can be found next to the Cathedral.
3. Museum of Legends and Traditions
A very bizarre way to spend fifteen minutes out of the shade is attending Museo De Leyendas y Tradiciones. My favourite story was that of the young woman who forced men in the street to breastfeed using her ahem, you know how breastfeeding works. Probably the weirdest thing to do in Leon!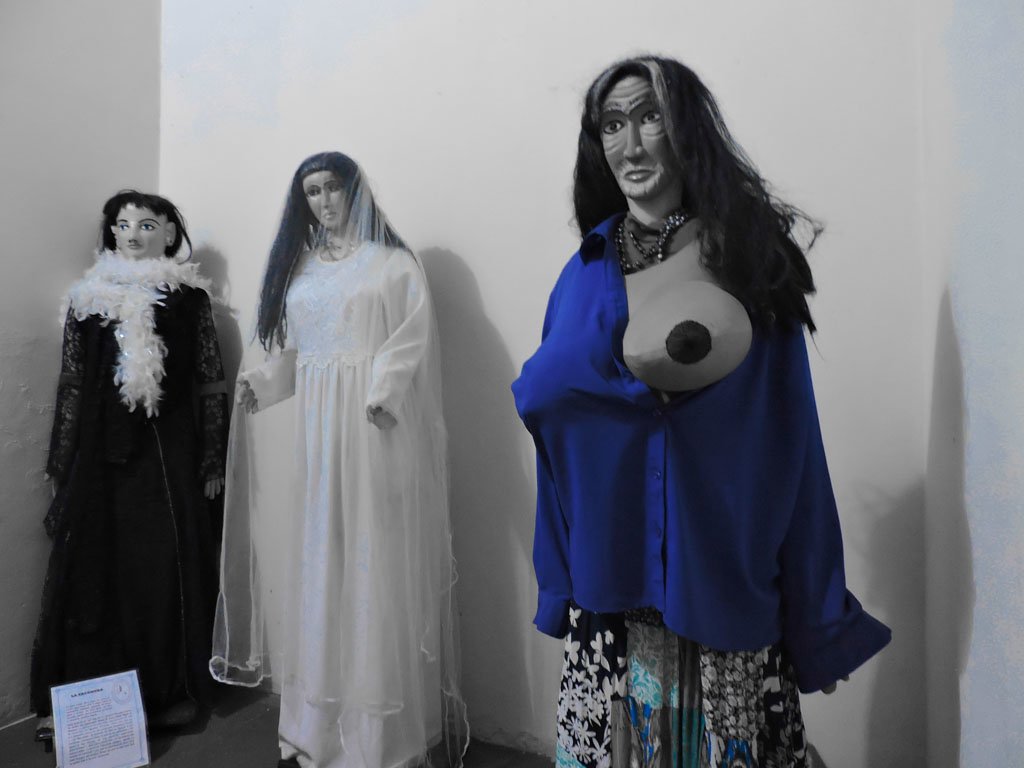 4a Calle SO, frente Ruinas San Sebastián
4. Tattoos in León

Definitely, one of the top things to do in Leon for us was to get some ink done! Quite the unusual day out but Leon has two tattoo shops and they are so cheap! Craig and I splurged and treated ourselves to the most permanent souvenir – ink! $60 for five hours, you just can't beat that price.
Where? White Devil
Who? By Andy, tell him Gemma from Two Scots Abroad said hiya
Day Trips from León
5. Las Peñitas

Oh, I do like to be beside the seaside! A great way to avoid the heat, check out the natural air con of Las Peñitas.
Chicken bus from Mercadito / 14 cordobas / 30 minutes
---
Read next – Somoto Canyon treks and tours
---
6. Volcano Boarding at Cerro Negro
One of the coolest things to do in Leon (or just outside it) is hike up an active volcano and sledge down it! Volcano boarding is one of the biggest pulls for Nicaragua and you can see why!
---
Brave enough? Full low down and tips here!
---
Rico Restaurants in León

Rico (tasty) dining opportunities are not difficult to find in Leon. From local cuisine, street food, western fare – the city has it all. Here is some deep fat fried goodness from Tacos Marleen as a taster…
León's is more than a stopover for volcano boarding.
The university town is young, liberal, and full of cultural activity.
If you were considering learning Spanish in Central America, this would be a great city to do so in (as would the more European feeling Granada).
Hostels in León
We returned to the same hostel, La Gordita, each time we stayed in Leon because of its location, it was quiet and cool, and the other "bird" in Craig's life lived there… a parrot called Chirpy.
The large private rooms come with their own bathroom, fan, and a handy washing line. The shared also has a fan and shared 'Jack and Jill' bathroom, which is shared with the neighbouring room.
La Gordita offers complimentary breakfast and a kitchen, which is handy as it is situated next to the large supermarket, La Colonia.
The owner, Monica, is super friendly and larger than life. She has lots of tips for touring Leon and even more tips on the best local restaurants. We ate well in Leon, so much so I'm dedicating a whole post to eating in Leon!

Address: 1 &1/2 blocks west of the La Colonia Supermarket or La Salle School
Contact: 8857 3498
Cost: $15 – 20 / £10 – 14
Getting to León
From Managua take the microbus for 54 cordobas / £1.34. Full details on how the transport system works here.
Getting around León

Leon really is not that big and can be discovered by foot. Forget street names, locations are found via counting blocks. If you are lost, ask a local. If they don't know they'll holler at the next person walking by and they'll work it out together.
Nicaraguans are very friendly. I felt safe day in this city, visiting the (air-conditioned) ATM with no hassle. The many churches make good reference points, starting with the stark white Cathedral in the central plaza.
Things I'd Still Like To Do in León
Old town – Leon-Viejo: Leon before the volcano eruption
Love for León
The main reason I like Leon is not because of the architecture, or the constant whiff of meat on the grill, but the fact that the city doesn't give two hoots that you are a tourist. The taxis will give you two toots (constantly) and the boys will grow up to form a crook in their neck from the frequent gawking at you (girls) but that's universal – it's annoying, but happens to both natives and newbies.
Apart from that, vendors go on selling chicha in plastic bags, kids skip to school in their pristine uniforms, and the estimated seventeen Catholic church buildings of colonial Leon, continue to crack.
Like it? Pin it!
Have you been to León? Are you going?