This article has links to products and services we love, which we may make commission from.
Classic cars, busy streets, boardwalk for miles, enticing rum cocktails, thriving arts scene, Hemingway, eventful past and promising future! Where do you start when you first arrive in Havana? If you want to hear the stories behind the streets, try Cuban cooking, ride in a vintage car or find out about life in Cuba, Havana tours should be a part of your itinerary. Let's take a look at the best tours in Havana and day trips not to be missed from the city.
---
» You may also like: our first timer's guide to Cuba
---
Best Havana Tours By Type
1. Havana Private Tours With a Local
If, like me, you end up dominating a tour guide's attention with questions about life, politics, Havana attractions and food you might benefit from this affordable private tour of Havana.
This tour is the most versatile option because you can build your own itinerary. Just let your guide know the places to see in Havana which interest you. Do remember that WiFi and 4G are not readily available to Havana. You have to buy a WiFi card and log on at a WiFi point. You can read more about access in our guide here.
You can also decide if you want to do a short 2-hour tour, 3, 4, 5 hours or a full day 6-hour meet up with a local. Your guide can collect you at your accommodation (hotel or casa) or a designated point.
→ Note: The price does not include entrance fees or transport for you or your guide. If you would like transport, let the guide know and they can arrange it beforehand.
Havana's Three Main Areas
Centro Habana
La Habana Vieja (Old Havana)
Vedado's Central Business District and urban residencies
Havana's Points of Interest
Malecón waterfront
Capitolio government building
Sculptures such as Roberto Fabelo's girl at Plaza Vieja/Old Square
Camera Obscura
Hotel Ambos Mundos, a Hemmingway haunt
Plaza de la Revolución where Che Guevara beams down on you from up high
Hotel Nacional for a mojito
Almendares Park, the lungs of the city
Naturally, the best person to help you build your tour is the local guide themselves. Book your tour here.
2. Cuba Classic Cars Tours
Probably one of the main reasons you are visiting Havana is to take a Hollywood ride in, or at least get a photograph of, a 1950s vintage car also known as an almendron.
Mustard yellow, baby blue, hot pink, these old American classic cars come in all shades and styles. Chevy or Cadillac? Top-down or with a roof? So many options!
Old car tours in Havana are ten a penny, you just have to walk around the main drag of the city to be pounced on by a PR selling a tour.
You can pre-book your Havana car tour here to avoid the bartering process. This two-hour tour also includes a cocktail at the impressive Hotel Nacional. This is where the Mafia used to meet.
Things to Know Before Doing Havana Car Tours
You don't get to drive the classic car, great for afternoon cocktails
Your driver may not speak English but your tour guide will
The tour is more than just a drive, guides will talk about Hanava's important spots and life in Cuba
Nonetheless, the wind in your hair is exhilarating. Leave the headscarf at home Bridget Jones
Cubans genuinely drive these classic cars so be considerate that this isn't a romantic notion for them, it's life
You will see vintage cars all over Havana. Some are public taxis (not tours), others are regular cars, some are photo opportunities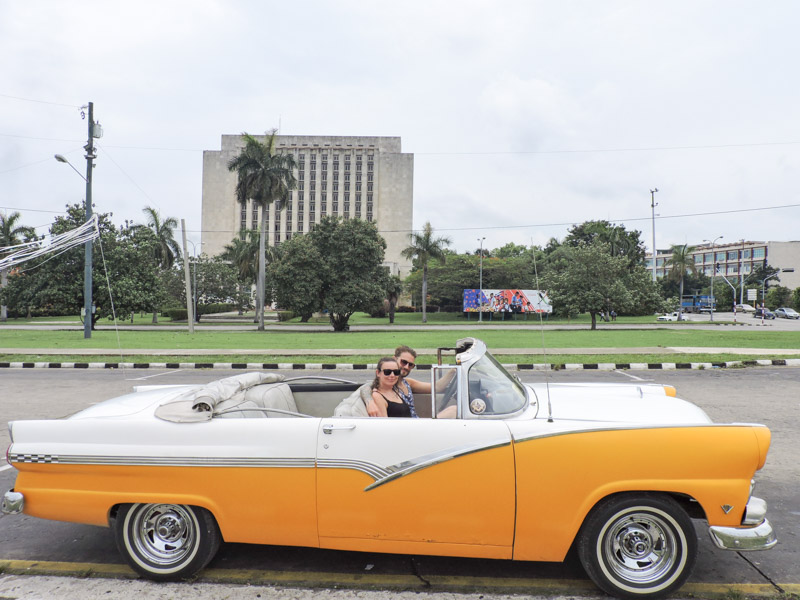 3. Havana Walking Tour with Lunch
This award-winning Havana tour kicks off at 12pm and takes you on a 3.5-hour walking tour of the UNESCO World Heritage site, La Habana Vieja (Old Havana).
Your English-speaking tour guide will be a local who knows the streets, its hidden gems and landmark locations such as Calle Obispo, Plaza de Armas, Plaza de la Catedral, and Hotel Ambos Mundos – where Hemmingway used to stay.
Stops also include a cocktail break, it is Havana after all, and lunch at a local restaurant.
4. Havana Food Tour
During this 3-hour cooking class tour, you will visit to a local market in Vedado.
At the market, you will check out Cuban ingredients for meals and snacks such as tostones. During this time, your guide will discuss the ration system and other historical Havana facts.
Next, it's is to the casa to create a two-course Cuban meal and a cocktail. The tour ends with a feast.
This is a five-star tour on GetYourGuide. Reserve your spot here.
Alternatively, check out the Old Havana street food tour if you prefer to let someone else do the stirring!
5. One Day Tour of Havana
Visiting Havana on a layover or hopping off a cruise to see the city?
Then this popular one-day Havana trip gives you a whistle-stop tour of the city.
Three different tours are packed into your one-day Havana itinerary including a historical tour of central Havana, a ride in a classic car and time to wander Old Havana with stories told by your local English-speaking guide.
Lunch is provided at a paladar which is a privately-owned restaurant. Many of the dining spots in Cuba are government-owned and because of this paladares have had a rough ride with strict laws over the past decades resulting in many losing their licence or having to temporarily close down when checks came into force.
The day ends with a cocktail at Cuba's famous National Hotel.
This is a nine-hour tour so wear comfortable shoes, bring layers, bottled water and pack sunscreen. Reserve your spot here.
6. Ernest Hemingway Tour in Havana
While many of the Havana day tours focus on food and history, only this one in the footsteps of the legendary author, Ernest Hemingway.
The Noble Prize winner, Hemmingway, lived, breathed and drank Cuba. Renowned for his commitment to literature and cocktails, this dedicated tour takes fans and the intrigued around the locations where he slept, ate and drank.
Not only can you visit where stories were penned but also locations that feature in his books. It is truly unique to have so many areas touched by a celebrity still open to the public and that's the beauty of Havana!
This 6-hour tour leaves Havana for Hemingway's home at Finca Vigía, the town of Cojímar for lunch at Las Terrazas then back to Old Havana to visit room 511 in Hotel Ambos Mundos.
7. Free Tours in Havana
While it is advised to pre-book day tours in Havana to avoid disappointment (remember you can't connect to WiFi or 4G as easily as you can at home), there is an option if you prefer not to.
There are two 'free' walking tours, Old Havana and Central Havana which take places twice per day. Once in the morning and again in the afternoon.
→ Important Note: Free tours are never free. You should pay a tip at the end of the tour to show gratitude to the tour guide. This a common tour marketing strategy used all over the world!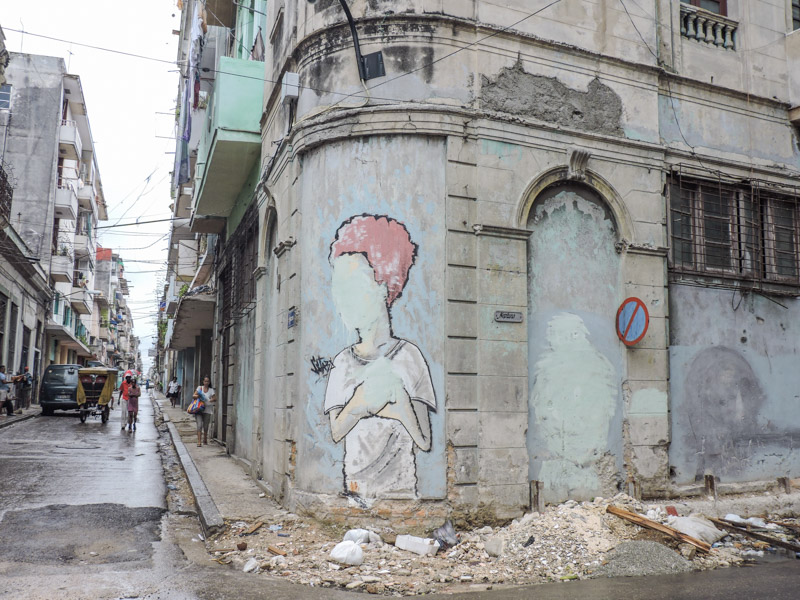 8. Havana Bus Tour
Habana bus tour is the typical double-decker hop on/off buses that you see in most popular cities.
For 10 USD you can ride all day around some of Havana's top attractions such as Revolution Square.
However, the buses do not go into Old Havana so bear that in mind if planning your itinerary to include this mode of transport.
Great views from up high on the top decker, remember sunscreen and a hat. Afternoon stops get very busy according to users. Some tourists being left a bus stops, some stops being skipped to make up time.
Although there are scheduled timings, this is Cuba time so be prepared to wait and leave your impatience back at your casa or hotel!
Note: USD refers to pre-booking tours before you go. Read more about Cuba's currency here.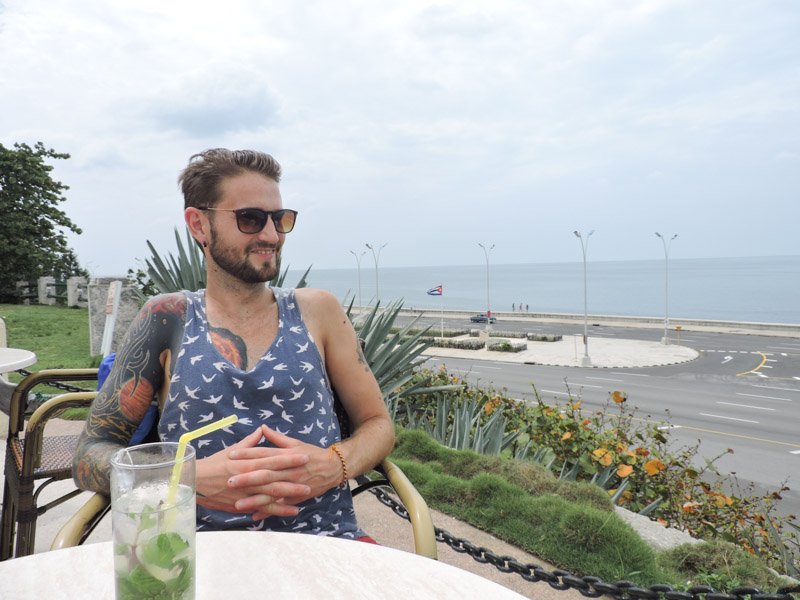 ---
Day Trips from Havana
Havana day trips are very easy to organise and a nice escape from the city. The most popular trips are to Viñales.
9. Havana to Viñales Day Trip
The Viñales tour from Havana starts early at 07:30 to allow for the jam-packed itinerary which ensures that you don't miss the Viñales highlights.
Your friendly Cuban driver will meet you at a local Havana spot. From here you drive to Viñales spending the morning at a Cuban plantation learning about the local produce, tobacco and coffee.
Pack extra if you want to purchase something. A guide will meet with you at the plantation before this section of the tour.
A finca farm lunch includes locally grown food and you will have the chance to interact with locals throughout the morning.
Next, take a boat ride at Cueva del Indio, an indigenous cave popular with tourists and spend time at the botanical gardens.
A long day, leaving Viñales at 18:00 giving you time to do all the top things to do in Viñales. Reserve your spot here.
10. Havana Tours from Varadero
If you are looking to get away from your resort for a while then a day trip to Havana from Varadero should be on the cards.
This full-day tour collects you from your Varadero hotel early in the morning so you can get on the road and enjoy the two-hour drive along the coast to Havana.
In Havana, your English-speaking tour guide will show you the highlights of the city, the plazas, the bars and architecturally important buildings that make up the UNESCO Heritage Site!
There will be time for shopping, lunch and other Havana adventures before you return to Varadero at 18:00.
---
Going to Cuba? Pin to your board
---
---
Final Worlds
So whether you are looking to hear more about the history of Havana, cook up a Cuban food storm or see the city through Hemingway's eyes there is some kind of Havana tour for everyone. Let me know which tour you do in the comments below.
---